All Archived Posts in Case Study

Internxt Brand Identity & Logo Redesign - Branding the X
This is the Internxt Brand Identity & Logo Redesign which is a project currently in process, which is based around creating a unique style of 'X' for the client to use.
Another rebrand project currently in progress... trying to find a 'unique' way to style an 'X' which isn't at all easy, but feeling hopeful with this possible direction.#logos #LogoDesign #Brands #graphicdesigners pic.twitter.com/r0QHIO6t1T

— The Logo Smith: Logo & Brand ID Designer (@thelogosmith) March 29, 2018

Ghost Logo Design & Brand Identity: New Branding Project In Process
A few logo design updates of the Ghost Logo Design, for a new groundbreaking and innovate automotive technology.
The Ghost logo mark will be incorporated into the products design, as an LED Status light, amongst other applications.
View on Dribble:


SaveSave
SaveSave
SaveSave
SaveSave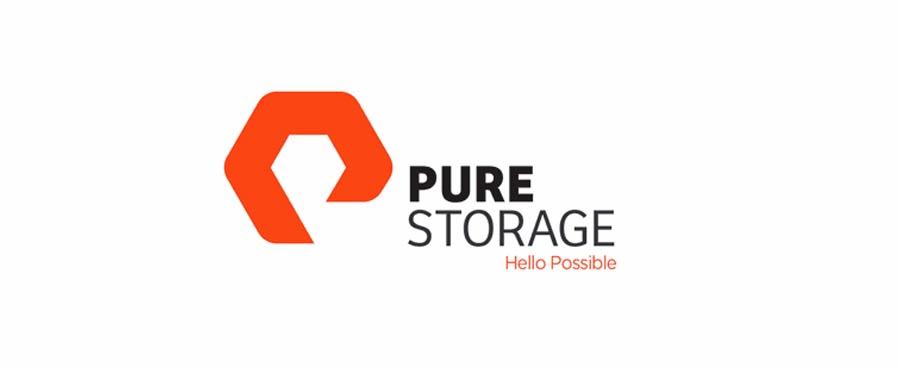 Low and behold: I recently found the Pure Storage logo design sketches I drew for my favourite, and arguable most rewarding,logo and identity design project.
I thought I had actually lost a lot of my past logo design sketchbooks, during a house move, but I unearthed a box with heaps of sketchbooks in, a little while ago.
This was a very happy moment, as there's lots to be learnt from casting your own eye over your own past work, and those past brainstorming attempts, especially the early sketches.
It can help reinforce the notion: that starting from nothing, can end with something pretty cool.
So without further ado, here are those Pure Storage logo sketches. Marvel at, or pity, how I brainstormed myself to within an inch of my life.
Feel free to have a giggle or two, and see how shakily the creative joinery can start, and with patience and determination, the end comes with fanfare, and a place in the history books (maybe).
I've listed the sketch sheets in chronological order, so you can see in those last few pages, that I was homing onto the final design.
Also worth noting: this brainstorming was also helped along with a simple mind map.
Pure Storage Logo DesignSketches - The Logo Design Process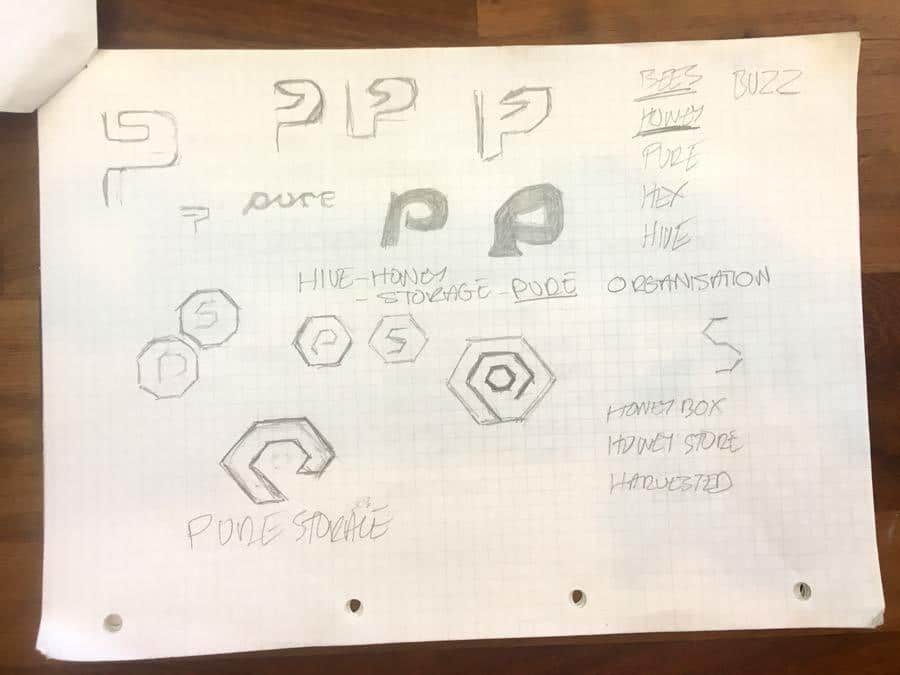 The Pure Storage Mind Map
The mind map ended up being pretty simple, as I found myself on a particularly important trajectory very early on.
You can see how I ended up with the whole concept of bee's and honey, which ultimately lead to the honeycomb shape of the 'Pure P'.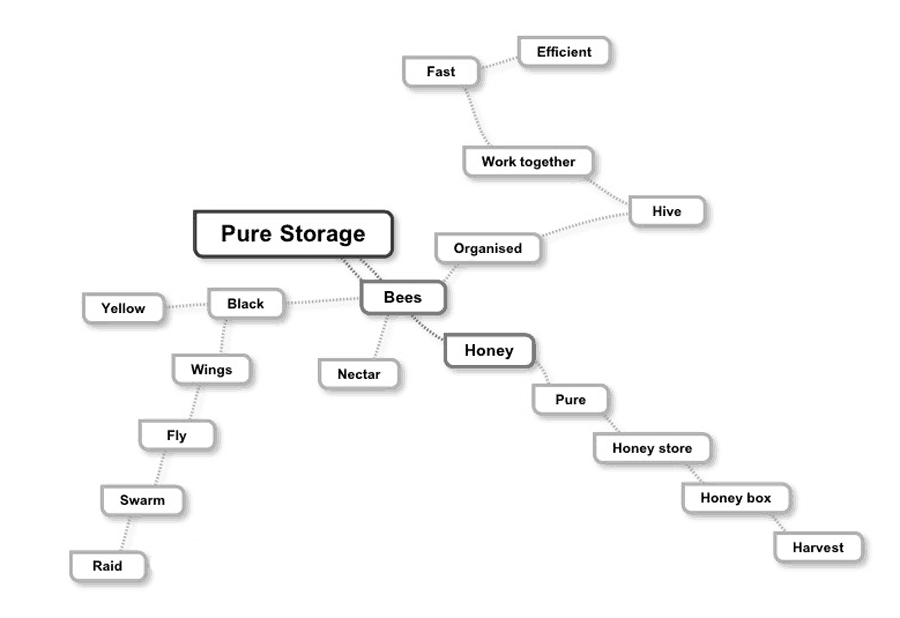 SaveSave
SaveSave
SaveSave
SaveSave
This is currently a work-in-process, and I'm focusing on creating a unique rocket themed logo design, that will also look very sexy on a business card.
The main idea behind the logo design: rear view of the engine thrusters of a rocket, but as such an angle, that the rocket body is barely visible as it shoots off into the distance.
Very challenging to find a unique idea for a rocket themed design logo, so this is something I'm hoping is pretty unique.
This rocket logo is based on very simple shapes, using negative and positive space to create the notion of actual physical properties.
Rocket Themed Logo Design and Business Card Mock-up
Embossed Business Card
The business card will ideally be printed on thick heavy card, that has a rough texture to it, then it will be embossed with the rocket logo, as well as subtle starry background.
The embossed rocket themed logo design  will then have a Spot UV (shiny varnish coating) applied, to give the overall effect of a rocket silhouette amongst the deep space and stars.
Images below show my main logo sketch idea of the thrusters, then also the development and progress of drawing the vector illustration in Illustration.

Really pleased with how my logo design for UPRAW has turned out, especially when seen as a letterpress business card, on some heavy textured black card.
As you can see from the image, the angular nature of the UPRAW logo mark, seems to work so well within the shape of the business card, and looks clean and precise as a raised mark on the surface of the card.
Letterpress Business Card for the UPRAW Logo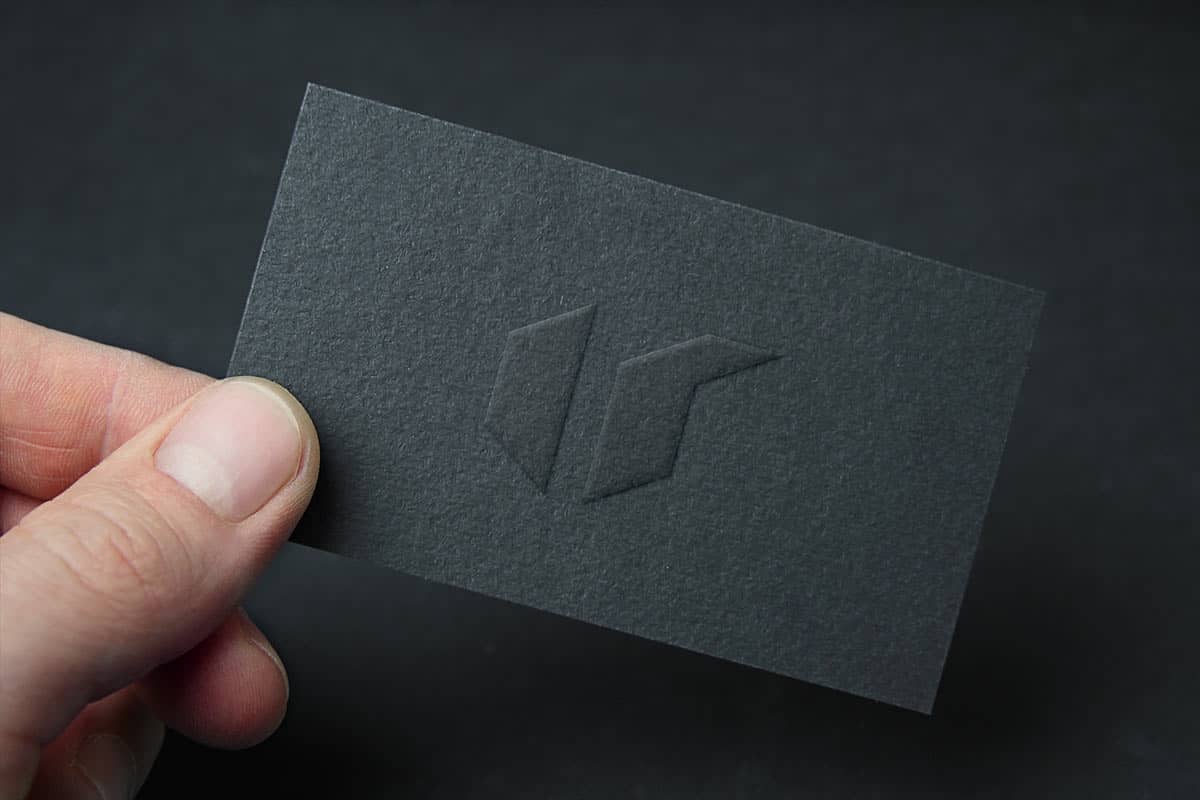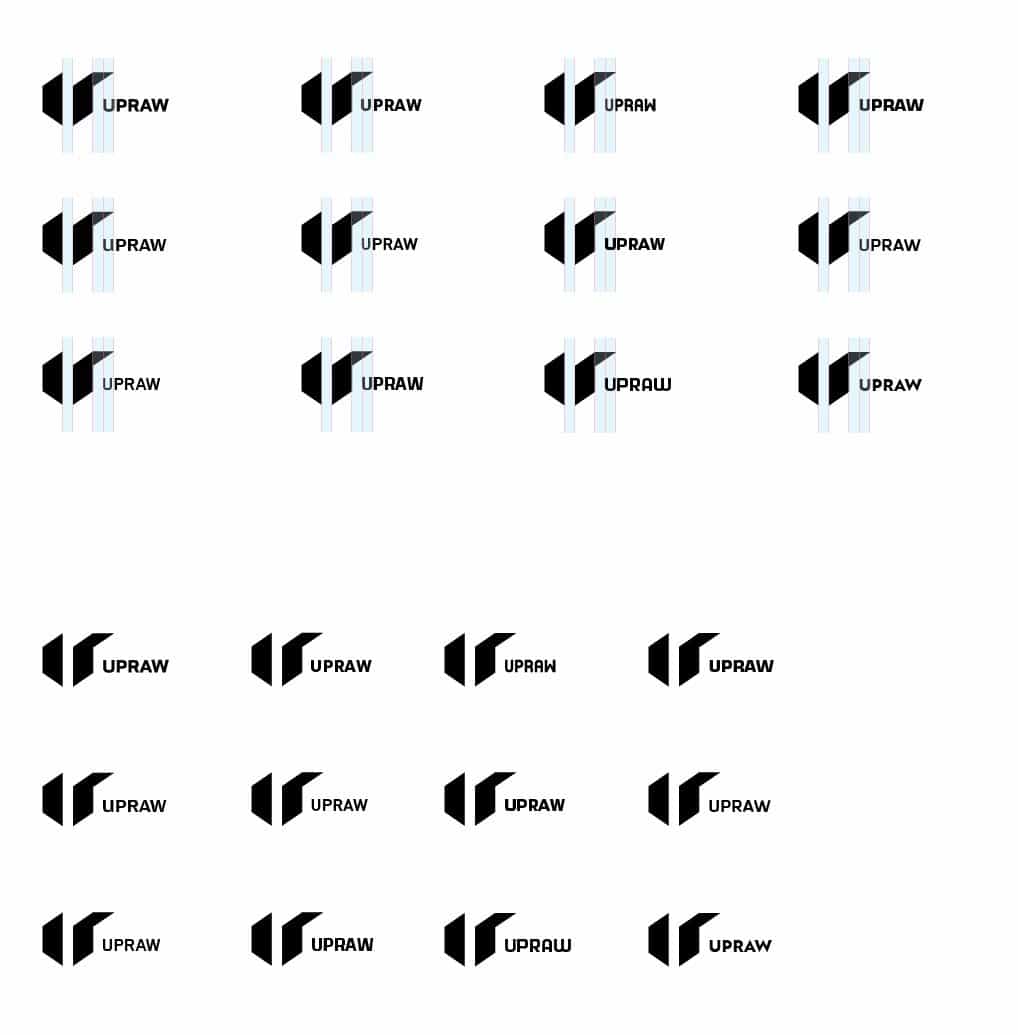 Pretty pleased so far on progress of these icons I'm designing for a Color Picker & Swatch application, for iOS.
There's already so many app icons, that are based on multi coloured elements, used for iOS applications such as: photography, drawing, photo editing etc, that it's quite a challenge to design something striking, and hopefully relatively different and unique.
The overall theme is based on traditional coloured paper tabs, or swatches like Pantone books, but these are styled with very rounded ends.
Then the main idea was to fashion a form of 'arrow' into the ends of each swatch tab, so that it looks like a continuous movement of colour choice.
As this icon design project is in very early stages, I've so far come up with the two following variations, but I'm already leaning towards the right-hand sider version with the white arrow tips.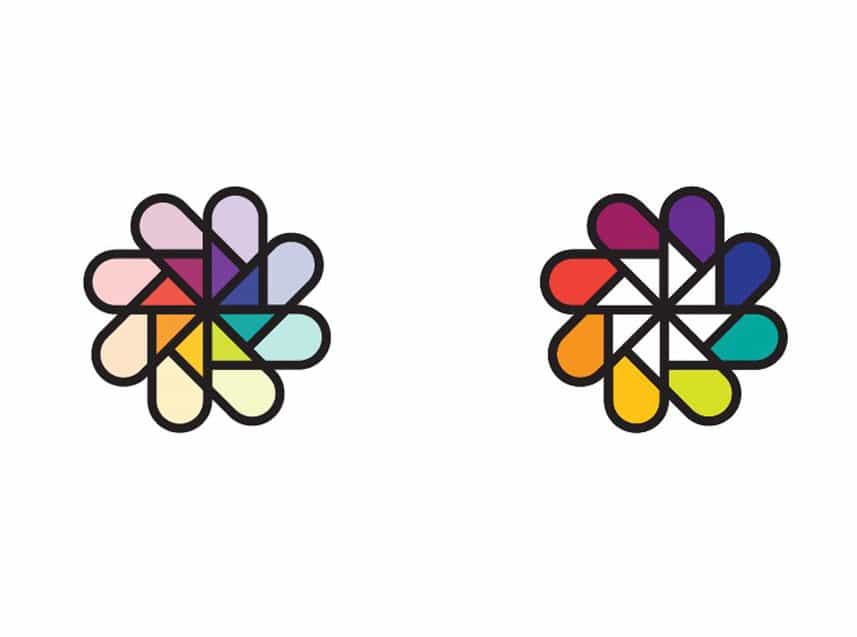 This post will be updated during the course of the project.
UPRAW Negative Space Logo Design Process
Here's the very first attempts at vectorising the UR negative space logo sketch (below), that I have been working on over the last few weeks, for UPRAW.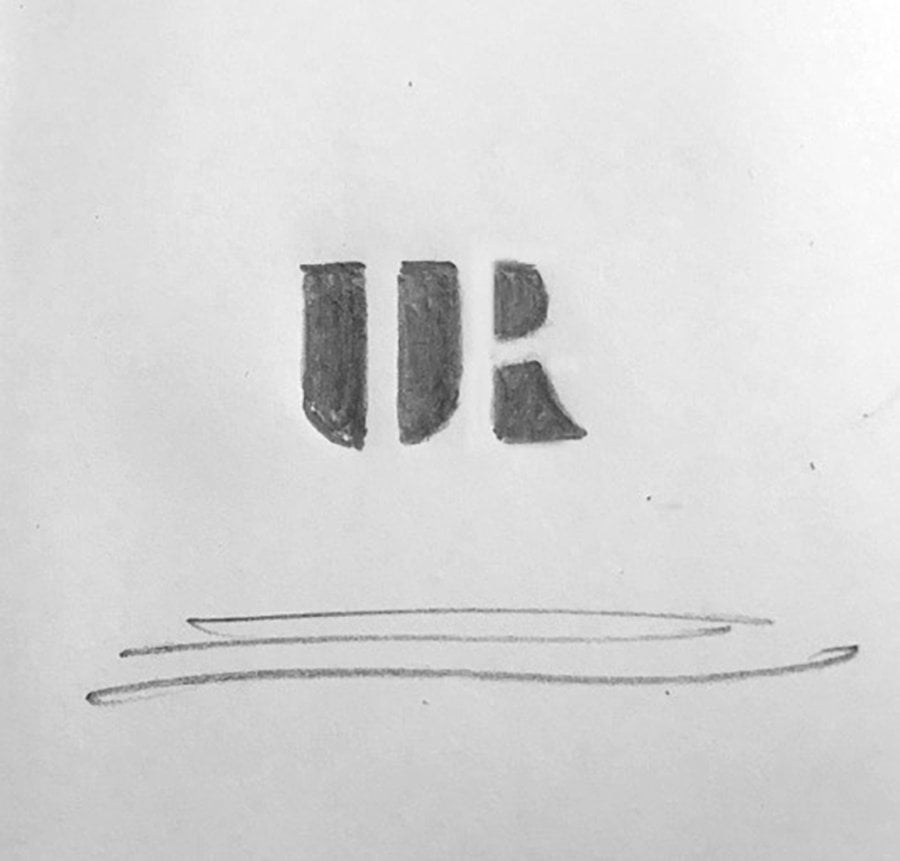 The sketch shows how I'm trying to create a balanced set of initials, formed from the 'U' and 'R', but creating the 'R' from it's own negative space.
Notice how i need to keep an eye on the proportions of the negative space, compared to the proportions of the 'U'.
The proportions, mostly the overall width, of the 'R' need to look cohesive next to the 'U', which is relatively wide. You can see that the regular capital 'R' has very narrow negative space elements; shown in orange below.
Used two font styles (below), to get an idea of how the uppercase 'R' is styled in various fonts, and how the negative space elements (in orange) can vary from font to font.
The proportions of the 'R' need to be carefully created, so that it doesn't look out of place.
It's super important that when making this letter 'R' from such narrow elements, that it still needs to look like it could be a regular 'R', especially when viewed after the 'U', which is pretty much a regular shape 'U', but just cut into two, so more like a stencil.
The image (above) shows my progress in recreating the UR in Illustrator as a vector.
I have created four slightly differing versions so far, to just get a feel for what form of 'R' will look the most cohesive, and natural looking, when viewed next to the 'U'.
As I'm using the right hand side of the 'U' for form the R's vertical left side, creating the right side of the R out of it's own negative space, is actually pretty tricky, at least in a way that looks as normal as possible.
Further Updates
I'll be updating this Case Study page, with additional images and text, during the life span of this logo design project.
Update: 7th January 2017
Taken a decision to move away from the 'negative space' style of logo design, and instead we're now going with this stronger, bolder, cleaner and more impactful design.
Still based on the 'ur' initials, but in far more robust and angular way, which is far more in keeping with the UPRAW brand name.
Business Card and Letterhead Mock-up's
Couple of letterhead and business card mock-up's, to help present the logo design in a more aesthetically pleasing, and realistic format, for the client.
Really pleased with this new logo design direction; that new logomark looks really striking on both the letterhead, and business card, in both black on white and white on black.
Logo Design Font Pairings
Image below shows some initial exploratory font pairings for the UPRAW logo.
Basically trying to find the right proportioned font that looks like the right fit up against the logomark.
When looking to pair a font with a newly design logomark, I take into accounts aspects such as: font weight, font width and height, overall proportions, any specific font styling and kerning styles.
We settled on the top-right version, which is actually Eurostyle Bold.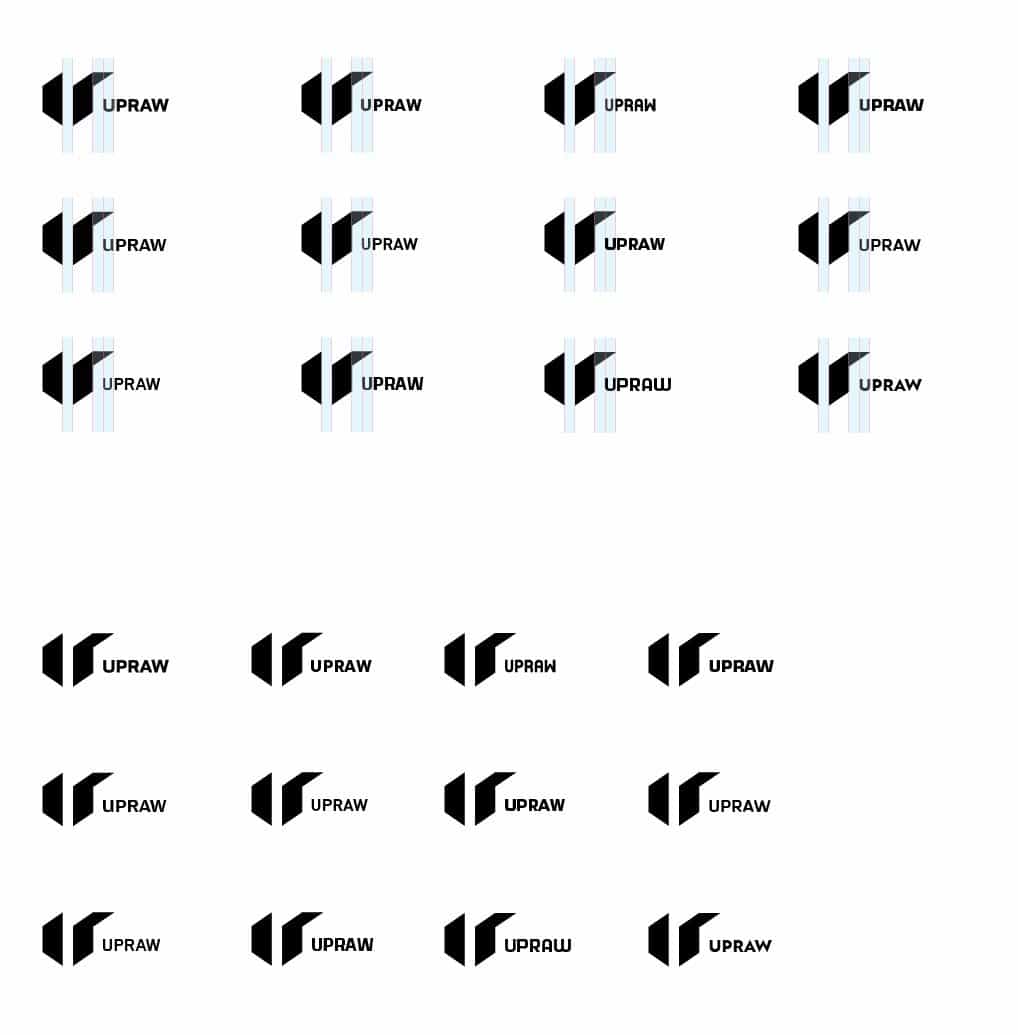 Case Study: Baze iOS Application Icon & Baze Logo Design
This Baze logo is an example of a client asking for a cheeky 'quick and cheap' logo & iOS application icon design; me being in an usually festive and cheery mood, and going along with said cheeky request.
From the client emailing me about doing a possible application icon for Baze, and me doing said Baze logo, took all of 30 minutes or so.
Probably the quickest, most efficient logo design project I've ever taken on, and the result being an incredibly pleased, and supremely grateful, new client.
Plus I love it, so it's a great logo design for the portfolio, and a bit of pocket money for me in the process.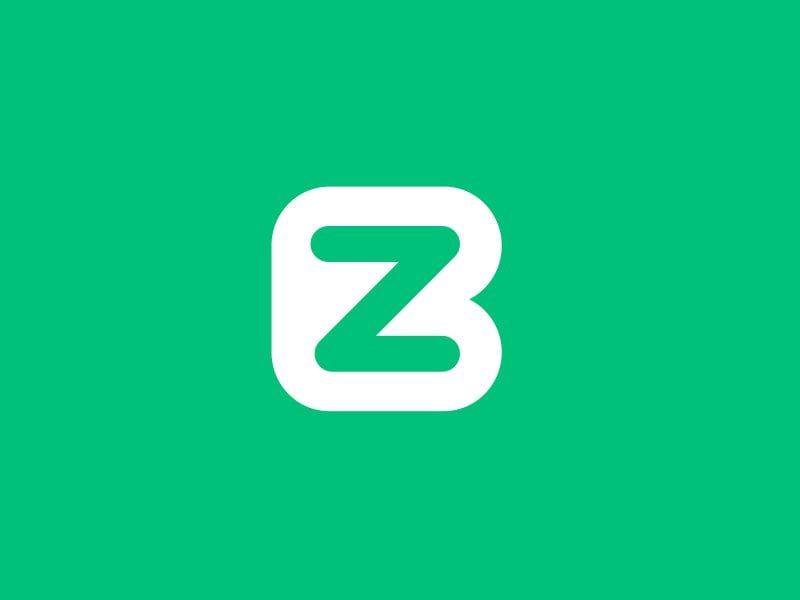 The Baze Logo & Icon
It's a pretty simple idea, that just came to mind pretty quickly after drawing a relatively bold and clean letter 'B'.
The client also wanted to see if it were possible to shoe-horn the letter 'z' within the 'B', for which I saw a likely solution in my head.
After a few well placed curves, circles and a few round guides, it did look like the usually awkwardly shaped letter 'z', could actually be neatly positioned within the 'B'.
All without the overall logo looking like this angular shape was literally shoe-horned in.
This is a brief 'before & after' of a brand logo redesign (featured image above) that I completed for Homes Alive Pets, a Canadian pet store chain.
I'll be updating this post with further information relating to this projects development. 
We didn't actually start the project intending to update their existing logo, instead the brief was to design a totally new logo design, and accompanying brand identity.
During the process of exploring logo ideas and concepts, it became apparent to the client that it was actually far better to keep with the existing logo, but to update/refresh it.
This made perfect sense given the accumulated amount of: brand equity, customer and client awareness, that Homes Alive Pets had successfully established in previous years of trading.
The challenge then was to craft a new pet dog, and a new pet cat, that would create a more comforting and characterful duo.
There were quite a few revisions and styles of the dog and cat, but both the client and I fell in love with the final design.
Logo Case Study - Logo Redesign for Homes Alive Pets
What I liked most of all with the new design, is how I wrapped both tails of the cat and dog, so as to make them look like they are almost cuddling and protecting each other.
I am actually really fond of this dog & cat duo.
It's certainly not a new or unique logo idea, to have a cat and dog represent a pet company, but as it was already part of their brand, I did what I could to make it as 'uniquely theirs' as possible.
Adding some floppy ears to the dog, and generally making both of them look a little more realistic, really seemed to make the whole logo far more welcoming, and friendly, as well a tad more cute. :)
Brand Name & Tag Line Creation
There was also a slight change in the brand name, so from: Homes Alive - Pet Centre, it became: Homes Alive Pets - simply wholesome, and naturally healthy.
I was able to help the client craft their new tag-line, which meant I also was then able to ensure it slotted nicely into the the space to the right of 'Pets', and took up two lines. Little details like that that might be overlooked, but the bigger picture is always so important.
As a little 'nod' to their Canadian heritage, the client asked that I popped a maple leaf on the letter 'i', it's subtle enough,
The new logo proudly displayed high above the store (apologies for the poor picture quality).
I love how the actual logo has quite a lot of depth. Looking at the dogs head, and ears from the right hand side, looks really good.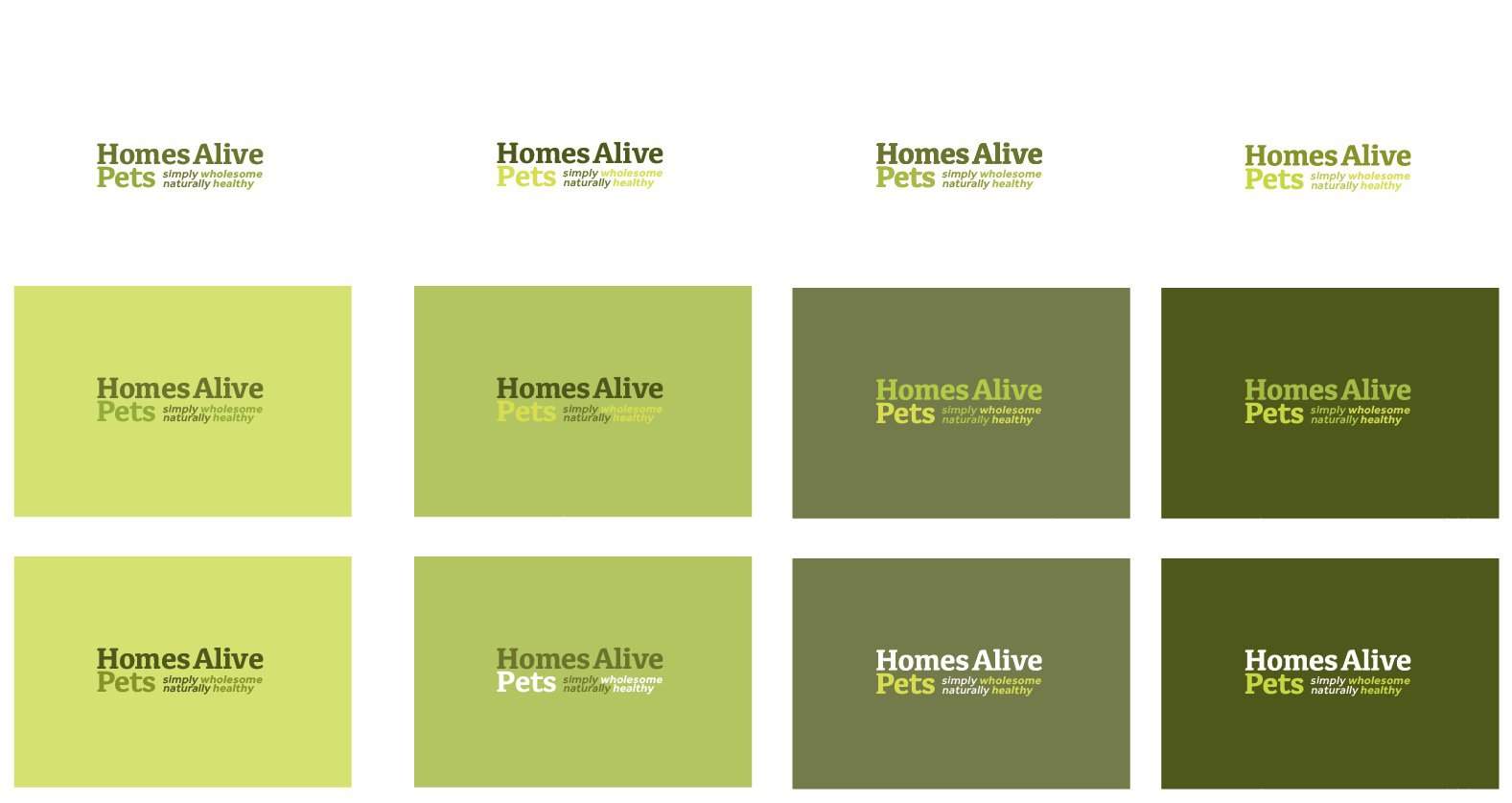 Just a few of the colour options we look at for Homes Alive Pets.
Very early drafts of cat and dog style, even including a photo of me and my German Shepherd, Miss Charley.
SaveSave
Rocket VFX (tv and movie visual effects company), is a logo & brand identity re design project that I've been working on now for a little while now.
Just like a previous case study post for VIEW'D, I'm sharing the ongoing logo design process for Rocket Science VFX, as it happens and unfolds; an ongoing, and in progress, logo design case study.
I will update this ongoing logo design case study with new screenshots and photos of my mock-ups, sketches, and scribbles as they are done.
In this post are just a snapshots of the later stages of the project, showing the most recent logo design concepts, initial thoughts on the style of typography and all the messy sketches that go hand-in-hand with developing a logo design.
About Rocket VFX (RSVFX)
Rocket VFX: In addition to Script-to-Post Visual Effects Supervision, Rocket Science VFX maintains full-time Matte Painting, 3D environment and asset build, 3D tracking, and stereo compositing departments to create realistic environments and animation vfx compositing for features like "Pompeii" for Constantin Film, "Dolphin Tale", and "Dolphin Tale 2" for Alcon Entertainment, and "Chloe" and "Devil's Knot" for acclaimed Canadian director Atom Egoyan.

Our recent television credits include the Bafta award-winning projects: "Titanic" for ITV, and "Day of the Triffids" for the BBC, "Hannibal" for Gaumont/NBC, "Revolution" for Bad Robot/NBC, and ABC's Primetime Emmy-nominated "The Path to 9/11".
Rocket VFX - Logo Design Case Study
I initially started with the somewhat obvious: looking at a variety of existing retro, vintage, modern rocket logo designs and stock images.
No point starting a project like this without having a bloody good idea of what rocket logos and imagery already exist; obviously 1000's. Trying to find a unique angle for the new Rocket Science VFX logo would be a fun challenge.
With a pretty literal name as Rocket Science, it would be hard to not use some form of rocket theme for the new logo, but how I would achieve this was the question.
It was really just this selection of various rocket imagery that really got me thinking about finding a less 'obvious/well used/common/cliche' way to represent a rocket.
No doubt we could come up with a style of rocket that was relatively new, but they all get merged and sucked into one collective vat of rocket logos.
I also researched Sputnik, as this is a logo design idea the client had previously looked at in previous logo redesign exploratory work, before hiring me to take on the rebranding.
This is where I basically went back to the previous Sputnik idea, with the dots/circles, which does reflect the link to programming scripts within the VFQ process, and tried to look for a new and different approach…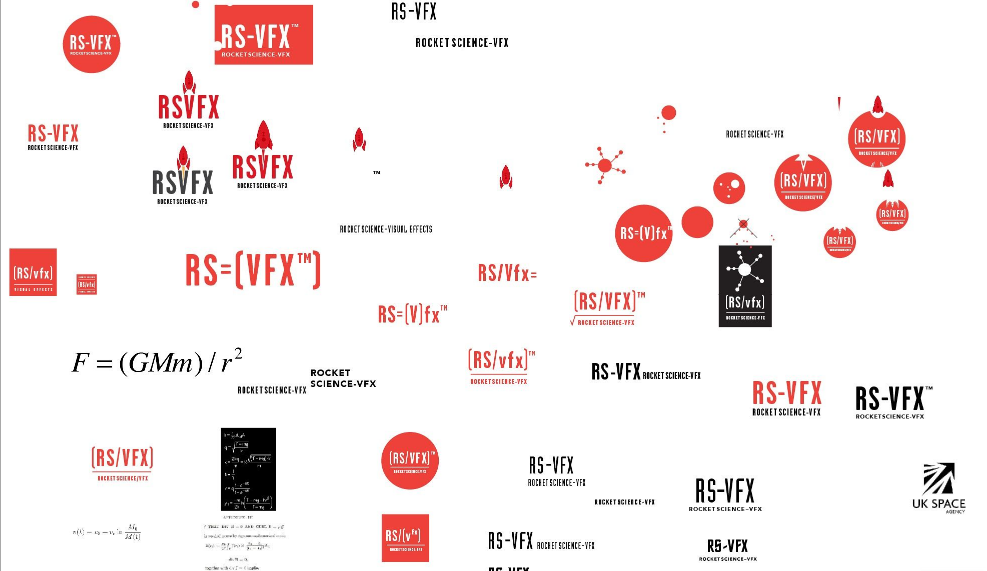 I also quickly looked at the 'science and equations' aspect, so focusing more on a typographic solution that literally played into the 'science' portion of the brand name.
I kinda like the way some of the names look, using the brackets to make a faux equation out of the initials.
You'll see I was still playing with the idea of the Sputnik visual integrated into the science equation aspect also.
However, I didn't get a sense of 'new and different' from any of these, so this direction has been put on pause.
Moving on, I started playing with bigger and more solid circles, maybe planets orbits, or extensions of the Sputnik, or even molecules\atoms RE Science…
This last shape started to trigger something which I needed to explore further (below).
Those solid circles with holes, eventually reminded me of rocket boosters, and the massive engines of a rocket!
Seems an obvious connection, but you can get so entrenched in a previous idea, that it's not always easy to see another direction.
Immediately excited by this new direction, as it screamed: massive, big, science, space, movies, everything that Rocket Science VFX is about, and gets involved with.
I also could see how this could be developed in a clean, fresh, bold logo format, and it got us away from the overly common side profile view of a rocket.
This bottom engine view is also so powerful, and represented so much energy and power, not to mention opening up a number of visual openings for logo ideas.
Have to say, I was getting quite excited at this point…
This is the initial mock-up (red imagery above) of the rocket engine view. A really strong, clean, bold and simple image that creates a totally different perception of a rocket.
Also, this form of logo would be easier to use, replicate, scale, place and play with due to it's square boundary box.
I then, at some point, when thinking of a way to alter it a little bit from a regular 5 engine rocket.
So I got back to thinking of movies, TV's and then another 'lightbulb moment': recalled that movie projector reels would be a perfect play. By adding it a 6th big circle, you have a very 'subtle' reference to a movie reel.
I don't want it to be too obvious at all, but a compromise would be adding a solid circle as in the right hand version.
So the result is a compact logo mark, formed from the most powerful and amazing part of a rocket, it's engine and boosters, along with a cheeky nod to the movie reel. 
I like incorporating 'cheeky nods' as and when I can.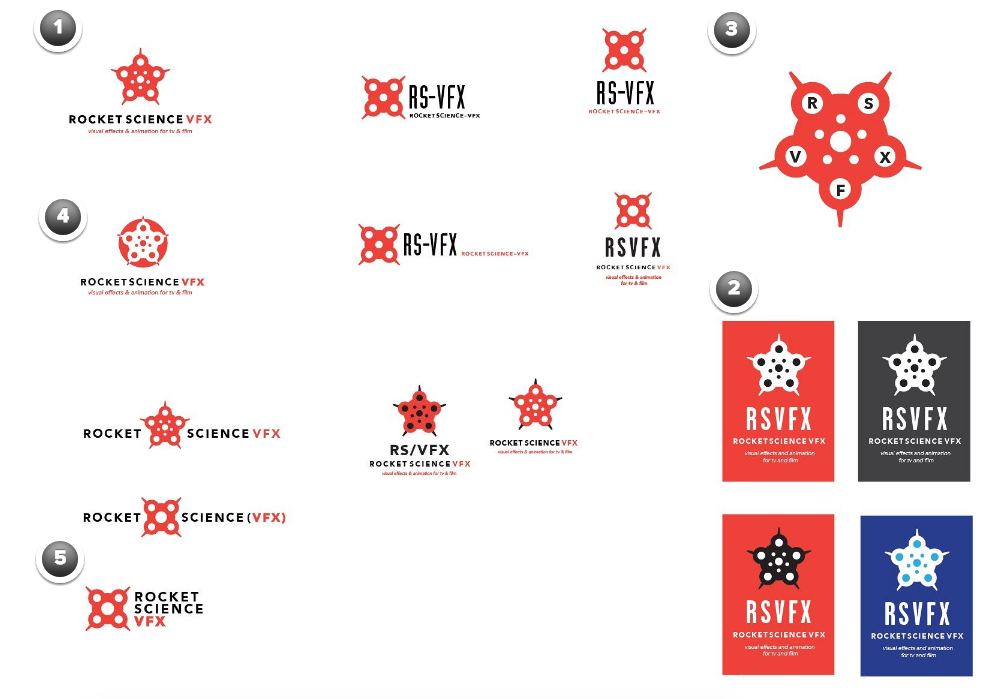 So here are some preliminary logo lock-up's (above, and number referenced below), using 2 main initial font styles to provide better context for the rocket engine logo idea. I have used both the movie reel, and non movie reel version, as they are quite different in overall look and feel.
I started to like the way a more defined 'badge', or contained logo block, could be created from the logo and the wording. I added a dummy tag-line, as I think it would be useful to include one with the logo, (something the client and I would look at later).
This was a bit of a fluke, but the initials fit nicely into the 5 circles, but this would only really work as a larger format logo, and could possibly be animated through spinning, or something else altogether.
The movie reel version with the large solid circle actually looks quite cool in this format.
Also very strong, solid and fuss free layout option.
I do like this taller 'stacked' version (above). It has more information and wording than I'd usually be comfortable with, but if nicely spaced does works well as a prominent brand mark.
I can almost imagine flames and smoke coming out of the engines, towards the screen/user, and maybe slowly rotating as the rockets etc do when they start their journey to space.
The Next Phase
After showing the client the previous logo mock-ups, and ideas, there was some great feedback.
One of the suggestions: to try and turn the previous 'flat' ideas, into something that had more depth.
I did play with this suggestion (sketch above) by tilting the previous flat designs, and came up with some logo sketches of the rocket booster engines, and nozzles, at a far more dramatic angle: tilting it closer to the 'viewer'.
I've added hint of a 'capsule' nose to the top of the engines, or alternatively a very extreme depth of field, of the entire length of the rocket shooting off into the extreme distance.
IN terms of being able to bring their logo to life through animation, this could see flames, smoke, and shimmering invisible heat effect, and vibration, as the engine rumbles into life.
So this is where the project is at the moment, and I'll update this Ongoing Case Study with further updates, sketches, ideas and comments as they occur.
SaveSave
SaveSave
SaveSave
© 2005-2018 All Rights Reserved The Logo Smith
Logo Designer & Brand Identity Design Studio, with 25 Years Experience.
Graham Smith: 10 Badgers Copse, Seaford, East Sussex, England.
 Tel: +44 (0) 7816 527 462  Email: glogosmith@gmail.com