Other Ways to make Contact
I'm happy to talk to you on the phone, or exchange text or email messages, if you have any design related query.
I'm easy going, and generally pretty chill.
write: hello@smith.gl
speak: +44 (0) 7816 527 462
---
Social Media
You can also find me on a few Social Media platforms; Twitter, Mastodon and Google generally are used the most.
---
Useful Pages
If you are new to here, and are looking to maybe hire Smithographic for a logo, or other design related project, then here are a few page links that will be of interest:
---
Where is Smithographic based?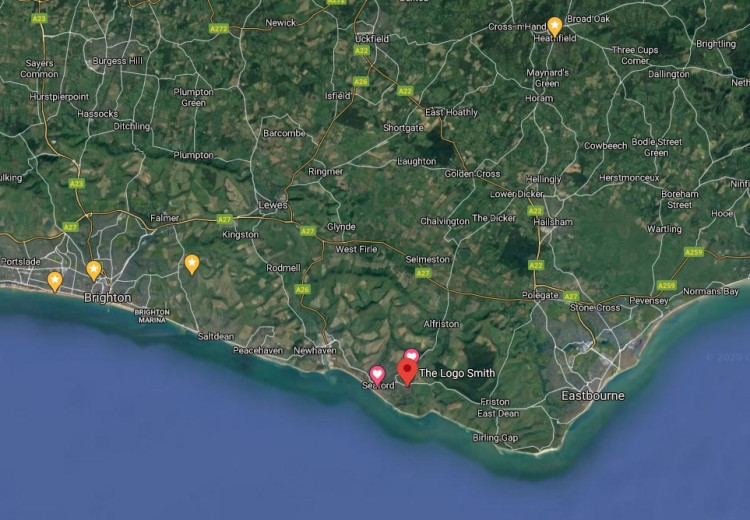 Smithographic operates from a coastal town, in the South East of England, called Seaford; slap bang in the middle between Brighton and Eastbourne:
Smithographic aka Graham Smith
10 Badgers Copse,
Seaford,
East Sussex,
BN25 4DF.
Great Britain.
Wikipedia on Seaford: In the Middle Ages, Seaford was one of the main ports serving Southern England, but the town's fortunes declined due to coastal sedimentation silting up its harbour and persistent raids by French pirates.
The coastal confederation of Cinque Ports in the mediaeval period consisted of forty-two towns and villages; Seaford was included under the "Limb" of Hastings.
Between 1350 and 1550, the French burned down the town several times.
In the 16th century, the people of Seaford were known as the "cormorants" or "shags" because of their enthusiasm for looting ships wrecked in the bay.
Local legend has it that Seaford residents would, on occasion, cause ships to run aground by placing fake harbour lights on the cliffs.