Brand Logo Reversions – A Fun Brand Logo Project by The Logo Smith
Brand Logo Reversions are the result of taking two major competing Brand Logo designs, such as Firefox vs Chrome, and reversioning their brand names into the competing brands logo.
Some of these Brand Reversion's are obviously taking-the-funny, whilst many are very serious attempts to create this Alternate Brand Universe. Hope you enjoy the results…
Brand Reversions has been one of my favourite Side Brand Projects (other side projects: Humanofied Brands & Unevolved Brands) that I have ever put together.
The whole process also allowed me to REALLY study and appreciate each of these brand logo designs, which was rather enlightening as a freelance logo designer myself.
View the Complete Brand Reversion Collection on Instagram.
Brand Reversions has been featured on the following websites: Design Taxi (July 2018), Quipsologies, Design Taxi (2012), Laughing Squid, Peta Pixel, Business Insider, MyModernMet, Gizmodo
The Collection
NYC Subway vs London Underground
FedEx vs UPS
UPS vs FedEx
London Underground vs NYC Subway
GAP vs Zara
Zara vs GAP
Soundcloud vs Beatport
The North Face vs Helly Hansen
Helly Hansen vs The North Face
Beatport vs Soundcloud
Lancia vs Volvo
Volvo vs Lancia
Pepsi vs Coca-Cola
Coca-Cola vs Pepsi
Smart Car vs Mini
Mini vs Smart Car
Instagram vs Flickr
Flickr vs Instagram
Chrome vs Firefox
Firefox vs Chrome
Audi vs BMW
Goodyear vs Michelin
Vans vs Etnies
Etnies vs Vans
Meccano vs Lego
Lego vs Meccano
Steam vs Origin
Origin vs Steam
Kickstarter vs IndieGoGo
IndieGoGo vs KickStarter
Jeep vs Jaguar
Jaguar vs Jeep
Bacardi vs Martini
Martini vs Bacardi
Carlsberg vs Carling
Carling vs Carlsberg
Ford vs Citroen
NHL vs NBA
NBA vs NHL
Target vs Walmart
Walmart vs Target
Monster vs RedBull
RedBull vs Monster
Commodore 64 vs Sinclair Spectrum
Sinclair ZX Spectrum vs C64
Rolex vs Tissot
Tissot vs Rolex
Obey vs Supreme
Supreme vs Obey
NASA vs UK Space Agency
UK Space Agency vs NASA
Ducati vs Aprilia
Aprilia vs Ducati
M&S vs H&M
H&M vs M&S
Apple vs Samsung
Samsung vs Apple
Formula 1 vs Nascar
Nascar vs Formula 1
U.S. Air Force vs Royal Air Force
Royal Air Force vs U.S. Air Force
Levi's vs Lee
Lee vs Levi's
Audio vs VW
Ferrari vs Ford
Vimeo vs YouTube
Silk Cut vs Lucky Strike
Campagnolo vs Shimano
Shimano vs Campagnolo
Shimano vs Campagnolo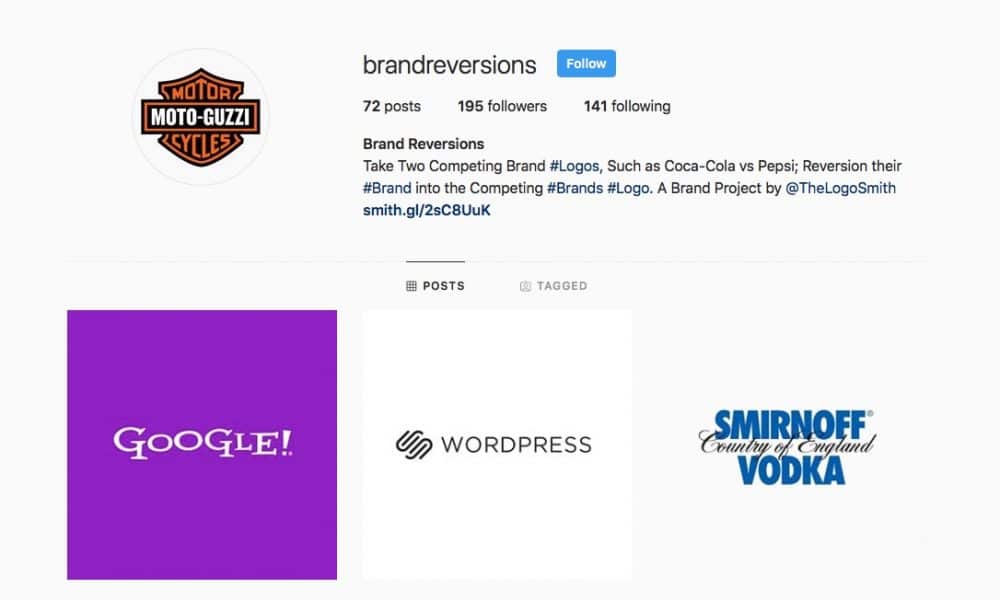 ---
---
If you like the Logo & Brand Identity Design work I have done in my Portfolio, and Case Studies and Monomarks, and are looking to hire yourself a Highly Talented, and Super Experienced (27 Years), Freelance Logo & Brand Identity Designer, then look no further. Visit Hire Me, and fill in the Design Brief, or just Contact me.
The Logo Smith has Full Business Idemnity Insurance (FCA Regulated).