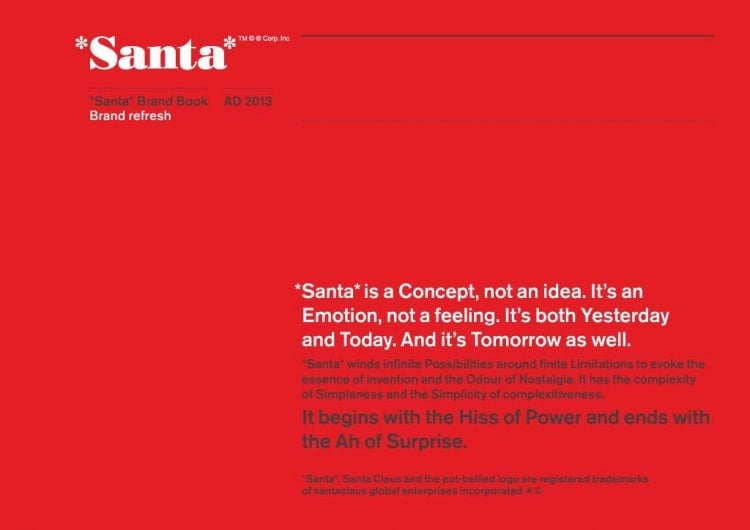 The Santa Brand Book AD 2020's Edition – Designed by the Quiet Room
Excellent. Just excellent. Simon Grover over at Quietroom sent me a note earlier. In that note was a message telling me they have been busy foraging around gathering updates for The Santa Brand Book, and Santa Logo, something they previously won accolades and hugs for given it's importance to us all.
*Santa* is a Concept, not an idea. It's an Emotion, not a felling. It's both Yesterday and Today. And it's Tomorrow as well.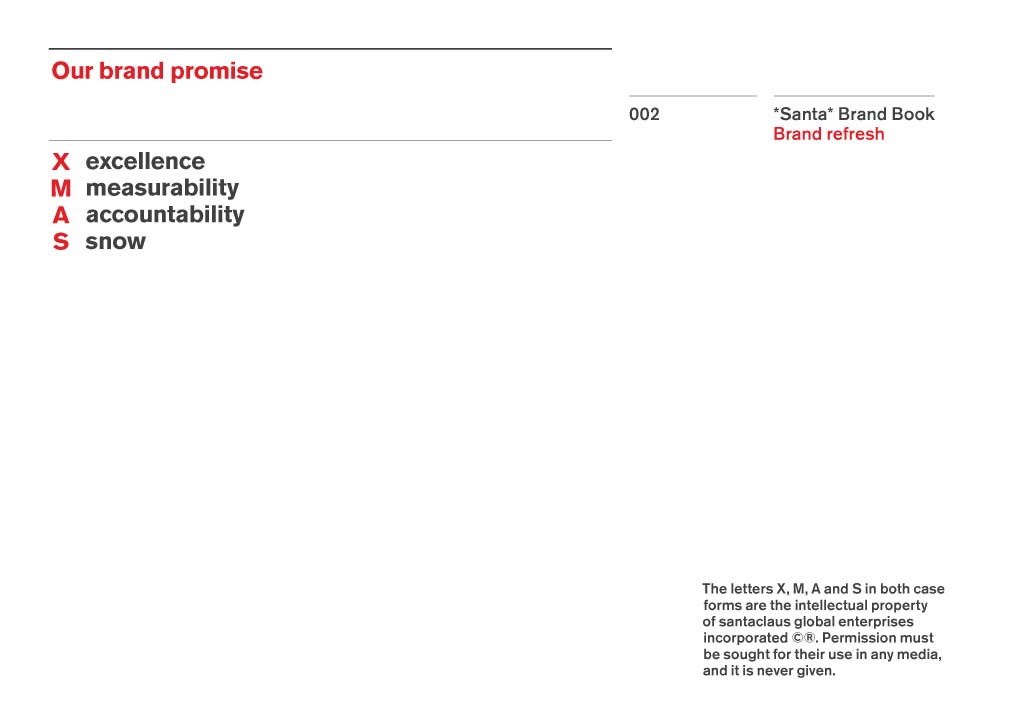 We now have, thanks to Quietroom, a new and updated version of the Santa Brand Book for AD 2020 with 15 pages of: Santa trivia, identity guidelines, stats, graphs and venn diagrams.
It's a compelling read, and I now have a much broader appreciation of the structure and personality of Santa's brand.
This can only be a good thing as we roll ever closer to Christmas 2020.
Go and check The Santa Brand Book: The AD 2020 edition, over at: http://www.quietroom.co.uk/santa_brandbook
*Santa* winds infinite Possibilities around finite Limitations to evoke the essence of invention and the Odour of Nostalgia. It has the complexity of Simpleness and the Simplicity of complexitiveness."
The Santa Brand Book AD 2020's Edition – Designed by the Quiet Room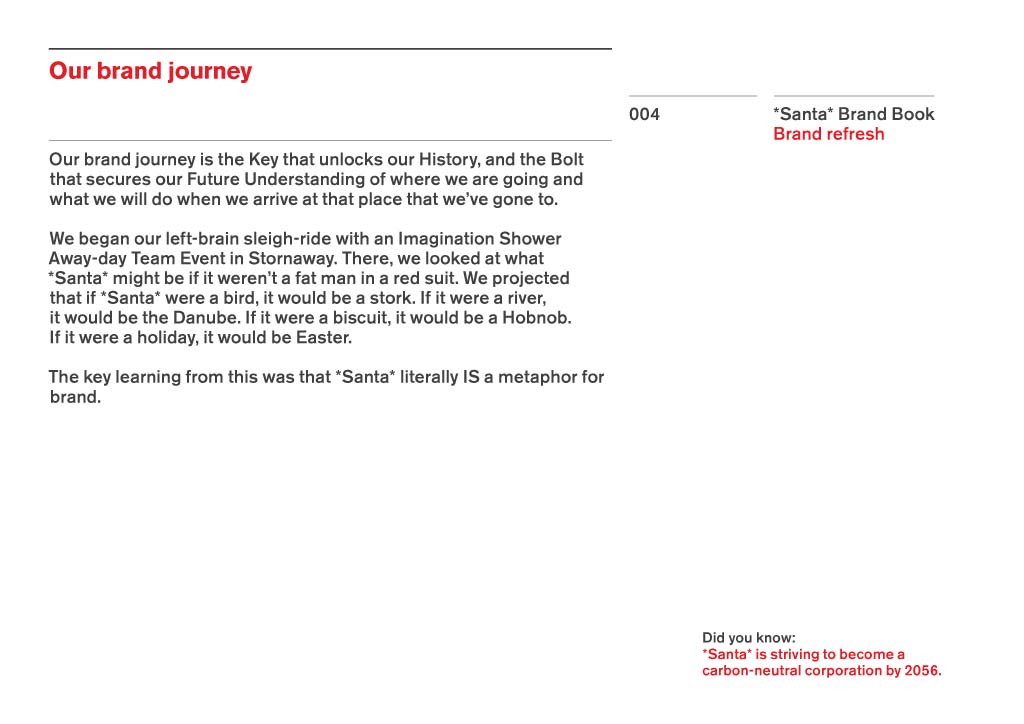 Our Brand Journey
Our brand journey is the Key that unlocks our History, and the Bolt that secures our Future Understanding of where we are going and what we will do when we arrive at that place that we've gone to. We began our left-brain sleigh-ride with an Imagination Shower Away-day Team Event in Stornaway. There, we looked at what *Santa* might be if it weren't a fat man ina red suit. We projected that if "Santa* were a bird, it would be a stork. If it were a river, it would be the Danube. If it were a biscuit, it would be a Hobnob. If it were a holiday, it would be Easter.
The key learning from this was that *Santa* literally IS a metaphor for brand: The Santa Brand Book
A brand is a sack on a sleigh of belief
Our brand house is constructionalised on a foundation of deceit, which is sunk deep within a bedrock of gullibility. The pillars of trickery, sparkle and myth shoulder the joist principle of illusion, which quasibuttresses the bathroom of magic. The loft conversion of our essence is protected from precipitation by the pantiles of our belief mission. This entire brand and Santa Brand Book metastructure is accessed through the chimney of *Santa'.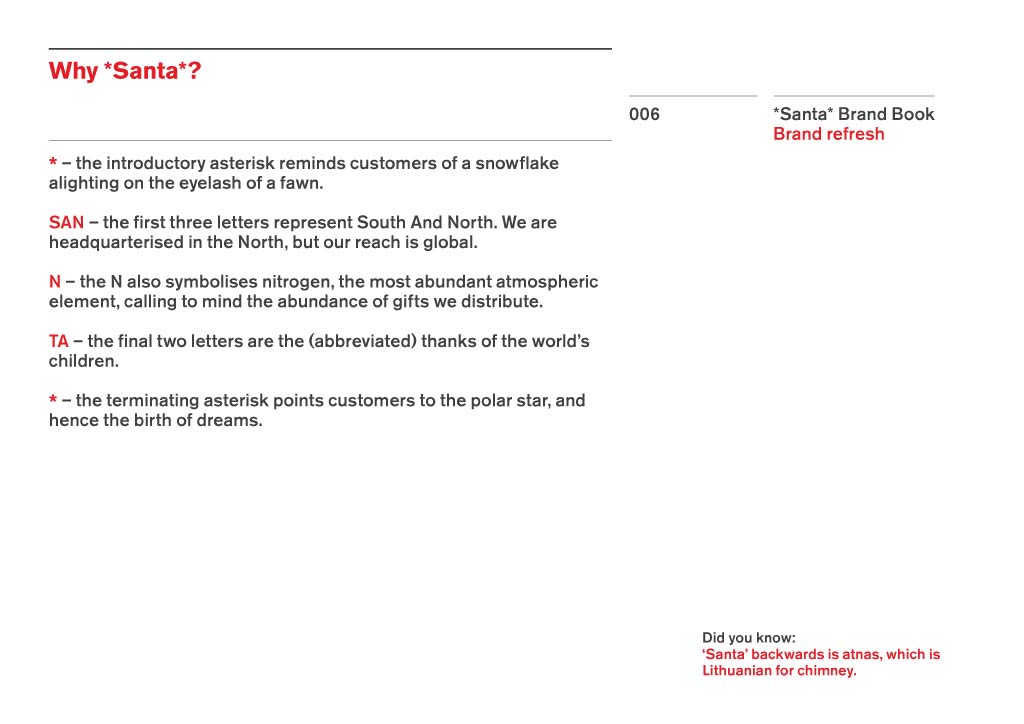 The Santa Logo
The Santa logo is a unique, key, prime, critical and predominant component of our visual identity framework. To ensure legibilitiness, the Santa logo must not be altered, adjusted, changed, adapted, modified, varied, reformed, revamped, refined, reorientated, transmuted, metamorphosised, customised or tailored in any way.