All Archived Posts in Logo Guidelines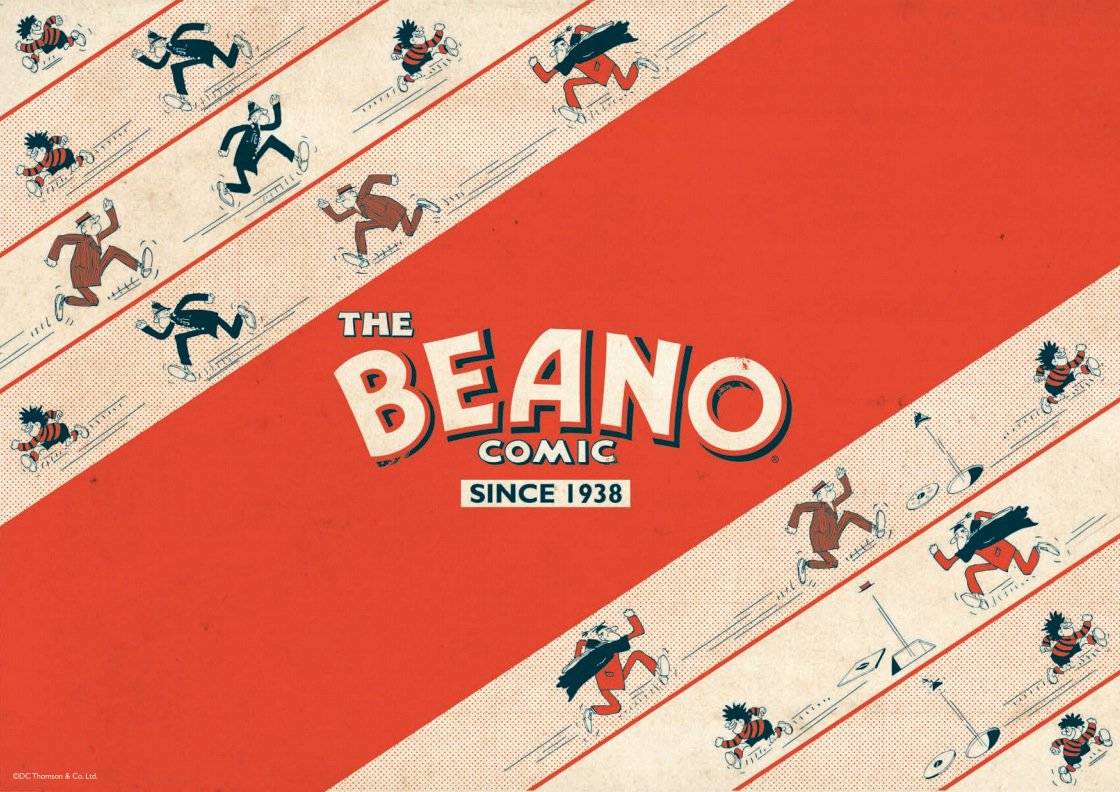 Beano Brand Guidelines Designed by Wayne Hemingway
Theses Beano Brand Guidelines is a serious flashback to some sweet childhood memories! I was an avid Beano reader, and was a member of the Beano fan club with some cool dudey membership items that I can't properly remember now.
Although the notion that i'd be a graphic designer way back then wasn't yet permeating through my cortex, I was drawing and painting on long rolls of Dad's wallpaper backing, and often trying to copy various comic character strips.
I forgot the joy and excitement waiting for the next Beano just drop through the door with my Dad's newspaper, such excitement.
I's simply magical to see these Beano Brand Guidelines, designed by Wayne Hemingway surface on the web. I have pulled out a few of the pages from the Beano PDF which you can view in full over on Design Week's Beano post
» Via: Design Week: Beano Brand Guidelines Designed by Wayne Hemingway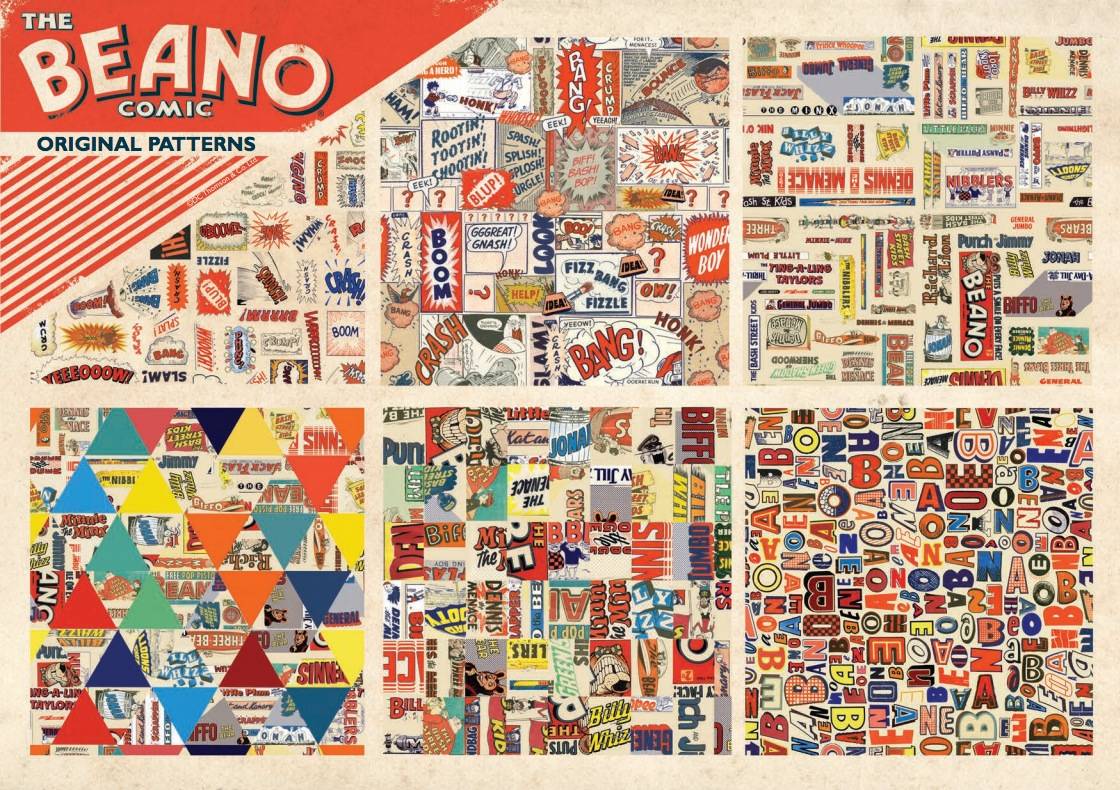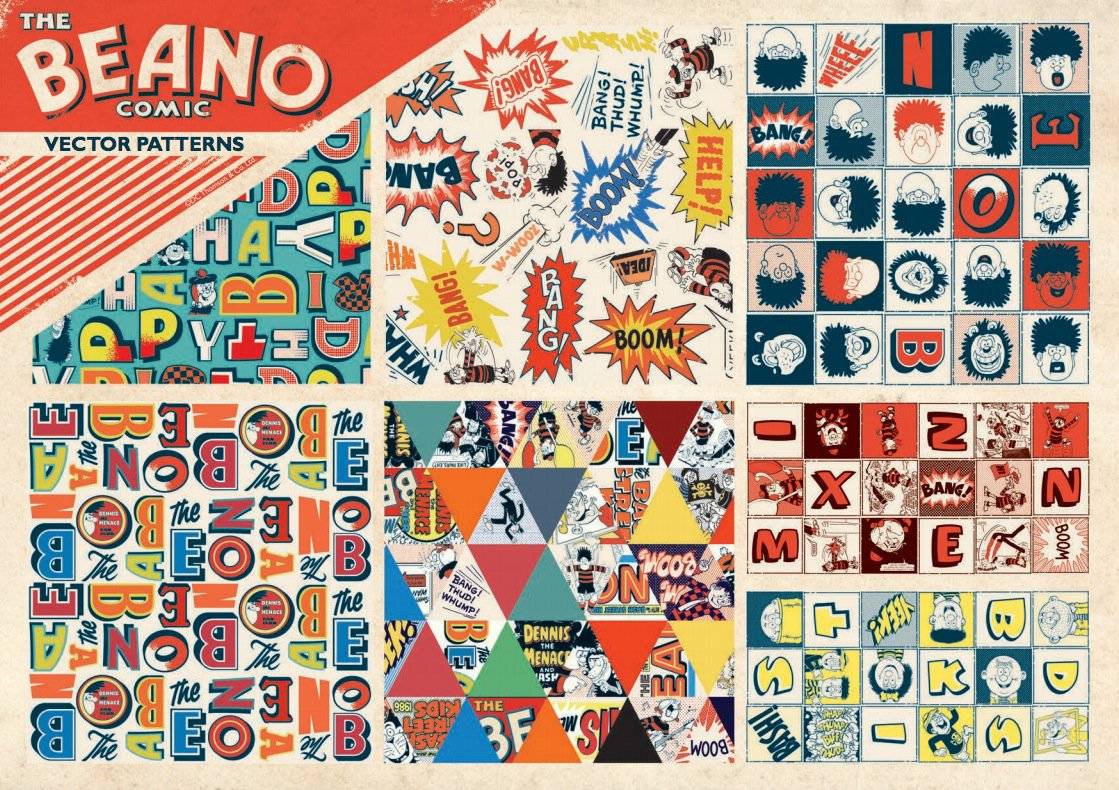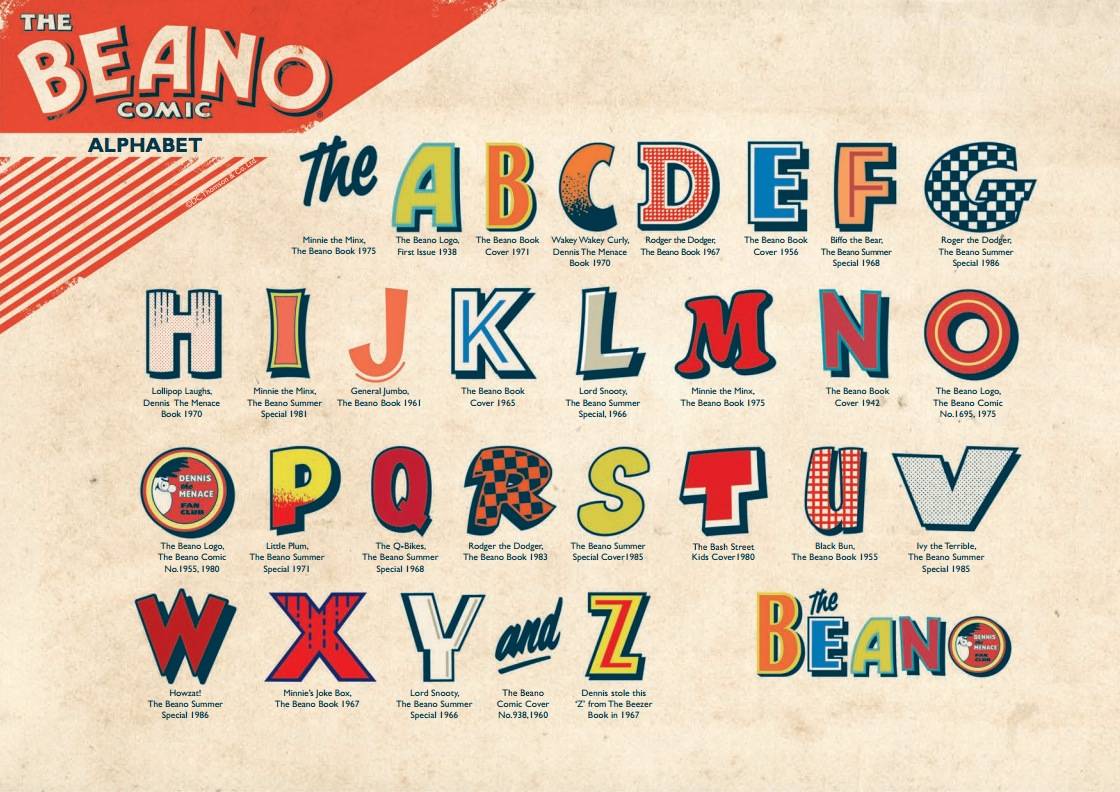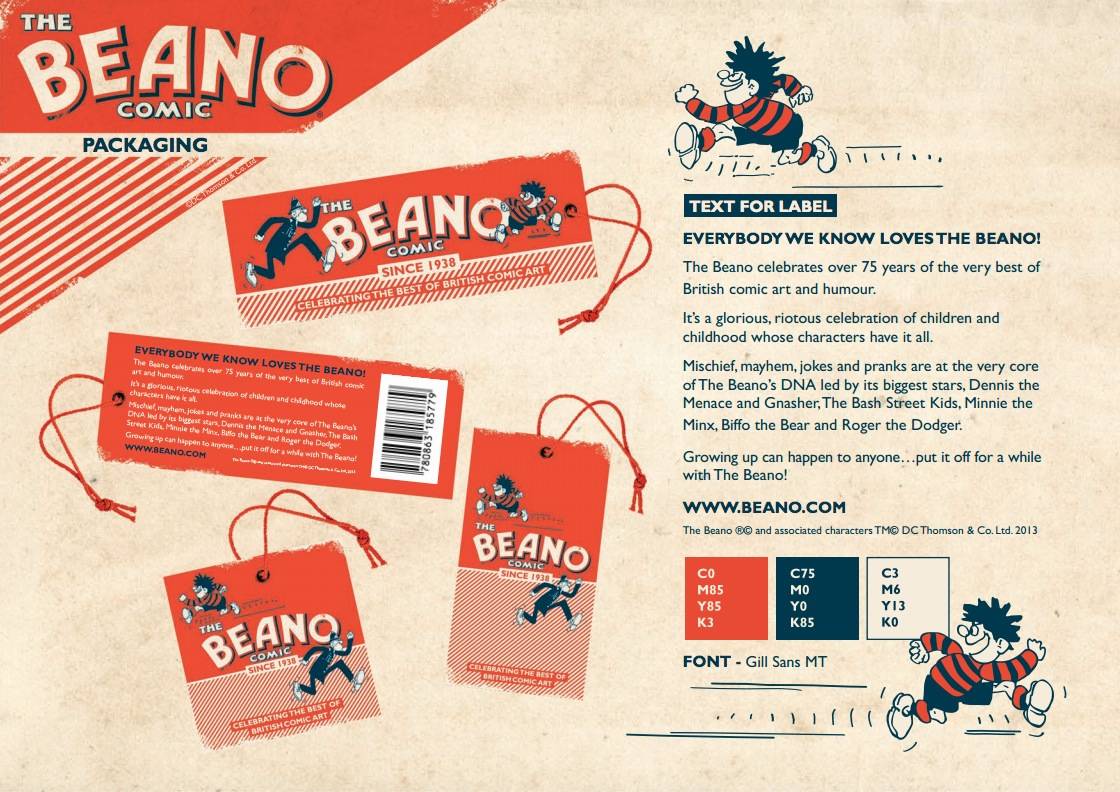 Excellent. Just excellent. Simon Grover over at Quietroom sent me a note earlier. In that note was a message telling me they have been busy foraging around gathering updates for The Santa Brand Book, something they previously won accolades and hugs for given it's importance to us all.
*Santa* is a Concept, not an idea. It's an Emotion, not a felling. It's both Yesterday and Today. And it's Tomorrow as well.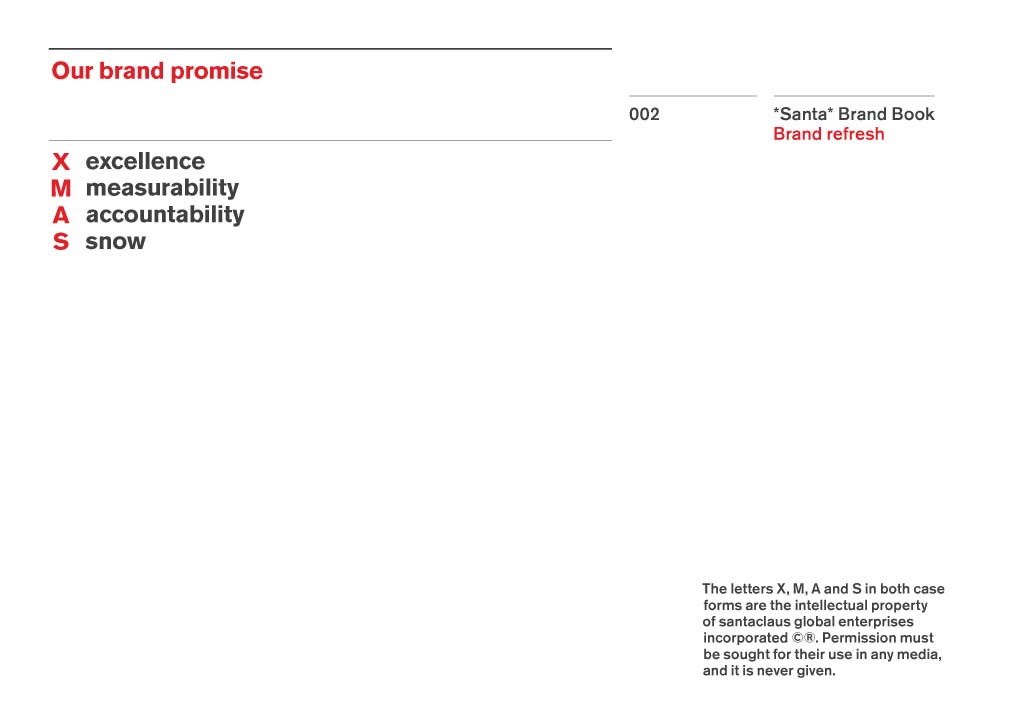 We now have, thanks to Quietroom, a new and updated version of the Santa Brand for AD 2013 with 15 pages of: Santa trivia, identity guidelines, stats, graphs and venn diagrams. It's a compelling read, and I now have a much broader appreciation of the structure and personality of Santa's brand. This can only be a good thing as we roll ever closer to Christmas 2013.
Go and check The Santa Brand Book: The AD 2013 edition, over at: http://www.quietroom.co.uk/santa_brandbook
*Santa* winds infinite Possibilities around finite Limitations to evoke the essence of invention and the Odour of Nostalgia. It has the complexity of Simpleness and the Simplicity of complexitiveness."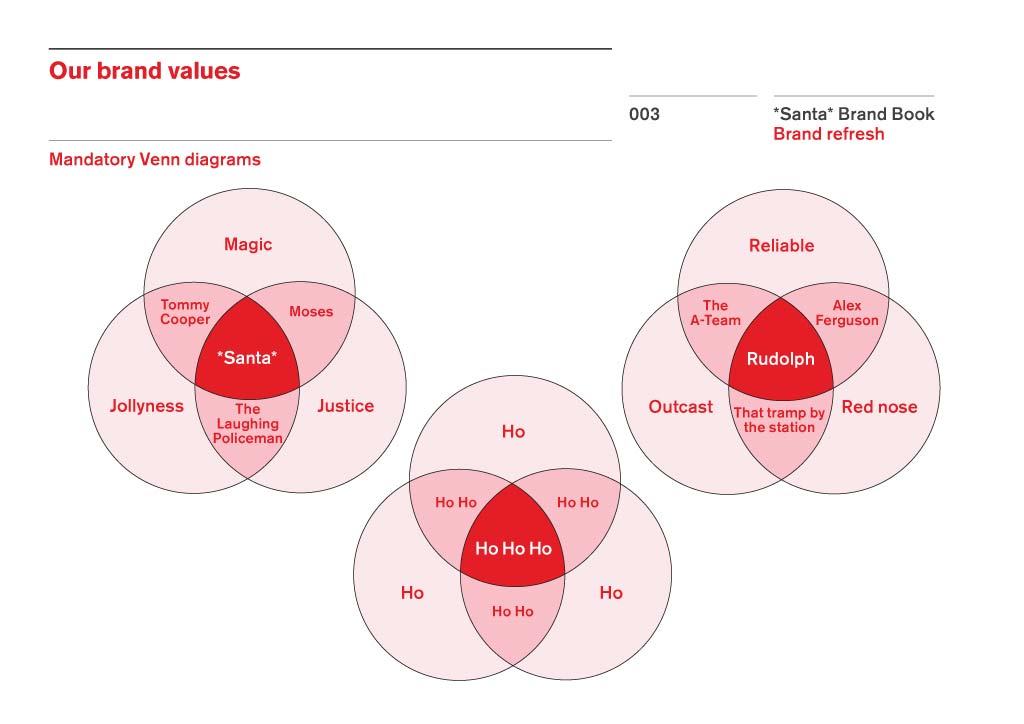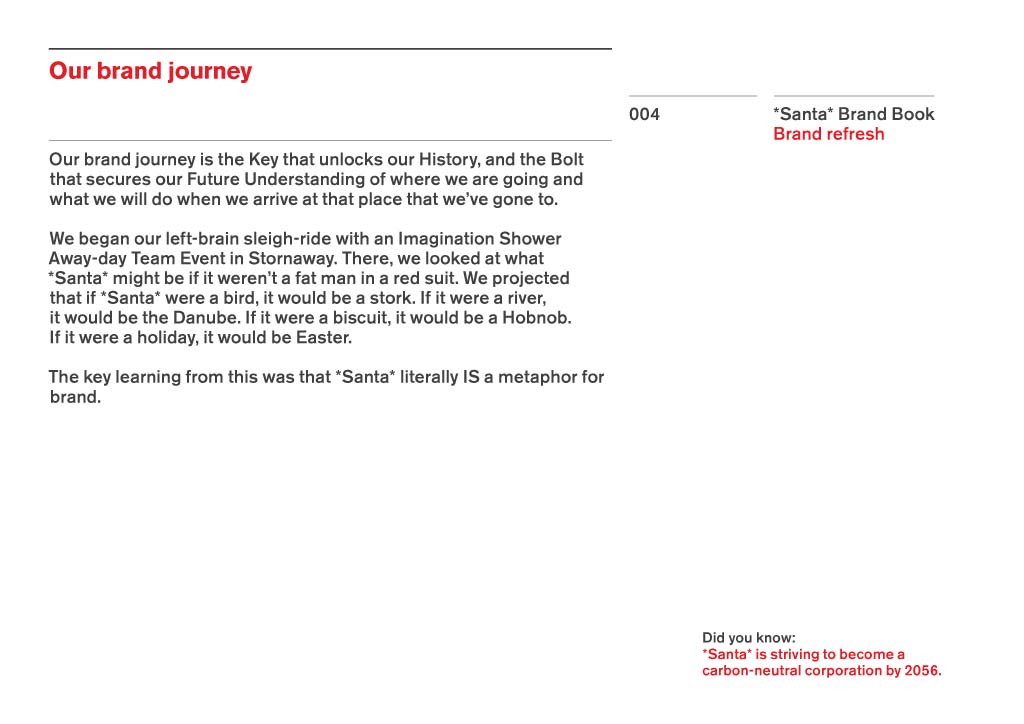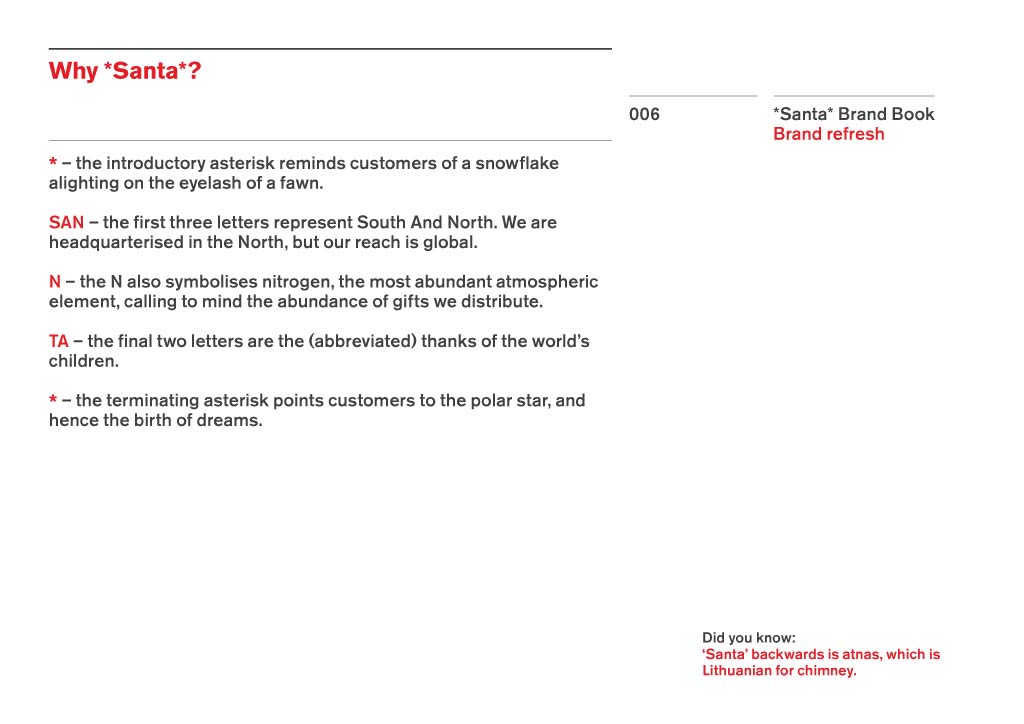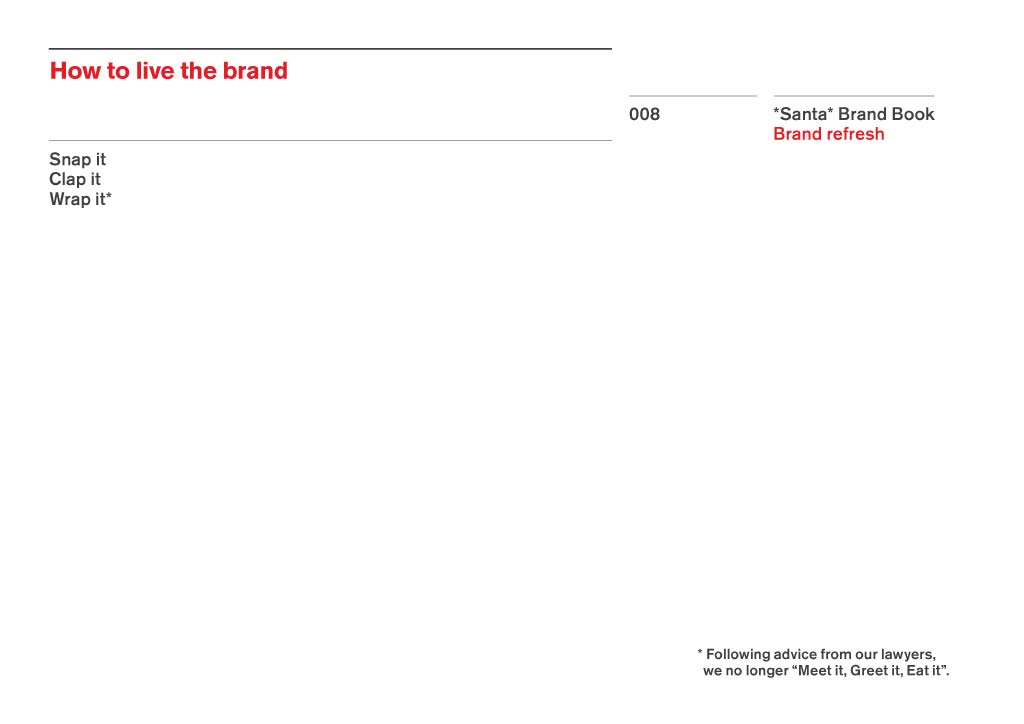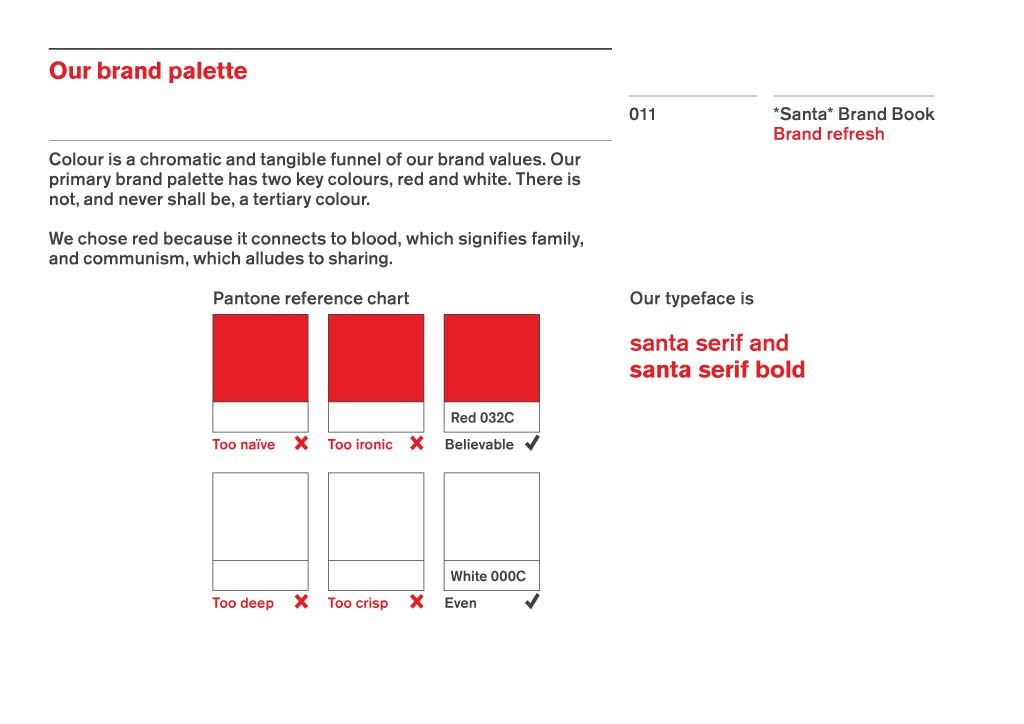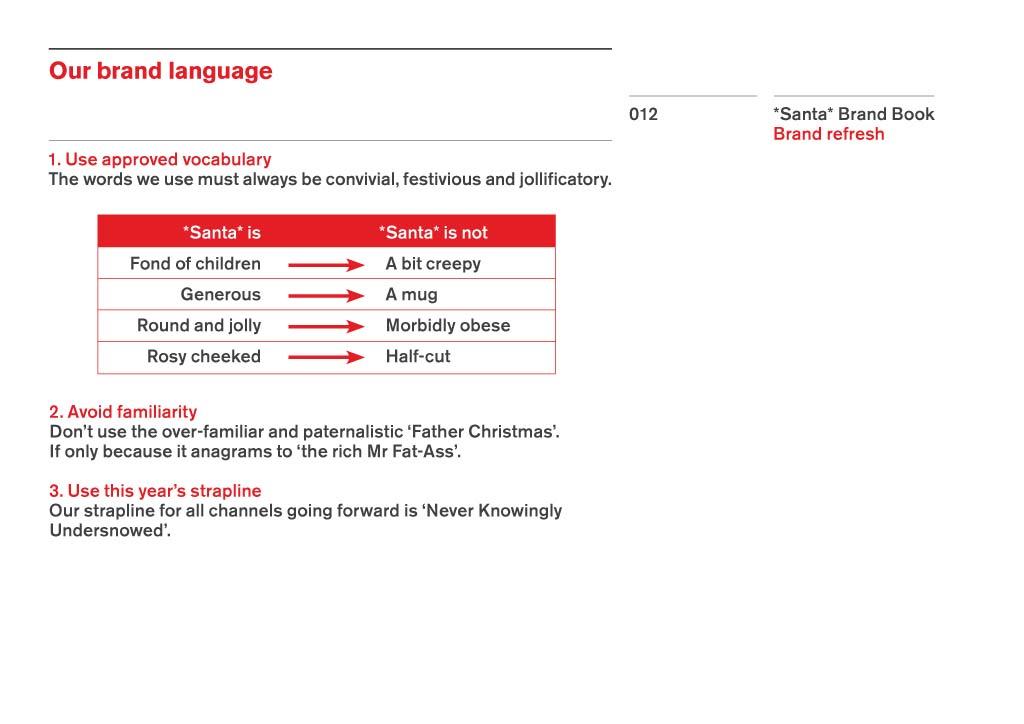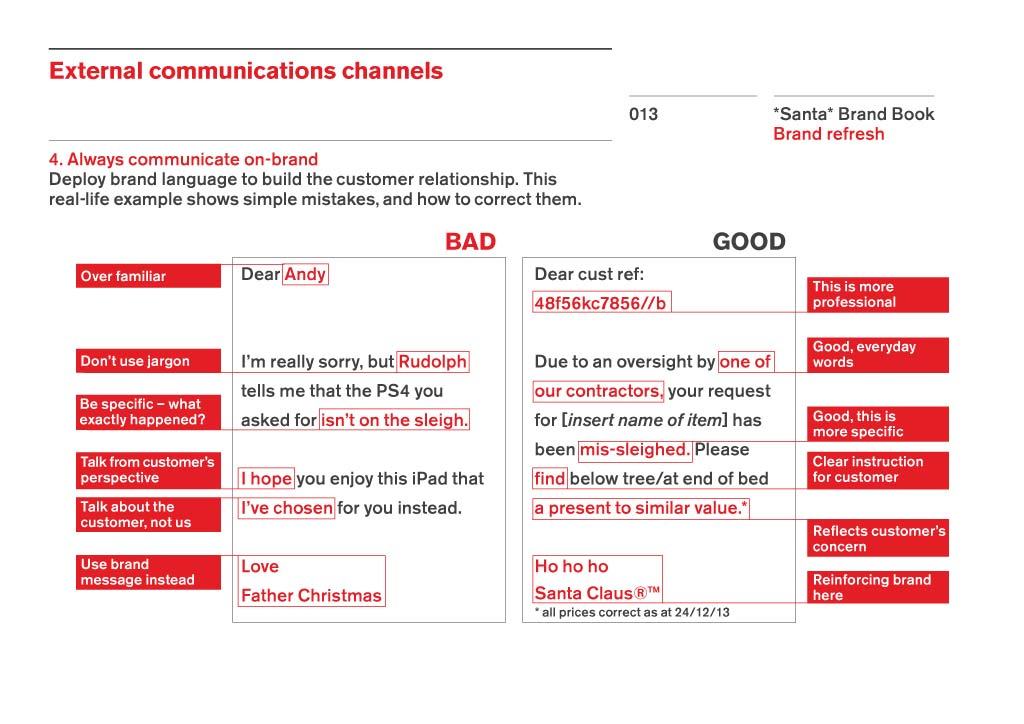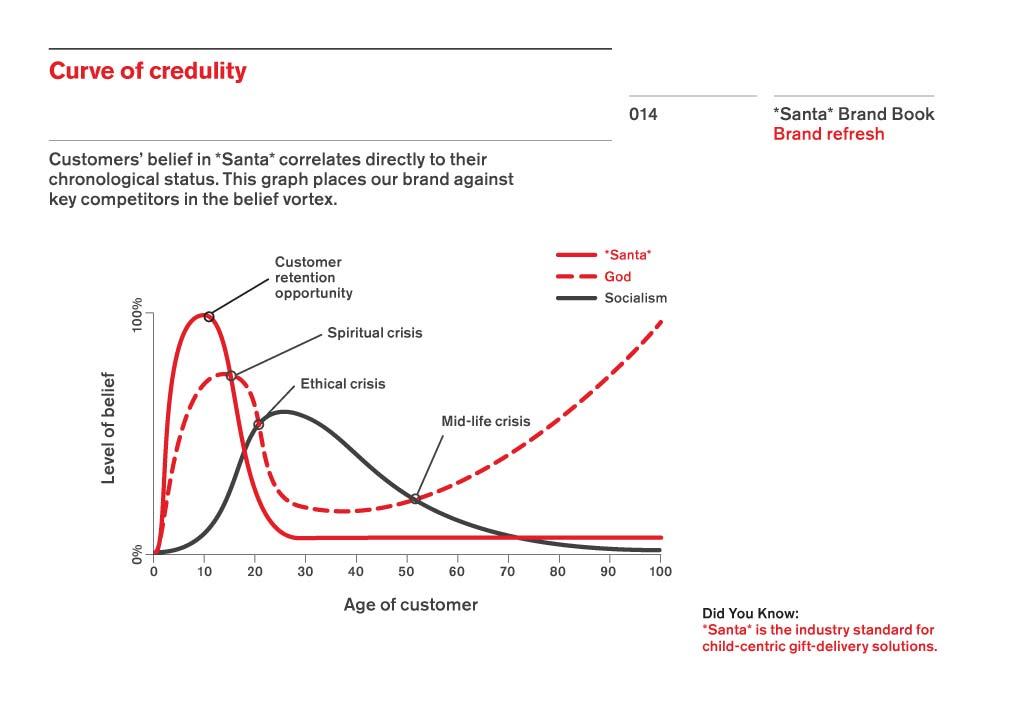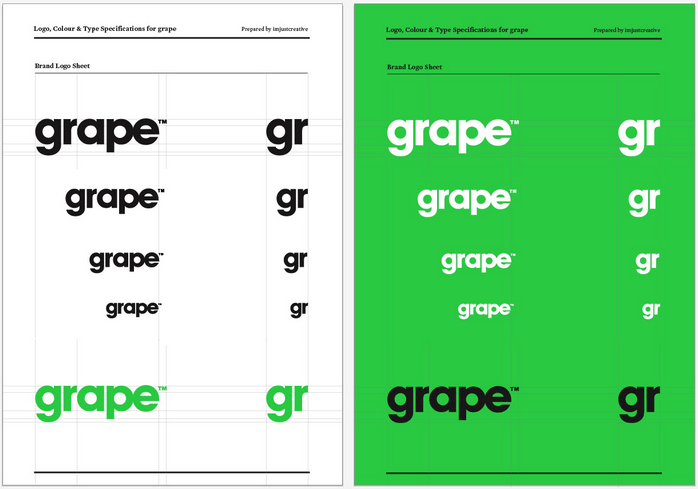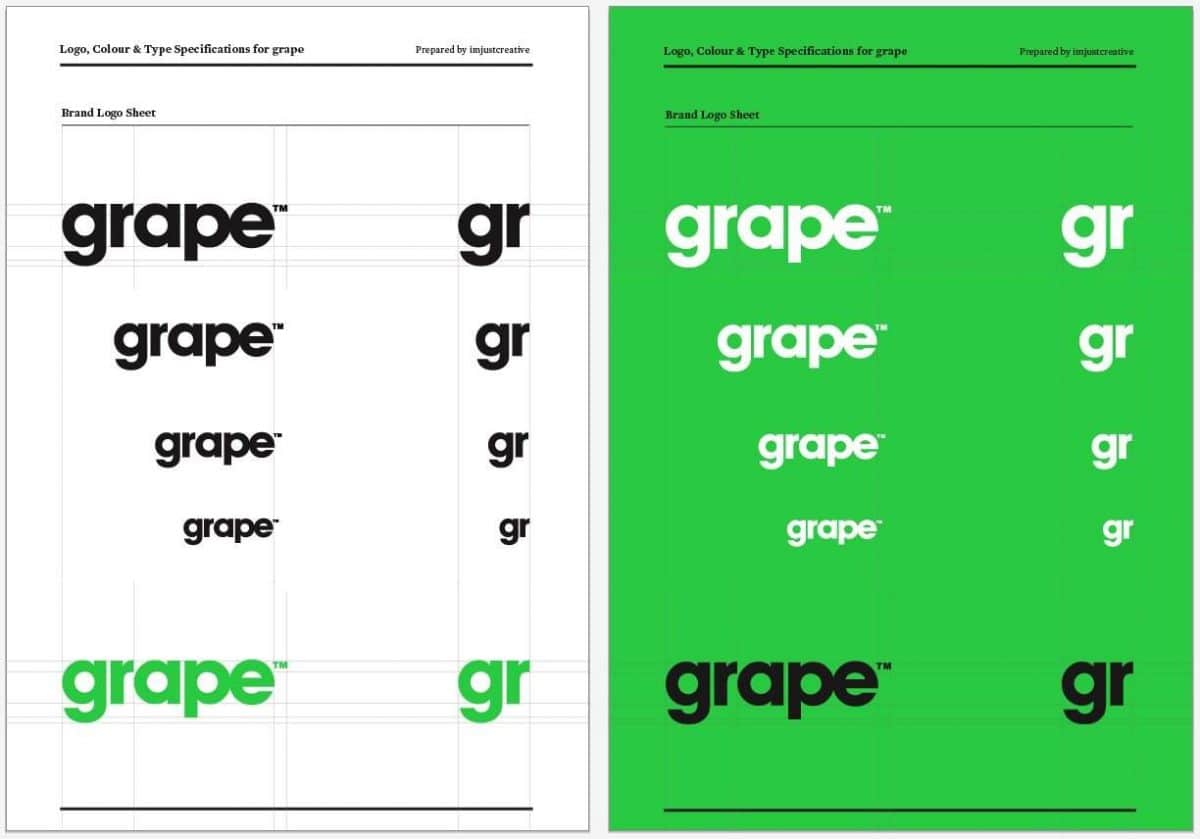 8 Page Logo Specification Book Template for Download
Along with my other freelance logo design guidelines, and specification templates, available to you, I now have added this 8 page logo sheet and style guide as a downloadable template.
The 'grape' logo is a current project I am working on, and so these guidelines have been designed specifically for the client. It's not fully complete as I have yet to add details on the stationery, further info on how the logo can be used etc, but these eight pages provide the main details.
This freelance logo design guideline template is a little different to my previous ones, as it incorporates a page of iOS application icons which go hand-in-hand with the project, more info on the typefaces as well as providing a final artwork logo sheet.
I have also summarised the seven main pages of logo, typestyle, colour and icon guidelines into a One Page Summary as a convenient extra for the client.
Please Note
I have removed all instances of the 'grape' logo from the template, and replaced the icons with black placeholders. I realise it then looks a little naked, but just used the guidelines I had in place as positional to place your own logo, and then adapt those guides as needed.
It's more about just being able to provide you with something to get you a head start in you own project. This should all still provide you with a sound base to adapt your own logo sheet and guide from. You can download the template from the following link.
All fonts have been converted to outlines and I have provided both .ai and PDF versions. If you require another format, then please drop me a line in the comments and I'll see what I can do for you.
Hope you might find it useful.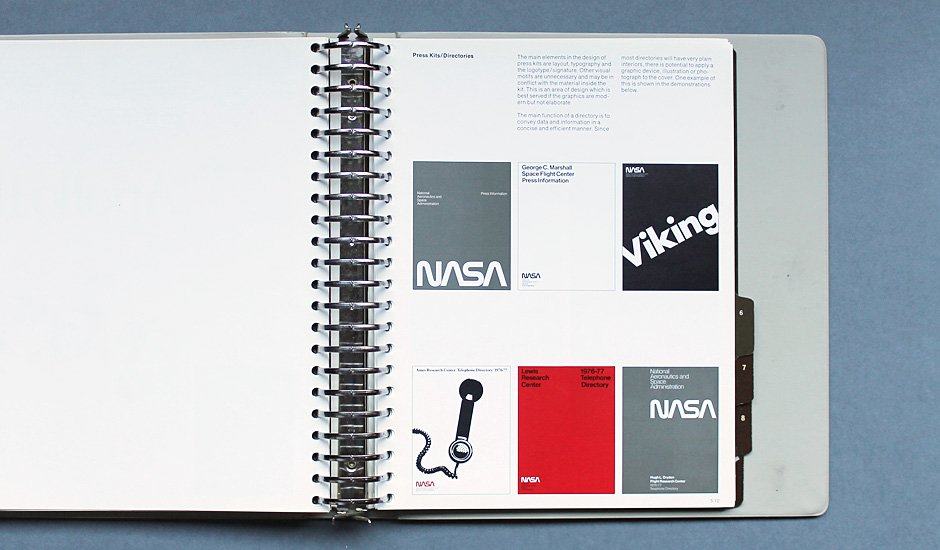 Some logos, NASA's included, should never have been retired. Some logos, NASA's included, were designed with such skill that they could have gone on and on and on and on.
I am still in awe over this version of the NASA logotype, and I always will be.
There are some other NASA logo posts elsewhere in my archives, like this post right here: Updated: NASA Brand Identity Guidelines 1976 which is really rather cool in itself, but the purpose of this little post is to kindly draw your gaze over to ThisIsDisplay.org where there is a lovely piece on The NASA Design Program:
The National Aeronautics and Space Administration Design Program is a modernist vision for an optimistic future. The logo (often referred to as the "worm") evokes qualities of unity, technical precision, scientific capabilities and uniqueness. Reduced to its simplest form; the one width, continuous-stroke letters are as contemporary today as when the logo was first introduced by Richard Danne (Design Director) and Bruce Blackburn (Designer) at Danne & Blackburn, New York, NY) more than 37 years ago. How then, in 1992, after 19 years, did such an emblematic design program for a future-oriented Federal Agency be dropped for it's previous (now current) Insignia (the "meatball")? What follows is a heartfelt personal account from Mr. Danne on the obstacles and achievements of one of the century's most important and widely published design programs.
In case you don't like reading, and subsequently don't reach the end of the page, there is a link that will take you to Display's Flickr Set where there are millions more NASA identity design images.
» Source: Display
» Via: Doobybrain
FedEx Brand Identity Quick Reference Guide is a nice little PDF covering the most basic of brand guideline advice for the FedEx range of logos.
What I do find most interesting is finally being able to nail down what version of red, blue—I mean purple—are the official FedEx colours.
K Download FedEx Brand Identity Quick Reference Guide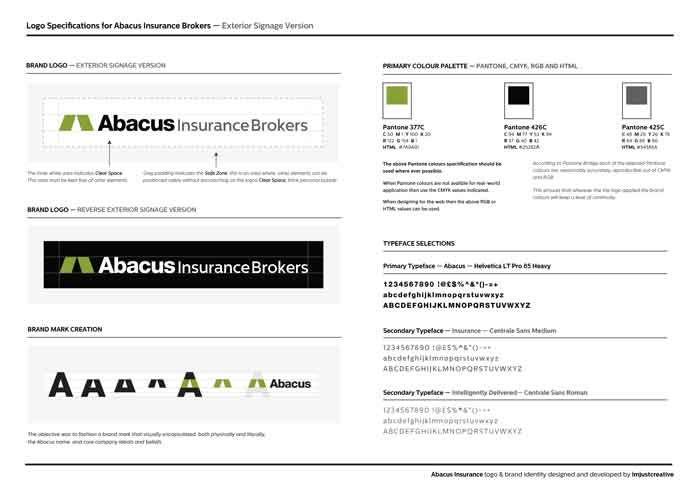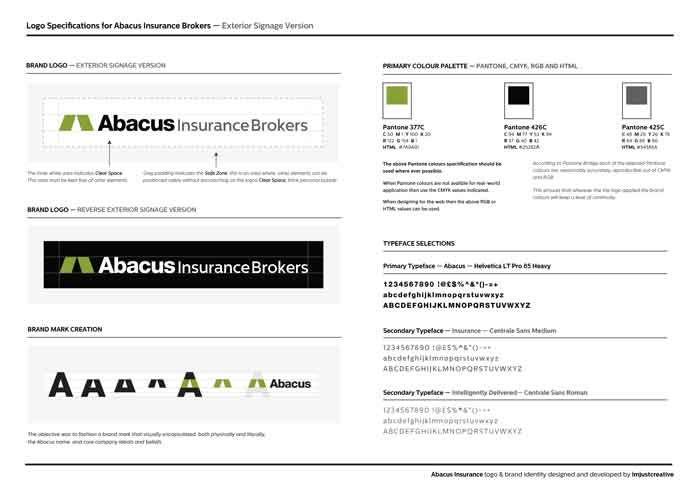 This is a continuation of an existing logo and brand identity redesign project for Abacus Insurance Brokers. Abacus was the first American online insurance brokers and the rebrand is part of their continued motivation with the company. I also created the tag line for the new Abacus logo.
The images above show the start of the brand identity guidelines, and specifically focus on the general usage of the Abacus Insurance logo.
We have logo versions for: interior and exterior signs, website header, stationery and print design, a short/mini logo and just the logo mark with/without a boxed container. The contained version being used as website favicon and social media profile image,
For ease of use, and visual continuation, the right side of the logo specification sheets share common information for: typeface choices and colour palette. The top-left displays each of the logo variations.
This is not the end of the project as we are still working on aspects of the redesign with the design taking a semi organic, adaptive and evolutionary process. The creation and format of the brand guidelines have taken a more modular form where additional designs and sheets can be added, with ease, into a binded folder.
I will continue to post updates as and when they are ready.
An image strip (above) showing how the Abacus logo mark came to be
This image (below) shows a few design ideas for branding of one small part of the identity: golf balls.
It can be all to easy to assume that style guides are only for logo's and identities, but as Anna Debenham points out over on 24Ways.org—this is an excellent website that runs for the first 24 days of December with web based guest articles on all manor of web themed topics—that many websites may require, or would benefit from, a detailed front-end style guide.
Detailed and complex identity projects usually benefit from an identity style guide; this is to ensure that anyone who might be hands-on with the identity can ensure that their creative input is consistent, and within the scope of the original brand design.
So given the often detailed and complex CSS style structures of many websites it then makes sense that a front-end style guide is also created. This would be to ensure that any further application of the website design is within a pre-defined style.
No ones likes to see anything they have helped create suffer at the hands of people who don't have these guidelines to follow. If you care about how your work is handled when you are not there to supervise then creating a one of these front-end style guides will be a huge blessing.
Read the original article over on Front-end Style Guides
If you enjoy looking through brand identity guidelines then you will likely find this post useful: Bulging Sack of Brand Identity Guideline Resources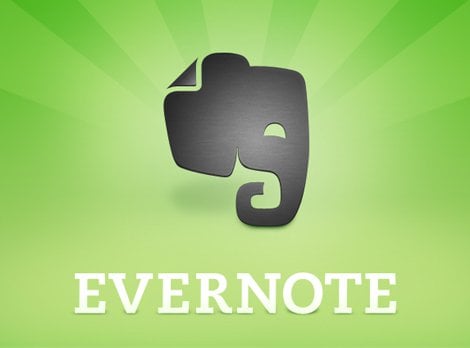 Ever since laying eyes on Evernote I have been a huge admirer of the logo design. The particular shape of the elephant with the folded back ear reminiscent of a document icon, or a folded page in a book, oozed brandability. 
It's actually right up there as one of my favourite logos of all time. That might surprise a few of you, but I always felt that this was a perfect mix of style, colour, detail and meaning as well as being totally flexible in it's universal application.
The Evernote logo is a perfect example of everything done right to cater for many possible variations of physical and digital requirements. There is not one application I have seen where the logo fails to fit perfectly all the way from the 16px favicon, the browser extension icons in both colour and mono, the iOS icons, Macintosh dock icon and so on and so on.
The Evernote logo is also a perfect example of a mainstream online brand identity to study.
Since starting LogoStack I have been curious to find out the origins of the Evernote logo, and for a while kept drawing a blank on who/whom was responsible.
Then today the answer was given to me by a few people due to a relatively recent Evernote Trunk Conference Youtube video, uploaded September 2011.
So thanks to ElephantChannel for the tweet that put me in exactly the right spot to get all the information I needed.
Icon to Interface - Evernote Trunk Conference
In this post I have added a few images which I grabbed from the following YouTube video which I would strongly urge you to watch in it's entirety.
It's close to 45 minutes long and covers the initial scope of logo ideas, in-depth reasoning, logical and practical considerations of implementing the Evernote logo/icon across the entire brand identity.
For any one interested or actually works on logo and icon projects targeted towards web applications and mobile devices then this is a must see. If you also want to get a behind-the-scenes run down of the creative process of such an iconic brand then this is it.
In the video we find out who lead the creative team responsible for the logos creations which is Gabe Campodonico, Creative Director at Evernote. In this instance Evernote's brand identity was totally created in-house.
I watched it this afternoon and will be returning back to watch it again as some of the pointers are simple, common sense thoughts yet that can be often forgotten.
Watching this video is a nice kick up the ass to not forgot the simple stuff that can make or break a project.
You get to see some of the initial logo ideas and explorations.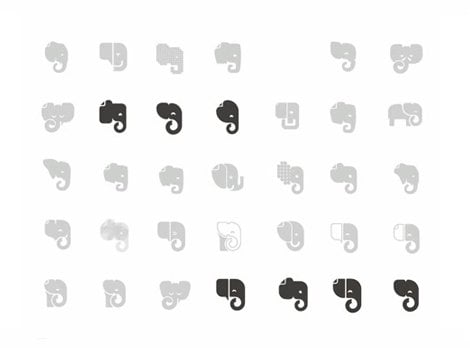 Then once Evernote settled on the core idea of an Elephant you get to see the variations they considered before settling on the final choice.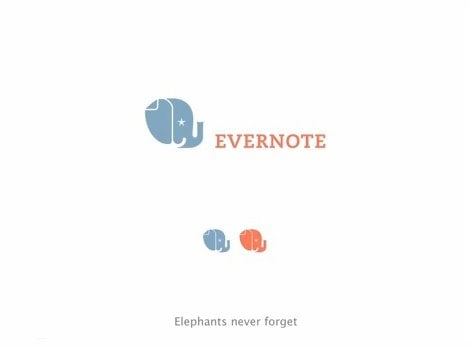 As well as a run through on the importance of owning a colour and style so that it shines above the many other applications and icons.
An interesting snip of information is that the creative team took just 6 weeks form start to finished logo design which is really quite incredible.
I am so genuinely pleased to have finally discovered the origins of the Evernote logo, and after watching the video have walked away with more than a few pointers and reminders about the creation and origination of solid logo and icon designs.
If you like all things brand identity then I have quite a meaty collection of guidelines and resources you might like: Bulging Sack of Brand Identity Guideline Resources 
Evernote Brand Guidelines
To finish this post up Evernote has a nice section on their website, Evernote Trademark Use, which details all the technical and legal information regarding the use and referencing of core aspects of Evernote's visual brand identity.
Download the Evernote Brand Guidelines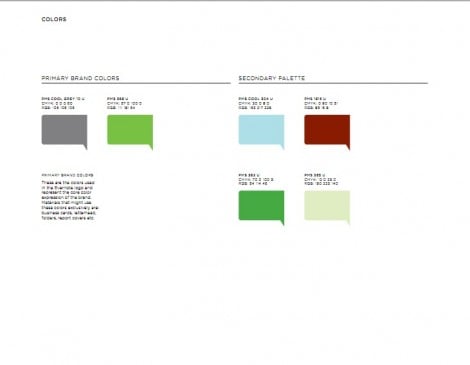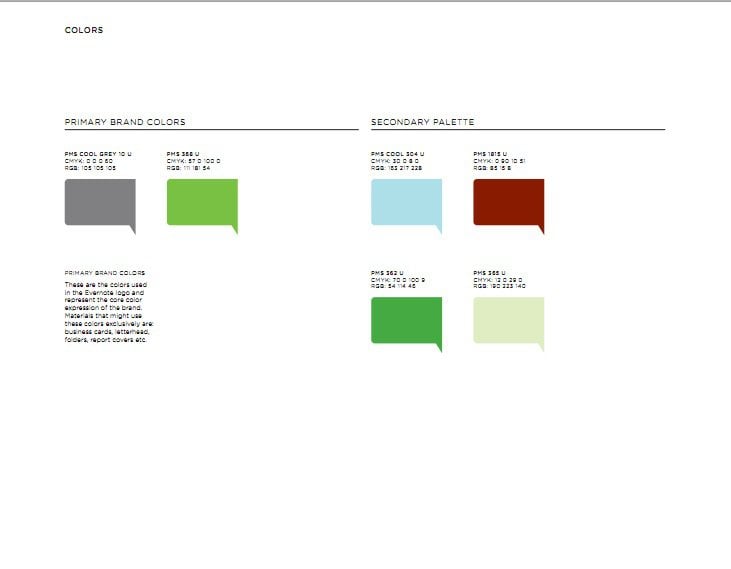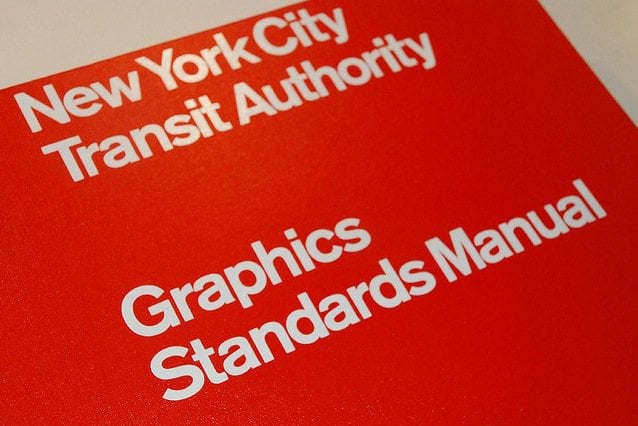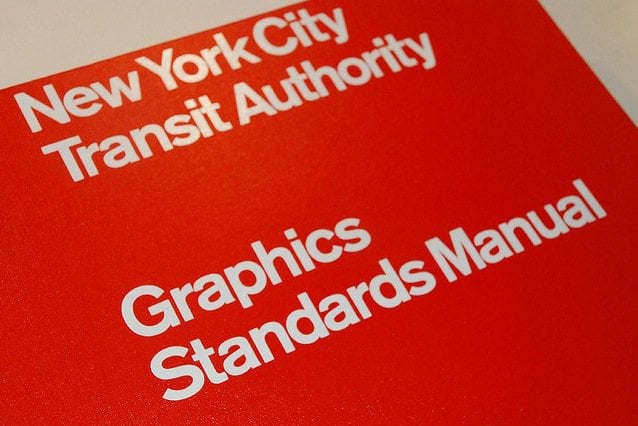 I love me some Brand Identity Guideline Resources and you will see that in the past I have featured a variety of such brand book guidelines covering: 
Skype
Adobe
Santa Claus
The Nazis 
NASA (part 1 & part 2)
I keep searching for other prime examples of branding books, corporate guidelines, identity guides, and through out these searches I often stumble across some nice examples, but not examples that provide the WOW factor.
The WOW factor is more of personal opinion rather than a scientific method of assessing WOW from NON-WOW, but usually based on what I also feel other people will take note of.
The Bulging Sack of Brand Identity Guideline Resources is a collection of branding and identity guidelines resources that I have collected over time that will hopefully keep you busy for a short while. A few are a few years old, and you have likely seen around, but I also think a few could be new to you.
Massive thanks to Sasha Agapov @agapov for reaching out to me, and sending me CISCO, Best Buy and Ford brand guideline.
Bulging Sack of Brand Guideline Resources
The Oxfam Brand Book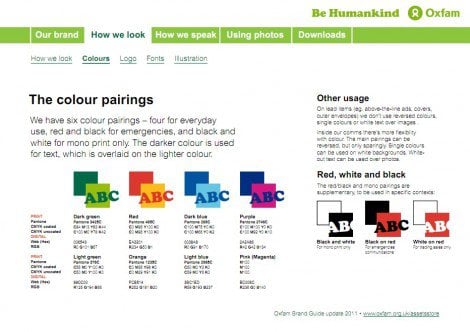 Download The Oxfam Brand Guidelines
The Jamie Oliver Brand Book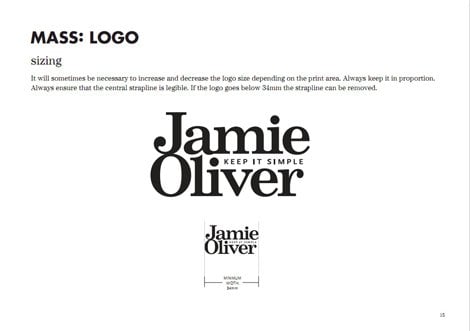 Download Jamie Oliver Brand Guidelines Book
New York City Transit Authority Graphics Manual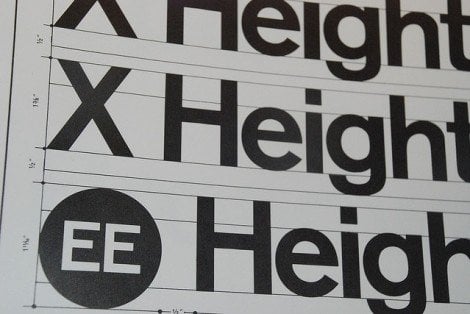 View more photos of the New York City Transit Authority Graphics Manual
Found via Swiss Legacy
The Best Buy Brand Book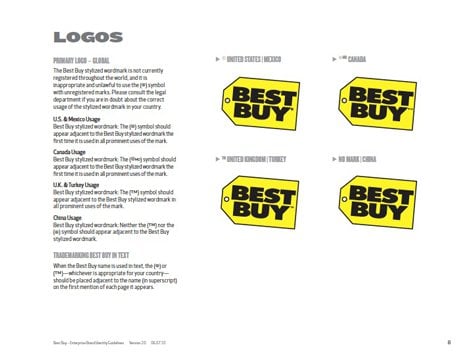 Download the Best Buy Brand Guidelines
The Ford Brand Book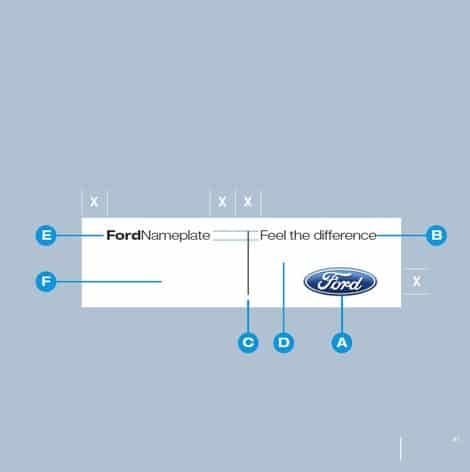 Download the Best Buy Brand Guidelines
The Barbican Brand Guidelines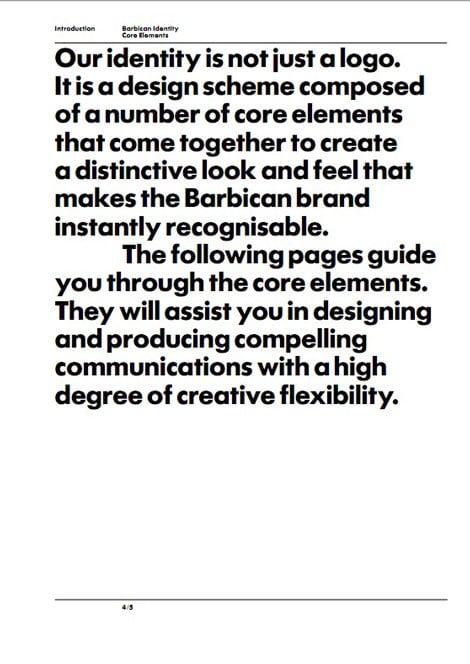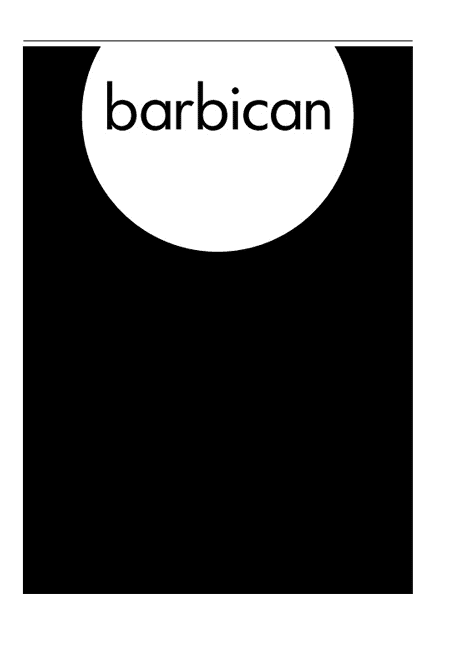 Download The Barbican Brand Guidelines
Found via AisleOne
The FearNet Brand Book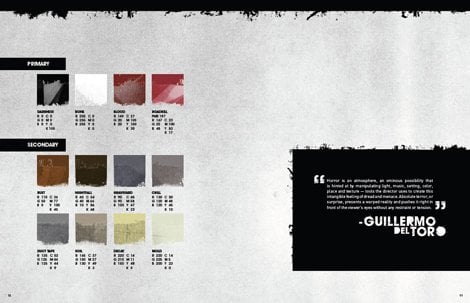 Download The FearNet Brand Book
The Easy Group Brand Manual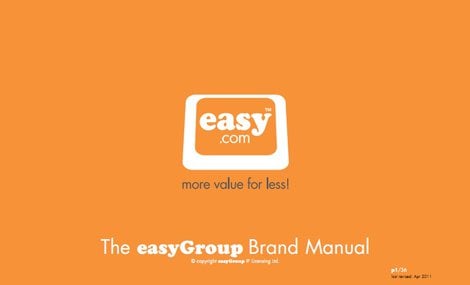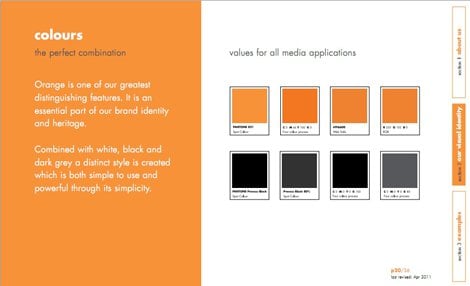 Download The easyGroup Brand Manual
Found via LogoDesignLove
Apple Identity Guidelines
Download Apple Identity Guidelines
The BBC GEL Styleguide
Download the BBC GEL Style Guide
Seagate Corporate Style Guide
Download the Seagate Corporate Style Guide
Vintage McDonalds Specification Manual
View more on Vintage McDonalds Specification Manual
The Propellerhead Brand Manual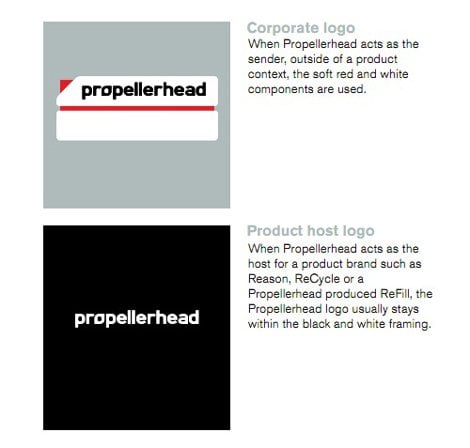 Download the Propellerhead Brand Manual
The F-Secure Brand Identity Guidelines
Download the F-Secure Brand Identity Guidelines
The Skittles Brand Book
Download the Skittles Brand Book
Found via Couldal
Other Brand Guideline Resources
So as well as all those don't forget I have featured the following brands on imjustcreative: Skype, I Love New York, FourSquare, Adobe, Sony Vaio, CISCO, Santa Claus, The Nazis and even Vintage NASA (part 1 & part 2).
Buy a Brand Book?
If you have some spare dosh you could head over to Blanka and buy some printed brand books with brands such as First Direct, Barbican and RAC.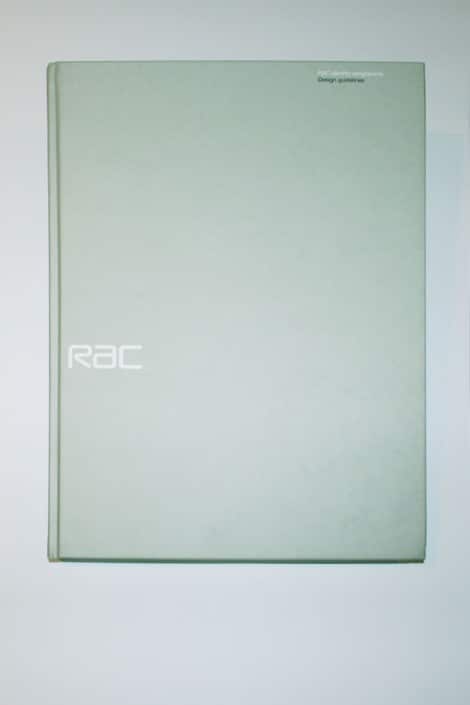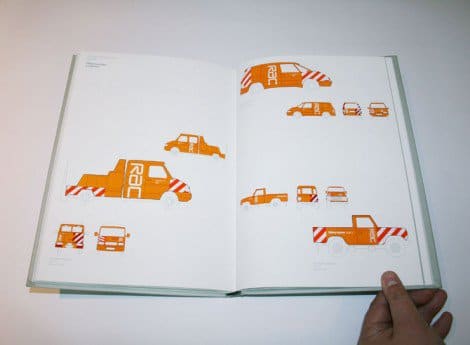 Brand Guideline Links
Designing Style Guidelines For Brands And Websites - Smashing Magazine
Guidelines And Standards Manuals - IdentityWorks
Brand Identity - Computer Arts
List of Corporate Brand Guidelines - DesignersTalk
Single Page Logo Guideline Template - imjustcreative
Four Page Logo Guideline Template - imjustcreative
Online Brand Guidelines
Some companies don't feel the need to create a brand book and so create a simpler online version. Penguin Logo Guidelines is one such example.
Brand Guideline Books
These are a few books on brand identity that I can highly recommend after having read them myself.
Book Overview: Brand Identity Essentials by Rockport
Logo Design Love by David Airey
Designing Brand Identity byAlina Wheeler
Wally Olins: The Brand Handbook by Wally Olins
On B®and by Wally Olins
The New Guide to Identity by Wolff Olins
Bonus Branding Book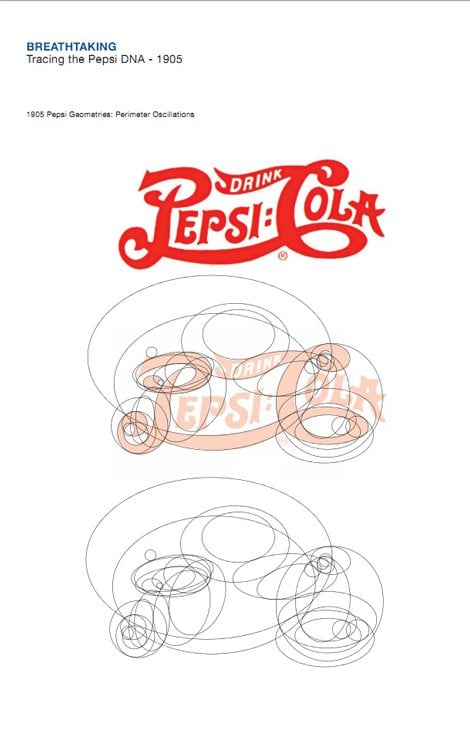 The Pepsi brand book is really good for a giggle. Have to wonder what planet the design team/person was on when this was conceptualised, but regardless of home planet they certainly have a wicked sense of humour. Practical joke time.
Download the Pepsi Brand Book
I was chuffed when I found the Adobe Brand Identity Book a little while back, but am more chuffed on getting my hands on The Cisco Brand Identity Book and Guidelines.
Massive thanks to Sasha Agapov @agapov for reaching out to me, and sending me these Cisco brand guidelines, and a few other brand books my way.
Once you check out the following images you will see exactly why I am really pleased to have these Cisco guidelines land on my desk. In terms of design and aesthetics, structure and layout the Cisco guidelines have to be one of the greatest set of brand guidelines I have seen recently, and comes close to trumping the Adobe Brand Book.
This set of Cisco guidelines were put together late 2010 so must be the most recent version?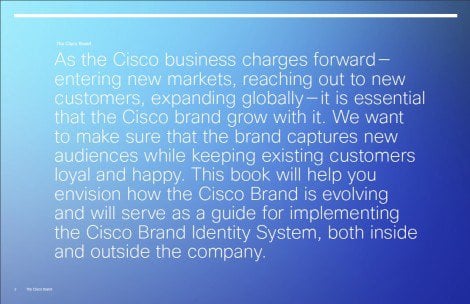 Everything about these guidelines is bordering on the perfect, and certainly appeals to my overall sense of design and layout. Every section is clearly presented with attention to the details that really make it stand out. It's fresh and lively without being too bland and conservative like the Sony Vaio brand book I covered recently.
The Cisco brand book is the complete opposite of the Sony Vaio guidelines. They show how capturing and presenting key valuable components of a brands identity can be done in a way that is a joy to read as well as being totally practical at the same time.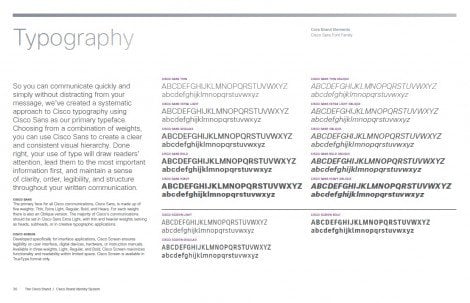 These guidelines are what I will strive to aim for in terms of layout and the presentation of information. I have found it quite difficult in limiting the pages to include in this post as so many of them are pretty good on the eyes, and keep going back to the pages for closer inspection.
The colour pages are particularly wonderful as is how one should use colours and gradients when working with the Cisco brand. Beautiful. You can download the 75 page PDF below.
View Other Brand Identity Guidelines
You can see other brand identity books that I have collected over time right here: Skype, I Love New York, FourSquare, Adobe, Sony Vaio (how not to design guidelines) and even vintage NASA (part 1 & part 2).
Download the The Cisco Brand Identity Book and Guidelines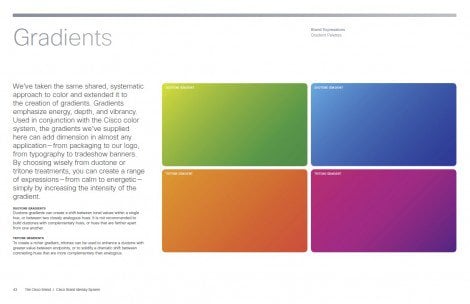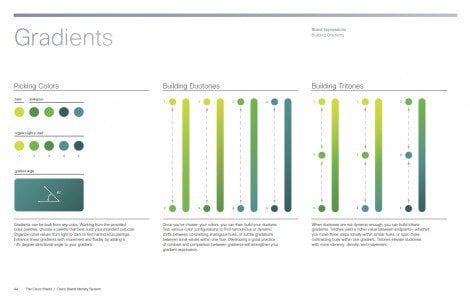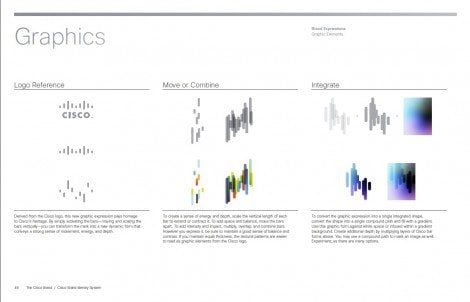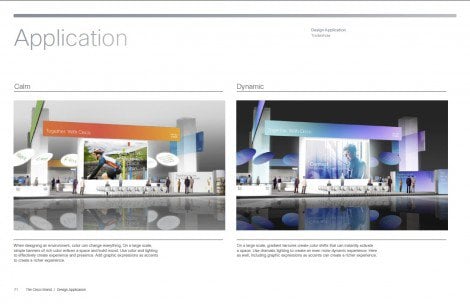 © 2005-2018 All Rights Reserved The Logo Smith
Logo Designer & Brand Identity Design Studio, with 25 Years Experience.
Graham Smith: 10 Badgers Copse, Seaford, East Sussex, England.
 Tel: +44 (0) 7816 527 462  Email: glogosmith@gmail.com