All Archived Posts in Portfolio

Internxt Brand Identity & Logo Redesign - Branding the X
This is the Internxt Brand Identity & Logo Redesign which is a project currently in process, which is based around creating a unique style of 'X' for the client to use.
Another rebrand project currently in progress... trying to find a 'unique' way to style an 'X' which isn't at all easy, but feeling hopeful with this possible direction.#logos #LogoDesign #Brands #graphicdesigners pic.twitter.com/r0QHIO6t1T

— The Logo Smith: Logo & Brand ID Designer (@thelogosmith) March 29, 2018
Below are a few examples of recent logo designs added to my Logo Designs for Sale page. Some have been sold, and as such have a strikethrough the caption, and SOLD appended at the end.
An update to previous post: Custom Logo Designs for Sale
Custom Logo Designs For Sale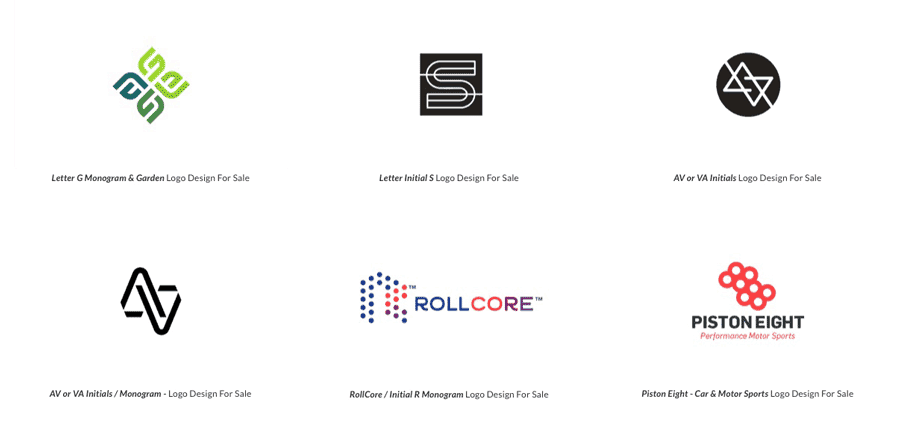 I have thought long and hard about having logos for sale on my website, as I don't want to have my website mistakingly associated with Stock Imagery.
The simple fact is that I have accumulate 100's of unused logo designs, ideas, concepts over the many years of being a graphic designer, and it's frankly just a waste to have them all hidden away, and never used.
Previously Commissioned Logo & Brand Identity Projects
These unused logo design ideas are often the result of previously commissioned logo and brand identity projects.
Bear in mind that for each client, I might: develop, doodle, sketch and conceptualize dozens of logo ideas, not all of them the client will see.
The logo ideas that the client will see will be a small fraction of those that I have developed, and from that selection only one idea will be chosen.
The 'leftovers' are sometimes repurposed for new projects, or left in the shadows.
I don't like the sound of 'ready-made', as in reality, any logo design sold will probably have some changes made to suit the clients' specific needs, but for the most part they are left as is.
Small changes like: colours, layout, type swaps are the usual changes made.
As you can see some of the logo designs have brand names associated with them, but for the most part these are just 'placeholders', and are not supplied with the logo.
The client will no doubt have their own brand name to insert with the logo they have chosen to purchase.
All custom logo designs shown below are the sole Copyright © 2018 of The Logo Smith until purchased, and Transfer of Copyright has been exchanged.
SaveSave
SaveSave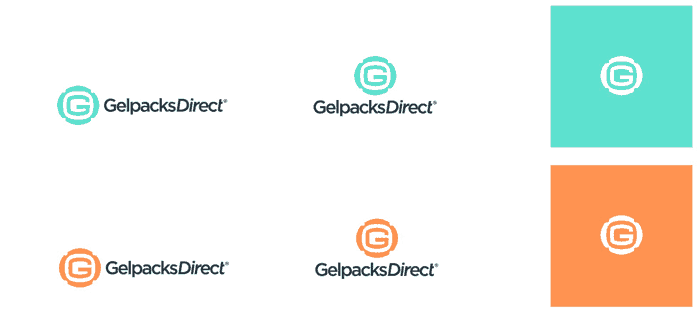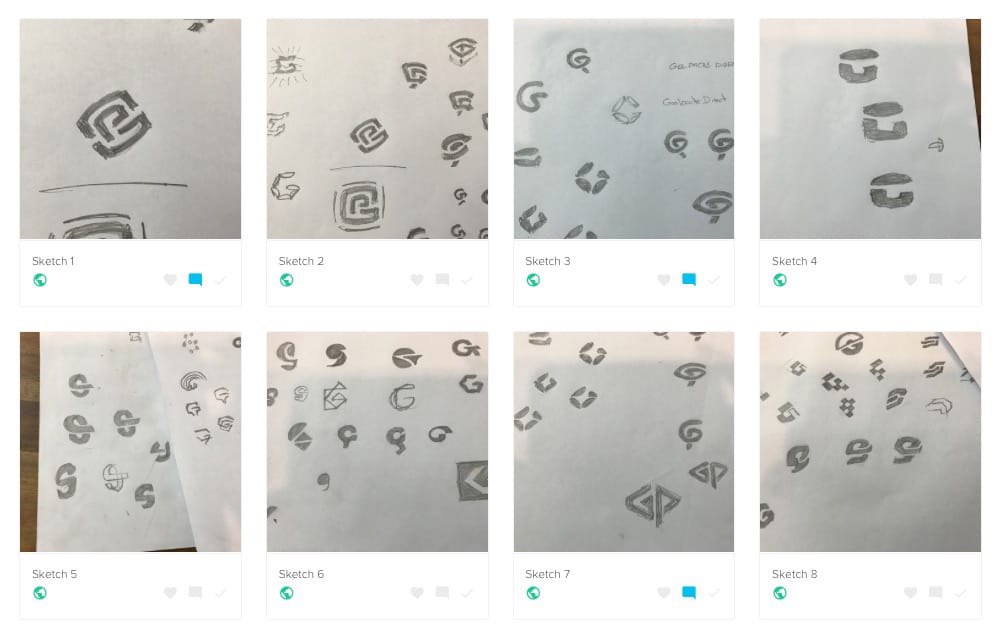 Gelpacks Logo Design Project in Process
Currently rebranding a UK Gelpack company, and this is a selection of various logo design sketches, concepts etc that I've worked on.
All logo design ideas, concepts, sketches, etc, Copyright © The Logo Smith 2018.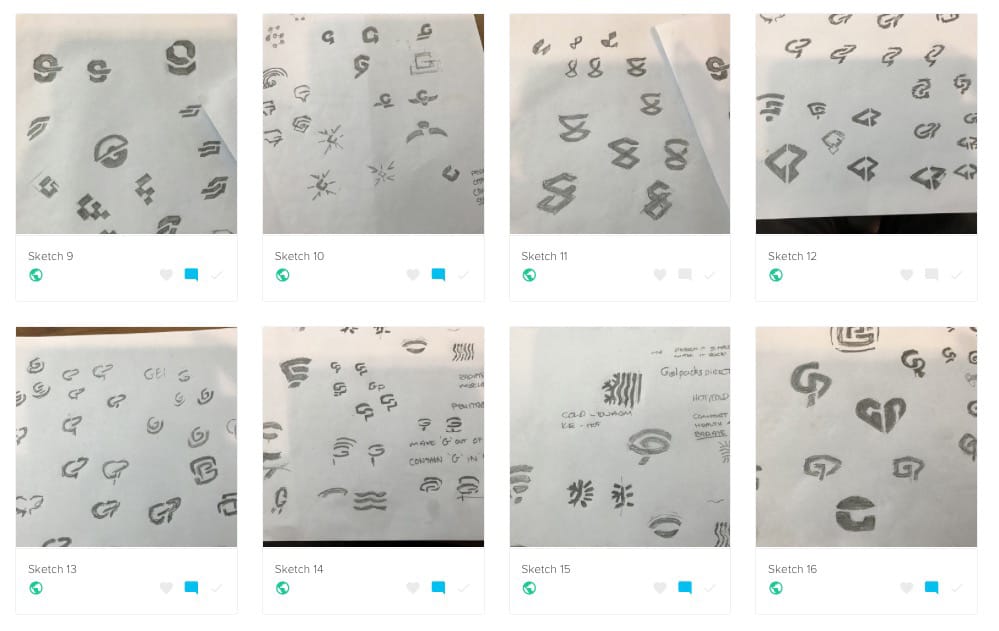 Ghost Logo Design & Brand Identity: New Branding Project In Process
A few logo design updates of the Ghost Logo Design, for a new groundbreaking and innovate automotive technology.
The Ghost logo mark will be incorporated into the products design, as an LED Status light, amongst other applications.
View on Dribble:


SaveSave
SaveSave
SaveSave
SaveSave
The idea for the Piston Eight Motor Sports Logo Design, the arrangement of the 4x8's, came about during the process of another logo project.
Felt it was a suitably solid logo idea to mock-up, and sell on to a good home.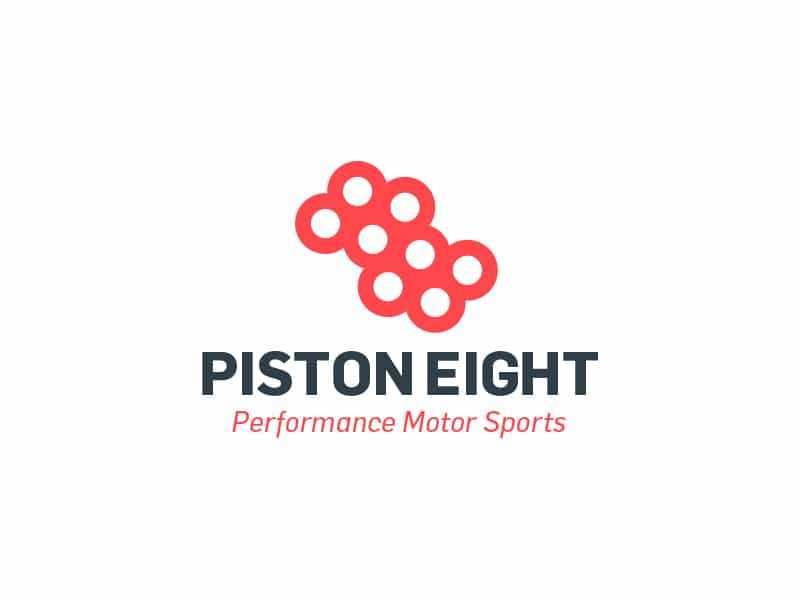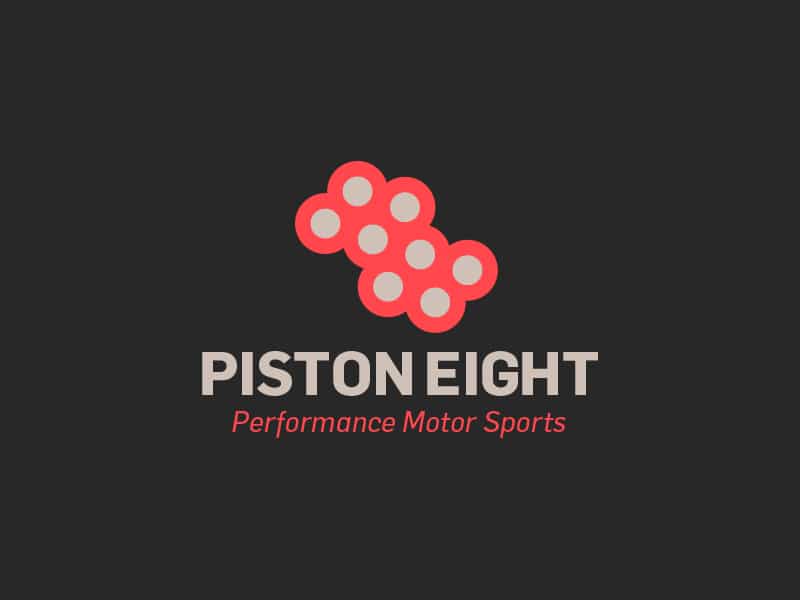 This is a solid, bold and flexible logo mark that could be tweaked to suit specific requirements.
The Cost for the Piston Eight Performance Motor Sports Logo:
Pricing: Only £195 per Logo Design!
Exclusivity: All my Custom Logos for Sale are Completely Exclusive, and will only be sold once. If you buy this logo design, then you'll receive all copyright and original artwork, and you'll be free to do with this logo as you see fit.
All Custom Logo Designs come with: Transfer of Copyright, Master Logo Sheet, Digital Files (.eps, .ai, .PDF).
Additional Extras: Stationery Design (Business Card and Letterhead) = £50; Adding of Company Name, and selecting appropriate Font Styles: = £25; Logo Colour Exploration: £35. Any other changes and/or deliverables not listed, please ask for details.
To Buy A Logo: If you are interested in buying any of these logo designs for a crazy crazy price of £195, then Contact for more information: glogosmith@gmail.com
Interested in Buying This Logo Design?
If you are interested in buying this logo design, then please send me an email to: glogosmith@gmail.com and I'll get back to you.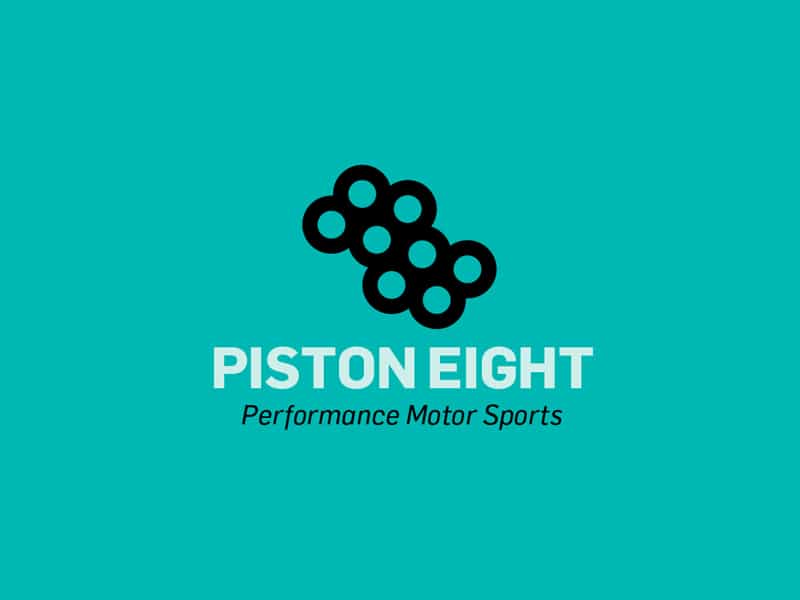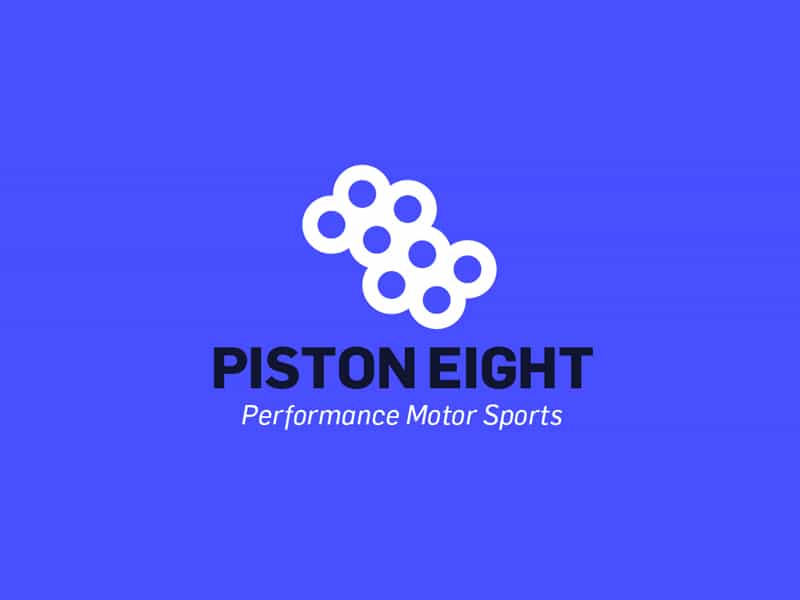 How These Logos For Sale Come To Be
Over the course of my 25 years within the logo design industry, I've accumulated 100's, possibly 1000's, of unused logo designs.

Some of these are client rejected logo designs, exploratory logo concepts, and many more doodles and sketches of possible logo designs that just didn't come to fruition.

Read more: http://imjustcreative.com/custom-logo-designs-sale/2016/07/22

In some cases, I'm able to reuse or adapt an existing 'unused design for a new client', but more often than not I'm seeing my library of these 'unpublished' designs just collecting digital dust, which is quite a waste I think.

A lot of these Logos for Sale are the result of many weeks, sometimes months, of: research, mind-maps, doodling and sketching, designing and tweaking, backwards and forwards with the client, yet for many different reasons many don't see the light of day.

These designs are not just randomly made in 10 minutes, but ARE the result of my many years of experience, and close working relationship with each past client.

You are buying a supremely awesome value for money logo design, at a fraction of the cost of most bespoke logo design projects that I am commissioned to develop, and design.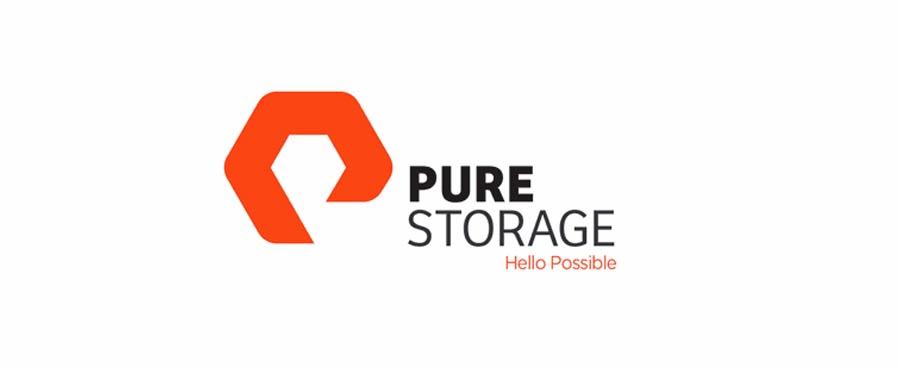 Low and behold: I recently found the Pure Storage logo design sketches I drew for my favourite, and arguable most rewarding,logo and identity design project.
I thought I had actually lost a lot of my past logo design sketchbooks, during a house move, but I unearthed a box with heaps of sketchbooks in, a little while ago.
This was a very happy moment, as there's lots to be learnt from casting your own eye over your own past work, and those past brainstorming attempts, especially the early sketches.
It can help reinforce the notion: that starting from nothing, can end with something pretty cool.
So without further ado, here are those Pure Storage logo sketches. Marvel at, or pity, how I brainstormed myself to within an inch of my life.
Feel free to have a giggle or two, and see how shakily the creative joinery can start, and with patience and determination, the end comes with fanfare, and a place in the history books (maybe).
I've listed the sketch sheets in chronological order, so you can see in those last few pages, that I was homing onto the final design.
Also worth noting: this brainstorming was also helped along with a simple mind map.
Pure Storage Logo DesignSketches - The Logo Design Process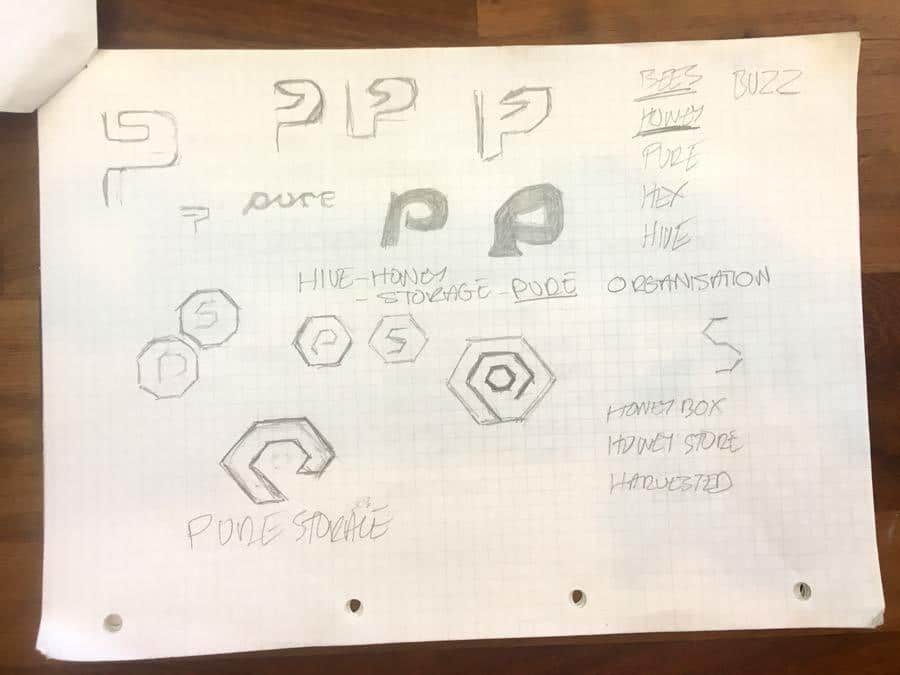 The Pure Storage Mind Map
The mind map ended up being pretty simple, as I found myself on a particularly important trajectory very early on.
You can see how I ended up with the whole concept of bee's and honey, which ultimately lead to the honeycomb shape of the 'Pure P'.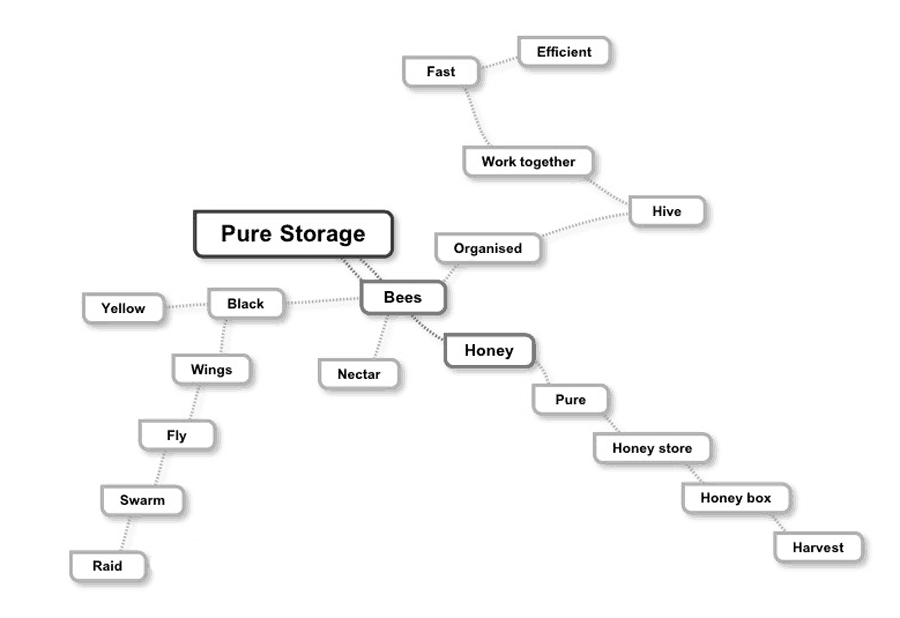 SaveSave
SaveSave
SaveSave
SaveSave
If there was ever a logo design project to brag about, then this huge Pure Storage logo would be that project.
Pretty sure this is the largest ever real world application of any logo I have designed, and it just happens to be the jewel of my logo design portfolio, the Pure Storage logo.
This huge Pure Storage banner hanging up on the side of the Stock Exchange, on Wall Street, was to celebrate the successful filing of their IPO, back in 2015.
Standing proudly in the photo, is Pure Storage CEO, Scott Dietzen.
It's a pretty amazing feeling to see ones own work used in this way, really very proud of myself. :)
This has to be one of the biggest real-world applications of a logo I have designed… #Brands #purestorage #LogoDesign #GraphicDesigner pic.twitter.com/LyFm4vNQCE

— The Logo Smith (@thelogosmith) August 16, 2017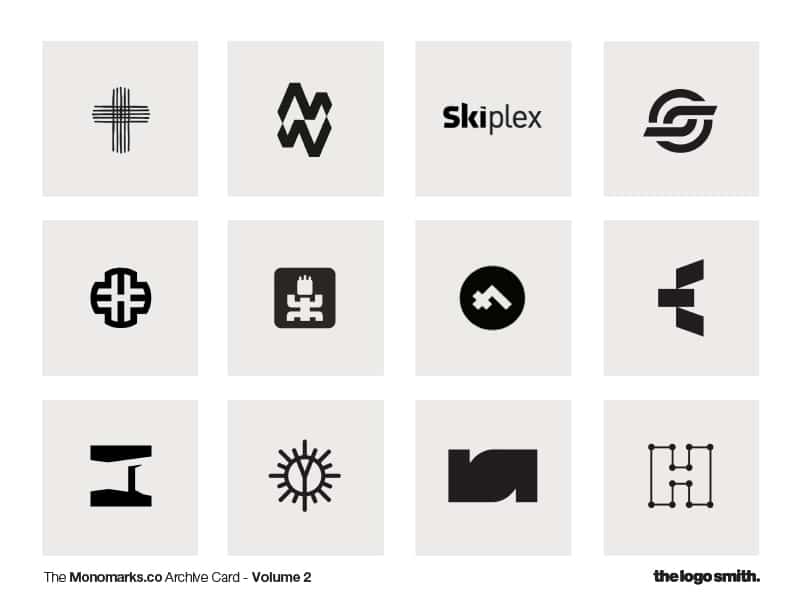 Following in the same fashion as my Logo Archive Cards, here's a growing collection of Monomark Archive Cards, from my somewhat expansive, Monomark Portfolio.
This post will be updated with updated cards on a regular basis.
What are Monomarks?
Monomarks.co - a collection of individual Logo Marks, Icons & Symbols, from my Logo Design Portfolio, displayed in glorious Techniblack.
Monomarks typically show how well the visual element of my various logo designs work when changed to just one solid colour.
This legibility, formed from the development and design of my logos, obviously helps with the varies uses of each logo for both digital and real-world uses.
In particular, it shows how well the logo mark would inevitably work in the various Social Media environments, especially the smaller square/round environments used by the Profile images for Twitter, Facebook, etc.
You can also see these Monomark Cards on: Dribbble, and Pinterest.
SaveSaveSaveSave
SaveSave
SaveSave
SaveSave
SaveSave
SaveSave
SaveSave
SaveSave
SaveSave
SaveSave
SaveSave
In an effort to tie up my various logo designs, spread across my logo portfolios, I've created these simple Logo Design Portfolio Cards.
Each Portfolio Card has nine logo designs from my Logo Portfolio, and the work shown here spans more than 10 years.
Logo Design Portfolio Cards Designed by The Logo Smith
As of 20th July 2017, I've created 8 volumes, but these are still not the entirety of my logo design collection. I'm currently working on creating the rest of the cards every few days, or so.
Also, there's no real order going on, so each card has logo designs ranging from this year, to maybe 5 years ago, etc.
I wanted to mix the chronological order up, so that it didn't inadvertently create a false sense of styles and trends, one year to the next.
Additionally to these logo designs, I'll also be creating similar Portfolio Stack Cards, from my Monomarks collection.
Logo Portfolio Cards Volume - 11
---
Logo Portfolio Cards Volume - 10
---
Logo Portfolio Cards Volume - 9
---
Logo Portfolio Cards Volume - 8
---
Logo Portfolio Cards - Volume 7
---
Logo Portfolio Cards - Volume 6
---
Logo Portfolio Cards - Volume 5
---
Logo Portfolio Cards - Volume 4
---
Logo Portfolio Cards - Volume 3
---
Logo Portfolio Cards - Volume 2
---
Logo Portfolio Cards - Volume 1
---
The Cards On Dribbble
You can also view the Portfolio Cards, over on my Dribbble Profile, and Pinterest
And please: don't forget to give me a shout, if you're looking for logo to be designed!
Take a look at my Client FAQ's, or jump straight in and fill in the Creative Brief, to start the process of hiring The Logo Smith.
I've always been fond of the idea I had: create an independent portfolio of just the logo mark portion of my logo designs, called Monomarks.
Not to mention it's a neat way to milk ones own work…
Monomarks Now Coming to You on Instagram
Although I've always had a separate Portfolio page on my website for the Monomarks, as well as Behance etc, I wanted to expand the reach of them a little more.
To that end, I decided to create a new Instagram profile solely for the uploading of the Monomarks.
I'll not be in a rush to upload all the Monomarks in one go, instead upload one or two every few days or so, or weeks… Uploaded an initial batch just to give the page some substance.
The Existing Monomarks Portfolio Page
© 2005-2018 All Rights Reserved The Logo Smith
Logo Designer & Brand Identity Design Studio, with 25 Years Experience.
Graham Smith: 10 Badgers Copse, Seaford, East Sussex, England.
 Tel: +44 (0) 7816 527 462  Email: glogosmith@gmail.com