I designed this iOS application icon design on behalf of Extensis, for a font management product called FontFuse, which was way back around 2011.
Looking at the screenshots I took of my iPhone way back then; takes me back to how beautifully detailed some of the iOS application icon designs were, especially Tweetbot.
I really miss the aesthetics of those golden times… everything is so flat and blah nowadays.
My iPhone Home Screen circa 2011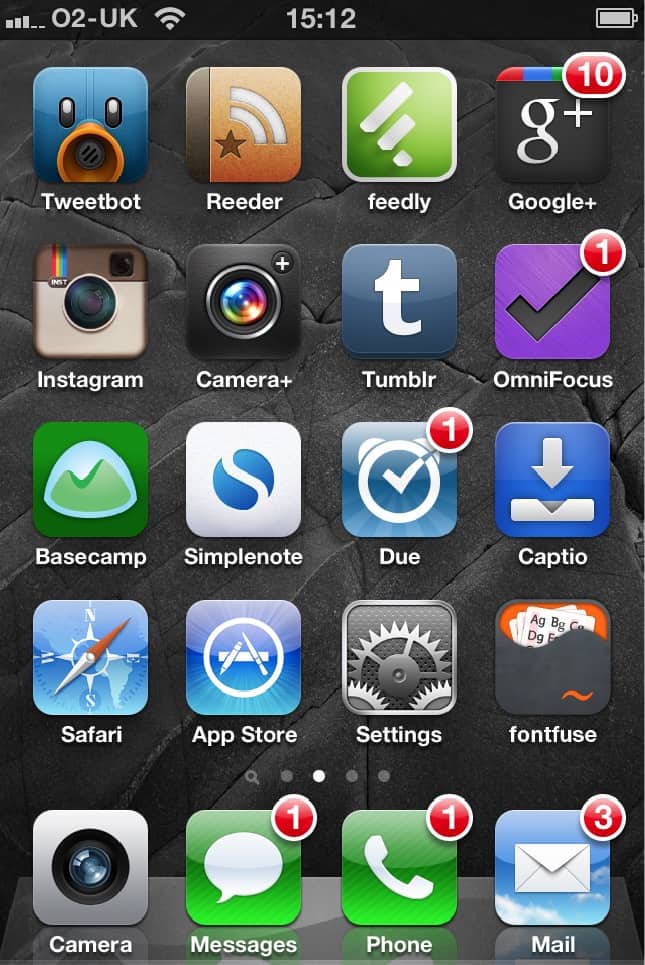 Being responsible for any iOS application icon design was/is quite a responsibility, and this was all around the time I designed the Feedly iOS application icon design as well (below). 2011/2012 and either side of those years, was truly a golden time in design.
So much being explored, and relentlessly pushing the boundaries of realism and cramming it all into a little rounded square icon.
Obsessing over Realism
With FontFuse, I clearly remember obsessing over the realism of the orange textured fabric I was using for the app's inner surface, as well as the more leather/velvet like texture for the front, right down to the orange stitching, and the shadows around the inner edges.
Looking back, the only area I feel needed improvement is the inner shadow around the orange fabric background; its too uniform, but other than that…
On a personal level, I wanted this to look as tactile as one might think it would feel.

About Extensis
Wikipedia: Extensis and its parent company CreativePro.com were sold to ImageX in year 2000, which in turn sold Extensis to Japanese content-management company Celartem Technology in 2002.[2] In 2003, Extensis acquired competitor DiamondSoft and their Font Reserve applications (stand-alone and client-server).[3] In January 2006, Extensis merged its two font management products, Font Reserve and Suitcase into a single product called Suitcase Fusion.[4] In August 2010, Extensis launched WebINK, a web font subscription service.[5] This service was discontinued on July 1, 2015.[6]
In 2018, Extensis united with its sister company, LizardTech, to continue developing and distributing software solutions for compressing and distributing massive, high-resolution geospatial data.[7] With this move, GeoExpress, Express Server, and GeoViewer are a part of the Extensis suite of solutions.