All Archived Posts in Famous Logos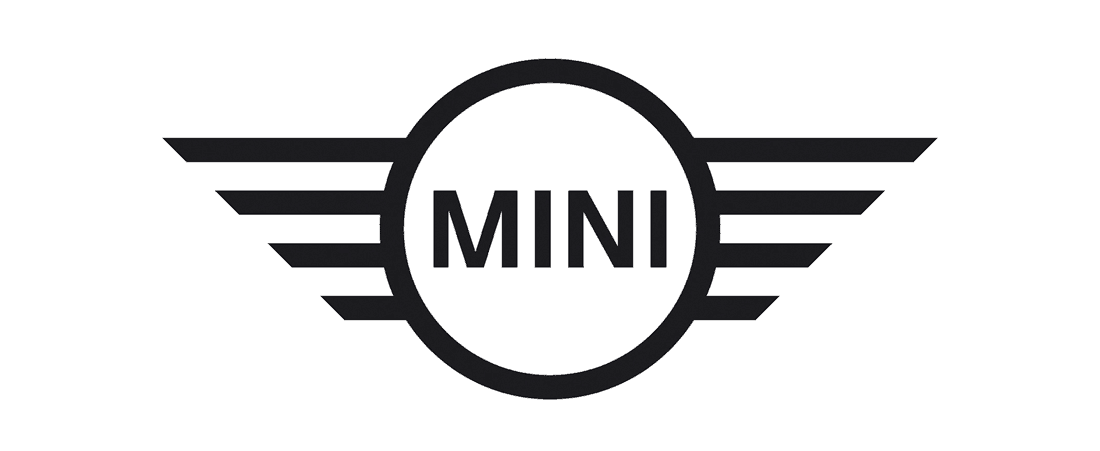 Our favourite little car gets a new Logo Design, courtesy of BMW:
BMW: Current interpretation of the brand emblem combines stylistic elements from the early phase of the classic Mini with a future-oriented appearance that focuses on the essentials.

[This] latest chapter in the varied history of the MINI logo will be visible on all MINI models as of March 2018: on the bonnet and rear, at the centre of the steering wheel and on the remote control.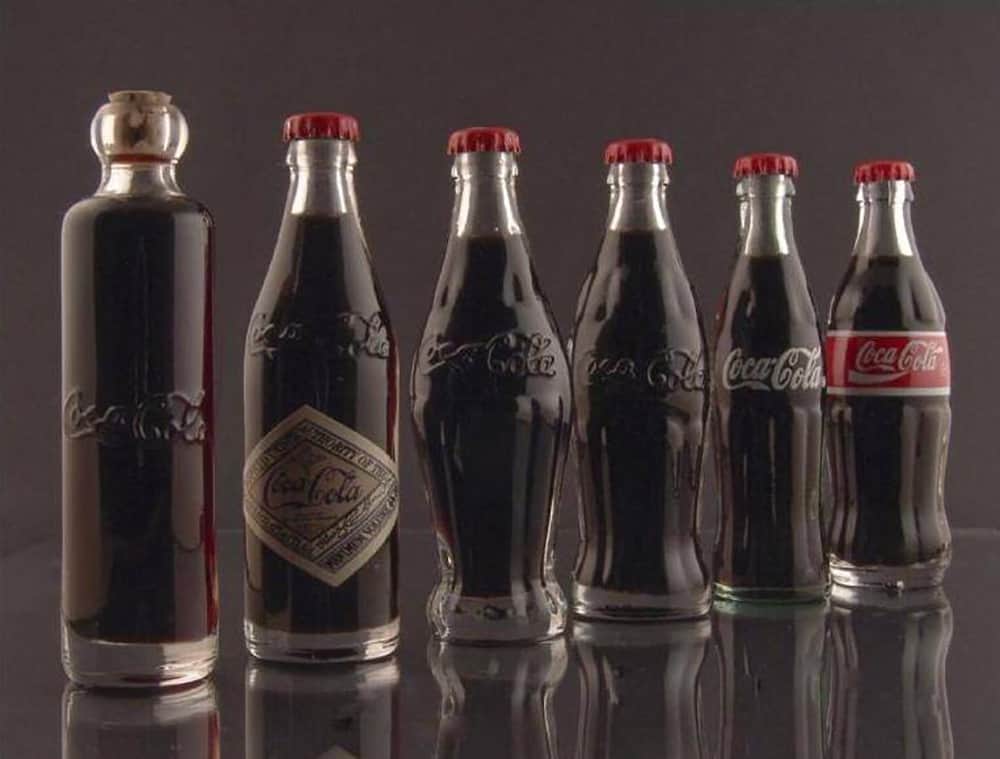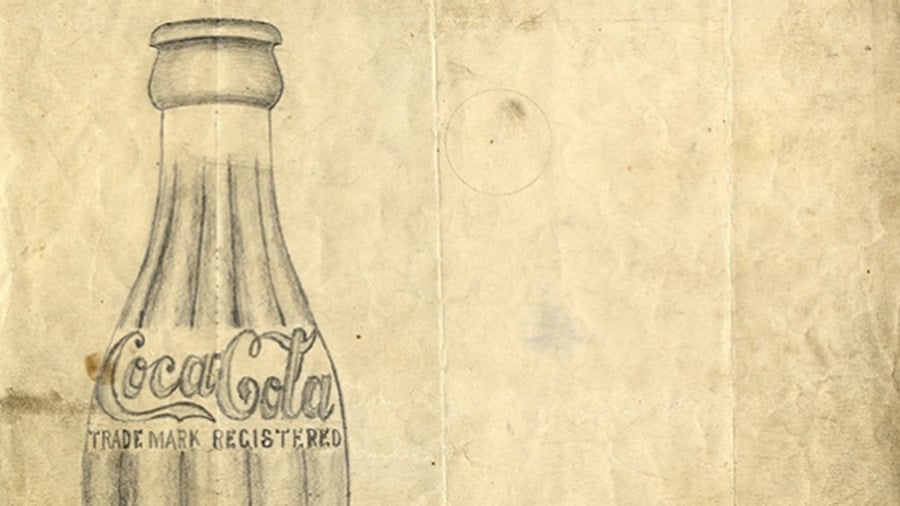 The Story of the Coca-Cola Bottle: One of the most famous shapes in the world is the iconic contour fluted lines of the Coca-Cola bottle.

Renowned as a design classic and described by noted industrial designer, Raymond Loewy as the "perfect liquid wrapper," the bottle has been celebrated in art, music and advertising.

When Andy Warhol wanted a shape to represent mass culture, he drew the bottle and when Volkswagen wanted to celebrate the shape of the Beatle, they compared the car to the bottle.

How did the bottle become so iconic?

It began with the desire to protect brand Coca-Cola and was a cooperative project between The Coca-Cola Company and its bottlers.

In 1899, two Chattanooga lawyers, Joseph Whitehead and Benjamin Thomas, traveled to Atlanta to negotiate the rights to bottle Coca-Cola. The product had been an increasingly popular soda fountain drink established a mere 13 years previously.

In fountain form, Coca-Cola grew from an average of nine drinks per day sold in 1886 to being sold in every state of the US by 1900.

Thomas and Whitehead wanted to capitalize on the popularity of the drink by bottling it to be consumed outside the four walls of a soda fountain.

The contract the two signed was a geographic one and The Coca-Cola Bottling Company began franchising the rights to bottle Coca-Cola in cities across the U.S. By 1920, over 1,200 Coca-Cola bottling operations were established.

The bottles used in those days were simple straight-sided bottles that were typically brown or clear. The Coca-Cola Company required that the bottlers emboss the famous logo onto every bottle.

Read more: The Story of the Coca-Cola Bottle
Via Reddit
SaveSave
SaveSave

The Beautiful Logo and Lettering Design of Tony Forster
Found the above Promotional Poster-1977 on Tumblr the other idea, and it was a good reminder of the late and super talented, Tony Forster (1941—2008).
It's not a name that often rings many bells, and I can't even locate a Wikipedia page, which is a real shame.
However, you're likely to have some of his Forster's work, even if you didn't know the designer behind it.
My search for Tony Forster did uncover a Behance page: Tony Forster—The Fred Astaire of Letters, set-up by David Quay, who knew Tony very well.
David writes: "Tony Forster was my lettering sparing partner. He lived in Tyldesley outside Manchester and was a few years older than me. I looked up to him and he always inspired me, in fact he was far better than me. Of all the lettering designers around at the time: DiSpigna, Carnase, Larcher, Rousselot, Grimshaw, for me he outshone all of us. Unfortunately he died aged 57, far too young, as did his younger friend Paul Grimshaw who died before him. I always think of Tony as the Fred Astaire of letters, he could tango, waltz, boogie-woogie, lindy-hop, fox-trot with his pen. He is is the unsung hero of graphic design.

Tony Forster was born in 1941 in Warrington, Lancashire. He didn't have any formal design education, but started work at sixteen as a junior designer at Artel Studios in Manchester. He had a long association with Keith Murgatroyd, forming FC & M Design Partnership with him and Wendy Conibear in 1976 and becoming a director of Royle/Murgatroyd Design Associates in 1980. He went on to work as creative director at Drawing Board in Manchester until 1995, and was also very committed to education and taught for many years at Bolton In 1997 he reformed his design practice, working from a studio in his house in Tyldesley, Manchester.

The work of Tony's that I will slowly add below are enhanced from very faded photostats that Tony sent me up to 40 years ago, hence a certain loss of line quality or blackness.
Here are some of the lettering and logo work from Tony's talented hands.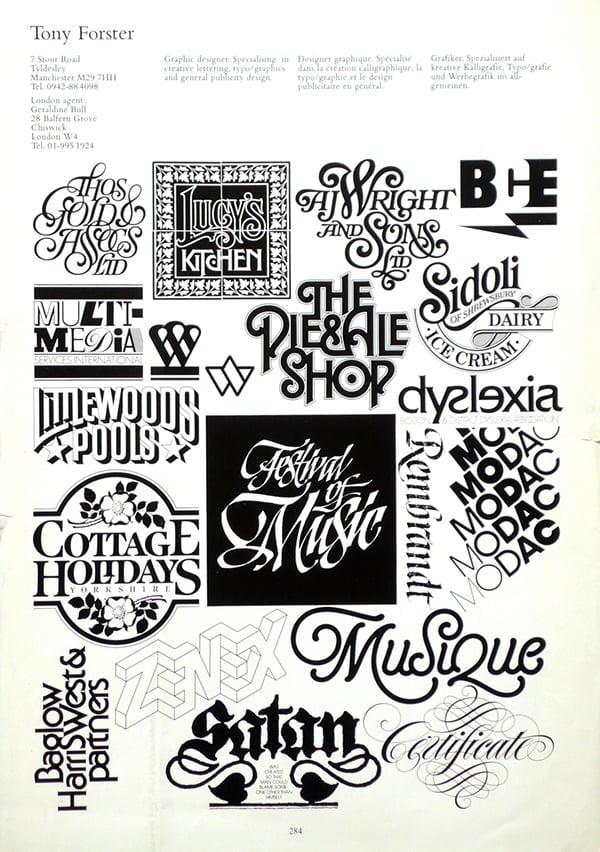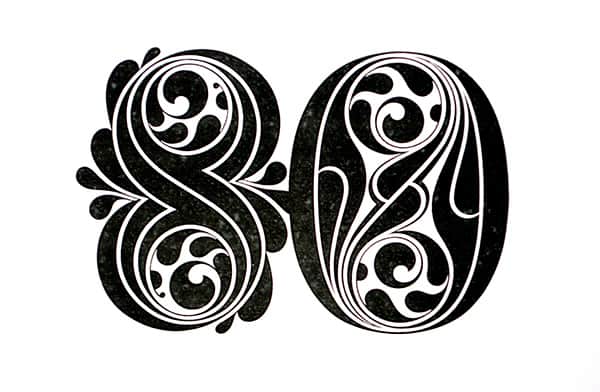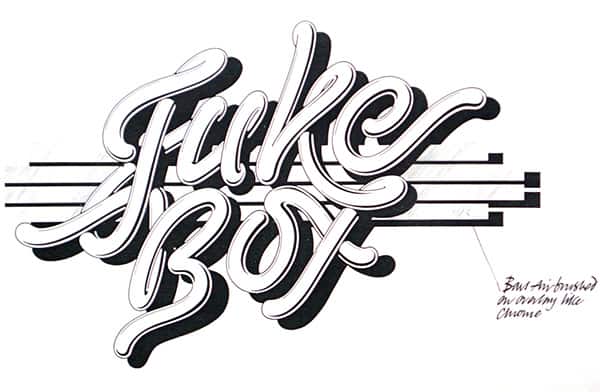 SaveSave
SaveSave
The Unofficial Style of NASA Logo Design Used in the Movie LIFE
Watched LIFE the other day; noticed the NASA logo wasn't the official NASA 'meatball' logo, nor the far cooler NASA 'worm' logo, from 1976.
IMDb: "A team of scientists aboard the International Space Station discover a rapidly evolving life form, that caused extinction on Mars, and now threatens the crew and all life on Earth."
I only noticed it in one scene, but it likely appeared elsewhere, I just wasn't paying attention enough.
Verge wrote a rather lengthy article on NASA, and the movie: The fictional NASA in Life is run by a bunch of psychopaths and idiots

Recreating the LIFE Movie NASA Logo
I did think though it would be a bit of fun to recreate it, as best as I could, without spending hours on it.
It's not 100%, as from the TV screenshots, it does look like all lower-case version of the logo is a bit hit & miss, itself, in the movie.
Or just bad embroidery…
I have read on StackExchange, that NASA often grant movies permission to use the official NASA 'meatball' logo, such as in the movie, Martian.
In this case, presumably because it's set in the not too distant future, that they assumed the NASA logo would have been 'updated' again. Fair assumption, to be sure…
I'd say they were 'circling' back to my favourite version of the NASA logo, the 'worm' variant. it's the version also now available as part of the official reproduction of the NASA Graphics Standards Manual.
It's so cool, there's even an animation of it.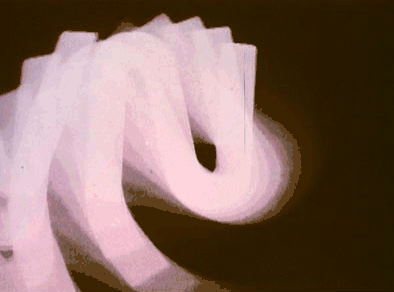 This selection of marker art in Designer Spotlight, (as in brand logos of various felt-tips, pens etc), by Serge Lowrider, really caught my eye.
Something I love about the pure simplicity, and the natural imperfections inherent in 'doodling' with a marker pen, or a Sharpie.
I'd really like to see more genera brand logos designed in this way, as I think this would be a fab side-project for some creative to get stuck into.
I'd have a go, but I'm useless with markers. Anyone?
Via http://thisisnthappiness.com
Marker Brand Logo Designs by Serge Lowrider
Serge does have these for sale, as limited edition prints, over on his Colab-Gallery page, under projects titled: Marker for Life, and Hall of Fame.
About Serge Lowrider
Born 1972, lives and works in Fribourg, Switzerland.

Due to printing his first stickers at the dear age of 8, Serge Nidegger knew already he would make it his job.

After learning the tricks of the trade the regular way, he realized, that the only way to keep on printing and painting with passion is to open his own studio, in 2000 he takes off as Lowrider.

Serge sets great value upon the craftsman tradition of the computer-free era of the 60's, when sign-painting was it. The experimenting that one can find in his work can also be found in the numerous collaborations that he leads with designers, brands, rock clubs, art galleries and festivals, seizing those opportunities to try to push things forwards.

For this exhibition, he chose to pay tribute to the Markers.
NBC Logo Design History - TV Idents from 1926-2016
The NBC Logo Design History 1926-2016 is a lovely video summary of the transformation of the NBC TV Logo Ident spanning decades.
It's somewhat of a lengthy viewing. Still, if you love logos with some nostalgia thrown in, then this will be worth watching.
Just a couple of the NBC Idents from the video (below), particularly love the earlier peacock versions.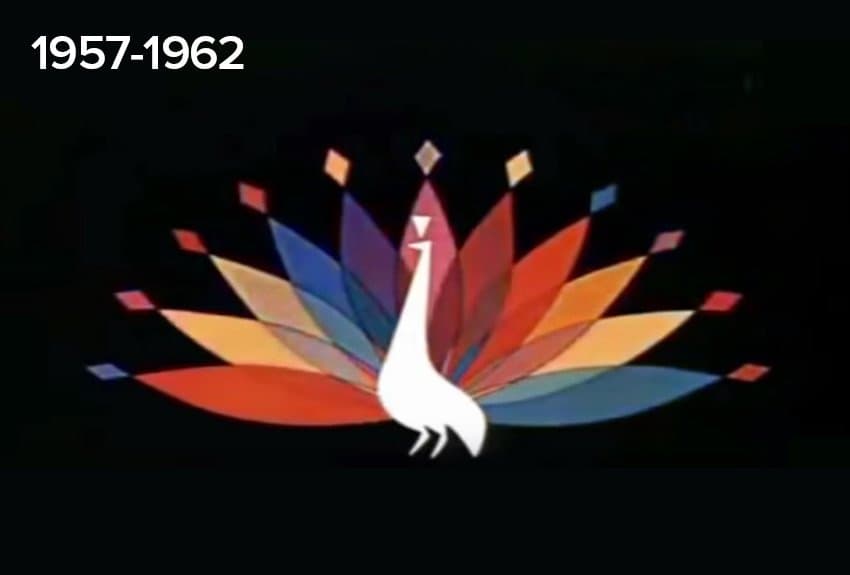 Brand Logo Mix, by Mike Stefanini, from Atomike Studios, is a fun look at how certain popular brand logos would look like on completely unrelated consumer brand items.
How about: the Nike logo on a Coca-Cola can; Tomato Ketchup as an aerosol to spray on your dinner; drinking some Pepsi from a car oil container; cleaning your windows with some Starbucks coffee spray…
The Shell logo on a milk carton is a bit icky tho…
Lovely little brand logo project, and I particularly love the style of illustration, rather than trying to go for photo realistic renders.
Brand Logo Mix Designed by Atomike Studios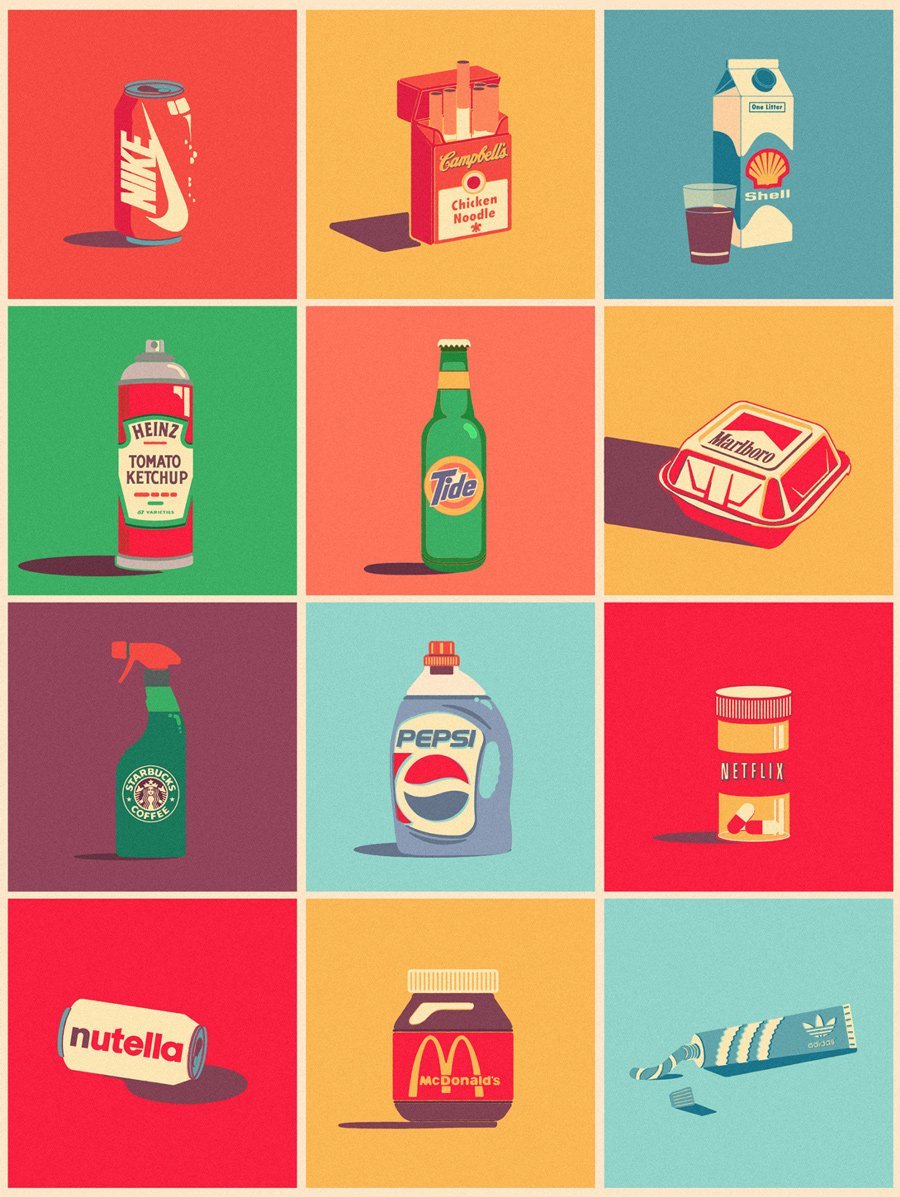 Mike Stefanini: "Almost inadvertently I had approached the design of a Coca-Cola can of the Nike logo... I found it nicely subversive, so I decided to apply this principle to other consumer products..."
Atomike Studio on Instagram
Incidentally, Mike has a wonderfully colourful Instagram account, that is definitely work following: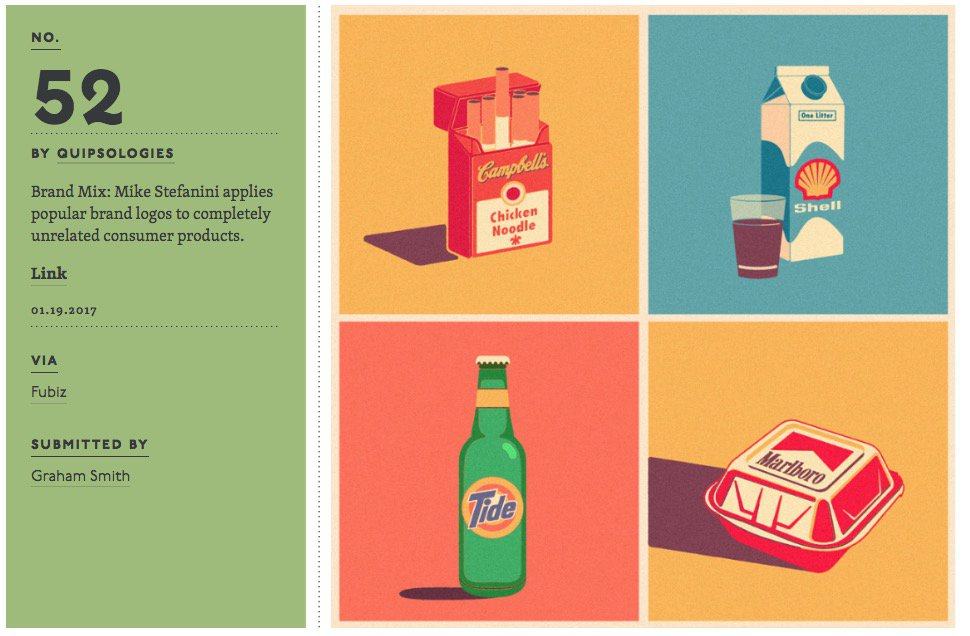 I love this vintage Nintendo poster so much, put out by a desperate Nintendo of America Inc, way back in 1990.
Such a classic, and shows how times change when it comes to brand names becoming nouns.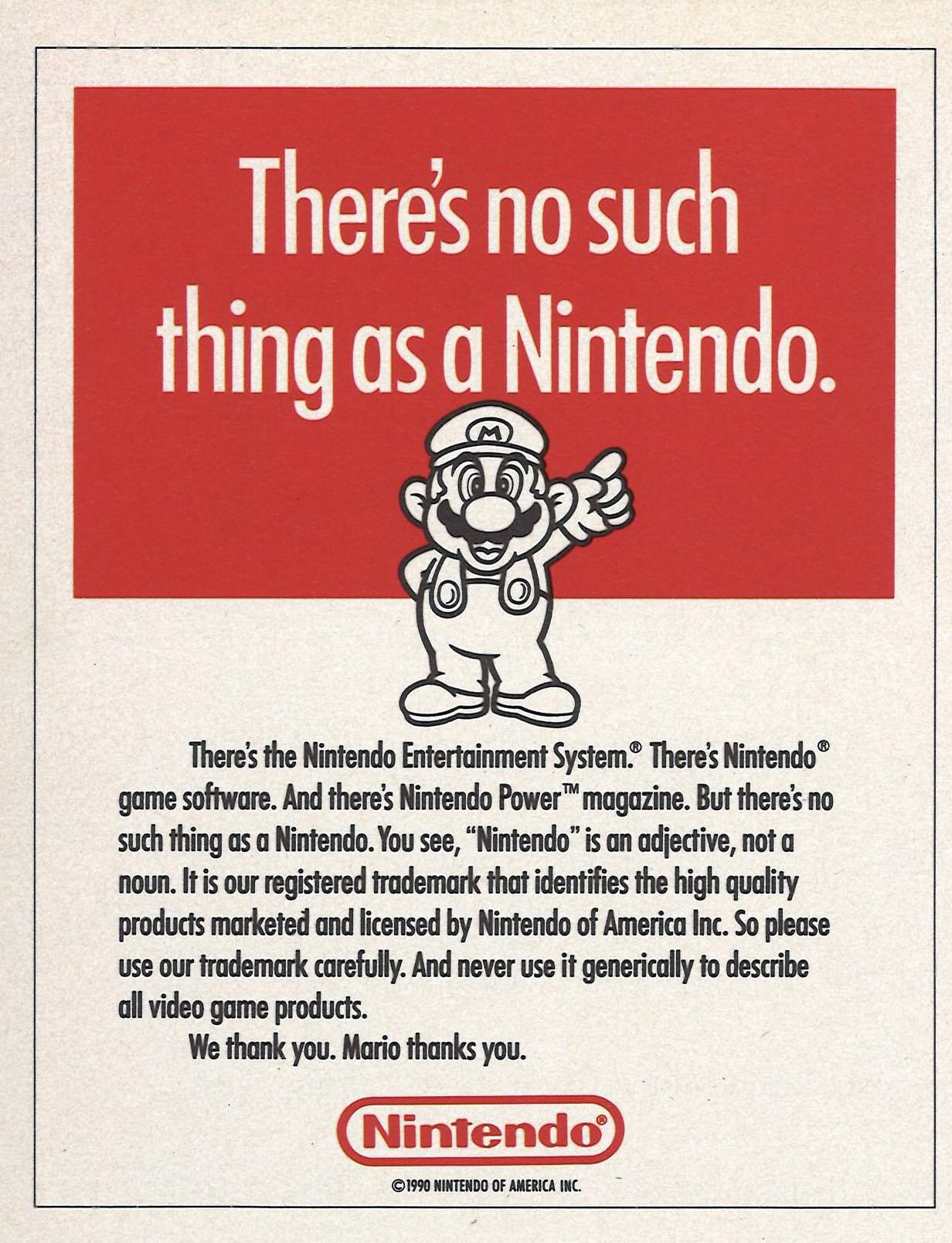 You see, "Nintendo" is an adjective, not a noun.
There's the Nintendo Entertainment System.® There's the Nintendo ® game software. And there's Nintendo Power TM magazine.

But there's no such thing as a Nintendo.

You see, "Nintendo" is an adjective, not a noun.

It is our registered trademark that identifies the high quality products that marketed and licensed by Nintendo of America Inc.

So please use out trademark carefully.

And never use it generically to describe all video game products.

We thank you. Mario thanks you.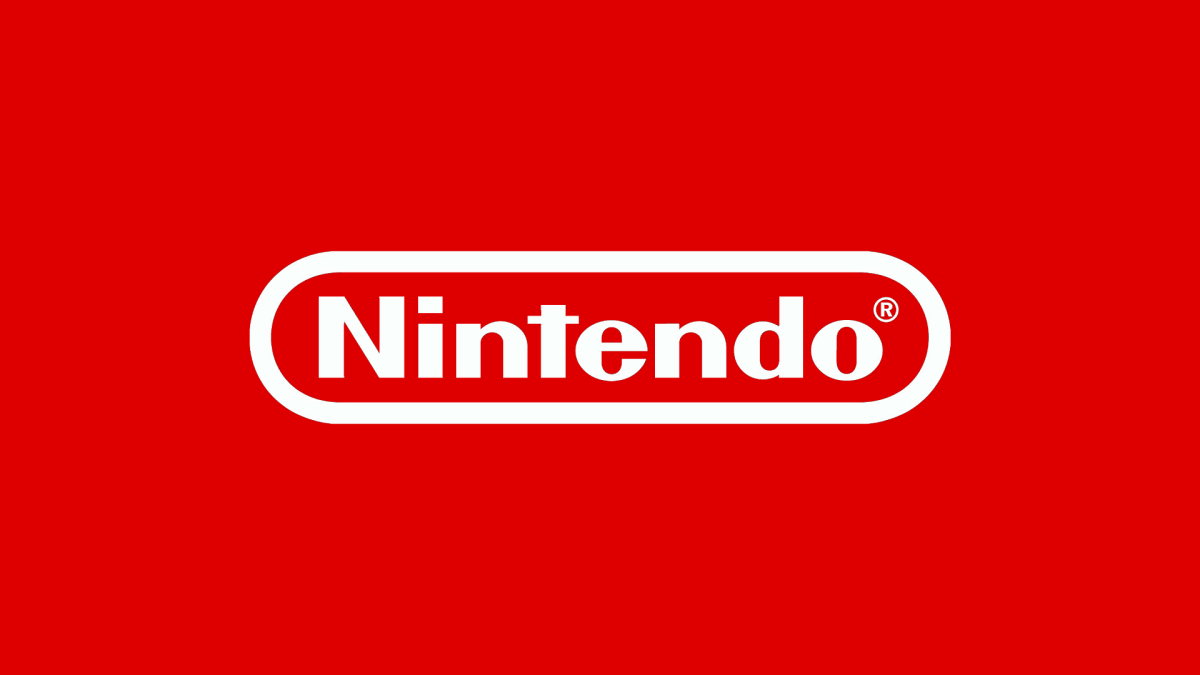 © 2006-2017 All Rights Reserved The Logo Smith
Logo Designer & Brand Identity Design Studio, with 25 Years Experience.
Graham Smith: 10 Badgers Copse, Seaford, East Sussex, England.
Tel: +44 (0) 7816 527 462 Email: [email protected]