All Archived Posts in vintage
I don't often post individual images on my blog, but when I do, I like to think they are pretty cool images, such as this very colourful Vintage Pepsi Advertisement for the Pepsi Cool Cans.
Would love to know if anyone, who collected these Pepsi Cool Cans back in the day, still has these lying around; in the loft, basement or some storage facility somewhere.
Found via Quipsologies
Vintage Pepsi Advertisement - "Our Idea of Pop Art, Pepsi Cool Cans"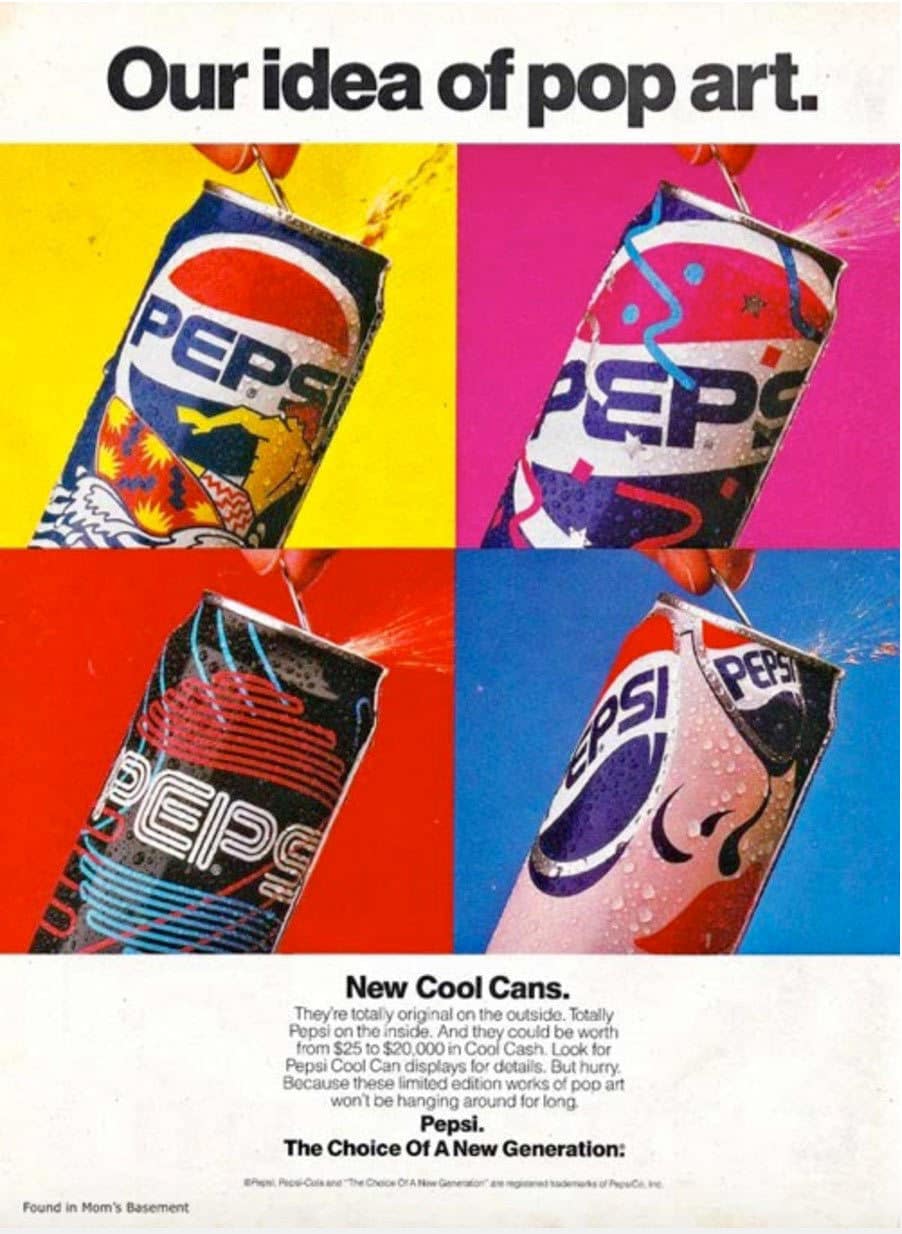 New Cool Cans.

They're totally original on the outside. Totally Pepsi on the inside. And they could be worth from $25 to $20,000 in Cool Cash. Look for Pepsi Cool Can displays. But hurry. Because these limited edition works of pop art won't be hanging around for long.

I love this vintage Nintendo poster so much, put out by a desperate Nintendo of America Inc, way back in 1990.
Such a classic, and shows how times change when it comes to brand names becoming nouns.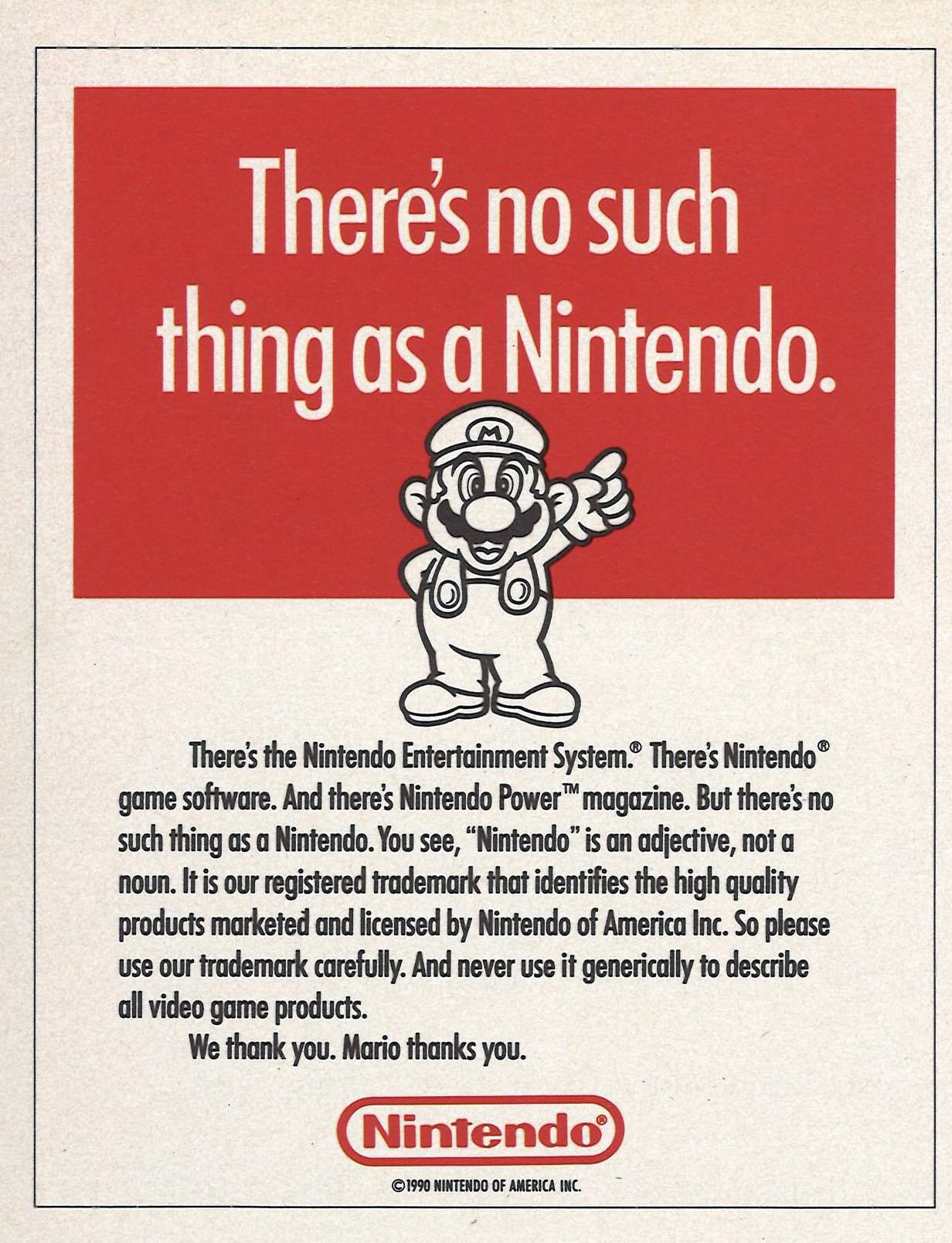 You see, "Nintendo" is an adjective, not a noun.
There's the Nintendo Entertainment System.® There's the Nintendo ® game software. And there's Nintendo Power TM magazine.

But there's no such thing as a Nintendo.

You see, "Nintendo" is an adjective, not a noun.

It is our registered trademark that identifies the high quality products that marketed and licensed by Nintendo of America Inc.

So please use out trademark carefully.

And never use it generically to describe all video game products.

We thank you. Mario thanks you.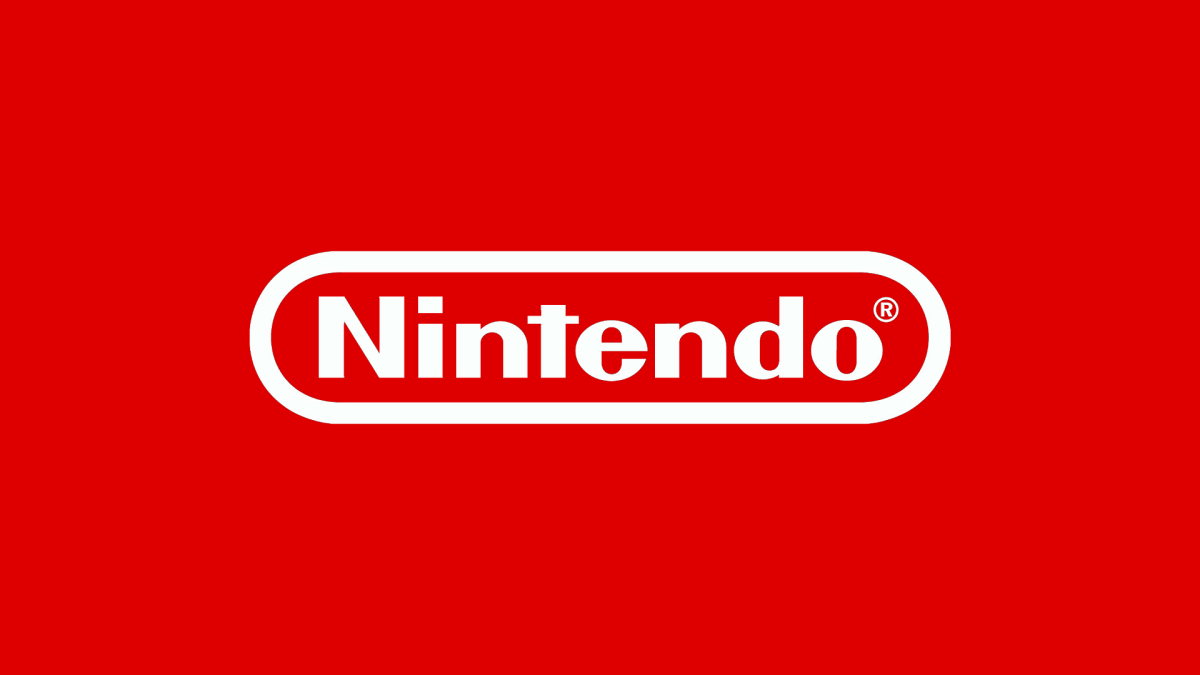 This epic collection of Race Posters, from Manor Racing Team, is an extraordinary treasure trove of gorgeously designed, vintage style, Formula One posters.
All of these race posters depict the F1 races from this past year of races (2016), and were all designed by the folks from the F1 Manor Race Team.

Each of these F1 posters has been designed in the style of a vintage movie poster, and depicts the two lead actors/drivers: Pascal & Esteban, for each of the various races across the globe.
Each of these posters was developed at the time of each race, then uploaded to their blog and made available as a high resolution download, as well as posted to their Instagram feed.
Download Race Posters in High Resolution
I've only uploaded a handful of these posters below, so visit this following link: http://www.manorracing.com/ to view the complete collection, and also download as high resolution versions.
2016 Race Season Posters from Manor Racing Team
Vintage Colour Wheels, Charts and Tables Throughout History
As a graphic designer, where colour is pretty darn important, This selection of Vintage Colour Wheels, Charts and Tables Throughout History has made me far too excitable!
The moment I found the post, and saw the featured image and post title, I clicked it straight away, and onto the website of Public Domain Review: A Project of the Open Knowledge Foundation, which is a website I'd highly recommend poking around.
You know sometimes you can visit a post and ultimately end up somewhat, or very, disappointed with the content, like the featured image and fancy headline is literally the best bit, but not so in this case.
So here's the thing for any of your commercial printing nerds (me included): many of the images featured have been sourced from Sarah Lowengard's book: The Creation of Color in Eighteenth-Century Europe – published electronically on Gutenberg-e in 2006.
Also, according to PDR, another must-have book on colour, is: Philip Ball's Bright Earth: Art and the Invention of Color (2003) for a great look at how art, chemistry, and technology have interacted through the ages.
Anywho, enjoy some of the featured images below, and remember to visit: http://publicdomainreview.org/collections/colour-wheels-charts-and-tables-through-history/
I've picked out a handful of the various colour charts, colour wheels and other forms of colour illustrations for you – not all of them as that'd spoil the surprise when you visit the original post on : Colour Wheels, Charts, and Tables Through History
My favorite has to be this one below. It's just so gorgeous, and just so very olf, not to mention trying to visualise Richard Waller painstakingly creating this colour chart, or to be precise: Tabula Colorum Physiologica (1686)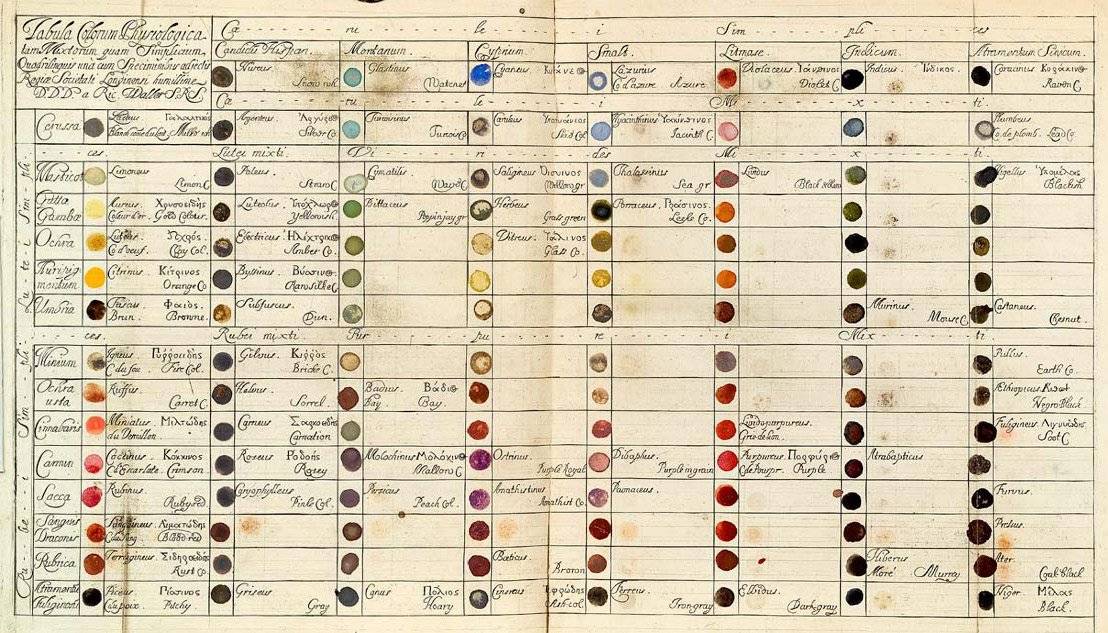 Richard Waller's "Tabula Colorum Physiologica", from "A Catalogue of Simple and Mixt Colours with a Specimen of Each Colour Prefixt Its Properties," in Philosophical Transactions of the Royal Society of London, vol. 6 for the years 1686 and 1687 (1688)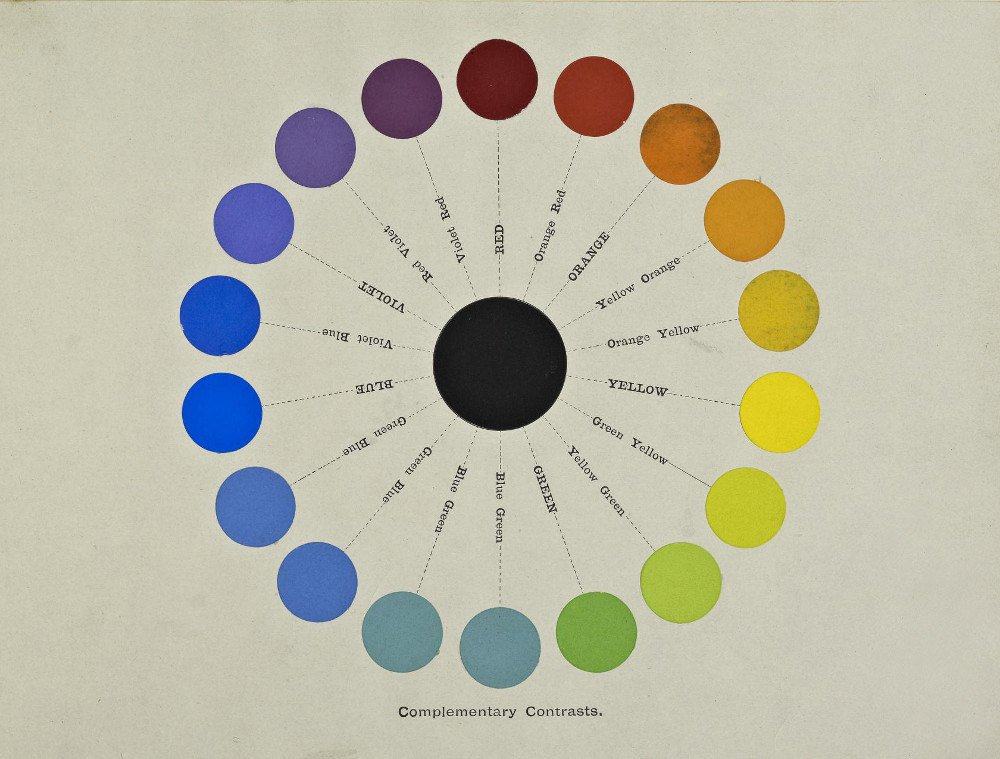 Circular chart showing "complementary contrasts" from A Class-Book of Color: including color definitions, color scaling, and the harmony of colors (1895) by Mark Maycock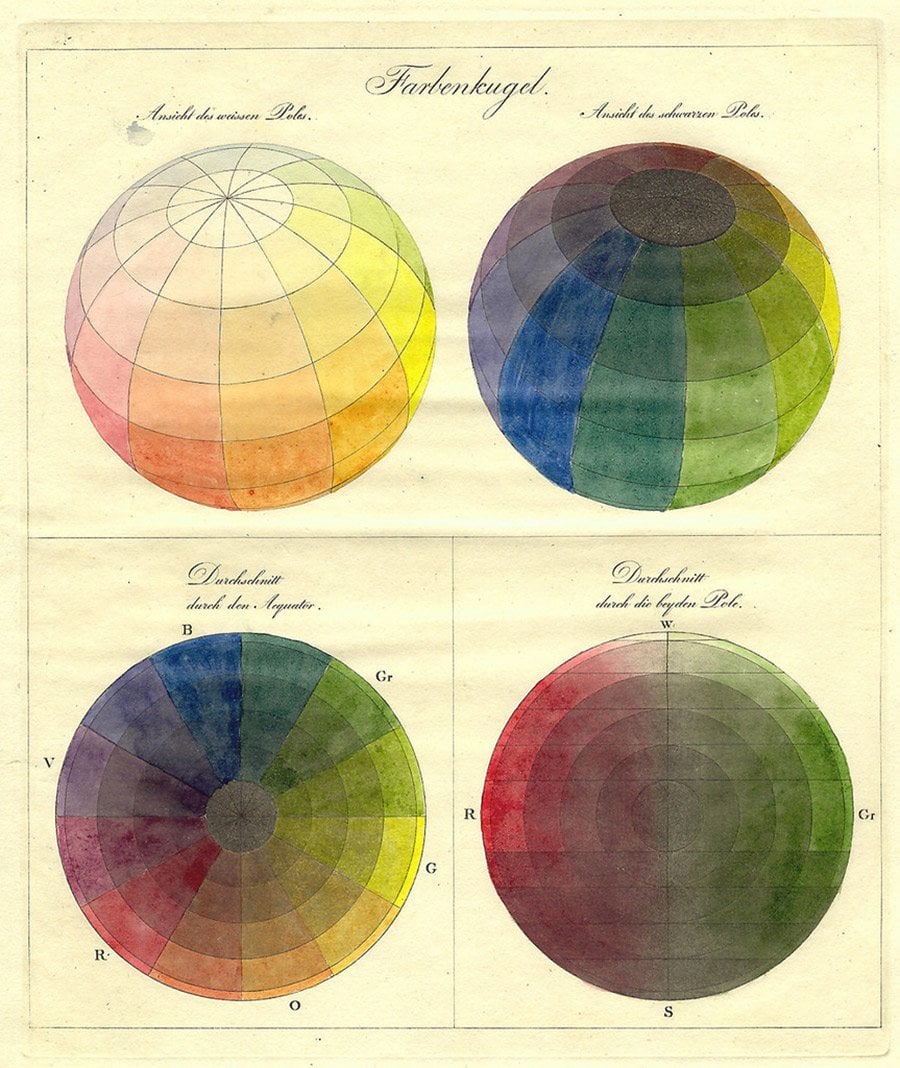 Philipp Otto Runge's Farbenkugel (1810). The top two images show the surface of the sphere, while the bottom two show horizontal and vertical cross sections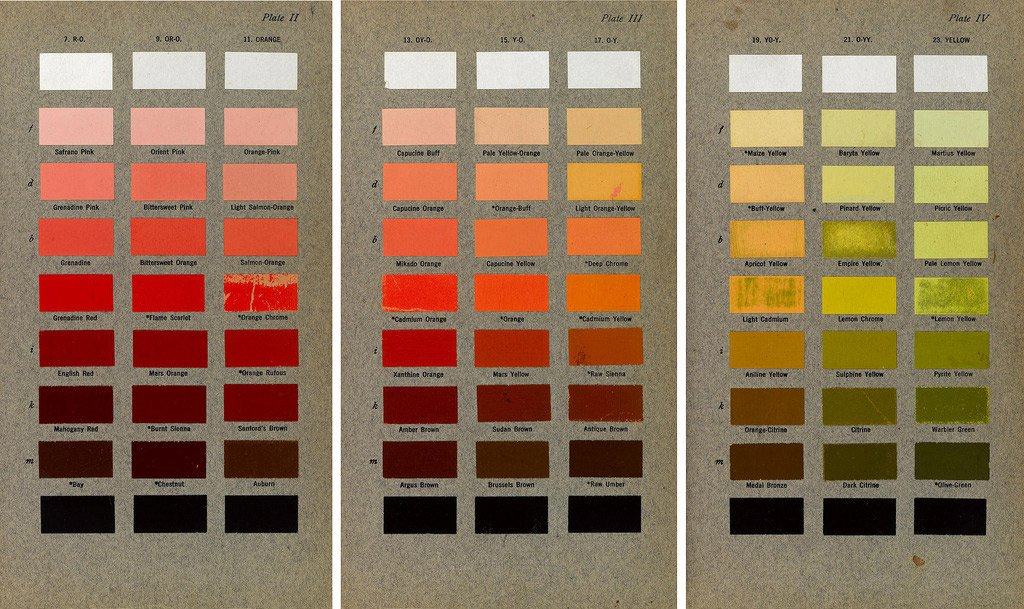 Parsons' Spectrum Color Chart, an Illustration from The Principles of Advertising Arrangement (1912) by Frank Alvah Parsons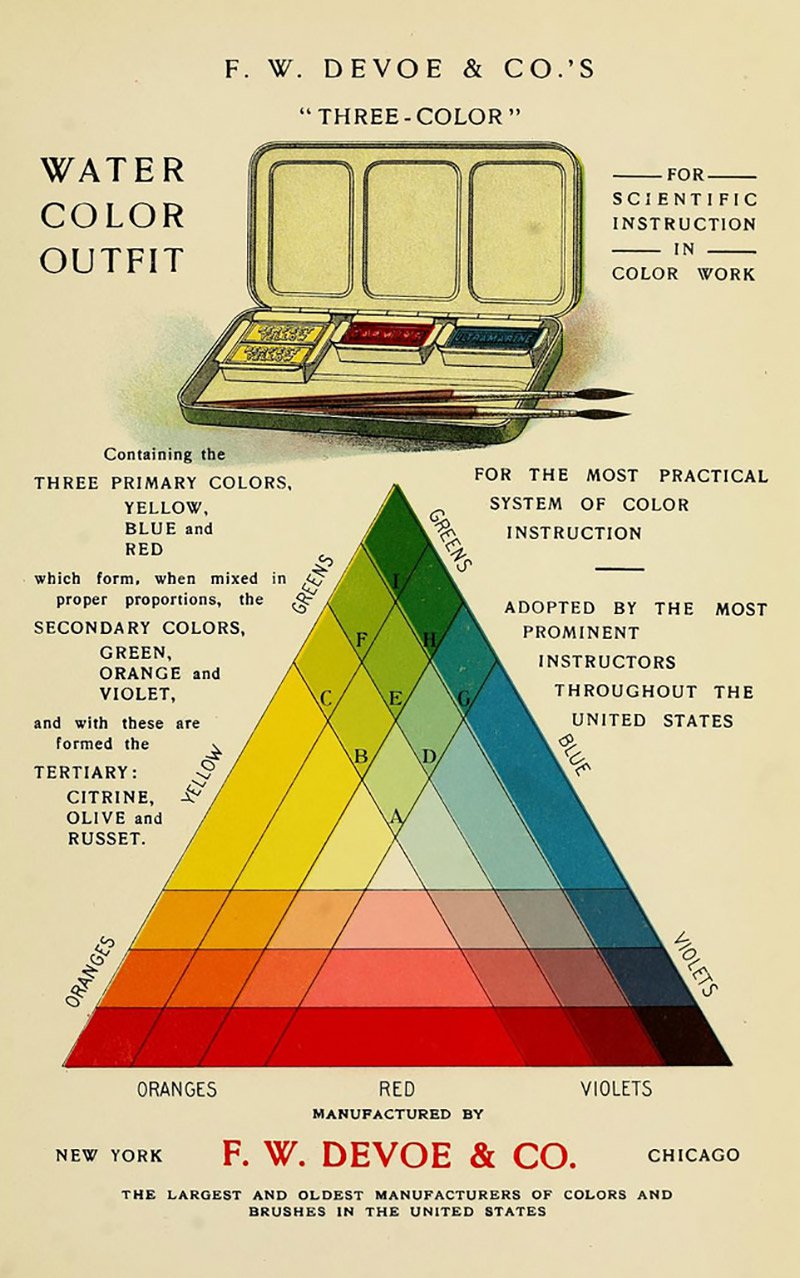 Page from Priced catalogue of artists' materials : supplies for oil painting, water color painting, china painting … and drawing materials for architects and engineers, manual training schools and colleges (1914)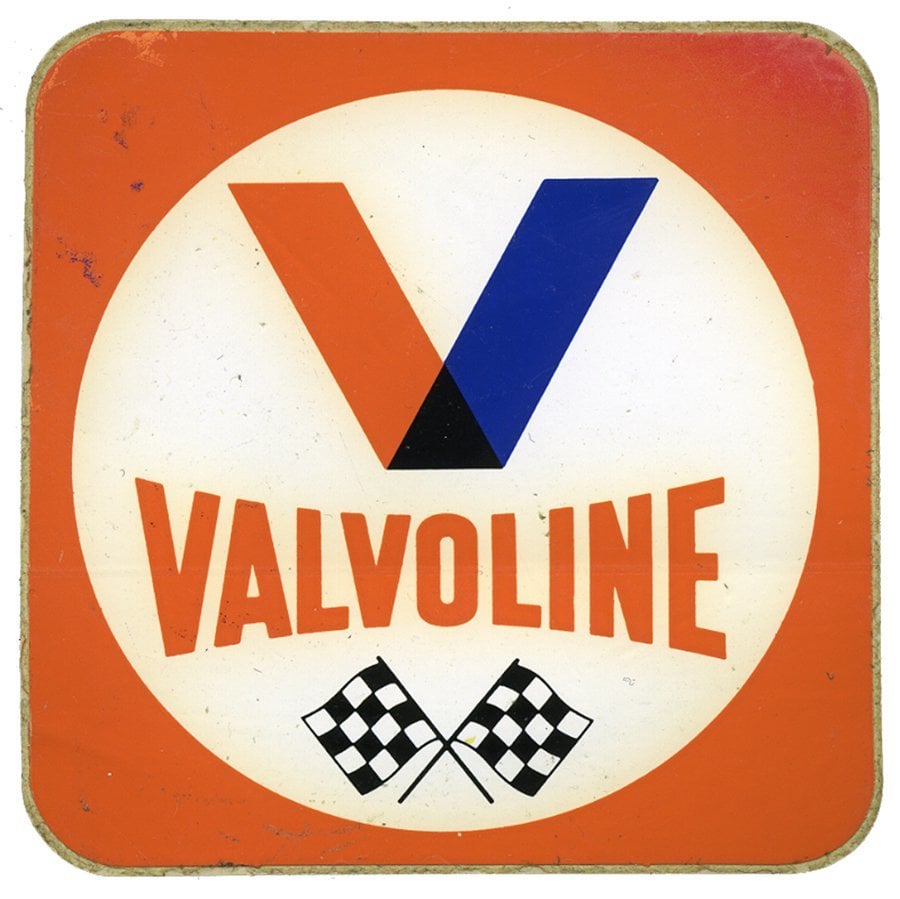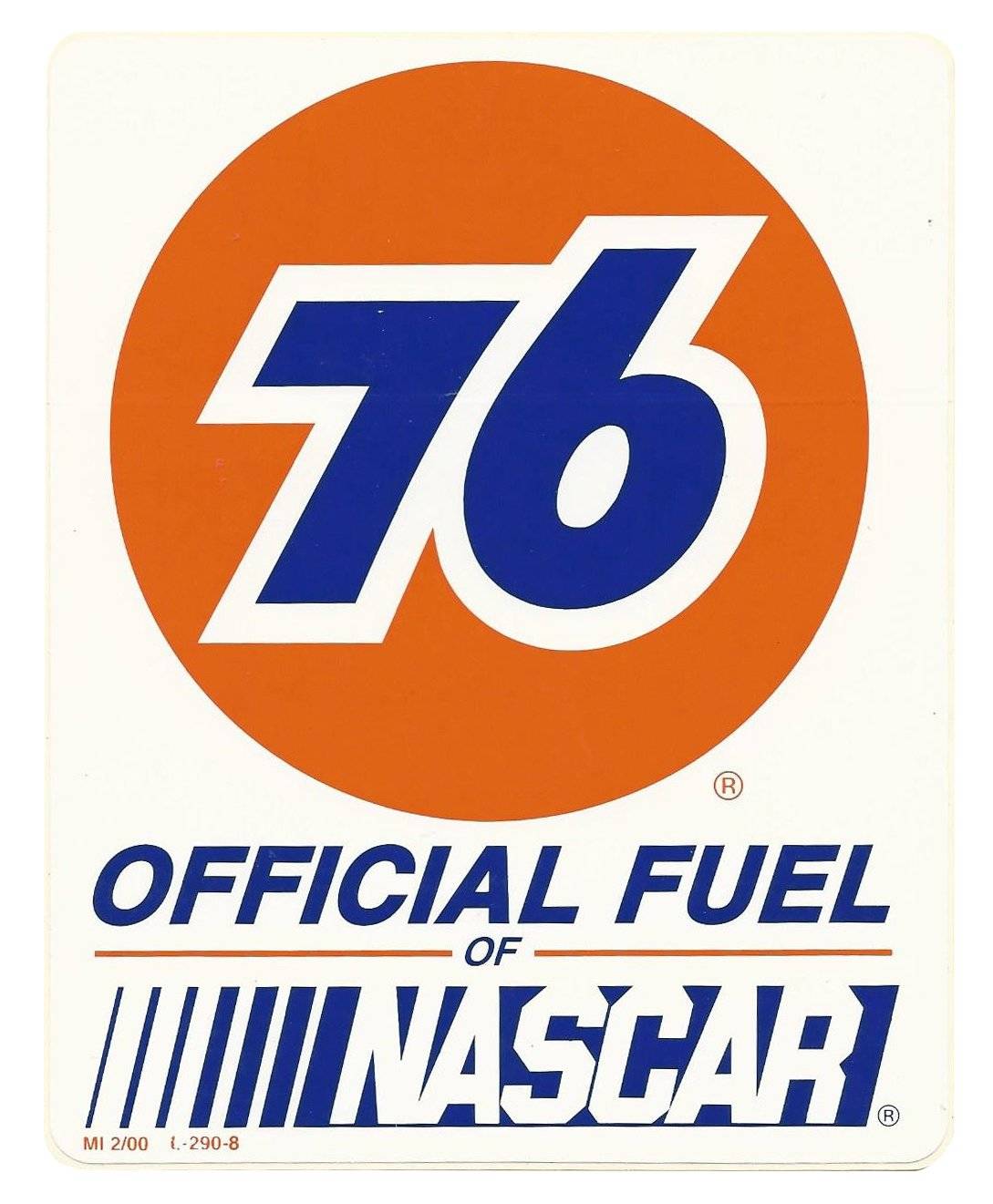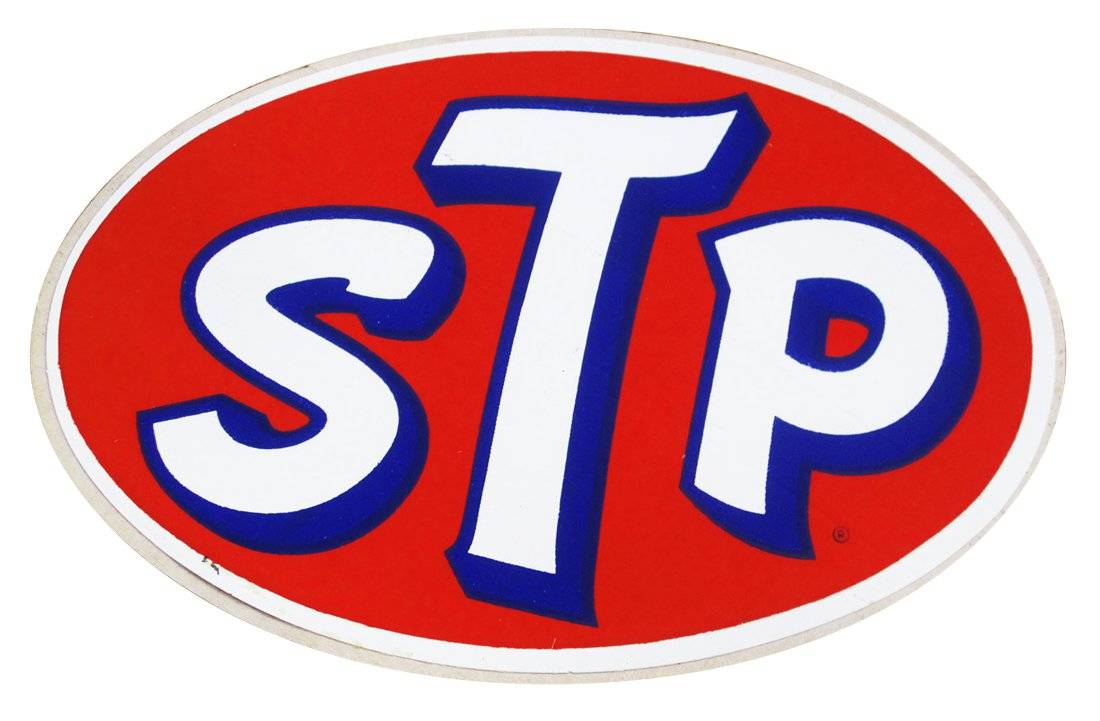 Vintage Racing Logo Decals from the 1970's
Came across this lovely Vintage Racing Logo Decals from the 1970's over on ISO50's blog some years ago, where they were picked up from Sarcoptifom's Flickr Set.
It was only a quick link post that I did back in the day, but have meant to adjust some of the racing decals by turning some of the black backgrounds back into white. So this time I've done just that, and also cleaned up some of them a smidgen.
My favourite is Valvoline, just because of the general style, and the typography. It's just a classic. Turtle Wax is my bonus fav just due to the fun and colourful illustration. Although saying that, having an owl wearing ski googles is pretty bloody cool!
I'm now also tempted to faithfully recreate all of these in Illustrator just as a little fun side-project.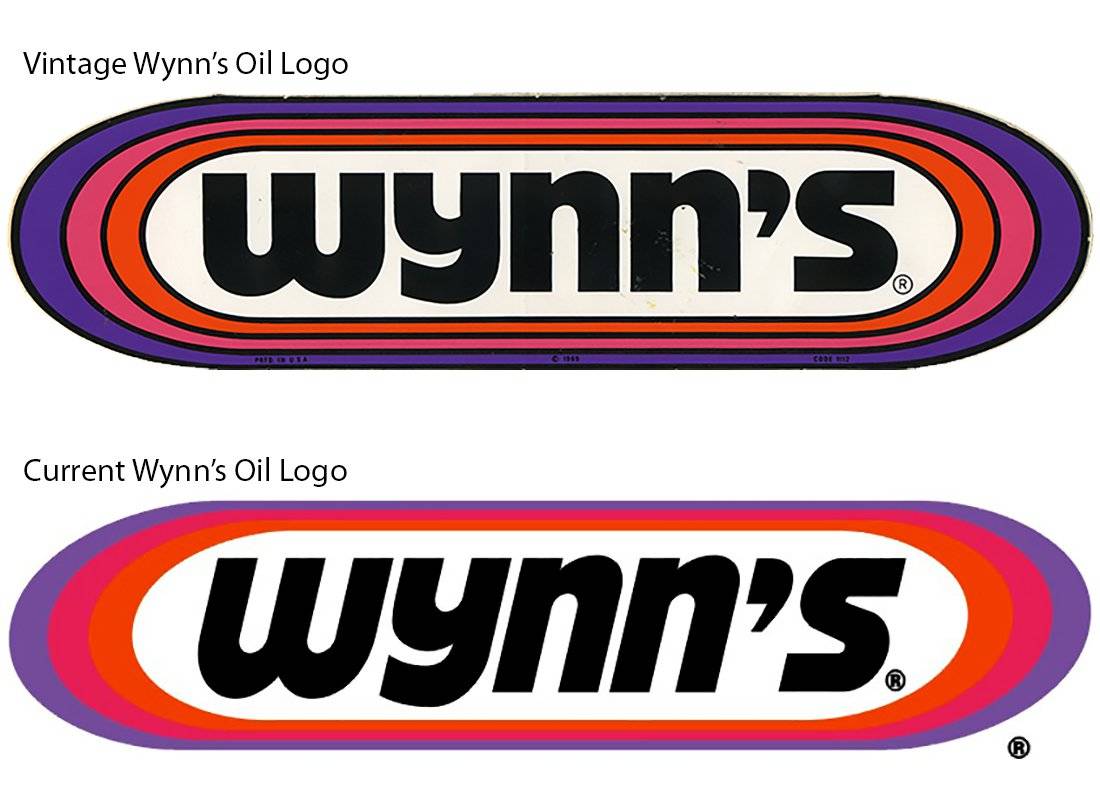 Also note how the Wynn's Oil logo has barely changed in the years, with the current version just sporting an italic version of the brand name and lacking the black keylines. That's some logo longevity and timelessness right there!
Vintage Racing Logo Decals from the 1960's-1970's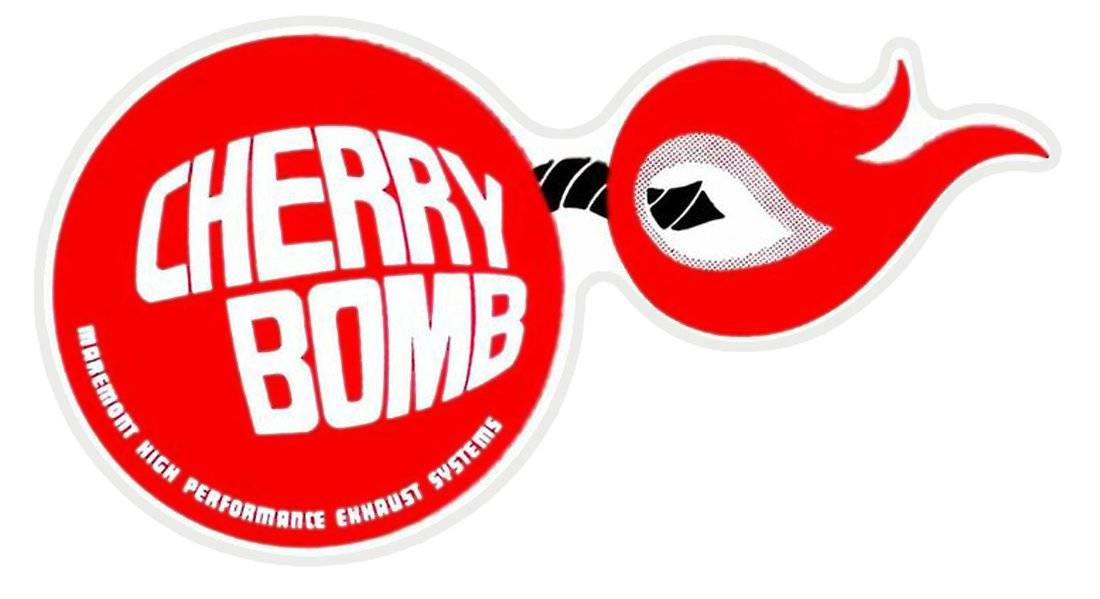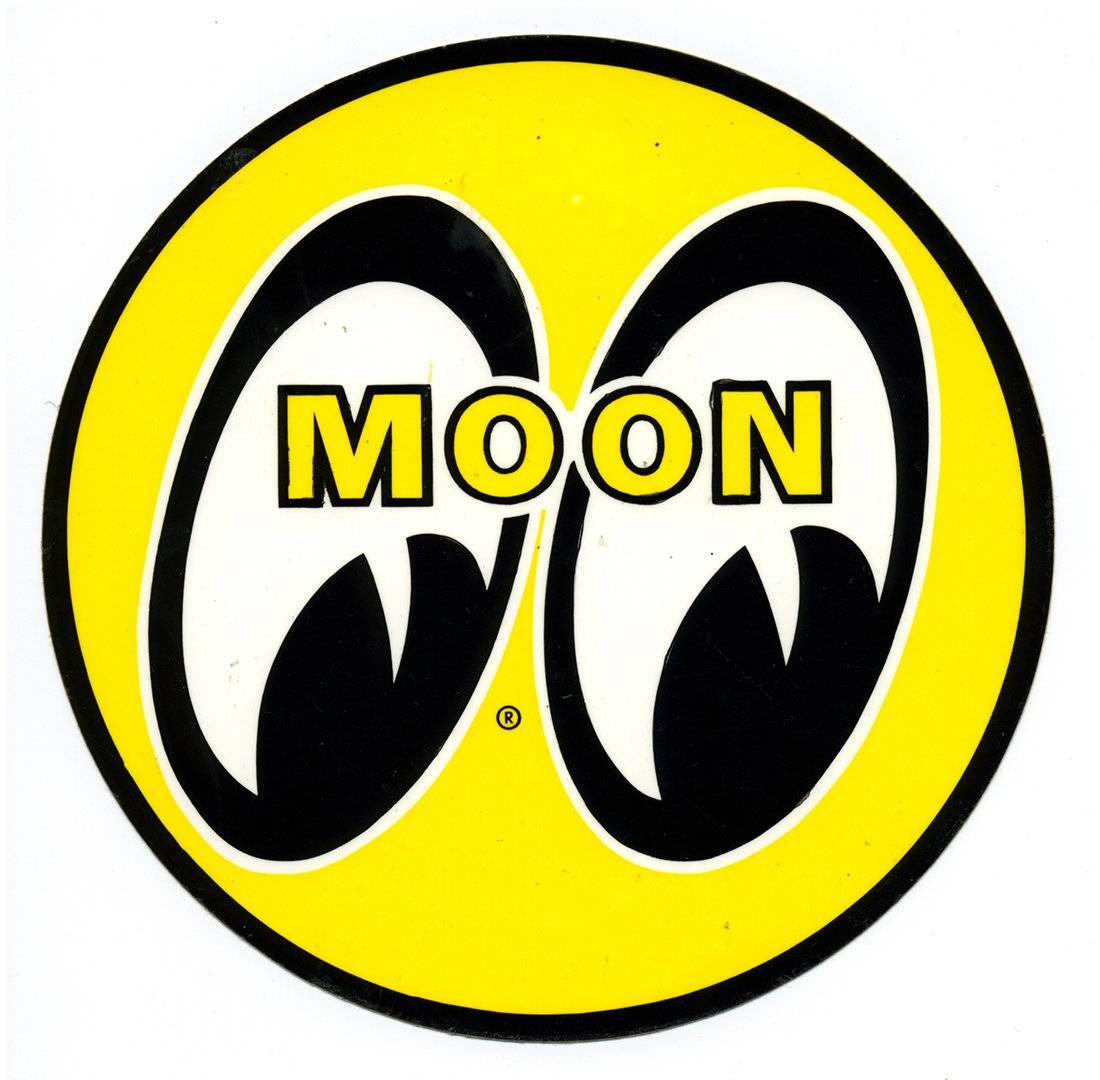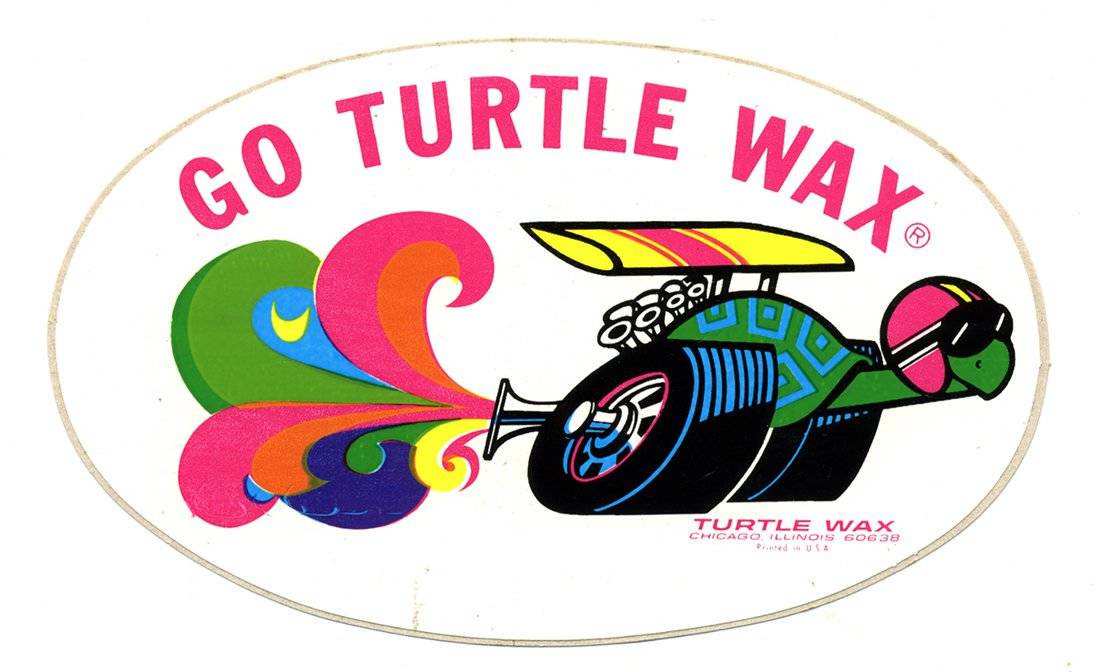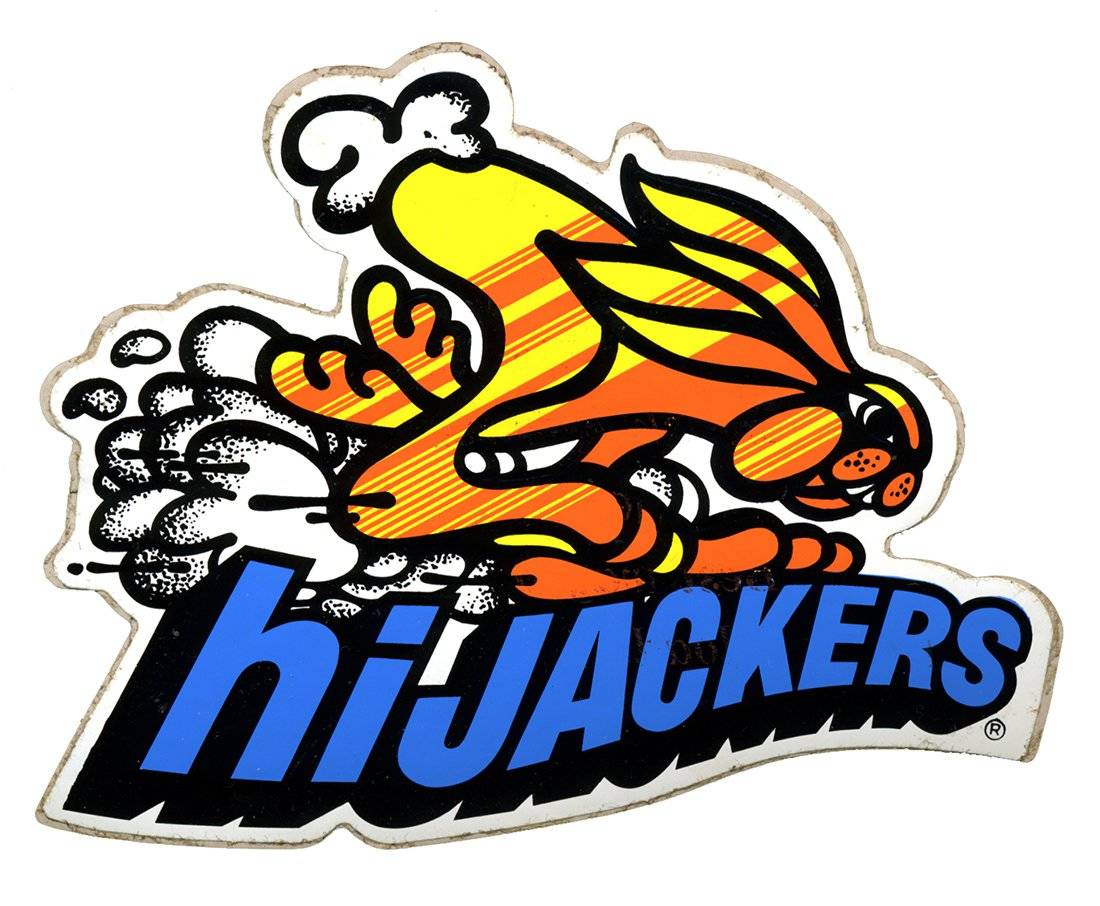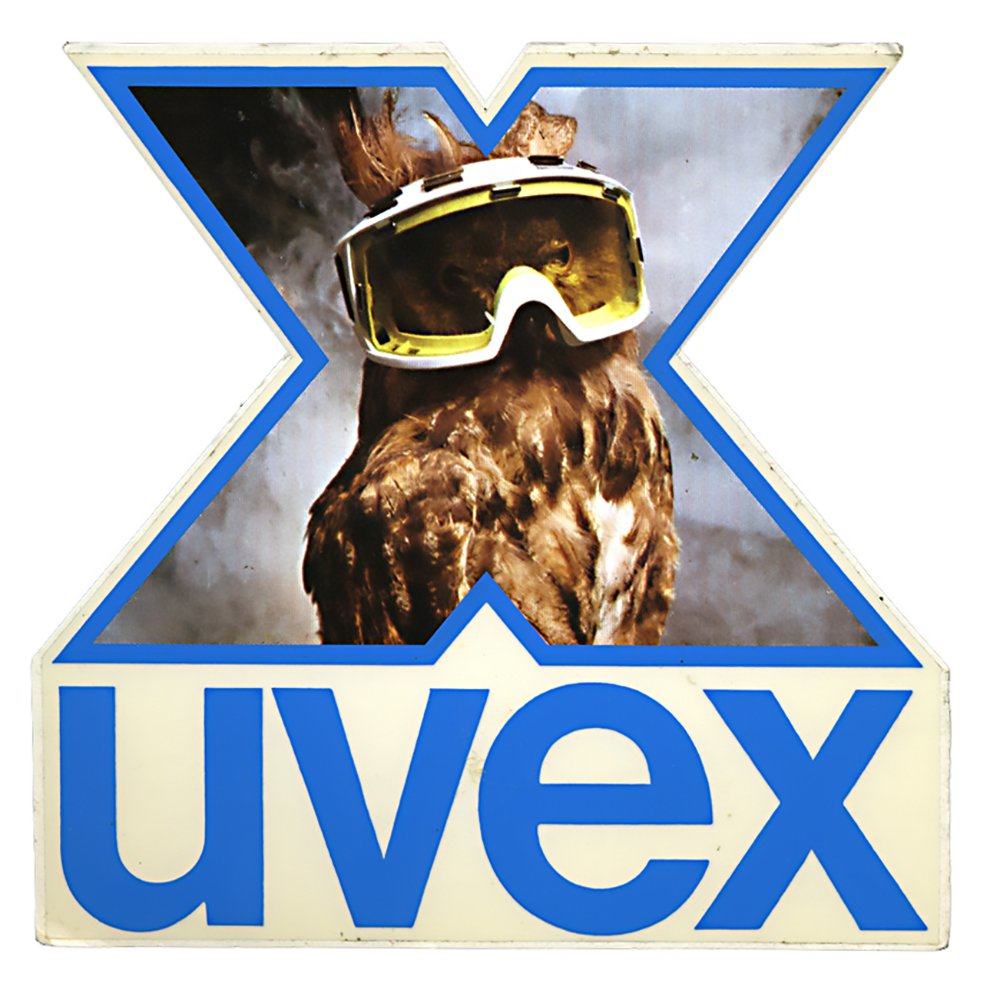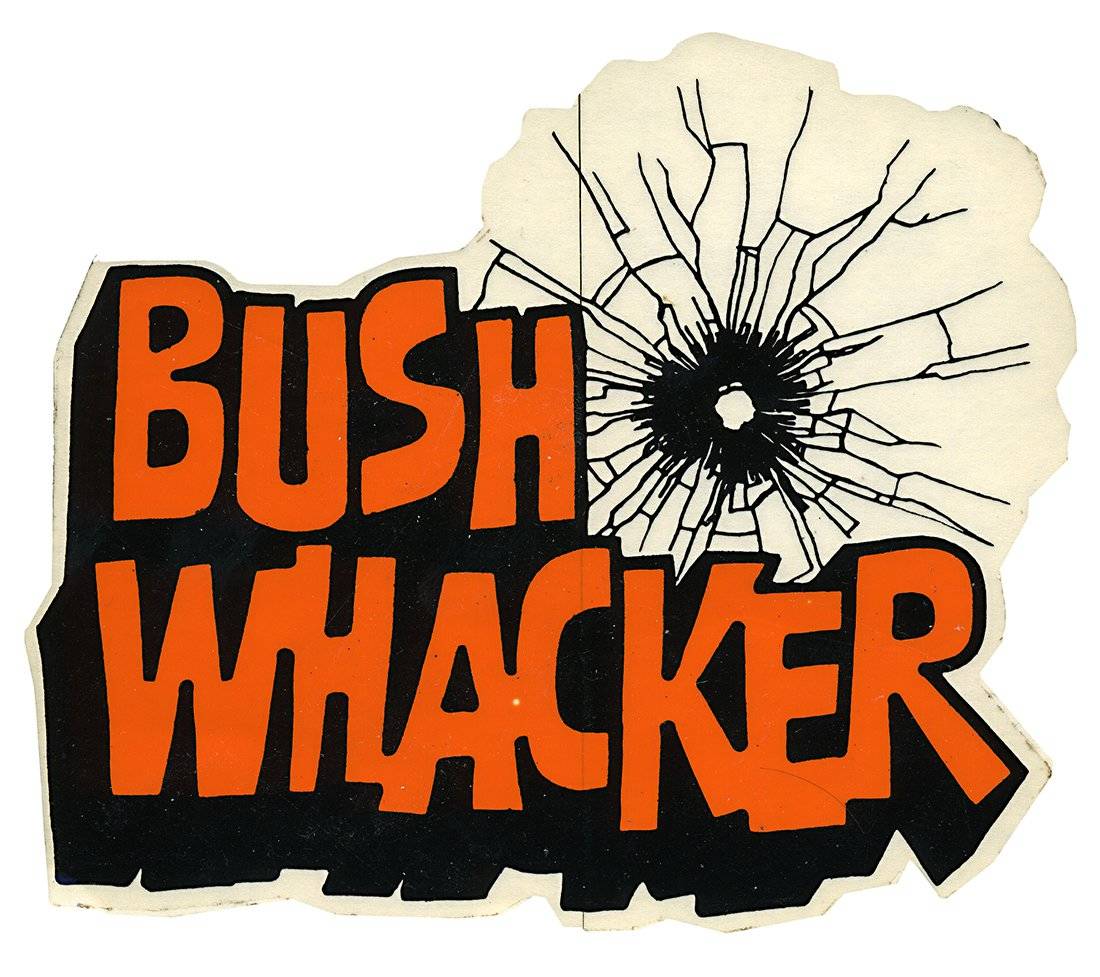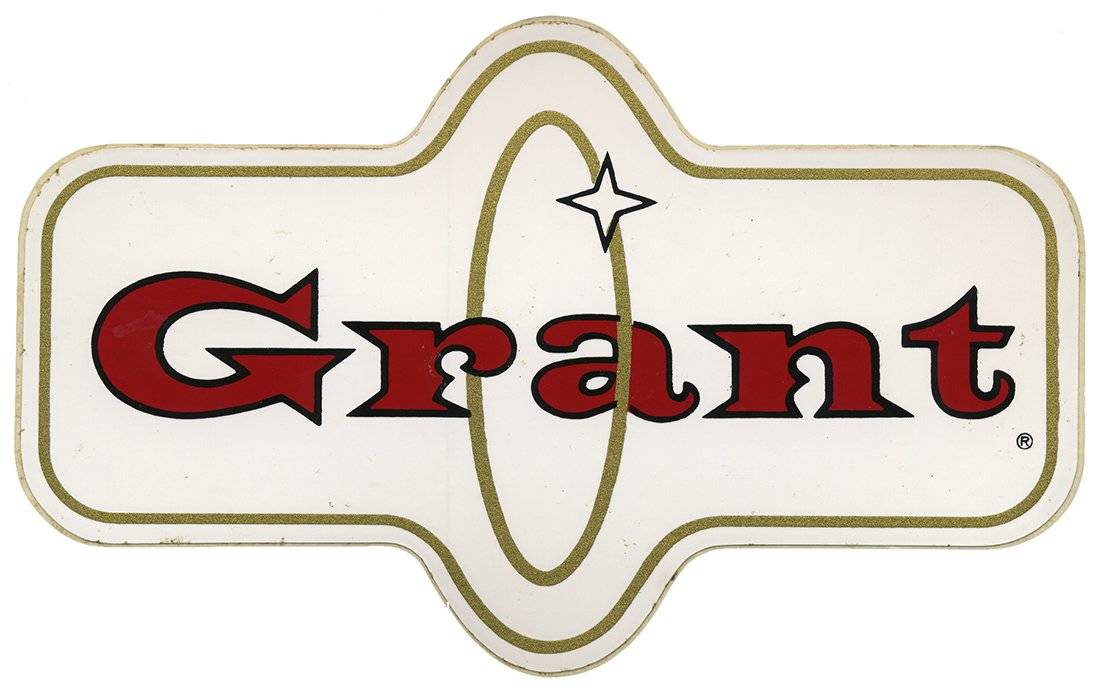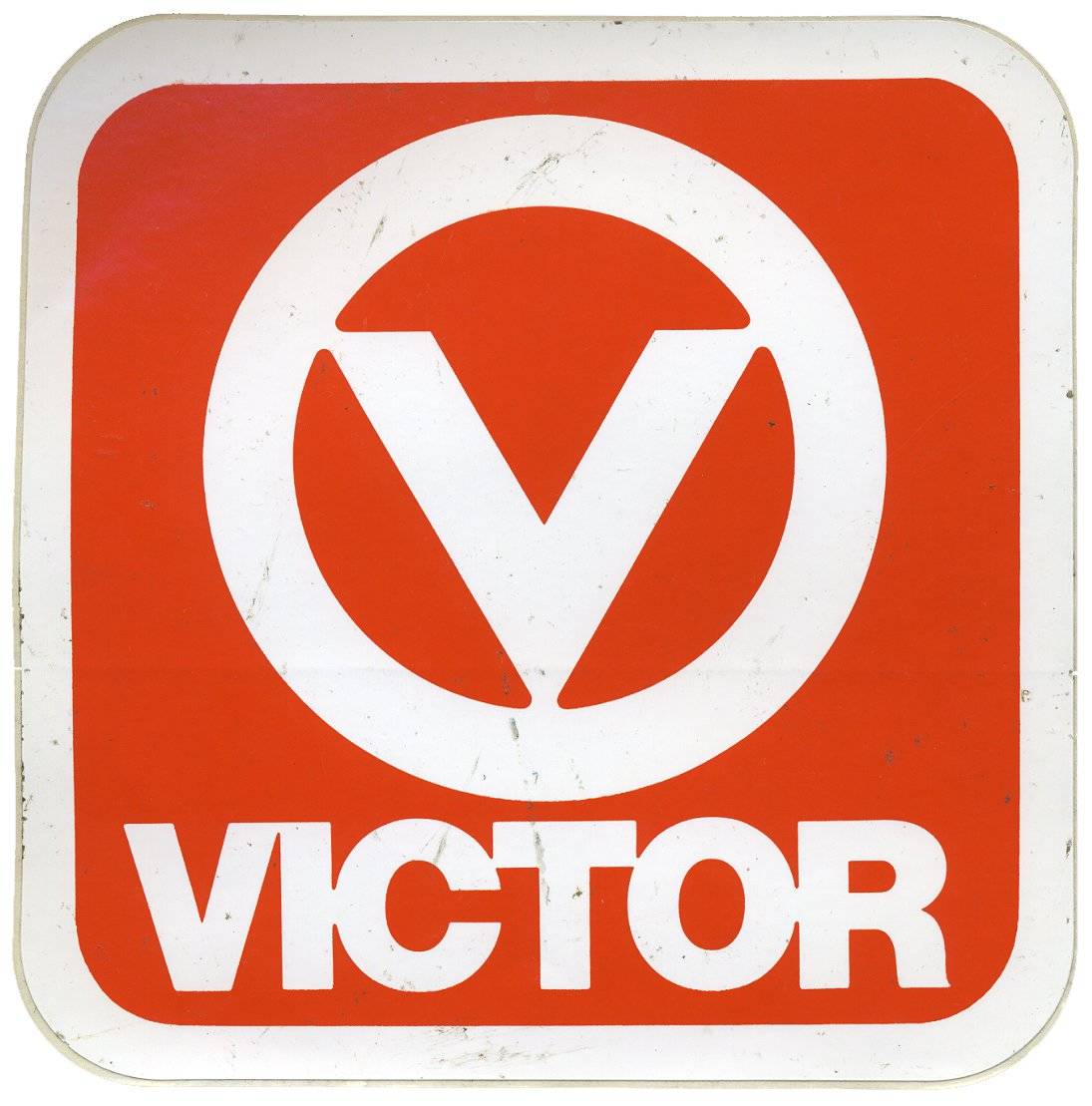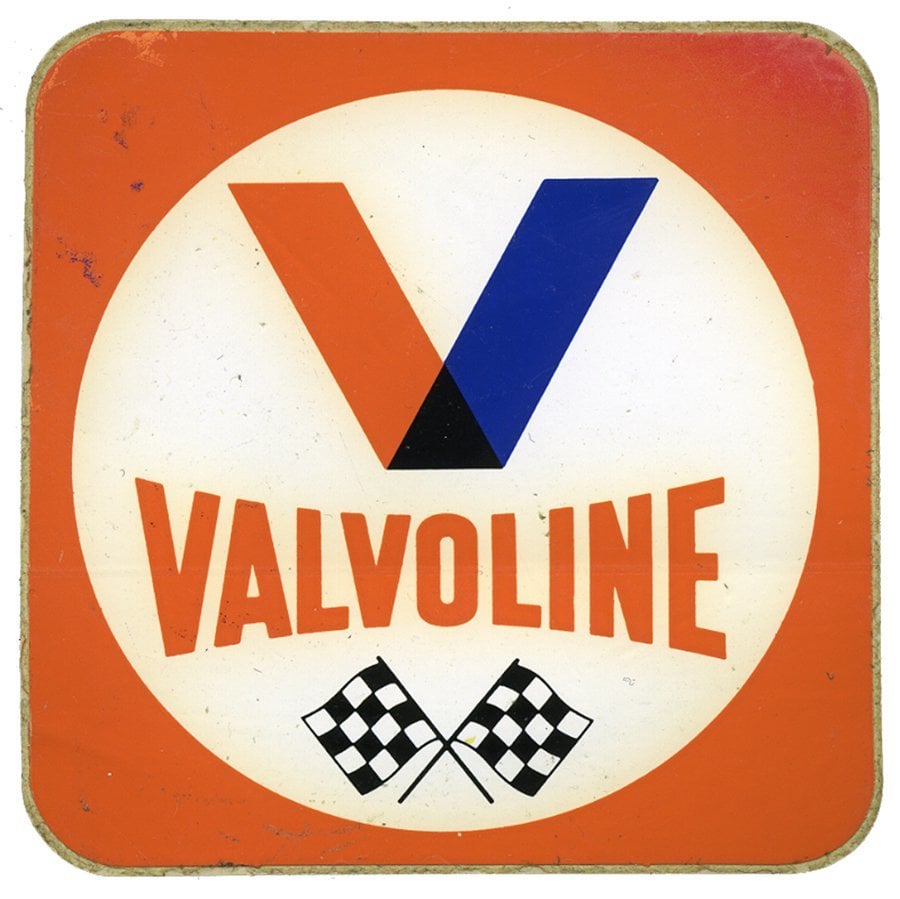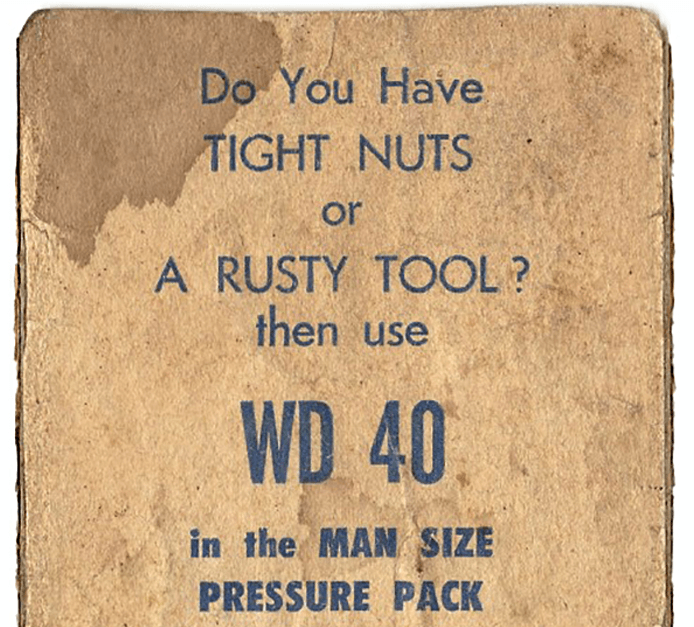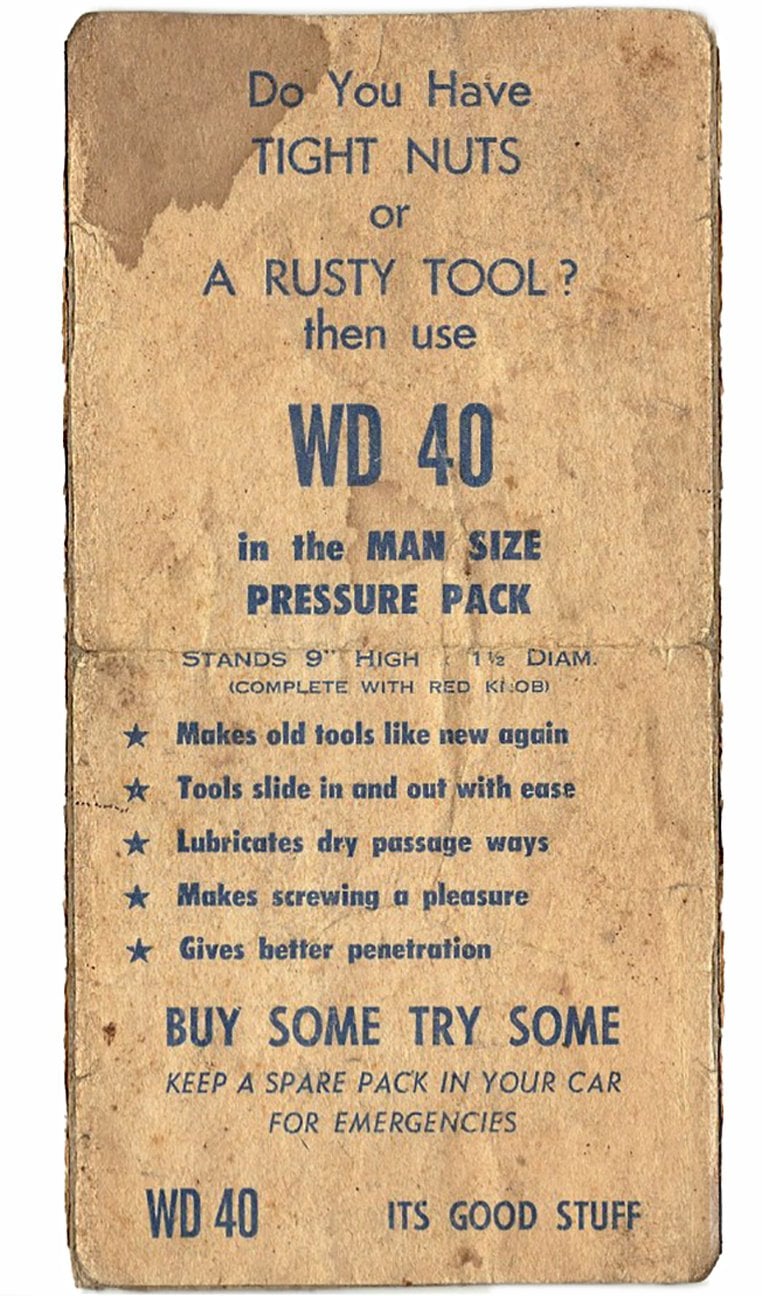 Do You Have TIGHT NUTS or A RUSTY TOOL? WD 40 Vintage Advert
This 'faux'  WD 40 Vintage Advert has just about made my Friday complete, save for some lubing I have planned for later. The innuendo has been masterfully created to work just seemingly with the true facts of what WD 40 can do for you.
Even though it's fake, I still want to believe this is a real advert from the 1960's. It's innuendo at it's most brazen, but oh my my my, so utterly hilarious.
Do You Have TIGHT NUTS or A RUSTY TOOL?

then use WD 40 in the MAN SIZE PRESSURE PACK.

STANDS 9" HIGH 1 1/2 DIAM. (COMPLETE WITH RED KNOB)

• Makes old tools like new again

• Tools slide in and out with ease

• Lubricates dry passage ways

• Makes screwing a pleasure

• Gives better penetration

BUY SOME TRY SOME. KEEP A SPARE PACK IN YOUR CAR FOR EMERGENCIES.

WD 40 IT'S GOOD STUFF
I'm actually pretty excited about this post, and what might turn up. I recently, and randomly, just asked on Twitter what your favourist logo design of all time was, and with the replies were a few surprises.
It's one of these questions that becomes harder the more one thinks about it, so I realised I myself just needed to go with one of the first designs to pop in my head. The more you think about it the more you keep finding better and better logos to choose form until it becomes an almost impossible task.
For me, there is one logo design that keeps popping into mind, and it's one I always love looking at, and that's the Seagate logo. Now some of you might be surprised that I didn't say the old NASA logo, or maybe something equally historic and forever referenced as one of the all time greats. Nope, the Seagate logo always captures my attention. Sure, there are 100's of logo designs I could easily reference, and it would be near impossible for me to then rank one above the other.
What's Your Favourite Logo Design of All Time?
I would really love to know what designs inspire or impress you, and want to exhibit them in a follow-up post. I don't necessarily need to know why you like it, but if you do want to scribble a few words down then please feel free to do so.
Once I have a nice little collection of your favourite logo designs, I'll simply find a good copy of the logo (like the Seagate logo above), and put it in the follow-up post along with your name, and link to your website/Twitter.
Just please try to not overthink it. It's not a trick question, no one is here to judge or mock you (not me anyway) over your choice. It's as subjective as they come.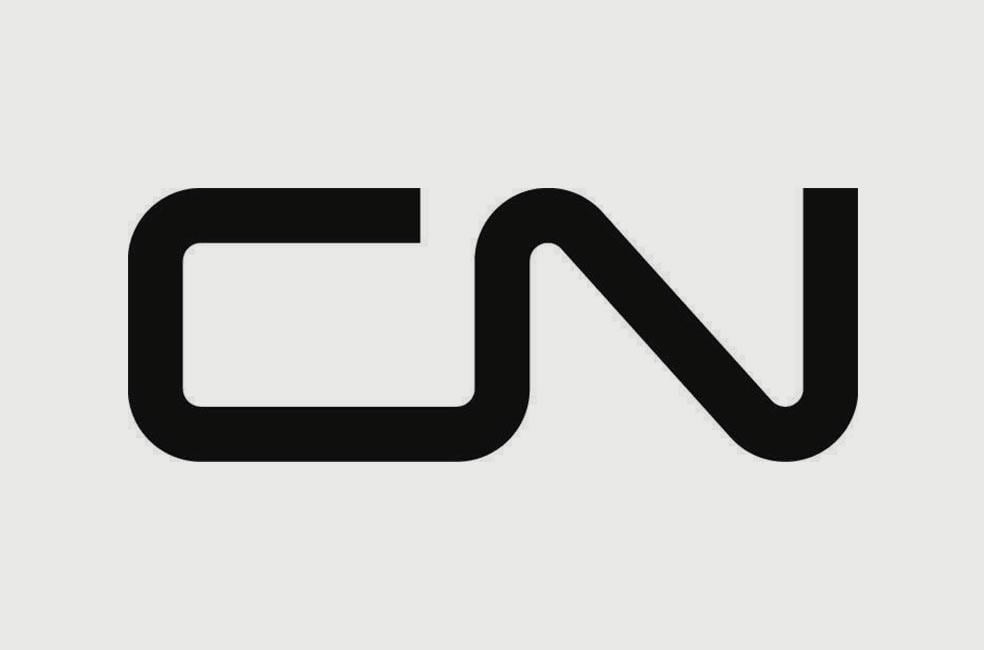 There is a thing that was raised on Twitter, and this was having to choose between an all-time vintage classic, and a more recent design. So, to combat that dilemma you can choose two designs: one vintage classic from the 20th Century, and one from the 21st Century.
Don't feel pressed to submit two logos, but for those of you that have an all-time classic, and also a more recent logo design favourite, this will help. For me, I've always been partial to the CN logo.
How do I send you my favourite logo design Graham?
Just leave a comment on the following Google+ thread, or tell me in a Tweet with hashtag #myfavlogo, along with your choice of logo and website/Twitter URL, and that is that. Once I get a sufficient number of replies I'll whip them into a follow-up post.
If you want to make sure you don't miss this follow-up post, then you can subscribe to my feed/newsletter.
Really hope as many of you will participate as I am genuinely interested to see the results!
Note: This entire post is taken word-for-word from my Logo Portfolio.
A previous client of mine, Pure Storage, approached me to design a reto-cool logo that would be used to brand a fun side project of theirs, called: Puritone Records.
This was one of the quickest turnaround logo design I have done, and especially one for such an important client as Pure Storage. I had just 5 days to come up with an idea, and have the files ready, to give them, for April 1st.
In fact, I started on Tuesday and had the main idea ready to present on Friday. The client's response to the 1st and only idea? "Holy s**t this is awesome!!! Really, really like the idea!" Then I had from Friday, and the weekend, to perfect and polish this idea to final files for Monday. Easy…
Background on Puritone Records
This is a truly awesome way to market your company, and provide a fun and entertaining means to entice new customers in, and provide entertainment value for existing clients. By playing on the versatility of flash based storage, Pure Storage have created Puritone Records formed of The Puritones group, to remix popular songs with flash based lyrics!
The quality of these covers/remixes shows that no expense has been spared with this fun side-project, and going as far as to put the songs on: Apple's iTunes, Amazon, Google Playstore, emusic, and X-box music!
If you're interested, you can also listen to the full-length versions, for free, on The Puritones website: Puritones Records.
There are currently 4 tracks to listen to, and I have to say, they are pretty bloody amazing: SolidState, Read and Write, Timber and Flash it Like it's Hot. 
My personal favourite is SolidState, just love the original version anyway, but hearing it with somewhat nerdy lyrics really is quite a buzz. Do give them a listen, and see if you can spot all the flash/pure references, these mixes are particularly cleverly done, not as cheesy as you might be thinking!
The Process
I started with the Puritone Records logotype, this would be just the wording, and once I had this general idea mocked-up, it was then a case of then designing a faux record label version.
A few major requests from Pure Storage: that the overall container of the logo be of a similar shape to the Pure Storage logomark (that I had also previously designed for them), a clearer visual example of their logomark within the finished piece, a sense of anti-harddisk sentiment, and an overall design style of reto-cool.
It was somewhat fortunate that when looking at where the Puritone wording would sit, within a rotated version of the Pure Storage logomark, that I immediately saw at least one way to utilise this narrowing space towards the top: which was to progressively heighten each letter of Puritone, which created a pretty funky, and distinctive, typographic style.
The retro style, and efficient use of this narrowing space, was further enhanced by the use of a heavily condensed font.
Given the somewhat quick turnaround, I really am chuffed with the results. Not only did I give them the main Puritone Record logotype, but the actual label version was somewhat of a bonus. Or, one could look at it that the logotype is modular, allowing for a convenient and flexible logo system. So if the the main label version might be too tall, then the smaller logotype version can be used independently of the record label.
There is an actual story, or narrative, to the logo/label design.
At the very top we have Pure Storage, the main parent company surrounded by a couple of white flash-bolts (Pure Storage is a flash drive manufacturer). This leads into the Puritone Records wording, with the accompanying, flash storage/music themed, tag-line (which I also came up with), "Smashing Disks Everywhere: Utilizing Expertly Tested, Consistently Orchestrated and Always Aligned, Flash-Audio".
From this tag-line a massive flash-bolt erupts out and continues it's journey towards the bottom Pure Storage logomark.
I also added a few token elements, reminiscent of the sort of thing you might find on a vintage vinyl record, but tailored to Pure Storage, Flash, Audio etc. On the right we have a version of the Stereo symbol, but in this named Pure-Resilience, and a reference to 512kb Flash-Audio, on the right-hand side.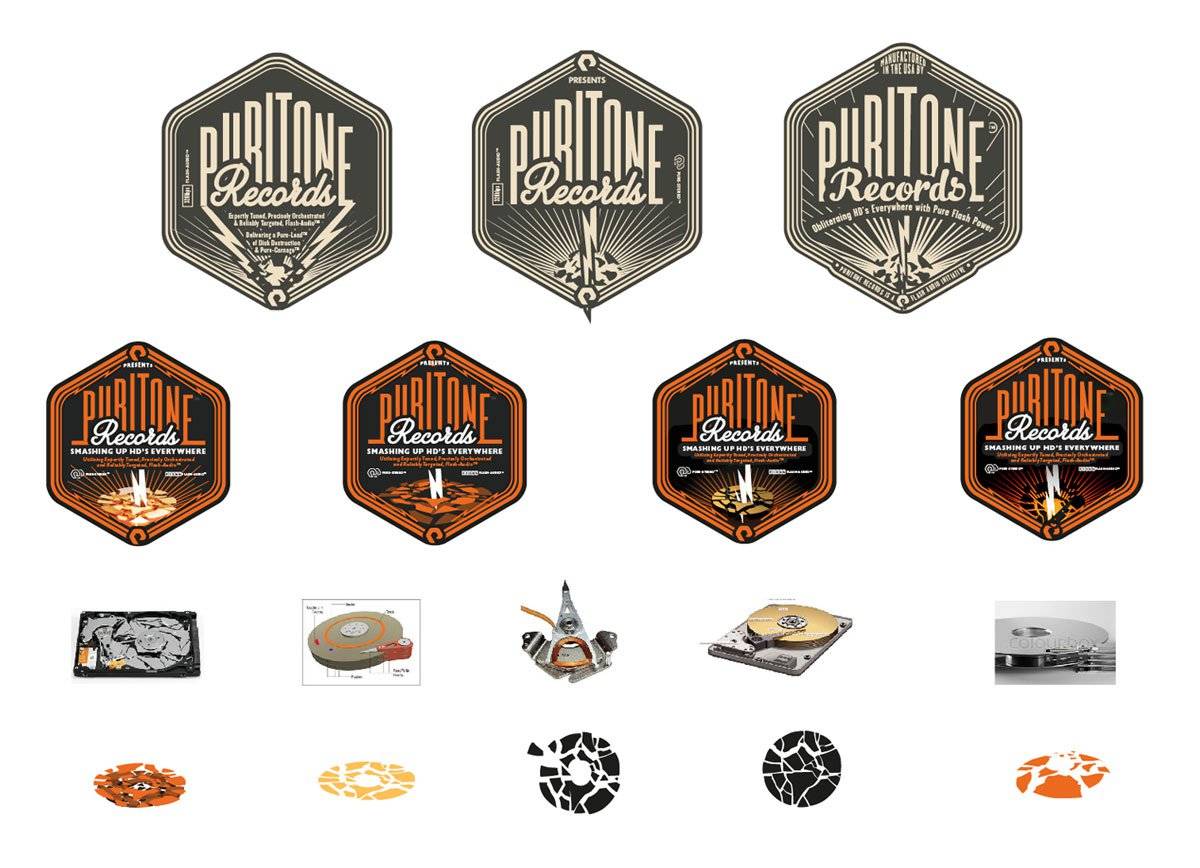 I did explore some more literal versions of the anti-disk theme which used various forms/shapes of harddrive disk platters.
However, the inclusion of yet more graphics in this enclosed space made for quite a messy and busy lower half, and with the time not on my side, the decision was to leave these out. Although they may have added more weight and emphasis to the anti-disk theme, it would have done so at the expense of the overall aesthetics.
Outline View
This image below is the standard 'outline' view mode in Adobe Illustrator. No stray bits, no overlapping/underlapping excess paths, just pure and clean vector logo goodness.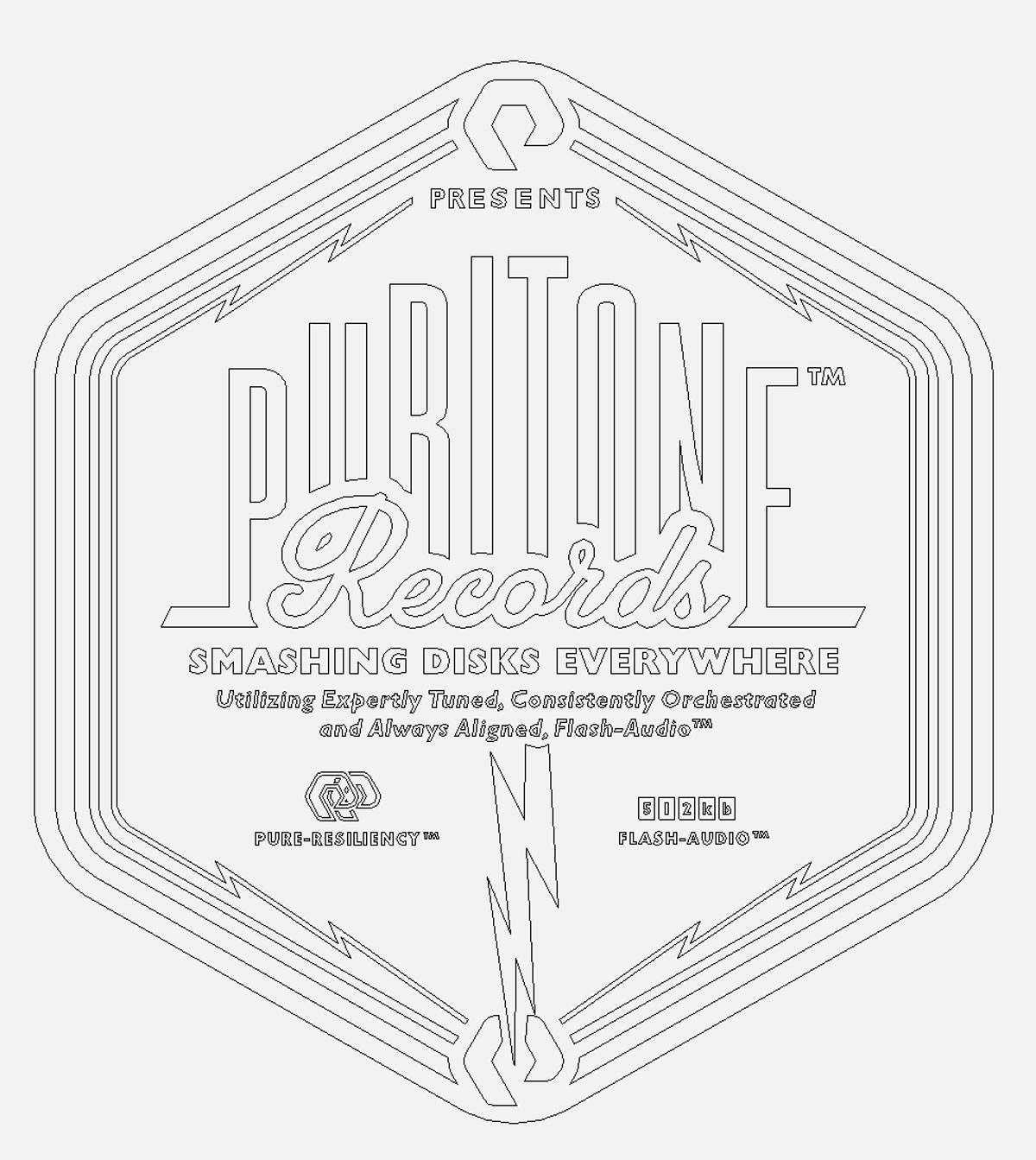 Something to look out for
Partly due to the frenzied nature of this project, but also mostly down to actually not realising this would ACTUALLY be used to go on a proper physical vinyl record, can you see an obvious, and completely unintentional, omission to this logo design? Answer bottom of page.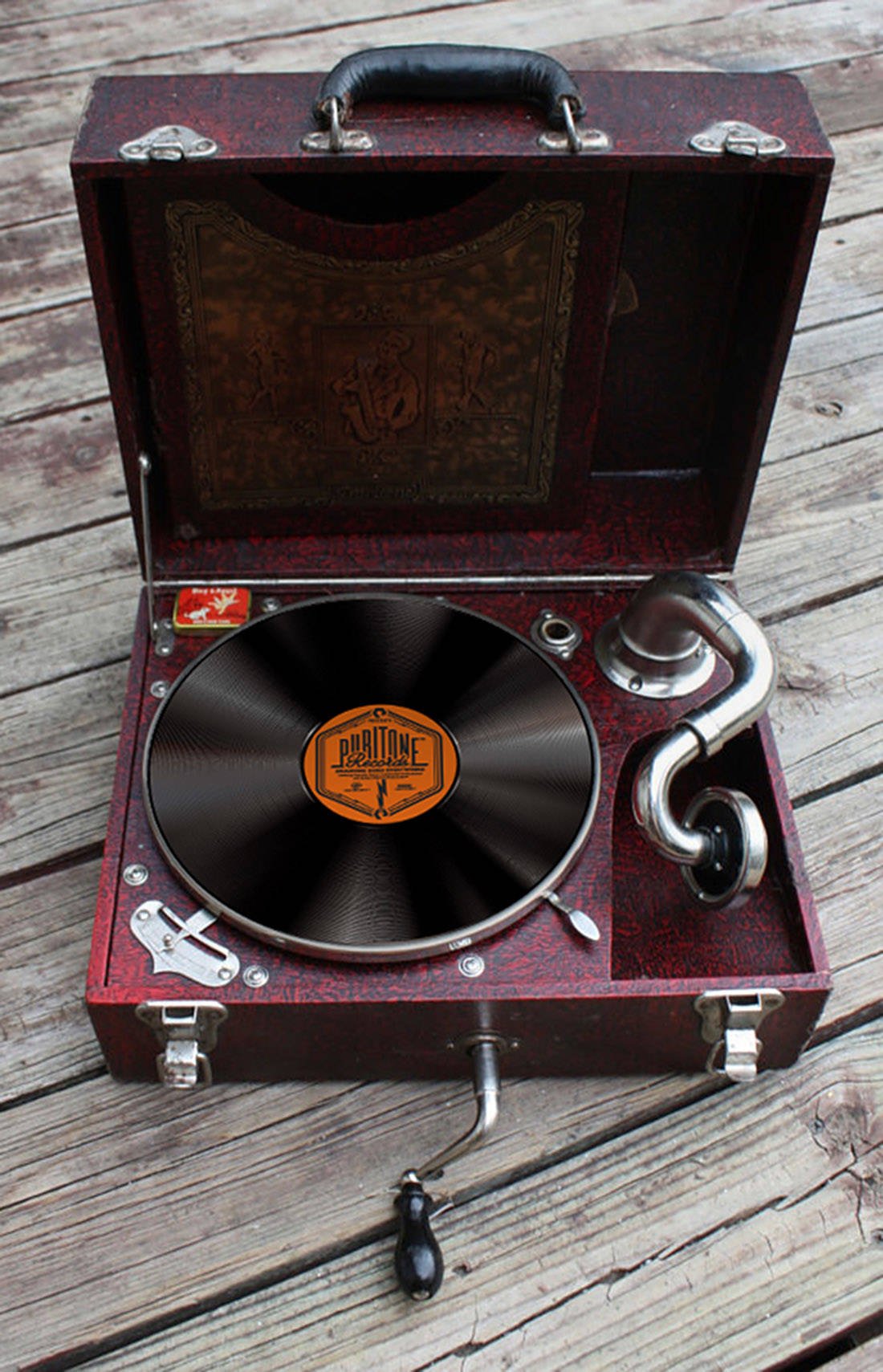 Answer: There is no hole in the middle of the record!
Once we all realised the label would in fact now be used on an actual record, we can easily revise the design around this design flaw. This proves that mistakes happen, and especially with such a pressing turnaround, that the obvious can simply pass straight by you. :)
SaveSave
SaveSave
Here's some tasty visual inspiration for a Sunday afternoon for you. In terms of nailing the marking and promotion of their vintage style font, Antrepo sort of hit it smack bang middle of the head.
Awesome graphic design work, not to mention superb vintage style typography to really drive home the visual message of their font: Public Gothic.
Those vintage style cans are so perfect: the colours, the layout, the distress, everything about the graphic design is spot-on. If you don't have your own copy of the Public Gothic Typeface family, then seriously think about getting it at the following link: http://www.antreposhop.com/product/public-gothic-font-family
It's certainly a worthwhile addition to your vintage typeface collection. Here are some of the details:
Public Gothic
Font Family (5 fonts)
It is little industrial, little vintage, little condensed, little bold.
Public Gothic is our new retro typeface! PB family members are PG Square, PG Vintage, PG Circular, PG Federal, PG Little and Italic variation of PG Square, PG Circular, PG Little. It's compatible with any OS system.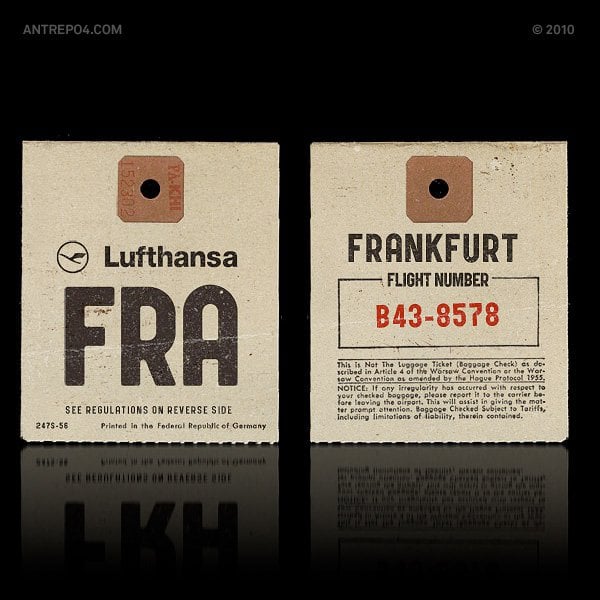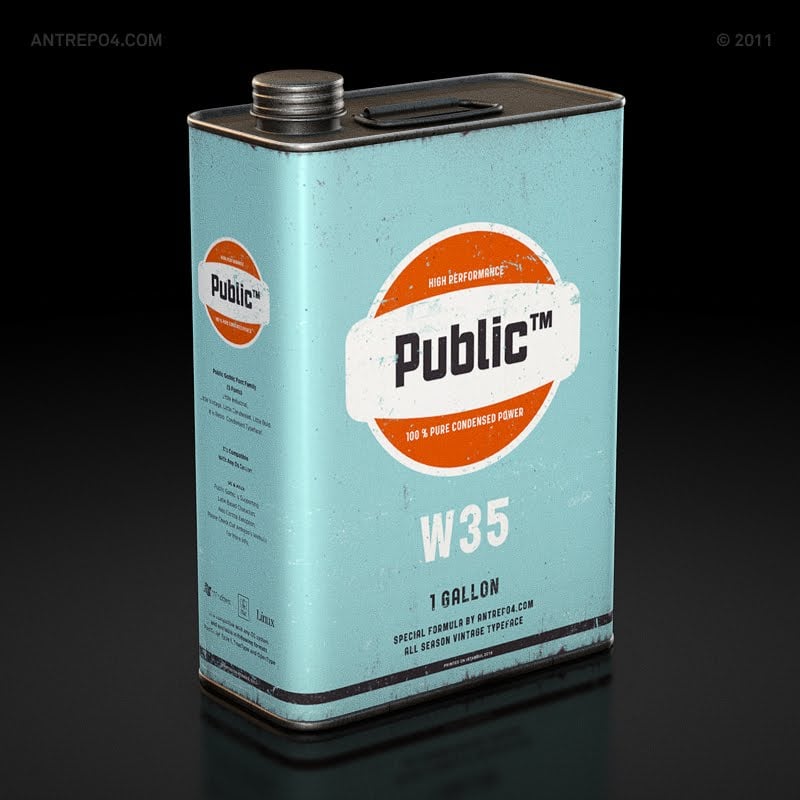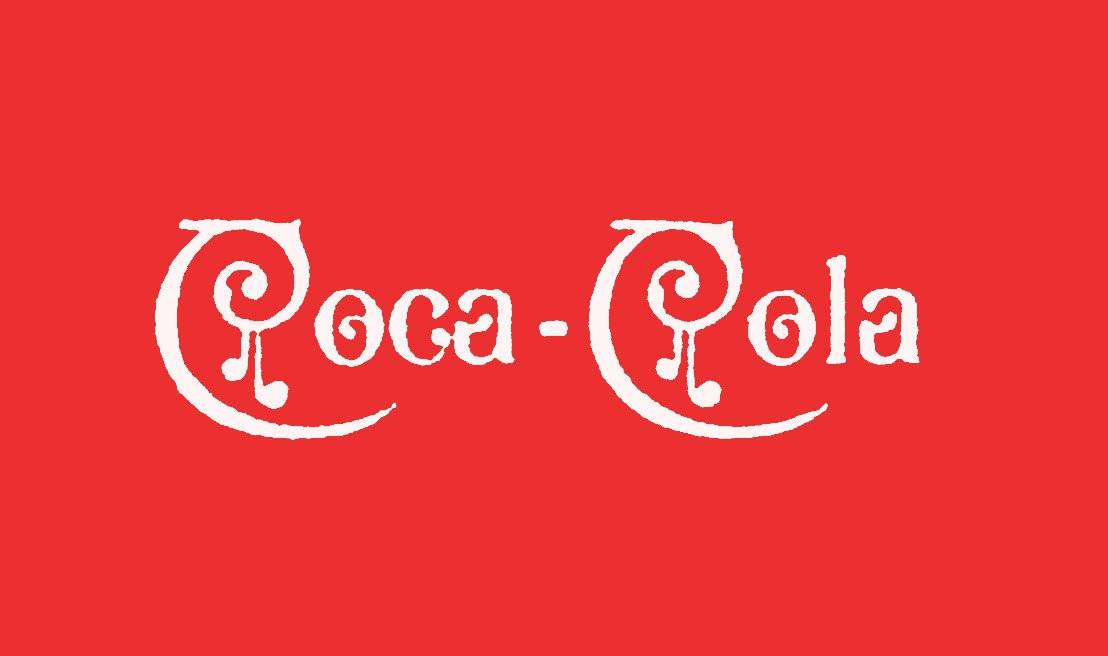 Totally love little logo trivia bits like this. Not sure I've actually seen, and took notice, of this particular design before, yet this version of the Coca-Cola logo was only designed, and used, for one whole year: 1890-1890.
Notice the adorable extra swirls and other fancy adornments. Awwww just so cute.
The previous Coca-Cola logo designed before it, even way back then, was more like the logo in we know and 'love' now. Interesting, that for just this one year, the logo would changed so significantly before quickly reverting back to the familiar script used now. What was the reason? Who was responsible? Was it a planned and temporary novelty-style logo where they always planned to revert back to the first style? So many questions.
With today's mentality (talking here about the importance of keeping ones brand image consistent, and not throwing it down the drain with hastily and ill considered changes), it might be too easy to look upon such radical, and short-lived, logo redesigns with shock and horror: how dare such a big company play so fast and loose with their company logo? I'm only 41 so it's a little hard for me to imagine how people back then viewed such changes—possibly made with such reckless abandonment—and might be fair to assume they simply didn't have the benefit of experience that we have now some 2000 million years later.
CreativeBloq: In 1890, a version of the logo was created and used only once, on the first calendar ever printed by the company. It features a style heavily reminiscent of musical notation and wholly out-of-kilter with the logo we know today. The creator of this design is unknown, but they certainly brought an unusual feel to the lettering.

It wasn't until 1893 that the first iteration of the logo we recognise today was unveiled. A slightly thinner rendering of the words Coca-Cola coincided with the company's early growth. Asa Candler had acquired the brand from Pemberton and the strategy was to outfit chemist shops with soda fountains. At this time syrup plants were built in Chicago, Dallas and Los Angeles.