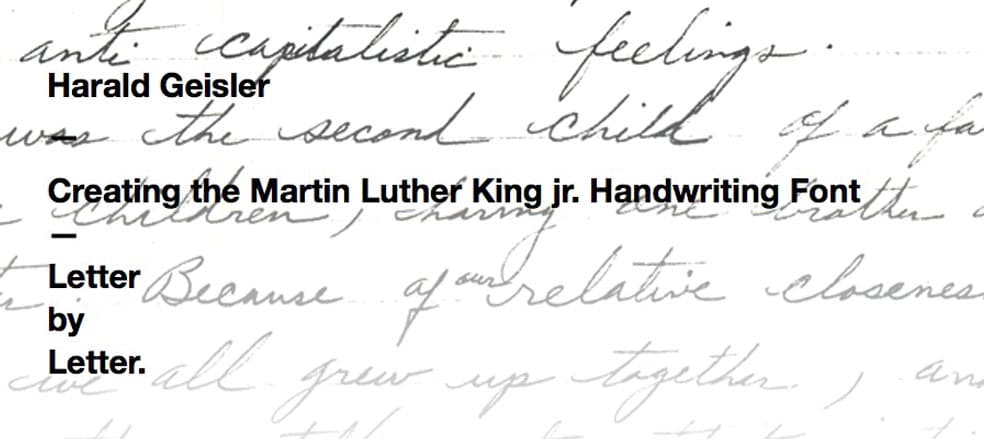 Martin Luther King Font Created by Harald Geisler
Martin Luther King free font is being created by typographer, Harald Geisler, who was granted approval by the King Estate to recreate Martin Luther King's handwriting as a font.
Harald initially took this project to Kickstarter, but unfortunately he didn't meet the required funding goal, so instead he's counting the project letter-by-letter.
As well as continuing the project to recreate Martin Luther Kings handwriting, he's also making the font a free download whilst it's in the process of being created.
Harald Geisler: The Martin Luther King Font has lowercase letters, and it is possible to write English texts. Uppercase letters, numbers, and signs are missing. The plan is to add new characters every month.

The creation process is donation driven. Monthly all users (free and donating) will receive an email with the updated font and videos showing and explaining the creation process.

For each 100€ donated, I can add two more letters per month to the Martin Luther King Font. The more people support the project; the faster everybody will receive a complete font.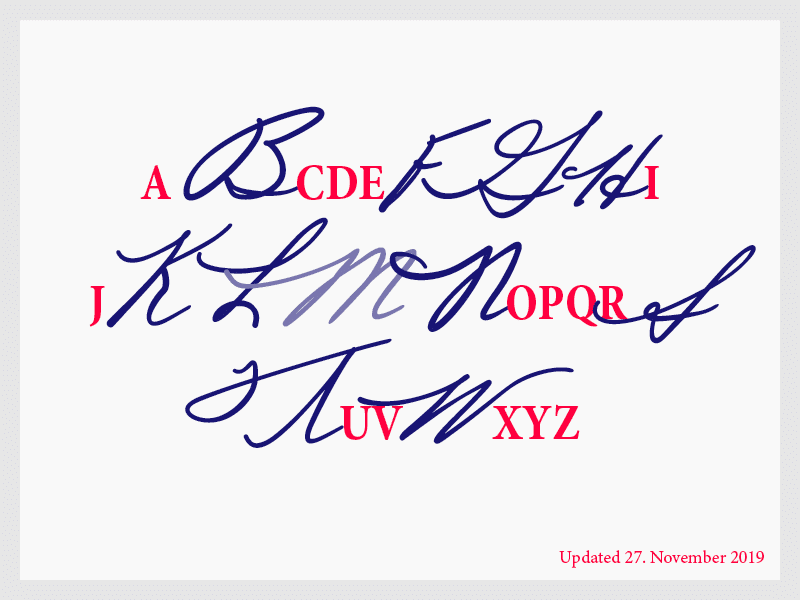 Font Licence
Although you are able to download the incomplete Martin Luther King font for free, it is for Personal and Education Use only. If you do need to use this commercially, then you can get in contact with Harald directly.
Bear in mind this is very much a font-in-process, so you can keep tabs of Harald's progress via his website and/or his email newsletter.
Download Martin Luther King Font
You can find thd download links via the official site: Creating the Martin Luther King jr. Handwriting Font
Martin Luther King Papers Project
Harald is using the numerous hand written letters of Martin Luther King which are available via the Martin Luther King Papers Project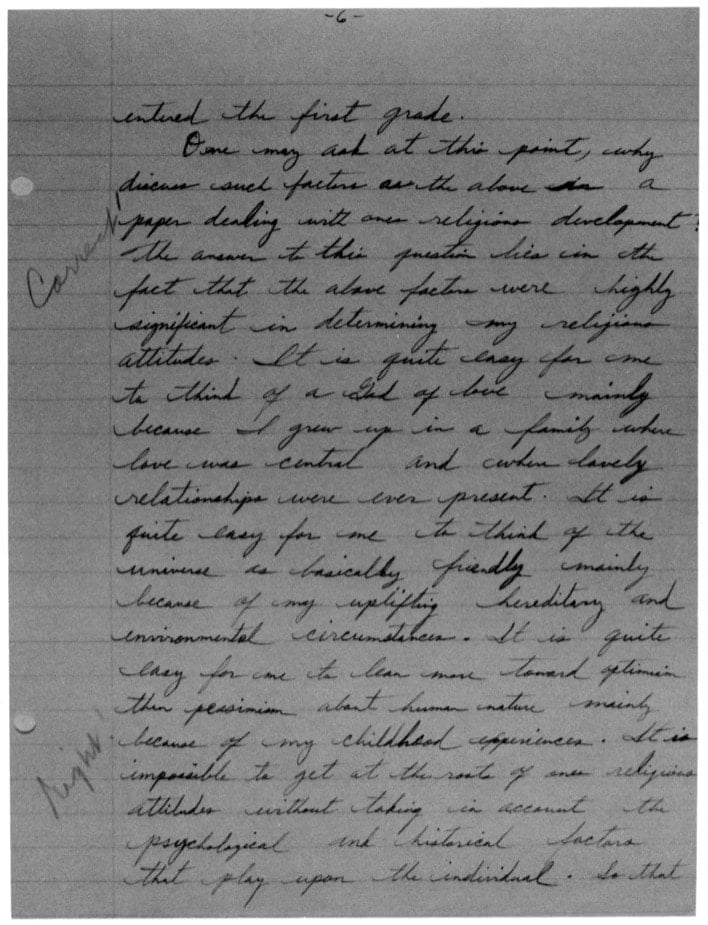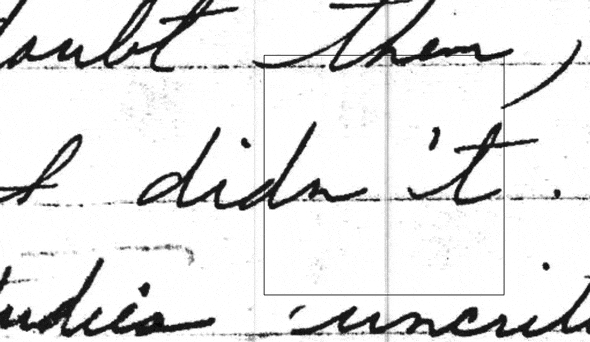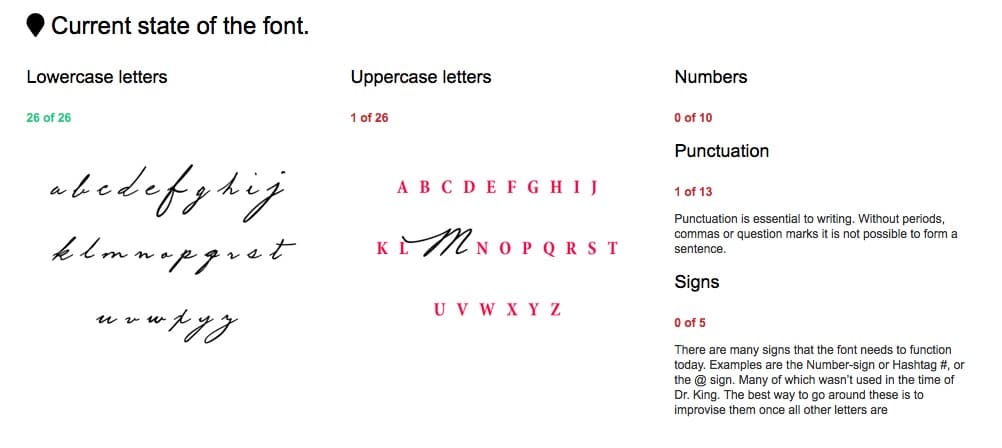 Wikipedia on Martin Luther King
Wikipedia: Martin Luther King Jr. (January 15, 1929 – April 4, 1968) was an American Christian minister and activist who became the most visible spokesperson and leader in the Civil Rights Movement from 1955 until his assassination in 1968. Born in Atlanta, Georgia, King is best known for advancing civil rights through nonviolence and civil disobedience, inspired by his Christian beliefs and the nonviolent activism of Mahatma Gandhi.
King led the 1955 Montgomery bus boycott and in 1957 became the first president of the Southern Christian Leadership Conference (SCLC). With the SCLC, he led an unsuccessful 1962 struggle against segregation in Albany, Georgia, and helped organize the nonviolent 1963 protests in Birmingham, Alabama. He helped organize the 1963 March on Washington, where he delivered his famous "I Have a Dream" speech.
On October 14, 1964, King won the Nobel Peace Prize for combating racial inequality through nonviolent resistance. In 1965, he helped organize the Selma to Montgomery marches. The following year, he and the SCLC took the movement north to Chicago to work on segregated housing. In his final years, he expanded his focus to include opposition towards poverty and the Vietnam War. He alienated many of his liberal allies with a 1967 speech titled "Beyond Vietnam". J. Edgar Hoover considered him a radical and made him an object of the FBI's COINTELPRO from 1963 on. FBI agents investigated him for possible communist ties, recorded his extramarital liaisons and reported on them to government officials, and on one occasion mailed King a threatening anonymous letter, which he interpreted as an attempt to make him commit suicide.