Case Study for logo and brand redesign & update, including coming up with a new tag-line for HomesAlivePets, a pet store located in Canada.
This is a brief 'before & after' of a brand logo redesign (featured image above) that I completed for HomesAlivePets, a Canadian pet store chain.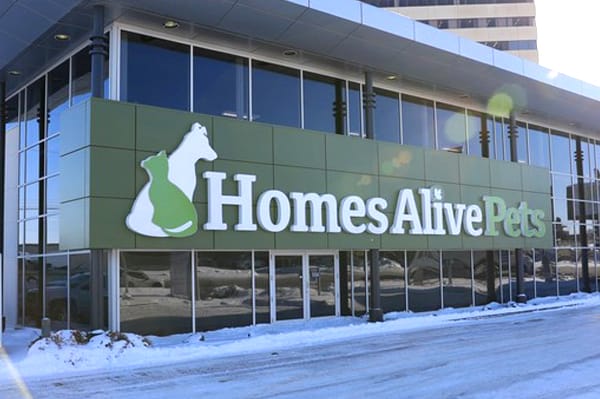 We didn't actually start the project intending to update their existing logo design; the brief was to design a totally new logo design, and accompanying brand identity.
During the process of exploring logo ideas and concepts, it became apparent to the client that it was actually far better to keep with the existing logo, but to update/refresh the existing HomesAlive logo design.
This made perfect sense given the accumulated amount of: brand equity, customer and client awareness, that HomesAlivePets had successfully established in previous years of trading.
The New Cat & Dog for HomesAlivePets
The challenge then was to craft a new pet dog, and a new pet cat, that would create a more comforting and characterful duo.
I started by redrawing the image of the dog & cat, but keeping it reasonably similar to their old/existing logo.
The new dog & cat are now a little more softer, have a little more character, but the major change was to curve and interlock each tail, so as to create a friendlier graphic.
The dog is now protecting and overlooking it's Home, whilst the cat is safely tucked up with the dog, and expectingly looking up for it's dinner.
The typography has been completely overhauled, and I also devised the two line tag-line: Simply Wholesome, Naturally Healthy. 
The addition of the Canadian Maple leaf was a request from the client, and felt this was the cleanest approach.
There were quite a few revisions and styles of the dog and cat, but both the client and I fell in love with the final design.
What I liked most of all with the new logo design for HomesAlivePets, is how I wrapped both tails of the cat and dog, so as to make them look like they are almost cuddling and protecting each other.
I am actually really fond of this dog & cat duo.
It's certainly not a new or unique logo idea, to have a cat and dog represent a pet company, but as it was already part of their brand, I did what I could to make it as 'uniquely theirs' as possible.
Adding some floppy ears to the dog, and generally making both of them look a little more realistic, really seemed to make the whole logo far more welcoming, and friendly, as well a tad more cute.
Brand Name & Tag Line Creation
There was also a slight change in the brand name, so from: Homes Alive – Pet Centre, it became: Homes Alive Pets – simply wholesome, and naturally healthy.
I was able to help the client craft their new tag-line, which meant I also was then able to ensure it slotted nicely into the the space to the right of 'Pets', and took up two lines. Little details like that that might be overlooked, but the bigger picture is always so important.
As a little 'nod' to their Canadian heritage, the client asked that I popped a maple leaf on the letter 'i', it's subtle enough,
The new logo proudly displayed high above the store (apologies for the poor picture quality).
I love how the actual logo has quite a lot of depth. Looking at the dogs head, and ears from the right hand side, looks really good.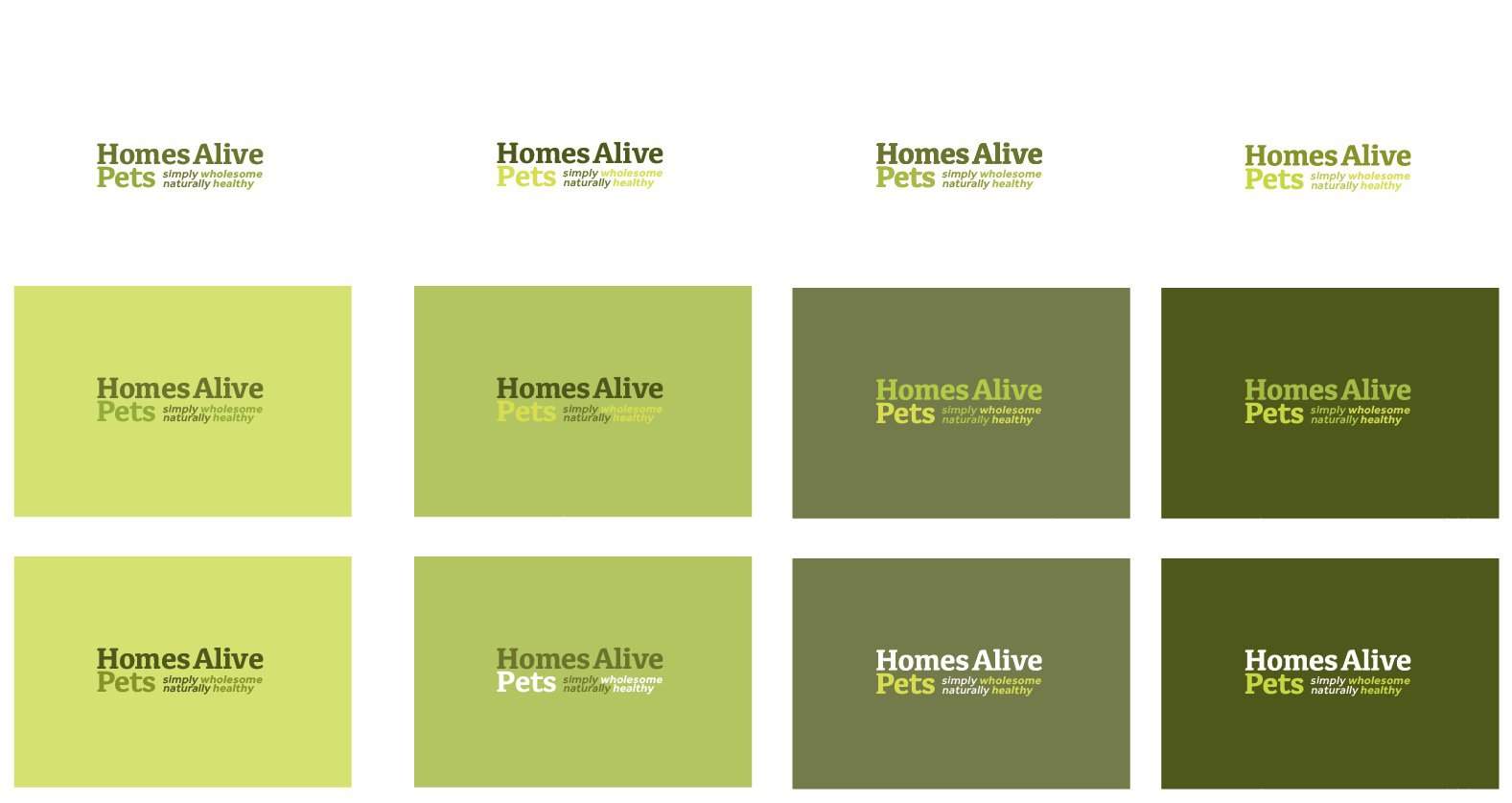 Just a few of the colour options we look at for Homes Alive Pets. Very early drafts of cat and dog style, even including a photo of me and my German Shepherd, Miss Charley.
Interior Store Development by Cutler
Cutler were tasked with taking my new Logo & Brand Identity Design, and defining the much larger physical stores that now operate in Canada.
Some images (below) taken from their Design Guidelines used to create the HomesAlive interiors.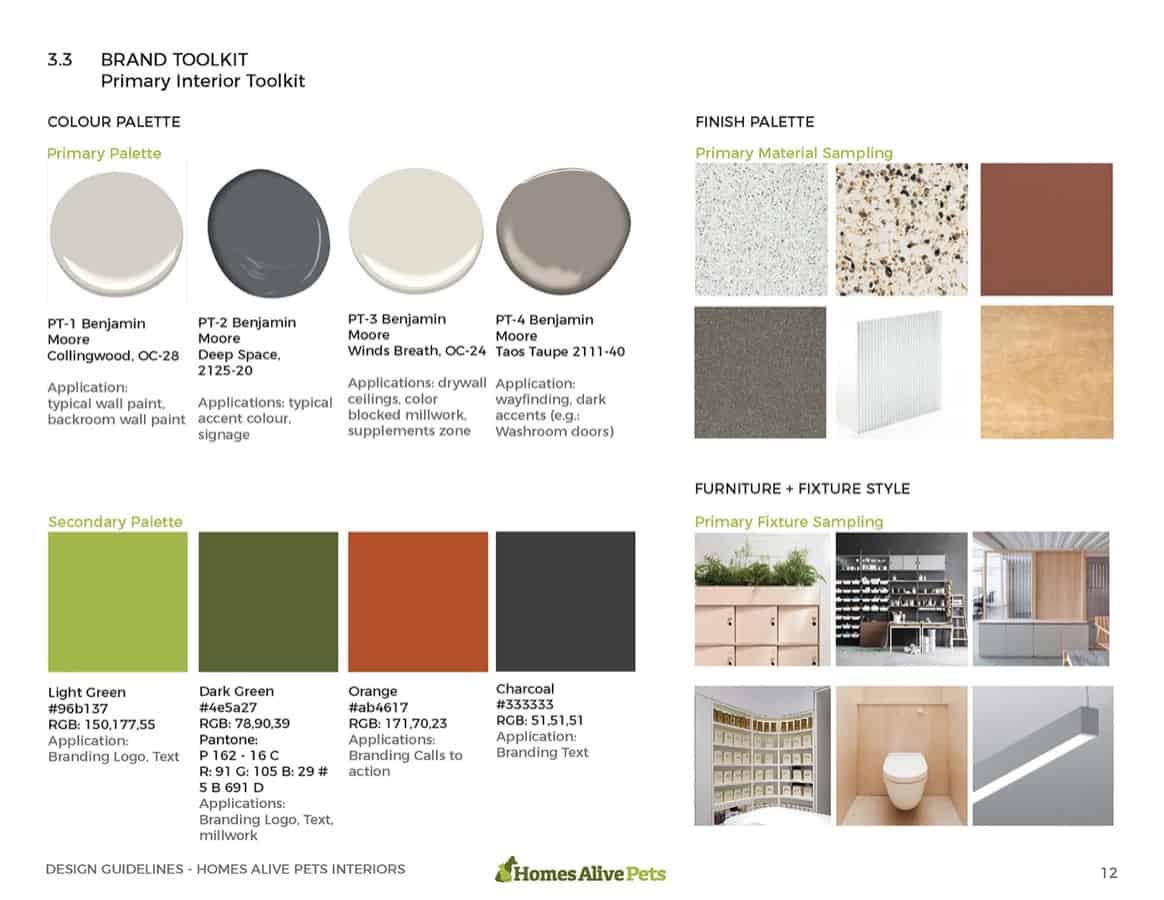 Client Testimonial for HomesAlivePets
Client Testimonial: "Graham is the most legitimate freelance logo designer I have ever met. His discovery process is thorough to ensure that he understands your brand so that he can symbolize your identity in a very simple way.
We hired The Logo Smith to modify our logo rather than create a brand new one, but he has helped us clarify our brand image, which has been imperative for us as we grow and communicate with out customers.
If I ever need a logo designed for anything, I would hire The Logo Smith again, and I would not hesitate recommending him."
Client: Evan Ropp – Homes Alive Pets