T-Shirt Express Logo and Icon Design
This illustrative style logo design that I drew is one of my all-time favourite logo designs, which was in itself a logo redesign for a US custom t-shirt screen printer, T-Shirt Express.
I drew this steam train from scratch using numerous period photographs of working locomotives to create a unique illustrative logomark for T-Shirt Express.
There is, however, always a chance that the final design may end up being almost identical to the one above, but this ultimately comes down to the client.
A little background to T-Shirt Express
This logo design project is a brand update for a t-shirt company which was originally designed around a retro style locomotive; the brand name"T-Shirt Express" is linked to the train version of "express" rather than pizza express!
My advice to the client was to keep the idea of a train but "improve" the aesthetics as I felt the original idea was solid. No need to re-invent the wheel, so-to-speak.
We discussed trains at length which gave us both a pretty good idea of the direction to take.
The client liked the idea of using a "cow catcher" and/or "track" as well as giving me a list of styles of trains through out the decades.
With the image that follows, you can see a few of the many digital doodles that were used to finalise the T-Shirt Express logo.
Note that very top-left that I started very simply, then proceeded to explore various train styles, track styles, typography, until we end up with the final version, lower-right.
I have settled on three initial variations of the core idea which starts with the full ingredient version based on a mash-up of train styles, including: traditional steam locomotive, art-deco inspired and the heavy industrial Russian style etc.
The wording plaque is formed from the shape of a track sleeper, and the typeface is GarageGothic Bold.
Pretty excited about how this project has started so more news will inevitable be forthcoming over the next few weeks.
The following t-shirt image was sourced from http://psdgraphics.com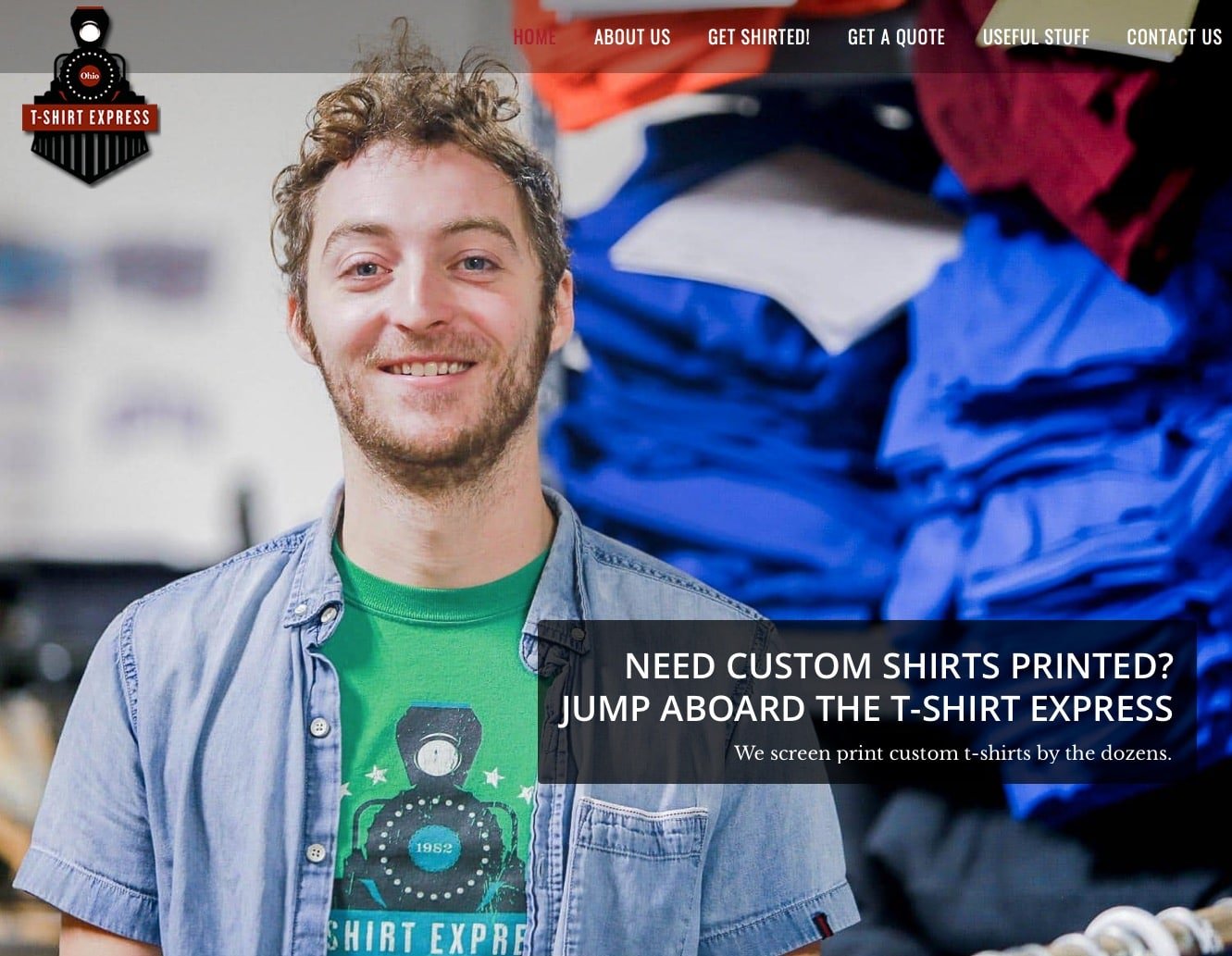 The Logo being screen-printed:
Client Testimonial
"It is generally good business sense to do what you can with the resources you have available at hand.

It's better business sense to realize when what you have isn't up to the task. When it came time to have a new logo created, I knew that nothing but a professional hand would suffice.

The Logo Smith has been nothing but professional.

Starting with his style and talent, and following through to his communication and timely-ness, we could not have been better served than in our choice to hire Graham to conceive and deliver our fantastic new logo and visual identity.

Thanks Graham!"

Drew McCoy – T-Shirt Express