All Archived Posts in Logo Process
UPRAW Negative Space Logo Design Process
Here's the very first attempts at vectorising the UR negative space logo sketch (below), that I have been working on over the last few weeks, for UPRAW.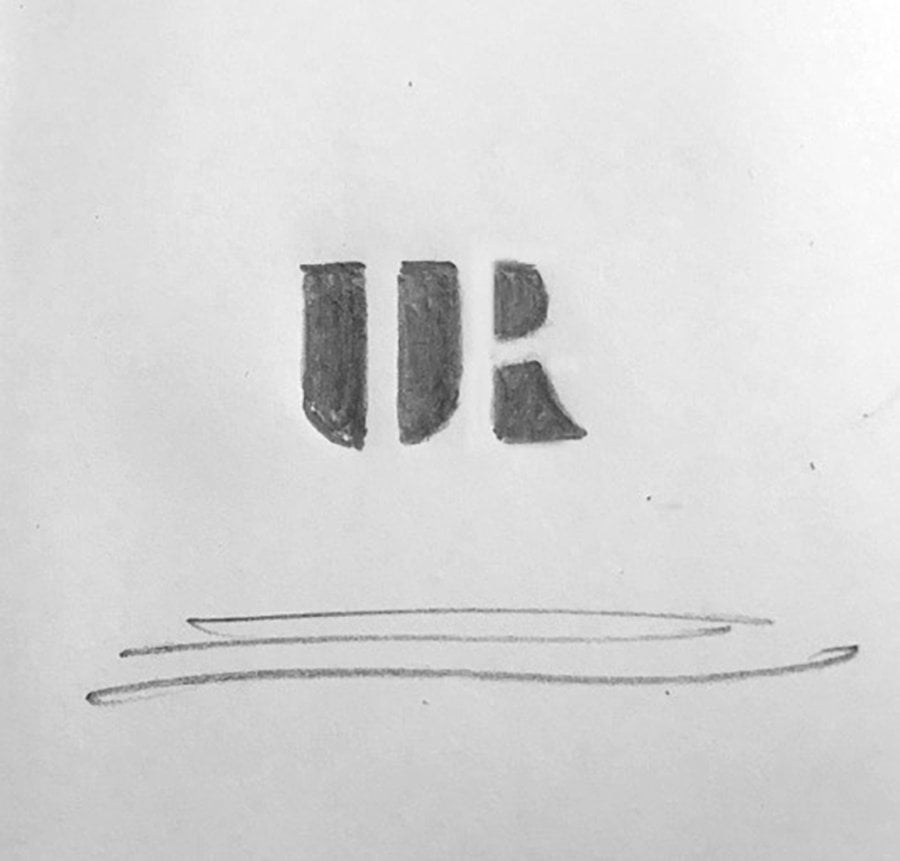 The sketch shows how I'm trying to create a balanced set of initials, formed from the 'U' and 'R', but creating the 'R' from it's own negative space.
Notice how i need to keep an eye on the proportions of the negative space, compared to the proportions of the 'U'.
The proportions, mostly the overall width, of the 'R' need to look cohesive next to the 'U', which is relatively wide. You can see that the regular capital 'R' has very narrow negative space elements; shown in orange below.
Used two font styles (below), to get an idea of how the uppercase 'R' is styled in various fonts, and how the negative space elements (in orange) can vary from font to font.
The proportions of the 'R' need to be carefully created, so that it doesn't look out of place.
It's super important that when making this letter 'R' from such narrow elements, that it still needs to look like it could be a regular 'R', especially when viewed after the 'U', which is pretty much a regular shape 'U', but just cut into two, so more like a stencil.
The image (above) shows my progress in recreating the UR in Illustrator as a vector.
I have created four slightly differing versions so far, to just get a feel for what form of 'R' will look the most cohesive, and natural looking, when viewed next to the 'U'.
As I'm using the right hand side of the 'U' for form the R's vertical left side, creating the right side of the R out of it's own negative space, is actually pretty tricky, at least in a way that looks as normal as possible.
Further Updates
I'll be updating this Case Study page, with additional images and text, during the life span of this logo design project.
Update: 7th January 2017
Taken a decision to move away from the 'negative space' style of logo design, and instead we're now going with this stronger, bolder, cleaner and more impactful design.
Still based on the 'ur' initials, but in far more robust and angular way, which is far more in keeping with the UPRAW brand name.
Business Card and Letterhead Mock-up's
Couple of letterhead and business card mock-up's, to help present the logo design in a more aesthetically pleasing, and realistic format, for the client.
Really pleased with this new logo design direction; that new logomark looks really striking on both the letterhead, and business card, in both black on white and white on black.
Logo Design Font Pairings
Image below shows some initial exploratory font pairings for the UPRAW logo.
Basically trying to find the right proportioned font that looks like the right fit up against the logomark.
When looking to pair a font with a newly design logomark, I take into accounts aspects such as: font weight, font width and height, overall proportions, any specific font styling and kerning styles.
We settled on the top-right version, which is actually Eurostyle Bold.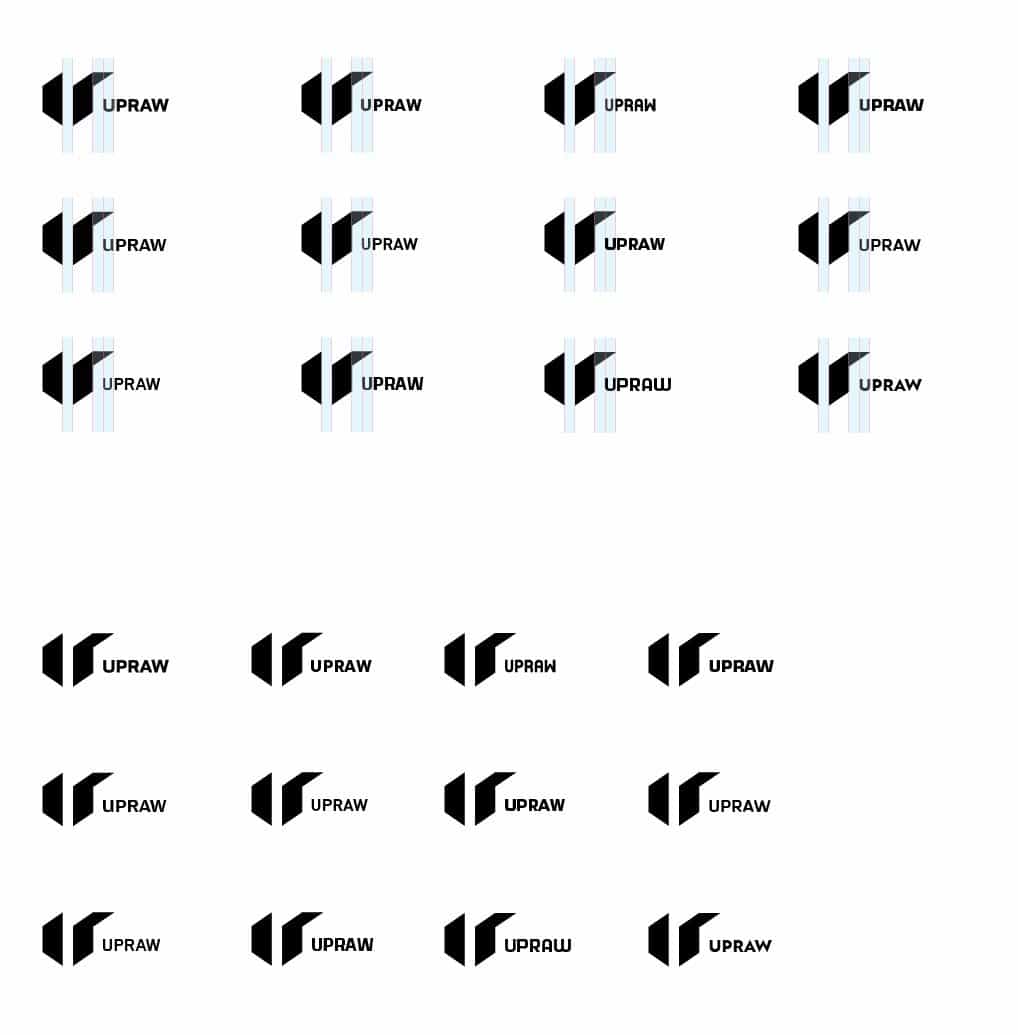 This is a brief 'before & after' of a brand logo redesign (featured image above) that I completed for Homes Alive Pets, a Canadian pet store chain.
I'll be updating this post with further information relating to this projects development. 
We didn't actually start the project intending to update their existing logo, instead the brief was to design a totally new logo design, and accompanying brand identity.
During the process of exploring logo ideas and concepts, it became apparent to the client that it was actually far better to keep with the existing logo, but to update/refresh it.
This made perfect sense given the accumulated amount of: brand equity, customer and client awareness, that Homes Alive Pets had successfully established in previous years of trading.
The challenge then was to craft a new pet dog, and a new pet cat, that would create a more comforting and characterful duo.
There were quite a few revisions and styles of the dog and cat, but both the client and I fell in love with the final design.
Logo Case Study - Logo Redesign for Homes Alive Pets
What I liked most of all with the new design, is how I wrapped both tails of the cat and dog, so as to make them look like they are almost cuddling and protecting each other.
I am actually really fond of this dog & cat duo.
It's certainly not a new or unique logo idea, to have a cat and dog represent a pet company, but as it was already part of their brand, I did what I could to make it as 'uniquely theirs' as possible.
Adding some floppy ears to the dog, and generally making both of them look a little more realistic, really seemed to make the whole logo far more welcoming, and friendly, as well a tad more cute. :)
Brand Name & Tag Line Creation
There was also a slight change in the brand name, so from: Homes Alive - Pet Centre, it became: Homes Alive Pets - simply wholesome, and naturally healthy.
I was able to help the client craft their new tag-line, which meant I also was then able to ensure it slotted nicely into the the space to the right of 'Pets', and took up two lines. Little details like that that might be overlooked, but the bigger picture is always so important.
As a little 'nod' to their Canadian heritage, the client asked that I popped a maple leaf on the letter 'i', it's subtle enough,
The new logo proudly displayed high above the store (apologies for the poor picture quality).
I love how the actual logo has quite a lot of depth. Looking at the dogs head, and ears from the right hand side, looks really good.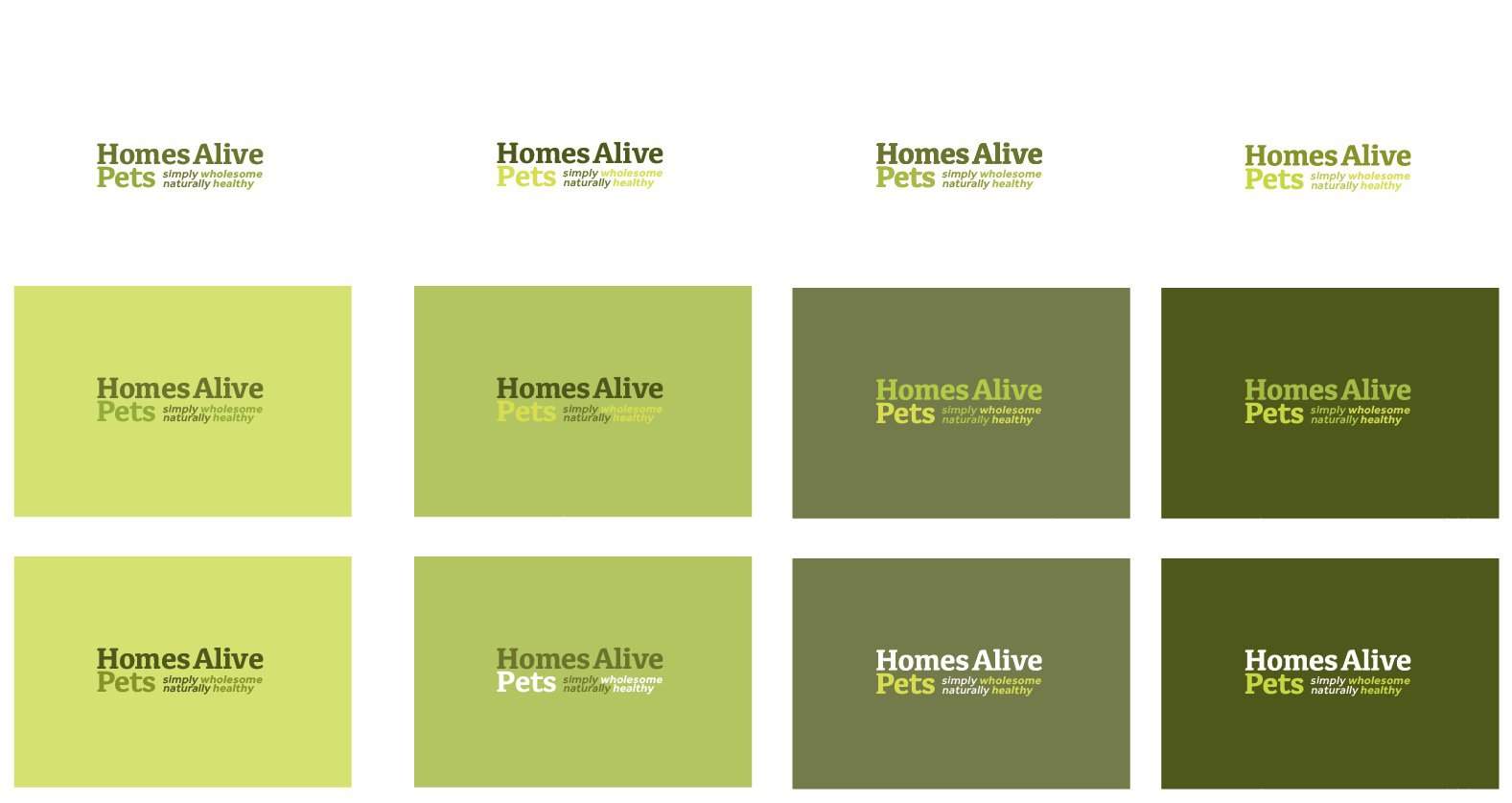 Just a few of the colour options we look at for Homes Alive Pets.
Very early drafts of cat and dog style, even including a photo of me and my German Shepherd, Miss Charley.
SaveSave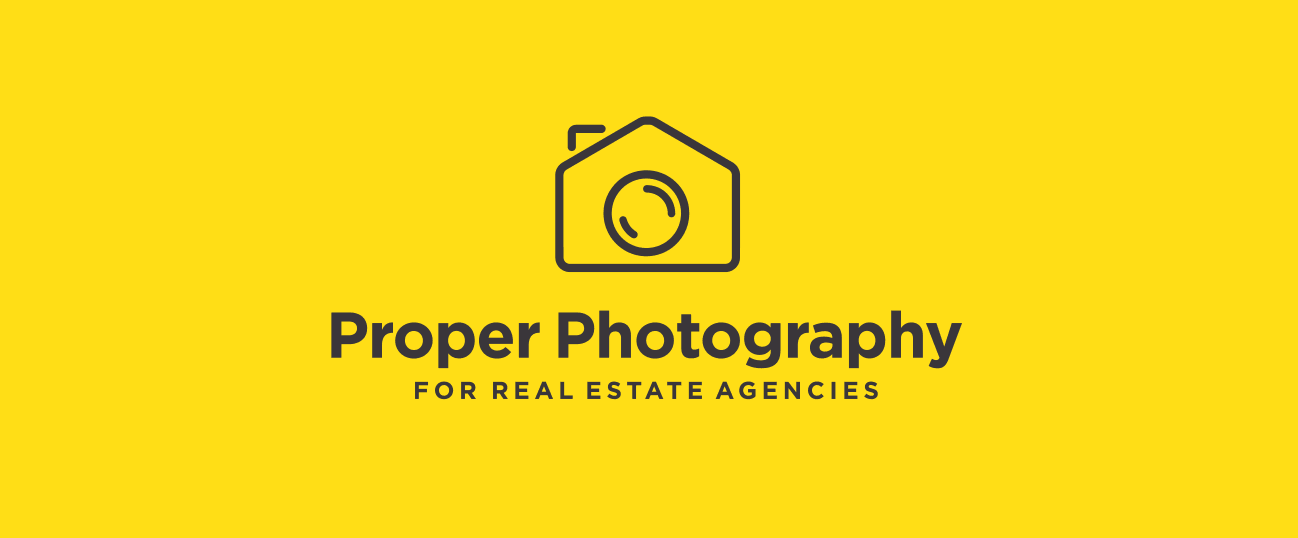 Real Estate Agents Logo Design for Photographer: Work in Process Real Estate Agents Logo Design idea for photographer of properties for real estate agents. Designed by UK freelance logo designer, The Logo Smith (UK Freelance Logo Designer).
It was initially quite a challenge to try and develop a logo design idea that wasn't just about: branding a photographers, but equally not focusing too much on the branding becoming too much about real estate agents, and their properties for sale.
Real Estate Agents Logo Design
It took some time, quite a lot of sketches and doodles, before I found a lovely little angle with this simple house shape, that also mimics a camera with the lens, and the shutter doubling as a chimney.
Proved to be quite tricky to then find the balance between it looking like a building and a camera, but neither too much of one or the other.
I genuinely feel this latest update of the Real Estate Agents Logo Design is pretty darn close to what I have been envisaging.
It's not complete, but it's close. Am very happy so far, and can't wait to include this in my Logo Design Portfolio, and Monomarks page.

Are You are a Real Estate Agent Looking for a Freelance Graphic and Logo Designer?
If you are a real estate agent looking for a freelance logo designer in the UK, for a new logo design for a new business, or are looking to update/refresh your current business brand logo, then I'd love to Contact The Logo Smith.
Don't forget: you can look at my extensive logo and brand identity portfolio designs here: Logo Design Portfolio, and Monomarks page.
Alternatively, if you know what you are looking for, then you can take a look at my Logo Design Brief, and maybe fill that in so we can get started.
Please call/text me on: 07816 527462, or email: glogosmith@gmail.com for more information on how I can help you with your graphic design, and logo design requirements.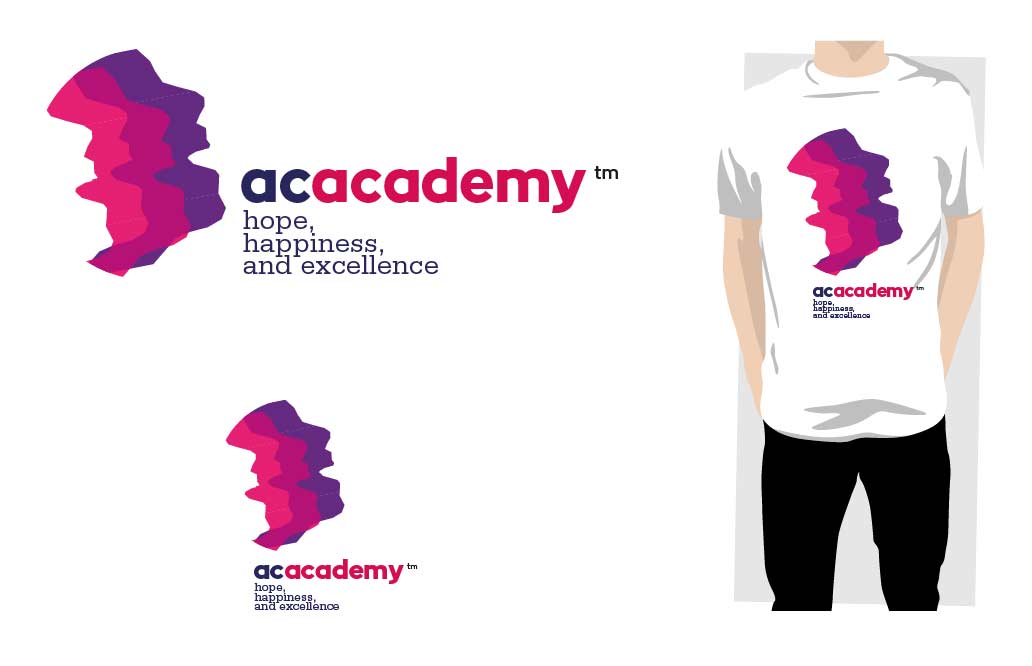 Really REALLY excited to be working with Arminico Consort: rebranding their London youth music and choir school: AC Academy
AC Academy believes that every child in this country should be entitled to a first-class music education.

AC Academy runs a diverse range of music and arts education projects across the UK, working both inside and out of schools to reach 15,000 children per year.

AC Academy believes that through the work AC Academy do we offer children HOPE, HAPPINESS and EXCELLENCE, developing excellent singing and musical skills. Through our charitable status we appeal for funding to allow as much of what we do for children across the UK as free or as heavily subsidised as possible.

The AC Academy choirs that we run, create and continually develop are not auditioned. Music not only develops confidence and builds self-esteem; it has also been proven to aid concentration and behaviour.
Arminico Consort approached me a few weeks ago to see if I would consider doing this logo and brand identity redesign Pro bono with a super kind offer of partial payment.
To be perfectly honest, if you're going to do Pro bono, then you might as well do it properly, and completely for free. Doesn't feel at all right taking money from a Charity, even if offered.
The upside was that when I mentioned I'd not be happy taking any money, they countered with an offer of a half page advert for their next major concert with Russell Watson at the Symphony Hall, Birmingham: AC Academy Sing Symphony Hall  So that was a great outcome for both of us!
Here are a few photographs from last years event at the Royal Albert Hall: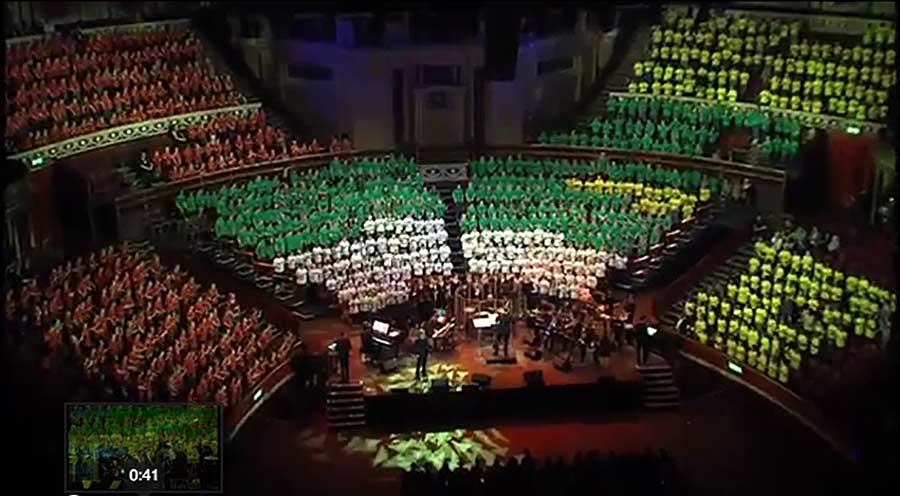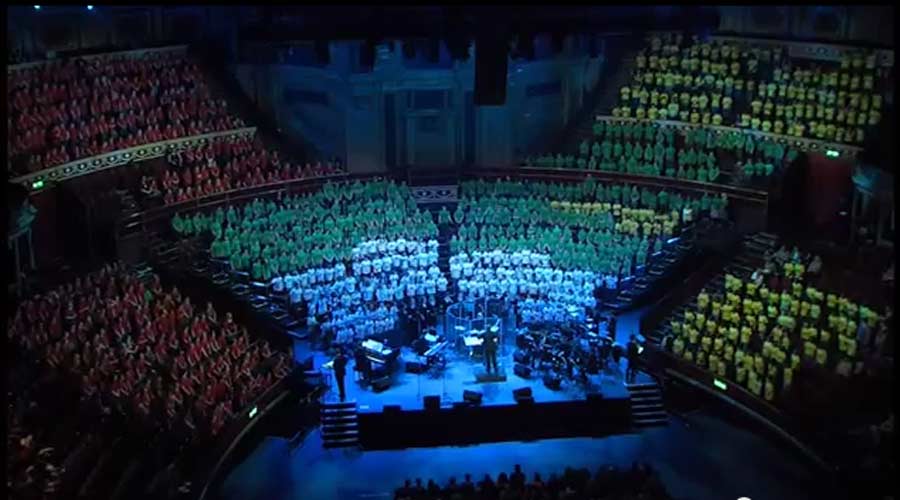 So here I am, frantically working on some logo designs ready to be screen-printed on 1000's of children's t-shirts for the AC Academy Sing Symphony Hall (which you can see how it looks from last years Royal Albert Hall performance, also with Russell Watson).
This relationship [with the Royal Albert Hall] culminated in a gala concert featuring 1300 children at the venue on 10 March, 2013. Russell Watson appeared alongside AC Academy singers from across the UK in the spectacular 'Around the World in 18 Tunes'. Watch highlights of this epic venture above, or on Youtube.
One of the early logo design concepts
Here's a little early taster of one of the very early logo design concepts for AC Academy. Due to cost, the white t-shirts are printed in greyscale, so the logo has to work well in full-colour, black/white, and greyscale, and be suitably bold and clean enough to be seen, and recognised, at some distance (as you can see from the photographs above).
The major challenge is attempting to visualise the idea of children and young adults singing as a group, whilst conveying the high quality and prestigious nature of the teaching and experience that the AC Academy provides children all over England.
To make things a little harder, there is no mention of what AC Academy is/does in the brand name, and tag-line, so in this case, the visual HAD to convey some connection to groups of children singing, whilst trying to avoid the usual cliches, stereotypes, and clip-art style illustration. Oh, and to also try and connect with the three word tag-line: hope, happiness, and excellence.
I think I have touched on hope and happiness through the colours, the jaunty angle of the heads, the open singing mouth, as well as each head being slightly bigger, smaller and different. The relatively clean and smart font choice helps to add the excellence aspect. Abstract meets stylish.
For the Font Watchers, I used Zona Pro ExtraBold for ac academy and Serifa Roman for the tag-line: hope, happiness and excellence.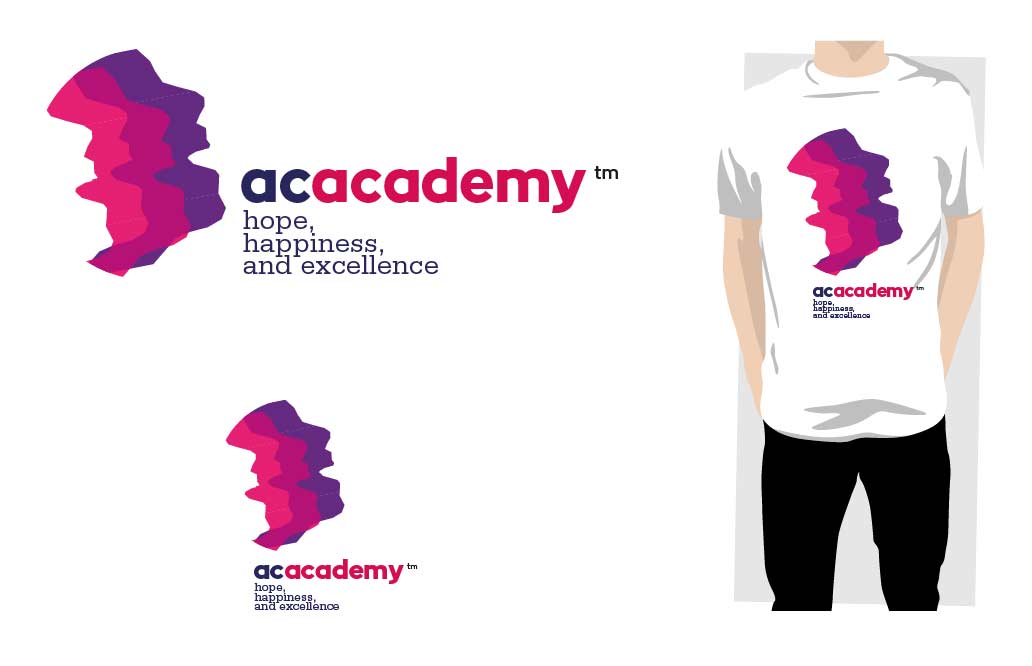 Note: This entire post is taken word-for-word from my Logo Portfolio.
A previous client of mine, Pure Storage, approached me to design a reto-cool logo that would be used to brand a fun side project of theirs, called: Puritone Records.
This was one of the quickest turnaround logo design I have done, and especially one for such an important client as Pure Storage. I had just 5 days to come up with an idea, and have the files ready, to give them, for April 1st.
In fact, I started on Tuesday and had the main idea ready to present on Friday. The client's response to the 1st and only idea? "Holy s**t this is awesome!!! Really, really like the idea!" Then I had from Friday, and the weekend, to perfect and polish this idea to final files for Monday. Easy…
Background on Puritone Records
This is a truly awesome way to market your company, and provide a fun and entertaining means to entice new customers in, and provide entertainment value for existing clients. By playing on the versatility of flash based storage, Pure Storage have created Puritone Records formed of The Puritones group, to remix popular songs with flash based lyrics!
The quality of these covers/remixes shows that no expense has been spared with this fun side-project, and going as far as to put the songs on: Apple's iTunes, Amazon, Google Playstore, emusic, and X-box music!
If you're interested, you can also listen to the full-length versions, for free, on The Puritones website: Puritones Records.
There are currently 4 tracks to listen to, and I have to say, they are pretty bloody amazing: SolidState, Read and Write, Timber and Flash it Like it's Hot. 
My personal favourite is SolidState, just love the original version anyway, but hearing it with somewhat nerdy lyrics really is quite a buzz. Do give them a listen, and see if you can spot all the flash/pure references, these mixes are particularly cleverly done, not as cheesy as you might be thinking!
The Process
I started with the Puritone Records logotype, this would be just the wording, and once I had this general idea mocked-up, it was then a case of then designing a faux record label version.
A few major requests from Pure Storage: that the overall container of the logo be of a similar shape to the Pure Storage logomark (that I had also previously designed for them), a clearer visual example of their logomark within the finished piece, a sense of anti-harddisk sentiment, and an overall design style of reto-cool.
It was somewhat fortunate that when looking at where the Puritone wording would sit, within a rotated version of the Pure Storage logomark, that I immediately saw at least one way to utilise this narrowing space towards the top: which was to progressively heighten each letter of Puritone, which created a pretty funky, and distinctive, typographic style.
The retro style, and efficient use of this narrowing space, was further enhanced by the use of a heavily condensed font.
Given the somewhat quick turnaround, I really am chuffed with the results. Not only did I give them the main Puritone Record logotype, but the actual label version was somewhat of a bonus. Or, one could look at it that the logotype is modular, allowing for a convenient and flexible logo system. So if the the main label version might be too tall, then the smaller logotype version can be used independently of the record label.
There is an actual story, or narrative, to the logo/label design.
At the very top we have Pure Storage, the main parent company surrounded by a couple of white flash-bolts (Pure Storage is a flash drive manufacturer). This leads into the Puritone Records wording, with the accompanying, flash storage/music themed, tag-line (which I also came up with), "Smashing Disks Everywhere: Utilizing Expertly Tested, Consistently Orchestrated and Always Aligned, Flash-Audio".
From this tag-line a massive flash-bolt erupts out and continues it's journey towards the bottom Pure Storage logomark.
I also added a few token elements, reminiscent of the sort of thing you might find on a vintage vinyl record, but tailored to Pure Storage, Flash, Audio etc. On the right we have a version of the Stereo symbol, but in this named Pure-Resilience, and a reference to 512kb Flash-Audio, on the right-hand side.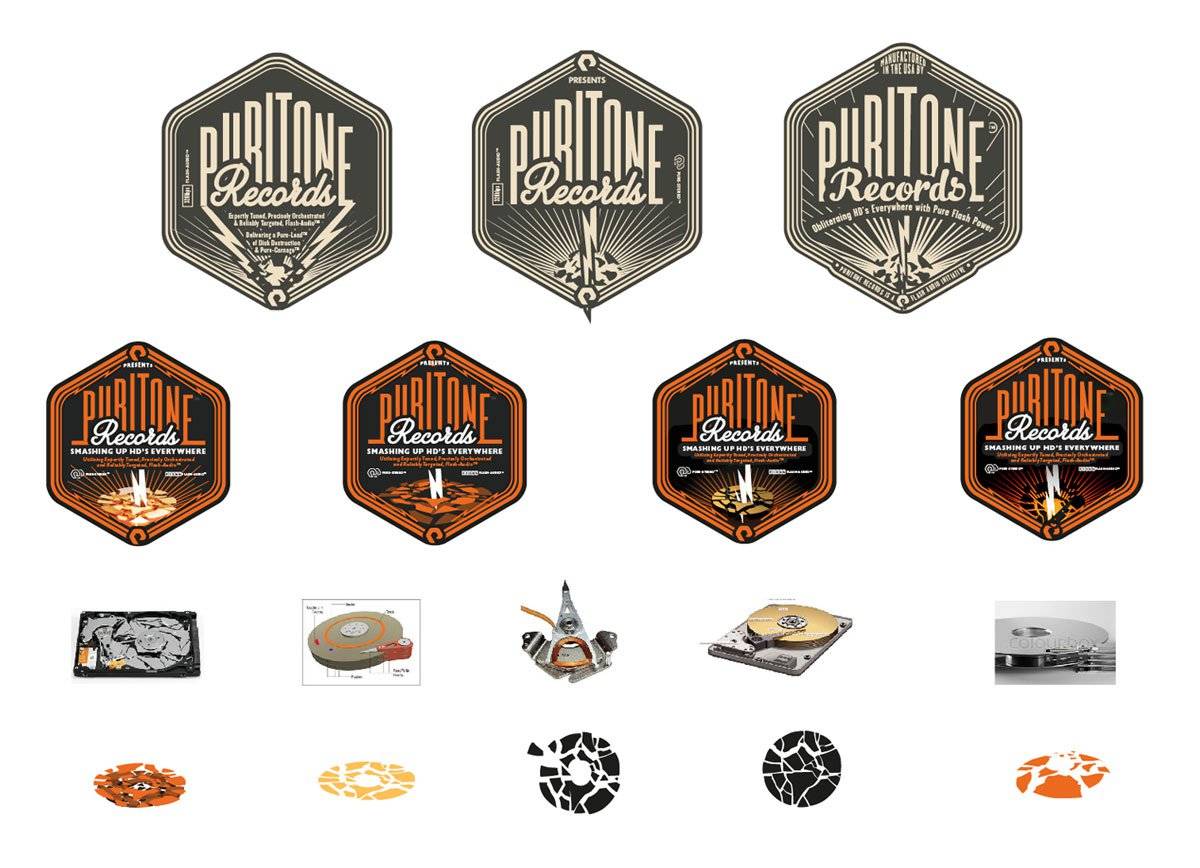 I did explore some more literal versions of the anti-disk theme which used various forms/shapes of harddrive disk platters.
However, the inclusion of yet more graphics in this enclosed space made for quite a messy and busy lower half, and with the time not on my side, the decision was to leave these out. Although they may have added more weight and emphasis to the anti-disk theme, it would have done so at the expense of the overall aesthetics.
Outline View
This image below is the standard 'outline' view mode in Adobe Illustrator. No stray bits, no overlapping/underlapping excess paths, just pure and clean vector logo goodness.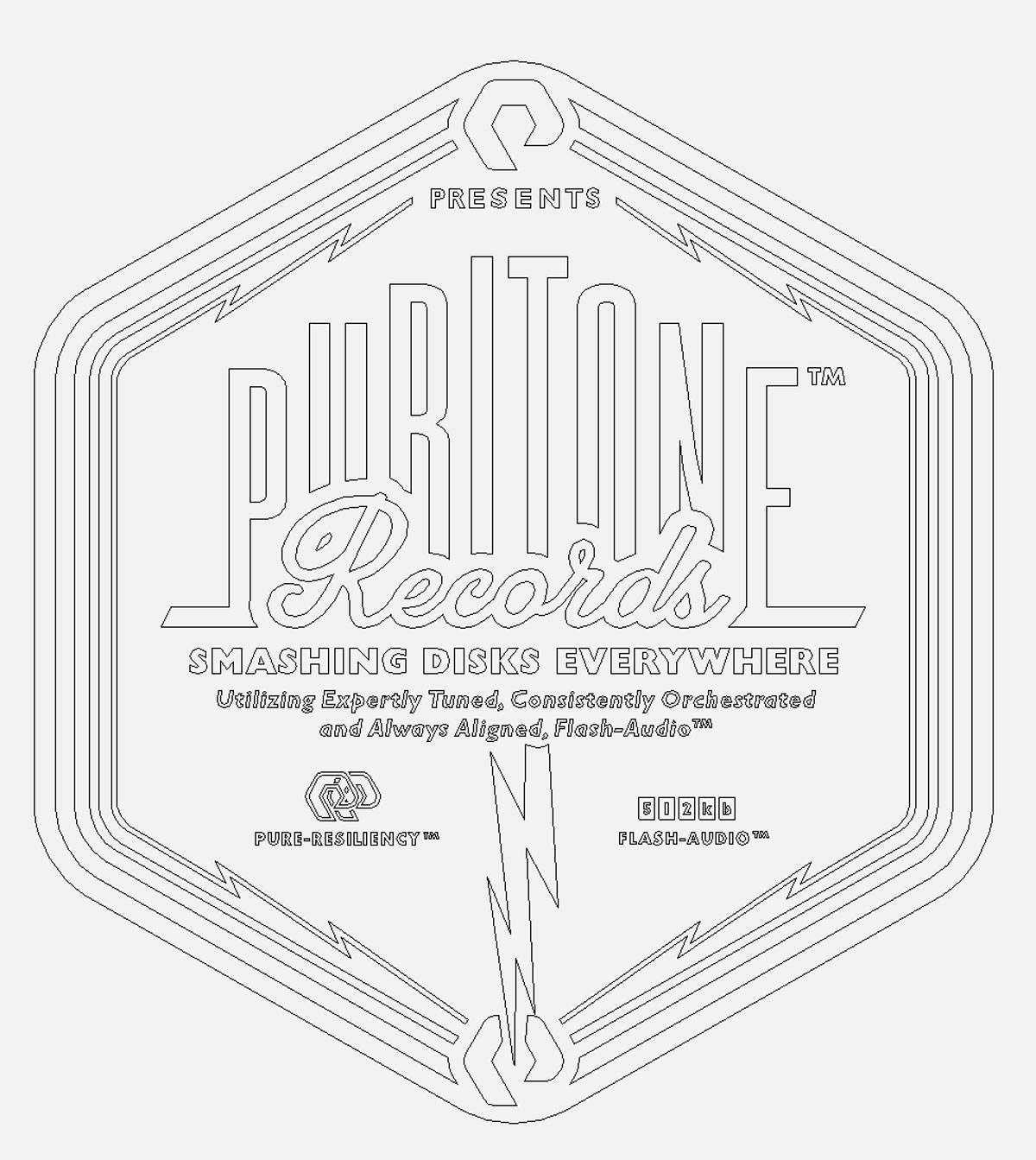 Something to look out for
Partly due to the frenzied nature of this project, but also mostly down to actually not realising this would ACTUALLY be used to go on a proper physical vinyl record, can you see an obvious, and completely unintentional, omission to this logo design? Answer bottom of page.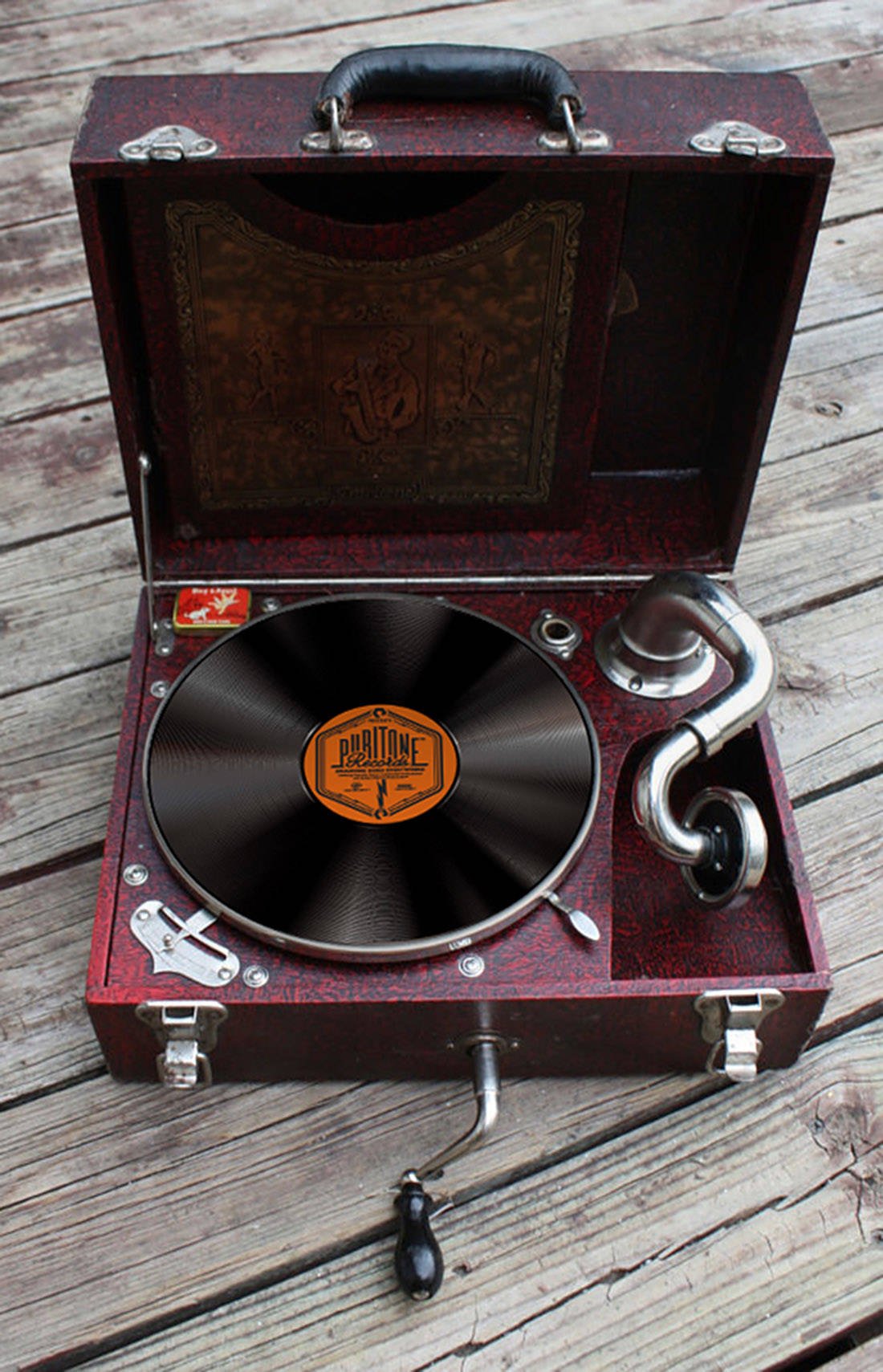 Answer: There is no hole in the middle of the record!
Once we all realised the label would in fact now be used on an actual record, we can easily revise the design around this design flaw. This proves that mistakes happen, and especially with such a pressing turnaround, that the obvious can simply pass straight by you. :)
SaveSave
SaveSave
MoleseyCo Logo Evolution-The Less than Perfect Side to a Logo Designs Development
I just felt the urge to share this quick image that showed the very first digital mock-ups, of what was to become, the MoleseyCo Clothing brand logo mascot, emblem and overall brand icon. One has to start somewhere, and it's usually a bloody awful start at that. I can laugh about it now, barely.
You can see some of the final logo artwork sheets in my portfolio: MoleseyCo Clothing Brand Logo and Identity Design
Bear in mind, even this logo sheet shows only a small example of all the variations I would end up going through, until I reached the 'winning' design (bottom right). However, it is an accurate selection of the key milestones during this particular logos development, and it would be an understatement to say that this was a somewhat challenging design to perfect.
So Ok, not too hard to be able to say it was easy to eliminate the first two rows–of, well, whatever they are. From the 3rd row down it became harder to actually achieve the look, feel, and balance of: wild outdoors wolf, Alaskan Malamute, and a German Shepherd (actually modelled on my own Miss Charley), but also an animal mascot that had just that perfect mix of "we'll know it when we see it". Overall not to be too: quirky, unrealistic, wild, vicious, cute, friendly or even comical.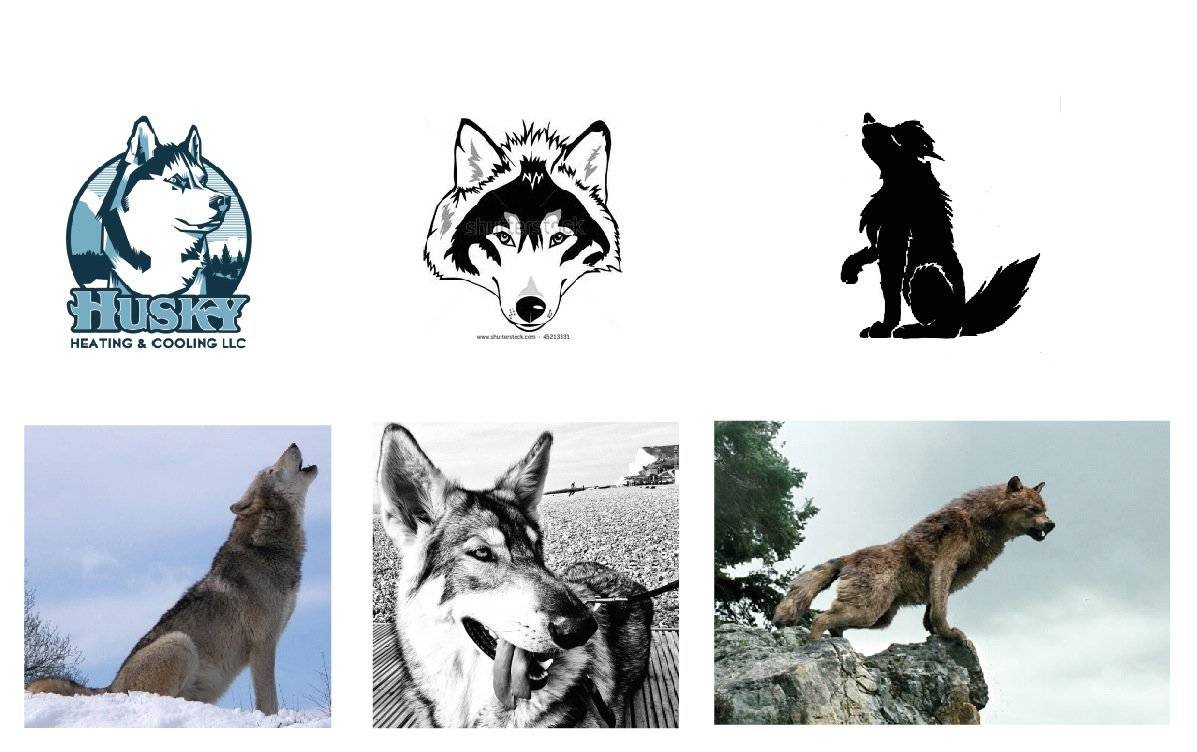 It's only when you keep comparing various photographs of wild wolves (more furrowed and chiseled brow and forehead, shorter snout and much more neck scruff), against the domesticated dog, that you realise that on one hand, there are some very obvious differences, but on the other, it becomes quite a challenge to create this wolf/dog/dog hybrid, that was 'hopefully' neither one or the other (above: just a few of the images I used as reference, and loving the fantasy monster wolf, bottom right).
One of many challenging parts (bleow) of drawing this mascot was finding these magical balance between not being too realistically wolf-like, but had wolf-like subtleness to this wolf hybrid made-up dog mix. Things that caught me out with the various illustrations, that made it just that little too wolfy: too short a snout, overly deep and furrowed brows, stupidly long scary canines and way too hairy neck and throat.
Also challenging, once I had managed to nail the overall outline shape, was to nail the: eyes, the teeth, tongue, and how much of a floppy ear it should have. Even though the eye made for a good focal point, I realised that 'no eye' would create a more natural silhouette look, we could leave the trademark cuteness to the one floppy ear, and hanging tongue.
Reason for the tongue was because it's usually after a dog has been running that the tongue flops out, and as MolseyCo is an outside activity clothing company, this was a good enough reason to add this little 'cute' feature.
In one version (below, 2nd one in) a somewhat creepy and evil looking eye, yet, the same evil eye, when slightly rotated (next one along), instantly looks way too cute. Add a monocle to evil eye, floppy ear and lopping tongue mascot, and you get a somewhat classy form of villainous mascot. But again, not really appropriate.

Overall, I'm really very pleased with the end result, and it was certainly worth taking the time to work through all the various options and combinations, even though at times you feel like tearing your hair out.
But from beginning doodle, to end result :0)

In Progress: Custom Lettering-Preliminary Design Sketches
Nothing like a blank-slate when tasked with designing some custom lettering for a new logotype. Far from what will be the final design, but I just wanted to sneak out a few preliminary sketches that I have been working on.
This version here must be sheet 20, or something close, but none of the earlier iterations were 'a waste of time', as each new blank sheet of paper allows you to really explore a wide gamut of ideas, some promising some purposely crazy.
Sometimes where the promising and crazy collide, that Eureka moment could slowly manifest itself as you once again put lead-to-paper.
I'm actually liking how this custom lettering is going, but with a few days since doodling this example, I can now see that the S is somewhat too bulbous on the top left, but now I can see that flaw, I can once again whip out another sheet of paper and hopefully address that issue. For sure, only to find something else that doesn't quite fit with my vision.
The sketching process can be fun, challenging, frustrating, even damn right arduous, but it's rare to come out at the end without something solid to work on for that final logo iteration.
For shits-&-giggles, I just quickly placed some pretty coloured circles to show the sort of the flow that I'm bringing into the custom lettering and overall structure of the logotype. I like things to converge, to line-up, to intersect, where it's naturally appropriate to do so. In this case it's actually the green area that I have started each sketching session with, as this is the base platform from which the S & B rise from. Lots of sweeping curves, behind-the-scenes, that share the same overall circumference, and that all work together in one way or another.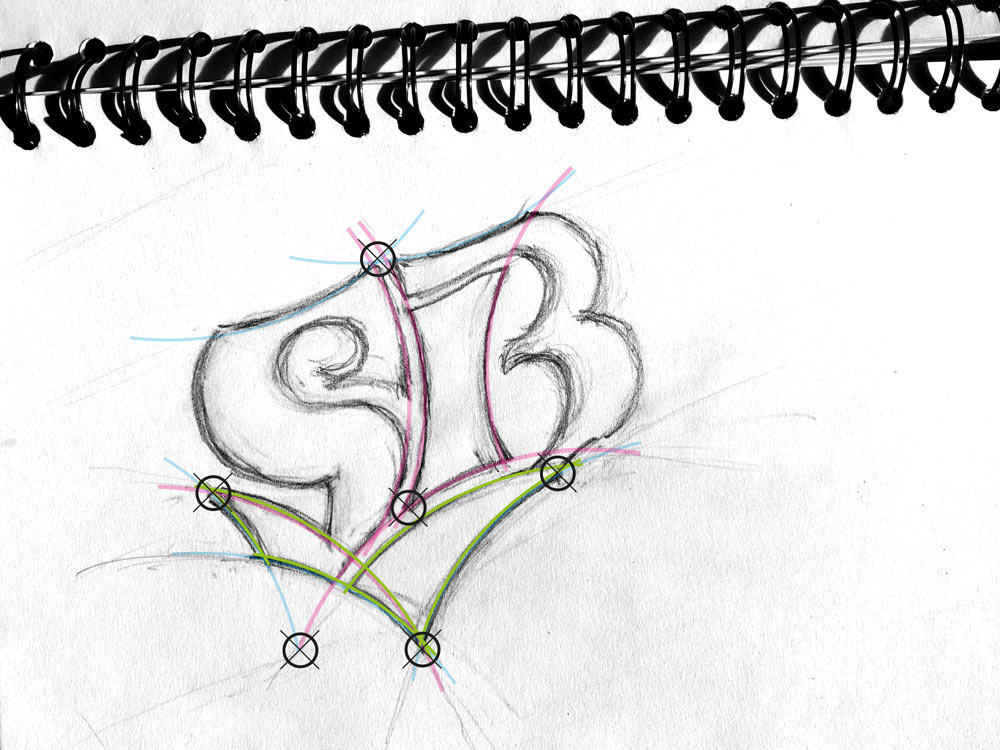 Logo Explanation
The 'X' logomark sort of came about through some abstract sketching, trying to find some 'hook' within the brand name that could be used with a logomark. Often one looks at the initial when forming a logomark around the name, but after looking at various 'L' options it was apparent it would not really work.
The 'X'
I ended up looking at the 'x' as the 'hook' to base a logomark from, but given x's in general are somewhat common, it needed to hold it's own and actually create a statement in itself, rather than just an initial/letter for the sake of it.
You can see from the diagram (below) how both x's share the same form.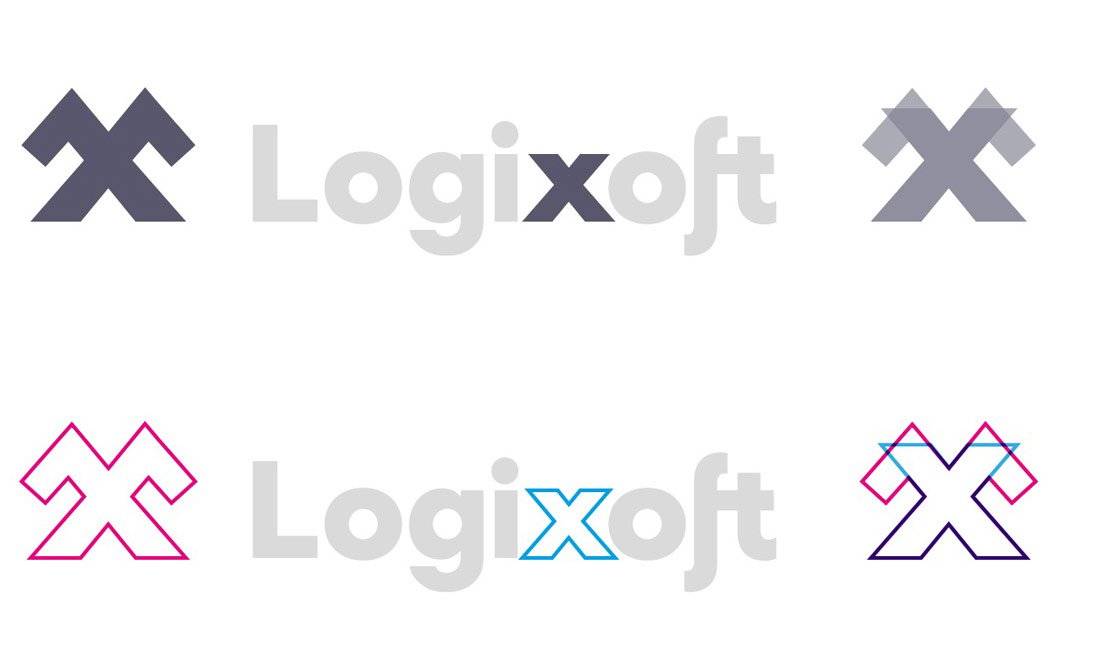 With the main keywords from the brief churning around, I saw a way to almost personalise Logixoft, or at least create a form of symbol that could be linked to a personality rather than a random/abstract object thus giving your brand a more personable feel. Immediately, the angular formation of the 'x' with short-arms, makes the brand less clinical and thus more memorable, and especially as Logixoft is just you.
The angular and steep nature of the 'little x-man' also then comes across as being strong, powerful, bold, decisive, reassuring, confident signifying 'you' have your clients' back and good intentions when they need it most.
Also this 'X' will work brilliantly at small sizes: favicon, social media profile images etc. Maybe some without the container/shield, some with.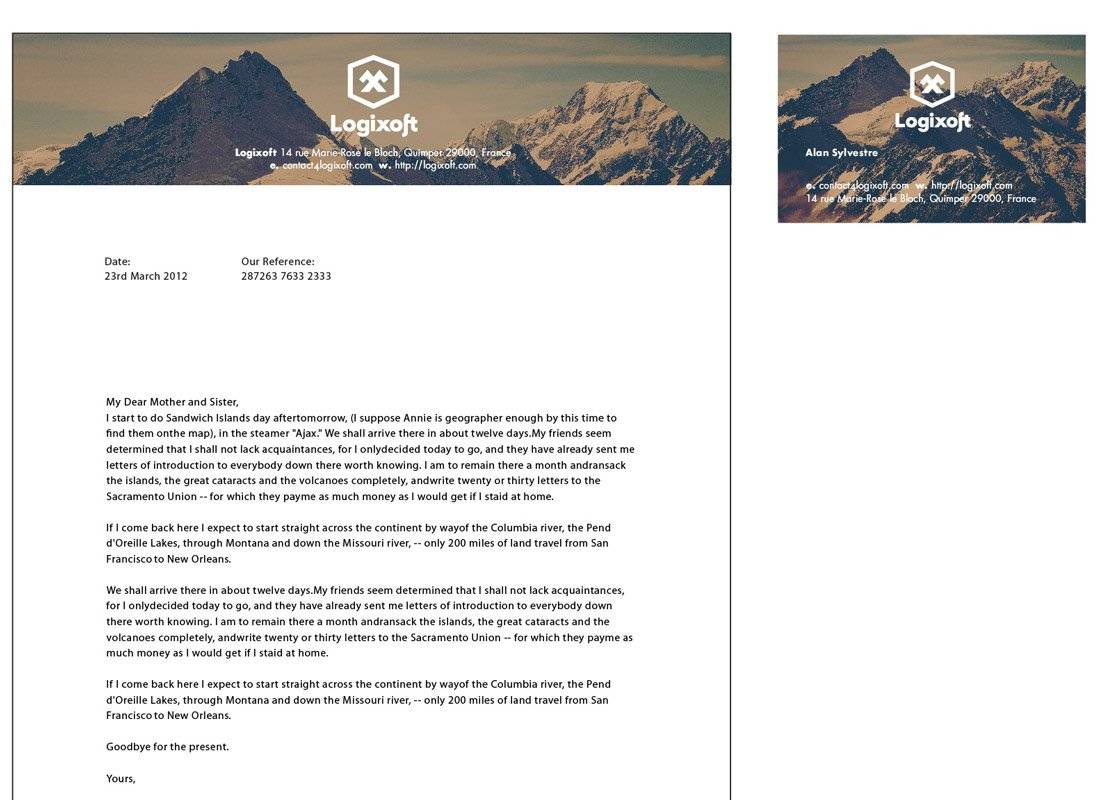 Mountains/Solid as a Rock
From playing with this shape, and trying to find some imagery to mock-up some layouts, I came across some stunning photographs of mountains (Mount Cook National Park, on PicJumb.com, and taken www.zivotnacestach.cz), and the similar angular nature seemed another perfect fit, and instead of just using it to provide context, I realised we could utilise this sort of imagery as supporting brand identity styles.
You can see from the letterhead and cards how this could work. The top half of the logo's container is almost the same angle as the mountain behind it, more of a coincidence, but when I placed the logo over the photograph it immediately hit me, so that's one more visual link that is shared.
Personally, and professionally, this has turned out as a far far more meaningful, and logical identity design, than I had initially anticipated.
For a company that is 'security' themed, we have managed to completely avoid clinical, cliche, cheesy imagery/meanings in the logo and identity, and instead created something with strong, clean, logical and applicable implied visual meanings and associations. The winning element is that it's also a personable brand, but without being too personable, if that makes sense. The X-Man is not really a 'mascot', but could be, at a stretch, viewed as such. Another association I like is that you're security products are: 'strong as a rock'.
Font Selection
The wording is based on a font called RennerBoldArchiType, but I have customised the 'L', the 'x' a little, and also the 'f & t' to form a faux ligature, and overall works really well with the logomark. As the logomark is very angular, the font adds some softness and approachability.
Skiplex Logo Design Deconstructed
The Skiplex logo (logotype: just the logo wording) was customised from two commercial fonts, with emphasis on creating a contrast between ski & plex, but not so much to create a distraction.
The construction and foundations of each part of each letter was looked at in detail, to create continuity with the whole notion of the downhill/slope movement which is fundamental to the Skiplex experience.
Where possible, the ends of letters were angled, parts of the tops of letters like the k, i, p then the bottoms of the e and x align perfectly on this downward slope (indicated by the green guides), with intersections of elements (indicated by the pink circles).
The key design feature was the use of Negative Space (indicated by the grey shading) that flows through the logomark and carries on into the bottom of the S. This creates a gentle downwards slope, and leads nicely into the S.
This design feature is also applied to the 'dot' on the i, when the top of the k acts as the 'ramp' and flows into the negative space under the light blue dot (which mimics the light blue portion of the logomark) of the i.
SaveSave
The lines, arrows, circles in the logo above, for TheAutoNetwork, show important areas of balance, vertical and horizontal alignment, as well as intersections of key areas of the logo.
Where ever possible, and if it's not to the detriment of the logo designs aesthetics, I will design in all these various alignments and intersections in order to bring harmony and interconnectedness within the logo.
The circles show key areas of vertical, diagonal and horizontal intersections and alignments, the vertical arrows generally show where space is 'equally halved' once then twice, usually relating to type baselines, ascenders and/or descenders in relation to the contained logomark.
For example the 'a' in the circle has a middle point that aligns with the x-height of 'autonetwork', which half of the x-height is equal to half the width of the a's thickness, then half of that is equal to the bottom portion of the types' counters in letters such as the: a, u, o etc
© 2005-2018 All Rights Reserved The Logo Smith
Logo Designer & Brand Identity Design Studio, with 25 Years Experience.
Graham Smith: 10 Badgers Copse, Seaford, East Sussex, England.
 Tel: +44 (0) 7816 527 462  Email: glogosmith@gmail.com