All Archived Posts in book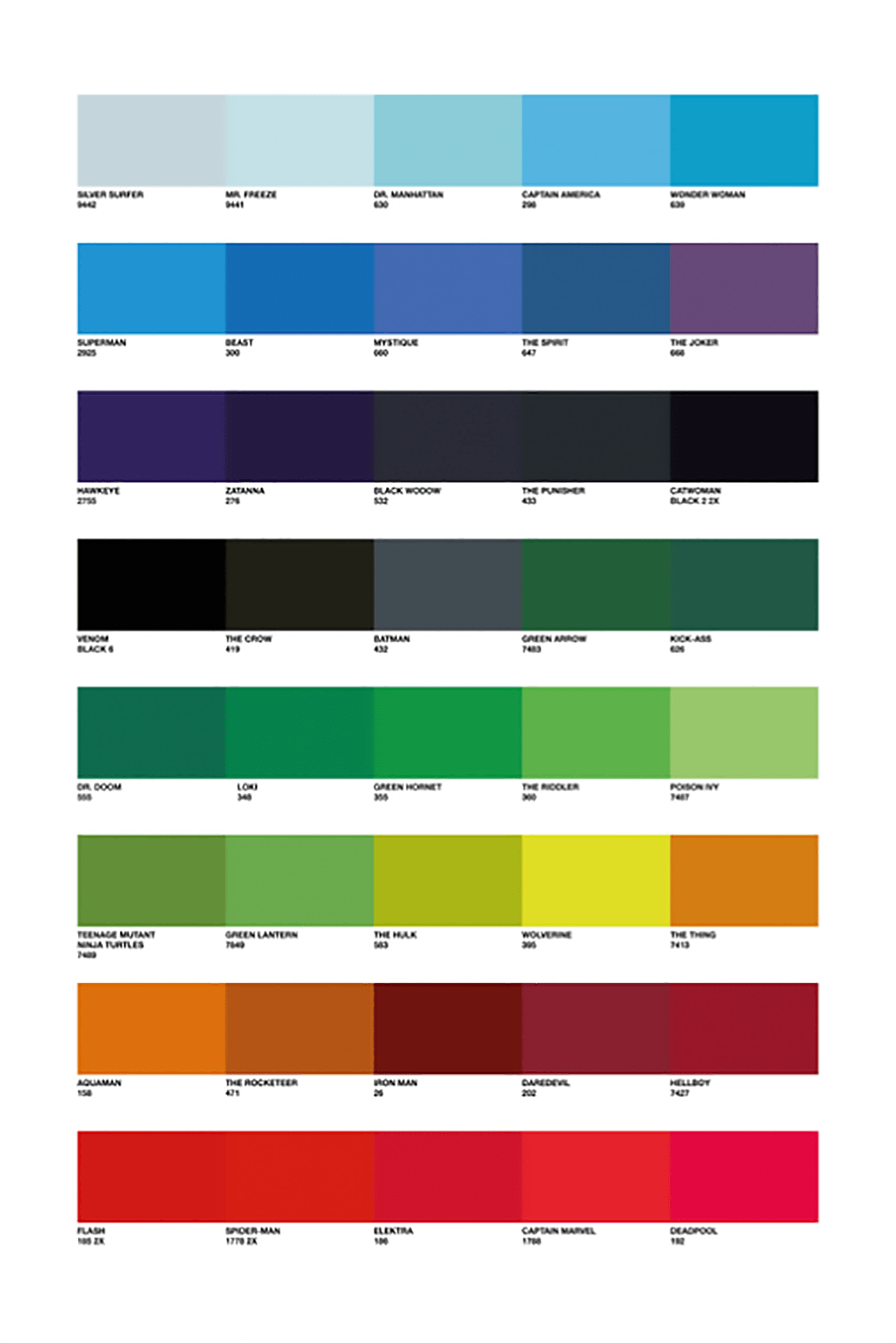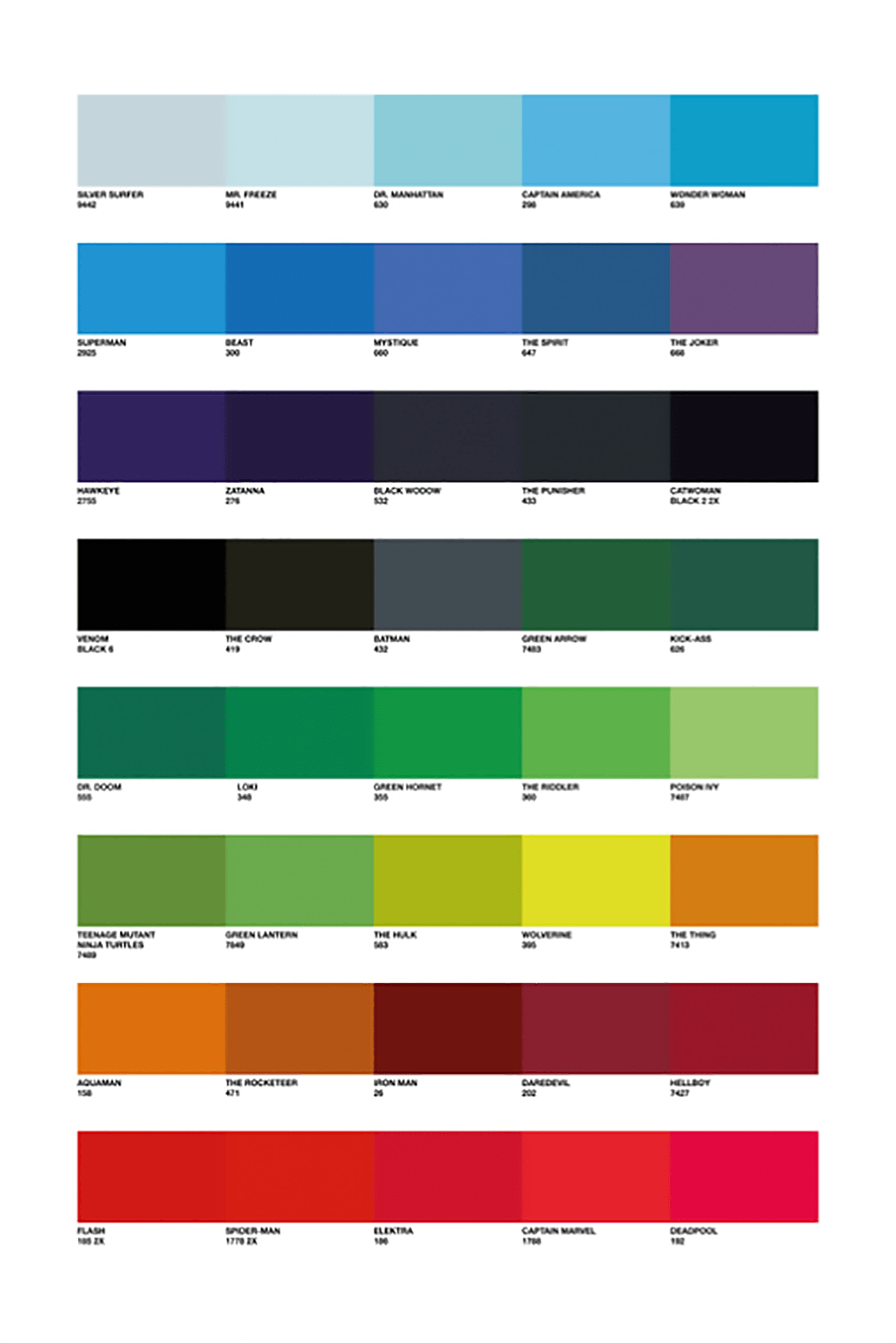 40 Pantone Superhero and Villains Color Swatch Poster
Some time ago I posted: 9 RGB Inspired Posters for Superhero's by Gidi Vigo, which was a pretty simple, but rather neat idea.
Gidi then had the idea of expanding this idea of linking Pantone colours with those representative of many more comic book superheros and villains.
So in this next poster, Gidi has created one poster with 40 individual Pantone swatches that are neatly tied in with the colours best associated with comic book superheros and villains.
Excellent. Just excellent. Simon Grover over at Quietroom sent me a note earlier. In that note was a message telling me they have been busy foraging around gathering updates for The Santa Brand Book, something they previously won accolades and hugs for given it's importance to us all.
*Santa* is a Concept, not an idea. It's an Emotion, not a felling. It's both Yesterday and Today. And it's Tomorrow as well.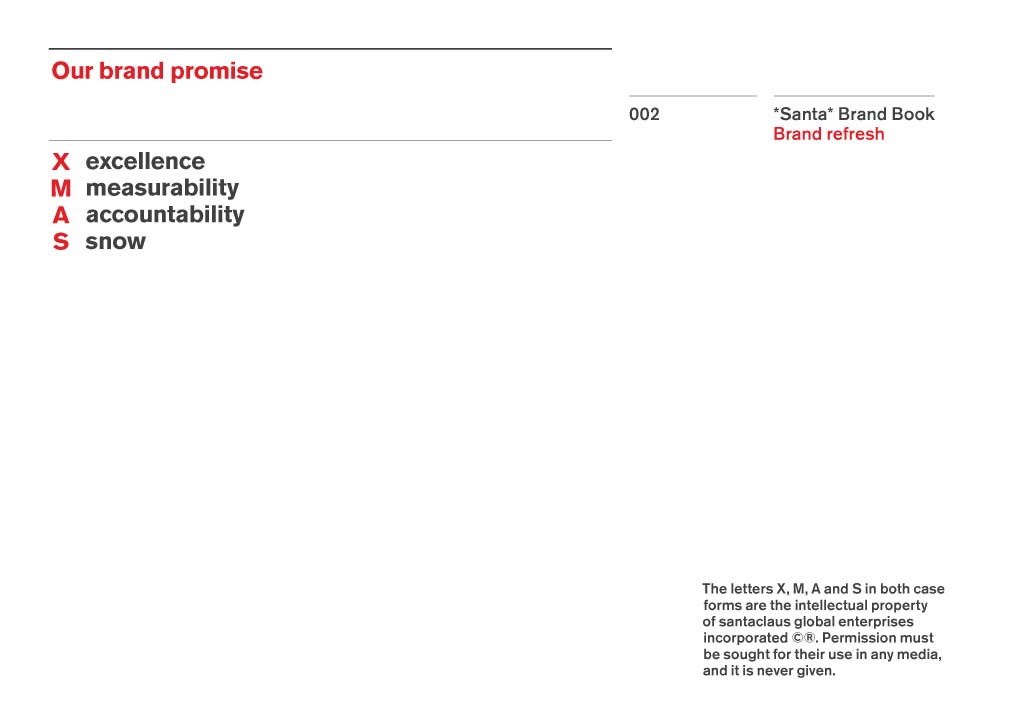 We now have, thanks to Quietroom, a new and updated version of the Santa Brand for AD 2013 with 15 pages of: Santa trivia, identity guidelines, stats, graphs and venn diagrams. It's a compelling read, and I now have a much broader appreciation of the structure and personality of Santa's brand. This can only be a good thing as we roll ever closer to Christmas 2013.
Go and check The Santa Brand Book: The AD 2013 edition, over at: http://www.quietroom.co.uk/santa_brandbook
*Santa* winds infinite Possibilities around finite Limitations to evoke the essence of invention and the Odour of Nostalgia. It has the complexity of Simpleness and the Simplicity of complexitiveness."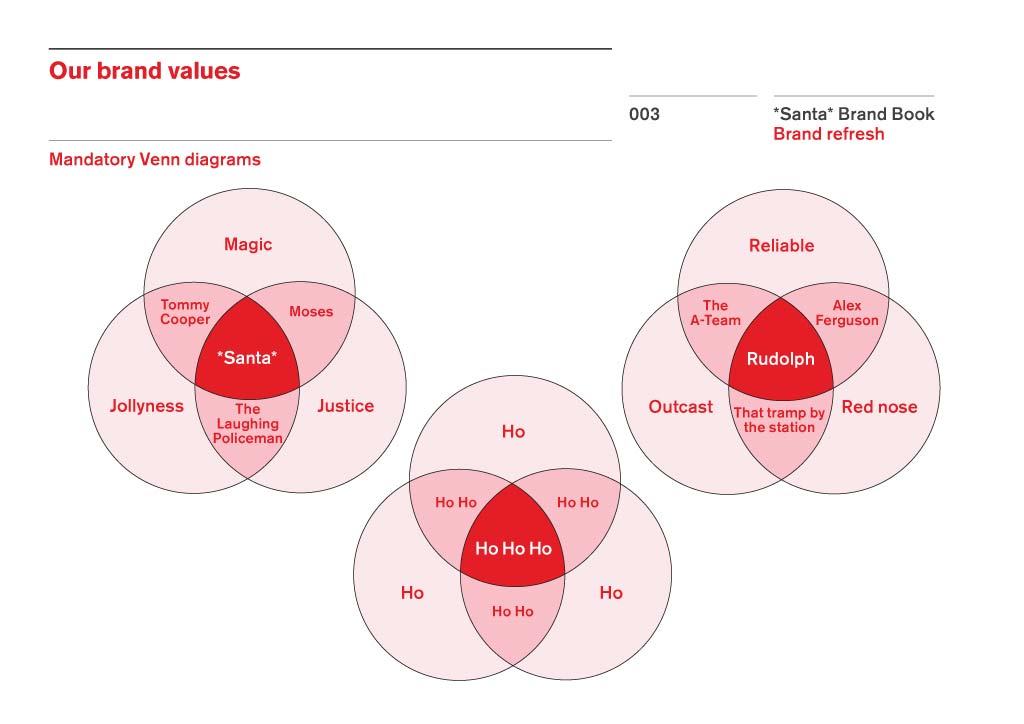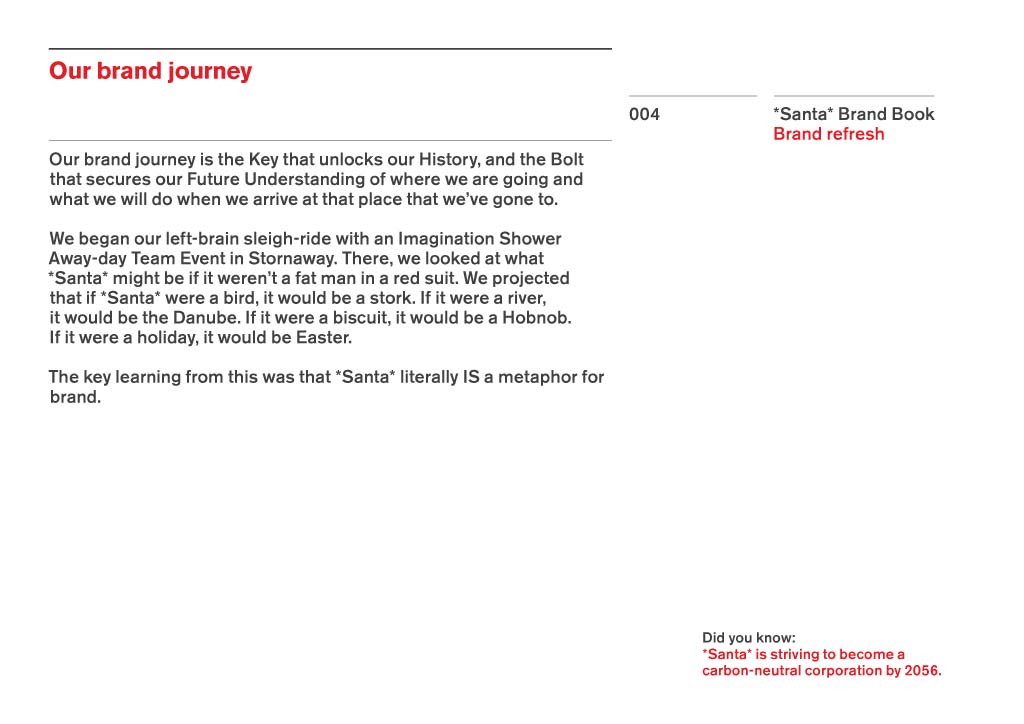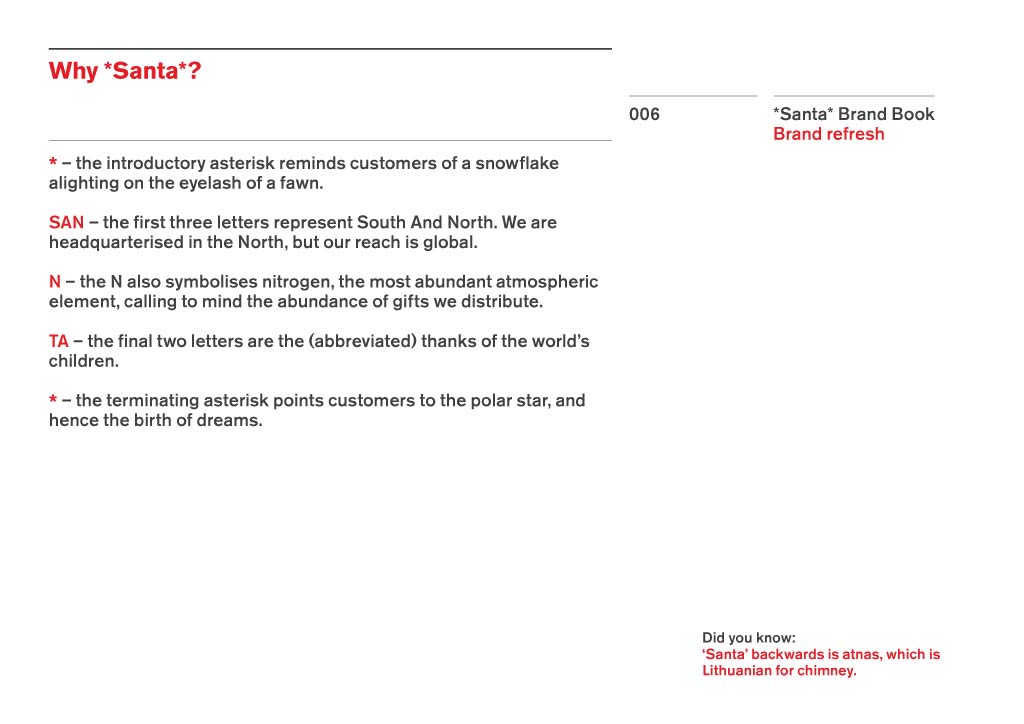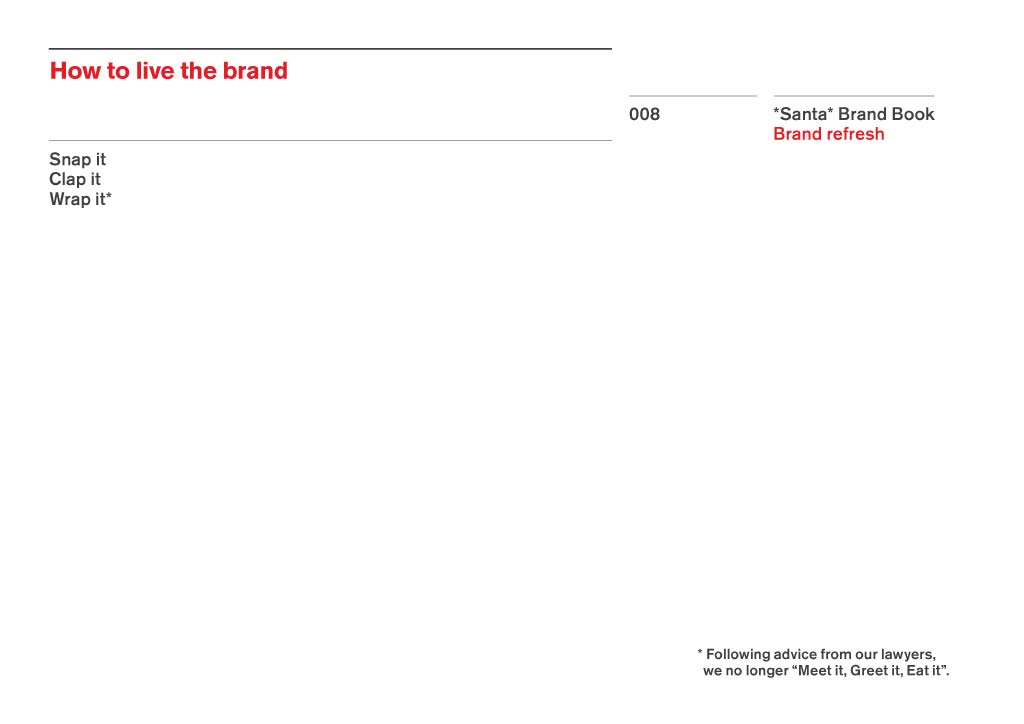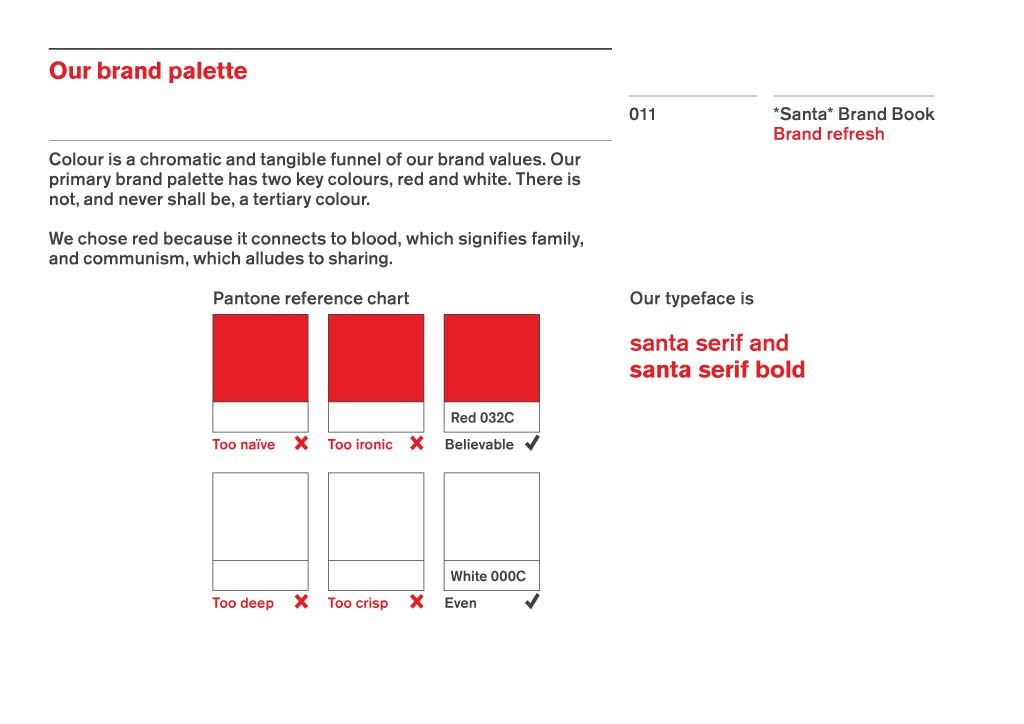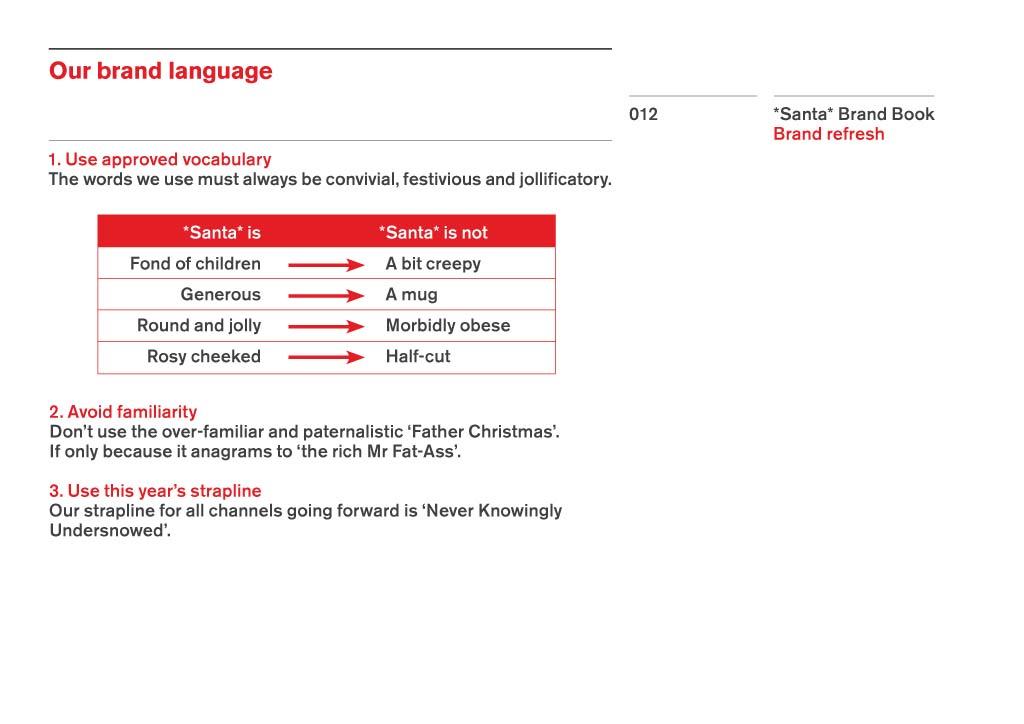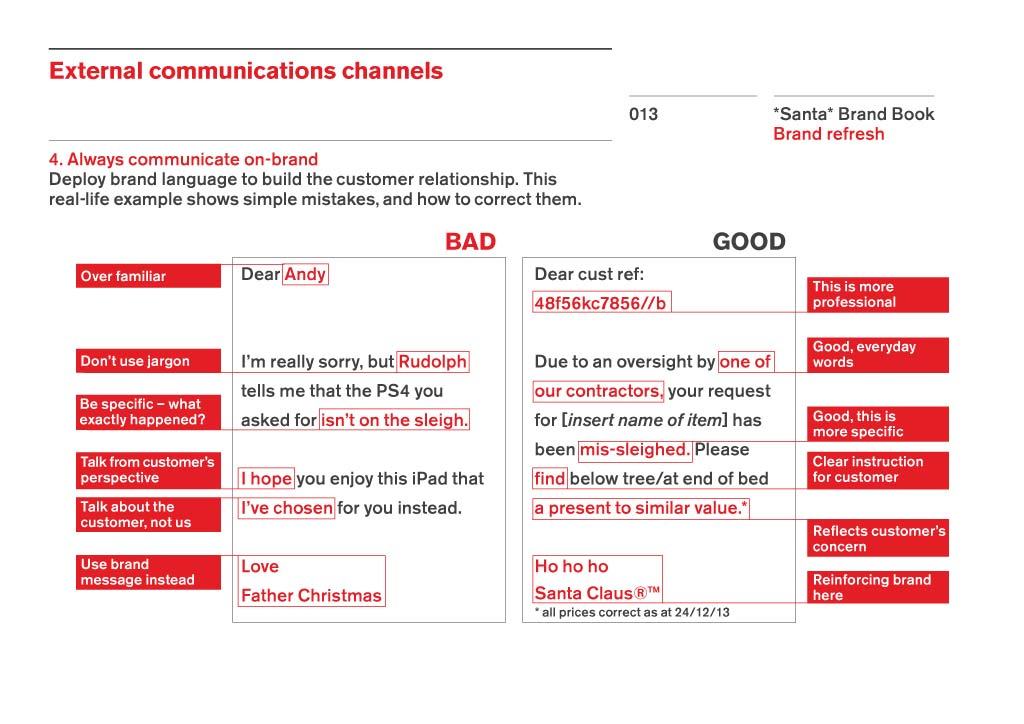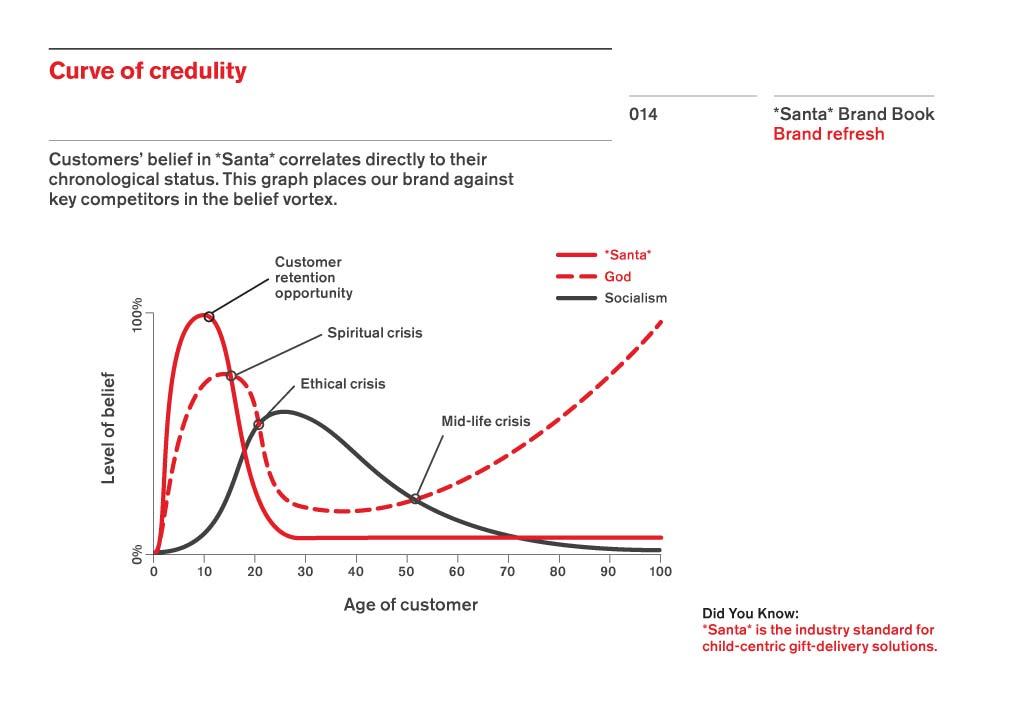 Logology 2: another soon to be classic logo design book that had slipped me by, but one I shall not be without given the utter nightmare of trying to get hold of the ultra hard to find orginal Logology.
I ended up finding some obscure online shope somewhere in Antartica that had one copy of the first edition of Logology to hand, and if you are able to find a copy it is certainly worth paying a premium for just for the embossed leather cover itself.
Seems it came out in 2011 and already Amazon are not selling this direct which leads me to believe it will also soon become hard to come by, so certainly worth getting your copy now. There are a couple of sellers selling it for around £35 plus P&P.
Product Description: The look and functions of logos vary over time. First emerged as pictorial names to differenciate producers in the market, logos today speak a much sophisticate language that caters for the world. Whether they draw on symbolism or wordds or letterforms to channel values and promises, keeping the message precise and straightforward is still the key to talk. Following the success of Logology®, Logology®2 put together a picture of unique brand expressions that answer changes and are meant to grow with time.
If there is one logo design book you need to earmark, right about now, it would be Logotype by Michael Evamy and published by Laurence King. Michael authored, what I consider to be, the best logo book out there: Logo, so I think he knows a thing or to about putting together a successful logo design book.
Amazon: Logotype is the definitive modern collection of logotypes, monograms and other text-based corporate marks. Featuring more than 1,300 international typographic identities, by around 250 design studios, this is an indispensable handbook for every design studio, providing a valuable resource to draw on in branding and corporate identity projects. Logotype is truly international, and features the worlds outstanding identity designers. Examples are drawn not just from Western Europe and North America but also Australia, South Africa, the Far East, Israel, Iran, South America and Eastern Europe. Contributing design firms include giants such as Pentagram, Vignelli Associates, Chermayeff & Geismar, Wolff Olins, Landor, Total Identity and Ken Miki & Associates as well as dozens of highly creative, emerging studios. Retaining the striking black-and-white aesthetic and structure of Logo (also by Michael Evamy) and Symbol, Logotype is an important and essential companion volume.
I'm super duper excited about the imminent release of Logotype as this is an area I find most satisfying in my own logo designing. There is something particularly challenging, and pleasing, in trying to create a strong logo that mostly consists of typography without additional/standalone graphical images to support it.
Logotype is one book you really do need to have in your collection. If you don't yet have the mighty impressive Logo and Symbols books, then look to correct that oversight super pronto.
You can go and preorder Logotype on Amazon for £15.75 with an expected release date of: 17th September, and comes with 336 printed pages.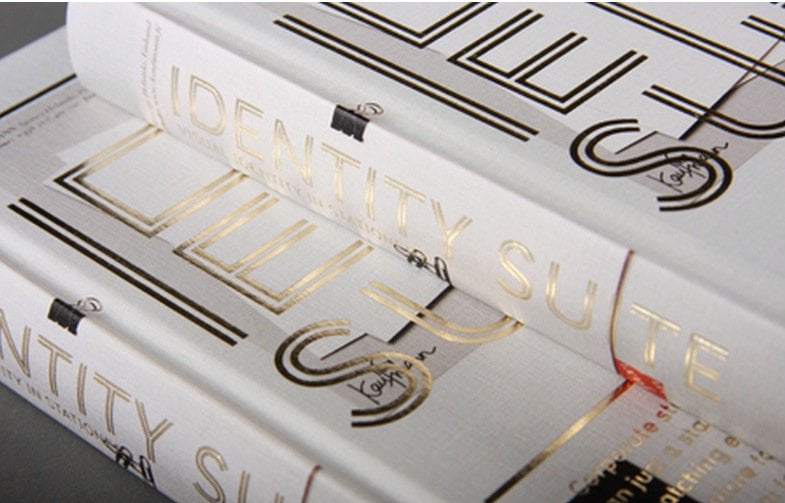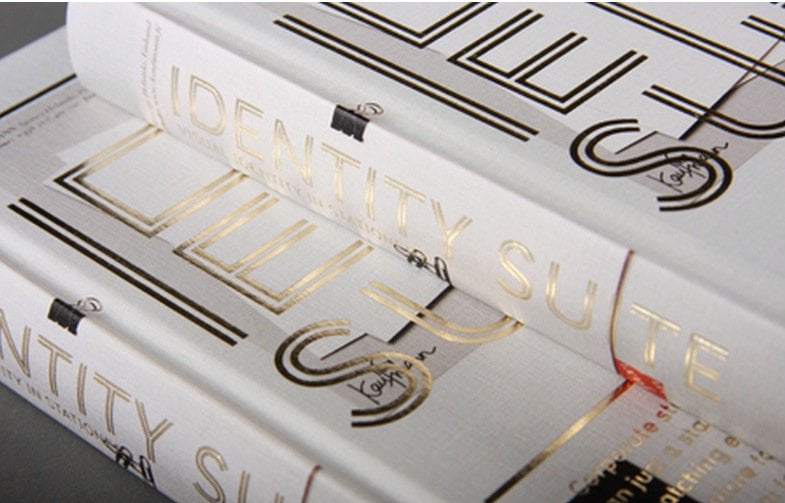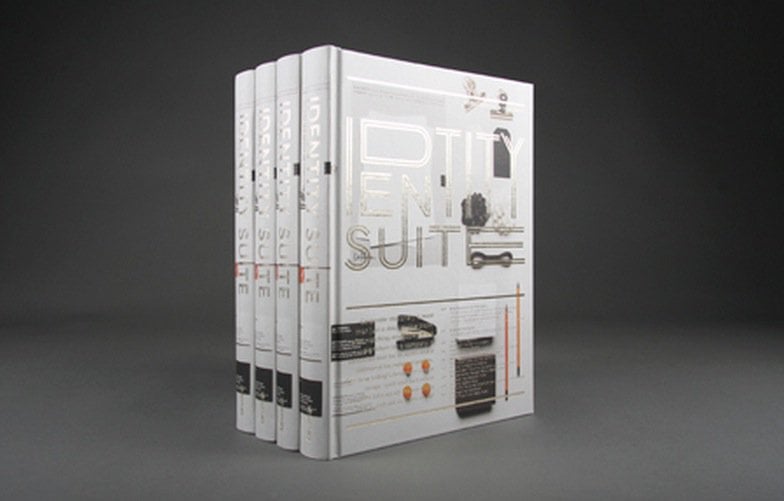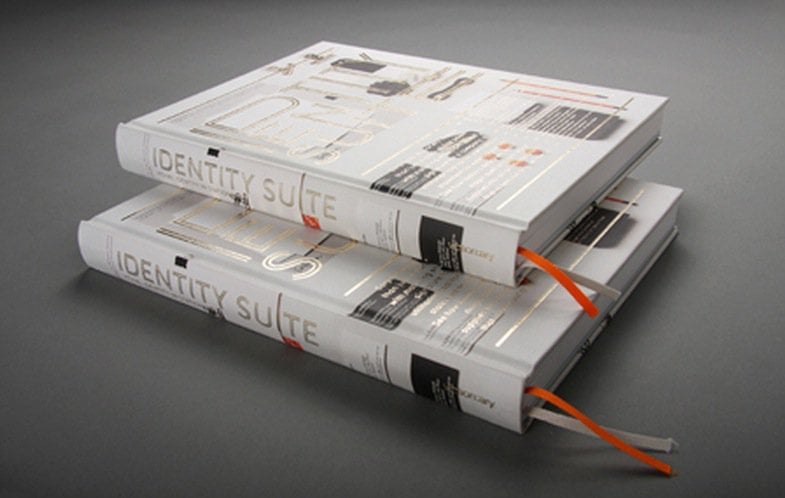 A good design book is one of the key ingredients in obtaining and ferreting out inspiration for your next design piece. There are no shortage of logo design books from which to harness the power of inspired thoughts, but it's important to have the bigger picture in mind.
This is where Identity Suite: Visual Identity in Stationery by Victionary—someone needs to tell them that their current website design, specially colour choice and the general tinyness of everything, leaves a little to be desired—as it provides a tremendous resource for when you are tasked with creating more than 'just' that logo.
Being able to sense and imagine that larger dimension, and be able to visualise how your new logo design will work, for your client, across a range of touch-points is superportant. Not every client mind has the budget for the sort of stationery designs you may see in books like this, however, it is still incredibly useful to see how stationery can be designed effectively and creatively.
Identity Suite: Visual Identity in Stationery not currently available, but it's worth keeping an eye out for it on Amazon. The presentation of the book looks spot-on, so I would imagine it costing somewhere between £25-£45?
You can view more photographs of the inside over at Victionery, here are a few:
So says Victionary: The most fundamental of all branding tools is a company's own stationery. Being the most frequent touch points between staff and clients, corporate stationery remains a perfect and most basic branding tool for companies in any industry and of any size.
Investigating about 100 complete stationery sets, Identity Suite is an up-to-the-minute epitome of successful branding through office supplies today. Through the choice of stationery items to include and designers' attention to details, these highly characterised letterheads, labels, tapes, folders, notepads, memo pads, wrappers... and many more can be customised to befit specific operation needs and visualise brand visions at the same time. Seven in-depth case studies will also highlight the lavishly designed and executed branding and rebranding campaigns for new luxurious apartments, a sizable mixed-use development, designer hotel, five-star historic hotel, an independent industrial designer and fashion boutiques from around the world.
» Via: TypeToken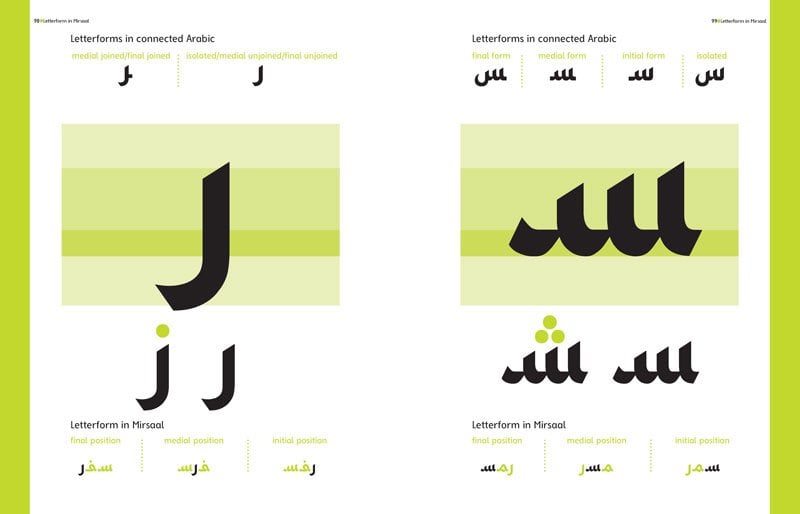 Cultural Connectives: Understanding Arab Culture Through Typography published by Mark Batty Publisher and written by Rana Rjeily looks like such an amazing book in better understanding, and appreciating, Arabic typography.
When it comes to learning and understanding Arabic, the letterforms can be daunting, but realizing the differences between the Arabic and Latin alphabets is necessary. Cultural Connectivespresents Arabic from a fresh perspective by bridging Arabic and Latin scripts through Mirsaal, a family of typefaces designed by Rana Abou Rjeily that brings the two scripts into typographic harmony, even in light of their differences. Using her designs, Abou Rjeily applies Arabic rules of writing, grammar, and pronunciation to English as a way to introduce Arabic to non-native speakers.
As an introduction to written Arabic this book is invaluable; as a means to dissolve cultural barriers, this book utilizes two very different alphabets in the name of creating understanding on many levels.
Increasingly brands are creating uniquely styled Arabic versions of their brand logos. This can show us is how a specific visual brand message originally created in Crylilic will take on quite a different look when translated to Arabic. I briefly touched on the Arabic version of the FedEx logo in a previous post. This is a classic example of where some nifty re-engineering had to be done in order to retain that infamous negative space arrow, as this is a core visual reference from FedEx.
Cultural Connectives has come at such a perfect time for me as one of my next projects is indeed of an Arabic brand where both Cyrillic and Arabic versions of the typography will be required. Just ordered Cultural Connectives from Amazon so will let you know if the book is as good as the photographs make it out to be.
If you want to read more information on Cultural Connectives then Rana Rjeily has an official website for the book over on: http://rana.im/cultural-connectives/
K Found on BrainPickings
Logo is one of my most read and prized logo design books which has lead me to update this mini review, which was first published in November 2008, and repost it.
Published by Lawrence King, and written by Michael Evamy Logo is a thick book at 350 pages with mostly black and white imagery. Each chapter starts with one covering page showing thumbnails of the logos to be covered in colour which acts as quick cheat sheet.
The forthcoming pages then present each logo in large scale solid black and white with text description: who designed it and the occasional factoid.
The layout and design of the book is well structured, clean and easy to follow.
Logos are grouped and categorised in sections with a diverse set of categories: strands, waves, concentric, ovals and ovoids, punctuation marks, single letters so plenty of scope for drawing on inspiration.
It's a hefty book and the uncoated paper it's printed on feels sturdy so no obvious signs of trying to cut costs with wafer thin paper. The book cover itself is glossy and of a fold-out design easily removable to provide you with a huge fold-out reference poster.
Unlike LogoLounge and other inspiration type books most of the logos covered have have accompanying text descriptions for the 1300 logos included.
If you are a logo designer or appreciate  logo and identity design then this particular logo book is a valuable addition to your library. I purchased this shortly after it was first published a few years back now, and it's still the first book I refer to when starting on most new projects.
I am looking forward to a hopeful update to this book.
If you need professional grade logo inspiration then look no further.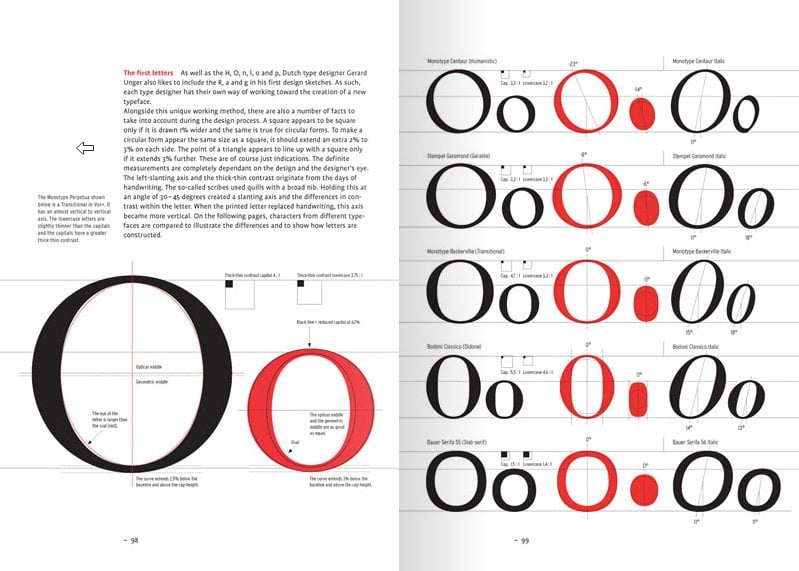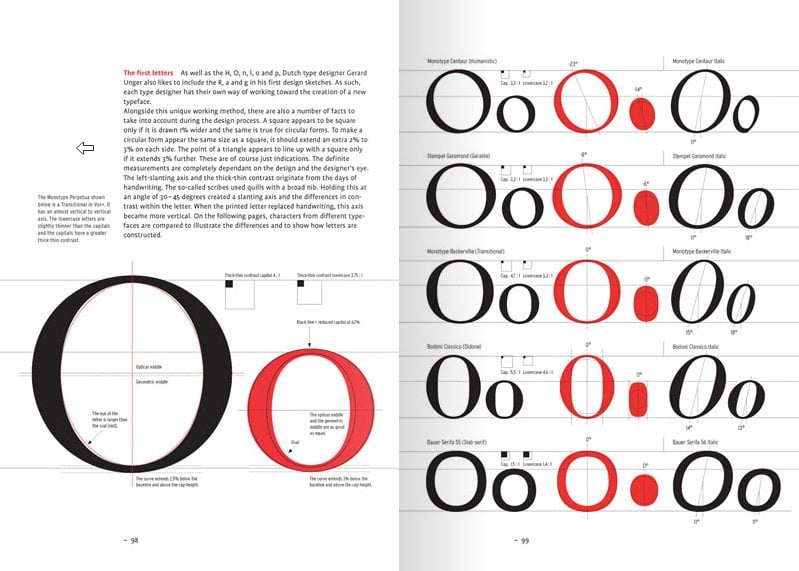 Everything you could ever want to know about printing letters and figures.
Letter Fountain: The Anatomy Of Type By Taschen looks set to be THE type book to get this year. I caught a glimpse of it over on Swiss Legacy and have pre-ordered my copy from Amazon for £44.99.
I have just flicked through the first 100 pages via the Taschen website so this is a great way to see the quality and variety of content you will be getting.
A few nice features include: hardbound in half linen with three ribbon bookmarks, 144 pages appendix with resourceful glossary and indices, and convenient typographic ruler with conversions between four measurement systems and hidden shortcuts for your Apple keyboard.
The editor and author:
Joep Pohlen is a graphic designer, devoted with heart and soul to professional typography. With his colleague and friend Geert Setola he founded Dutch Fontana Publishers in 1994 and together they published their first edition of Letterfontein. From 2002 to 2010 Joep Pohlen rewrote most of the contents and enhanced the book to 640 pages. He has won several awards with book design on typography and art.
From the website
Looking back as far as man's first efforts to communicate with visual signs and drawings, Letter Fountain is a completely unique typeface handbook: in addition toexamining the form and anatomy of every letter in the alphabet (as well as punctuation marks and special characters…
Further attention is given to the esthetics of the digital age and typographical recommendations such as the choice of the right typeface for a job…
Over 150 typefaces, their origins, and font characteristics are discussed in detail, visually explained by full page tables including scale, weight, and useful alternatives…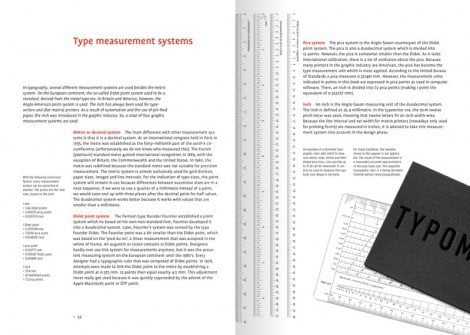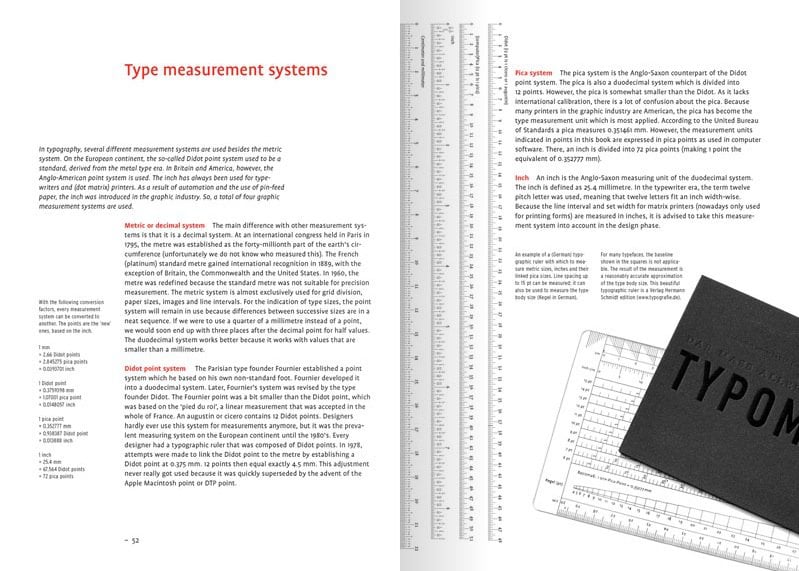 Win A Copy Of Letter Fountain
When Letter Fountain is released you will have a chance to win a copy as I will be offering one up as a very special prize.
Make sure you follow me on Twitter and sign up to the RSS feed to make sure you get notified when the giveaway goes live.
Subscribe to the Blog with or
| Post Updated:
May 9th, 2014
| 1st Posted:
March 29, 2011
Posted by:
Graham Smith
in Categories:
Books
,
Brand Identity
,
Free Fonts
,
Freelance
,
Inspiration
,
Logo Process
,
Opinion
,
Portfolio
,
Resources
Follow @thelogosmith
It's no secret I enjoy writing on my website as well as sharing all I know with various tips and resources.
There are a fair few articles tucked away within my blog–I like to think have some pretty cool and useful things to share: templates to download, logo process articles, free fonts and my own thoughts and ramblings–and it would be safe to assume enough to write a small book.
Given that I have only been seriously freelancing since around January 2010, it was quite a shock when in the early part of 2010 and within a four month period I was approached by three publishers to author a book on logo design.
imjustcreative [now refered to as ijc]–my website, portfolio, blog and shop front–has been up for about three years or so. The very early days comprised of a methodical plan to build the freelance me up; ideally using my skills gained in advertising and marketing to establish a reasonable reputation and platform from which to hook in clients.
Having a fair number of years of commercial experience behind me is no doubt useful when you are considering the switch to freelancing. When you make that switch it can often mean having to start all over: you are no-one, you have no portfolio and no reputation to speak of. You have to dig-in and get dirty.
To be approached by three publishers was a monumental boost to me; it clearly signalled that I had managed to succeed in some areas of the marketing of ijc. What really blew my mind however was being approached by two publishers within 24 hours of each other.
It's all to easy to yourself to get over absorbed with the incredible intensity of feelings and thoughts that something like this imparts on you. It was staggering. I proceeded to follow up with the first two, but having two offers so close to each was incredibly confusing, really didn't know which way to turn at this point. All I could do was talk with both publishers to find out the exactly what all this would entail and where it would leave me in terms of time and finances.
I had only just officially started freelancing, so building up a client base was paramount to me as well as servicing existing and newly scheduled clients. I certainly wasn't able to rely on client work at this point neither did I have any savings to fall back on.
Writing a book is a huge undertaking, some people manage to keep working their full-time job as well as write a book in their spare time. I am not that person.
There was no way on earth I could manage to keep ijc running at the usual intensity as well as researching and writing a book. This was the onset of a thick blanket of fog riding over me.
What to do?
Having a book under your belt is no doubt a huge boon, it signals that you are an authority on a that subject and will propel you further out than you would otherwise be used to; not to mention just the overall good feeling of confidence and motivational boost having authored a book.
ijc was still being nurtured and I felt very cautious about doing anything that would disrupt the rhythm and flow I had so far managed to build up. I didn't have the luxury of a solid client list, repeat clients or even a sense of believing in myself at this point.
So much to do and so much still to prove.
The harsh reality was that if I took a book on I would have to dial down ijc operations whilst focusing on the book for a period of 4–6 months. Firmly believing that taking a book on would lead to bad times; I still had conflicting thoughts about it.
I really didn't know what to do.
Sleepless nights due to the continual round of thoughts of turning down such a amazing opportunity, it made my skin crawl and I felt boxed in. Logically it felt both wrong and right, emotionally it also felt both wrong and right. This was all so new to me, nothing had prepared me for having to make a seemingly no win decision.
The jealously factor reared it's ugly head; if I turned it down then another designer would be asked and that royaly sucked. I wanted to write this book, I really did.
I thoroughly enjoy writing, it feels natural and I have no problem with finding stuff to write, it all seems to flow out without having to even think about it. When I sit down to write a post I usually only have a rough idea on the subject matter; 30mins later there will be a decent size post and I have no real idea how it all materialised.
ijc had to succeed, there was no room to doubt otherwise.
Over a period of weeks I continued talks with the publishers. The first decision was to decide which publisher to continue talking to. That choice allowed me to focus on the one publisher and we discussed options and ideas over a period of weeks.
At his point I started the book proposal process–even though you might be approached to write a book you otherwise previously had no intention of writing, you still have to sell their idea back to them–as I felt this would give me enough insight into what it would require from me on a emotional and physical level.
After three weeks of working on the proposal and keeping ijc ticking over, I was already super stressed. This was the insight I needed to make a more informed decision.
As hard as it was, I decided to pass up this amazing opportunity to author a book on logo design and focus on building up ijc.
Finances
This decision was not just based on being a super stressed Eric, the finances was a determining deal closer. As David Airey has talked about, a book like this is not going to make you a millionaire. Financial reward is negligible, what is more beneficial is having your name linked to a book and this ideally brings in more prestigious clients etc.
Knowing that I could not work both ijc and writing a book, I then had to look at how I would support myself for the duration of the book. The retainer on offer would have lasted just a few months after the mortgage, bills, tax were deducted. It certainly was no where near enough to live on for the duration and would absolutely mean I would also have to take on client work. This was not a situation I wanted to get into, ijc is more than a full-time job, no way I would be able to cope with a book as well.
Health
Just to put stuff into perspective, I suffered a breakdown 5 years ago and my whole life was turned upside-down and inside-out. I had previously worked stupid hours usually for 6-7 days a week in a stressful environment.
With ijc, I absolutely had to manage my health. I knew that keeping ijc ticking over as well as writing a book would be a step to far, avoiding further health problems becomes mandatory at this point in my life. It has taken nearly five years to feel like I am starting to get back on track, I am in no rush to derail myself again through over-work.
List
To ensure I had made the right decision, I simply made a positive and negative list and the result reassured me that passing the book up was the best thing for me at this time. I was now content with the decision I had made.
Incidentally, the third book offer came through a few months later which meant I was able to make the necessary decision quickly. Being approached to write a book, even when you know you are probably one of many, still gives you motivational boost.
Plans
My plan at this time was to keep the idea of writing a book in mind for a time when I would be able to cope with the financial and emotional demands needed.
Now a year on and I am getting the book bug.
I still don't fancy the idea of taking on such a huge commitment and that is mostly out of my control in terms of deadlines and such like. I have a nice life-style that has taken a lot of time and effort to evolve; in no rush to mess that up.
The answer: self publish and write a book on logo design that I can do in my own time whilst making the content and experience all mine. No publisher restraints, no unexpected deadline changes and no pressure or anxiety of feeling out-of-control.
This is my project for the year with a flexible dead-line of October to have the content all thrashed out.
Chapter Ideas
I have a number of ideas for content and nothing has been hard-coded as yet. What I can say is that it will not be a gallery of logo designs, there are plenty of books dedicated to this cause.
I will however showcase a select range of logos from logo designers with applicable text outlining aspects of the logo design process, it's important to me that any logo shown in the book is shown in context. One of the things that lets logo inspiration books down would be the lack of context therefore not providing the context some logo designs need to be fully appreciated.
The style of logo designs I will be seeking to showcase in the book will typically fall close to a style of design close to me.
Other chapters will include: typography in logo design, aspects of freelancing, project management of a logo project, financials, general logo design tips and check-lists, various how-to's, client interaction, thoughts on how to promote and market your self etc. It will hopefully be quite rounded, covering or touching on most parts of a logo project.
I have not quite decided on the format of the book, limit it to digital format or actually print it much in the way iheartlogos have done. My preference would be to print it, I am not a big fan of reading books in ebook format, I much prefer holding and reading a traditional book. The route I will eventually go will depend on certain financial details, so both options are on the cards at this time.
It is very early days, but the plan has been set in motion and I am very much looking forward to the project.
Your Input
To close, I am looking for your input. If you have any thoughts or suggestions about what a logo design book should contain then please do let me know. With any book, the idea is to write something that people will hopefuly want to read, so the more I can incoporate into based on general feedback, the better for everyone.
Please do leave your thoughts below or email me direct.
Just received a few copies of the 'iheartlogos' book and given that I am a caring sharing type of chap, I have decided to offer up two copies.
The book contains over 460 logo designers, all chosen by the designers themselves. So a wealth of inspiration to carry around with you in this self published book. This edition of the 'iheartlogos' book covers Season One, so if you are a logo designer you can now submit your own logos for Season Two; voting for which starts September, 2011.
How to win
Leave a comment below with either your Twitter ID or alternative form of contact.
A retweet or two would be appreciated, thank you.
Wait for winners to be announced in a week or so.
If you need any help or advice with a logo design, you can always try The Logo Clinic.
How are prizes sourced?
As with previous giveaways, all prizes are sourced and purchased by myself. No sponsors and no corporate back-handers. I try to find items that are genuinely cool and/or useful, simply, items that I would buy for myself.
This is why I can only usually manage one or two prizes per giveaway, depending on the overall value of the items concerned.
© 2005-2018 All Rights Reserved The Logo Smith
Logo Designer & Brand Identity Design Studio, with 25 Years Experience.
Graham Smith: 10 Badgers Copse, Seaford, East Sussex, England.
Tel: +44 (0) 7816 527 462 Email: [email protected]