All Archived Posts in Reviews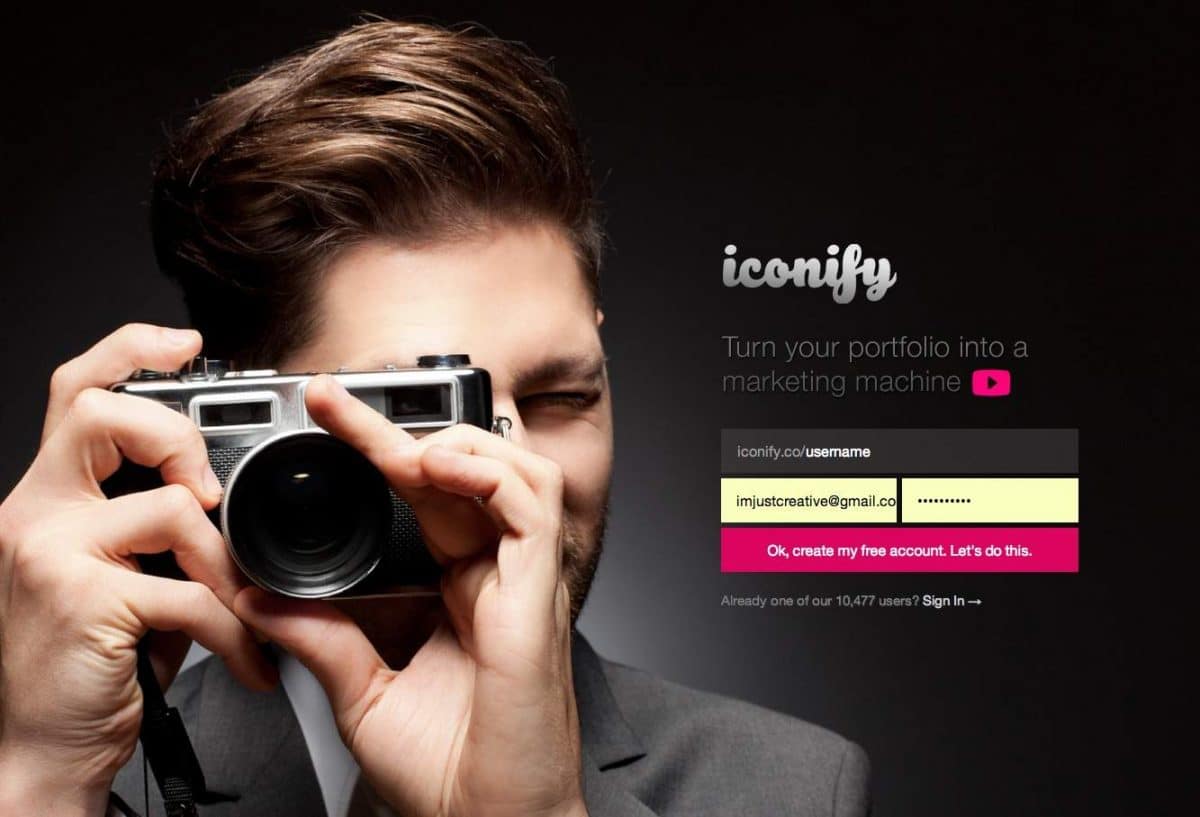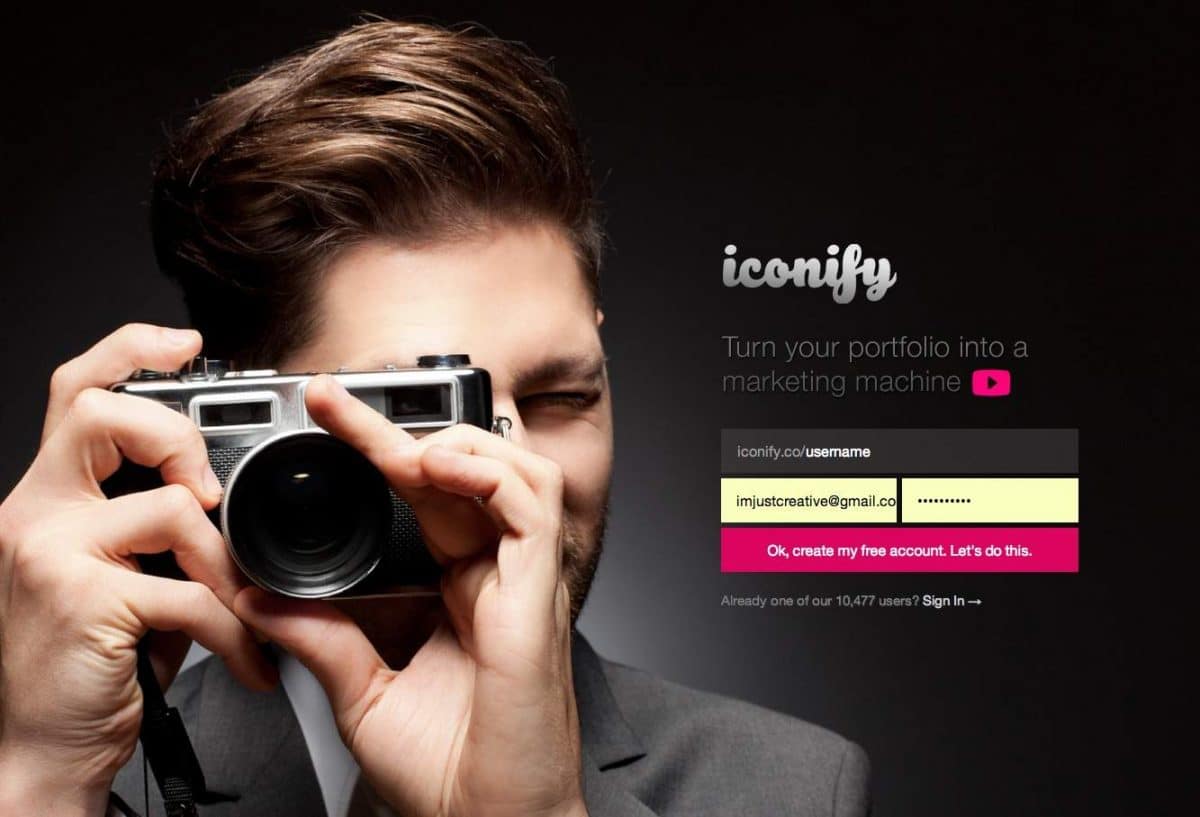 Affiliate Links: Links to Iconify in this post are of the affiliate variety. This means that if you sign-up to the paid plan I get a nice little financial kick-back. I don't usually do affiliate stuff, but I'm making an exception in this case
iconify.co: a clean, fast, responsive and minimal logo portfolio
I did an ever so tiny write-up on iconify.co a while back: Iconify—An Online, Responsive, Minimal & Downloadable Portfolio App before I had chance to use it myself. Now I have used it, uploaded all of my logo and icon designs, just wanted to do a quick follow up on this rather nice online portfolio.
I like it because it's so damn quick and easy to set-up and upload your work. No faffing around, no extraneous fancy extras to get in your way and slow you down from publishing a straightforward really accesible gallery of your work.
Don't think I have used, and continue to use, something as user friendly, both user and client end, as Iconify. You can view my Iconify portfolio here: https://iconify.co/imjustcreative
I have tried them all over the years, they come and go, with the more established ones like: Behance, Cargo Collective, Flickr etc staying the distance, but if you really want a super quick, mobile friendly platform to cleanly display your work then I can't recommend Iconify highly enough.
For me it has become the first 3rd party web based portfolio that I update, usually even before my own hosted portfolio here on imjustcreative, simply because it's just so quick and easy to update. After I have updated Iconify then I usually update the imjustcreative portfolio, then Behance and possibly Flickr if I can be arsed. I used to like CargoCollective, but just having all the customisation options there sort of makes me shudder.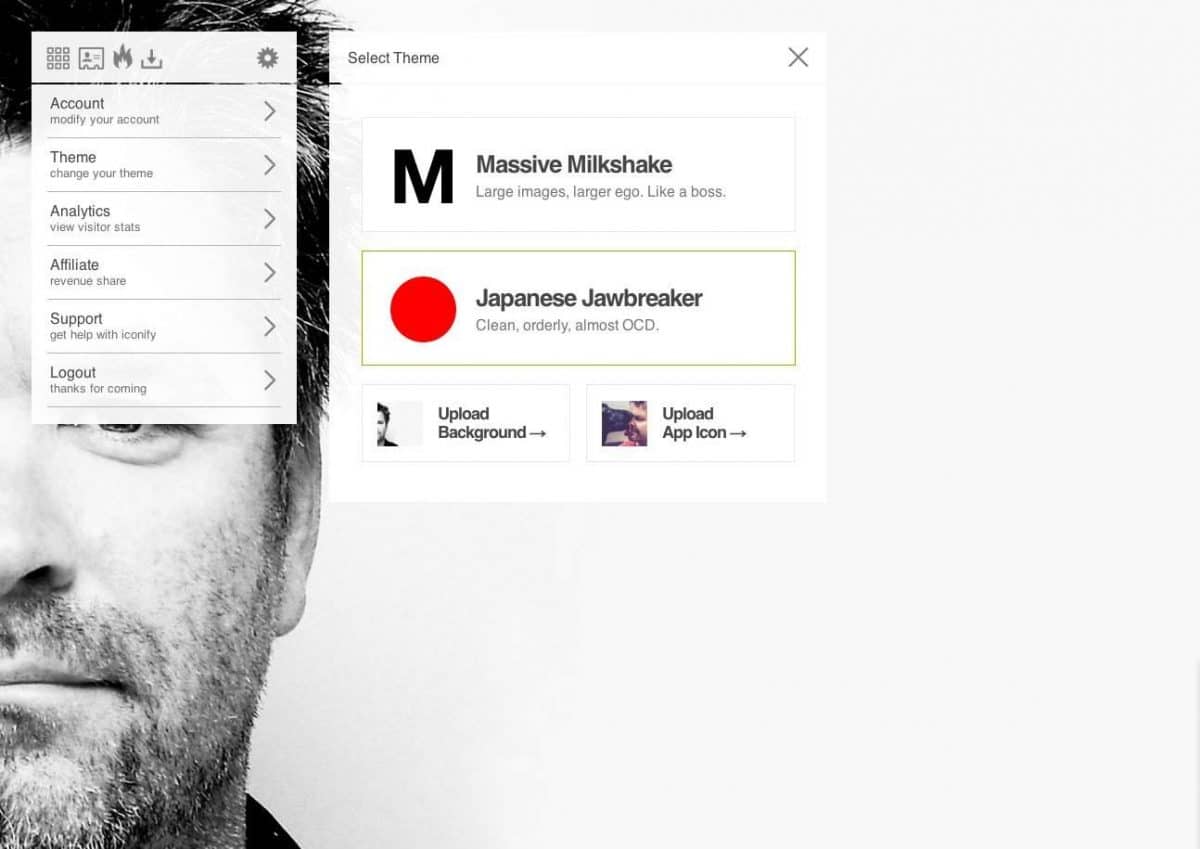 Because you can set up folders on the left side navigation you can basically create self contained projects, or smaller sub portfolios.
I have created a master logo portfolio, a portfolio for my monomarks, and a folder for the few icons I have designed. There are no text entry options, not even captions which I actually love because it forces you to just focus on the imagery and let it speak for it self, which obviously also makes uploading and updating the portfolio so blindingly fast and painless.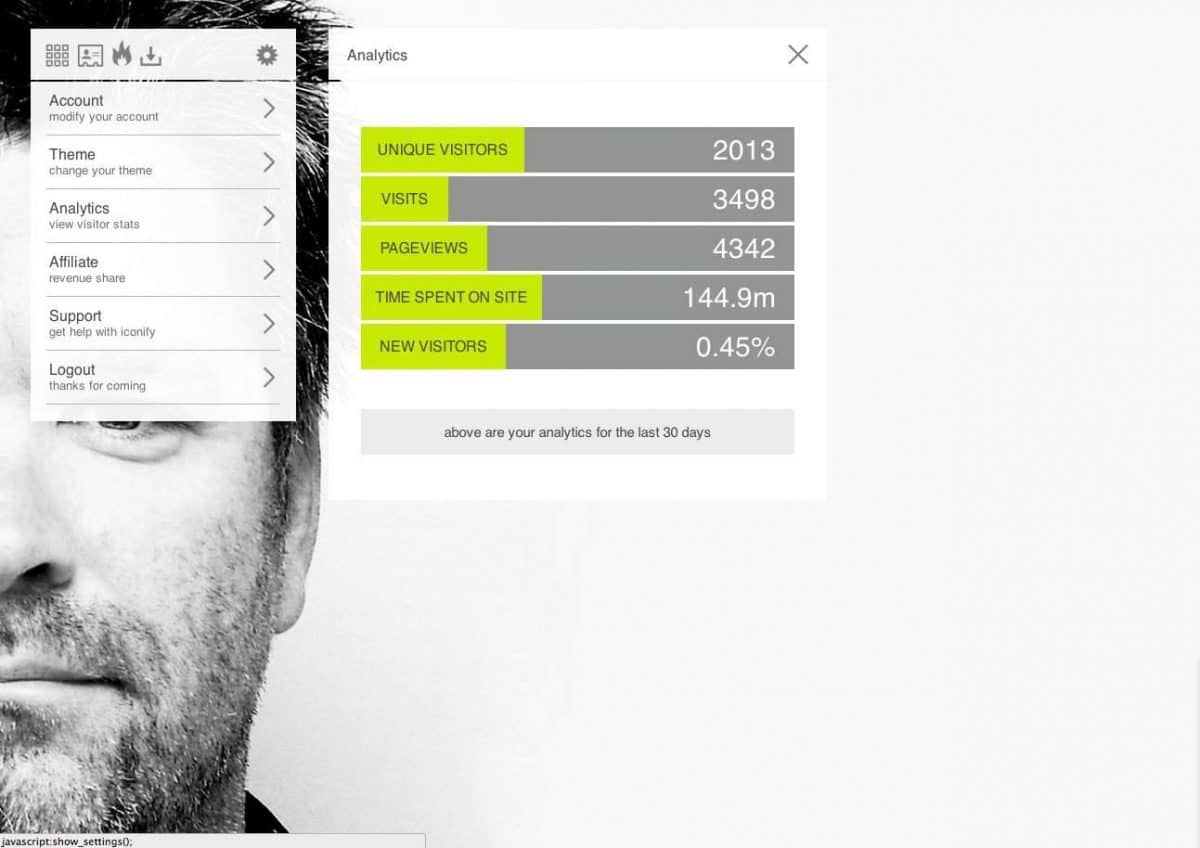 There is a simple analytics page, as well as just two clean themes to choose from, and again: less choice means less time with draining choices to make, and I just love this about iconify.
One of the smartest features is it's mobile friendly nature, from being fully responsive on all devices right down to being able to download, from a mobile device, the portfolio as a mobile app.
If you're stressing because you don't have any kind of portfolio at this moment, then Iconify will enable you to get up and running in no time. If like me you maintain several portfolios then I think Iconify will also provide you with a version of your portfolio that is always ready and waiting to be updated in super quick time. I sometimes use my Iconify URL as I actually prefer the way it looks and works over my own portfolio on imjustcreative!
Sign-up
Got nothing much to lose by signing up for the free plan, then you might come to the same conclusion I have come to.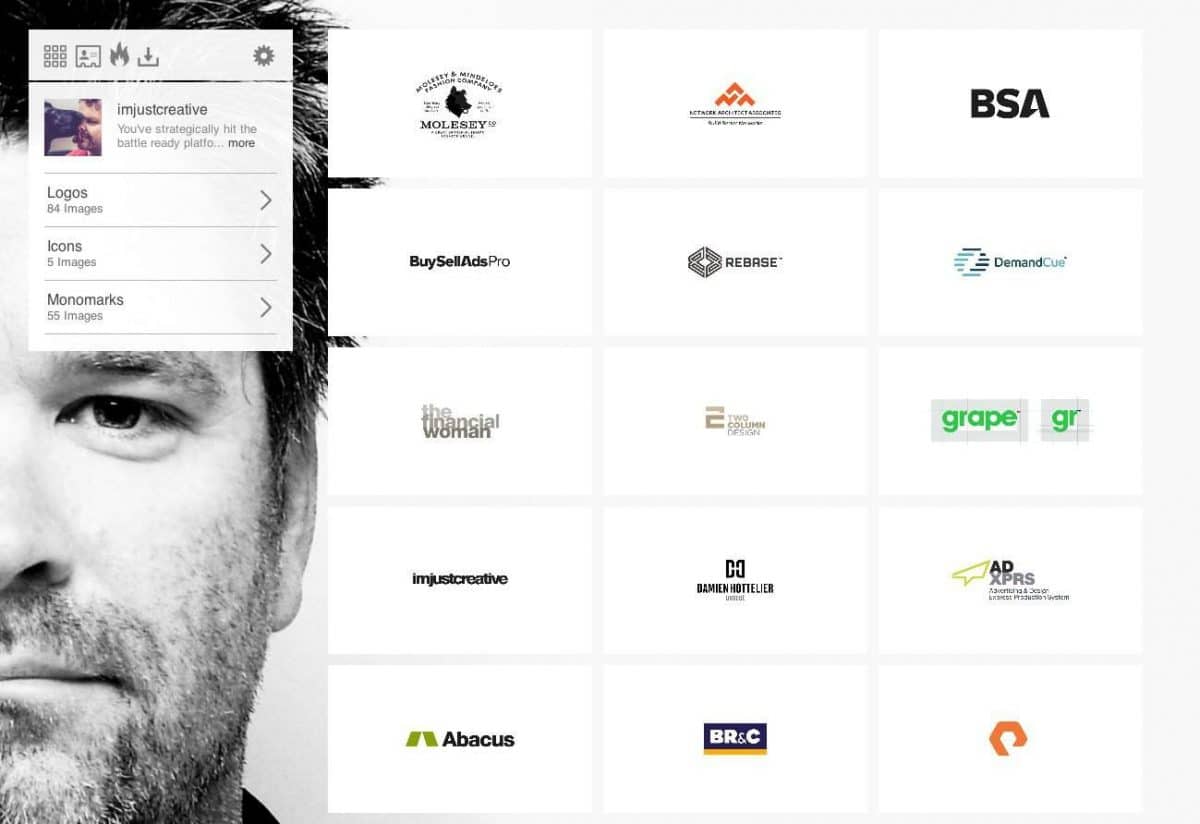 Nice little video from the folks at Iconify: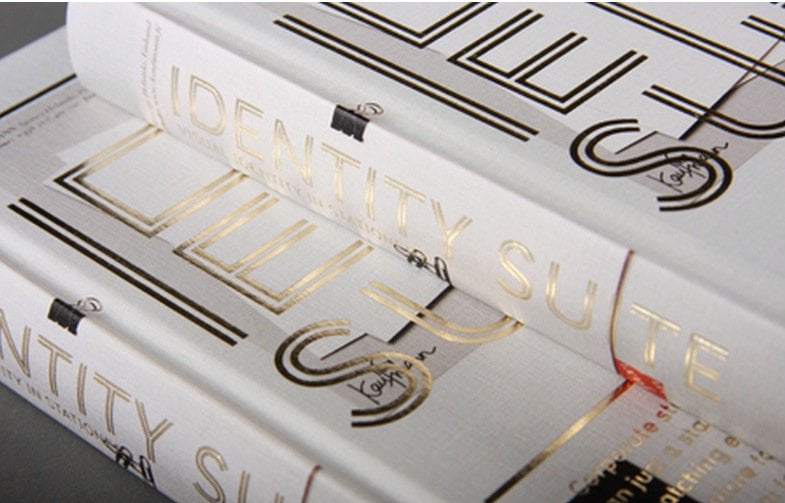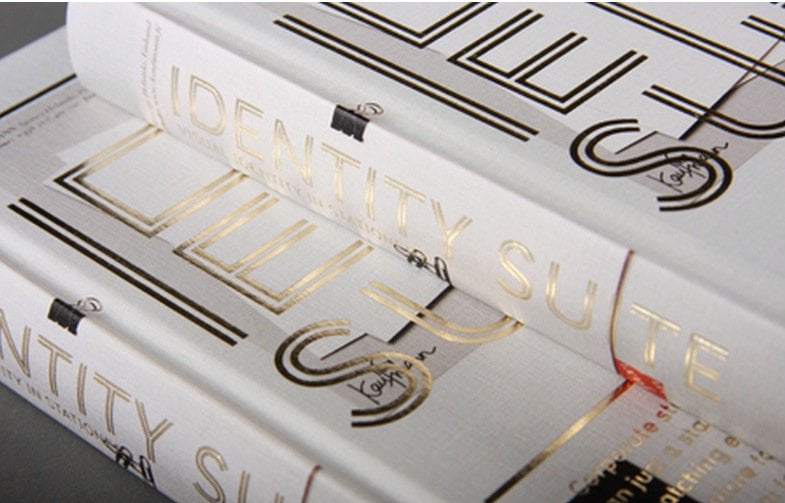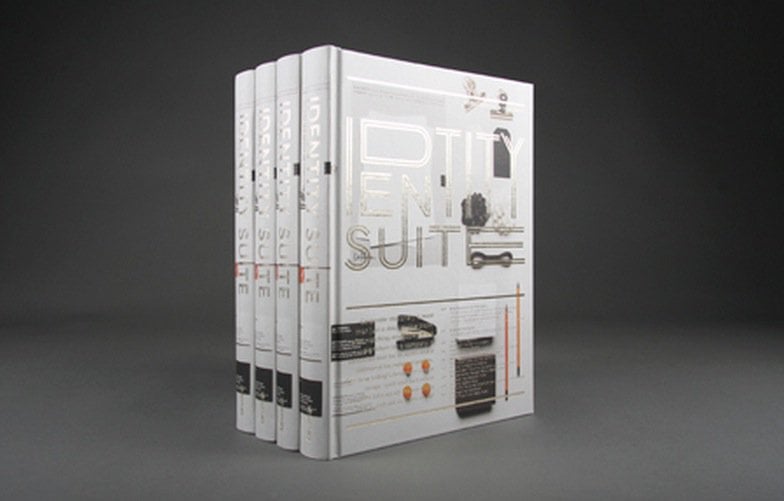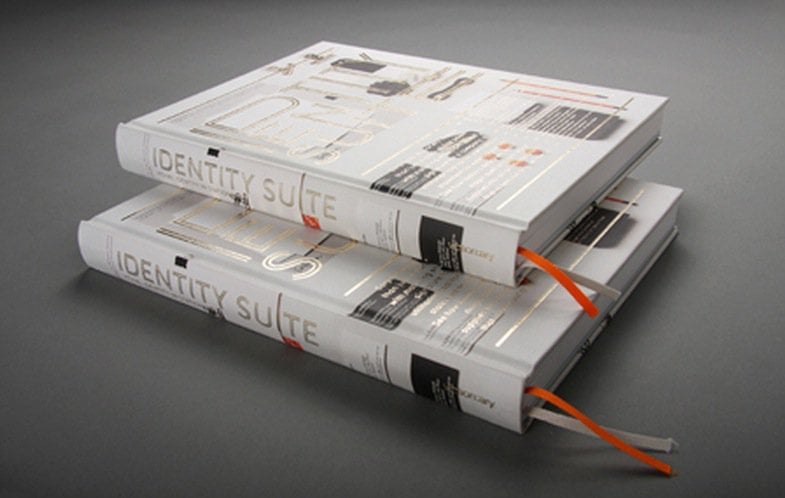 A good design book is one of the key ingredients in obtaining and ferreting out inspiration for your next design piece. There are no shortage of logo design books from which to harness the power of inspired thoughts, but it's important to have the bigger picture in mind.
This is where Identity Suite: Visual Identity in Stationery by Victionary—someone needs to tell them that their current website design, specially colour choice and the general tinyness of everything, leaves a little to be desired—as it provides a tremendous resource for when you are tasked with creating more than 'just' that logo.
Being able to sense and imagine that larger dimension, and be able to visualise how your new logo design will work, for your client, across a range of touch-points is superportant. Not every client mind has the budget for the sort of stationery designs you may see in books like this, however, it is still incredibly useful to see how stationery can be designed effectively and creatively.
Identity Suite: Visual Identity in Stationery not currently available, but it's worth keeping an eye out for it on Amazon. The presentation of the book looks spot-on, so I would imagine it costing somewhere between £25-£45?
You can view more photographs of the inside over at Victionery, here are a few:
So says Victionary: The most fundamental of all branding tools is a company's own stationery. Being the most frequent touch points between staff and clients, corporate stationery remains a perfect and most basic branding tool for companies in any industry and of any size.
Investigating about 100 complete stationery sets, Identity Suite is an up-to-the-minute epitome of successful branding through office supplies today. Through the choice of stationery items to include and designers' attention to details, these highly characterised letterheads, labels, tapes, folders, notepads, memo pads, wrappers... and many more can be customised to befit specific operation needs and visualise brand visions at the same time. Seven in-depth case studies will also highlight the lavishly designed and executed branding and rebranding campaigns for new luxurious apartments, a sizable mixed-use development, designer hotel, five-star historic hotel, an independent industrial designer and fashion boutiques from around the world.
» Via: TypeToken
Polamatic App by Polaroid™ (AppaDana)— Brings back the instant Polaroid magic (and hopefully set-off an app war with Instagram/FaceBook?)
Polamatic is an officially licenced iOS app from Polaroid: awesome. Read more on this: Polaroid Polamatic™ Mobile Application for iOS
Wouldn't it be great if Polaroid, as well as now having it's own iOS photography app, also had it's own sharing network? A network that could instantly and realistically compete with Instagram and would likely see quite a significant take-up by Instagramers.

Polamatic is a great looking app and has some lovely features. The main one being each photo is based around the physical Polaroid prints with the thick white borders. One has a selection of scanned -in, not computer generated, Polaroid frames as well as the requisite filters with more options available as in-app store purchases.
It just feels so right to be using a faux Polaroid branded iOS app.
Your photo can be shared directly with Instagram, Flickr, Twitter, Tumblr and FaceBook. I have already placed Polamatic next to Instagram on my iPhone home screen.
Polamatic only costs £0.69 as well and you can download it via iTunes: Polamatic | Made in Polaroid
From PR NEwsWire: Offered by Appadana Development, an authorized Polaroid licensee, the Polamatic app brings back the instant magic of Polaroid pictures to mobile devices. Users may select from 12 frames with clever names like "tape," "crumpled" and "kinda new." Unlike other photo editing applications, the frames are not computer generated. Instead, they are high quality scans of new, used, and vintage Polaroid Classic Border frames, giving pictures a unique classic style.
The app also features 12 photo effects for customization with fun names like "chroma," "gelatin" and "pyrophoric." The photo effects allow users to apply a number of color and tone adjusting effects to their pictures. Whether users wish to apply sepia tones, or a rosy hue, this application has a plethora of effects to choose from. Users may also add text to their Polaroid picture, choosing from 12 different fonts.
Your Polaroid pictures can be saved and easily shared via Facebook, Twitter, Flickr, Tumblr or email, making this application a must for bloggers and social media enthusiasts who want to add Polaroid pictures to their visual posts. Users may also save their pictures directly to the iOS photo library, with the tap of a button.
The Polamatic app store allows users to purchase additional frame formats and effects. From the Polaroid Vintage Pack upgrade, users can select an additional 12, authentic, high-resolution scans of Polaroid Classic Border picture frames from multiple eras. For those wishing to add a touch of color to their photos, the Polaroid Chroma Pack upgrade includes 10 colored Polaroid Classic Border picture frames. The Photo Effects upgrade offers 12 added photo effects allowing for more customization options.
Feature Highlights:
* Easy to use, intuitive interface produces quality edits in seconds
* 12 authentic Polaroid Classic Border picture frames
* 12 photo effects for innovative pictures
* Easily share via Facebook, Twitter, Flickr, Tumblr or email
* Control flash, grid, and front or rear camera
* In-App purchases provide additional borders and photo effects
"Bring back all of the magic of Polaroid pictures on your iPhone," stated Appadana Development's Dana Shakiba. "Polamatic makes your pictures come alive with classic Polaroid style."
Device Requirements:
* iPhone, iPad, or iPod touch
* Requires iOS 5.0 or later
* 41.5 MB
Know Your Onions: Graphic Design, written by Drew de Solo, looks great especially as it's designed more like a notebook: enabling you to add your own notes to the supplied blank pages as you go along.
Know Your Onions sounds like it is aimed at the novice-intermediate level from what I can tell from the summary and table of contents.
Know Your Onions (BIS Publishers, IBSN 978-90-6369-258-2 , €17)
From the Publisher
This book is practical and immediate, without being condescending or overly technical. It is like having a graphic design mentor who will help you come up with ideas, develop your concepts, and implement them in a way that is engaging and humorous. It gives readers the experience and ability that normally comes from years of on-the-job training. All of the essential techniques of graphic design and its digital implementation are covered.
Read this book and gain 25 years' experience in how to think like a creative, act like a businessman and design like a god.
This book is designed like a notebook, with all the authors' tips and knowledge already inside. However, it also includes blank pages that allow the user to personalize this reference book with specific notes that are relevant to his or her studio, suppliers or clients.
K Found on GetAddictedTo
This is not so much a review, more of a brief overview with the hope you will like what you see and purchase Brand Identity Essentials forthwith.
From the website…
Logos, Identities, Brands...What's the difference?
Design terms are too often used inconsistently, leading to confusion for designers as well as clients. Contrary to common usage, the words "logo," "identity," and "brand" are not interchangeable

Brand Identity Essentials lays a foundation for brand-building, defining the tools and building blocks, and illustrating the construction of strong brands through examples of world-class design.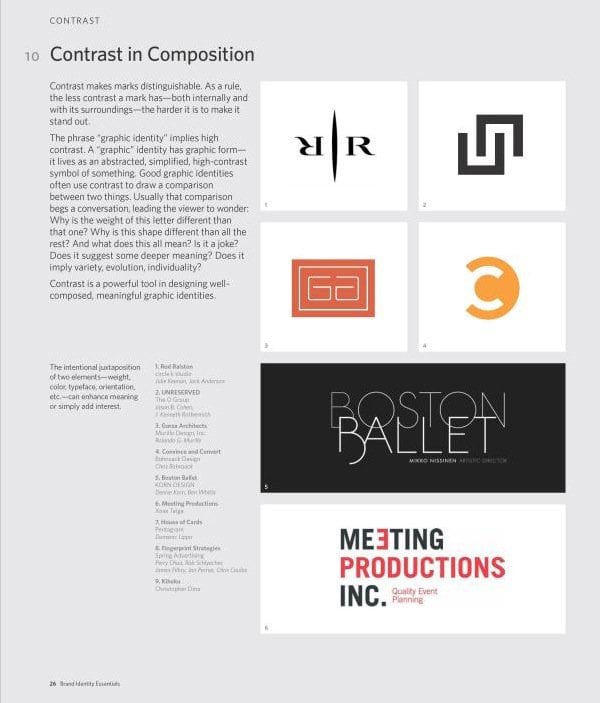 Brand Identity Essentials is a valuable book that covers just about everything to do with logo, brand and identity design with a lot more besides.
It's not a hard or text heavy and super detailed book to read, and is cleanly laid out so you can dip in and out quite easily. There are plenty of large size photographs that work well with the text to explain each topic. There is another book, which is far more detailed and text heavy, that I will cover next week called, "Designing Brand Identity: Alina Wheeler". This is for the more passionate and information hungry types that borders on educational coverage.
100 Principles for Designing Logos & Building Brands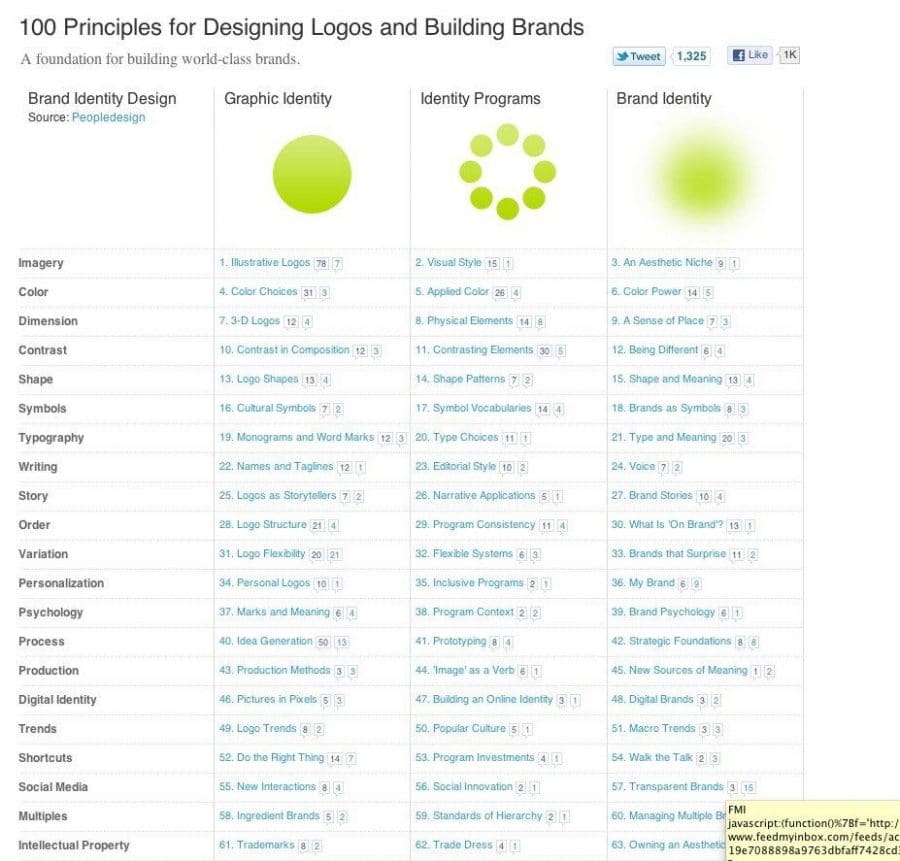 One of the most useful aspects of Brand Identity Essentials is the complete online resources that accompany the book, titled 100 Principles for Designing Logos and Building Brands. A summary of all the topics covered in the book has been made available online for reference, see partial index above.
The few images below are taken from the website version.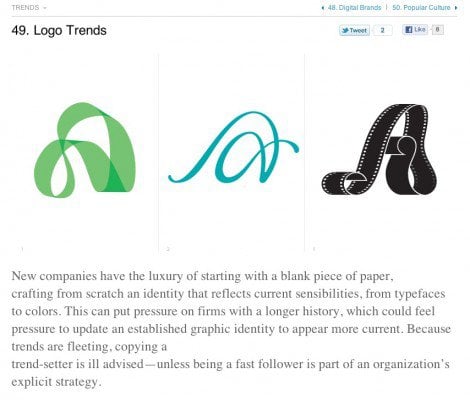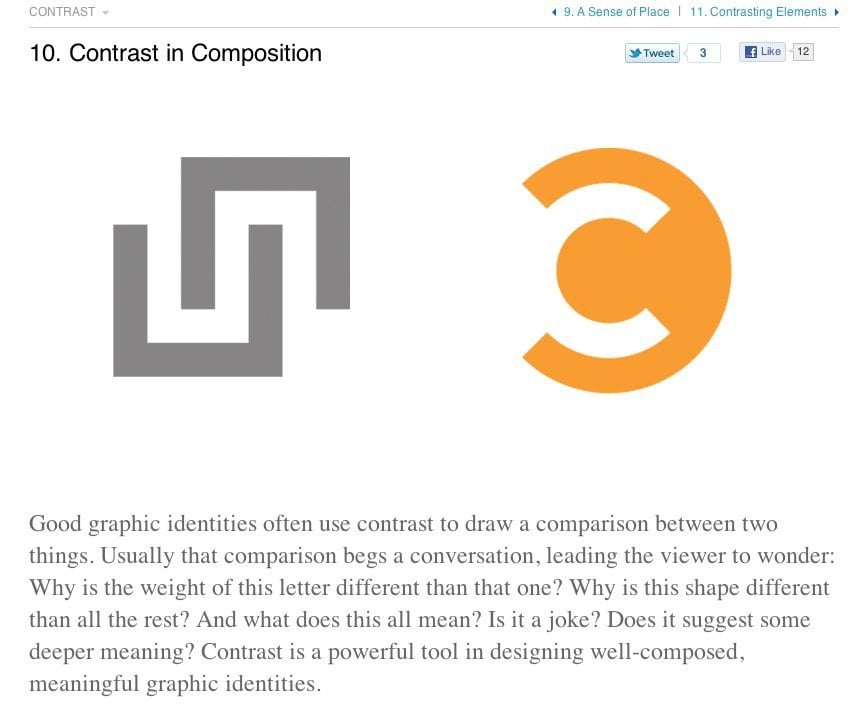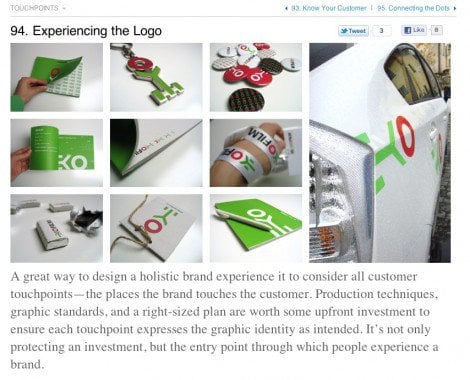 All in all a solid and useful book to have around if you are keen to pick knowledge that covers more than just logo design.
If you are already reasonable well versed in logo and brand identity design/marketing/advertising then this may be worth a miss, but the book I mentioned above, Designing Brand Identity, is definitely more hard-core.
Just received my 3 gorgeous t-shirts from The Noun Project and they look and fit great. Thanks to Sofya from The Noun Project for being ever so helpful with my order. I had missed out on the Kickstarter project and loved the look of the t-shirts that they would be sending the investors, and thus I decided I wanted some of that.

I emailed Sofya on the off chance that they still had some available, and they did. Sofya sent me a list of sizes that they had left, and I was then able to choose which three symbols would go on each t-shirt.
Symbol Customisation
This was not an easy decision, as it turns out, as there is a large choice of symbols in The Noun Project library that I really was flummoxed.
Finally managed to pick 3x3 symbols and you can see the results on the photographs.
I tried to make a little story with each one so the first one has two dogs, Charley and Dylan, waiting for their bone. The 2nd has my alarm clock getting me up for a bike ride, and ending in a nice shower. The final design shows me falling down the stairs, having an operation to fix a broken bone and having my arm in plaster.
The customisation options of these t-shirts is so very cool.
The Best Fitting T-shirt Ever
It's not just the choice of symbols, however, that initial drew me to the t-shirts; it was the actual design, style, fit and fabric choice The Noun Project ended up going with.
A company called Hozell manufacturers these splendid t-shirts.
I find it quite hard finding the right fit of t-shirt and these are perfect in every way. Details such as: the loose cut of the neck, the relatively short arms, the pre-shrunk tighter style of fitting as well as the soft fabric and coloured stitching all combine to make my perfect t-shirt.
Contact The Noun Project
Website: The Noun Project
Twitter: @nounproject
Email: info@thenounproject.com
Flickr: The Noun Project Flickr set.
So thanks again to The Noun Project, and Sofya for getting me these truly wonderful t-shirts.
Logo is one of my most read and prized logo design books which has lead me to update this mini review, which was first published in November 2008, and repost it.
Published by Lawrence King, and written by Michael Evamy Logo is a thick book at 350 pages with mostly black and white imagery. Each chapter starts with one covering page showing thumbnails of the logos to be covered in colour which acts as quick cheat sheet.
The forthcoming pages then present each logo in large scale solid black and white with text description: who designed it and the occasional factoid.
The layout and design of the book is well structured, clean and easy to follow.
Logos are grouped and categorised in sections with a diverse set of categories: strands, waves, concentric, ovals and ovoids, punctuation marks, single letters so plenty of scope for drawing on inspiration.
It's a hefty book and the uncoated paper it's printed on feels sturdy so no obvious signs of trying to cut costs with wafer thin paper. The book cover itself is glossy and of a fold-out design easily removable to provide you with a huge fold-out reference poster.
Unlike LogoLounge and other inspiration type books most of the logos covered have have accompanying text descriptions for the 1300 logos included.
If you are a logo designer or appreciate  logo and identity design then this particular logo book is a valuable addition to your library. I purchased this shortly after it was first published a few years back now, and it's still the first book I refer to when starting on most new projects.
I am looking forward to a hopeful update to this book.
If you need professional grade logo inspiration then look no further.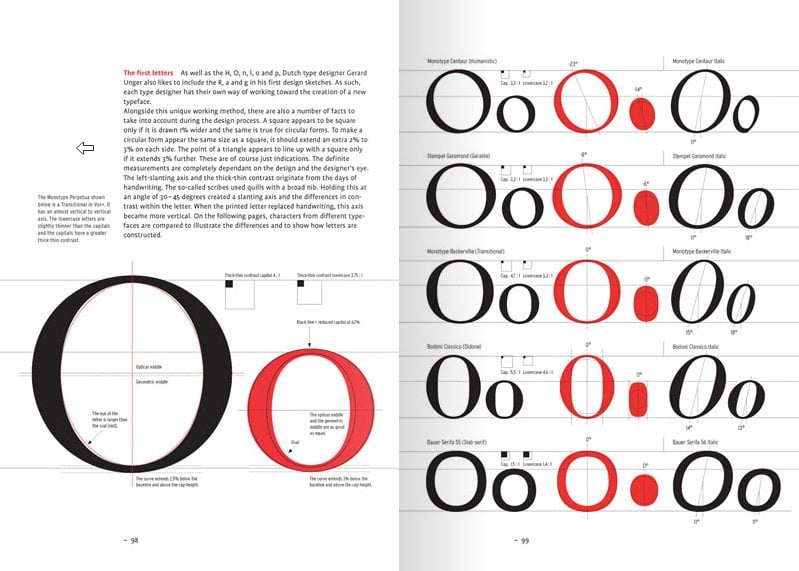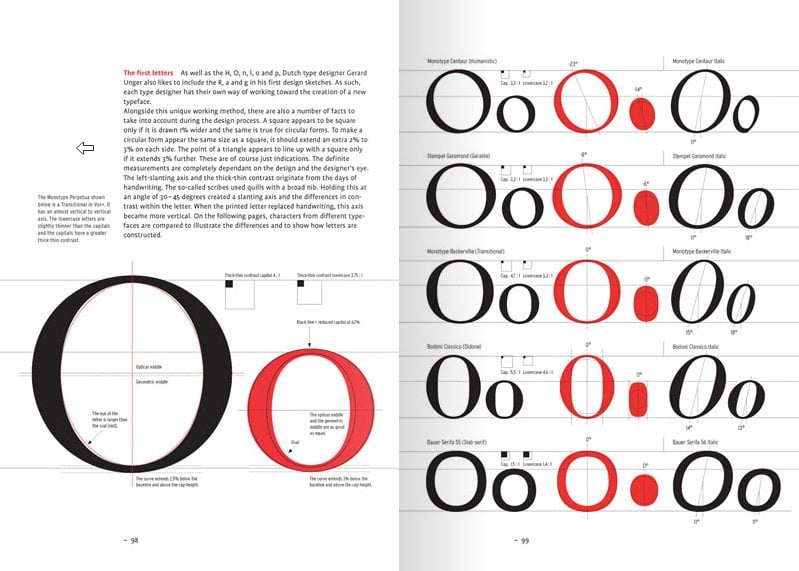 Everything you could ever want to know about printing letters and figures.
Letter Fountain: The Anatomy Of Type By Taschen looks set to be THE type book to get this year. I caught a glimpse of it over on Swiss Legacy and have pre-ordered my copy from Amazon for £44.99.
I have just flicked through the first 100 pages via the Taschen website so this is a great way to see the quality and variety of content you will be getting.
A few nice features include: hardbound in half linen with three ribbon bookmarks, 144 pages appendix with resourceful glossary and indices, and convenient typographic ruler with conversions between four measurement systems and hidden shortcuts for your Apple keyboard.
The editor and author:
Joep Pohlen is a graphic designer, devoted with heart and soul to professional typography. With his colleague and friend Geert Setola he founded Dutch Fontana Publishers in 1994 and together they published their first edition of Letterfontein. From 2002 to 2010 Joep Pohlen rewrote most of the contents and enhanced the book to 640 pages. He has won several awards with book design on typography and art.
From the website
Looking back as far as man's first efforts to communicate with visual signs and drawings, Letter Fountain is a completely unique typeface handbook: in addition toexamining the form and anatomy of every letter in the alphabet (as well as punctuation marks and special characters…
Further attention is given to the esthetics of the digital age and typographical recommendations such as the choice of the right typeface for a job…
Over 150 typefaces, their origins, and font characteristics are discussed in detail, visually explained by full page tables including scale, weight, and useful alternatives…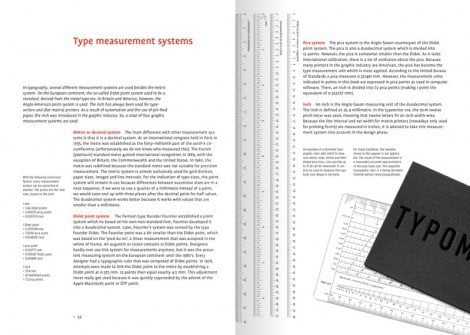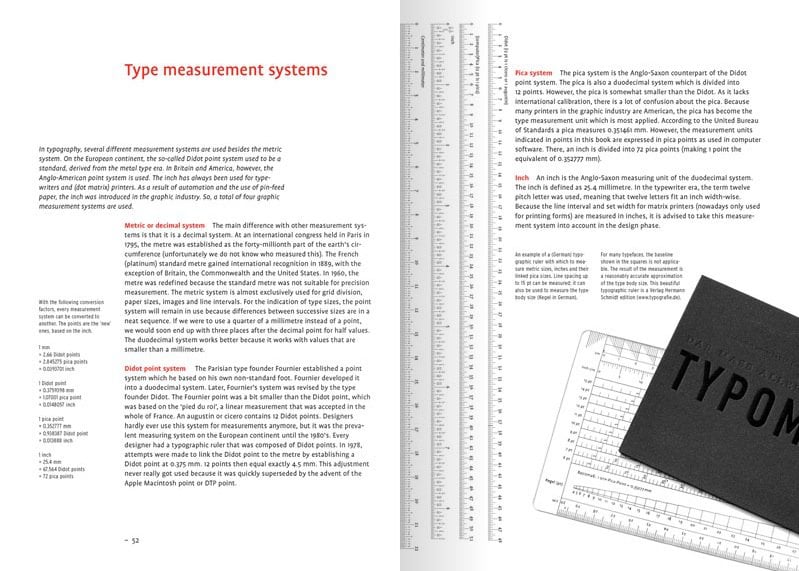 Win A Copy Of Letter Fountain
When Letter Fountain is released you will have a chance to win a copy as I will be offering one up as a very special prize.
Make sure you follow me on Twitter and sign up to the RSS feed to make sure you get notified when the giveaway goes live.
Follow up review
I reviewed Backboard way back in December, 2008, albeit a short and sweet one. It was project management app that I swore by, in terms of helping keep track of design revisions and feedback, Backboard just seemed to be best at doing it just right.
Not overly complicated with a steep learning curve, not too simple as to be useless.
Nothing much has changed with the way it works, so the few words I wrote about it back then are still relevant.
Dark days
Sadly, during the late part of 2009 and 2010, the reliability took a bit of a nose dive. Various hangs, page freezes meant you could not totally rely on Backboard as a client facing option. I ended up loosing patience and found other, not so great ways, to manage logo idea presentation and comments. Part of this unreliability I feel was due to them being taken over by Box.net.
For their part, they responded quickly to my various emails of frustration and concern. A few times things seemed to get back on track, before nosediving. A few other people that I knew who also used it, also expressed frustration at it's downtime.
What was frustrating is that after trying other solutions, none offered that crucial 'this feels right'.
I didn't give up
After a long BackBoard break, and my existing project management system straining under the frequency of project revisions, I decided to try BackBoard once again.
Over Christmas, 2010, I uploaded my first logo design.
So far so good, no hangs or crashes. The image displayed quickly, my thoughts on the design were left and a email was sent to the client. From this moment, BackBoard seemed to be back to it's old self. Huzzah.
I uploaded more projects, clients left their feedback, I uploaded more and more revisions successfully.
BackBoard is back to being an essential part of my project management process.
Why it is so good
It's simple and quick. To upload one image and notify your client, just do this:  (also shown by image below)
Create image, screenshot, photo etc.
Go to 'New BlackBoard'.
Upload File.
Add details, title, comments etc.
Invite Reviewers, ie, client email addresses etc.
Done.
Once you have published the image for review, you then sit back and wait for the client to reply. During this time you can still upload other images and leave other thoughts and comments.
Client
The client receieves an email saying there is a image to review. Once they visit the URL they can leave a reply to your initial comments. The discussion is threaded so you can leave direct replies to each seperate discussion topic. Very easy to see what is going on.
In addition to leaving comments, you can use the virtual Red Pen to draw on the actual image. The client can indicate areas of interest or concern and leave appropriate 'Sticky Note' comments.
As the designer you will be notified when comments have been left, or if you are still at the URL, the updates are shown live.
You can reply and make changes in real time.
Wrap Up
There are 100's of project management applicaitons out there, some are simple and some are complex, each fullfulling different takes on the area of Project Management, collaboration and feedback control.
But if you are a freelancer, with a handful of projects on at any one time, something like BackBoard could really make your life easier. Clients love it when they get that email as it's so straightforward and intuitive to get going. You can send low security URL's or you can set up more secure URL's, all depends on your needs at the time.
It is one of the very few web applications that actually make a huge difference to my life. I know where everything else, all the revisions are named and viewable, as are the comments for each one and it's easy to reference an older version.
Reliability
My only hope is that the few weeks of concurrent uptime is here to stay. It turns out that around September 2010, Increo managed to get on top of the instability issues with some significant server and software upgrades. In this time they have witnessed significant and continuous performance improvements, so all looks good.
If you are keen to try it out, please please give it a shot, I am sure you will love it. You can do so with a free trial.
Should you decided to subscribe just make sure you take full advantage of the free trial period to make sure it is the right solution for you.
Link BackBoard.com
Imagomundi is a new release on Amazon which arrived early yesterday after having it back ordered for some months. It's not a logo design book but it is a book full of concept icons, pictograms, ideograms and signs for utility/usefullness.
The recurring theme is simplicty, interest and usefullness.
Focusuing on new ways to visualise common signs.
Reduction means to find the simplest expression of an object, its natural essence.
I am very much into the simplification in my logo designs, trying to say more with a lot less. Stripping away all the clutter, leaving just the bare bones visuals. Seeking new and interesting ways to visuliase something that has been done a million times before.
Imagomundi has many wonderful concepts, pictogram ideas... seeing how all these designers have been able to perceive common and cliché images and come up with new and interesting ways to break the mold.
If you are into reduction and simplification, then Imagmundi is a worth while book, it will get you looking at things in a whole new level of interesting simplicity.
Although it is not a logo design book, it will help you focus your creative thinking onto a new level. It will help you look at common objects in a new light and may be of help to you in a new logo design project further down the line.
"Picts can be defined as a simplified representation of unalterable proportions which is characterised by profile positions, achromatism and a lack of detail that would be imperceptible from some distance. Thus, the innate simplification of picts is necessary in order to project only one essential."
"If one cannot easily achieve true universal usability and utility, one other approach to uni versatility is appeal. Do the signs intrigue? Do they attract the viewer? Do they provide mystery? Do they provide humour? Do they make us smile, or even laugh?"
"... (the) visual iconicity, understood both as process and result, is the bearer of a cognitive potential of great scope, as regards both theoretical reflection and concrete experience." - Tomás Maldonado
Book CD
The book comes with a CD full of editable icons in EPS format, 1450 icons to be exact. There is also a rather unique typeface included.
© 2005-2018 All Rights Reserved The Logo Smith
Logo Designer & Brand Identity Design Studio, with 25 Years Experience.
Graham Smith: 10 Badgers Copse, Seaford, East Sussex, England.
 Tel: +44 (0) 7816 527 462  Email: glogosmith@gmail.com