All Archived Posts in Brand Identity


If, like me, you're a fan of the new Formula logo redesign, and specifically the 3 new F1 fonts: F1 Regular, F1 Turbo & F1 Torque, that were created for the new F1 brand identity, then you're in luck.
I came across these F1 fonts, somewhat by accident, whilst creating the F1 and Nascar Brand Reversions, which you can see below.
These are not the official F1 fonts, but have been created anew, and also named differently. 
You can download each of these 3 F1 fonts by visiting this YouTube Video page; read the Description, and follow the link.
Download the New Formula 1 Fonts: F1 Regular, F1 Turbo and F1 Torque


Unrealised DC Metro Subway Map Designs by Massimo Vignelli
So this is all rather splendid! We get to see some of Massimo Vignelli Metro Subway Map ideas, even though they weren't actually used, it was Lance Wyman (check out Lance's website to see the logo work that he created (snapshot below) that ended up designing the DC Metro Maps.
Even though Massimo didn't get to do the maps, he did design the signage for the DC Metro Subway, so he absolutely managed to leave his mark!
If you are a fan of Massimo & Lella Vignelli's work, then you'll be fascinated by the official Tumblr for the Vignelli Centre:
design: Vignelli Featuring artefacts from the Massimo and Lella Vignelli papers as they are unpacked and processed at the Vignelli Centre for Design Studies.
Unrealized DC Metro map designs. Although Massimo Vignelli, while at Unimark International, designed the signage for the Washington DC Metro subway in 1968, he didn't design the map (which was designed by Lance Wyman).

But we recently uncovered a variety of ideas mocked up on these presentation boards. We also found some original sketches for the signage! Stay tuned!
Unrealised DC Metro Subway Map Designs by Massimo Vignelli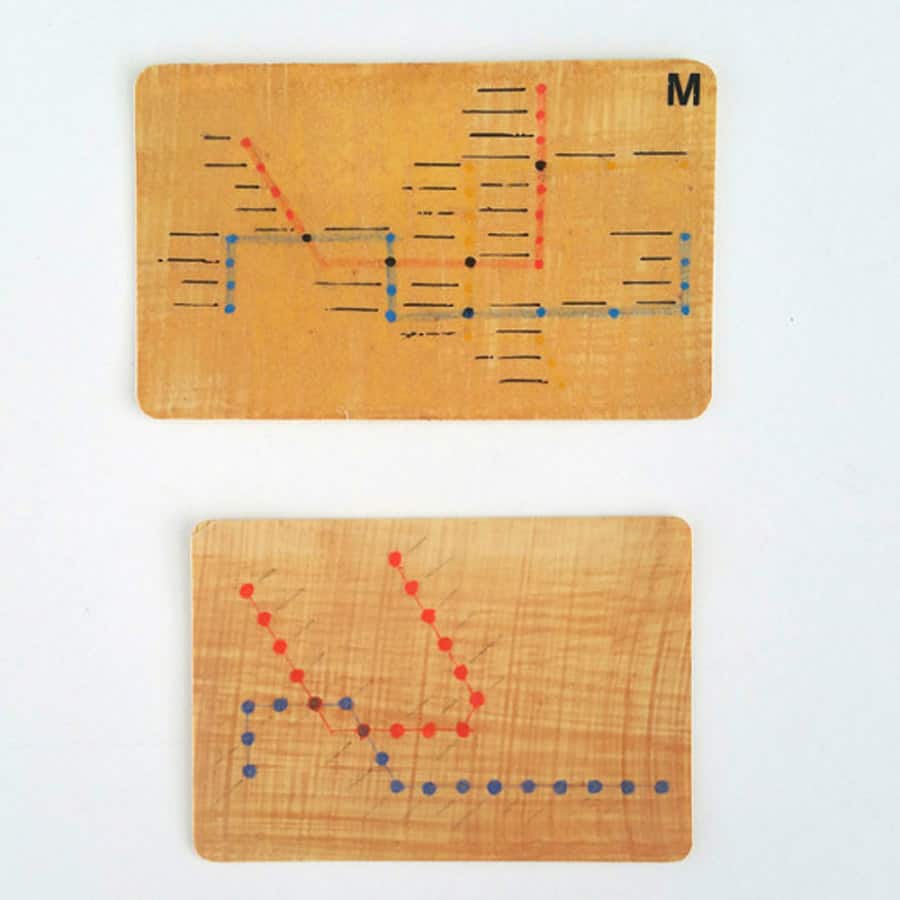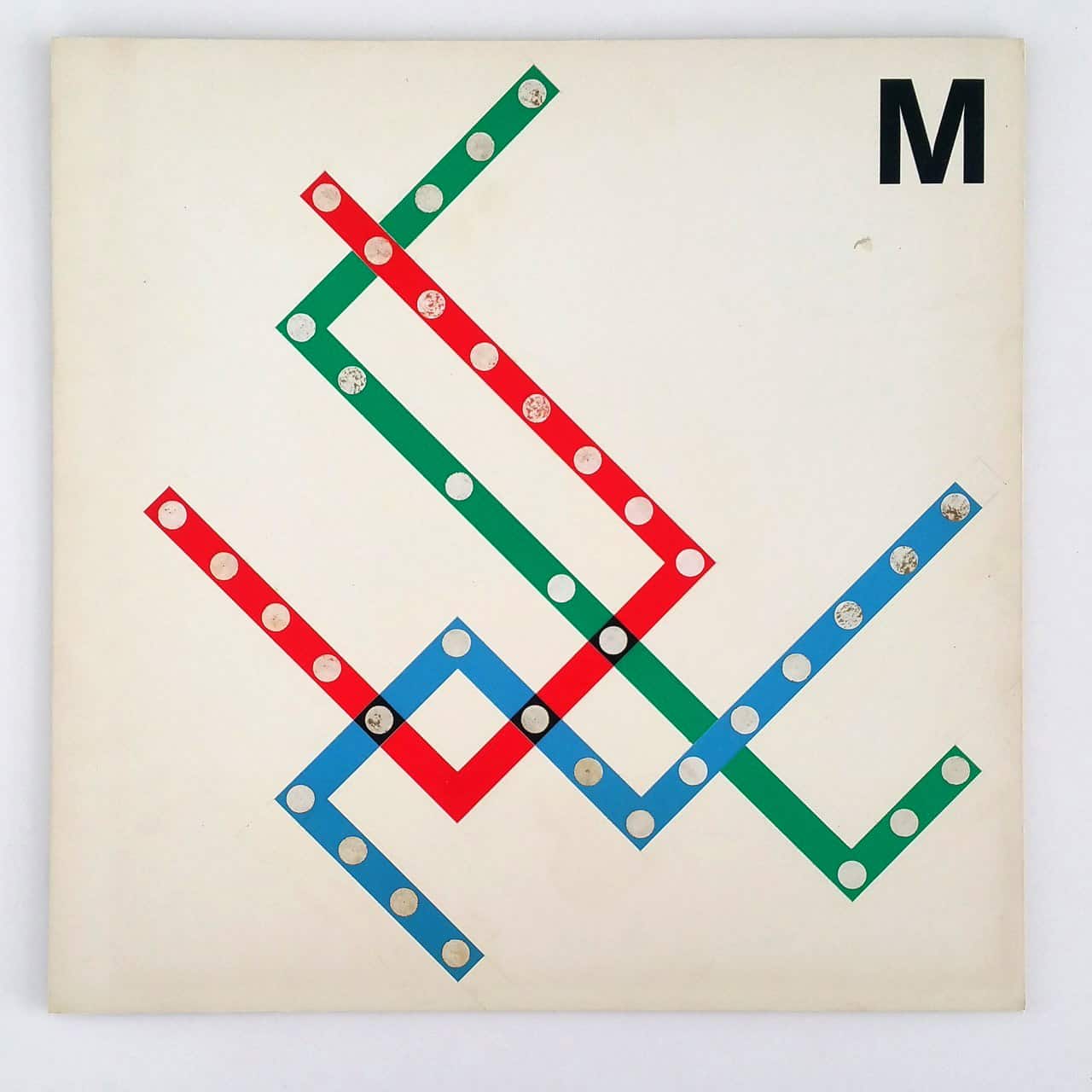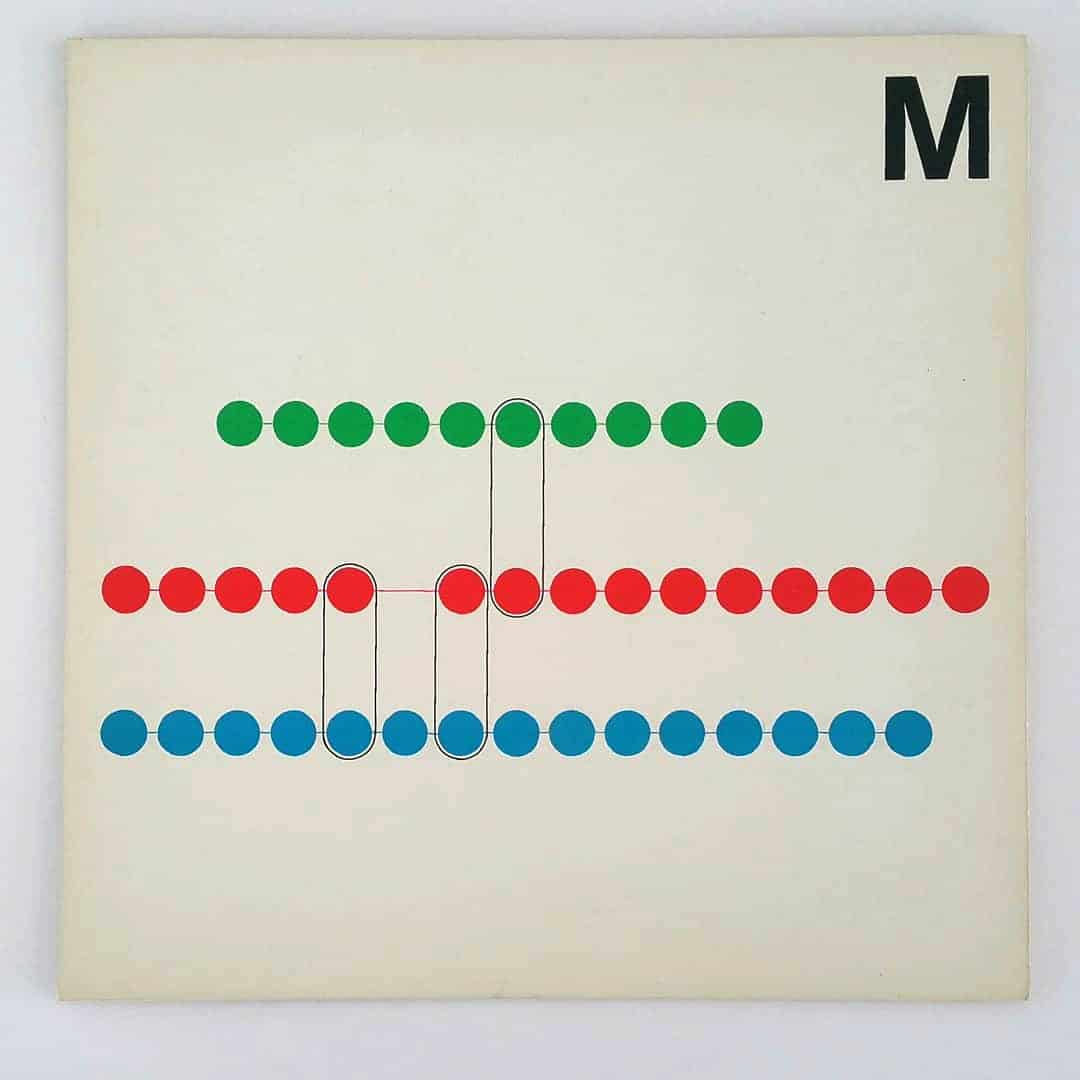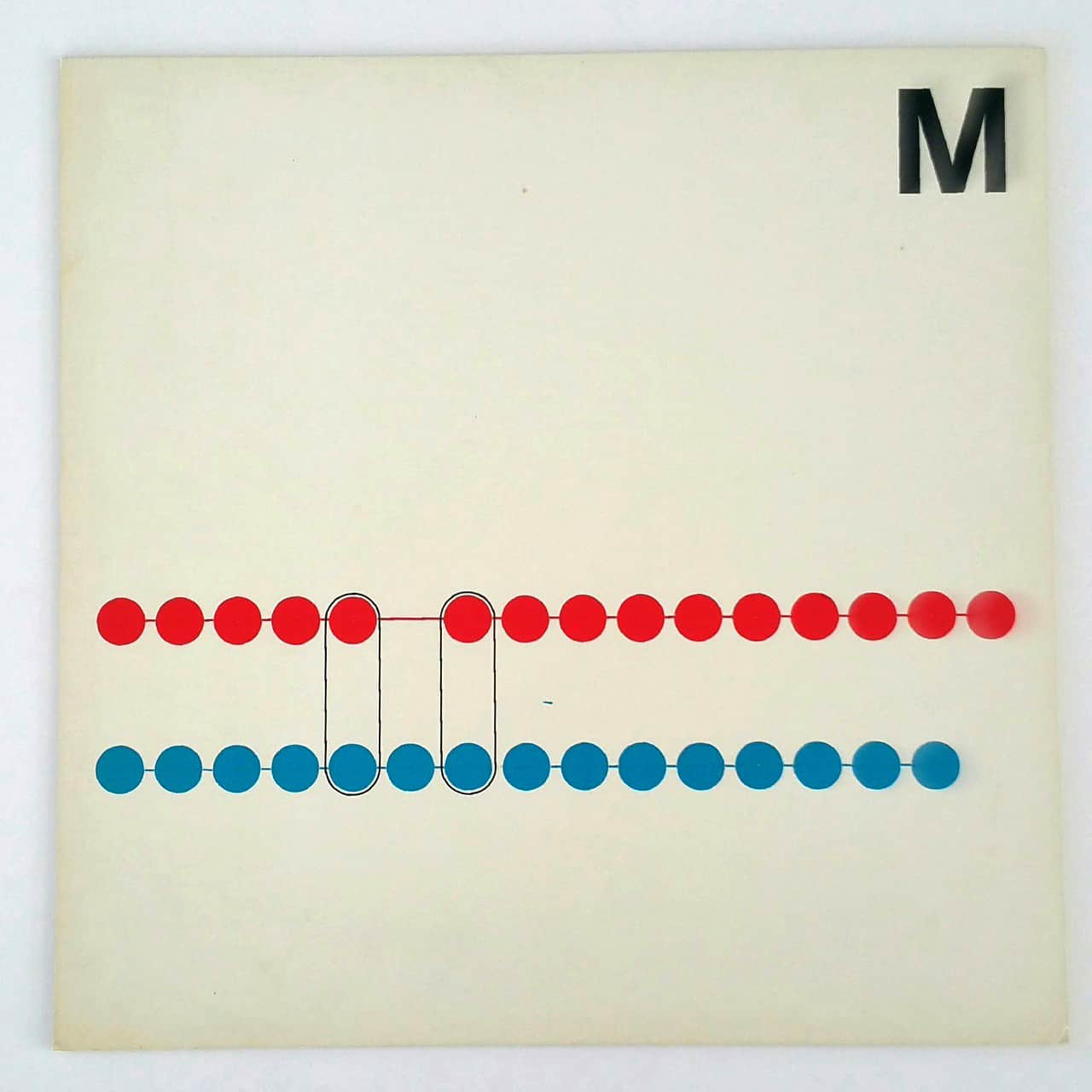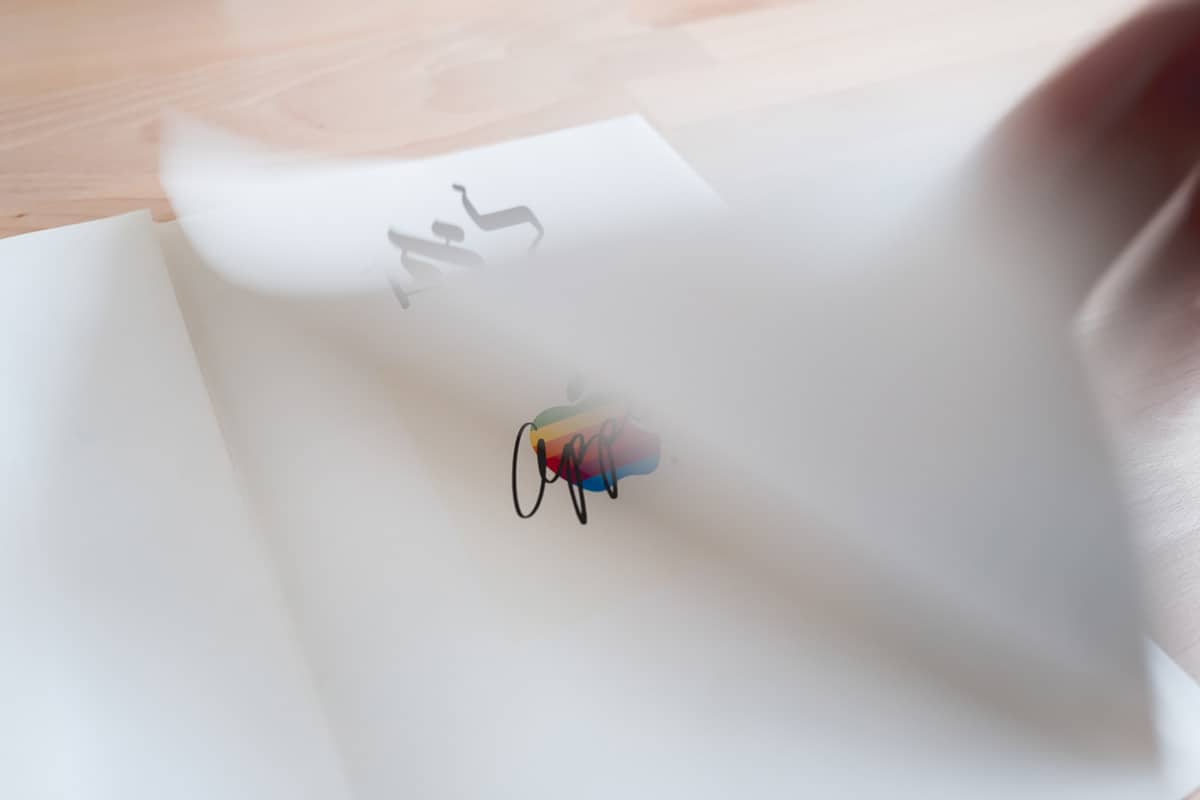 Rediscovering the Apple Corporate Identity Guidelines Notebook
Rediscovering the Apple Corporate Identity Guidelines Notebook, by Arun Venkatesan, is a must read if you have any kind of interest in both Apple as a company, it's history, branding, and design in general.
Even if you're not a fan of Apple as a company, but respect solid brand identity design, then this is essential reading.
Arun Venkatesan has done a bang-up job of finding, purchasing and reviewing the original Apple Corporate Identity Guidelines, belonging to one of the most famous companies in living history.
What's so amazing, at least for me, is that I grow-up with Apple and remember well this design style. I still have my original Apple Macintosh Color Classic on my work desk…
Reading Arun's commentary, and looking at the beautiful photographs he has taken of the Apple Corporate Identity Guidelines Notebook, makes me realise how even back then, Apple had a tight grasp of design and branding.
Here's just a few of the photographs from Arun's post: Rediscovering Apple's 1987 Identity Guidelines
Rediscovering the Apple Corporate Identity Guidelines Notebook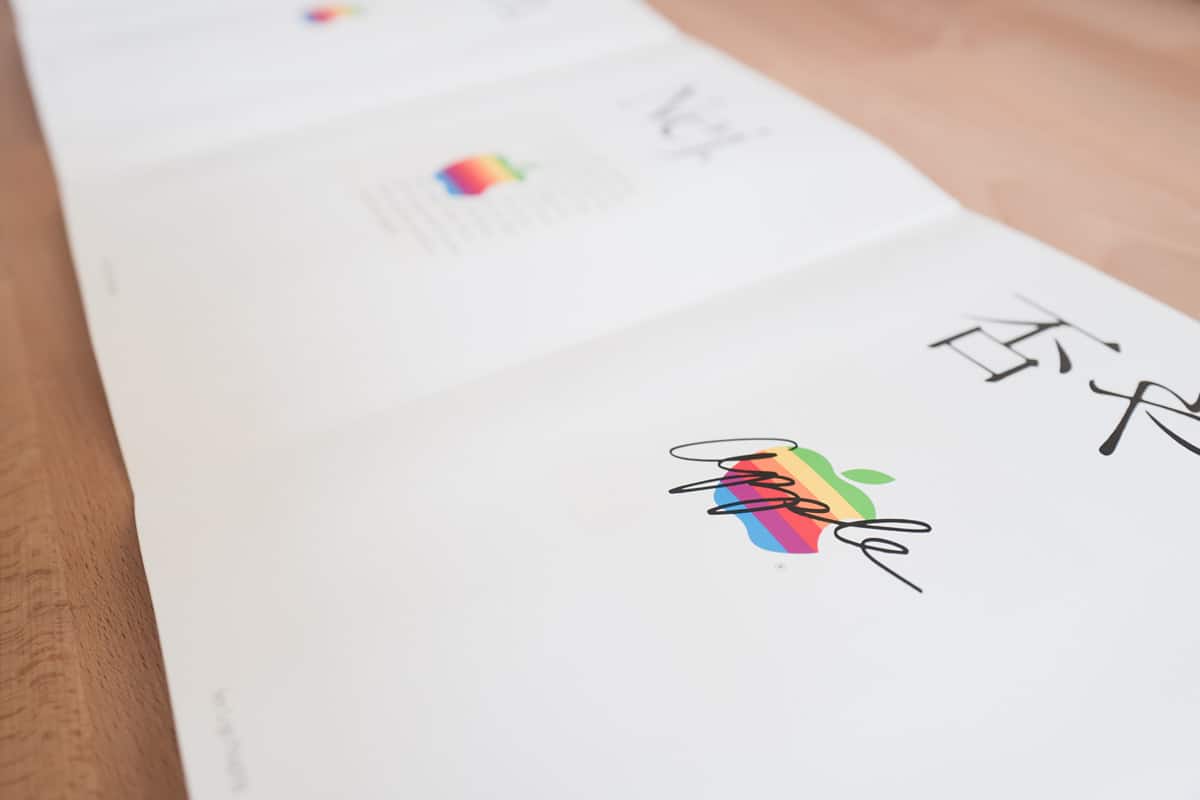 Rediscovering Apple's 1987 Identity Guidelines: "My copy of Apple's Identity Guidelines was made in 1987, a year notable for Reagan's "Mr. Gorbachev, tear down this wall!" speech in Berlin and the release of Bad by Michael Jackson. Only two years earlier, Steve Jobs had been ousted from Apple. A year before that in 1984, the first Macintosh was released. Another 7 years earlier in 1977 was when the now famous 6 color rainbow Apple logo first appeared.

Apple was very different back then. It distantly trailed its competitors in sales, marketshare, revenue and market capitalization. It was still a decade away from its shift towards the multimedia market that ultimately culminated in Apple's transition into the household brand it is today.

Being able to peek into that Apple is what makes this poster so interesting."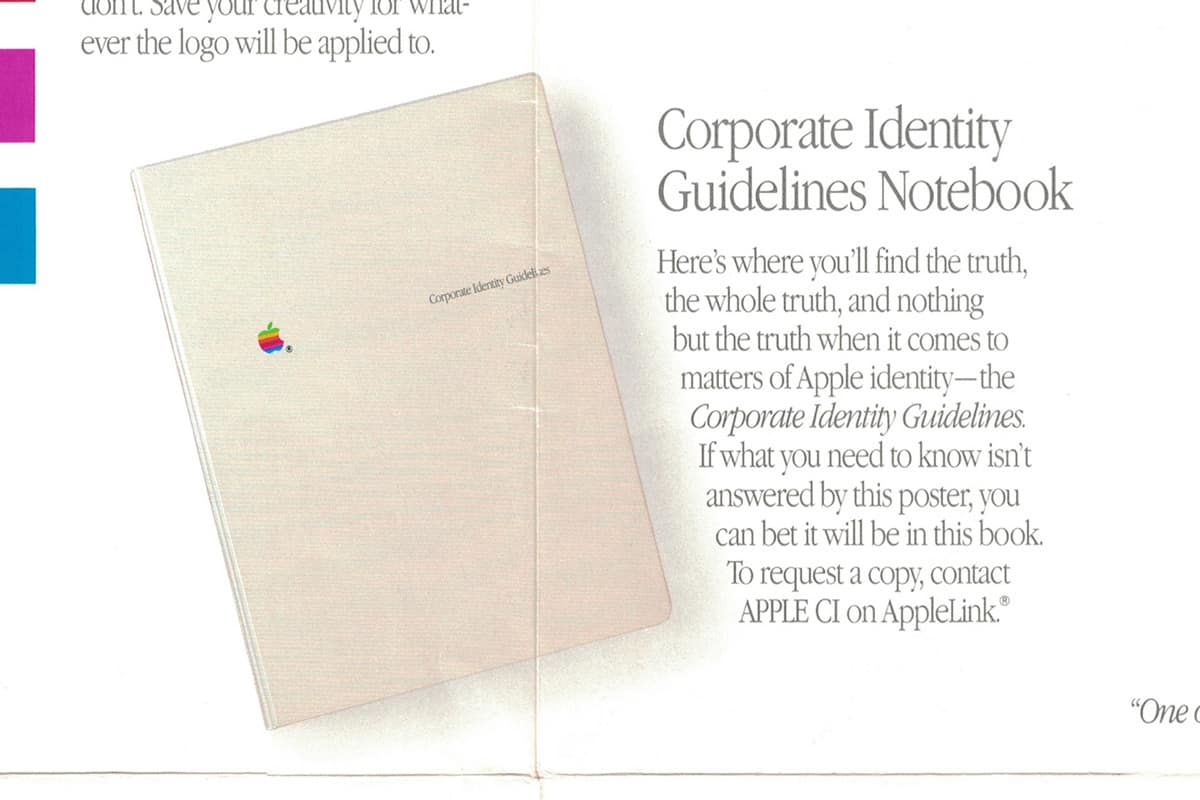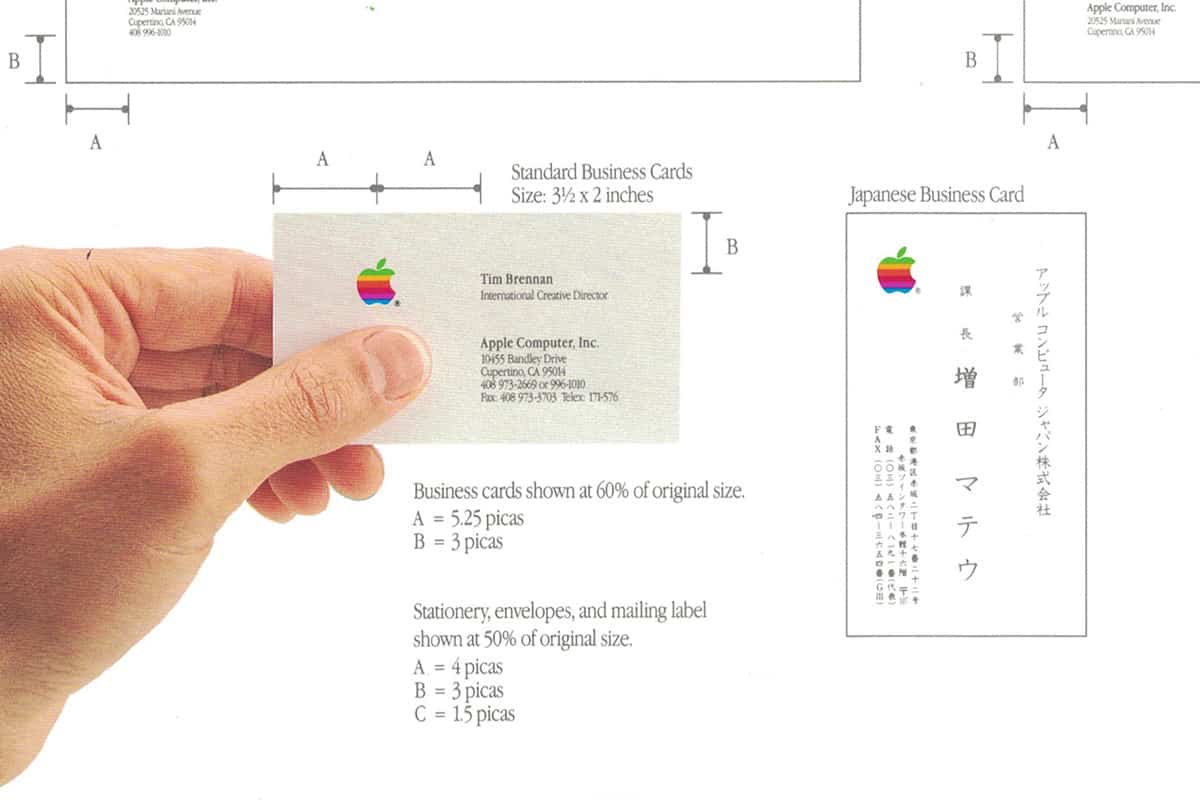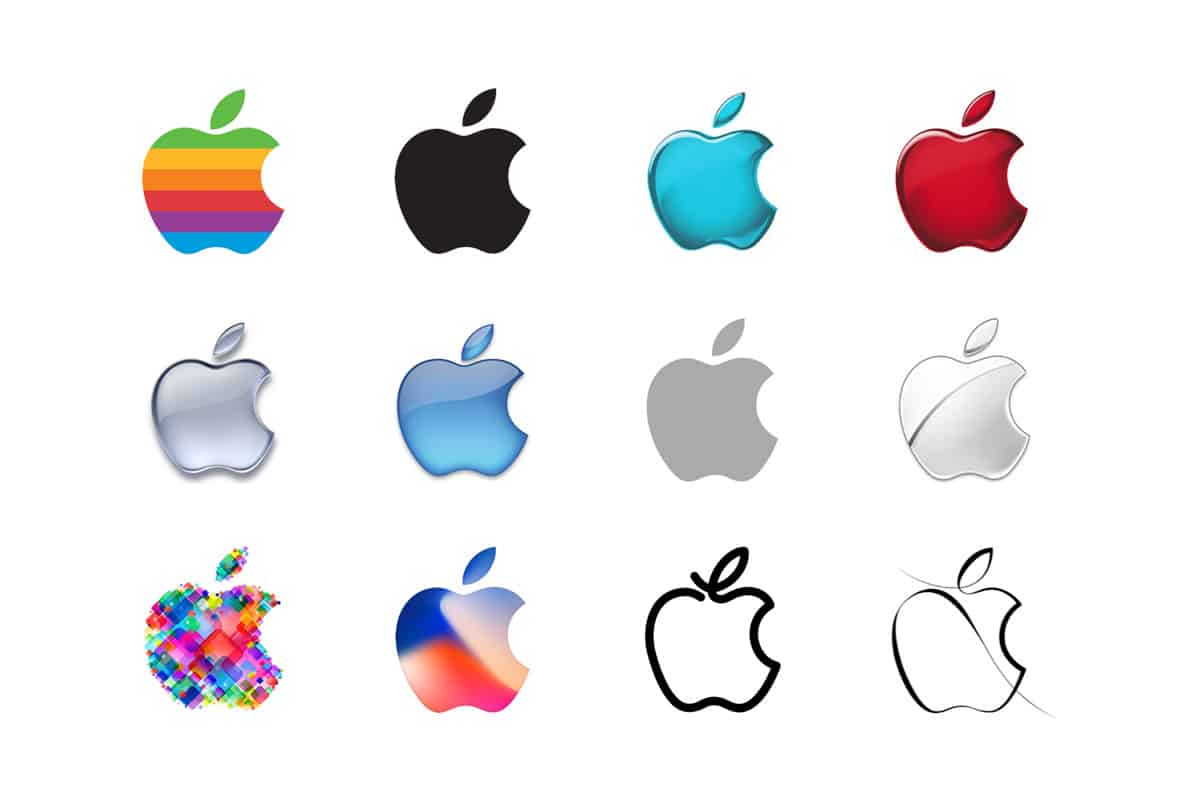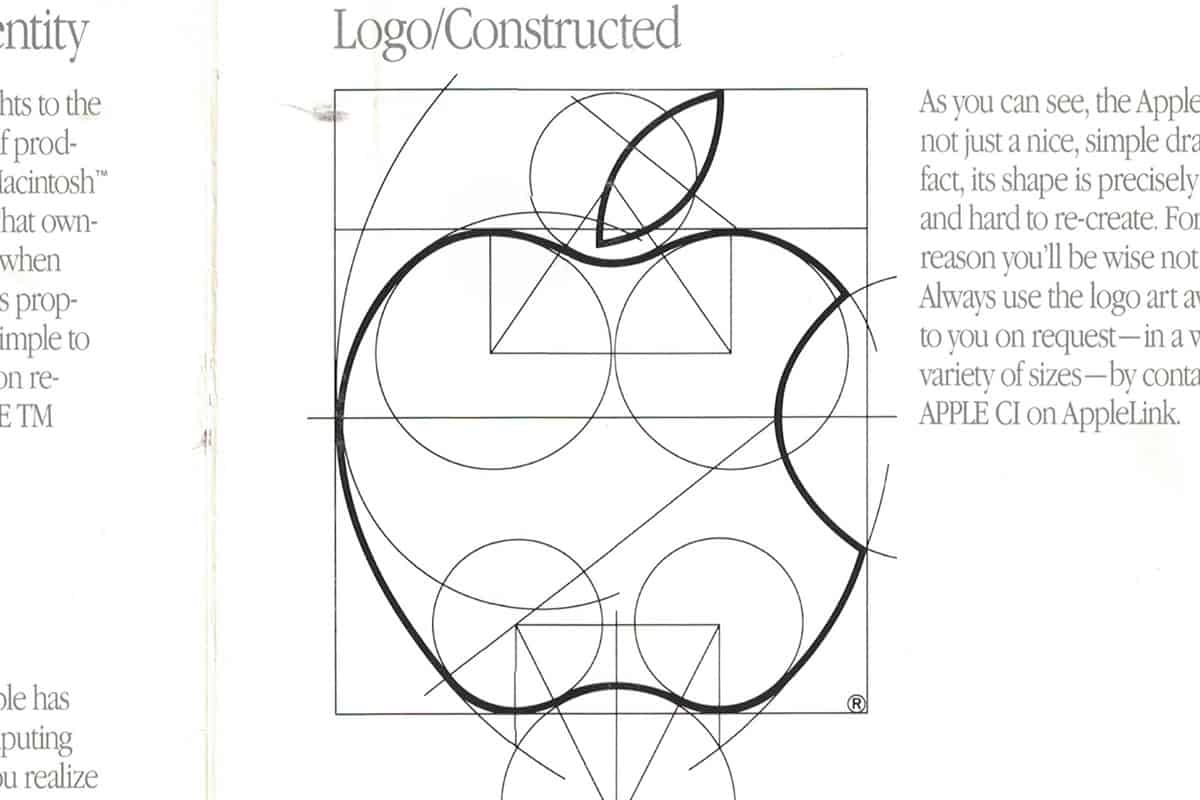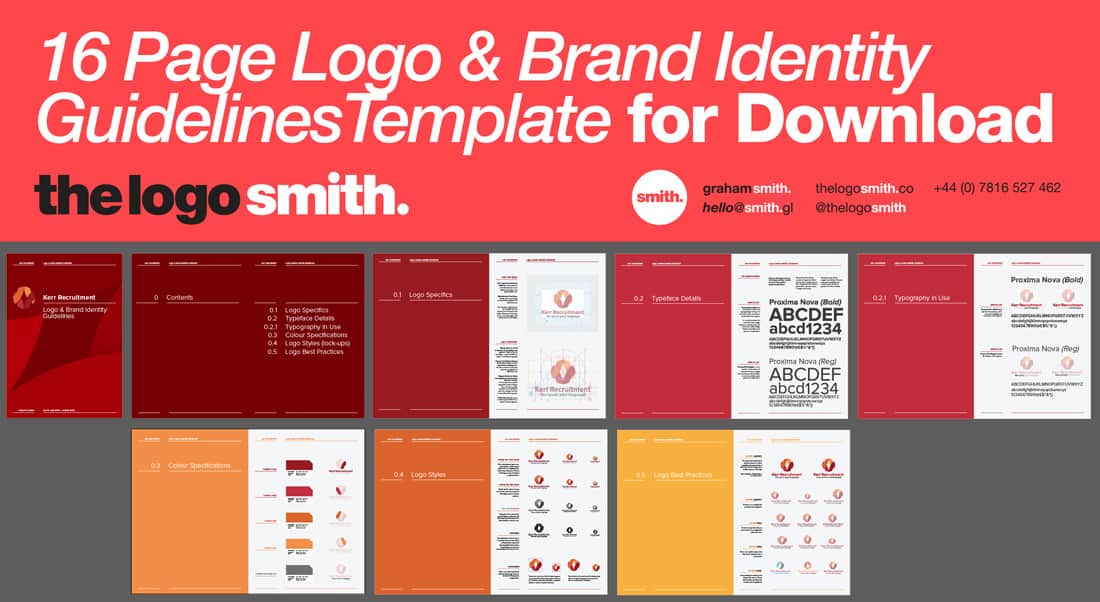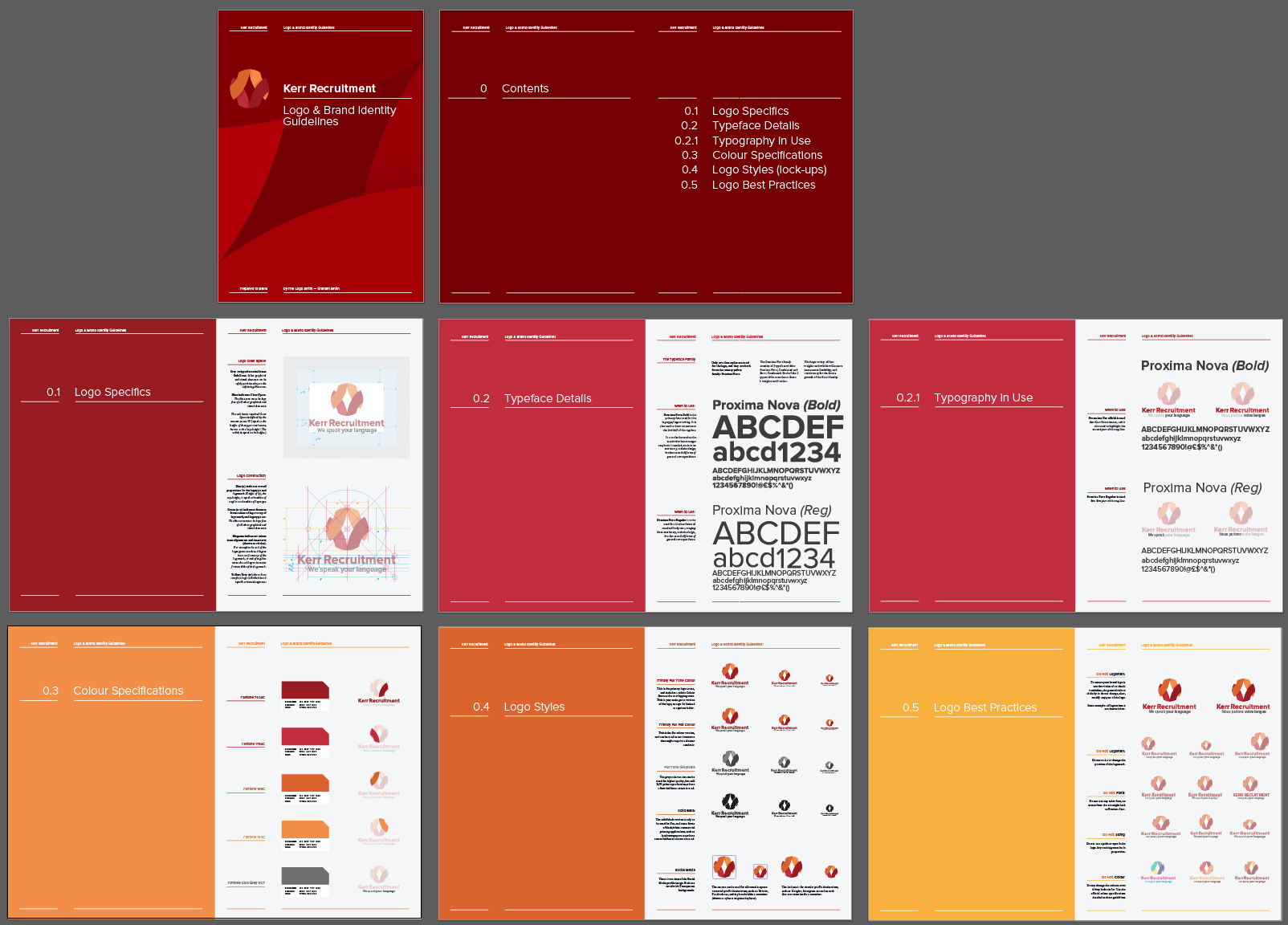 14-16 Page Logo & Brand Identity Client Guidelines Template for Download
This version of my logo guidelines template, from my resources category, is a little heftier than previous, weighing in at a respectable 13 pages (there is an imaginary Back Cover you can add to make 14).
I have used this particular version of the guidelines for a previous client of mine, Kerr Recruitment.
The style of this set of guidelines has gone down well with both clients, as well as some prospective clients who have asked about them after seeing them on the respective portfolio pages, etc.
So, I figured I'd stick with this basic style for a while, and expand and tweak it as necessary.
There are, of course, situations where a completely bespoke set of guidelines is warranted, but on the whole, i'll be using this style base where the client isn't in need of a custom set of guidelines.
If you found this template useful, then I'd certainly appreciate a Twitter Like and/or Retweet:
"14-16 Page Logo & Brand Identity Guidelines Template for Download"https://t.co/bH0umGEZXg#LogoDesign #logodesigner #freelancer #GraphicDesigner #branding pic.twitter.com/vmR7k3Ekwp

— The Logo Smith: Logo & Brand Designer (@thelogosmith) May 28, 2018
---
See also: Pricing Guidelines Template & Logo Design Proposal Template & Logo Design Transfer of Copyright Form
---
14-16 Page Logo & Brand Identity Guidelines Template for Download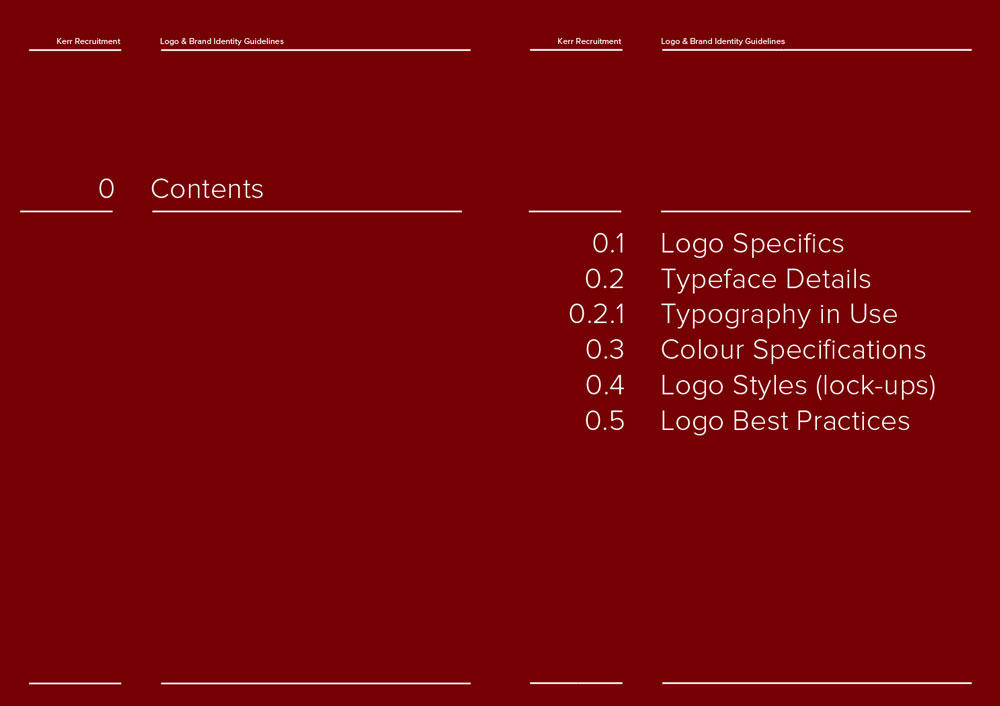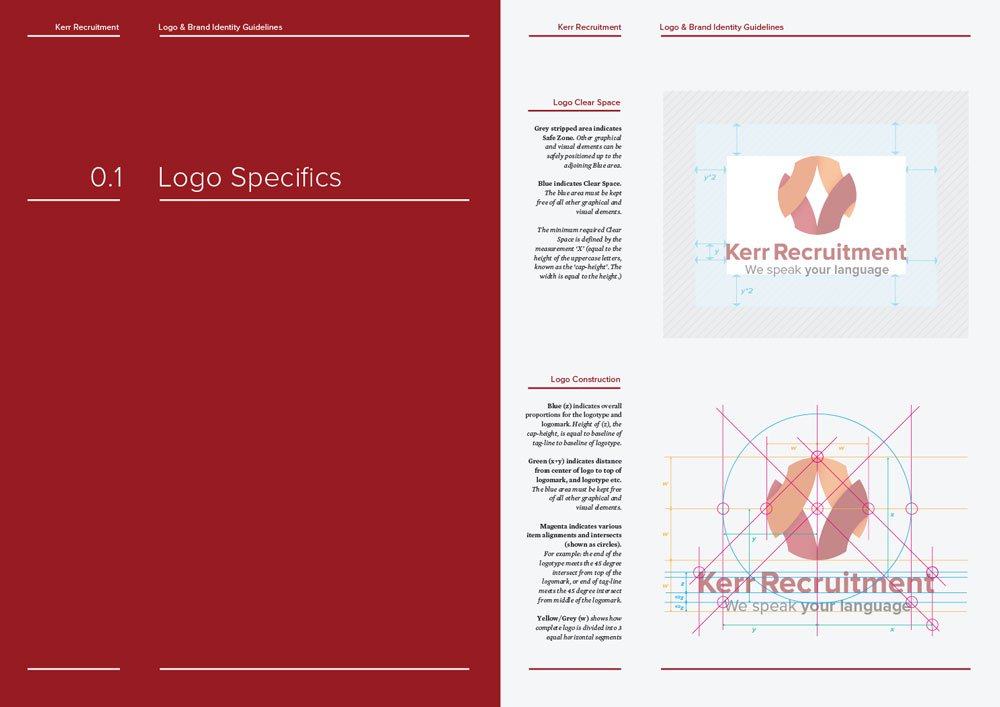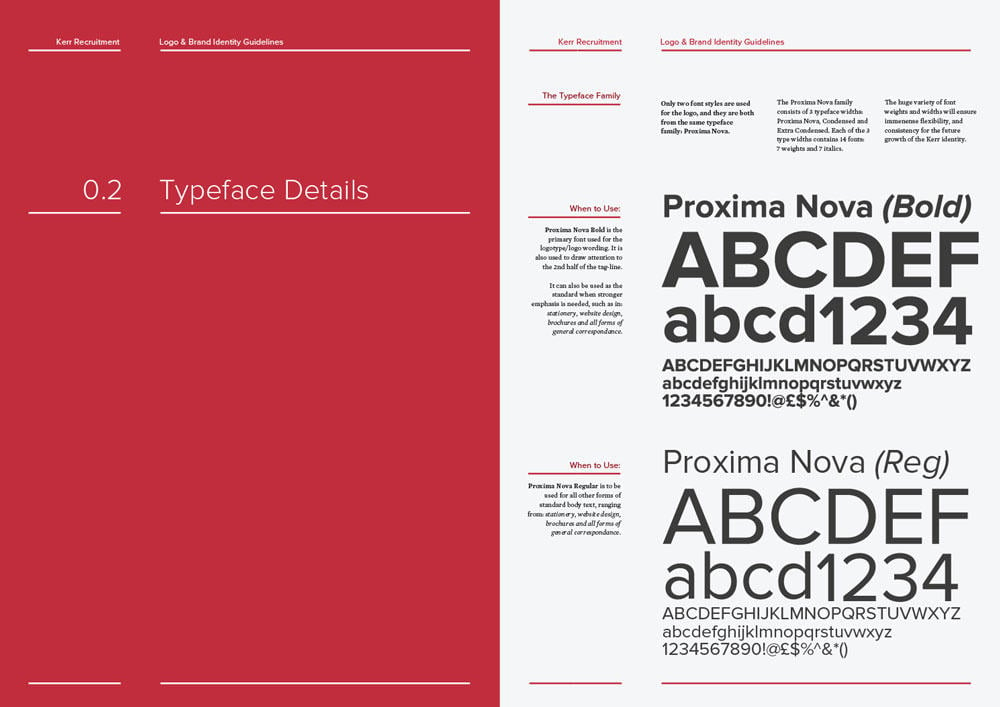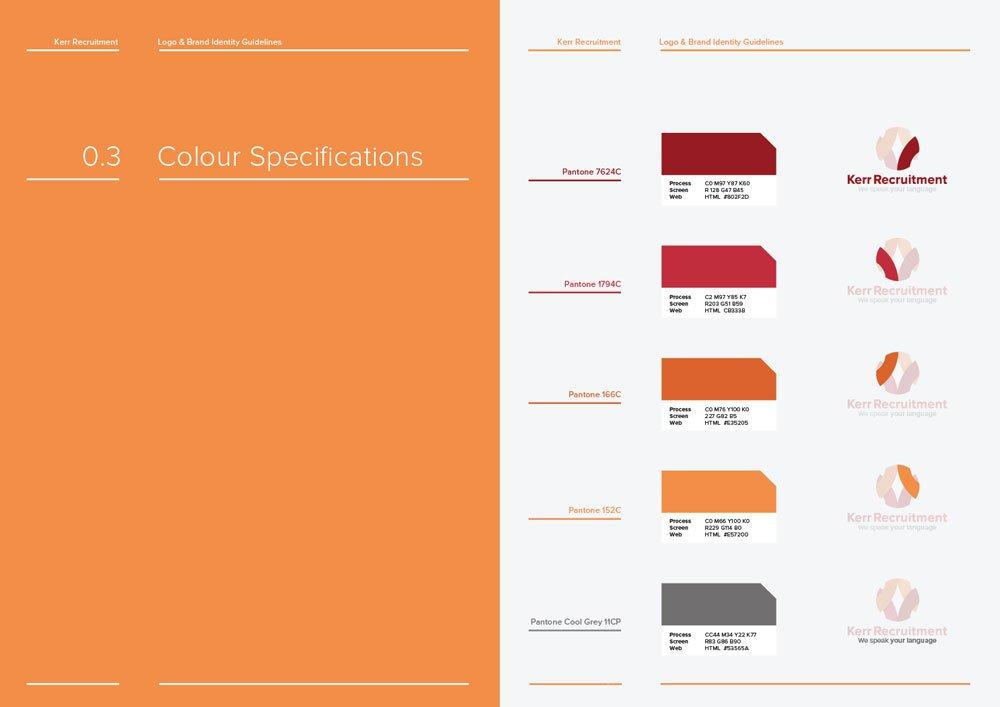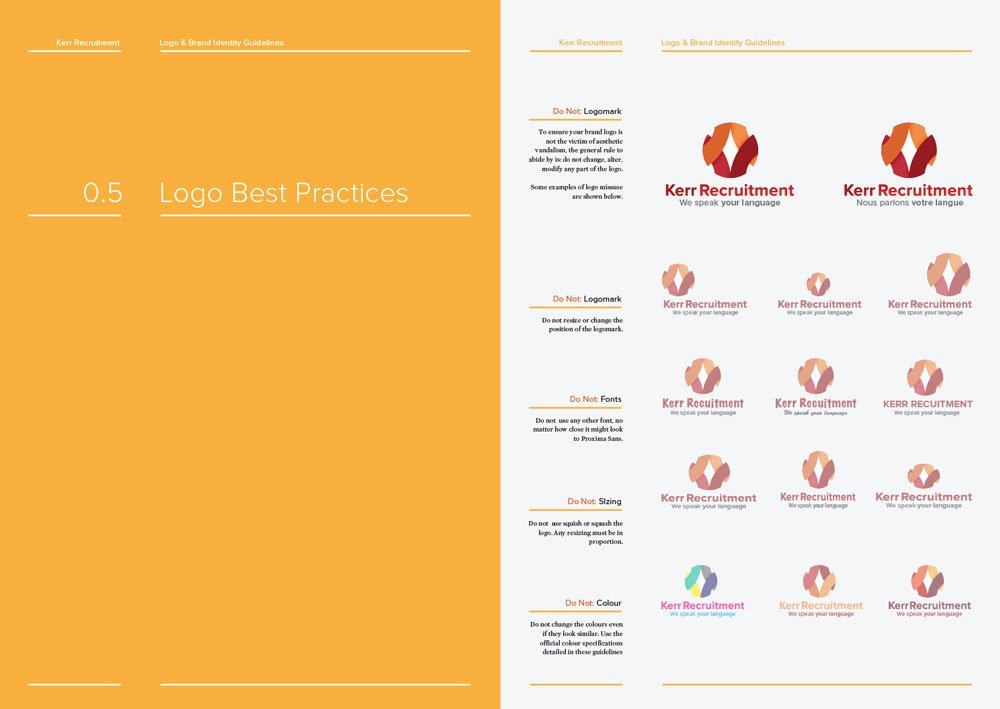 ---

Download Logo_and_Brand_Identity_Guidelines_Template.zip 
---
The above link will download a ZIP archive of an: Adobe Illustrator CC7 file (without embedded fonts), and a PDF (with embedded fonts).
I'm providing the original Adobe Illustrator files for you, so you can get your collective hands dirty with all the text, imagery, pages and artboard's, etc.
Although I have kept Kerr Recruitment's logo in place, please bear in mind that this is a legitimate client logo design, and as such is not there for you to use, commercially, in any way.
You will likely need to change these files quite a lot. The guidelines have been designed in such a way that are quite specific to the way the Kerr Recruitment logo has itself been designed, from the amount of colours used and thus detailed, the French translation of the logo, the various logo lock-ups, etc.
However, you should still be able to use quite a chunk, or at least get a real good idea of how and what to use, spec, explain in your own version of the guidelines.
The addition of the solid colour leader page, with the section titles, looks pretty nice I think, and helps make the guidelines look more like an actual booklet.
If you have any questions about creating logo and brand identity guidelines, or simply want to say drop me a line, you can do so here, over there and right here: glogosmith@gmail.com, use the contact form, or grab me on Twitter: @thelogosmith

SaveSave
SaveSave
SaveSave
SaveSave
SaveSave
SaveSave
SaveSave
SaveSave
SaveSave
SaveSave
SaveSave
When a Non Paying Logo Design Client Refuses to Pay the Final Balance it's always a real upset, and can cause untold hardships, both practically and emotionally.
I've experienced more than my fair share of clients who have, for whatever reason, decided to not pay the final due balance, on completion of a supposedly successful logo design project.
Few Words on my Budget Breakdowns
I tend to ask for a 50% - 75% deposit, then the remaining balance due when the client has signed-off on the logo design.
If it's a big value branding project, say something upwards of £3000, then I usually factor in a Progress Payment.
This is to help 'reduce' the initial Deposit for the client, as well as bringing in a bit of peace of mind for them. This will be paid only when the client is happy with the overall direction of the logo or branding direction, but not necessarily  the actual final design.
How this is broken down ultimately depends on the actual budget, and also negotiations with the client, but for example: Deposit = 60%, Progress Payment = 25% and Final Balance = 15%
Only when the client has settled the final balance will I then send over the digital files, and initiate the 'official' Transfer of Copyright (that there's a template that I created for you).
Some Reasons a Client Might Not Pay Final Balance
On occasion, a client might just disappear and cease all communications even though the work has been completed.
Sometimes they fob you off with a few emails, and promises of payment, but ultimately you never hear from them again.
There are many reasons why a client might just 'vanish' after the logo design has been finalised, a few I can think of:
they've simply done a runner and plan to use the logo without paying; their company, product, start-up (this has happened far too often for me, and I'm VERY wary of taking on big budget start-up's for this very reason, without a hefty deposit or even full payment up front), venture etc has fallen through and don't feel they need the logo anymore;
some major personal trauma has occurred putting the logo right down on the list of priorities;
they've found another designer to finish of the work you started;
they've left it to the last possible minute to tell you they now don't like what you'd designed for them;
and a few more I can't think of right now.
My Main Tactic to Get Closure for Your Non Paying Logo Design Client
This doesn't always work, as it obviously depends on why the client has 'stopped communication.
Firstly: I'll be patient, and send a few emails a week, simply asking for an update and a nudge to get in contact.
Obviously ask them if everything is OK, are there any problems I can help with etc.
If this patient approach doesn't yield any results, then I'll jump straight to my '3rd Strike and you're out' approach.
The gist is this: I'll write an email that basically says that since I've not received the final balance, and that the contract states that only once the full balance is paid will the logo design & copyright be owned by the client, I'll now be putting the logo up for sale, and/or will use the logo for another client.
I also stress this salient fact: from time-to-time I'll be dropping in on their website/business to ensure they're not using the logo without my permission. I like this threatened course of action quite a lot…
That if I do see the logo in use, the one they've not fully paid for, that I'll initiate strategies to make their life somewhat challenging; naming and shaming on social media is one way that can scare a client into paying what is due, but this is literally the last course of action, and hopefully could be prevented.
It's really quite simple, but a few times it has actually spurred the client into action; realising this logo they thought they could use, and that they thought was unique to them, is actually now not so unique, and could well be used by sometime else.
Pretty Hit & Miss
Obviously the above doesn't always work, especially if the Non Paying Logo Design Client doesn't care if someone else is using it, but the hight the budget and initial deposit type projects usually means they begin to realise that not paying the final balance isn't worth it.
It's far from being guaranteed solution, as there are so many variables that would affect the outcome, but it makes me feel better putting this tactic to use.
The Logo Smith gets in on the Google My Business Website, and Google Posts, merry-go round; more social clutter, and SEO noise, to deal with.
Google My Business Website
Not to long ago I set-up my own version of the Google My Business Website, which you can see in all it's mighty glory: http://the-logo-smith.business.site/
I only discovered the Google My Business Website by chance, as I was uploading some photos via the My Business iPhone app, so I could knock out a few Google Posts, which is another new'ish My Business update).
Can't keep up with all this social media and SEO stuff, really can't. But have too… snooze you lose and all that.
It's not all that bad really, as the website is super-quick to set-up. Only a handful of templates to choose from, bit of copy, and BOOM.
All I did initially was to take some words from this websites About and Home page, then uploaded a variation of my Twitter profile header image, as you can see below.
No real way to style the business site to a particular brand style, other than the header image, so that really cuts the time spent messing around with this. You can't really do buggar all with it style wise, and I guess, that's a good thing.
The Business Site ties in nicely with the rest of your My Business services; shows the most recent of your Google My Business photo uploads (which I try to update daily, along with your local business search map.)
Google Posts
The other recent update to My Business is Google Posts, and this ties in nicely with your Knowledge Panel in search results.
Google Posts are actually quite fun to do, it's more like a micro-blogging service, with a 7-day post expiry limit.
It's good for posting time sensitive updates about your brand, business, services etc. You get up to 300 words, and also one squared up photograph, to make your point.
All Google Posts will show up to 10 posts simultaneously, via a carousel type display, which the user can scroll through to see those not showing in the panel.
I try to post a Google Post on a daily basis (see examples above), along with uploading recent images to do with my freelance logo design business.
Ultimately, if all this helps prospective clients find me, or stumble over me, enough to want to hire me for their logo design, then I'll do whatever needs to be done.
To Wrap Up
Honestly, I'm not really into writing about Google and SEO stuff, but felt this was interesting enough to mention.
Important enough to link out to this excellent blog, Google My Business & Local Search, by Mike Blumenthal.
You'll get all the info you need about Google Posts, and My Business Website, plus other local search news.
Hiring a Logo Designer: Time for some direct approach marketing, and advertising, due to some unexpected availability over the next few weeks.
If you're looking to hire a very experienced (over 25 years) logo designer, then I'd certainly appreciate your consideration.
As a Freelance Logo Designer I offer the following creative & technical services: Logo Design; Logo Designs for Sale; Application Icons; Brand Identities & Corporate Guidelines; Consultation; Custom Lettering; Secure WordPress Installs, Theme Customisation & Hosting.
Hiring a Logo Designer with 25 Years Experience
I'm very proud to be able to say I have a whopping 25 years of industry experience in: graphic & illustrative design, logo design services; brand identity design, typography, typesetting, commercial print, reprographics, photography, marketing & advertising.
If you're looking to hire a Freelance Logo Designer, then one really need look no further than The Logo Smith, and on that note, here are some useful links to get you started:
Logo Design Portfolio, Client FAQ's, Logos for Sale, Monomarks, Client Testimonials, fill-in the Design Brief, understand my Process, or make Contact.
Hope to hear from you soon,
Graham Smith

Brand Logo Mix, by Mike Stefanini, from Atomike Studios, is a fun look at how certain popular brand logos would look like on completely unrelated consumer brand items.
How about: the Nike logo on a Coca-Cola can; Tomato Ketchup as an aerosol to spray on your dinner; drinking some Pepsi from a car oil container; cleaning your windows with some Starbucks coffee spray…
The Shell logo on a milk carton is a bit icky tho…
Lovely little brand logo project, and I particularly love the style of illustration, rather than trying to go for photo realistic renders.
Brand Logo Mix Designed by Atomike Studios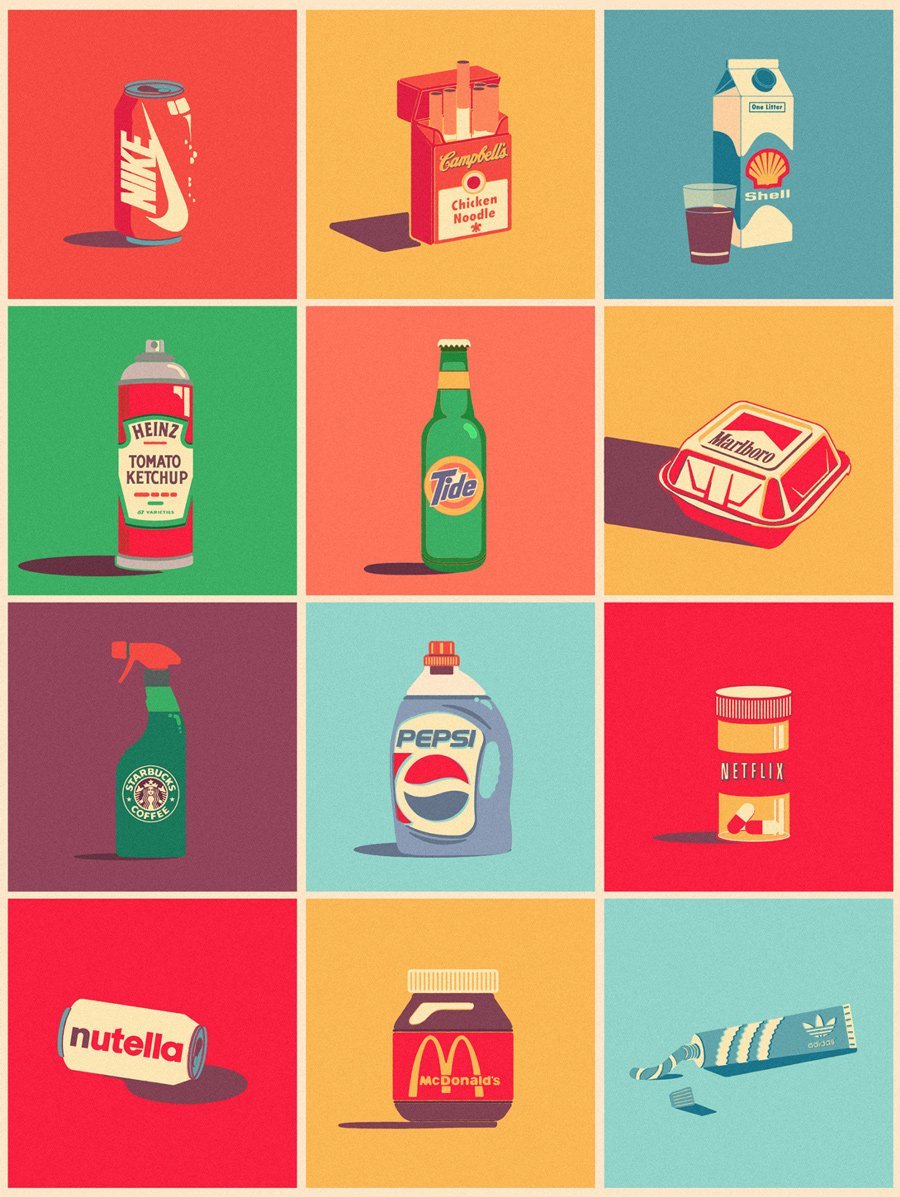 Mike Stefanini: "Almost inadvertently I had approached the design of a Coca-Cola can of the Nike logo... I found it nicely subversive, so I decided to apply this principle to other consumer products..."
Atomike Studio on Instagram
Incidentally, Mike has a wonderfully colourful Instagram account, that is definitely work following: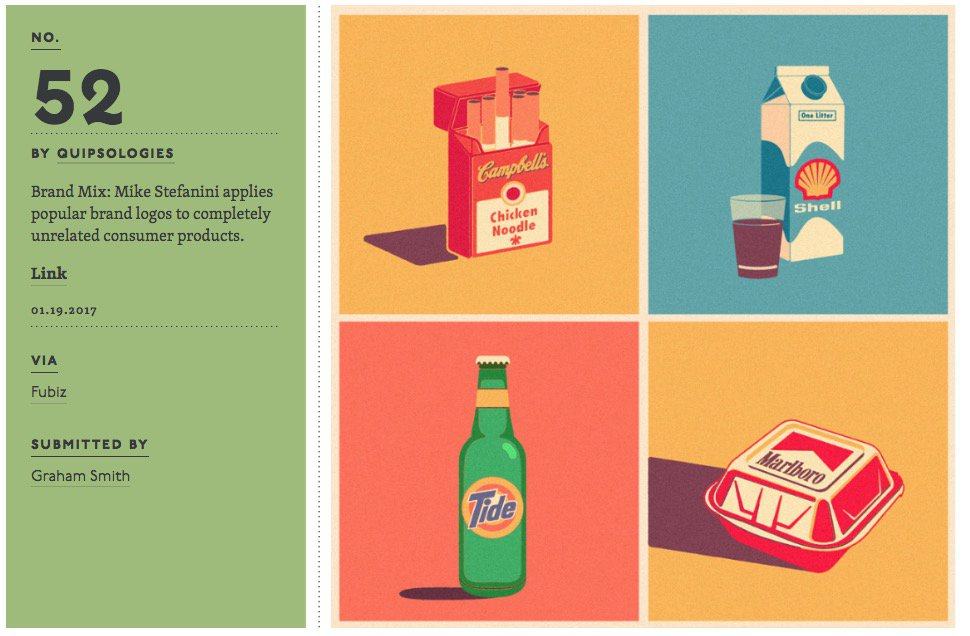 Work-in-Process: WordPress Theme Developer Logo Design
'codetipi' is a logo design project currently in progress for a popular WordPress Theme and Website Developer.
In this post are just a few snapshots of the later stages of the project, showing the most recent logo design concept (above), and a few of the ones that didn't quite turn out as expected.
As a freelance logo designer, the number of logo ideas and concepts that end up either off-the-mark, or simply no-good, can vary from project-to-project.
However, I like to feel there is rarely a wasted moment on a project as some of the unused logo ideas can either be repurposed for another client, or in my case, sold as mentioned in this post: Custom Logo Designs for Sale, and currently shown on the Logo Designs for Sale page.
This logo design can also be viewed on Dribble: https://dribbble.com/shots/2897615-Codetipi-Logo-Design
Some of the not-so-on-the-mark logo design concepts and ideas: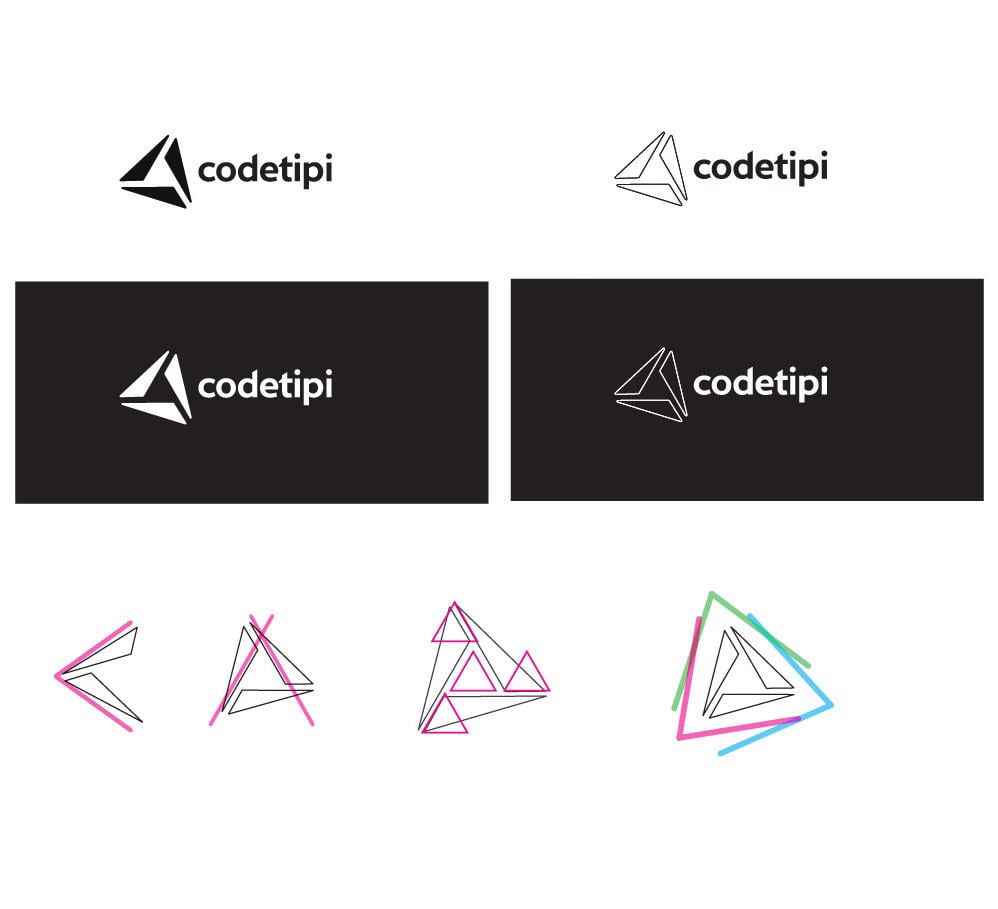 Codetipi creates unique WordPress themes and plugins (and possibly more code-related products in the future) that push the standards and strive to not only feel/look nice, but work just as well.

The products are clean, modern, extremely user-friendly and users genuinely love them. No bloat and no fluff, my products just work.
© 2005-2018 All Rights Reserved The Logo Smith
Logo Designer & Brand Identity Design Studio, with 25 Years Experience.
Graham Smith: 10 Badgers Copse, Seaford, East Sussex, England.
 Tel: +44 (0) 7816 527 462  Email: glogosmith@gmail.com