Graphic & Logo Design Blog: Main Index
---
New SETI Institute Logo Designed by Trevor Beattie
Only just received a press release for the SETI Institute Logo and branding redesign, designed by Trevor Beattie, Founder and Chairman of BMB.
This logo design has certainly piqued my interest, and I can see what's going on with the logo: the use of the 'S' and '?'
What I can say is: I still really like the original SETI Institute logo, was quite fond of that design overall. If you had to push me for an opinion right now: I'd probably been happier to have seen an update/refresh, rather than a complete redesign. The new SETI logo looks a bit 'lost in space' on the website header, not much of a presence. But that's all you're getting for now…
Am yet to fully soak this up, as I'm currently in two-minds about my initial thoughts. Going to need to see how I feel in a few days.
The New SETI Institute Logo Design
YETI Institute Press Release
Least I could do is share the news in the meantime, and here's the full Press Release, from Persuasion, in all it's glory:
MOUNTAIN VIEW, CA – The SETI Institute, a renowned nonprofit research organization, has unveiled a new logo and brand mark to better reflect its mission to search for, and understand, life beyond Earth. 

The new logo was designed by Trevor Beattie, Founder and Chairman of London's BMB advertising agency.  Beattie is an unabashed, life-long fanatic about space, and admits that the opportunity to reshape the Institute's graphical brand was both a challenge and a privilege.

"SETI is all about answering a profoundly important question: Are we alone?" he says. "There's already a question mark hidden in the "S" of SETI.  In designing this new logo, we simply freed it up."

Beattie's graphic is bold and economical, and accomplishes what famed designer Saul Bass has said is essential for any logo: "Symbolize and summarize."

"As we embark on a new chapter in our 32-year history of exploration and discovery, our new logo is a fitting and compelling icon for our quest," says SETI Institute CEO Bill Diamond. "With this symbol, we embrace the essence of science's mission – to be curious, and to seek understanding through groundbreaking research." 

"We are engaged in the definition and reexamination of concepts and hypotheses in astrobiology, and are now expanding the tools deployed in the search for intelligent life beyond Earth."

"With this bold new brand, we launch a new era in our efforts to understand mankind's place in the cosmos." 

The SETI Institute's interests range from the exploration of our solar system, looking for microbial life relatively nearby, to the search for technologically sophisticated beings on worlds orbiting other stars.  The Institute employs more than 120 scientists, technicians and staff.

The new logo is simple and scalable, familiar and yet provocatively unique.  It is intended to be quickly recognizable and sufficiently iconic that – without words – it will be instantly associated with the SETI Institute. 

For designer Beattie, the unique interests of the Institute are self-evident: "No-one has a better claim on ownership of the question mark than the SETI Institute," he says.  "And soon, perhaps very soon, its scientists may find answers to the long-standing question of the ubiquity of life."
Steve Jobs Tribute Typographic Poster Designed by Oliver Gareis
This Steve Jobs Tribute Typographic Poster has to be one of the best graphic design tributes I've seen in a while. Oliver Gareis has done an outstanding job of mixing and matching a whole bunch of typographic styles, into something really rather elegant and stylish.
In basic type theory (using more than a few font styles in one layout etc) it should be a mess, but it just seems to work so well.
It might not be to everyones taste, but I love it.
You must go over to Oliver's Behance profile: Steve Jobs Famous Quote Typography to view the original project, and to also watch a time lapse video of the posters development.
Oliver explains how this came to be, and how long it took:
About one year ago I started this project, when the agency where I work full time decided that they want to pimp their office.

We brainstormed on what to do, and finally decided to write a quote on the wall of someone who is an inspiration to all of us, namely Steve Jobs.

So I sat down, took some time of reconsidering and picked a truly inspiring quote of him. First, I started drawing everything on paper.

Secondly, I scanned everything and assembled the four A4 sized papers into one piece with Illustrator.

It was a lot of hard work to create this illustration but it was definitely worth it. After I finished the illustration I drew the piece on our office wall.

It took me about 20 days spread over 4 month to finish this drawing. I would really appreciate it if you can take a look on the time lapse video to see my work."
Custom Logo for Designs For Sale
This page shows some of the custom logo designs that I have available, for sale, on here on this page: Custom Logos, Symbols & Icon Designs For Sale.
I have thought long and hard about having logos for sale on my website, as I don't want to have my website mistakingly associated with Stock Imagery.
The simple fact is that I have accumulate 100's of unused logo designs, ideas, concepts over the many years of being a graphic designer, and it's frankly just a waste to have them all hidden away, and never used.
Previously Commissioned Logo & Brand Identity Projects
These unused logo design ideas are often the result of previously commissioned logo and brand identity projects.
Bear in mind that for each client, I might: develop, doodle, sketch and conceptualize dozens of logo ideas, not all of them the client will see.
The logo ideas that the client will see will be a small fraction of those that I have developed, and from that selection only one idea will be chosen.
The 'leftovers' are sometimes repurposed for new projects, or left in the shadows.
It really seems silly, and a waste, to not do anything productive with the 'unseen', so hence I decided to tidy up these 'forgotten' logo sketches and ideas, and sell them as 'ready-made' logo designs.
I don't like the sound of 'ready-made', as in reality, any logo design sold will probably have some changes made to suit the clients' specific needs, but for the most part they are left as is. Small changes like: colours, layout, type swaps are the usual changes made.
As you can see some of the logo designs have brand names associated with them, but for the most part these are just 'placeholders', and are not supplied with the logo.
The client will no doubt have their own brand name to insert with the logo they have chosen to purchase.
Exclusivity
Importantly for any potential buyer looking to buy one of my custom logo designs, is that they are all completely exclusive, and will only be sold the once.
For each logo design purchased, the client will receive all copyright and artwork, Transfer of Copyright (me passing over my intellectual design ownership), and then the client is free to do with this logo as they see fit.
All custom logo designs come with: Transfer of Copyright, Master Logo Sheet, Basic Letterhead & Business Card Design, Change/Adding of Company Name (where appropriate), Colour Options (where appropriate), Digital Files (.eps, .ai, .PDF). Other changes to the actual logo design will incur additional costs.
Logo Design Pricing
The pricing various per logo, and will reflect the overall development time of that particular logo design idea, as well as other less 'tangible' factors, such as: practicality, flexibility, abstract or specifically tailored to a theme, etc.
Typically they are excellent value for money, compared to hiring me for a custom logo design from scratch.
If you are interested in buying any of these logo designs, then please visit: Custom Logos, Symbols & Icon Designs For Sale.
All custom logo designs shown below are the sole Copyright © 2016 of Graham 'Logo' Smith until purchased, and Transfer of Copyright has been exchanged.
My AC Academy Choir Logo Design Seen at the Royal Albert Hall
A short while back I took on pro bono logo design project for AC Academy, which is a London academy for children to take part in choir singing.
The logo was primarily to be used on the front of the 100's of white t-shirts that the children wear, when singing and performing at the Royal Albert Hall, most notably with Russell Watson.
The general idea of the logo design is that there are two spotlights crossing each other and illuminating side profile of a child singing, which is cut out of the lights beam.
I can't say enough what a thrill it is to see the logo design on such a huge and epic scale, and at such a prestigious event and venue. Very proud.
Here are some photographs taken from the most recent choral performance, from the children of AC Academy, along with Russell Watson.
Royal Albert Hall: "Over 2000 children from over 100 AC Academies will come together at the Royal Albert Hall to perform a mix of songs, from The Drunken Sailor, to a Les Misérables medley and Carmina Burana, alongside a West End band.

The concert will include a performance by children from Uniquely, the AC Academy's dedicated SEN programme for children with special educational needs, who will sing a song they have composed themselves. Finally BBC Strictly's Kevin and Karen Hauer will take to the stage to celebrate the launch of a new pilot project created in partnership with the AC Academy, dedicated to creating dance schools and dance school leaders (following a similar process to AC Academy's renowned Choir Creation scheme).

AC Academy is Armonico Consort's music education programme which reaches 15,000 children every year, offering life-changing experiences through participatory music projects. By 2020, Armonico Consort aims to create 300 children's choirs and 300 new choir leaders through its in-school Choir Creation scheme and out-of-school AC Academy Choirs, creating a singing legacy across the UK."
NASA Mars Wanted Posters Designed by NASA
Been meaning to post a link to these NASA Mars Recruitment Graphic Design Posters for a while, but always something else getting in the way. Finally here we are, as I really do love these posters, and love that animated GIF.
According to NASA, for all those that dream to be a martian:
NASA: Mars needs YOU! In the future, Mars will need all kinds of explorers, farmers, surveyors, teachers . . . but most of all YOU! Join us on the Journey to Mars as we explore with robots and send humans there one day. Download a Mars poster that speaks to you. Be an explorer!
NASA have not just designed these beautiful posters to stir up out imagination, and desire to explore and colonise space, you can download incredibly high resolutions versions, for print, also.
As an example, the high resolution TIF files come in at a whopping 92Mb! The posters are completely free, and can be printed and re-used as you see fit!
Assembly Required To Build Our Future On Mars And Its Moons
Are you someone who can put things together, solving challenges to ensure survival? Dare to forge our future with space-age tools - build spaceships to carry us to Mars and back, and habitats to protect us while we're there.
Technicians Wanted To Engineer Our Future On Mars
People with special talents will always be in demand for our Journey To Mars. Whether repairing an antenna in the extreme environment of Mars, or setting up an outpost on the moon Phobos, having the skills and desire to dare mighty things is all you need.
Teach On Mars And Its Moons
Learning is out of this world! Learning can take you places you've never dreamed of, including Mars and its two moons, Phobos and Deimos. No matter where we live, we can always learn something new, especially with teacher-heroes who guide us on our path, daring us to dream and grow!
Surveyors Wanted To Explore Mars And Its Moons
Have you ever asked the question, what is out there? So have we! That curiosity leads us to explore new places like Mars and its moons, Phobos and Deimos. Just what lies beyond the next valley, canyon, crater, or hill is something we want to discover with rovers and with humans one day too.
Farmers Wanted For Survival On Mars
Got a green thumb? This one's for you! In space, you can grow tomatoes, lettuce, peas, and radishes just like you would find in your summer garden. New ways of growing fresh food will be needed to keep brave explorers alive.
Work The Night Shift On Martian Moon Phobos
Night owls welcome! If you lived on Mars' moon Phobos, you'd have an office with a view, mining for resources with Mars in the night sky. Settlers below on Mars would see Phobos rise and set not once, but twice in one day!
Explorers Wanted On The Journey To Mars
Hike the solar system's largest canyon, Valles Marineris on Mars, where you can catch blue sunsets in the twilight, and see the two moons of Mars (Phobos and Deimos) in the night sky.
We Need You
We need many things for our Journey To Mars, but one key piece is YOU!

Download Free Fonts and Specimens of Digital Typefaces by The Pyte Foundry
Where can I download free fonts and typefaces? Well, The Pyte Foundry is an interesting, and useful, typographic resource to add to your collection if you like collecting free fonts and typefaces.
You'll no doubt notice that they use 'alternative' spellings on their website, such as: Pyte for Type, Gidital Typefaces for Gigital Typefaces, Fount for Font, Pytographic for Typographic… etc.
Each consecutive Monday, Mr Ellmer Stefan will release a new font on The Pyte Foundry website, which will be provided for download free-of-charge for a limited time of 7 days, and may be used under the terms stated in their End User License Agreement (PDF).
As you can see from the screenshots, each previous font shows when it was made available, but after 7 days the download link is deactivated.
As of writing this post; No. 28 'Overdose' is the current free font available for download.
This website was found in a retweet by @TypeCache:
Release 28 | 52

Go on gulping;
0% fat in tha face.

❝ OVERDOSE ❞https://t.co/ZZ8uJwe39b pic.twitter.com/UUDqt0mrdl

— The Pyte Foundry (@thepytefoundry) July 11, 2016
The Best of Everything for your Pytographic Needs
Quickly going back to their alternative approach to spelling, their sign-off on the About page (below) made me smirk: Alas, enjoy! 
The Pyte Foundry: During the course of the year 2016 Ellmer Stefan will release a new Fount of Display Type on this website every consecutive Monday. Each Fount is provided for download free-of-charge for a limited time of 7 days and may be used under the terms stated in theEnd User License Agreement (PDF).

Paying tribute

to the typographic diversity of the 19th century, this project's aim is not historical accuracy — none of the typefaces are strict revivals of specific typefaces produced in the Victorian era. It is rather a "revival in spirit" indulging into stylistic manifoldness and idiosyncratic hyperbolism.

The digital Founts are generated using a component-based system that globally applies changes made to independently adjustable letter parts, such as stems or serifs.


This approach mirrors the production methods envisioned for the making of wood types around 1880: in "American Wood Type 1818–1900" historian Rob Roy Kelly refers to a series of inventions byWilliam H. Page using interchangeable modules in the creation of wood type letters enabling the rapid manufacturing of new styles.
What Kolor is this? Colour Matching Game by Jorge Moreno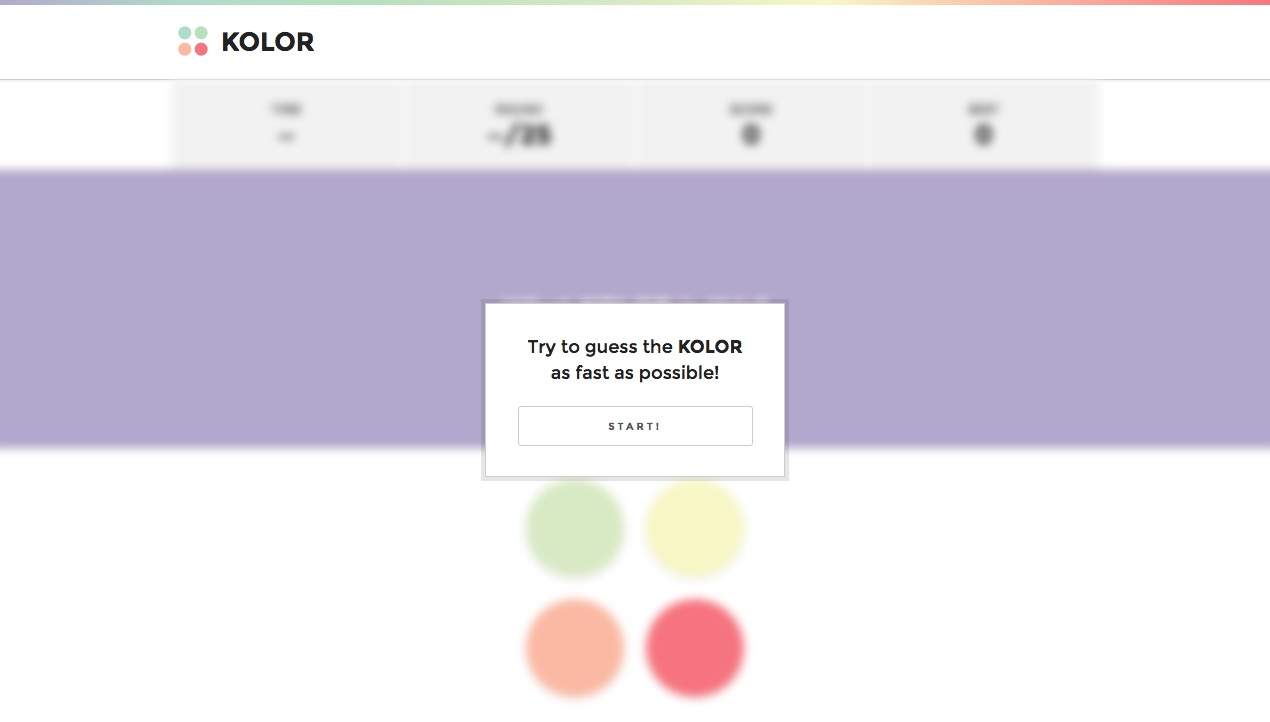 There's not an awful lot to say about What Kolor is This, by Jorge Moreno, as it's pretty self explanatory as an online gaming concept.
However, don't be fooled into thinking this is easy, because after the first few rounds, you'll end up struggling to select the right colour. I can guarantee it!
It's pretty fiendish, as the number of available color options increase, but also so do their similarity in hue.
Simple; yet challenging.
Link was found via:
Try to guess the KOLOR as fast as possible! https://t.co/IggaM1HcWF

— Design-Newz (@DesignNewz) July 8, 2016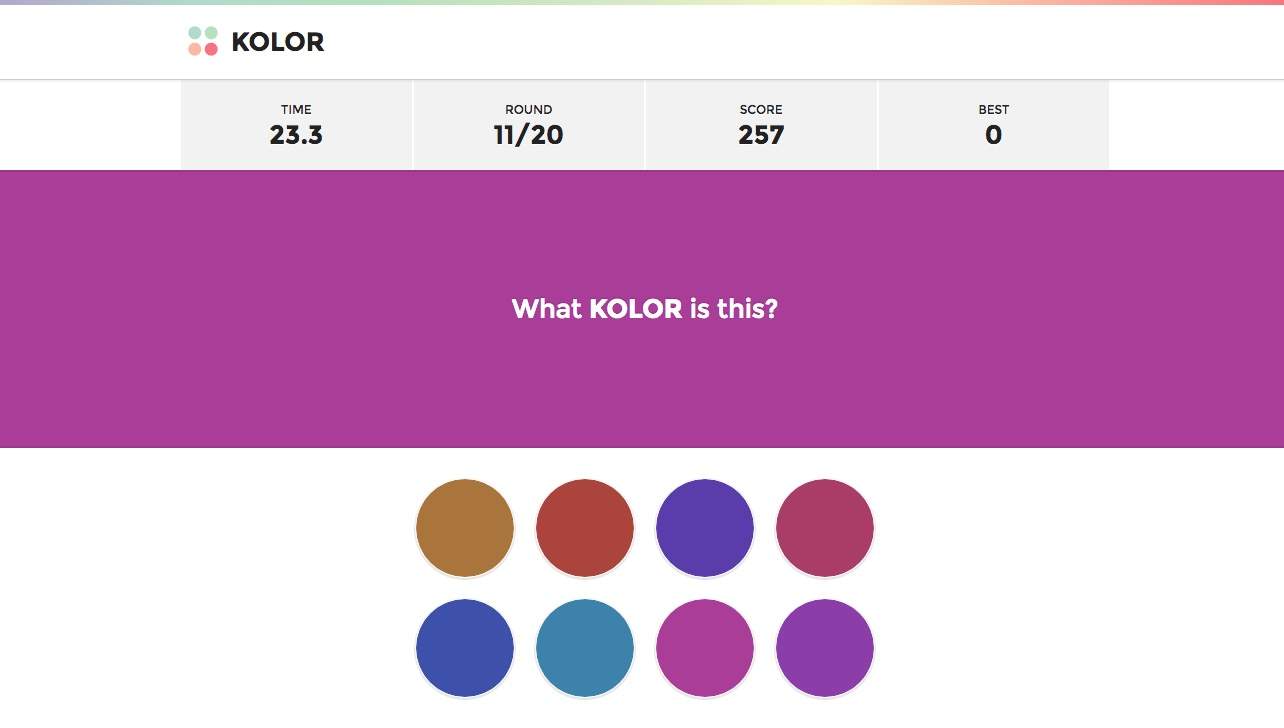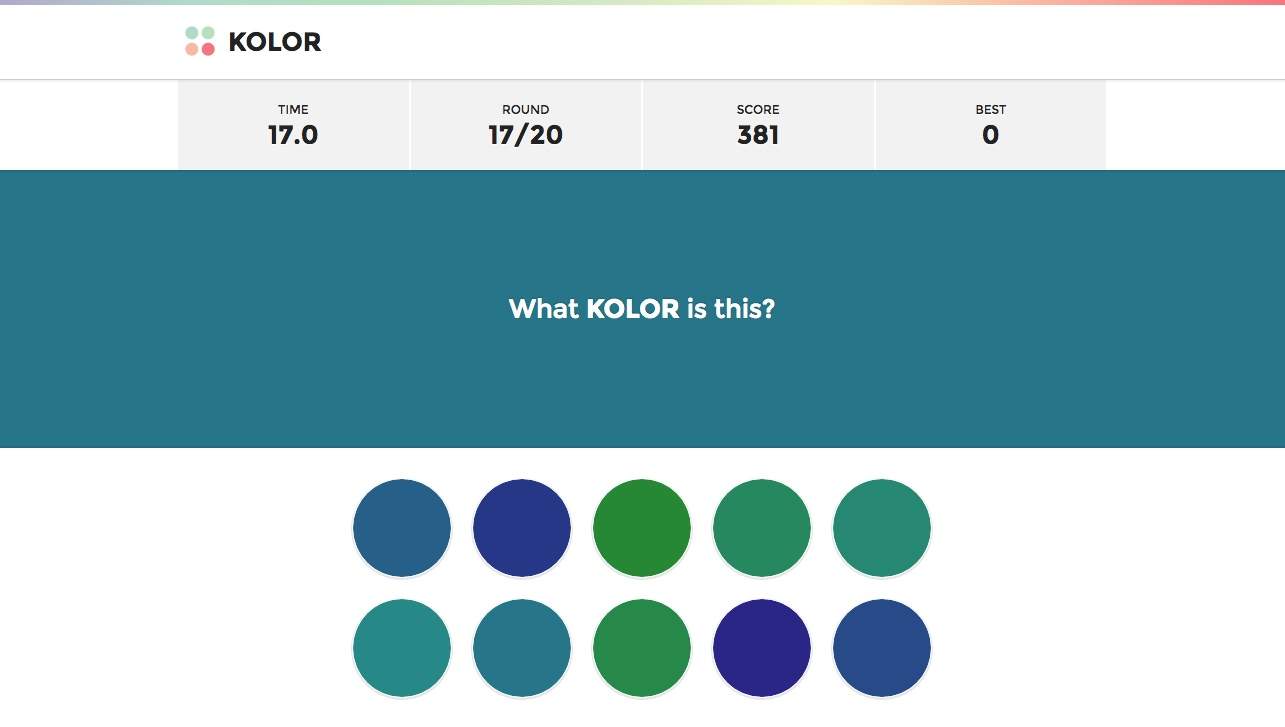 Jorge Moreno is a Front-end Web Developer, and UI Designer: 
Hello there! my name is Jorge Moreno and also known as moro, I'm Front End Developer and Web Designer specialized in HTML5, CSS3, JavaScript and User Interface Applications Design.

I was born in Zaragoza (Spain) where I graduated in Illustration and Graphic Design at the School of Arts, since then I've been working on the Design and Web Development fields at different world places and companies.

More than 10 years of experience have given me a wide knowledge on Media Design and Web Development with both client and server side programming and the following skill set:
The Challenges Facing Freelance Logo Designers and NDA's
Thought I'd share a letter I once wrote to a client, regarding some compromises on an NDA (Non Disclosure Agreement) I was asked to sign, for a logo and brand identity project.
The challenge was that my client was an 'agency', acting on behalf of their client.
My role was to produce 3-4 logo concepts, that 'my' client would show their client. Their client would then choose 1 of those concepts for us to move forward with.
I felt it addressed a number of issues that I had been worried about before in other, but had not had the 'courage' to raise them with the client.In this case, I just felt I needed to raise these recurring concerns.
I'm very glad I did, as the client is question was only to please to accommodate my suggestions, which made it all the easier.
I have since added these points to a Contract template that is used in response to signing any further client NDA's.
The biggest lesson learnt here: Don't be afraid to question the NDA, if it doesn't 'flow' with your own contract, or way of working.
Note: I've pretty much just copied and pasted this letter as I wrote it, but obviously removing names etc.
The NDA Letter
With reference to your NDA and contract: I do have my own contract, but this may conflict with some of the aspects in the NDA, which isn't a problem as I can change it as required.

The main topic of interest: relates to 'Ownership of Copyright' of the logo design ideas submitted to you, and also my usual approach of putting my finished logo and graphic design work in my portfolio.

Ownership of Copyright

Typically, with OoC (Ownership of Copyright), this automatically passes from me to you once the balance has been paid ( I do also sign a form that I send clients showing Transfer of Ownership)

It is at this stage when I'd usually release the final digital files, concepts to the client.

No final balance; no final files or Transfer of Copyright.

One Logo Design Idea

The other issue is that the client will only always get the copyright for the one chosen logo design, and none of the passed-up previous concepts, ideas, sketches etc. 

In this case, the NDA would conflict this rule of mine as I am to present you with 3-4 logo concepts which you are to show to your own client.

If your client doesn't go with any of the ideas, then this is a bit of a grey area: you would have 3-4 ideas, that you've paid for, but yet I would ordinarily only allow for 1 idea in relation to Transfer of Copyright. 

This is meant to protect me from a client using any of my previous ideas, that they've previously passed up. I might have created countless sketches and vague concepts, maybe a handful of more polished digital ideas, but my client will only ever get ownership of the one chosen idea.

I'd need to make some kind of provision that you are not permitted to use my concepts (except 1, as you have paid for that) for other works'/clients' if your client doesn't select any of mine.

Also, this would apply if your client does choose an idea, this means the other remaining concepts cannot be used or repurposed, by you, for other clients/future projects etc.

In Conclusion

• If your client awards you the pitch, and we get the go ahead to progress with one of the concepts, only this 1 logo design concept would be covered by the Transfer of Ownership of Copyright. 

The remaining logo concepts remain my ownership, but I'd adhere to the NDA and remove any mention/reference to the clients brand name etc, obviously. This would allow me to repurpose a logo mark, for example, that they passed-up, for another client. Not clear at this point if the Ownership of the chosen concept eventually goes to you, or to your client.

• If the client doesn't award you the pitch, then you are only permitted to use/repurpose one of the concepts I've created, for any other project/client you see fit in the future. You'd  just need to let me know which one, and I'd arrange the Transfer of Copyright etc accordingly.

Showing of Client Works

Typically, after a project is complete, and the client is happy etc, then I'd put the logo design on my portfolio, external portfolios, and usually blog about the project etc.

I understand the NDA prevents me from doing this initially, but I'm not sure if this is a 'forever thing', or time limited?

So for example: you win the pitch, and we work on a final version of the logo. Would I, at any point in the future, be able to put this design in my portfolio?

Sorry for all this, but I've been burnt before, and seen other designers' in a similar position see a number of their 'unwanted' concepts actually being used.

I hope this all makes sense, and feel free to suggest edits/amendments, then I can include this in my Contract and send it to you for your approval, along with the Invoice.
2.5k linear Swim Around Brighton Pier and West Pier
This weekend I was fortunate to be playing an active role in Paddle Round the Pier, a yearly water festival in Brighton, taking both photographs and timing the swimmers.
Paddle Round the Pier takes place over one weekend with various water-based activities supported and surrounded by a "Paddle Village" of retail, exhibition and entertainments.
One of the key highlights is the 2.5k linear swim around both iconic Brighton Pier and West Pier, which is is organised by Brighton Tri Club, and is a Brighton triathlon club I have been an active member now for 3 years.
Volunteers from Brighton Tri Club
After the swim was cancelled on Saturday due to heavy swells, it was with relief that the weather improved for the swim to take place on the Sunday.
This 2.5km swim is a highlight for many, and starts east of Brighton Pier (where the big wheel once was), heads out past the end of the West Pier, then heads straight towards and past the West Pier, before heading into land just past the Peace Statue.
A number of us volunteers, from Brighton Tri Club, turned up from 7:30 Sunday morning, to get the race registration set-up, and eagerly await the first of the daring sea swimmers to register.
It was a wonderful morning, and we were so fortunate to have sun and warmth, at least on land anyway.
There was quite a swell, and large shore breaks, waiting for the swimmers on their return, with a number of swimmers needing firm helping hands to help them out after such an exhausting effort.
I was walking fast from Brighton Pier to the West Pier, and was so surprised at how fast the leaders were going. Actually thought I'd not make it to the finish before them!
Here are a few photographic highlights from the swim, that include: race set-up, registration, general milling and waiting around of the swimmers, swimmers in the start pen, the start, some of the finish and finally, all the prize giving at the end.
I so much enjoy doing sports photography for a hobby, and it was such a thrill to be able to photograph an amazing bunch of people, for the 2016 Paddle Round the Pier.
View the Entire Paddle Round the Pier Photo Collection
There are many many more photographs, way too many to include in this blog post, so head over to either my:
Flickr: https://flic.kr/s/aHskDu6dhb or, Facebook: http://smith.gl/29jMYYV
to see the entire gallery of photographs from Paddle Round the Pier, 2016. They are all high resolution, and are free for all to download. Enjoy.
Photo Highlights from Paddle Round the Pier 2016
Surreal Tilt-Shift Versions of Vincent Van Gogh Paintings
Reddit user Melonshade, created and posted a series of surreal images of Surreal Tilt-Shift Versions of Vincent Van Gogh Paintings, as though being viewed through a tilt-shift lens.
Reddit can indeed be an exciting place to find new forms of graphic and visual inspiration. 
Melonshade explains, having been inspired by image manipulations previously created by Serena Maylon, on Artcyclopedia.:
I saw this a while back and it inspired me to try it myself, this is the outcome!… I haven't edited anything besides the blur.

Many of his later paintings are much brighter and more colorful than the rest.

I read that he started to use more colours because he wanted to paint things the way he saw them, not the way they were.
When I first saw the title of this post on Laughing Squid, without having first seen the images, I wasn't expecting an awful lot.
However, the tilt-shift effect on these masterpieces really does add a whole new level of beauty to Van Gough's paintings.