All Archived Posts in Graphic Design
I don't often post individual images on my blog, but when I do, I like to think they are pretty cool images, such as this very colourful Vintage Pepsi Advertisement for the Pepsi Cool Cans.
Would love to know if anyone, who collected these Pepsi Cool Cans back in the day, still has these lying around; in the loft, basement or some storage facility somewhere.
Found via Quipsologies
Vintage Pepsi Advertisement - "Our Idea of Pop Art, Pepsi Cool Cans"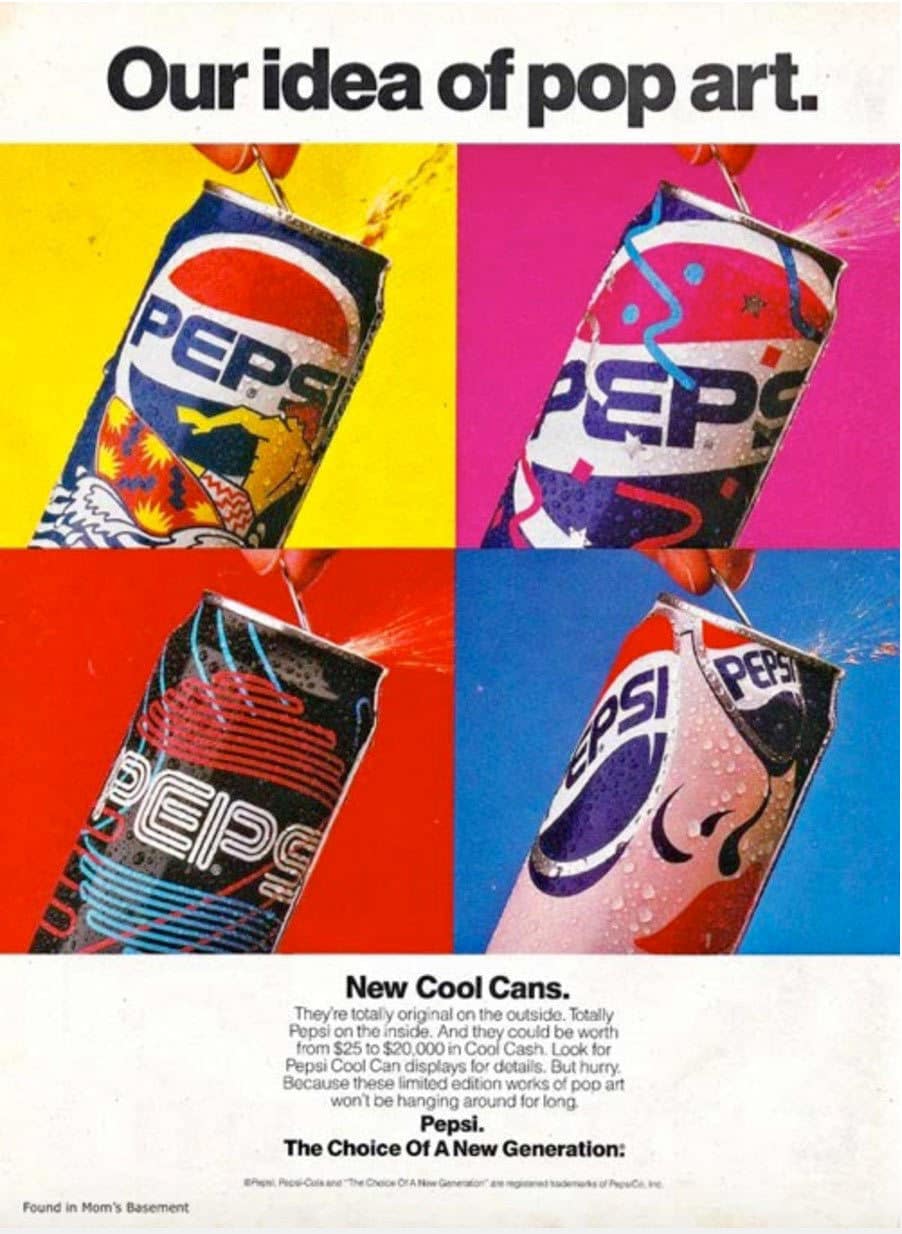 New Cool Cans.

They're totally original on the outside. Totally Pepsi on the inside. And they could be worth from $25 to $20,000 in Cool Cash. Look for Pepsi Cool Can displays. But hurry. Because these limited edition works of pop art won't be hanging around for long.
Always love seeing these random design snippet's from the ever increasing fountain-of-knowledge, in this case the 'snippet' is the Pantone Colour References for Star Wars Character Boba Fett.
Came across this snippet, as usual found on my daily Reddit purge, courtesy of a blog post on Daniel Gray's website. I love his open questions, especially: Is the dark side coated or uncoated?"
Daniel Gray: "Flicking through the enormous and fantastic The Making of The Empire Strikes Back, I stumbled upon this little curio: Pantone references for Boba Fett's costume, provided by ILM for the licensing branch of Lucasfilm.

Presumably similar guidelines were drawn up for other characters.

What specific shade is Yoda?

What are the colour refs for all of the lightsabers?

Is the dark side coated or uncoated?"
The Pantone Colour References for Star Wars Character Boba Fett

A classy Graphic Design 'Meme', using Da Vinci's Last Supper painting as the bait, nicely designed by Saint Hoax. 
I originally found this on Imgur, then Tweeted it without realising who the 'author' was, so now putting that right by blogging it with appropriate credits and links:
The struggle is real... pic.twitter.com/LKPTi4ScBA

— Graham 'Logo' Smith (@thelogosmith) March 22, 2017
It's a major insult actually, to call this a Meme, but I can't help but feel this is exactly how it'll end up being.
Have to say that this is REALLY well done, and is not your usual internet Meme; this is quality, and @SaintHoax is always about the quality.
This is certainly going to be on peoples' radar, as the unique expressions, and captions, are just hilarious.
When your Tasteless Graphic Design Colleagues Give you Feedback by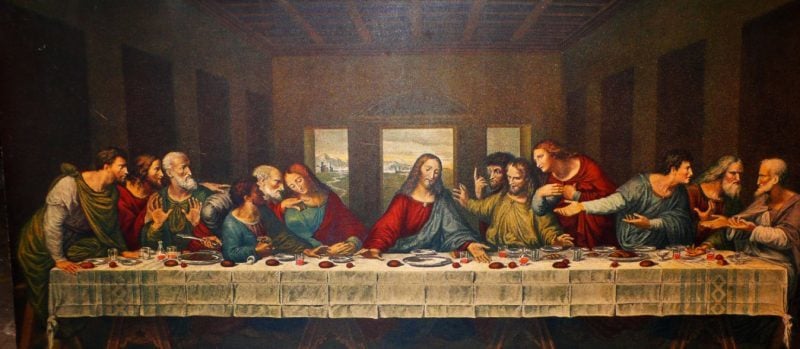 The Original Tweet
Here's the original Tweet. Definitely worth Liking and Retweeting this original Tweet, just so show solidarity with the designer:
When your tasteless colleagues give you feedback ? pic.twitter.com/XXmTomQXZ4

— Saint Hoax (@SaintHoax) March 20, 2017
Some of you designers' may already be familiar with a few very challenging problems that I've experienced with VERY unscrupulous clients, and a very rigid and 'you are guilty until proven innocent' approach by Paypal.
Some of my top-tips are at the end of this post:
Several times last year, after completing several freelance logo design projects—in one case the client actually stating that my work was good, and was just what she was looking for—subsequently filed an 'Item not Received' dispute with Paypal.
The long and short of this means: Paypal immediately put my funds on hold, and actual debited my Paypal account with the amount being disputed, which in one case was £1000, until the dispute is resolved.
Resolving these disputes is incredibly time intensive, very frustrating, and so stressful, not to mention he financial burden.
If you feel that the client will win the dispute, even though you have proof that they DID indeed received the logo designs after spending a solid month on the project, then this obviously leaves one very financially ducked.
I'm happy to say that in each case, after I submitted a considerable weight of evidence in my favour, the disputes were finally resolved in my favour.
The process took weeks to resolve, so that's a lot of needless stress to be dealing with when you're trying to work with other much nicer clients.
Not the end of the Story
After seeing that a VERY small minority of clients tried to screw with me, ultimately trying to get a logo design for free, I decided to limit my use of Paypal to receive project payments for new work.
However, I would still use it on very few occasions: mostly when I had a good previous relationship with a client, but also using a more bullet-proof contract, and work-flow (to prove that I had done my job, and that also to prove the clients have also seen this work).
Surprise
Last week I woke up to find an email from Paypal: one of these past 'clients', even though they'd tried to get a full refund from me by filing a dispute, which inevitably went in my favour, that the client had now decided (a full year on) to file yet another dispute.
Apparently they weren't happy that their scam backfired, so wanted to try again!
This time they were using a chargeback process on the debit card, issued from their bank, which they had used to pay me, which was linked to their Paypal account.
This was a total surprise, and frankly shook me to the core.
Once again, I was now £1000 down in my Paypal account, and once again I had to provide proof that I had indeed done my job, and delivered the final logo designs etc.
That I had already been completely vindicated the first time around, it apparently means nothing when a client decides to go through their bank, if they had used their linked credit card.
In this case Paypal are basically supplying all the proof/evidence that I submit, back to the clients bank, and then the case is dealt with with Paypal an intermediary negotiator.
I'll leave my upset ramblings there, because the whole system with Paypal is so messed up when a 'buyer' decides to pull a fast-one.
A Fair Warning
I'll end with a big warning to any of you freelance graphic and logo designers, who still use Paypal to receive payment.
There is no guarantee that a client may choose, at any time, to file a Dispute, not once, but twice (with apparently no time restrictions in place, and even if the first dispute was settled in your favour, which is just utterly ludicrous.).
Even if they have said they were completely happy with the work.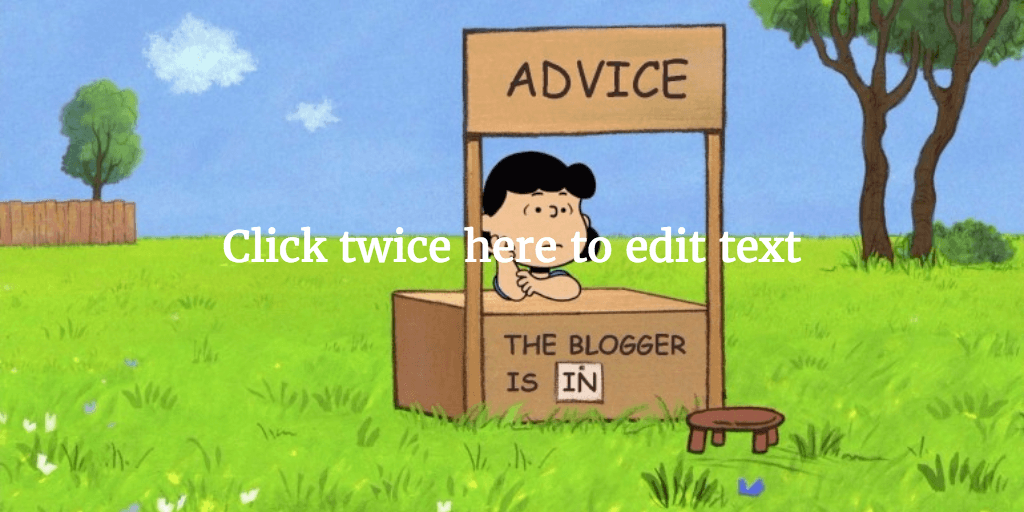 Some Tips to Avoid being Scammed by a Client
There are a few things you can do to protect yourself, in order to help yourself provide the evidence needed to show Paypal in such a situation.
Use a project management application—I use Cageapp.com, that allows both the designer and client to add comments, and also 'Approved' notes to any design.This basically shows Paypal that the client had indeed seen your work, and that you were doing what you were being paid for. Even better if you can get the client to 'sign-off' on an idea during the project.Without showing the clients comments that had expressly stated she had both seen my ideas, and also liked them, I'm not sure I would have won the dispute.
Keep all emails (sent and received), take screenshots of any correspondence that show the client has been seeing your work, your progress and any positive comments and/or feedback they have given you.
Ensure they have signed acceptance of your Contract and/or Terms of Conditions, and ensure you get a copy of this signed documents before starting.I use Bonsai to provide my digitally signed Contracts, that has several clear clauses/explanations of what will happen if a client decides to 'play dirty'.It's shame one feels the need to do this, but it sends a message.
Based on this recent 'Chargeback' fiasco, you're not even really safe using Credit Card services like Stripe etc, as you're still open to a client deciding to file a Chargeback dispute, leaving you in exactly the same position as I am at the moment.The only real safe option is to use the tried-and-tested Bank Transfer, Cash, Cheque, PO, Western Union, etc for all monies sent by your client.
An obvious one is not to use PayPal, but this is not always convenient for many designers etc.If you still need to use Paypal, then if you adopt the above, although you'll not avoid having a 'Dispute' being raised, you will be in a good position to win the Dispute with the evidence you have, such as I have on two occasions.
Rest assured, once this current dispute is resolved, either way, I'll absolutely be termination my PayPal account, as not knowing if a client from last year, or year before suddenly decides that they need some money, and tries to file a Chargeback dispute from their bank via PayPal.
I simply cannot live with that uncertainty any more.
Any questions you want to ask, or any other tips you can share, then please do so in comments below.
Previous Posts on Paypal
You'd think with all my bad experiences, and rants and moans, that I'd have learnt my lesson by now, but I'm simply too trusting, and hate to think the worse in people.
However, this current situation has completely thrown me over the edge, so no more 'trust' with Paypal.
My AC Academy Choir Logo Design Seen at the Royal Albert Hall
A short while back I took on pro bono logo design project for AC Academy, which is a London academy for children to take part in choir singing.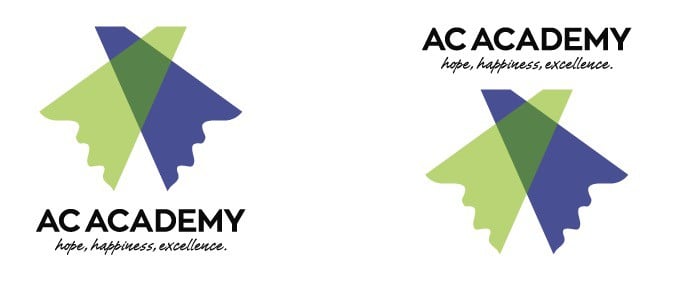 The logo was primarily to be used on the front of the 100's of white t-shirts that the children wear, when singing and performing at the Royal Albert Hall, most notably with Russell Watson.
The general idea of the logo design is that there are two spotlights crossing each other and illuminating side profile of a child singing, which is cut out of the lights beam.
I can't say enough what a thrill it is to see the logo design on such a huge and epic scale, and at such a prestigious event and venue. Very proud.
Here are some photographs taken from the most recent choral performance, from the children of AC Academy, along with Russell Watson.
Royal Albert Hall: "Over 2000 children from over 100 AC Academies will come together at the Royal Albert Hall to perform a mix of songs, from The Drunken Sailor, to a Les Misérables medley and Carmina Burana, alongside a West End band.

The concert will include a performance by children from Uniquely, the AC Academy's dedicated SEN programme for children with special educational needs, who will sing a song they have composed themselves. Finally BBC Strictly's Kevin and Karen Hauer will take to the stage to celebrate the launch of a new pilot project created in partnership with the AC Academy, dedicated to creating dance schools and dance school leaders (following a similar process to AC Academy's renowned Choir Creation scheme).

AC Academy is Armonico Consort's music education programme which reaches 15,000 children every year, offering life-changing experiences through participatory music projects. By 2020, Armonico Consort aims to create 300 children's choirs and 300 new choir leaders through its in-school Choir Creation scheme and out-of-school AC Academy Choirs, creating a singing legacy across the UK."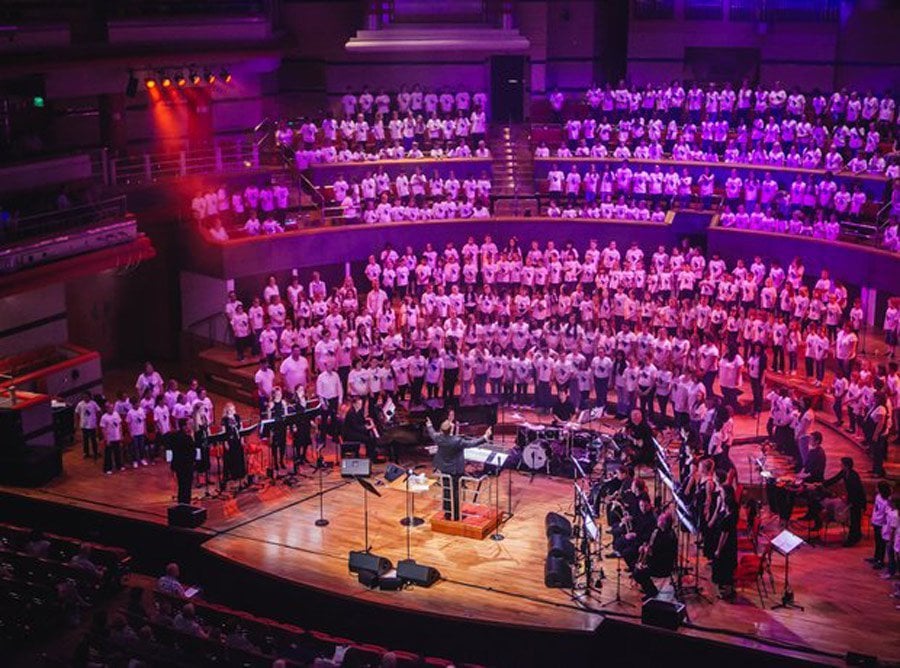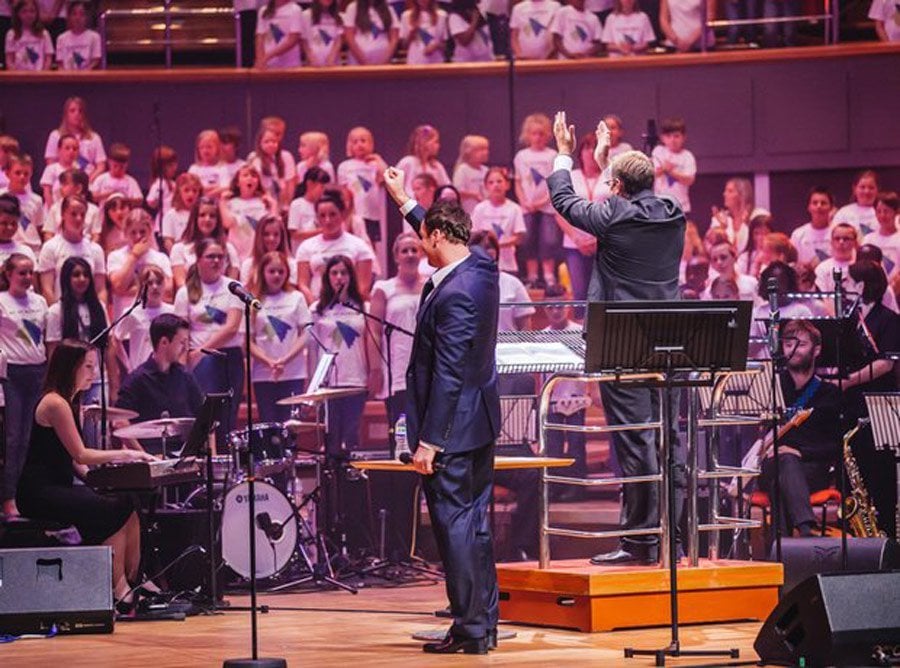 Vintage Colour Wheels, Charts and Tables Throughout History
As a graphic designer, where colour is pretty darn important, This selection of Vintage Colour Wheels, Charts and Tables Throughout History has made me far too excitable!
The moment I found the post, and saw the featured image and post title, I clicked it straight away, and onto the website of Public Domain Review: A Project of the Open Knowledge Foundation, which is a website I'd highly recommend poking around.
You know sometimes you can visit a post and ultimately end up somewhat, or very, disappointed with the content, like the featured image and fancy headline is literally the best bit, but not so in this case.
So here's the thing for any of your commercial printing nerds (me included): many of the images featured have been sourced from Sarah Lowengard's book: The Creation of Color in Eighteenth-Century Europe – published electronically on Gutenberg-e in 2006.
Also, according to PDR, another must-have book on colour, is: Philip Ball's Bright Earth: Art and the Invention of Color (2003) for a great look at how art, chemistry, and technology have interacted through the ages.
Anywho, enjoy some of the featured images below, and remember to visit: http://publicdomainreview.org/collections/colour-wheels-charts-and-tables-through-history/
I've picked out a handful of the various colour charts, colour wheels and other forms of colour illustrations for you – not all of them as that'd spoil the surprise when you visit the original post on : Colour Wheels, Charts, and Tables Through History
My favorite has to be this one below. It's just so gorgeous, and just so very olf, not to mention trying to visualise Richard Waller painstakingly creating this colour chart, or to be precise: Tabula Colorum Physiologica (1686)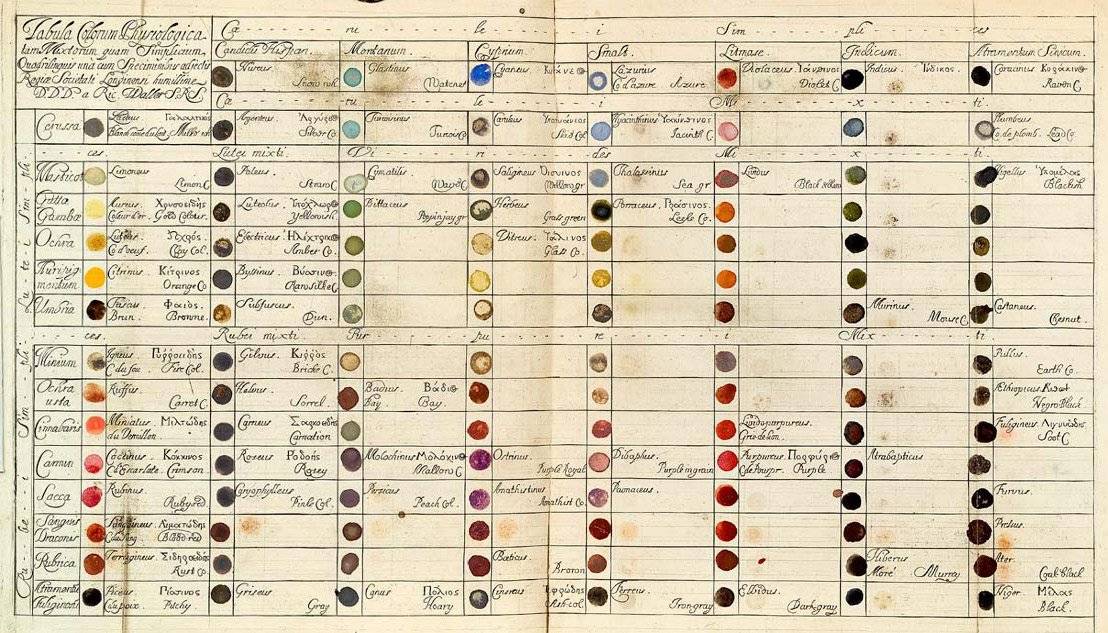 Richard Waller's "Tabula Colorum Physiologica", from "A Catalogue of Simple and Mixt Colours with a Specimen of Each Colour Prefixt Its Properties," in Philosophical Transactions of the Royal Society of London, vol. 6 for the years 1686 and 1687 (1688)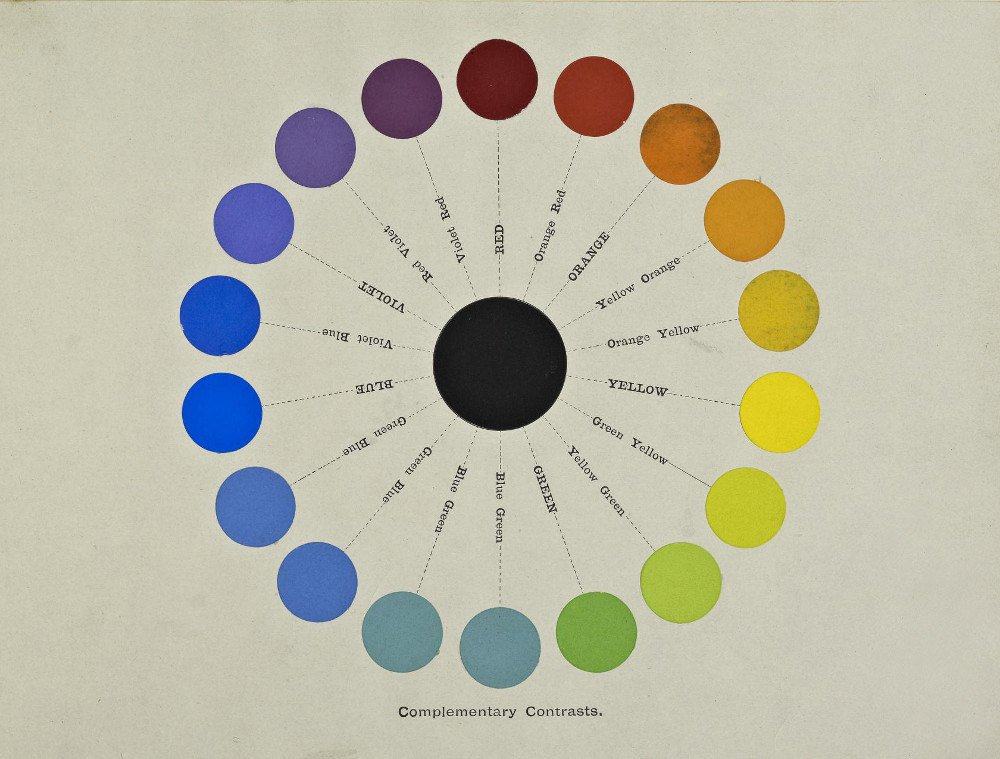 Circular chart showing "complementary contrasts" from A Class-Book of Color: including color definitions, color scaling, and the harmony of colors (1895) by Mark Maycock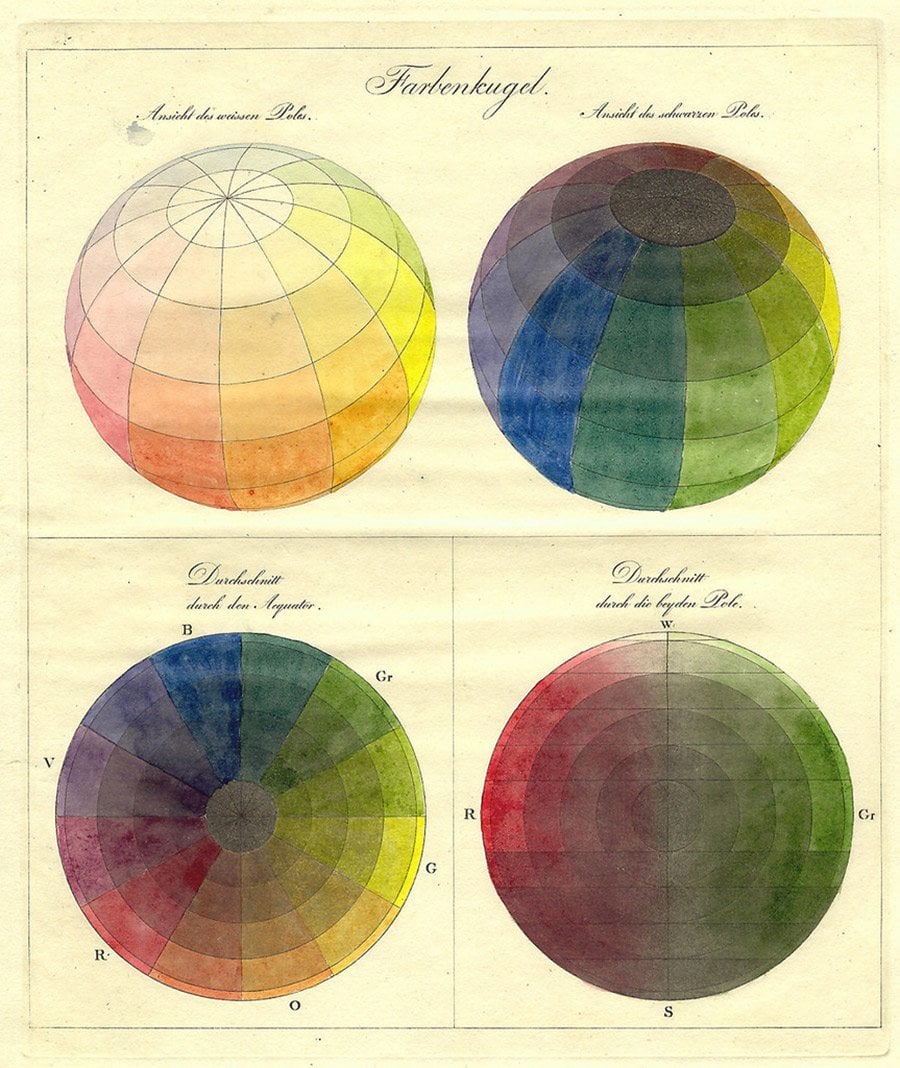 Philipp Otto Runge's Farbenkugel (1810). The top two images show the surface of the sphere, while the bottom two show horizontal and vertical cross sections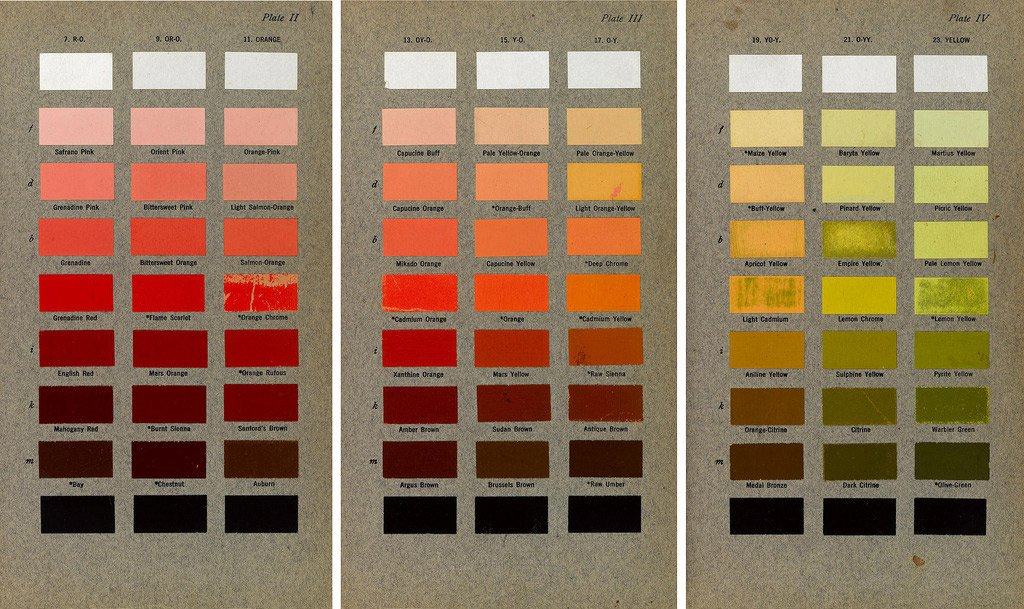 Parsons' Spectrum Color Chart, an Illustration from The Principles of Advertising Arrangement (1912) by Frank Alvah Parsons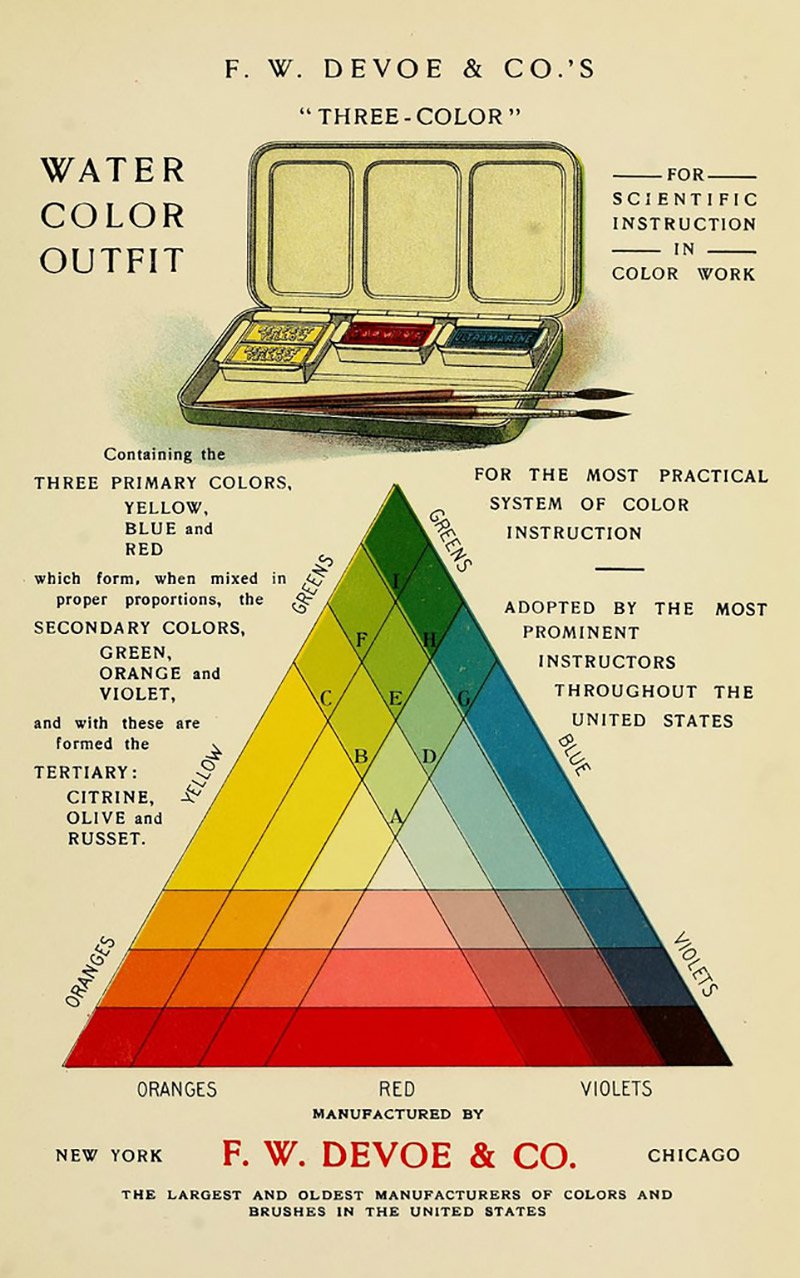 Page from Priced catalogue of artists' materials : supplies for oil painting, water color painting, china painting … and drawing materials for architects and engineers, manual training schools and colleges (1914)
Logo Designers: Don't Promise Deadlines
As a graphic designer, I'm sometimes asked to 'promise' an urgent deadline as well as providing a logo design the client loves: Don't Promise Deadlines.
Somethings one can promise; other things, however, would be foolish and irresponsible to promise.
When a client asks me to promise, guarantee, or even stipulate in the contract, that the project will be completed by a certain date, I absolutely refuse to make this promise. Not because I'm being awkward; because I simply cannot keep that promise.
As a Graphic Designer, what shouldn't I Promise a Client?
So this is easy: don't ever promise a client that you can 'finish' a logo design project by a certain date.
If a client is really pressing you hard to commit to a deadline, you still need to try and avoid getting tied up with promises that are almost impossible to keep, or certainly guarantee.
But Why Can't I Promise This?
There are various reasons that make it almost impossible for a graphic designer to promise, and guarantee, that they'll have a logo design, that the client likes, by a fixed date. Even more so if the schedule is urgent, or needed in weeks, rather than months.
The main reason, that's beyond a graphic designers control? You can't usually foresee, with absolute certainty, which idea a client will really like.
So if you can't know when/if a client will like any submitted ideas, how can you then guarantee that you'll come up with something they'll like by a promised deadline?
What Can I Promise then?
You can promise that you'll have either a set number of logo design ideas, or a at least a few by a certain date. This is much more realistic, and is certainly something you can promise.
I'll promise a client, without any doubt, that I'll have at least one idea, and likely a few ideas, by the clients deadline.
What you can't promise, off the back of this, is that the client will like any one of those designs. 
I'll make it abundantly clear that: my promise of delivering logo design ideas by a deadline, isn't the same as: promising the project will be completed by that deadline.
I'll also make it very clear that: I'll obviously try my very best to meet any suggested deadlines, but the client must be aware that the project could well run past their ideal deadline, and to make accommodations for that.
The shorter those deadlines are, the less likely the design will be as well researched and thought out, as one that doesn't have restrictive deadlines.
Keep it Real
When all is said and done, we graphic designers are mostly not miracle workers, when it comes down to the VERY subjective nature of graphic design.
We cannot usually predict how a client will react to any presented design, and we certainly shouldn't make promises that we simply cannot keep, even if we really feel we are the best logo designer in the world.
Remember: By all means promise a client you'll have x-amount of ideas by a deadline, but you cannot promise that within this initial bunch of ideas, will be one the client likes.
Don't Promise Deadlines: It's just not a wise, or appropriate thing to promise.
The very least you'll have some constructive feedback to work off, and hopefully you'll have narrowed down the creative directions that you can take. Once the client sees you are working, and delivering evolving ideas, this is usually enough for the client to ease of the gas pedal, and give you the time you need.
"No. I don't make free logo designs" Poster
Yesterday I received a Tweet that just really irked me. Someone just came out and asked me if I 'made' free logo designs, and if I would, could I DM them.
I think anyone that knows me, or knows of me a little bit, would know that this is the sort of thing that 'fires me up', and provides me a little fun with a return salvo.
@thelogosmith do you make free logos? if so could you leave me a DM please

— BigT (@KingSpeedyHD) February 16, 2016
Even if you don't know me, it would seem common sense that asking such a question is just pretty rude, and disrespectful.
Sure, you never know unless you ask, but if what you are asking is stupid, then you must also expect some kind of reply that will probably not be to your own liking.
I replied to that tweet with this, which I felt was pretty straight talking for me:
No. I don't make 'free' logos... https://t.co/tDyUADkiMK

— Graham 'Logo' Smith (@thelogosmith) February 17, 2016
Then I read it a few times and it reminded me of a poster I designed a few years back: No. I don't design logos. I pull them out of my ass, and I felt there was some more mileage to get out of that poster format.
So here we are: a revised version of the 'ass poster' still typeset in Helvetica, now targeting anyone who'd dare ask for a 'free logo design'.
I love graphic design; oh the freedom.
Feel free to download and print it etc.
The ZIP file contains: PDF & editable Adobe Illustrator .ai files in case you want to change the colours, but please don't remove my name and details from the bottom. Ta.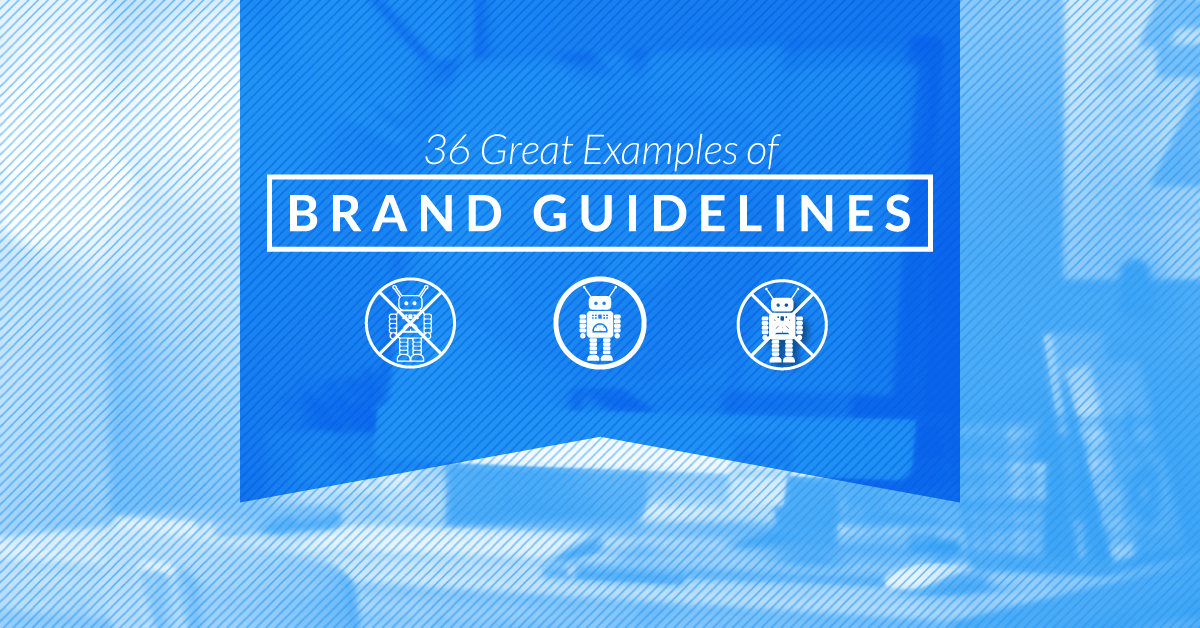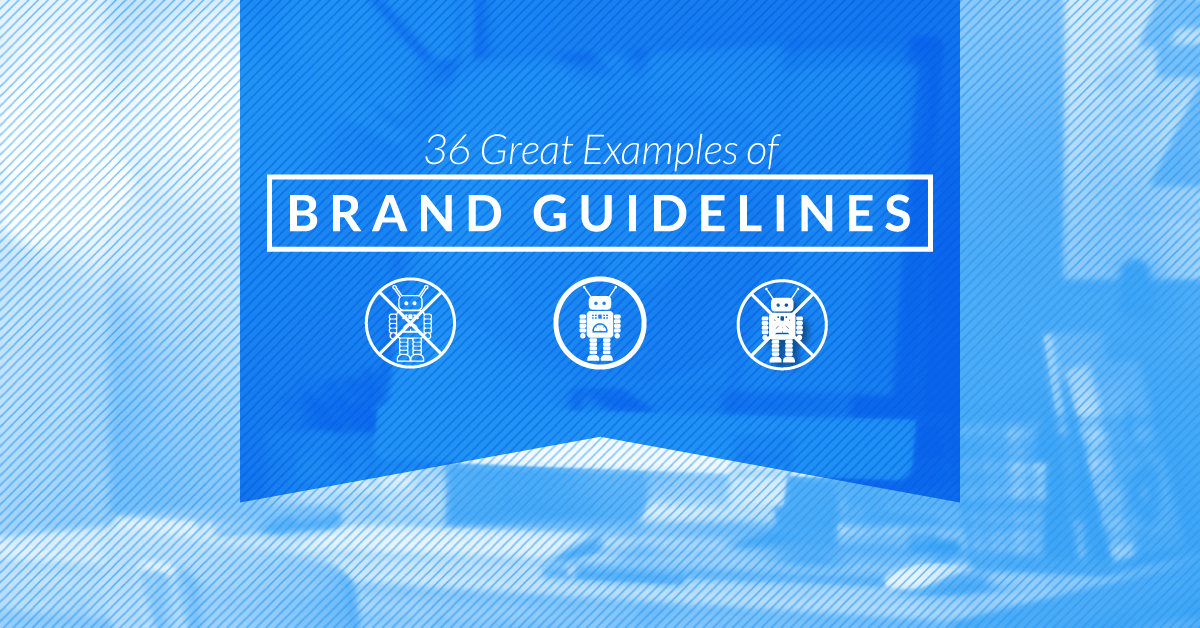 36 Great Brand Guideline Examples
Always useful to see a steady stream of Brand Guideline Examples, especially when the collection is well packaged like the one over on Content Harmony, as in the case of: 36 Great Brand Guideline Examples
Also helps that they've linked to my own set of Brand Guidelines (below): in the form of downloadable a ready-made template to be used and abused by whoever.
You can find these, and more examples of templates over at: Logo Templates For Download
But I sort of digress, so lets get back to the post that Content Harmony created for us. They have created 7 sections, listing various styles and types of Brand Guidelines, which are listed below:
Lot's of guidelines to mooch over, and draw some valuable inspiration from.
As they say at the beginning of their Great Brand Guidelines, "Brand integrity is a fragile thing, so it needs to be treated as such. Brand guidelines are, in essence, your owner's manual on how to "use" your brand. These guidelines will be referenced by everyone who touches your brand, internally or externally, and will often be partially reused in future brand identity revisions. Because of that, it's important that you define enough of the guidelines to keep your brand consistent, but keep them short enough that contributors can actually digest all of the rules."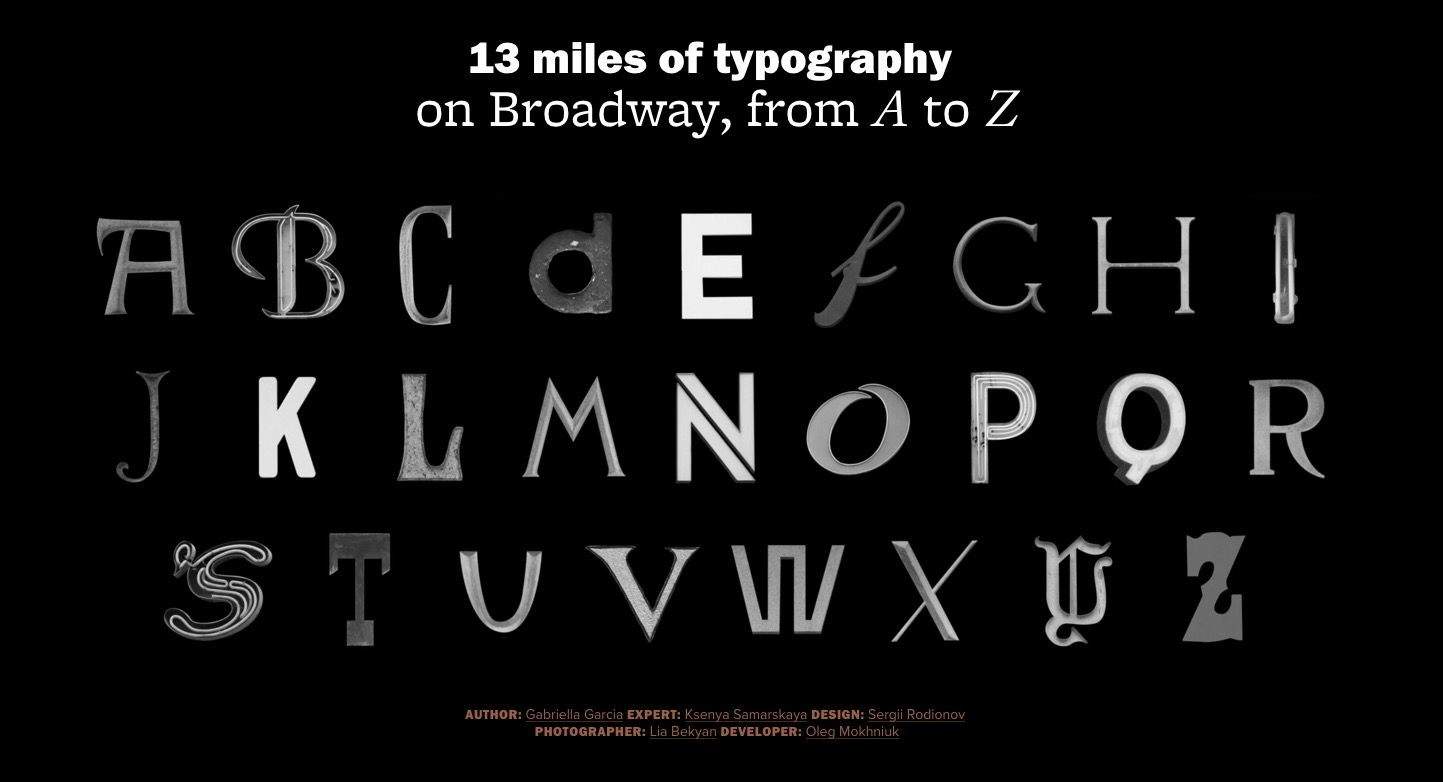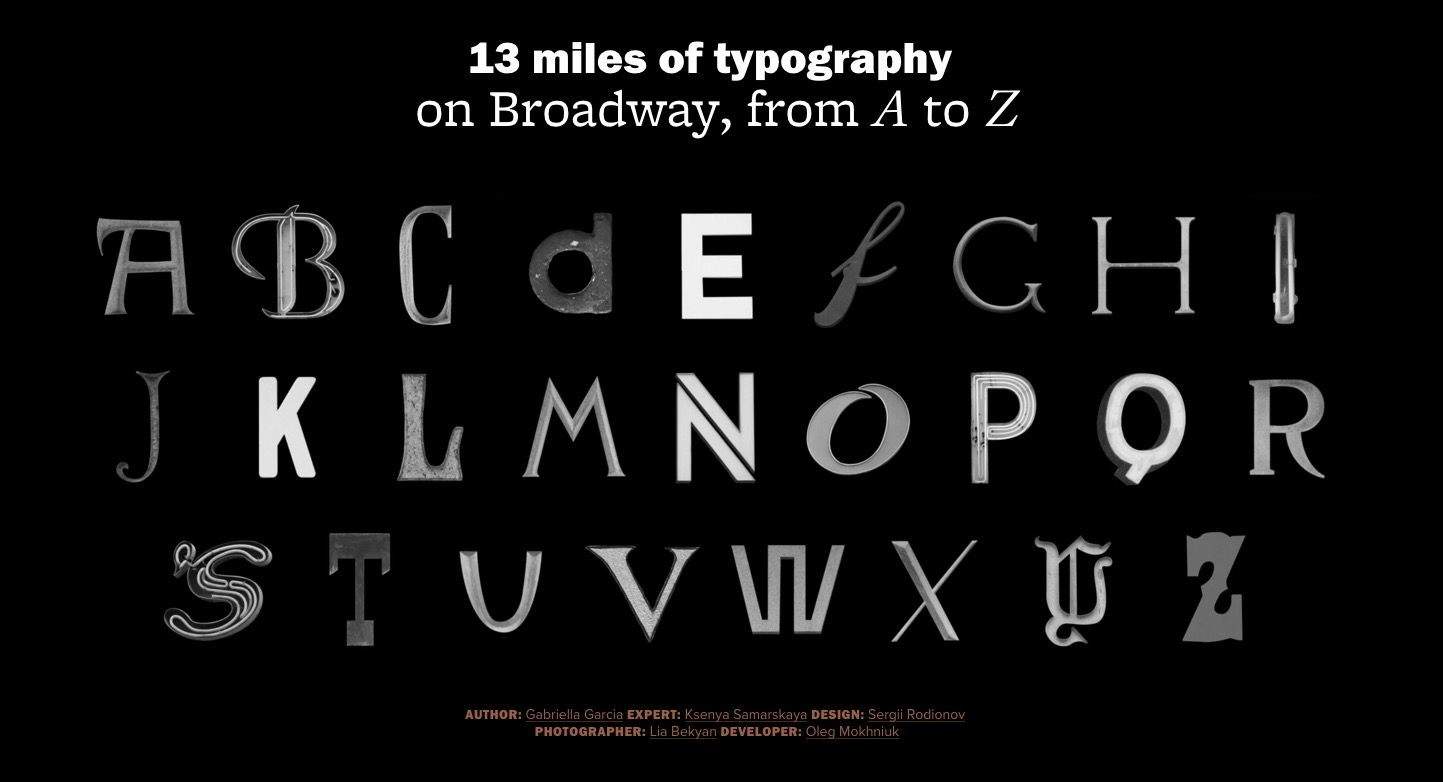 The Typography A to Z of Broadway by Hopes & Fears
The Typography A to Z of Broadway is quite a remarkable 'post'—to call it a blog post is really quite a disservice, as it's more of a legit magazine article; just look at the credits at the end of this post—that takes an in-depth look at the astonishing styles and history of typography that can be found in and around Broadway.
As Ksenya Samarskaya explains: "Starting out at Broadway and W 181st St, the team, together with typography expert Ksenya Samarskaya, traveled by bicycle down Broadway to Bowling Green on the lookout for outstanding lettering, documenting around 200 samples. We then worked to identify and classify each specimen. With Samarskaya's help, we narrowed our choices to 26 images, focusing on exhibiting as diverse a range of type category, classification and method of production as possible, while showcasing a distinct letter or digit for each in the alphabet. While the vast majority of samples we found are one-off designs, we also identified similar or influential typefaces."
I've counted 26 examples: each instance (the right hand side) of the Broadway typography has been recreated so one can clearly see the style of typography used. This is fascinating stuff, and even more so if you are within travelling distance of Broadway.
I'd certainly want to go round and check these places myself, so The Typography A to Z of Broadway almost becomes a City Guide of Typography, now there's an idea…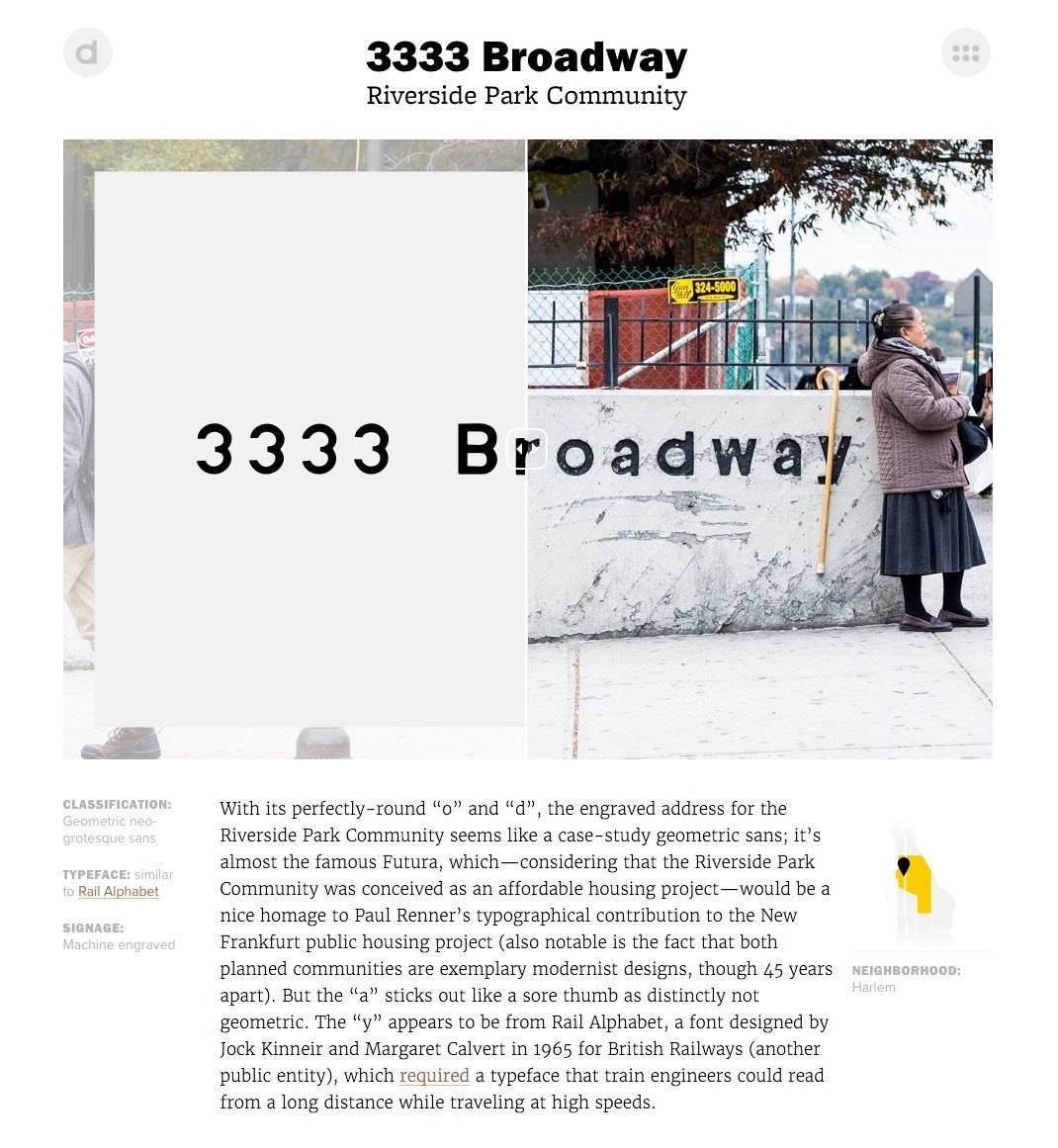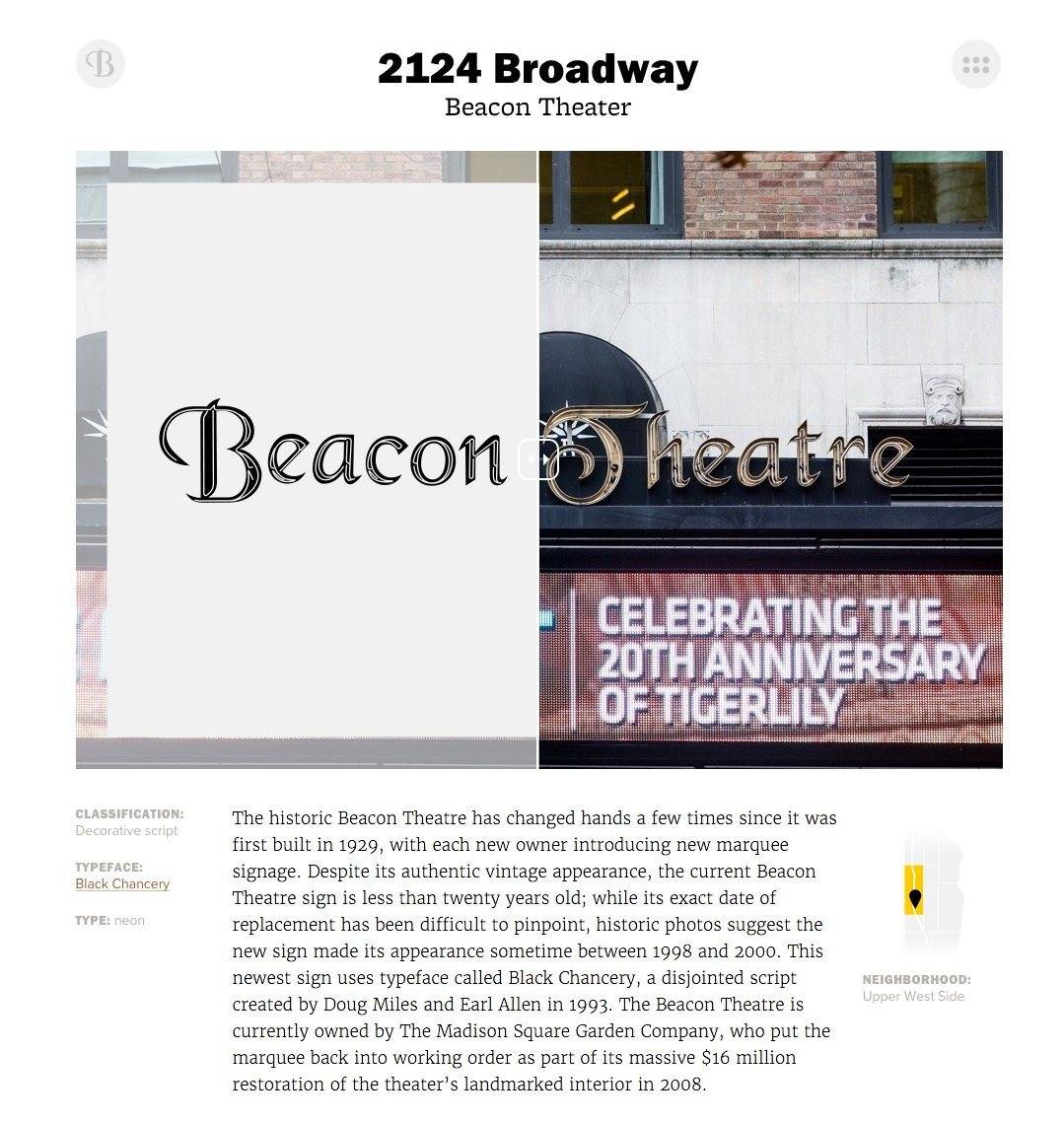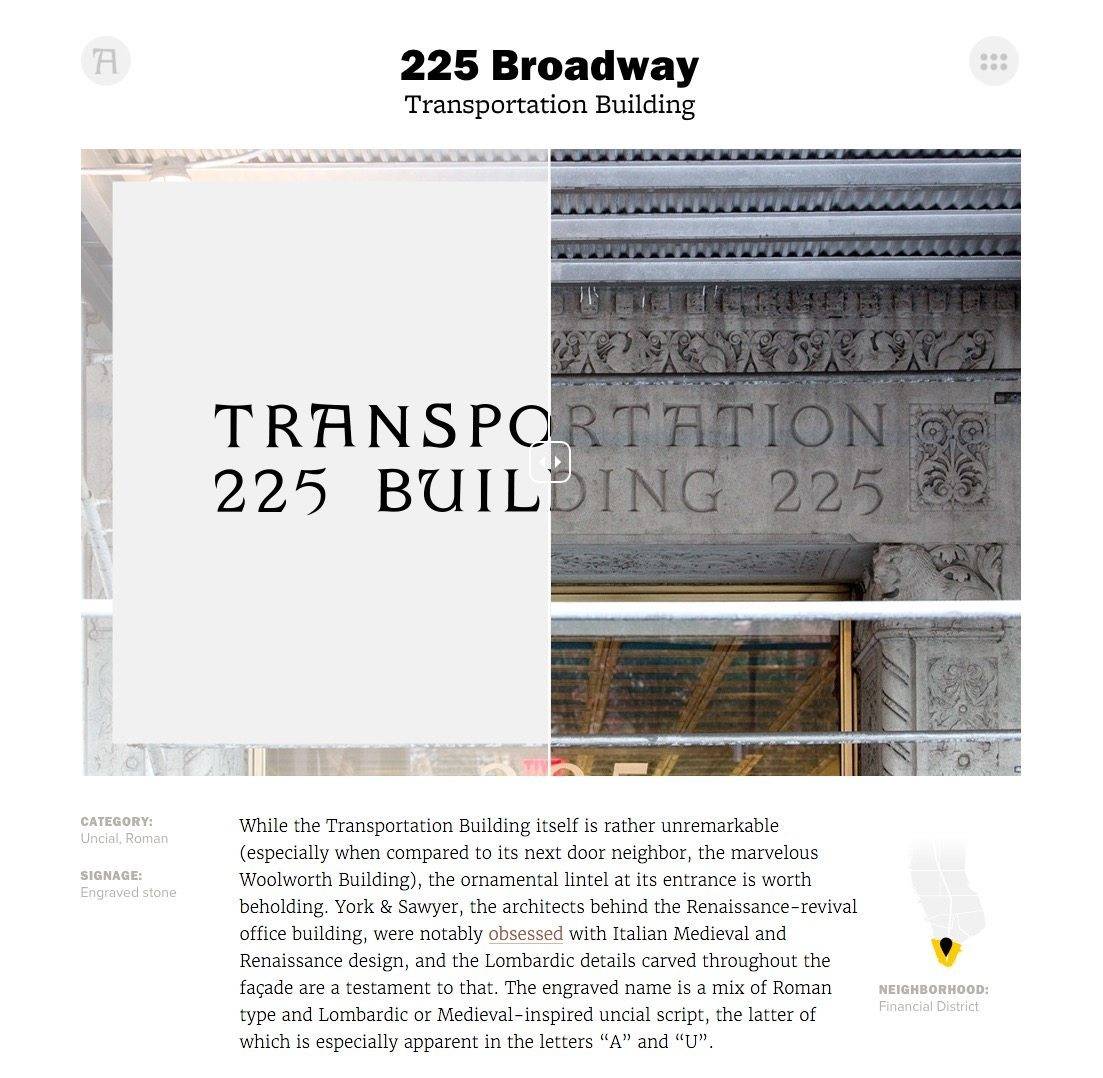 The Typography A to Z of Broadway by Hopes & Fears
Hopes & Fears: A to Z Typography of Broadway "Broadway is easily America's most famous thoroughfare. Starting in lower Manhattan at Bowling Green and running the entire length of the island, it strings together some nine to fifteen neighborhoods—depending on who you ask—before bleeding over into the Bronx, serving as a cross-sectional study of the City's diversity in ethnicity, utility and design. As the Main Street of Manhattan, Broadway exhibits a catalogue of lettering—from neon lights to mom-and-pop shop signs, from theater marquees to building names. Join Hopes&Fears as we tour the typography of Broadway.
Credits
Author: Gabriella Garcia Expert: Ksenya Samarskaya Graphic Design: Sergii Rodionov Photography: Lia Bekyan Developer: Oleg Mokhniuk
© 2005-2018 All Rights Reserved The Logo Smith
Logo Designer & Brand Identity Design Studio, with 25 Years Experience.
Graham Smith: 10 Badgers Copse, Seaford, East Sussex, England.
 Tel: +44 (0) 7816 527 462  Email: glogosmith@gmail.com