After posting the Vintage VW Logo Specifications Sheet; one thing lead to another, and now I can present a reasonably faithful recreation of the Vintage VW Logo Specification Sheet.
Why the recreation?
No real reason other than I thought it would be a fun project to work on, but also the original lacks some quality so can't be enlarged and printed out to well. I thought that if I reproduced it, warts and all, it would allow me a up close view of how this was originally created.
It's not until you tear it apart and start looking at all the various line weights, arrows, text and the sobering realisation: we didn't always have copy and paste and mathematical precision based artwork tools at our disposal.
It's also nice to know there is now a detailed replica of these logo specification.
The original was crafted by hand, ink and ruler.
Image above is also the recreated version.
Imperfect perfection
It was tempting to balance all the unbalance aspects, to unify the type sizes and styles, to bring all the vertical and horizontal alignments to perfection but I didn't. Using the enlarged version of the VW logo specification sheet that Steve Smith and Farzan Balkani found I was able to, reasonably accurately, reproduce the imperfect perfections of the original.
There are a few areas where I had to just suck it up and accept close was close enough. Some of the type styles are just impossible to nail as they look like they have been handwritten, and there is a mixture of a lettering set in a variant of Avant Garde Gothic.
So some of the lettering, should you feel the need to check my accuracy, will be close but not exact in style. What I have done is to ensure the spacing and placement of all elements is as accurate to the original as possible.
I have created two main versions which you can download.
The first poster will be as the first image in this post with blue elements on white, and is saved as both PDF and Illustrator .ai.
The second poster is as the original complete with faux textured paper, and is a high resolution A4 image at 300dpi. The textured background was created from scratch and not using stock scans of any kind. It's not 100% accurate, but it's close enough for my purpose.

A thought
I am conscious of not creating too many variations of this so as to cause confusion over the prestigious nature of the original. For this reason, and this reason only, I have added a small credit that states this version is a reproduction.
I would ask, with respect to the original artwork, that you leave this credit in place—if posting variations online—so as to avoid this getting mixed up with the original.
If you want to reblog this then I just ask that you link to this post and ZIP file.
Bonus Downloads
A few people muttered about a desktop wallpaper version so here we a couple of sizes to download.
Download 1920x1200px VW Wallpaper
Download 2560x1440px VW Wallpaper
Download 1680x1050px VW Wallpaper
Download iPhone 4 Retina Wallpaper
---
Previous Post:
Vintage VW Logo Specifications Sheet
Next Post:
Ecohols – Alcohol Packaged In TetraPaks By Jørn
---
Posts of Similar Content: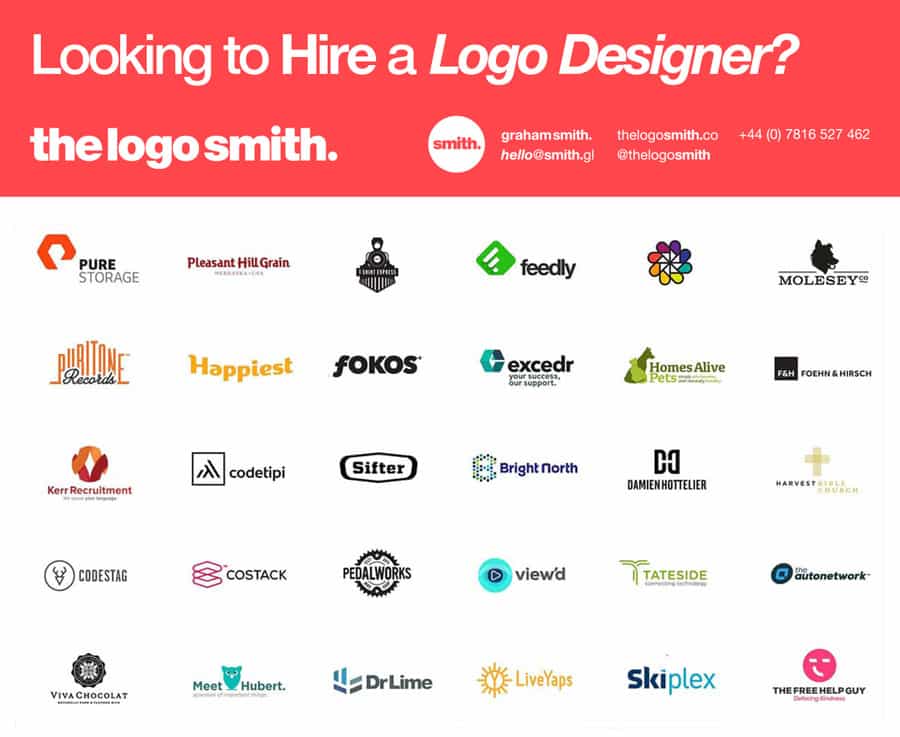 Looking to Hire a Freelance Logo Designer?
If you like the design work I've done in my Portfolio (some examples above), and Monomarks, and are looking to hire yourself a highly talented, and very experienced (25 Years), Logo and Brand Identity Designer, then look no further.
Just visit my Hire Me page, and fill in the short Design Brief. Or, just reach out to me via my even shorter Contact Form.
About | Hire The Logo Smith | FAQ's | Case Studies | Portfolio | Monomarks | Logos for Sale | Contact
---
Home » Design Blog | The Logo Smith | Freelance Logo & Brand Identity Designer » Famous Logos
© 2005-2018 All Rights Reserved The Logo Smith
Logo Designer & Brand Identity Design Studio, with 25 Years Experience.
Graham Smith: 10 Badgers Copse, Seaford, East Sussex, England.
Tel: +44 (0) 7816 527 462 Email: [email protected]