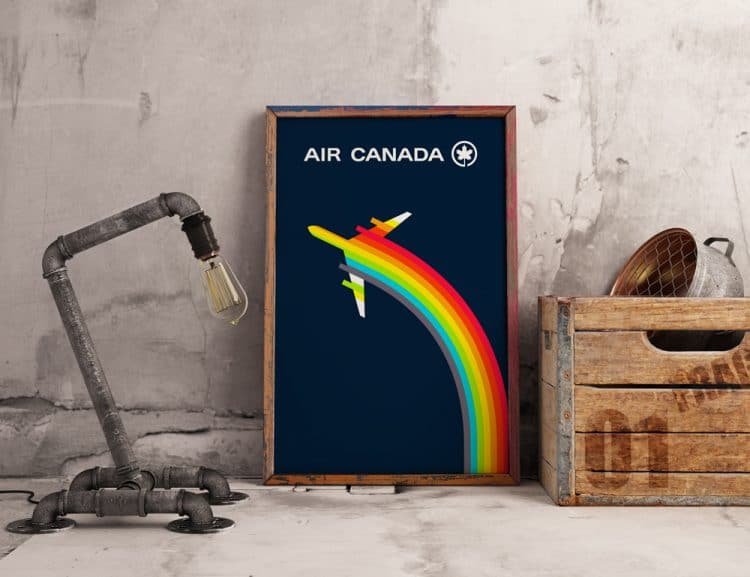 Vintage Air Canada Logo Poster Design Recreated for Download
First things first: I did not design this beautiful vintage Air Canada Poster, I've simply always been very fond of it, and wanted to recreate it from the only bitmap version found online.
This original version (first image above), and truth be told, it's not all that bad. It's clearly been round the block a few times, but this all add's to the vintage charm of it.
Here it is again (below), but to the right of my vector version for a quick comparison.
Recreated Vector & Original Bitmap Vintage Air Canada Logo Poster

Enlarged Original Vintage Air Canada Poster
Here's an enlarged portion of the original, so you can see the degradation, especially around the types edges, and also the coloured bands are quite pixelated:
Saving the Past for the Future
There's always the risk that in years to come, it will be resaved, and resaved, and eventually it will become a mess, much like the VW Logo Guidelines, 1976 Montreal Olympics Guidelines & Vintage Tokyo Olympic Logo Sheet that I've previously recreated: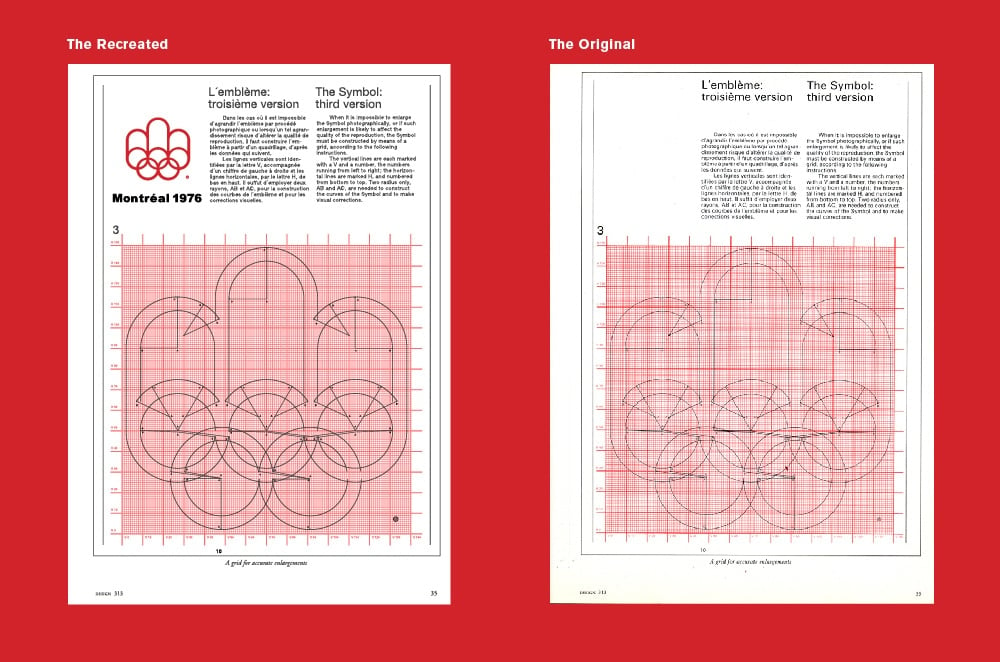 Back to Air Canada after a bit of shameless self promotion…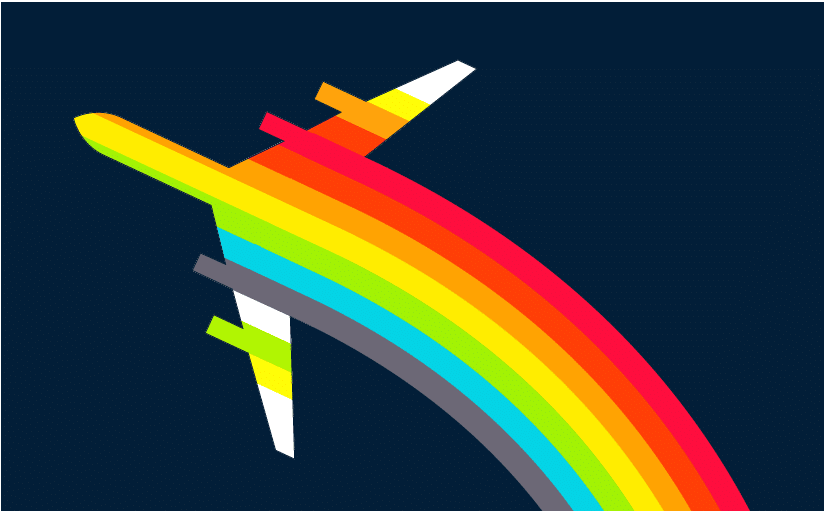 My Little Ray of Canadian Sunshine
As this Air Canada Rainbow poster has always really cheered me up, I wanted to do my little bit to preserve the integrity of the original design, and recreate it as faithfully as possible in vector.
Recreating it in vector also then means we can create some additional versions, such as a landscape version, then maybe versions to be used as wallpapers…
I decided to keep the colours solid and flat, rather than trying to design in some faux distressed vintage effect.
Obviously with the vector which you can download, you can do with it as you wish.
However, I'd personally prefer that it's kept as true to the original artwork when it was first printed, in the 1960's.

Quickly Type Stuff
I found a largish version of the vintage Air Canada Logo (above), and was initially going to just redraw it, but I realised it wasn't far off Helvetica, so I used Helvetia as a starting point for the typography, and just tweaked it to match the original.
Red type is Helvetica, Light Cyan is the tweaked version over the top of Helvetica, and the solid black is the recreated logo type.
The Plane and Rainbow
The whole plane and rainbow ended up NOT being as straightforward as I'd first imagined, so let's just say it took a tad longer to create than I expected!
Moving on… this is actually the recreated vector version below.

Vintage Air Canada Poster Photo Gallery
Here's a few images of the newly created Vintage Air Canada Logo Poster using various freebie poster mock-up's.
I found one awesome blog Mock-up Post from The Design Nest, then used a few of their selected listed poster mock-up's below:
Free Vintage Poster Mockup via TheHungryJPEG

Free Vintage Poster Mock-up by DealJumbo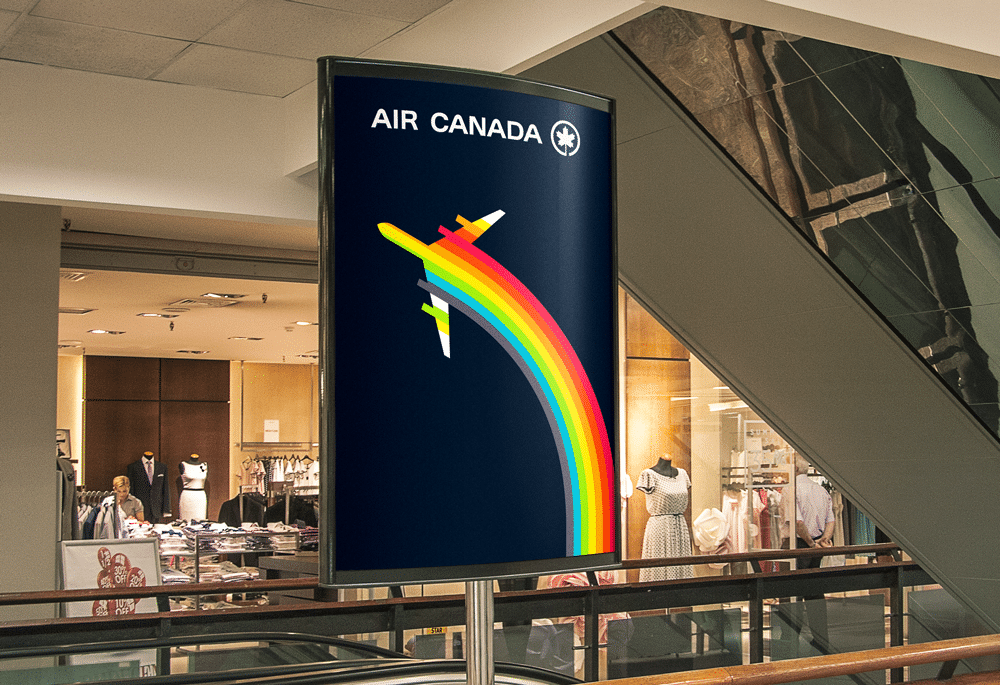 Mall Advertising Stand Poster Mockup by mockuphunt.co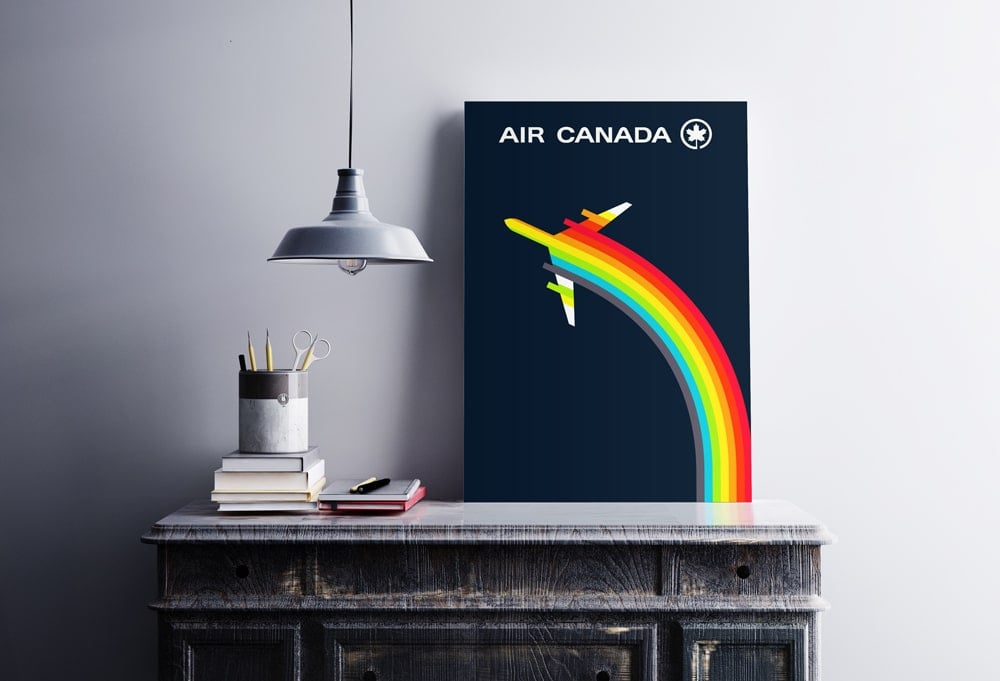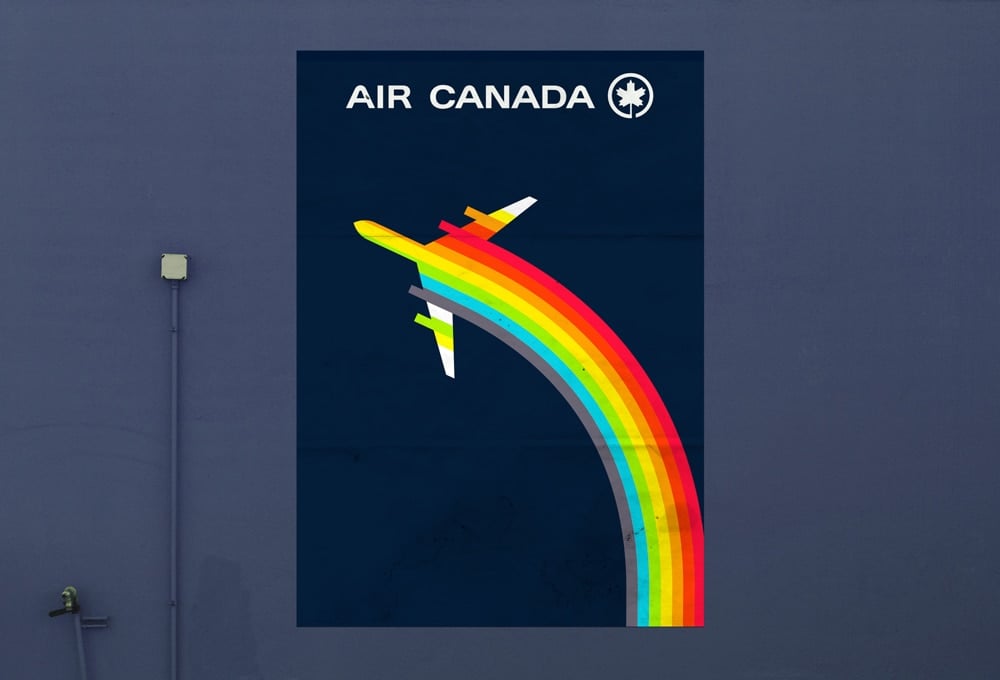 Download Vector Vintage Air Canada Logo Rainbow Poster Design
There's not an awful lot to say about the Download, other than here it is: https://www.dropbox.com
I've zipped up a Adobe Illustrator .ai, .eps, .pdf and .SVG. Blast me on Twitter if you'd like another file format.
The image below is actually a sanitised SVG and imported into Wordpress using the plugin: Safe-SVG, so you can actually just drag this image out of this post, and drop it onto your Illustrator App icon, and it will open up as an editable SVG.
If you just double-click the SVG file on your desktop, it'll likely try and open any accessible text editor, as this is all the SVG is; you do need to drag the SVG directly onto a vector app icon.
Desktop Wallpaper Versions (being updated)
I am in the process of creating some desktop, phone and tablet wallpaper versions, so I'll update the Tweet as and when the post is updated with new sizes and resolutions.
The following images are 100% unoptimised JPG's, so you should be able to simply copy/download/drag them from the post.
First wallpaper up is: 2880px x 1800px

The Original Air Canada Poster Version
As a reminder, this is exactly how it is found online, so maybe download and keep a copy for yourself:

Post First Published
This blog post was first published in 2012, so it's only taken me 8 years to get round to recreating it.
Instead of creating a new blog post, I've simply updated the original: new titles, new URL slug and new published date, so below was the original postwording (not much).
Air Canada Vintage 1960's Promotional Rainbow Poster Design
What an incredibly inspirational and delightful poster design from vintage Air Canada. This has almost made my weekend, it's utterly gorgeous.
► Found on Flickr
Air Canada is the flag carrier and the largest airline of Canada by fleet size and passengers carried. The airline, founded in 1937, provides scheduled and charter air transport for passengers and cargo to 207 destinations worldwide. It is a founding member of the Star Alliance.[9] Air Canada's corporate headquarters are in Montreal, Quebec, while its largest hub is at Toronto Pearson International Airport.[10] The airline's regional service is Air Canada Express.
Canada's national airline originated from the Canadian federal government's 1936 creation of Trans-Canada Airlines(TCA), which began operating its first transcontinental flight routes in 1938. In 1965, TCA was renamed Air Canada following government approval. After the deregulation of the Canadian airline market in the 1980s, the airline was privatized in 1988.
On 4 January 2000, Air Canada acquired its largest rival, Canadian Airlines. In 2003, the airline filed for bankruptcy protection and in the following year emerged and reorganized under the holding company ACE Aviation Holdings Inc. In 2017, Air Canada flew 48 million passengers, as the airline celebrated its 80th anniversary.[11]