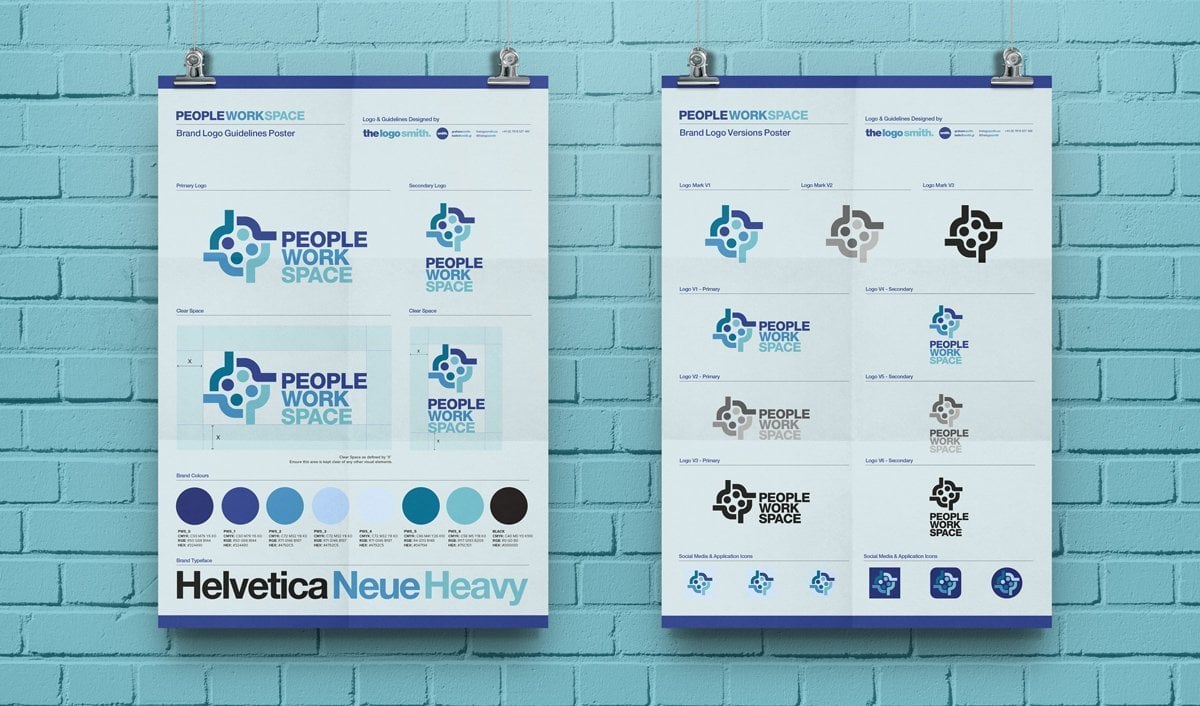 Brand Logo Guidelines & Logo Sheet Poster – Free Logo Mockup and Template for Download
Here we have another Brand Logo Guidelines Logo Sheet Poster for you to download, and use as you'd like for your own brand logo design projects. I'm just too kind…
This one comes with 2 sheets in one file:
One page is for the primary logo design, which includes the logo designs clear space, and also the brand colours and brand font used.
Second page is simply to include all the various logo lock-ups, such as: Primary, Secondary, Social Media versions etc
Following the success of the previous 2 Logo Sheet Poster Templates I posted (below): Brand Logo Versions A3 Poster  & Brand Logo Usage Guidelines A3 Poster, there purpose is to simply provide your client with the logo designs you have created for then, but in a clean and functional poster format.
On the Medicine.com version I was able to add in the construction of the logo mark etc (above), but it wasn't applicable for the for PeopleWorkSpace, so I used the space for the colour pallets and larger font section,
Free Poster MockUp Credit: Medialoot

Download Brand Logo Guidelines & Logo Sheet Poster – 2 Pages
For now the file is just saved as an Adobe Illustrator .ai file, so let me know in the comments below if you need any backward compatibility etc, and I'll see what I can do.
The Illustrator file includes 5 layers, which separate the various elements: Background, Headers & Text, Colours & Fonts, Clear Space, Logo Assets (logo lock-ups)
Before using the posters, please ensure you remove all instances of the existing PeopleWorkSpace logo (blow), as this is a logo I designed for a client, also remember to swap out my own logo & contact info (found top-right of each poster) with your own. 

If you find this Logo Sheet Poster Template Useful?
If you do find this Logo Guidelines Poster resource and download useful, then I would certainly appreciate a Retweet and/or a link back from your blog:
Brand Logo Guidelines & Logo Sheet Poster 2 Pages – Free Logo Template for Downloadhttps://t.co/VH4Ijda6Iq pic.twitter.com/3Xx0iKfKKN

— thelogosmith.co (@thelogosmith) October 7, 2019
Other Brand Identity and Logo Design Mockups:

---
See also: Pricing Guidelines Template & Logo Design Proposal Template & Logo Design Transfer of Copyright Form
---
Free Poster MockUp Credit: Medialoot
---
About this Post
Written by:
Graham Smith
:
Date of Publication
First Published on:
2019/10/07
and Updated on:
2020/02/04
Post Categories
Filed In Categories:
Downloads, Poster Design, Resources, Templates
Post Tagged by
Tagged with:
Logo Guidelines
View More Posts by Category
---
---
If you like the Logo & Brand Identity Design work I have done in my Portfolio, and Case Studies and Monomarks, and are looking to hire yourself a Highly Talented, and Super Experienced (28 Years), Freelance Logo & Brand Identity Designer, then look no further. Visit Hire Me, and fill in the Design Brief, or just Contact me.
The Logo Smith has Full Business Idemnity Insurance (FCA Regulated).