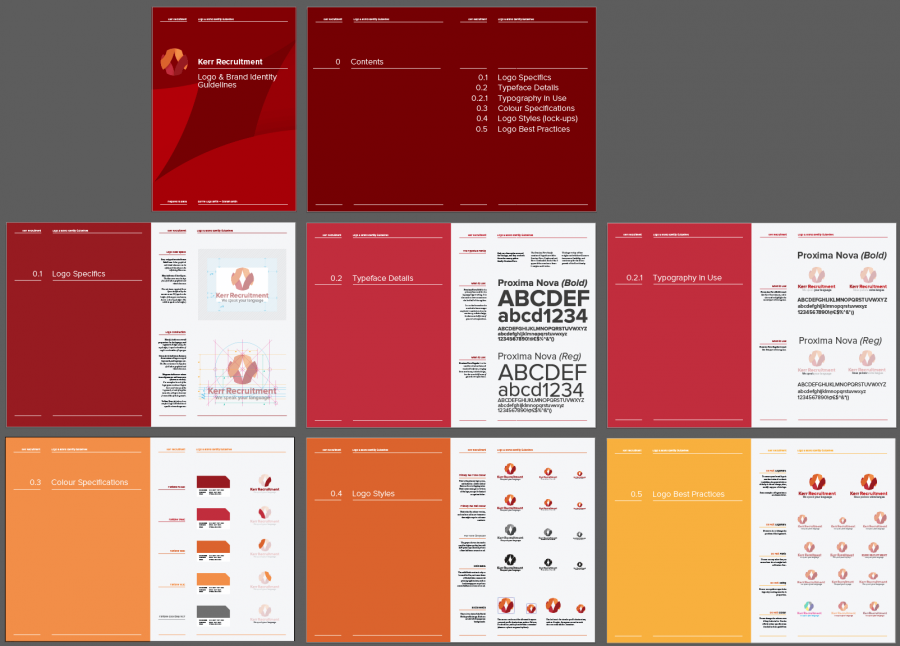 Logo & Brand Identity Guidelines Mockup: 14-16 Client Guidelines Template for Download
This version of my Logo & Brand Identity Guidelines mockup, from my resources & templates category, is a little heftier than previous, weighing in at a respectable 13 pages based on my Logo & Brand Identity Redesign for Kerr Recruitment.
I have used this particular version of the guidelines mockup for a previous client of mine, Kerr Recruitment.
The style of this set of guidelines mockup has gone down well with both clients, as well as some prospective clients who have asked about them after seeing them on the respective portfolio pages, etc.
So, I figured I'd stick with this basic style for a while, and expand and tweak it as necessary.
There are, of course, situations where a completely bespoke set of guidelines is warranted, but on the whole, i'll be using this style base where the client isn't in need of a custom set of guidelines.
If you found this template and mockup useful, then I'd certainly appreciate a Twitter Like and/or Retweet:
"14-16 Page Logo & Brand Identity Guidelines Template for Download"https://t.co/bH0umGEZXg#LogoDesign #logodesigner #freelancer #GraphicDesigner #branding pic.twitter.com/vmR7k3Ekwp

— The Logo Smith: Logo & Brand Designer (@thelogosmith) May 28, 2018
14-16 Page Template for Download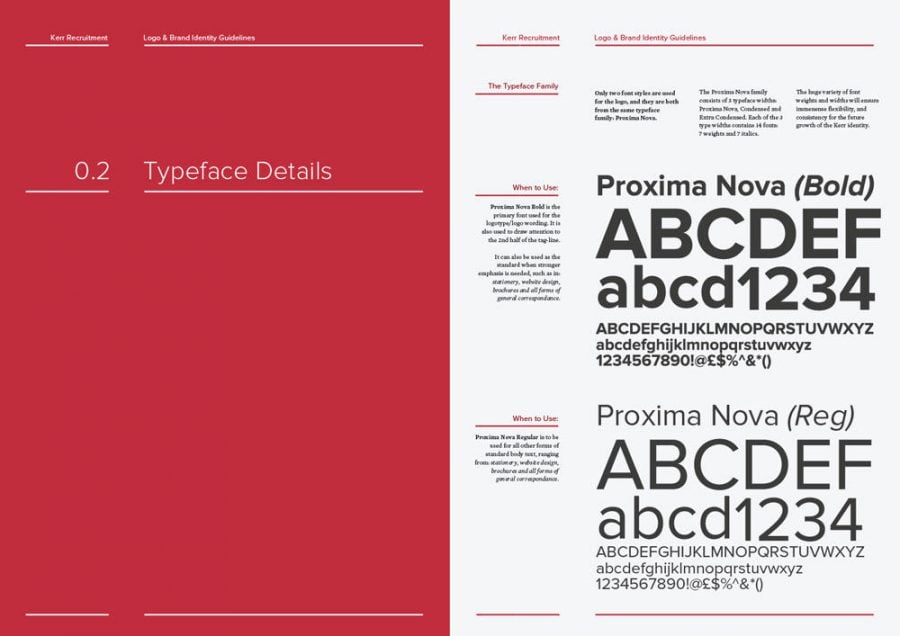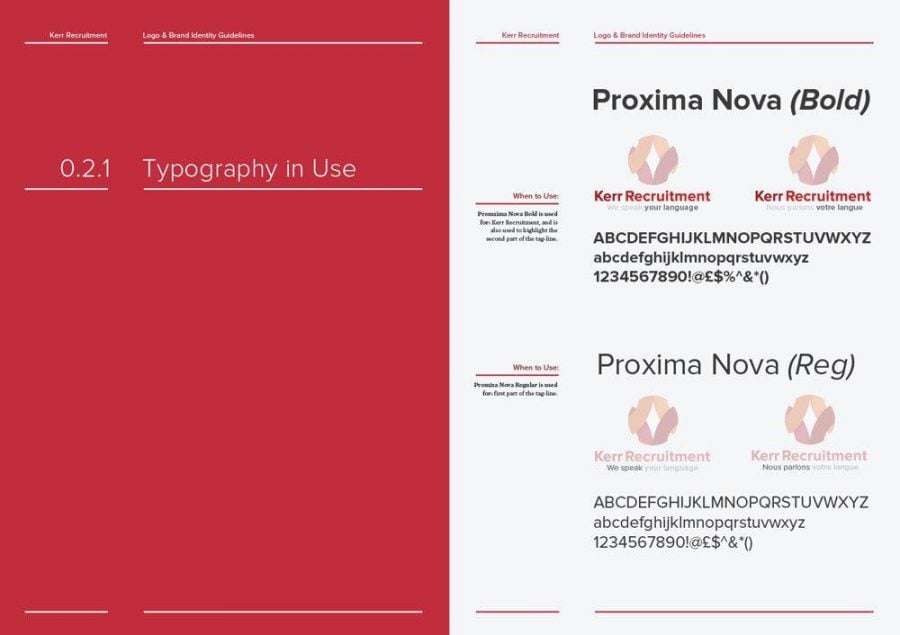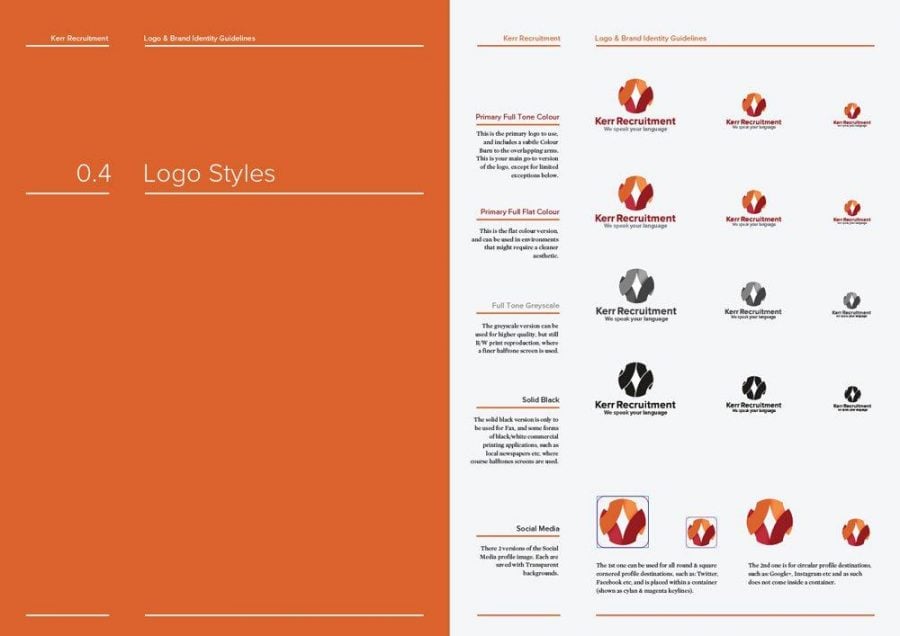 The above link will download a ZIP archive of an: Adobe Illustrator CC7 file (without embedded fonts), and a PDF (with embedded fonts).
I'm providing the original Adobe Illustrator files for you, so you can get your collective hands dirty with all the text, imagery, pages and artboard's, etc.
Although I have kept Kerr Recruitment's logo in place, please bear in mind that this is a legitimate client logo design, and as such is not there for you to use, commercially, in any way.
You will likely need to change these files quite a lot. The guidelines have been designed in such a way that are quite specific to the way the Kerr Recruitment logo has itself been designed, from the amount of colours used and thus detailed, the French translation of the logo, the various logo lock-ups, etc.
However, you should still be able to use quite a chunk, or at least get a real good idea of how and what to use, spec, explain in your own version of the guidelines.
The addition of the solid colour leader page, with the section titles, looks pretty nice I think, and helps make the guidelines look more like an actual booklet.
If you have any questions about creating logo and brand identity guidelines, or simply want to say drop me a line, you can do so here, over there and right here: glogosmith@gmail.com, use the contact form, or grab me on Twitter: @thelogosmith
Other Brand Identity and Logo Design Templates:
---
See also: Pricing Guidelines Mockup & Logo Design Proposal Template & Logo Design Transfer of Copyright Form
---
---
About this Post
Written by:
Graham Smith
:
Date of Publication
First Published on:
2018/05/28
and Updated on:
2020/02/15
Post Categories
Filed In Categories:
Downloads, Resources, Templates
Post Tagged by
Tagged with:
Download
,
Logo Guidelines
View More Posts by Category
---
---
If you like the Logo & Brand Identity Design work I have done in my Portfolio, and Case Studies and Monomarks, and are looking to hire yourself a Highly Talented, and Super Experienced (28 Years), Freelance Logo & Brand Identity Designer, then look no further. Visit Hire Me, and fill in the Design Brief, or just Contact me.
The Logo Smith has Full Business Idemnity Insurance (FCA Regulated).