All Archived Posts in Blogging
Received this Google SEO post update: Another Step To Reward High-Quality Sites by Matt Cutts whilst holidaying in the picturesque country side of Lynmouth, North Devon. It's outstanding news.
I practicality rely—which in-itself is quite scary—on search engine traffic nowadays to secure new logo design projects with word-of-mouth, recommendations and social network job leads bringing up the rear.
I have worked so hard over the last 6 years to build imjustcreative up and put in many hours of work to ensure my website, blog and portfolio has a good chance to be indexed and found by possible clients. I would say about 90% of all new work now comes via being through a Google search which is way higher than 1-2 years ago. Maybe time is beneficial as you slowly creep up the search ladder, but I am still pretty certain that these changes by Google ARE having a considerable and positive impact on the discover ability of my logo design business.
I'll also wager that having Google Authorship—having your profile photograph next to search results—is also a massive incentive for potential new clients who come across you via search. Introducing Google Authorship, in my eyes, was a stellar move by Google.
A few years back it was somewhat disheartening to see so many irrelevant search results from the faceless $5 logo sweat shops relying on keyword stuffing and many other black-hat SEO tactics to ensure top-of-the-page placement. These warped results would almost always take fist page top slots often way way above the genuine, talented solo logo designer that a client might be better off finding and building up a working relationship with.
The last year or so Google has certainly made massive strides with indexing and results: rewarding honest and decent websites whilst penalizing those faceless logo design crooks that have no passion in design other than to rip unsuspecting clients off.
Never Stop Your SEO
I really am happy with the way Google is actively squishing the bad; rewarding the good. You ought never rest on your laurels though when it comes down to maintaining your work critical website.
I realised that during my website redesign I had let a few things slip. SEO is hard to master, but it's also within easy reach if you follow some basic white-hat rules. I am at the point where there is nothing I will not do to ensure my own website is as close to being candy for search engines that I hired some expert SEO help.
Get A Website SEO Review
If you want to be sure your website is performing as cleanly and as effectively as possible but is not letting you down in areas you don't fully understand, then I would seriously and sincerely recommend a Website Review: Improve your SEO, Usability & Conversion by Joost de Valk (@Yoast) who is the established and respected SEO tradesman. You can fully trust this guy.
Thanks to Joost I now have a extensive SEO and structural report of my website which highlights a number of areas that need improving. I will be working on this SEO to-do-list all this week and feel super pleased that I invested the money. I will be writing up a more detailed review of the review in the coming weeks.
In the meantime take a look at this latest blog post by Google: Another Step To Reward High-Quality Sites by Matt Cutts and know that the balance of power is changing towards those that put real and honest work into their websites.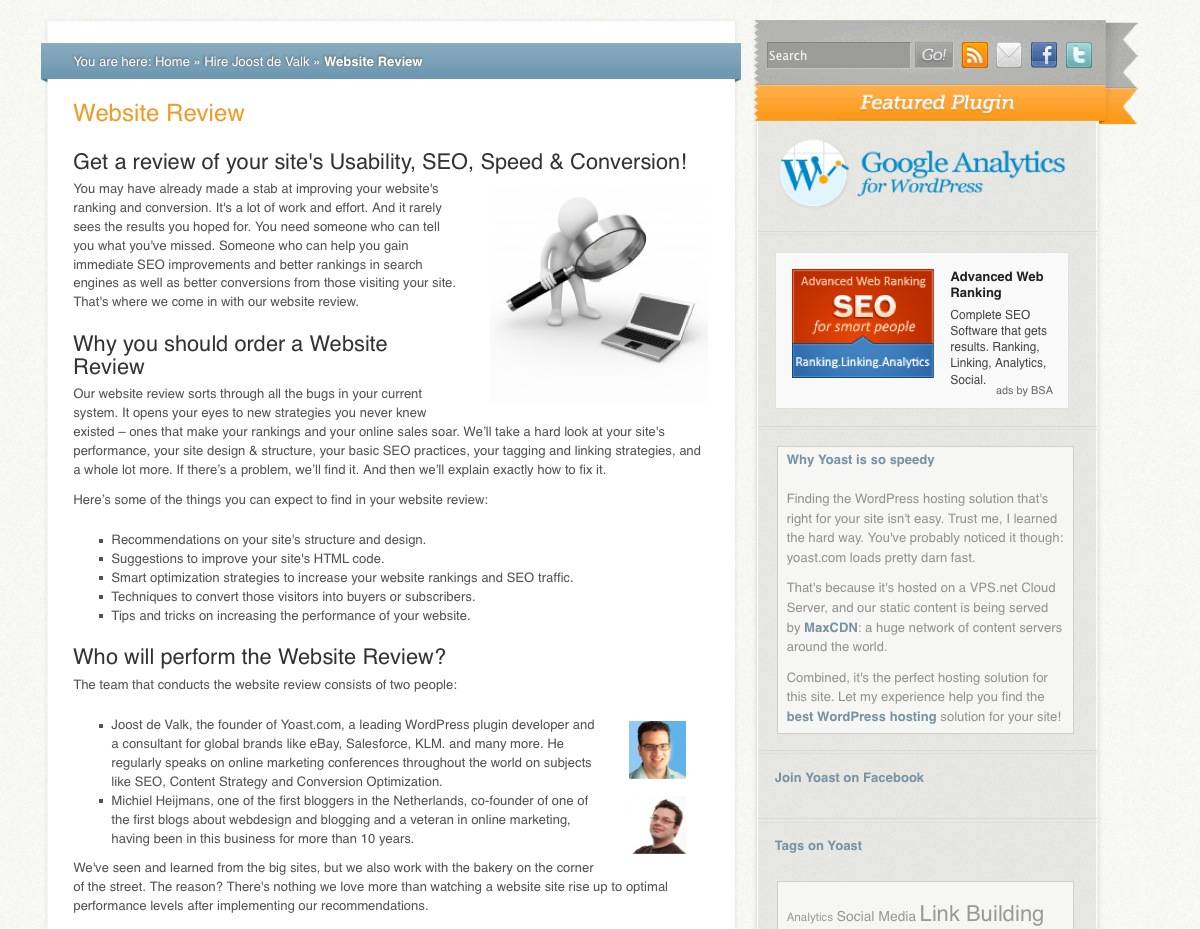 Have had a good run with Google over the last few years in relation to being found in searches, but a few site changes have set me back a little bit. Nothing particularly major is wrong—more down to me forgetting to do this and that during my site redesign—but I feel a little exposed right now and need to feel that I am properly on top of my SEO
What will I do I hear you cry?
I am glad you ask because I do have a solution to this issue.
This solution I speak of is to hire Mr Yoast: Mr @Yoast is probably one the most well known and knowledgeable SEO persons around.
If you visit his website you will chance upon a service called Website Review where Mr Yoast and Co will dig deep into the inner depths of ones website and provide a detailed report on what aspects of SEO need fixing/changing/tweaking etc.
Time has come to enlist the valuable services of Mr Yoast for the imjustcreative website.
I shall write about the process which will hopefully provide some useful feedback as well as all important peace-of-mind.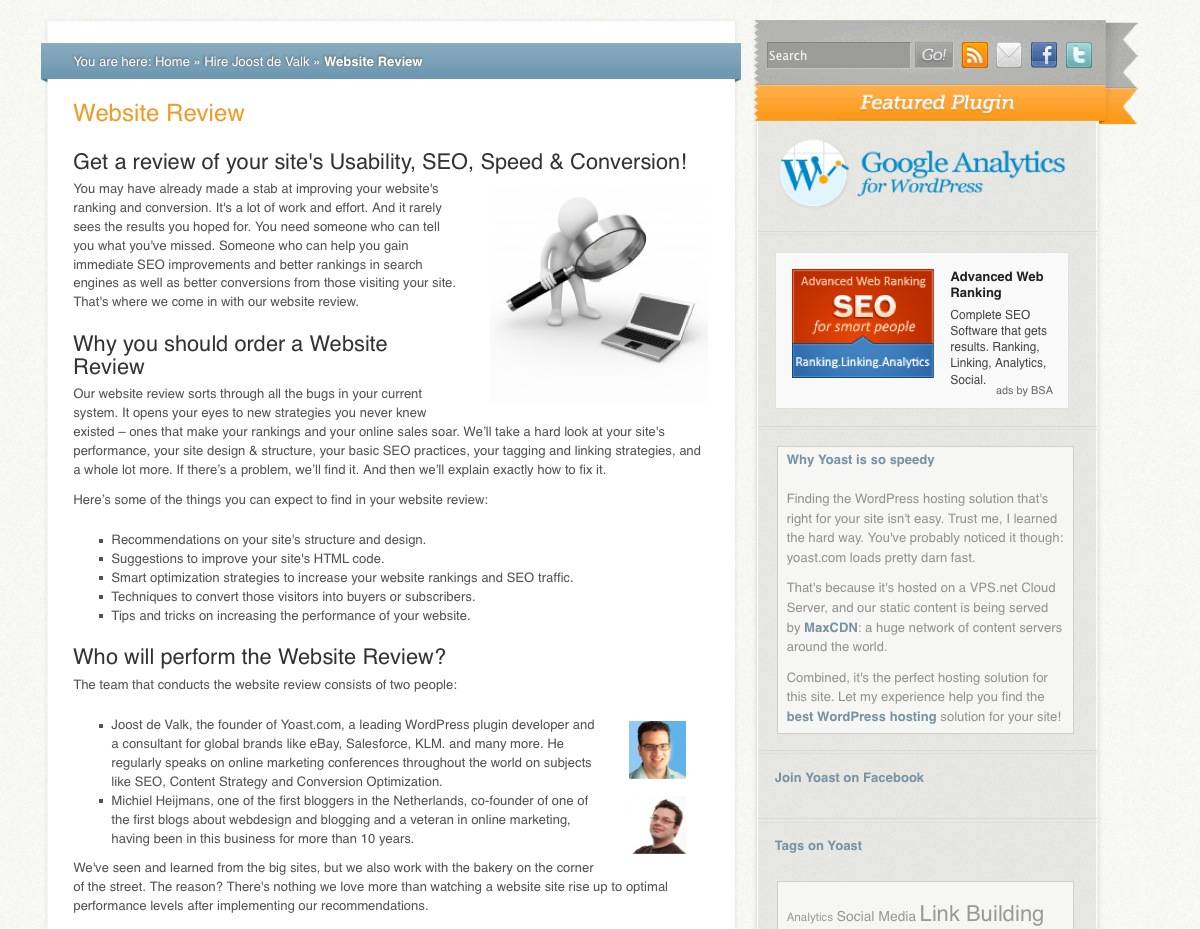 From Mr Yoast's Website
Why you should order a Website Review
Our website review sorts through all the bugs in your current system. It opens your eyes to new strategies you never knew existed – ones that make your rankings and your online sales soar. We'll take a hard look at your site's performance, your site design & structure, your basic SEO practices, your tagging and linking strategies, and a whole lot more. If there's a problem, we'll find it. And then we'll explain exactly how to fix it.
Here's some of the things you can expect to find in your website review:
Recommendations on your site's structure and design.
Suggestions to improve your site's HTML code.
Smart optimization strategies to increase your website rankings and SEO traffic.
Techniques to convert those visitors into buyers or subscribers.
Tips and tricks on increasing the performance of your website.
With my logo and brand identity design workload ever increasing I am finding it trickier in writing blog posts of a few years back.
With this in mind, I mentioned a few months back that I would be seeking some creative/technical sorts to contribute to the writing portion of the The Logo Smith blog.
If you feel you have valuable thoughts/resources/tips/tutorials in mind on the subject of: logo design, branding, identity design, icon design, typography, advertising, naming, graphic design, web development & design, SEO, Social Media, PR etc, then I would certainly like to offer you a platform from which to publish your words.
You will also benefit from appropriate, and relevant, links back to your own website and any other sites you reference, of course.
I do have quite reasonable relationship with certain search engines, not to mention a fair read with Twitter, Google+ and other Social outlets, which will give your own blog the usual injection of fresh DNA (if that sort of thing excites you).
How to Start Writing Blog Posts For The Logo Smith
If you would like to discuss your post idea/ideas with me then please do get in contact.
This is a one-off temporary post for the sole purpose of providing a group link that will enable the first 150 60 people to use it to score an invite to Google+ (+Graham Smith).
150 60 Invites available via this link
I am also looking to get listed in RecommendedUsers (Artists & Designers) so if you genuinely feel I offer: insightful, interesting, valuable links and resources then I would utterly appreciate a recommendation. But please; only if you genuinely like or find useful my various posts and updates. Thank you.

Logo Design Hangout
Consultation For Designers & Clients
It's pretty clear that the Hangout feature of Google+ will is a great hit amongst a great many people with new uses for it being found almost every day.
Some of you may know that I have tinkered with The Logo Clinic where you could submit logo design questions and seek the advice and help of other designers etc. The clinic has been taking a breather whilst I focus on my own client work and getting up to speed with Google+, but the idea of using the hangout feature for a variation of The Logo Clinic has really inspired me to crank the general theme of the clinic up once again.
I have posted a few general statements via my Google+ steam about my intention to use hangouts to conduct a sort of logo design consultation -- the feedback has been pretty positive -- so I have decided to run with it and see how it all pans out.

Who Is It For?
Initially I was just planning on using it to provide help and advice to other designer's but I realised that it would be equally as valuable if it were to be open to anyone seeking advice about logo design in general.
If you are a designer with a question or seeking general advice about logo design or freelancing then The Logo Clinic Hangout is for you. Asking my opinion on a logo design you have completed can be tricky, especially if I don't like it, so would ask you refrain from putting me on the spot with this. Better to use Dribbbble or Forrst for this sort of help:)
It's also open for non creative types who may need some direction on the whole idea of logo design in general. You may be looking to hire someone, and need some general advice -- I'm not expecting to be your choice of designer so no sales pressure tactics from me -- on how best to go about it or you may be struggling with the best way to provide the sort of information required for a useful logo design brief.
I really feel this could be a fun and much more dynamic way to talk and chat about various logo design issues that you may be facing.
If you think this could be of interest to you then first thing would be for you to follow me on Google+ so that you can see when I am planning the next hangout. If you would like a prpv
General Hangouts
Once you have me in a circle then it's just a case of watching out for the next session. I will try to give at least 24hours notice, but I'm sure there will also be very spontaneous sessions.
If you are just curious then feel free to lurk in the background, as I know a few of you are interested about the idea, so happy to have you onboard. :-)
Private Hangouts
I am also prepared to do private or one-on-one sessions so if you would like to secure a few moments of my time then please send me an email or direct/private message via my Google+ profile.
I can't promise I will be able to help or even spare the time for private hangouts, as it all depends on my existing client work schedule, but I will certainly try my very best.
If you have any questions or thoughts about this idea then please do let me know via comments below.
See ya.
A few weeks back Google announced they were supporting authorship markup—a way to connect authors with their content on the web.
This isn't really a how-to as Google provides pretty clear instructions on how to do it. All I will do is give you a little background and point you in the right direction to get started.
I have pulled out the two specific paragraphs from the above post that sum up authorship.
We [Google] now support markup that enables websites to publicly link within their site from content to author pages… An author page describes and identifies the author, and can include things like the author's bio, photo, articles and other links.

If you run a website with authored content, you'll want to learn about authorship markup in our Help Center. The markup uses existing standards such as HTML5 (rel="author") and XFN (rel="me") to enable search engines and other web services to identify works by the same author across the web…

Snippets from Authorship markup and web search
I was particular interested in this idea so made strides to get in on the act, and as of today my Google authorship application has been set-up, and is now in operation.
If you Google search for anything I have posted under Graham Smith such as this recent post tshirts+from+the+noun+project+ you should see my profile photo next to the search results which also conveniently links to my Google+ profile.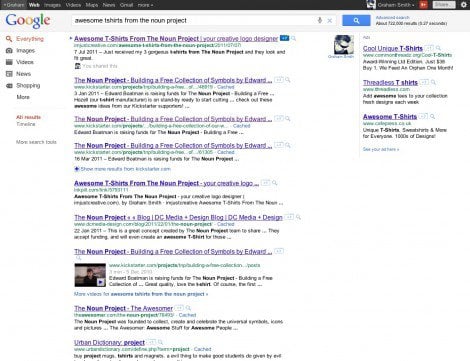 I think this is pretty awesome and will go a long way in providing writers and authors with more visibility during search results as well as assigning a face to whoever is looking at the results. If you also rely on your website, as I do, to attract clients then this can only be a good thing.
The other area where I think authorship will kick in will be with the growing number of +1's given to genuine sites rather than those content farms and fake logo design sites posing as legitimate logo design studios. It's no secret that these fake logo design websites have a tendency to steal the top rankings with their unruly methods which has the effect of making the hardworking, genuine and committed designers harder to find through search results.
Levelling Out the SEO Playing Field
The in's and out's of authorship will all become apparent when you start to read Googles help article on authorship. Once you see what is involved in the implementation of authorship on your own site you will start to see how this should start to even out the playing field, and will give power back the the genuine writers and bloggers who invest time and energy in writing and posting valuable and interesting articles for the rest of us.
Google+ Profile Linked To Authorship
You will see how your Google+  profile—don't worry if you are not sign-up to Google+ just yet as it will work with your regular Google profile if you have one—is genetically linked to any website you own or contribute to
you will see how it will become harder for the fake logo websites to compete as they will need to consider showing their faces and provide far more transparency than they are used to
and you will also see that genuine writers and blog contributors will have their general image and public profile raised in search results benefiting both writer and searcher.
If you are fed up of playing catchup to the content farms and dodgy logo design websites then incorporating authorship markup on your website, I feel, is essential.
It's early days but I would rather start the engines now and get them warmed up ready for the long haul.
What You Need To Do
1. If you don't have a Google profile yet then this would be your first task as without this Google will have no idea who you are, and will not be able to validate which blogs are yours.
2. Once you have a Google profile set up then the next port of call is to read Googles help article on authorship and follow, to the letter, these instructions.
This basically means genetically linking your websites, author pages and Google profile to each other using the appropriate <rel="me"> or <rel="author"> markup within your website, and having at least one outbound link from you website to your Google profile—as you can see from the code above taken from the ijc homepage; I have linked to my Google+ profile using the <rel="author"> markup—and vice versa.
Without this 2-way link Google cannot validate or confirm that the websites you say are yours are actually yours.
3. With the 2-way bonding complete, and your Google profile list of external websites have also been configured, you can fill in the Google Authorship Request Form for the final approval process.
It's not so much an approval but more a way of Google checking your settings and being able to get back to you with any problems. The cynic in me likes to think that this last process actually acts like a cursory check-point that the website being put forward is legit.
I would also like to think that any content farm or fake logo websites will first have challenges at the first hurdle in setting up a transparent Google as well as then passing a cursory inspection of their website. I have no idea if this is being a little optimistic but I do like to think this is Google starting to make a change for the better with more relevant and appropriate search results.
Thank You Google
I just wanted to reemphasis my experience with this authorship process has been really positive. After I submitted my own Google Authorship Request Form a Google representative emailed me with some changes that he felt would benefit my site in terms of the way authorship worked.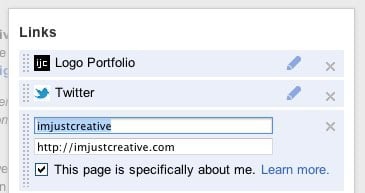 This included changing the authorship markdown on my Tumblr blog from <rel="me"> to a <rel="author"> as well as a few changes within my Google+  profile; more specifically how I had set-up the URL's in the Links section.
You will also notice that the"Written by Graham Smith" on each and every post also links, using <rel="author">, back to my Google+ profile.
Changing entries like Twitter, imjustcreative and Facebook to "This page is specifically about me". It's all about the small details that make the difference in the long term.
As I mentioned on Google+ earlier this personal correspondance from a Google representative was a small but very positive gesture on their part. When you add to that how the Google team are so actively joining in, and helping with the whole Google+ experience it starts to show you how committed they seem to be to make all this work.
Google are showing they are listening and committed to their customers and end users.
I know I am sounding like a Google fanboy; the reality is that from a branding perspective Google ARE pulling out the stops which of course includes all the site and application redesigns like Gmail. Google means business.
Summary Of Links In This Post
I do have a tendency to waffle so here are the important links that I refer to throughout this post in order of relevance.
Google announces support of authorship markup
Googles help article on authorship
Google Authorship Request Form for the final approval process
"This page is specifically about me"
As I mentioned on Google+
My Google+  profile
Questions?
If you have any further questions about authorship or Google+ then do leave a note below and I will try my best to help out.
Please note that I am not an SEO guru, and I just do enough to get by in a perfectly legal and white-hat way. I am found in Google search results by clients because: I write, I blog, I actively participate in social media, and spend huge amounts of time marketing and branding myself.
These are the things that will get you noticed in time. Good old fashioned hard work and commitment.
I'm loving Google+ and very thankful there is now a FaceBook alternative. If you want a chance to get a Google+ invite then I can hopefully help out.
This is my Google+ Profile : https://plus.google.com/117807373507435100906/
Sharing a post on Google+, and sending it to your Gmail, will initiate a sign-in process, but which has been somewhat sporadic over the last 24 hours. It will work eventually you just need to keep trying as it took me a few hours and a number of attempts before I was able to sign-in myself yesterday.
How To
If you 'want in' to Google+ then leave a comment below with your full name and full Gmail adress.
Please provide a full and complete address without any of the (dot) or (@) spam retardent measures as I have to copy/paste and can't edit the field in the share box. No Gmail no invite.
I will act on the comments during the day, and you will know when I have done it as you will get an email from Google+ asking you to visit the link I have shared. When you visit the link it will also ask you to sign-in; this is where it could work straight away or where you might have to try a few times. This all depends on how Google are controlling the Google+ invite process as they have been stopping and starting this procedure over the last 24 hours.

I Ask In Return
In return I ask a small favour. As well as getting a Google+ invite: if you like imjustcreative as a whole: the things I write, post and blog about then if you could spare a minute to +1 imjustcreative that would be appreciated.
The +1 button above is for the website as a whole, and although there is one on this page at the end of this post I would prefer it if you would focus your finger pressing and button pushing on the version above—although feel free to do both if you want. This is where most of my +1's are being given so I would like to focus on this.
Thank you for your time.
Looking to involve myself more with Forrst, so if you have logo design tendencies I would like to form some strategic alliances, all for the common good.
Source Link http://forrst.me/imjustcreative
This logo process post is for the Tamara Kauffman identity design. A company in design and project management on the refurbishments of domestic properties. Designing kitchens, bedrooms, bathrooms and office spaces.
Initial thoughts
I was quite excited when I read the initial brief for this project as Tamara does get involved with certain structural aspects with her job, a new kitchen to be planned, or a new bedroom suite, as well as paint and decoration. So the fact that there was a structural element meant I could explore more than just cosmetic enhancements.
The brief
The brief seemed pretty simple at first, Tamara indicated she wanted something 'Classy. Modern yet traditional. Creative. Different.' As a  further explanation of what she does, Tamara wrote 'design and project management on domestic refurbishments. Design supply and install kitchens bedrooms and bathrooms to sourcing interior goods eg: tiles, wallcoverings etc. Domestic market initially with commercial market at some stage down my working career."
It's always a good idea to get as many visual examples of 'liked' and 'not liked' logo designs from your client. I always start the project with this request, give the client some homework and it makes them feel that they are now part of the process. The other advantage is that some people just find it tricky to verbally explain what is in their head, so this method helps there.
It's the easiest way to really get an idea of where there initial interests lie. That's not to say you must blindly follow these suggestions, if you feel they are not representative of the brief or are just not appropriate, then its your job to point this out. But on the occasion where there examples tie in with the job, then it's a painless way to 'get on the right track'.
The other warning with this is to not let their suggestions keep you in a narrow lane of focus, it can be hard once you see their examples to automatically go down that route, but keep in mind it's just a visual reference for likes and dislikes. Always try and find that elusive 'magic idea', but their suggestions may help you find that one awesome idea.
From this to that...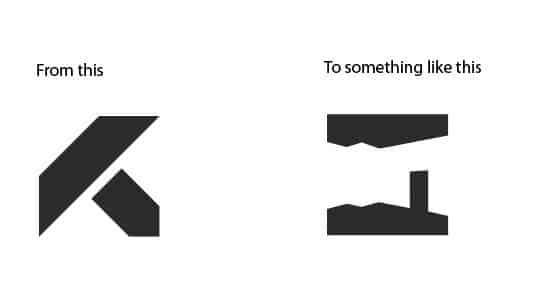 Tamara mentioned she liked the idea of a text only solution, or one with a nice monogram mark. The image above shows how I started with a stylised initial but ended up far far faaaar away from this. This was just natural progression, and I will show the in between steps later in this post. But it did get a bit painful. :)
Expand on the brief
The initial brief many not fully encapsulate what the client or the business is about. In Tamara's case, it's quite a personal thing so I proceeded to ask her additional questions, further clarification on her business, asking her to define in deeper detail aspects of the job
It requires the client to think in a much more descriptive manor, this process can be very enlightening for both parties.
Her response to this was a bullet list :
plan the layout and functionality of a new or remodeled kitchen/bedroom/bathroom
functionality and use of a space
consideration of the available working area, desires, and budget of the client
consultation in the clients home
Help clients choose cabinetry, flooring, appliances, worktops, and color palettes that fit the client's home, lifestyle, and budget
prepare and present a design sometimes changing through progress
sub contract craftsmen
oversee installation and construction
artistic
knowledge of building codes
concepts
manual drawing
CAD design
basic principles of architecture
The problem was that I could tell Tamara was a very busy women, and finding time to talk to each other was hard enough, so I knew that asking her to sit down and research aspects of her own business would be somewhat of a challenge. Fortunately for me, Tamara was not above doing this, but it did have to be done in her own time. Luckily she was easy with the schedule, so we could take out time with this process.
In the end I got pages of keywords, descriptive sentences, images of logos she likes and didn't like, lists of competitors, direct and indirect. After collating all this information you are closer to being able to visualise their needs.
It's so important to really get into the head of your client and/or business. You are supposed to be visualising the personality of this entity, how else can you do it appropriately if you don't push for answer and dig around. At times you need to be quite forceful, but ultinately I find the project is a massive partnership.
I can't design a logo without their help, and vice-versa.
Really get involved with the client.
The above image shows one 'exploration' of the type only solution.
No sketches
Always hard to say if a project will have pages of sketches or just a few doodles. In my last two projects, I have over 10 pages of sketches for just one logo, yet for Tamara I only had one page. This one page wasn't even really worth including in this post as it was just some mindless waffle.
Initially, I was focused on the initials, so typographic solutions I tend to go straight to illustrator, far easier to play with type this way then endless drawings of words. But as the project progressed away from initials, I still kept within Illustrator. I think this is because it was mostly consisting of a more dimensional and straight edge look, so felt easier to manipulate the images directly. The chances are that if I had started with the room idea first, then this would have gone to my sketchbook, but you just don't know how a project will evolve.
Phase 1
Although I did eventually move away from initials, this isn't to say I did so quickly. I spent some time looking at a type only solution, but it was too 'easy' a solution given how much background information Tamara had given me. Part of this process was just collecting many font samples of the initials, to see what, if any, created the right feel.
Phase 2
It is important to note that although much time was spent at this juncture, it was not all for nothing. This process lead me to play with a more solid type of initials. Angled blocks, at first just forming the 'T', but then later incorporating a vague representation of 'K'. At this point I did look at the option of tools of some kind, but felt this would be a little too cliché.

Still no where near a logo, but this is all about exploration. What you see above is the equivalent to some sketches. After playing with these solid forms, things started to happen.
Phase 3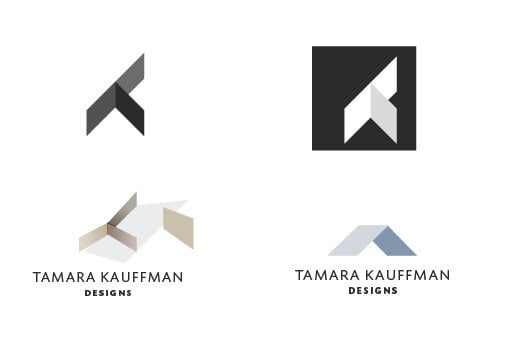 As you can see, the solid shapes started taking on a more dimensional quality, which lead me to think about 'space' opposed to just a flat mark. It seemed to make sense that the logo should convey the very elements of Tamara's trade, buildings, walls, units etc. So from playing with a rather odd shapped angled 'T/K', I ended up with what is best described as a wall partition, an outside wall and inside wall.
It was this progress that got me all excited. Suddenly the idea of just initials evaporated and the sense that there was something far more detailed and relevant was really exciting. I still had no idea how it would work out at this stage, but I got the sense I was definitely on the right track. This was mostly down to the list of descriptive words that Tamara came up for me. They planted the seeds in my head.
Phase 4
So this is where things started to get more interesting for me, but also took a slight detour from my usual self restrained need to keep things simple. I started playing with gradients, colour and what not. But the process was useful, even if I knew in the back of my head, the end result had to be less coloruful and less detailed.
As with any brainstorming or sketching, ideas that seem irrelevant help you form new ideas and new directions. So it's important to keep in mind that nothing is a waste of time, it might seem so at the time, but it's a process of experimentations and evolution.
You can see how the design is evolving,
I started out with a rather solid looking angled T, I have so far ended up with a colourful icon. I certainly didn't plan for this to happen, so shows the value of having patience in this process, even if it's still off base.
The question was how could I simplify the essence of a building or room, whilst still retaining a sense of perspective and depth, but without using colour and gradients? The next stage seemed to just happen, more experimentation until I stumbled on something more concrete.
Phase 5
Things certainly starting to take shape. Going from top left to bottom left, then top right to bottom right.
I started with a single wall, in the middle of the interior and exterior groundwork, looked more like a paper plane of sorts. So moved back to black. Needed to get my visual senses back to basics, colour can confuse during the development. Adding two walls seemed to balance things out, very open plan but this is where the idea really started to take off.
Removed the floor detail, I ended up focusing on just the walls. So we have gone from initials, to no detail, to lots of detail and now back to minimal detail. At this point I just took a break as I had been on this project for about 13 hours solid and my eyes were just 'gone'. Not feeling too well at all at this point, but also pleased that I was well on the way.
Positive and Negative Space
I came back to it more refreshed the following morning and sat down and just started at the two images above. Black and white, white and black. Looking for something to work with.
My first idea was to contain the image in a box, so a box I added.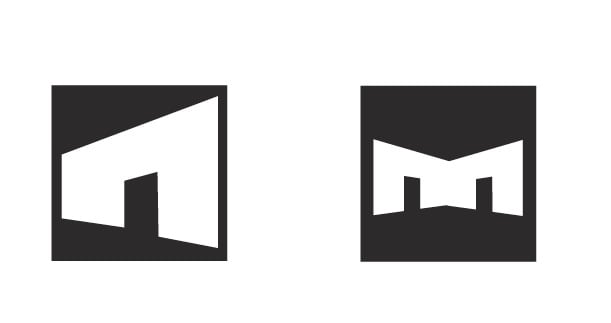 Looked OK, but I didn't like the border at all. Felt way to 'boxy', even though that was the intention, I still felt it wasn't quite what I had in mind. So what happened if I bleed the white walls out of the black box? And maybe whilst we are at it, add some tints and more detail.

So back to adding more detail, not leaving it out. But the process of adding and removing detail is what got me to this point, so I just allowed myself the luxury of playing with options, always mindful that my main aim was to keep it solid if at all possible.
Get your main idea, then simplify it.
In hindsight, it was the adding of the tints that stopped me from seeing the winning solution. Adding the tint created 'noise' for my brain, so I was looking at two elements, the background and the wall. In my head I was trying to recreate some form of a room, with some minor features and door.
So close. Yet still not happy.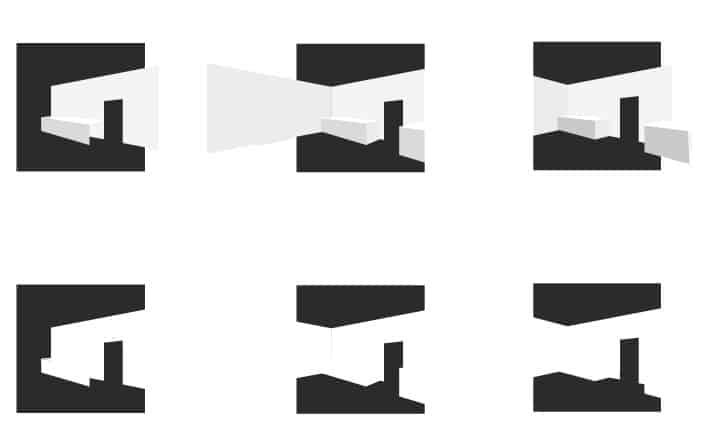 What was the answer? It didn't have that 'pop' I was looking for. I was getting carried away, again. Adding units, tables and all those useful features. Needed to take stock at this point. Getting carried away is so easy, and often an important part of the process, if you can catch yourself doing it that is. That's the key, if you don't catch yourself then things can end up less than ideal.
The solution
Remove all tints and gradients, once I did that I saw the 'light'. A mix of negative and positive space, depending on which way you look at it. The black box container actually creates the illusion of the ceiling and floor, whilst defining the two walls, the one corner unit and the door.
This was the answer, the simple solution I was looking for.
It was as easy as bleeding the walls past the black box container, so the whole image becomes more 'free', nothing obviously constraining it, yet the brain 'should' draw the boundaries of the black box. At this stage it was just a case of playing around with the wall and door details. Adding the corner unit I felt gave it the extra visual lift it needed.
Typography
I ended up using Today Sans Serif Regular for 'Tamara Kauffman' with tracking set to 100. Today Sans Serif Bold for 'Designs' with tracking set to 200.
Need to show the client
It terms of showing Tamara any ideas, I took a bit of a gamble. I have got into the routine of focusing on one 'main' idea, and prepping this to show the client. It's a way for me to get 100% fully behind an idea, a lot of it comes down to how confident you feel about your design and if it is a viable interpretation of the brief.
So I had spent some quality time on this project and needed to show Tamara something quite soon. I felt supremely confident about this idea, and felt it captured a lot of the points in her initial bullet list.
Fortunately Tamara absolutely loved it and no changes required. I made up two versions, a landscape and portrait version. The landscape version seen below mostly used for the website header, whereas the portrait version used for aspects of her stationery etc.
Still in the process of designing the stationery and website, but we are off to a great start. A single page identity guide will follow soon. See other examples of my logo process posts, identity guides and download my identity guide template for your own use.
In the process of creating logo designs, this freelancer invariably ends up with a surplus of ideas, unused & unwanted. Some have potential to be solid logomarks in their own right, assuming you can re-engineer the name and make certain tweaks to the overall design.
The fact is, many of us have a number of these such ideas. Many of which have considerable potential to be tweaked and changed for real world use. Some of us bide our time, hoping a new paying client project gives us the opportunity to reuse one of these ideas. In times of financial uncertainty, we can take the initiative and take a pro active approach.
Enter Brandstack.
Looking out for Me
Given some pretty sad state of affairs with recent overseas clients refusing to pay, I have found myself needing to find alternative methods of income. We all ultimately have our own set of unique challenges in our lives that we must endure and deal with in any way we can.
Piers, acquaintances or just busy bodies scuttle around us, 'tut' and 'shake their heads' as to say 'Oh, I am so disappointed with you.' The typical response from those that choose not to see as others around them.
The familiar saying 'but it's not good for the industry' is getting tiresome.
Evil and Hell
Some people scorn and get on their moral high ground over sites like Brandstack, unrealistically lumping it in to the same 'controversial' subject as 'SpecWork'.
Sites like Brandstack are the result of changes and demands from those that spend and or earn money, directly or indirectly, within the creative industry.
Money is king. Idealistic fragile views are not.
The people behind these sites are just wiser and more pro-active than some. They see an opening and they take it. That is the world we live in. Either we strive to earn money or we don't. If it's the latter, then we typically struggle, those that we live with or support will also struggle.
I say kudos to Wes behind Brandstack and Ross from Crowdspring. They have shown initiative in an increasingly competitive marketplace. I wish I was behind the BrandStack concept.
Bitch and Moan

Many continually bitch and moan about those very people wise enough to seize an opportunity to succeed in their life. You bitch and moan because it's not fair. You complain and rally the troops because you see this 'change' as a direct threat to your lively hood.
'Change' is not always good for us. 'Change' scares us, especially if it competes with what we are used to. If 'change' helps us or compliments what we already know and do, then we sing from the roof tops and count our blessings. When 'change' challenges us, we bitch and moan, especially when others pick up the gauntlet and try something new.
We need to adapt and accept we cannot always change or halt 'change'.
If we try to fight 'change', we run the risk of falling behind those that were being 'scolded' in the first place for embracing it, Brandstack and Crowdspring to name but two. By trying to fight against inevitable industry 'change', those that refuse to 'adapt', that rely on their 'high moral ground' and idealisic view of industry life, ironically, are more likely to be left behind in the long run. Or end up bitter and twisted through frustration and anger.
Express a view and move on
Of course you have the right to have and express views, but remember some things are just here to stay. No where else do I see such old, stagnant and firmly held beliefs as those within the creative industry. The NoSpec war that wages on with concepts like CrowdSpring and Brandstack continually astonishes me.
Will you still be only EVER concerned about 'the industry' when one day, you might be faced with seeing your family struggle financially because of your lofty ideals? Or even if you live alone, a few bad events can catapult you from being 'comfortable' to 'desperate' in a matter of minutes. You will be left wondering what the blazes just happened. A personal 'change of fortune' shows no discrimination, it can be good and it can be bad. And it can happen to anyone at anytime.
When you hear that people are participating in sites like CrowdSpring or selling designs on Brandstack, will you keep criticizing because 'it's just not good for the industry'. Or before doing so, will you actually take the time to understand the reasons why a designer chooses to do so? Without knowing the full background of someone that chooses to do these so called 'questionable' and 'nefarious' activities is just arrogant and naivé.

It's easier to criticize others and aspects of our industry when we have secure jobs, or just a stubborn idealistic approach to life in general.
Brandstack concept
The Brandstack concept allows us to further monetize and utilise our hard earned skill and experience when times are tough. Personally, it's a place where I can hone my own imagination and dream up fantastic new and imaginary brand names and associative identities.
I do realise the overall result is a possible 'cheapening' of logo design in general. I know that more than anyone. But I also know if you don't move with the times, you will get left behind in the times.
Brandstack is a different market from my own ImJustCreative business. I don't feel overly threatened by loosing clients to Brandstack.
Are you moaning so much because you actually feel threatened by sites like this? Do you feel at risk? Do you feel vulnerable? Do you see a future way of life changing as all your clients move to 99Designs, Crowdsping and Brandstack? If so, then maybe you need to take a cold and long look at your own business strategy and stop resting on your laurels, and certainly stop moaning and bitching about something you just can't stop. I feel all of those, but since last year, it just meant I had to up my own game.
It just means I have to work harder to market and promote ImJustCreative.
I don't spend much time on Brandstack, but I do tinker around and I do have a few logos up for sale. I don't go out of my way to contribute. For me, it's an avenue to explore as and when I have a 'spare' idea floating in my head, or a unused client idea that will just sit around.
I am in control of my business. I can now take advantage of both markets and actually help steer and contribute to the overall effect they have by participating positively. I know that no amount of bitching and moaning will make sites like CrowdSpring and Brandstack disappear. You just can't moan up a 'cease and desist'. These concepts are needed and wanted because of their continued success.
You may feel that in time, if you can 'educate' enough people, you may bring these concepts to their knees, but is that really very likely?
Unrealistic concepts on Brandstack
This is not me saying I am 100% idea's like Brandstack, I am just realistic enough to realise they are here to stay, at least for the foreseeable future.
I do feel there are one too many 'unrealistic concept' logos for sale on Brandstack, clever logos with made up names and supplied domains that will be hard to shift in the real world. Steve Douglas touches on the slightly unrealistic side to Brandstack in his post Golf Typography Death Metal Logos Edition. But as a gallery for clever and witty logo design, Brandstack offers it all.
Me me me
I consider participating on Brandstack good practice, imagining what 'made up' identity has the potential to be successful. Not too dissimilar from inventing a new consumer product, inventing brand names and identities allows us to keep our skills sharp. And it is fun.
Brandstack can be a creative playground and source of extra income.
That's what matters for me and I am OK with it. If you are going to criticize me for not 'taking one for the team', then before you do so, take time to get to know me first before casting that 'one size fits all' criticism.
I am not for one moment saying I disagree completely with the various 'pros and cons' of concepts like CrowdSpring and Brandstack. This post is just my own idealistic view of accepting that 'change' is not always good for us in a individual sense. How we cope with 'change', how we react and interact with it is choice that we do have control over. The saying 'if you can't beat em, join them' is quite apt. As I mentioned before, by accepting you can't always change what you consider to be 'negative change', and by actually taking part, you can in effect help steer 'change' to a more agreeable end.
© 2005-2018 All Rights Reserved The Logo Smith
Logo Designer & Brand Identity Design Studio, with 25 Years Experience.
Graham Smith: 10 Badgers Copse, Seaford, East Sussex, England.
Tel: +44 (0) 7816 527 462 Email: glogosmith@gmail.com