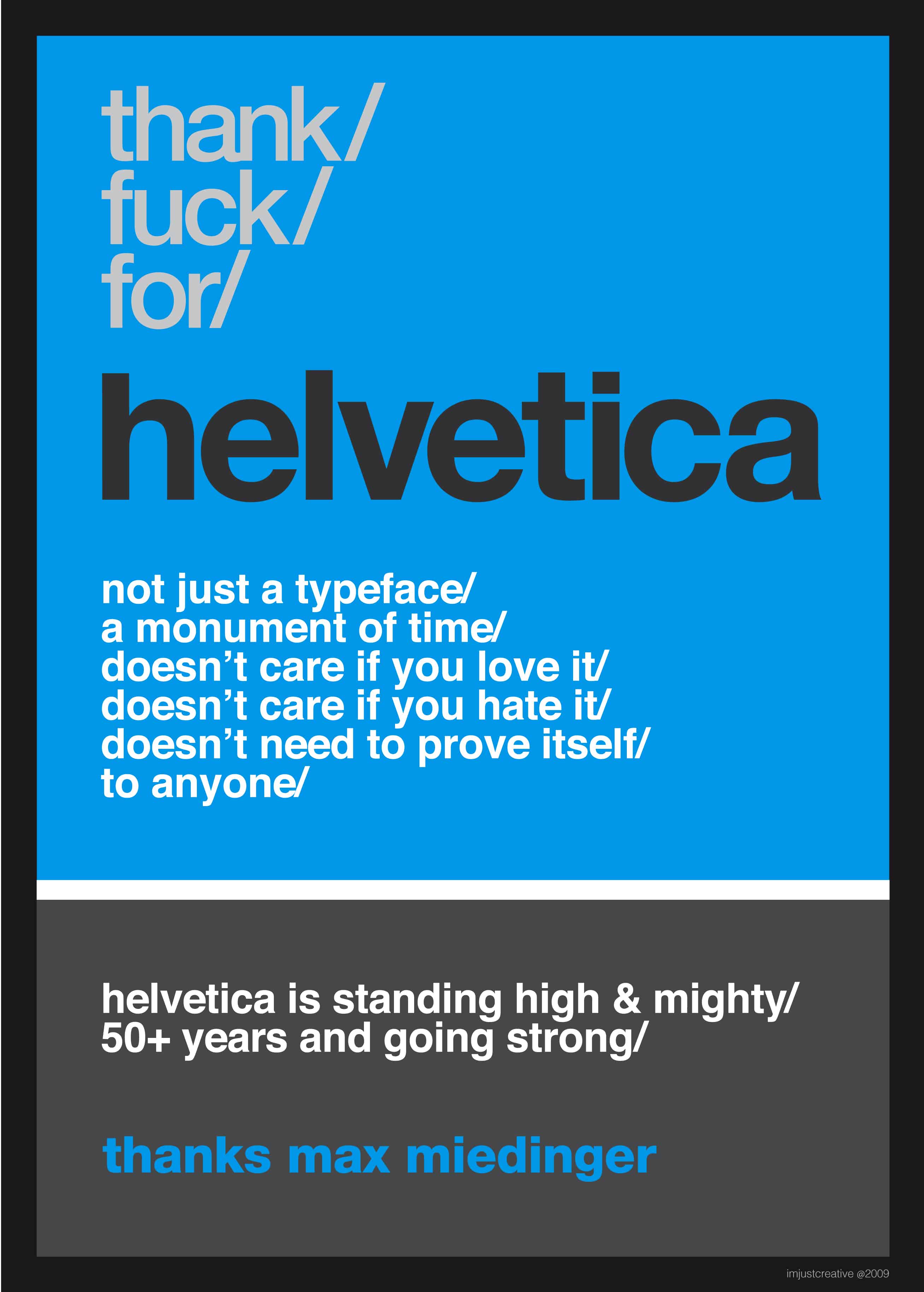 T

hank F**k For Helvetica-Max Miedinger Typography Poster

So many personal celebratory typographic posters out there for Helvetica, felt the need to create my own celebratory poster, with my own words of wisdom. With a specific mention to Max Miedinger.

The next Helvetica Poster is one that mentions the great man behind the greatest typeface of all time, Eduard Hoffmann.

The main files are on Flickr at around 21cm wide at 304dpi. Should anyone wish a larger version for printing, then just ask. The original file is all vector, so easy enough to scale up in Illustrator. Happy to send you a Illustrator vector file if you would like it.

I am happy to supply the original Illustrator file to anyone who wishes to have it for the purposes of print reproduction only. Please do not alter the contents of the file.

Sometimes using expletives is just the right thing to do. Let's not beat around the bush.
---
PREVIOUS & NEXT POSTS
Free Typography Twitter BackGrounds – Series 3
Thank F**k For Helvetica-Eduard Hoffmann Typography Poster
MORE POSTS BY CATEGORY
---
POSTED BY:

The Logo Smith Design Studio:

Freelance Logo & Brand Identity Design.
POST LAST UPDATED :

May 9, 2014
POST FIRST PUBLISHED:

CATEGORIES:

Flickr
,
helvetica
,
Portfolio
,
Posters
,
Typography
TAGS:

Helvetica
,
poster
,
type
,
typography
---
---
WHERE CAN I HIRE A LOGO DESIGNER?
If you're looking to hire a Freelance Logo Designer, or want to work with a multi-disciplinary Graphic Design Studio, then look no further than
The Logo Smith
.
With over 25 years experience,
The Logo Smith
offers the following Creative and Tech Services:
Custom Logo Design; Graphic Design; Tag Lines, Brand Identity Design & Redesigns; Brand & Graphic Standards Manuals & Style Guides; Business Stationery; App Icons; Brand Consultation; Typography; Secure Wordpress Installs, Theme Customisation & Web Site Hosting; SEO & Social Media Consultation; PR Services provided by The PR Room, in: Technology PR, Internet of Things PR, Smart Home PR, and Social Media PR.
I'd be thrilled to hear from you, and find out how I can help you with your logo and brand identity design requirements. Please visit my
Hire Me
page, email me at:
[email protected]
.
Follow @thelogosmith
---
Home » Logo Design Blog | The Logo Smith: Freelance Logo Designer » Flickr » Thank F**k For Helvetica-Max Miedinger Typography Poster