The Santa Brand Book by Quiet Room
The Santa Brand Book. If you were in any doubt about Santa's brand values, this brand book will put you straight. I believe every child from the age of 3 upwards should be given this to read and learn off by heart.
"Santa is a Concept, not an idea. It's an Emotion, not a feeling. It's both Yesterday and Today. And it's Tomorrow as well."
This is a stupidly awesome idea by the Quiet Room, I wonder how much time it took to generate the idea and out it all together.
It's one of these things that although not directly useful to them or clients, show the sort of people you would be hiring.
I would hire these people in an instant. It's a valuable marketing piece, indirectly shows how much they know about branding in a fun and mischievous way.
I would have done it myself but I for one don't believe in Santa, so felt it was a little hypocritical. Meh.
Thanks to Gary Holmes for the link.
Here are a few select pages from the online presentation, you can also download the complete PDF. And their blog entry.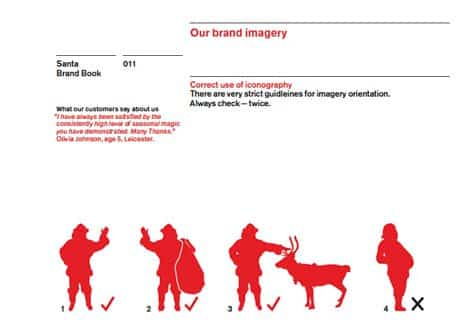 ---
---