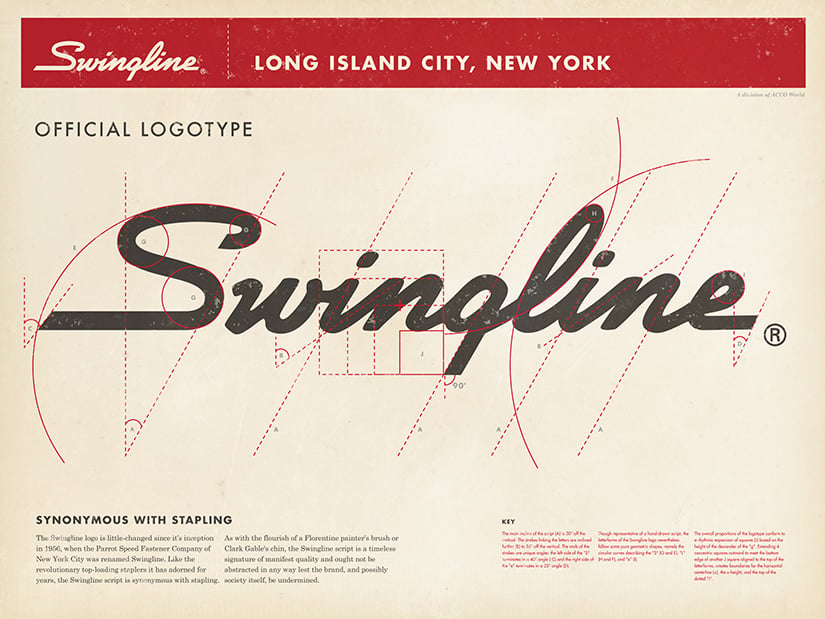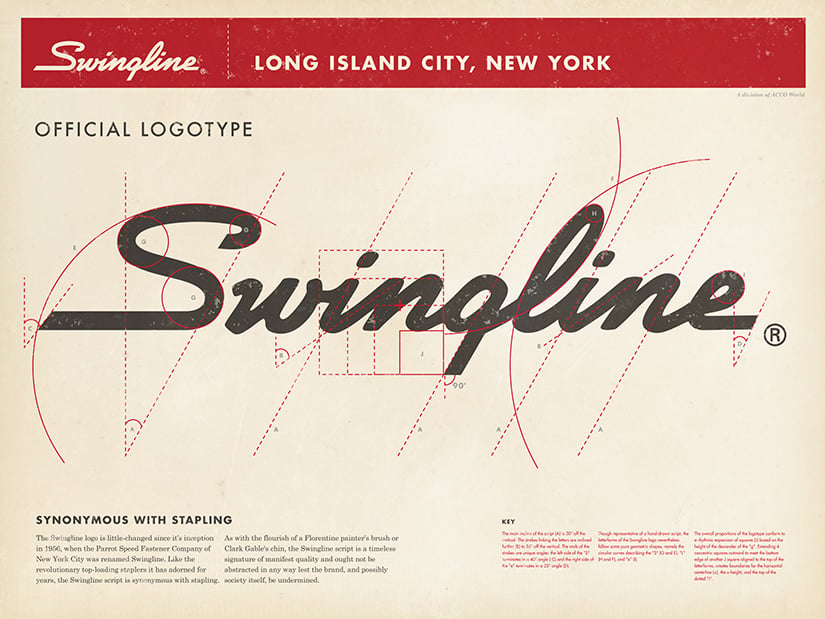 Swingline Vintage Logo Guidelines by Chris Cunningham
After doing some searching for some vintage logo guideline inspirations, this beautiful graphic for the official Swingline Logo Type, showed up in Google Search.
It's a beautiful piece of branding, and a really authentic vintage  look to the logo guidelines. Some of the other visuals for the various boxes and packaging are also just so lovely to look at.
Project Page: Swingline Vintage a branded assortment product and packaging. That embodies the Swingline brand promise of quality and durability. Reminding consumers of a simpler time when a business professional proudly displayed the latest piece of technology on his desk, not in their pocket.
After finding the designer responsible, Chris Cunningham Design, and after reading the project info, I quickly looked at the official Swingline website.
A little disappointed to not see the style depicted in Chris' portfolio, but at least the Swingline logo type is being used.
Obviously some reasons for keeping the website design on the modern side, but for me, it's a bit of a let down compared with the gorgeous visuals on Chris' website.
Regardless, I just wanted to share the Swingline vintage logo guidelines, as I know this sort of thing goes down really well with all you logo designers.
Swingline Vintage Logo Guidelines by Chris Cunningham
About Swingline
Swingline® was founded in 1925 in New York City by Jack Linsky as the Parrot Speed Fastener Company. The company's first manufacturing facility was opened in Long Island in 1931. Just a few years later in 1939, Swingline revolutionized the stapling industry by creating a stapler that opened on top, allowing an office worker to simply drop in a row of staples. This now-standard loading mechanism allowed stapling to become far more practical. In 1956 the company was renamed Swingline. It became a division of ACCO World (formerly a division of Fortune Brands) in 1987.
The Swingline brand is synonymous with stapling, but that is not all we have to offer. We continue to innovate and our expansive office product line also includes shredders, punches, trimmers, laminators, binding machines and pencil sharpeners. At Swingline, we strive to help you get things done. You can count on long-lasting performance from our office products that are designed to make you more productive, efficient and successful in the workplace. With every product we deliver quality, innovation and reliability.