1934 Chart of the Evolution in Design designed by Raymond Loewy
Raymond Loewy's vintage 1934 Chart of the Evolution in Design, is simply a wonderful thing to look at; particularly love the Automobiles and Rail Car design evolutions.
I saw this in Michael Bierut's Twitter timeline, so this was certainly something worth sharing.
The Evolution Chart of Design shown covers: Cars, trains, phones, clocks, chairs, stemware, dresses, and bathing suits.
However, if you Google search the image, a few other variations pop up, and one of those (below) have the evolution of the aeroplane.
Clearly not in the same style as the 'original' version, but curious if this was still the work of Raymond Loewy?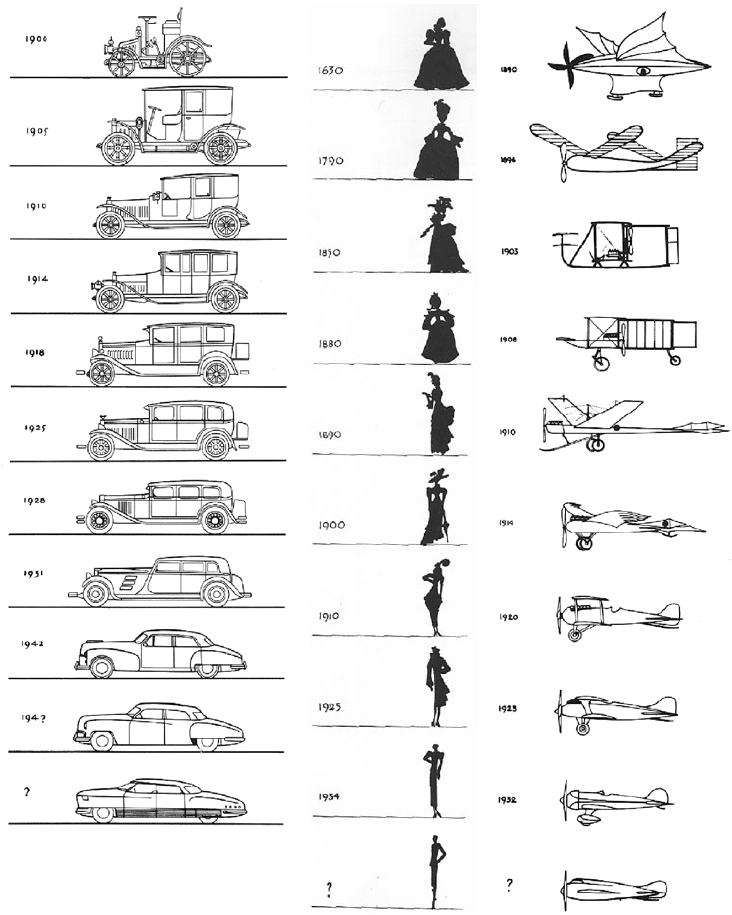 This is the full size version @ 1700px wide:
I halved the original (above) and stacked them onto of each other, so you can better see the details: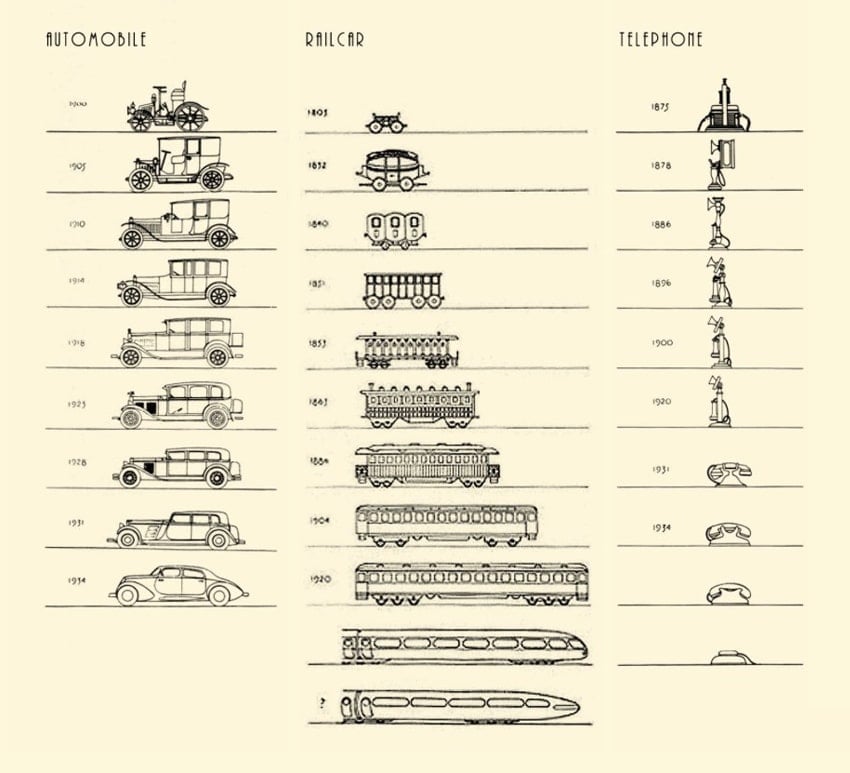 Raymond Loewy, Evolution Charts, 1934 @DesignMuseum #FontSunday #silhouette pic.twitter.com/aaywT1Vcqp

— Michael Bierut (@michaelbierut) May 20, 2018
Timeline Chart version by MacRae Linton
To further expand upon this evolution in design chart, MacRae Linton adjusted it into a timeline chart, after seeing it featured on Kottke, which further add's a further practical dimension to it:
I chopped up the Raymond Loewy chart @kottke posted today into a timeline. Now you can see how things line up. pic.twitter.com/as19jsDdtU

— MacRae Linton (@macrael) May 21, 2018
Who was Raymond Loewy?
Wikipedia: Raymond Loewy (/ˈloʊi/ LOH-ee, French: [ʁɛmɔ̃ levi];[2] November 5, 1893 – July 14, 1986) was a French-born American industrial designer who achieved fame for the magnitude of his design efforts across a variety of industries. He was recognized for this by Time magazine and featured on its cover on October 31, 1949.[3]
He spent most of his professional career in the United States, becoming a naturalized citizen in 1938. Among his designs were the Shell, Exxon, TWA and the former BP logos, the Greyhound Scenicruiser bus, Coca-Cola vending machines and bottle redesign,[4] the Lucky Strike package, Coldspot refrigerators, the Studebaker Avanti and Champion, and the Air Force One livery. He was engaged by equipment manufacturer International Harvester[5] to overhaul its entire product line, and his team also assisted competitor Allis-Chalmers[6]. He undertook numerous railroad designs, including the Pennsylvania Railroad GG1, S-1, and T1 locomotives, the color scheme and Eagle motif for the first streamliners of the Missouri Pacific Railroad, and a number of lesser known color scheme and car interior designs for other railroads. His career spanned seven decades.
The press referred to Loewy as The Man Who Shaped America, The Father of Streamlining and The Father of Industrial Design.[7]