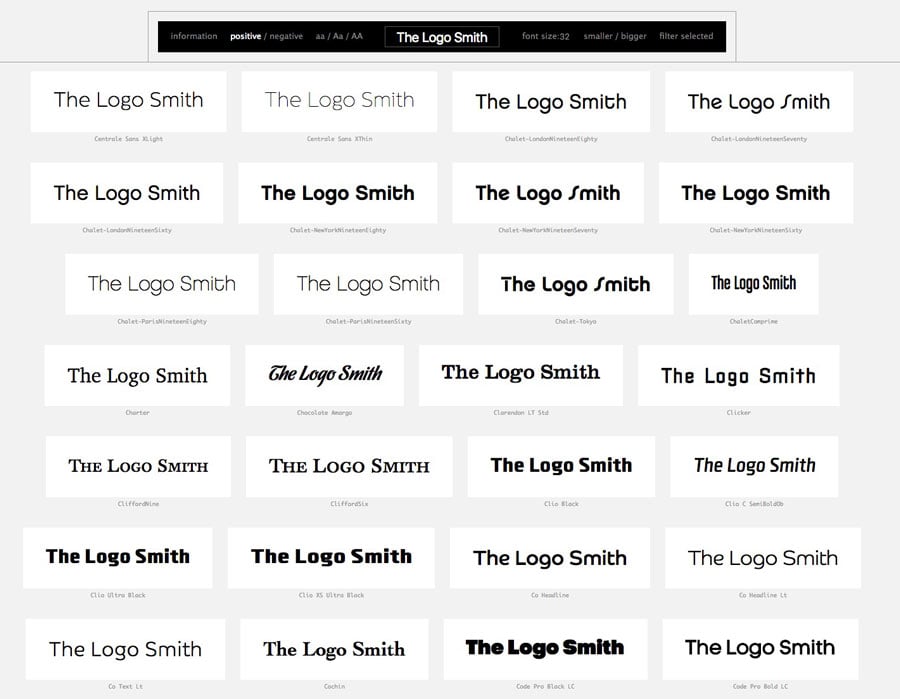 wordmark.it – helping you quickly choose fonts from your font library
wordmark.it is such a simple idea, and will be quite invaluable to logo designers, if you have quite a large font library on your computer.
You simply key in your word, or words, then click 'Load Fonts', and wordmark.it quickly scans your hard drive for all fonts—not just in a specific font library location—and then quickly displays your word/words in all available font styles.
There are a few basic filters and options, such as: lowercase, uppercase or sentence case, font size, and flip between positive and negative display.
Is font selection a real pain?
I find going through my rather large font collection, or just trying to recall what fonts I have and what they look like, really quite a chore.
Trying to remember what all fonts look like, and trying to visualise which ones might work for any given design, is a real pain.
Even using any one of the numerous font management applications, to open and close font after font after font becomes a chore.
I use FontExplorer to manage my font library (you can download a free trial here: http://www.fontexplorerx.com/trial-pro/), by Linotype, and whilst you can preview each individually selected font, this is still a far cry from the mass display provided by wordmark.it
wordmark.it really does provide a super effective way to scan through your entire collection of fonts; to see at a glance which font styles work/don't work, for your particular design.
wordmark.it – helping you choose fonts from your font library