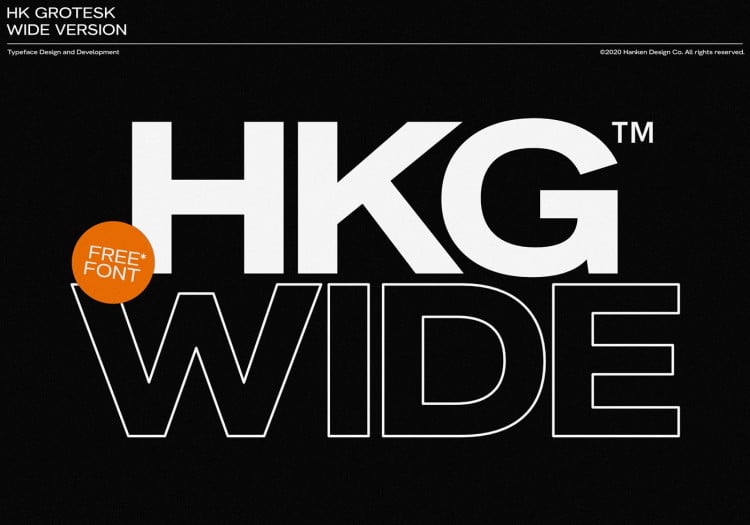 I do like a good wide font, and HK Grotesk Wide fits the bill perfectly, more so given it's also a freebie free font offering.
HK Grotesk Wide was Design & Developed by the supremely talented type designer, Alfredo Marco Pradil, for the Hanken Design Co.
HK Grotesk Wide is just one of many stunning fonts and typefaces that Alfredo has designed, and many of them are free and open source.
It's a solid logo font for logo and branding design, so I certainly see myself using this for future logo design work.
In fact many of the fonts and typefaces that Alfredo has designed would be suitable for any kind of logo and branding work, so worth keeping this in your 'mind fridge'.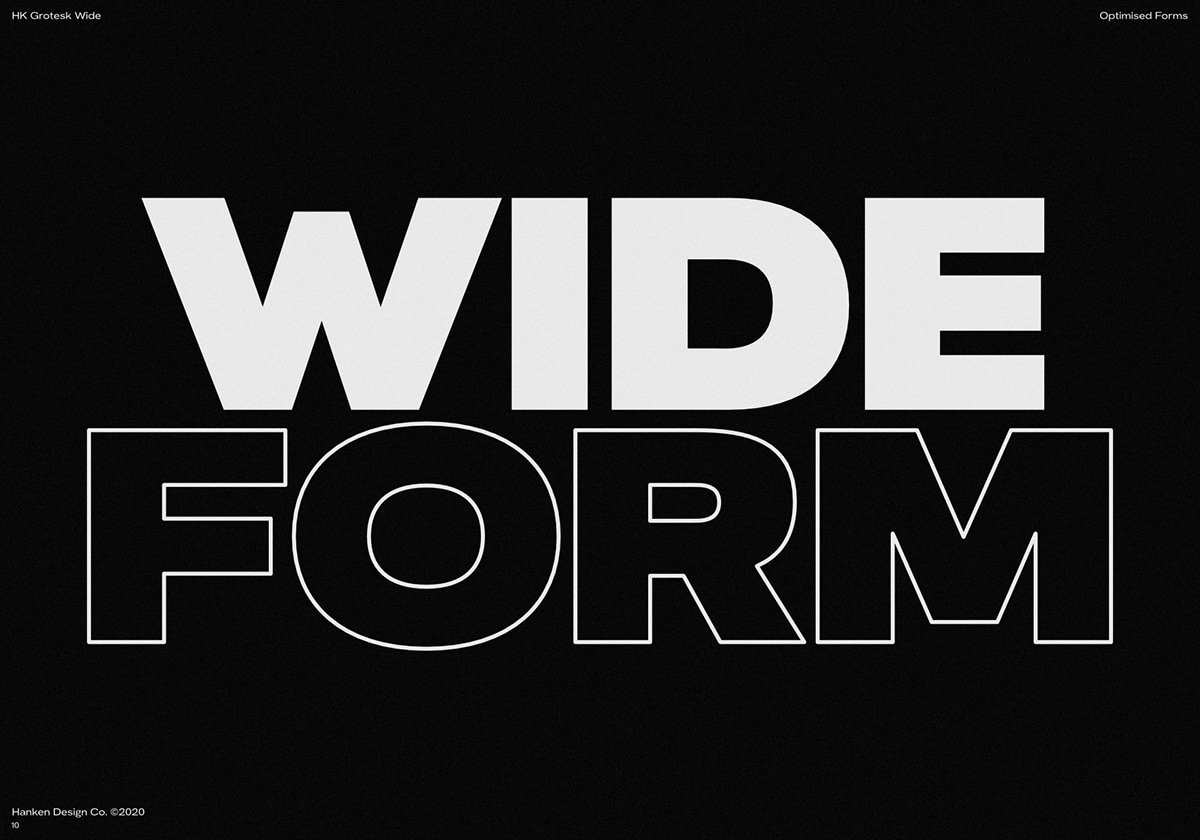 To digress…
After looking through his extensive Behance Portfolio, I can see a number of other fonts and typefaces that I'm going to have to share at some point.
One in particular that caught my eye is HK Grotesk. This is a sans serif typeface inspired by classic grotesks, and comes with a whopping 24 styles and over 600 glyphs per style.
And yes, this is also free… It's really quite remarkable what Alfredo is doing here, and we should all be really rather humbled.
Anywho, back to HK Grotesk Wide…
HK Grotesk Wide Licence
All desktop versions of HK Grotesk Wide are free to use; if you require a web version then you'll need to cough up some cash.
It's worth reading the EULA for HK Grotesk wide for the finer details, but here's useful info for commercial use, in case you were wondering:
Licensee may use the Font to create images for commercial and non-commercial purposes on any surface such as paper, computer screens, billboards, t-shirts, and other surfaces without limitation on the print run, provided that the image is a fixed size. Licensee may use the Font for texts in video formats (e.g. for movie credits or captions).

https://hanken.co/pages/desktop-fonts-eula
Oftentimes with some free fonts, you are not permitted to use it for commercial gain, but not in this case!
This really is a super font!
Font Styles
There are 7 font styles (see above) that will cover you for most applications except italics, with over 550 glyphs per style!
Language Support
Insane language support for HK Grotesk Wide as you can see below:
Afrikaans, Albanian, Asu, Basque, Bemba, Bena, Bosnian, Catalan, Chiga, Colognian, Cornish, Croatian, Czech, Danish, Dutch, Embu, English, Estonian, Faroese, Filipino, Finnish, French, Friulian, Galician, Ganda, German, Gusii, Hungarian, Icelandic, Inari Sami, Indonesian, Irish, Italian, Jola-Fonyi, Kabuverdianu, Kalaallisut, Kalenjin, Kamba, Kikuyu, Kinyarwanda, Latvian, Lithuanian, Low German, Lower Sorbian, Luo, Luxembourgish, Luyia, Machame, Makhuwa-Meetto, Makonde, Malagasy, Malay, Maltese, Manx, Meru, Morisyen, North Ndebele, Northern Sami, Norwegian Bokmål, Norwegian Nynorsk, Nyankole, Oromo, Polish, Portuguese, Romanian, Romansh, Rombo, Rundi, Rwa, Samburu, Sango, Sangu, Scottish Gaelic, Sena, Shambala, Shona, Slovak, Slovenian, Soga, Somali, Spanish, Swahili, Swedish, Swiss German, Taita, Teso, Turkish, Turkmen, Upper Sorbian, Vietnamese, Vunjo, Walser, Welsh, Western Frisian, Wolof, and Zulu—
---
Download HK Grotesk Wide
If you want to download HK Grotesk Wide, then you'll need to head over to Alfredo's Behance Page.
Whilst your over there give him some prop's for his various typographic freebie offerings.
→ Download HK Grotesk Wide via Behance
---
→ Browse more Free Fonts via the smith.™ Blog