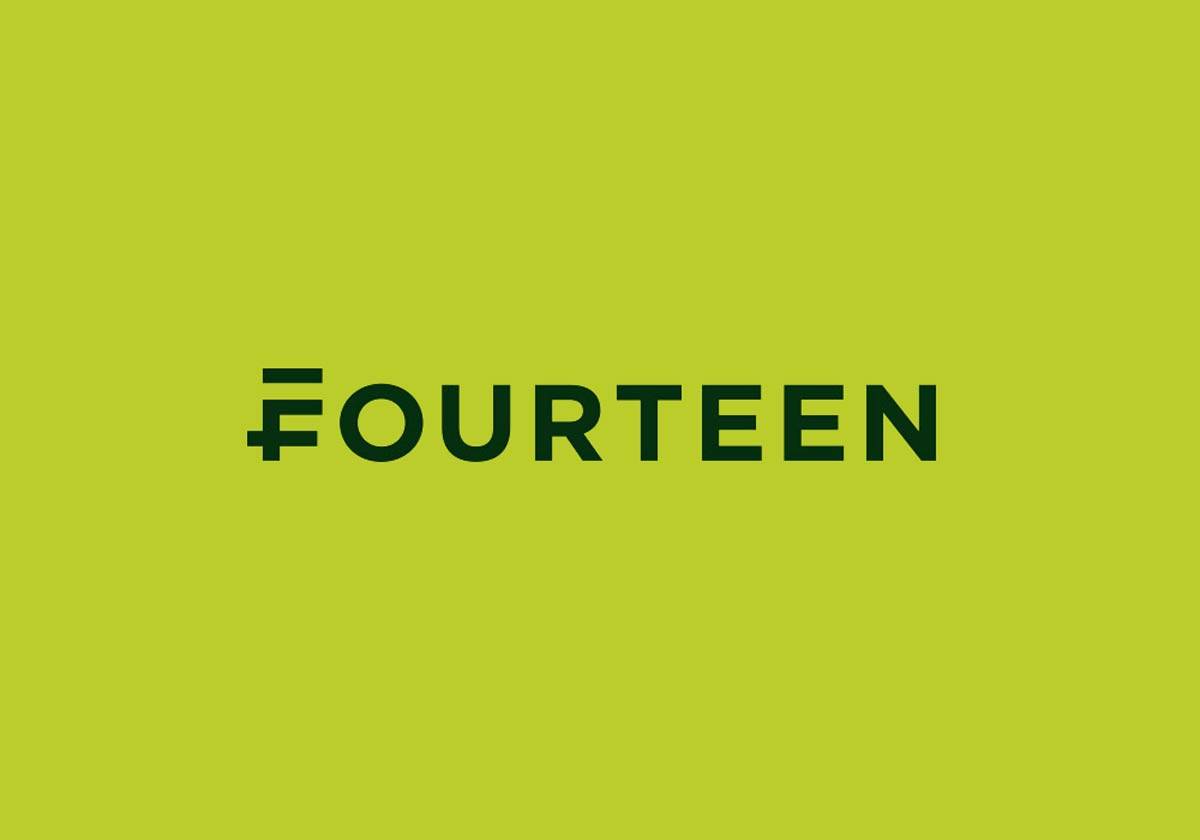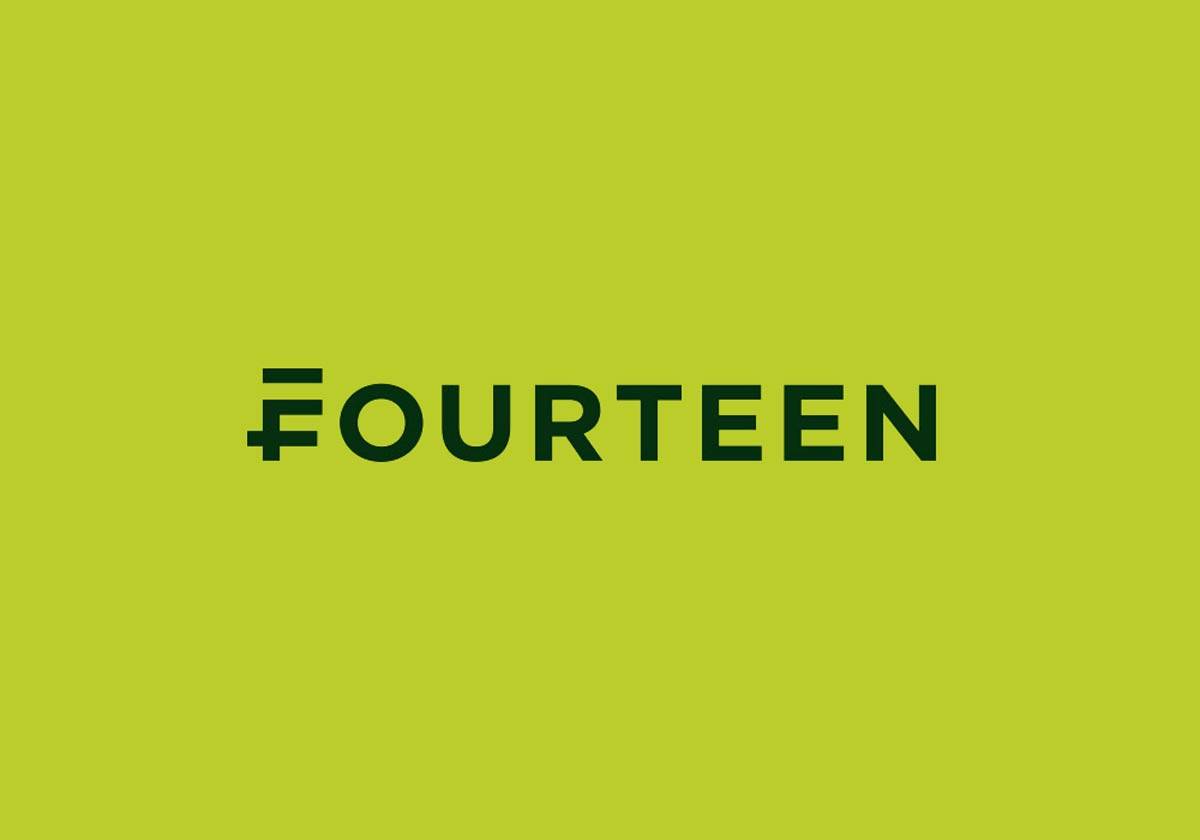 It's quite something when I am so tempted to say that the Fourteen logo design, by WeAreMash, is one of the sweetest logo designs I have seen, certainly this year.
It's just so so fantastically clever.
One one hand, and I remember exactly what I thought when I first saw it was a sense of slight, I was thinking "what is that symbol at the beginning?", then it just hit me milliseconds, or so later. From that moment on: this (on the surface) simple, but so brilliantly executed F & 14, now feels like a natural letter and number combo. Nothing feels forced, pushed, shoehorned or squeezed.
The key, I think, is the lowering of the top of the F, so it sits underneath the O, and the rest of the letters allowing that floating dash to occupy one full depth upwards. So rather than floating way above everything else, the dash is sort of acting like a regular capital letter F, where the rest of the letters are in fact small caps. That's an important detail that makes it work.
I would be so interested to see if they hit this off straight away, or if it took many attempts to get the exact right balance of F and that floating bar to form the 14? I would imagine it was the latter, a number of attempts to get it perfect.
Thing is, you can come up with a super idea just like that, but then the execution of it takes weeks and weeks. The Fourteen logo design, or logotype/wordmark, just feels so natural and right, yet at the same time certainly draws you in, and gets your brain tingling on first sight. Several days in after first seeing it on BrandNew, I still absolutely love it to bits.
One of those, wish I had had the chance to come up with that one!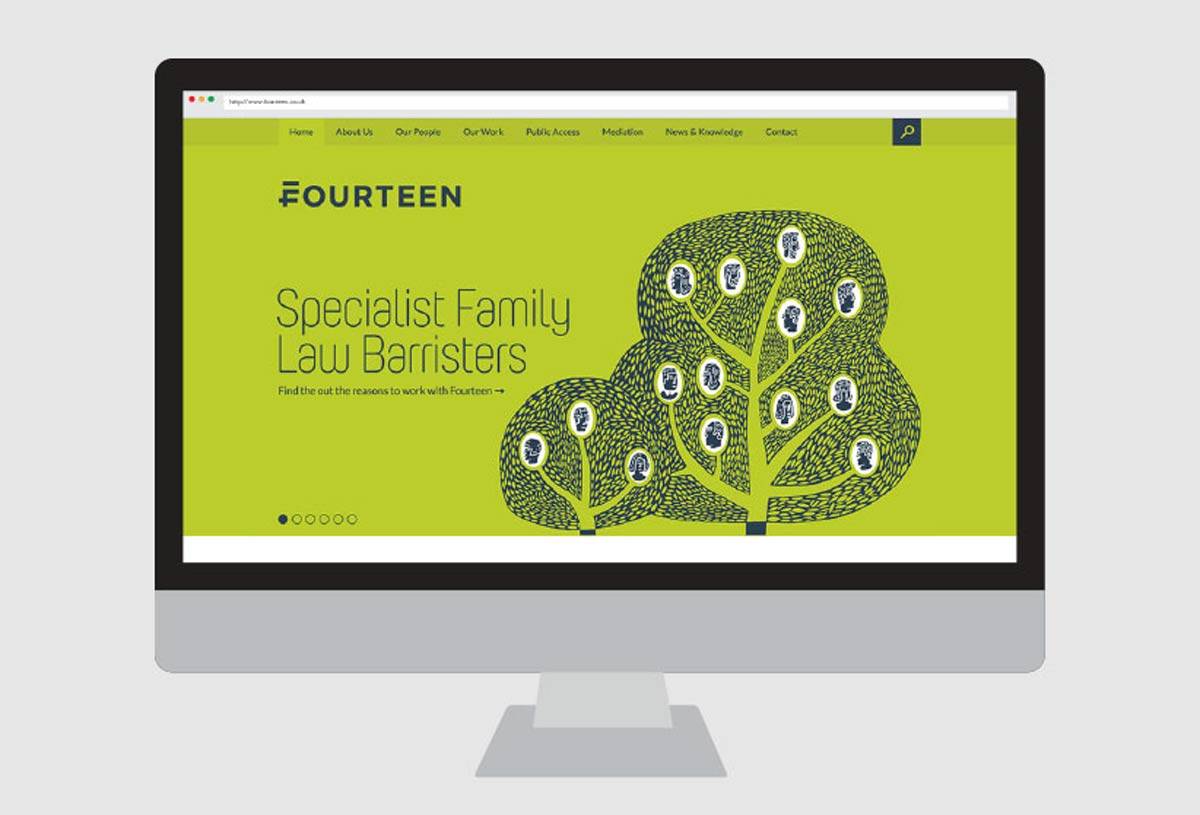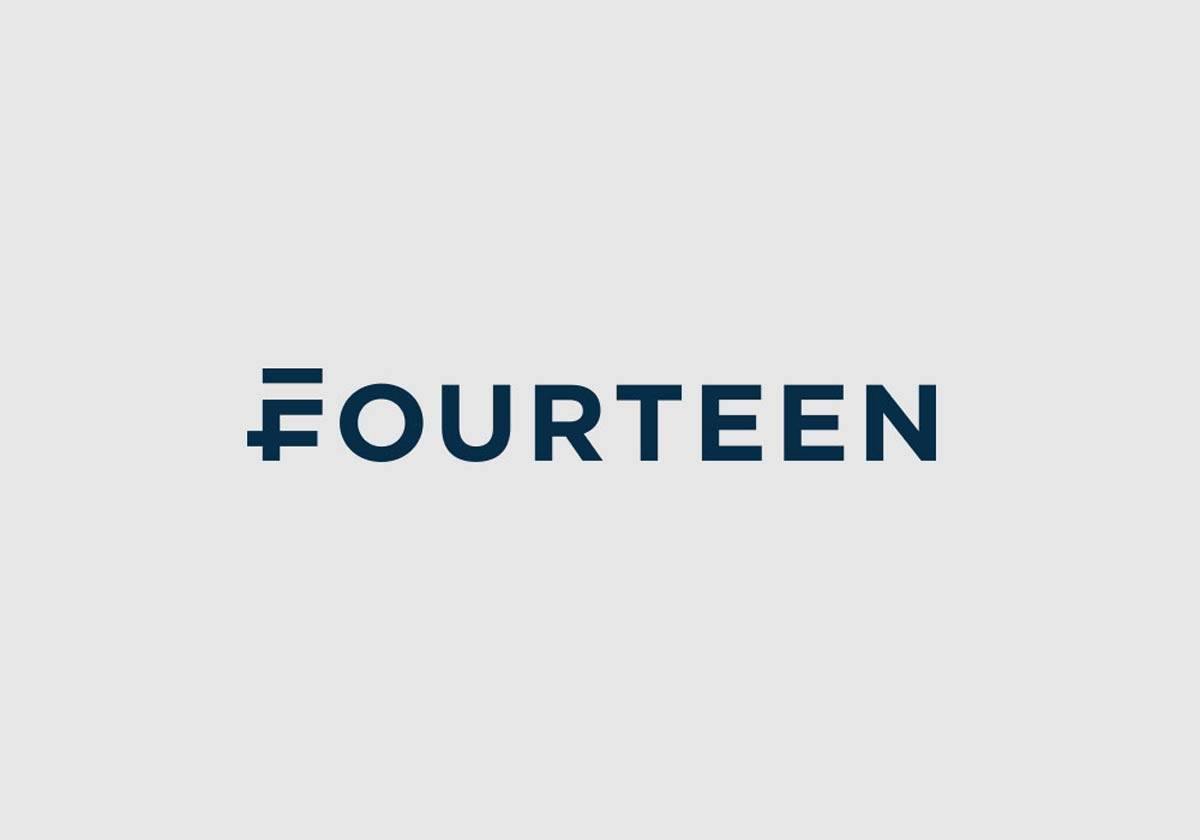 ---
Previous Post:
Advice for Clients: Looking to Hire a Logo Designer on Google?
Next Post:
Super Cool Retro NASA Animated Logo ID
---
Looking to Hire a Freelance Logo Designer?
If you like the design work I've done in my Portfolio (some examples above), and Monomarks, and are looking to hire yourself a highly talented, and very experienced (25 Years), Logo and Brand Identity Designer, then look no further.
Just visit my Hire Me page, and fill in the short Design Brief. Or, just reach out to me via my even shorter Contact Form.
About | Hire The Logo Smith | FAQ's | Case Studies | Portfolio | Monomarks | Logos for Sale | Contact
Follow @thelogosmith
---
Home » Design Blog | The Logo Smith | Freelance Logo & Brand Identity Designer » Designer Spotlight
© 2005-2018 All Rights Reserved The Logo Smith
Logo Designer & Brand Identity Design Studio, with 25 Years Experience.
Graham Smith: 10 Badgers Copse, Seaford, East Sussex, England.
 Tel: +44 (0) 7816 527 462  Email: glogosmith@gmail.com