All Archived Posts in advertising
I don't often post individual images on my blog, but when I do, I like to think they are pretty cool images, such as this very colourful Vintage Pepsi Advertisement for the Pepsi Cool Cans.
Would love to know if anyone, who collected these Pepsi Cool Cans back in the day, still has these lying around; in the loft, basement or some storage facility somewhere.
Found via Quipsologies
Vintage Pepsi Advertisement - "Our Idea of Pop Art, Pepsi Cool Cans"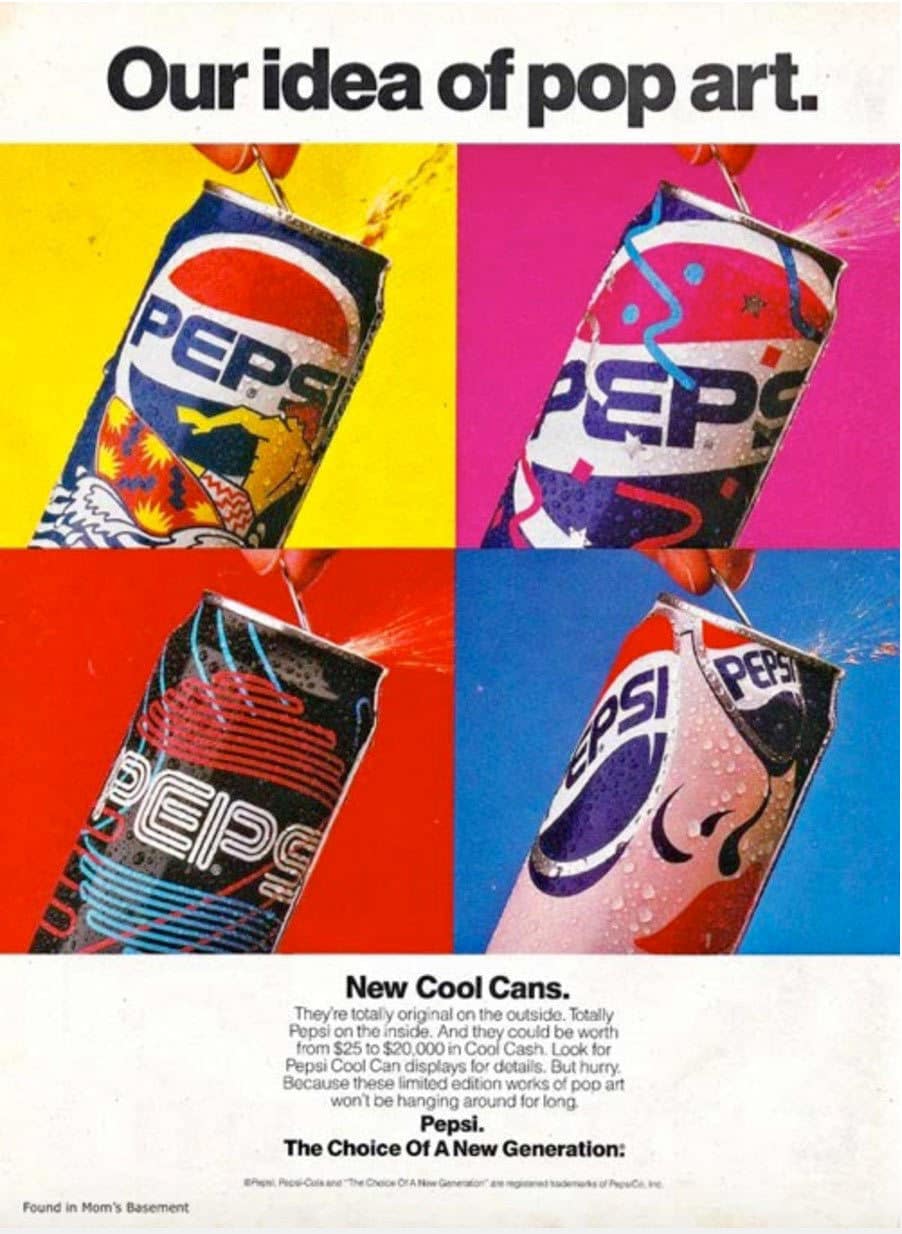 New Cool Cans.

They're totally original on the outside. Totally Pepsi on the inside. And they could be worth from $25 to $20,000 in Cool Cash. Look for Pepsi Cool Can displays. But hurry. Because these limited edition works of pop art won't be hanging around for long.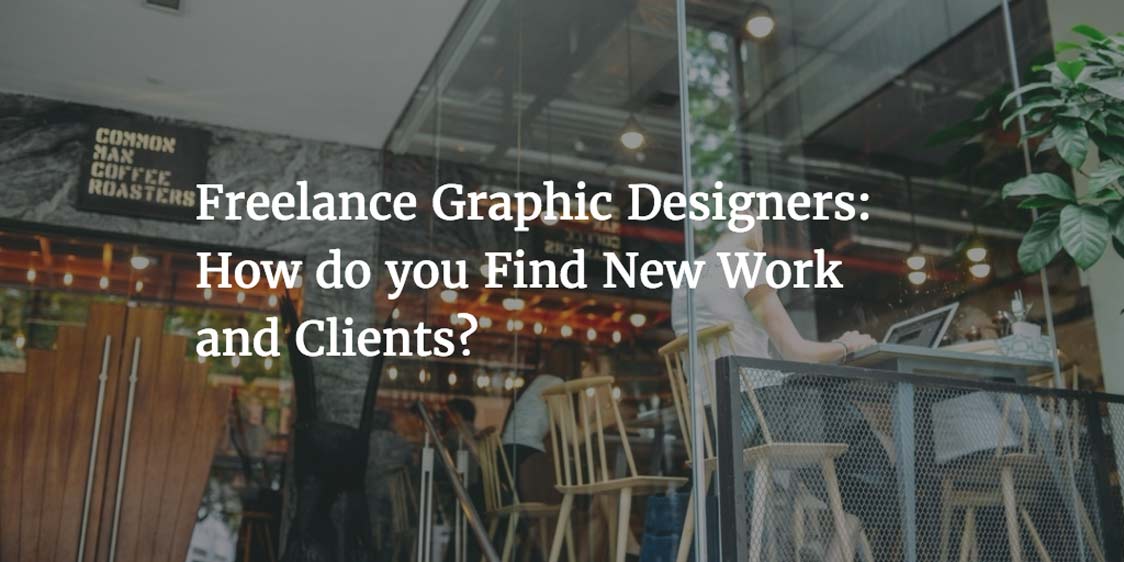 Freelance Graphic Designers: How do you Find New Work and Clients?
Thought I'd poll all you freelance graphic designers, logo and web designers out there, and see how you all collectively find yourself new clients, or how clients find you.
I've opened up Comments below, so please take a moment to share your various strategies.
Hopefully you'll like to share any methods that you employ in your quest to make yourself findable to potential clients, such as:
Google Search, Blogging, Social Media, External Portfolios, Paid Freelance Directories & Showcases, Paid Ad platforms like AdWords and Facebook Ad's, Local Press Advertising and Marketing.
How do you help potential clients find your design studio, how do you help yourself be found amongst the ever increasing number of freelance designers and design studios?
My Basic Strategy
I for one mostly have bene able to rely on Google, through many years of blogging. It seems the majority of my client clients still find me via Google Search.
Some clients find me on Portfolio platforms like:Behance, Coroflot, and Dribbble (paid-up Pro member), whilst a small percentage find me on LinkedIn, directly on Twitter and Facebook.
Some new leads come from word-of-mouth, recommendations and the occasional repeat client.
I do dabble with the occasional Paid FaceBook Ad campaign, but that's mostly to just help overall awareness; Sowing the seeds so-to-speak.
There's no doubt that over the last few years, it's become dramatically harder to find new clients just due to the sheer scope of competition.
There are many any new freelance logo and graphic designers arriving to compere for work each day, not to mention the heavy competition from crowdsourcing sites like 99Designs and Crowdspring.
If you're of a generous and helpful disposition, then it'd be great to hear how you look for, and get new clients.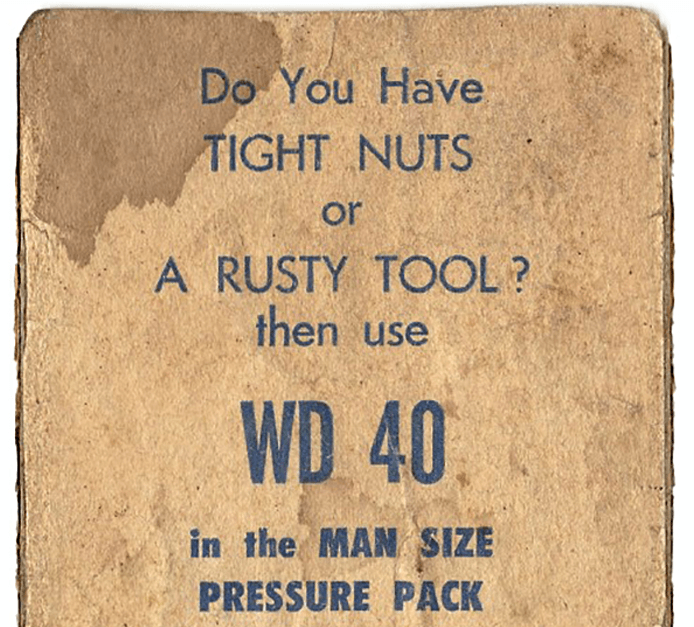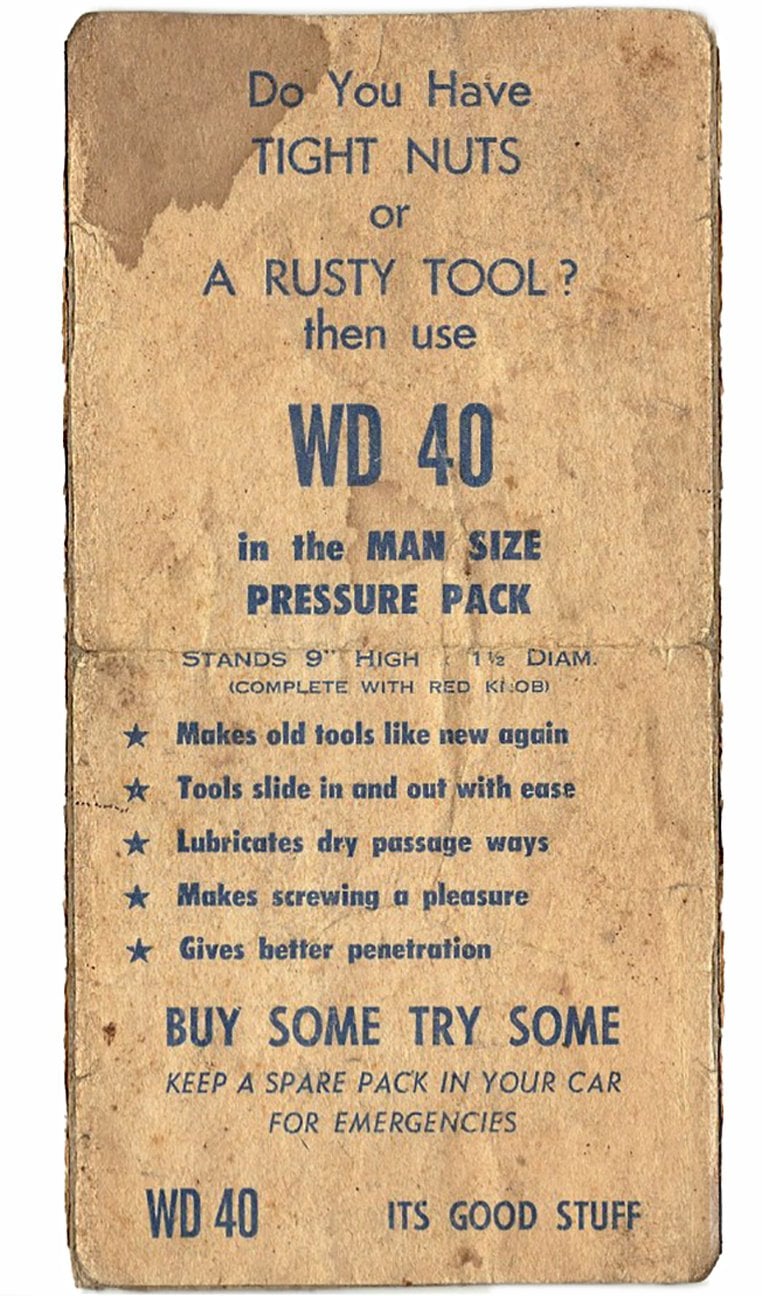 Do You Have TIGHT NUTS or A RUSTY TOOL? WD 40 Vintage Advert
This 'faux'  WD 40 Vintage Advert has just about made my Friday complete, save for some lubing I have planned for later. The innuendo has been masterfully created to work just seemingly with the true facts of what WD 40 can do for you.
Even though it's fake, I still want to believe this is a real advert from the 1960's. It's innuendo at it's most brazen, but oh my my my, so utterly hilarious.
Do You Have TIGHT NUTS or A RUSTY TOOL?

then use WD 40 in the MAN SIZE PRESSURE PACK.

STANDS 9" HIGH 1 1/2 DIAM. (COMPLETE WITH RED KNOB)

• Makes old tools like new again

• Tools slide in and out with ease

• Lubricates dry passage ways

• Makes screwing a pleasure

• Gives better penetration

BUY SOME TRY SOME. KEEP A SPARE PACK IN YOUR CAR FOR EMERGENCIES.

WD 40 IT'S GOOD STUFF
Following from my first article on the benefits of creating logos for FREE, I will be posting about specific case studies, logo's that I have created. Here I will talk about the reasons behind the designs, the various thought processes involved in the branding and potential marketing of the company and the general outcome. Did I like it or did I just throw it in to my 'I am a perfectionist, therefore this is crap and will always be crap' pile. It's a big pile.
ScratchBack. I have been following this neat and promising idea for a while, and although not seeing it on every website, it's popularity is hotting up.
In part to the Google Bomb a while back which seemed to penalise bloggers for various text link ad's, unless of course it was Google Adlinks. The word is that user's are abandoning companies like TLA in favour of other viable alternatives, such as ScratchBack.
I am now officially sponsoring StumbleUpon which leaves me with a healthy radiant glow... I didn't even think about it after I received a email from them this morning. One of those impulse moments I feel.
© 2005-2018 All Rights Reserved The Logo Smith
Logo Designer & Brand Identity Design Studio, with 25 Years Experience.
Graham Smith: 10 Badgers Copse, Seaford, East Sussex, England.
Tel: +44 (0) 7816 527 462 Email: [email protected]