Misogynistic Vintage 1950's Ads with Sexist Quotes from Donald Trump
Saint Hoax, an anonymous: artist; satirist; and sociopolitical activist; took some vintage 1950's misogynistic vintage advert's, and added the truly repugnant sexist quotes from Donald Trump.
I've seen these original vintage adverts doing the rounds, and they are pretty awful then, but adding Trump's various 'quality' sexist quotes, well… shocking.
I don't condone this language in ANY way whatsoever; I do think it's worthwhile though being reminded of what a gruesome example of a 'human being' Donald Trump is, and this is why Saint Hoax uses this creative medium to send these controversial messages.
On a lighter note, Saint Hoax also created this awesome piece.
Saint Hoax: "I removed the original headlines from these misogynistic advertisements and replaced them with sexist quotes that Donald Trump said about women.

The headlines and visuals strongly complement each other, although there's almost a 30-year gap between them."
Misogynistic Vintage 1950's Ads

"You don't give a shit if a girl can play a violin like the greatest violinist in the world. You want to know, what does she look like." Donald Trump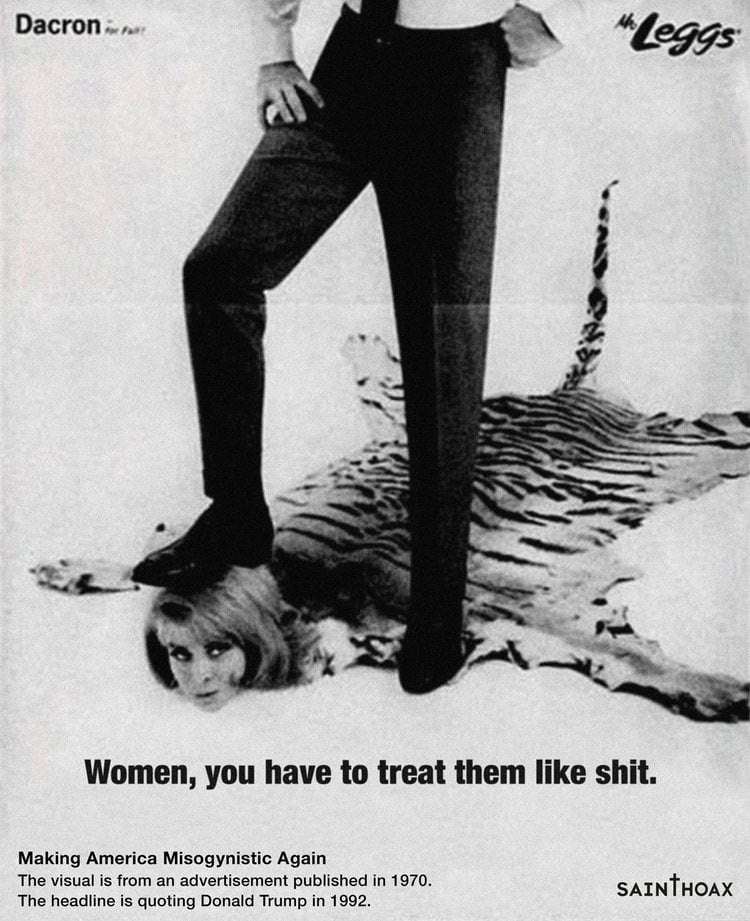 "Women, you have to treat them like shit." Donald Trump.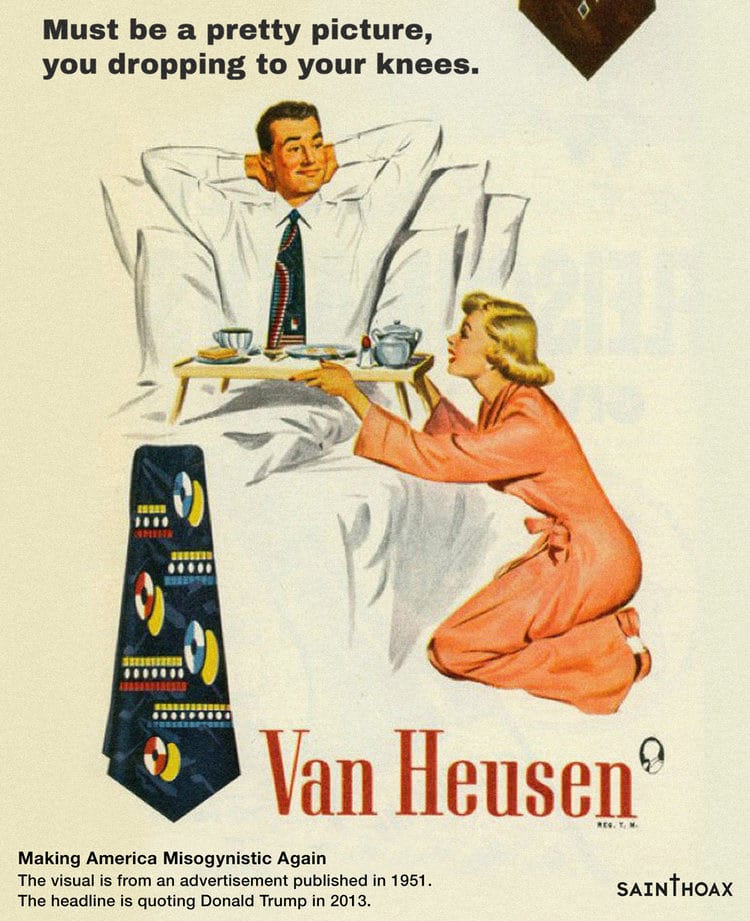 "Must be a pretty picture, you dropping to your knees." Donald Trump.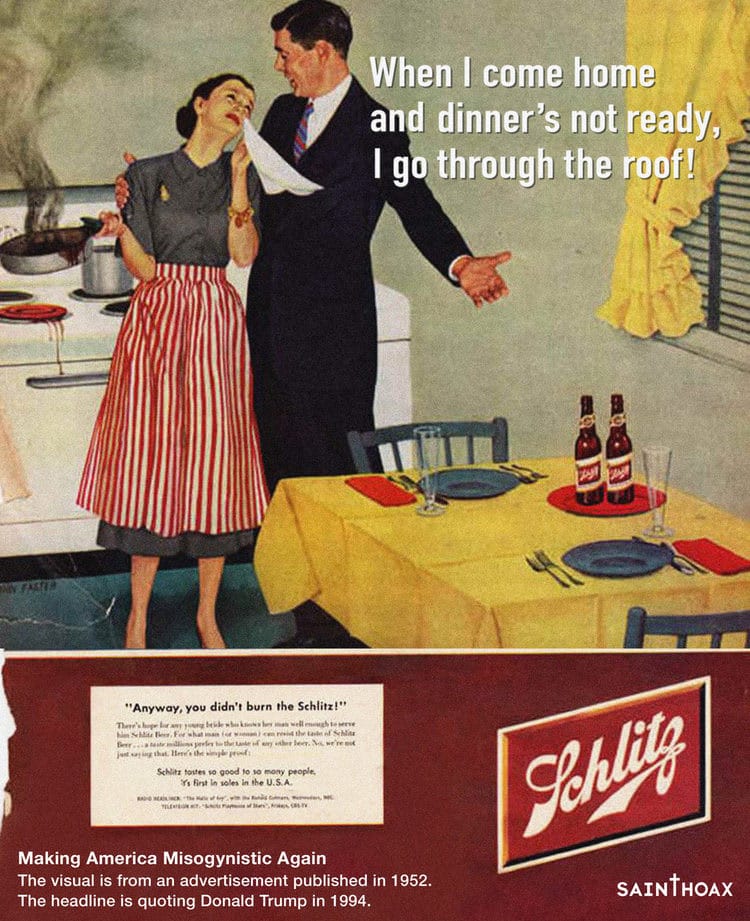 "When I come home and dinner's not ready, I go through the roof!" Donald Trump.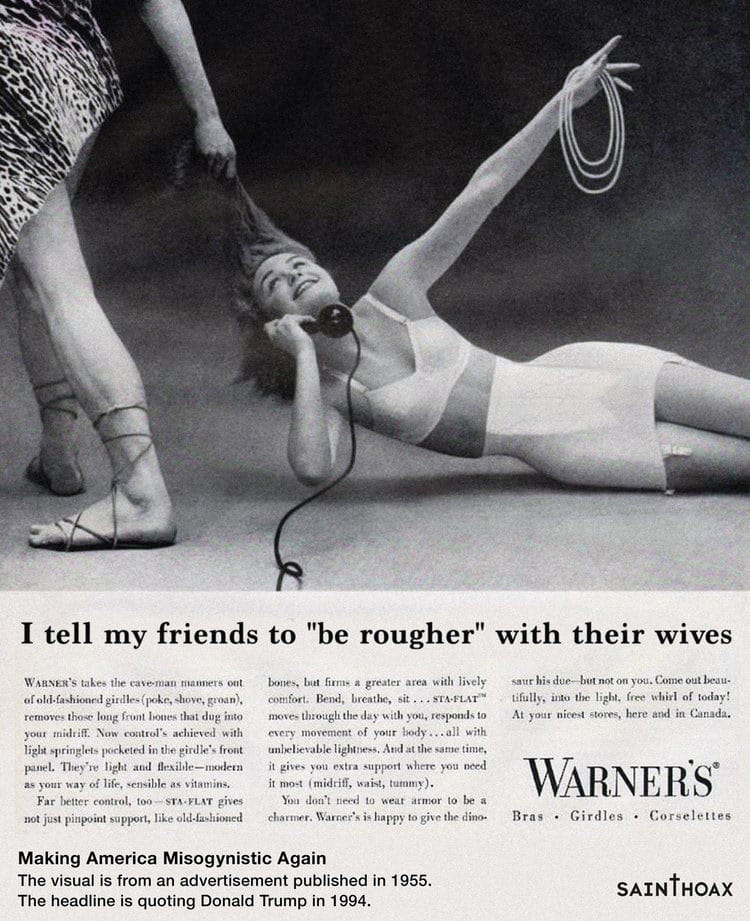 "I tell my friends to "be rougher" with their wives." Donald Trump.
"Grab them by the pussy." Donald Trump.
Who is Saint Hoax; a pseudonymous Syrian artist, satirist and sociopolitical activist. He combines politics with popular culture to create POPlitically incorrect statements. By manipulating images and icons, Hoax creates beautiful visual lies that tell an ugly truth.