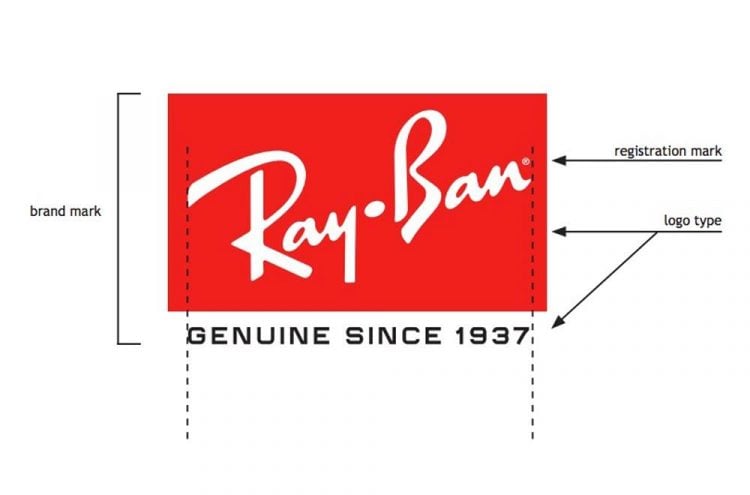 Ray-Ban Logo and Brand Guidelines
These Ray-Ban Logo and Brand Guidelines came to light whilst searching for new brand logos to index into my little side-project, Brand Legends.
My initial task, as with every other selection of famous logos, was to first establish who designed said logo.
In the case of the Ray-Ban logo, that task has so far proven impossible. The closest I got was to receive a Tweet from Julie who had found these Brand Guidelines, so this is something at least.
@thelogosmith Tough one. Couldn't find anything, too, but sent some emails and will let you know. Brand guidelines: http://t.co/wHmkWpaton

— Julie Bakopoulou (@jubaloo_) October 1, 2015
This is always a shame when such a famous, and well established brand logo, cannot be attributed to the designer/designers responsible.
I did reach out to Ray-Ban, on Twitter (below), to ask them if they had 'any' information at all regarding the logo, but so far no reply.
.@ray_ban Trying to find out who designed the Ray-Ban logo, but can't find anything. Do you have the answer? :) — Graham 'Logo' Smith (@thelogosmith) September 30, 2015
It would be wonderful to finally discover who was responsible for the Ray-Ban logo, but I do have a feeling this will not be the case.
In the meantime we'll just have to make do with these Ray-Ban Brand Guidelines.
Ray-Ban Logo and Brand Guidelines
Ray-Ban is an American brand of sunglasses and eyeglasses created in 1936 by the American company Bausch & Lomb. The brand is known for its Wayfarer and Aviator lines of sunglasses. In 1999, Bausch & Lomb sold the brand to the Italian eyewear conglomerate, Luxottica Group, for a reported US $640 million.[1]