These OutlawTriathlon & IronManTriathlon Personalised Typographic Race Posters, can be designed with your own unique race information.
Admittedly, it's a bit of a specialised area, not everyone would have heard of the Outlaw Triathlon brand (full IronMan distance triathlon: 2.4m Swim, 112m Bike and 26.2 Run), but even if you like design and typography, then these posters are quite unique.
Originally Designed byAdrianna Curtis
These fab posters were originally created by Adrianna Curtis.
I blogged (original archived post as PDF) about her posters a few years ago now, because I thought they were really good; I was also racing in Triathlons, and I'm very much into typography with my own logo designs etc.
In the last few years since I wrote that post, I've received a number of email requests from people wanting their own Outlaw or IronMan posters, but as I had only blogged about them, I suggested they should contact Adrianna direct.
It appears that either Adrianna is out-of-contact, or is simply not designing these posters anymore, which is a real pity.
It was a shame for me to hear that people couldn't get their hands on these posters, so rather than let these people down, I thought I would pick up where Adrianna had left off.
Want to make it abundantly clear: I am not the original creator of these posters, but someone who is recreating them in Adrianna's absence.
Get Your Own Personalised & Customised Typographic Outlaw Triathlon or IronManTriathlon Poster
If you come across this post, and did the Outlaw Triathlon, and/or also any IronMan Triathlon then one of these would be good to own.
There are three styles of the poster, as seen below: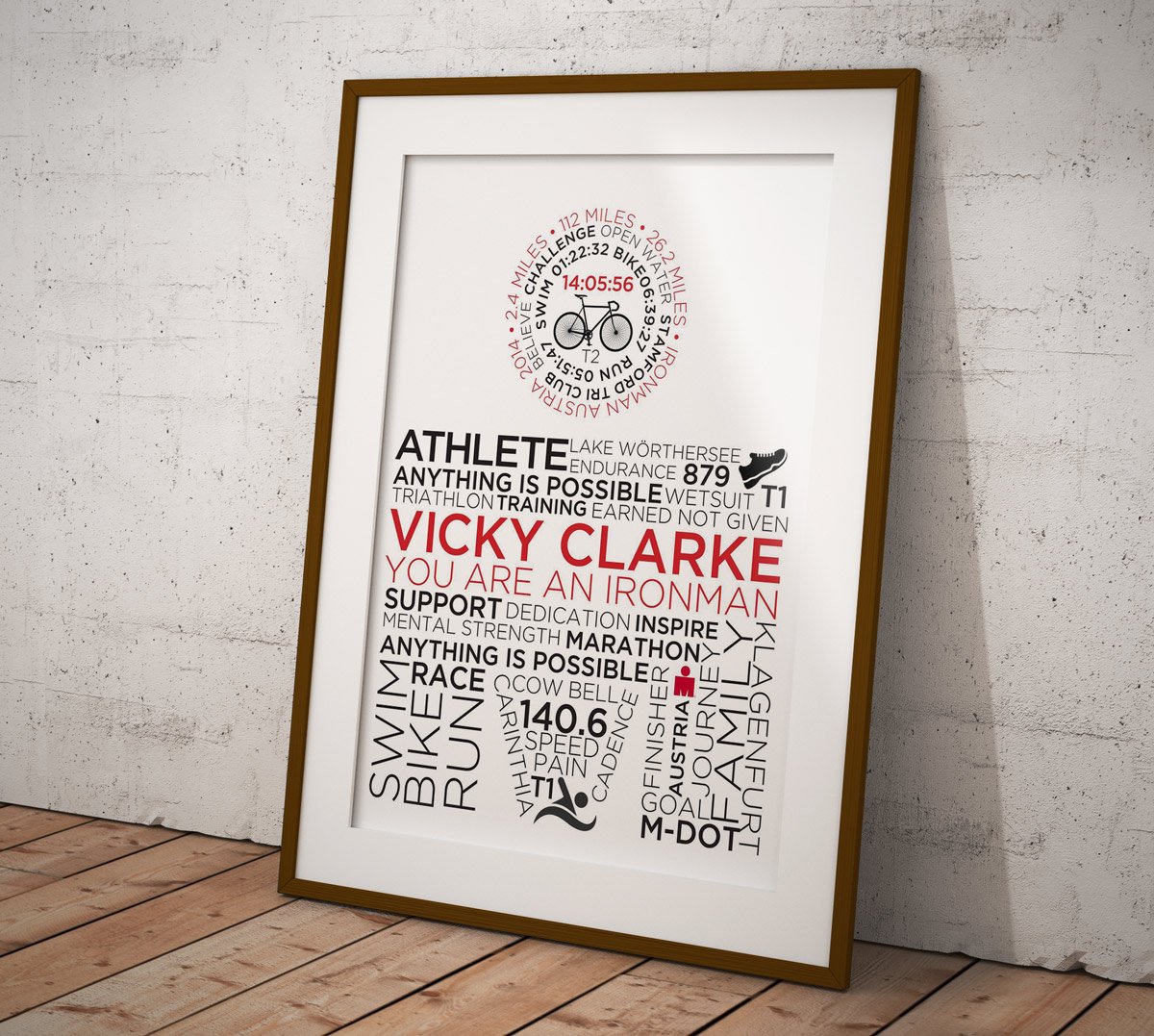 Outlaw Triathlon Poster Style 1 – Based on the Outlaw logo in yellow and black,
IronManTriathlon Poster Style 2 – Based on the IronMan logo in red and black.
IronManTriathlon Poster Style 3 – Based on the IronMan logo in black and red.
Each poster is personalised with each one with the Outlaw's competitors name, race times and race location.
Other information to the wording, can be added by request.
→ Just drop me an email, and we can get moving!
---
Outlaw Triathlon & IronManTriathlon Personalised and Customised Typographic Posters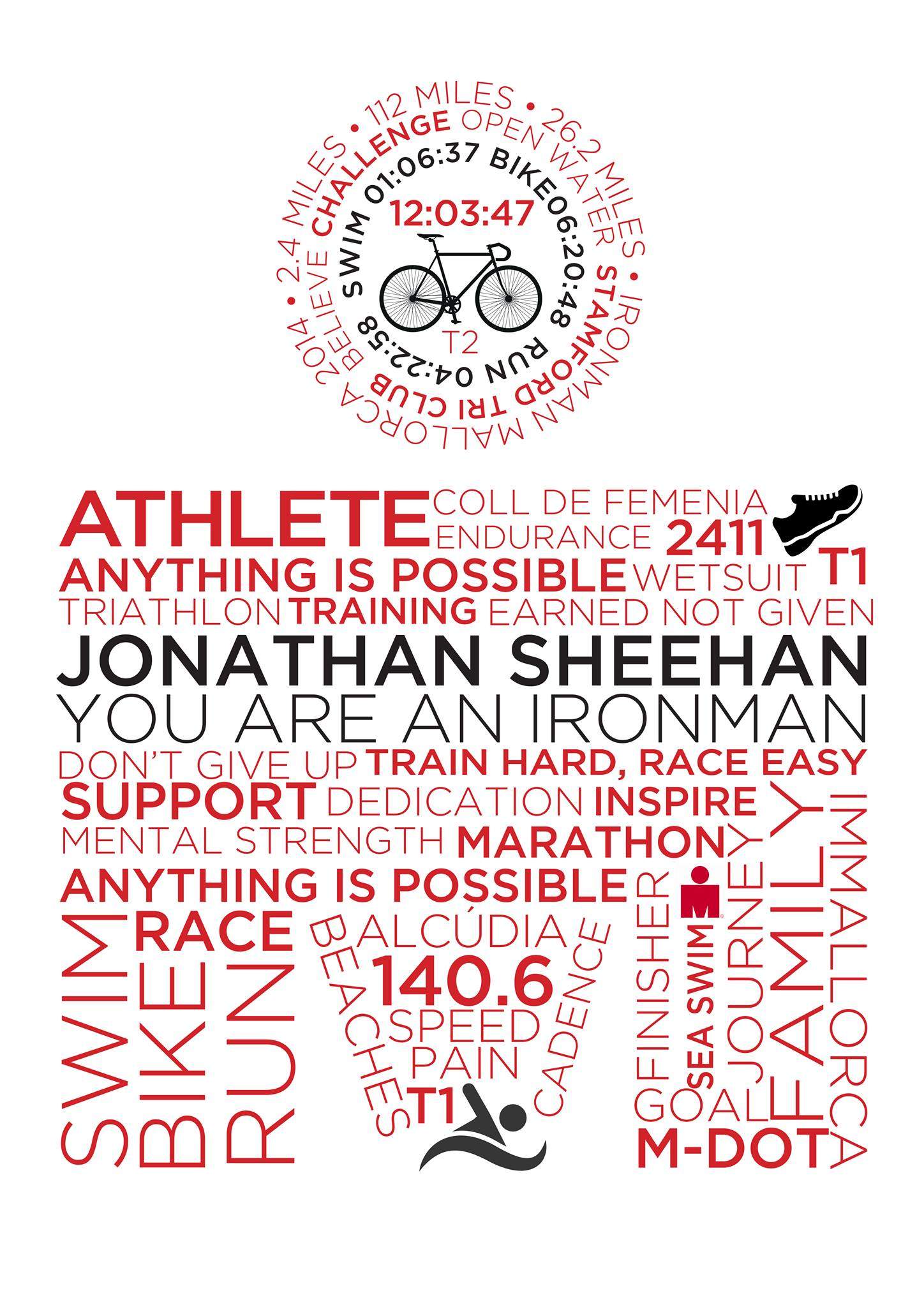 Many triathletes who compete in the 'original' IronMan races will actually get a tattoo of the IronMan brand logo (M dot), as a permanent reminder of the gruelling effort and numerous sacrifices they've had to endure. Not all of them very tastefully done, it has to be said.
Anywho, If I'd done the Outlaw, and I know 2 people from the Brighton Tri Club (that I'm a member of), that did do it, I'd certainly hire Adrianna to do one of these for me.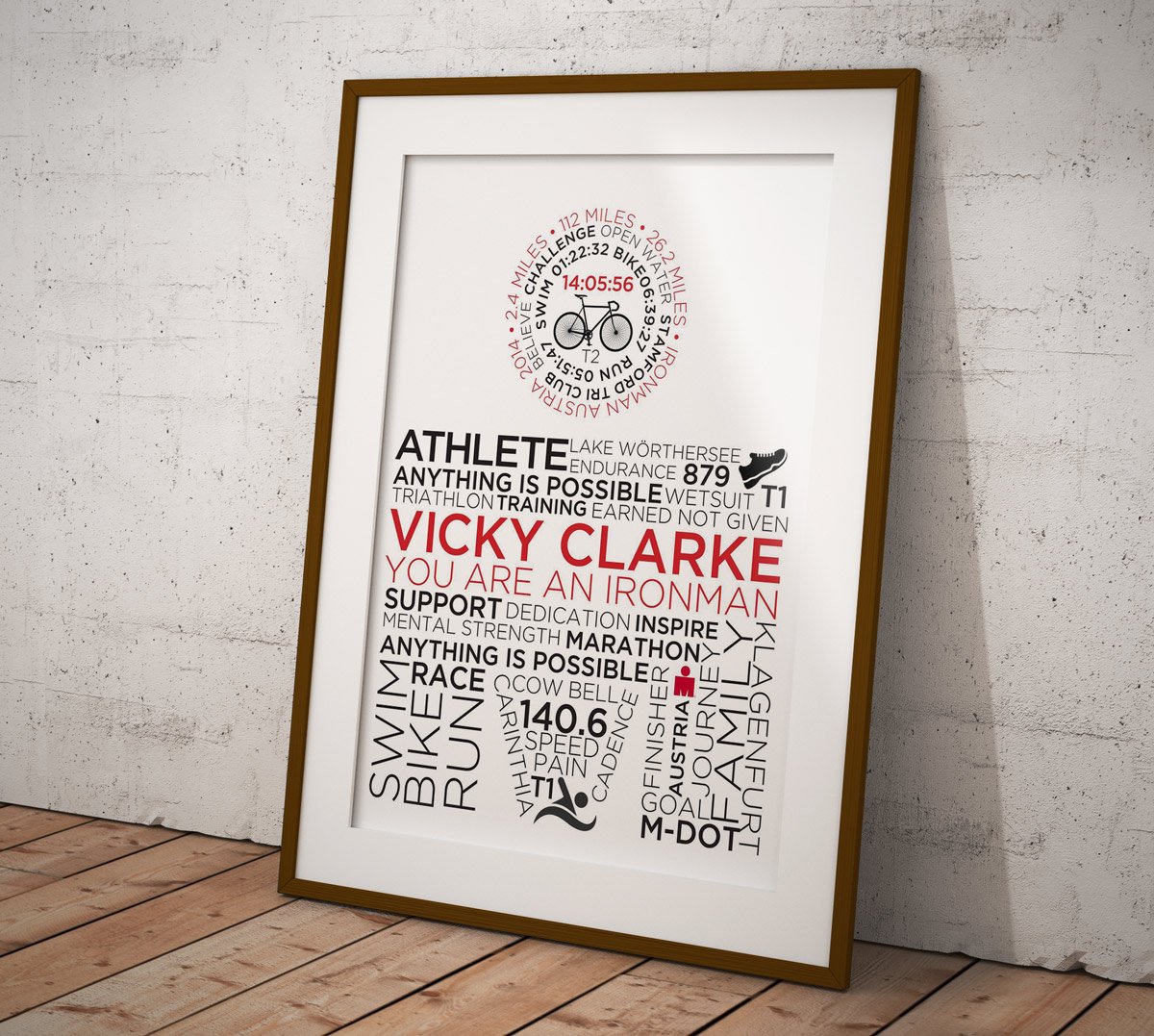 What is Ironman?
An Ironman Triathlon is one of a series of long-distance triathlon races organized by the World Triathlon Corporation (WTC), consisting of a 2.4-mile (3.86 km) swim, a 112-mile (180.25 km) bicycle ride and a marathon 26.22-mile (42.20 km) run, raced in that order. It is widely considered one of the most difficult one-day sporting events in the world.[1][2][3]
Most Ironman events have a limited time of 16 or 17 hours to complete the race, course dependent. The race typically starts at 7:00am; the mandatory swim cut off for the 2.4-mile (3.86 km) swim is 9:20am (2 hours 20 minutes), the mandatory bike cut off time is 5:30pm (8 hours 10 minutes), and the mandatory marathon cut off is midnight (6 hours 30 minutes). Any participant who manages to complete the triathlon within these time constraints is designated an Ironman.
The name "Ironman Triathlon" is also associated with the original Ironman triathlon which is now the Ironman World Championship. Held in Kailua-Kona, the world championship has been held annually in Hawaii since 1978 (with an additional race in 1982). Originally taking place in Oahu, the race moved to Kailua-Kona in 1981, where it continues today.[4] The Ironman World Championship has become known for its grueling length, harsh race conditions, and Emmy Award-winning television coverage