No. I Don't Design Logos - Ass Poster Updated
Download Vector file of all 3 Ass Posters
A refresh to my old favourite poster, "No. I don't design logos, I pull them out of my ass.", which is available for download in various styles.
Still makes me smirk when I see this, and think of the time when the idea for the poster came to mind. It was after a couple of challenging of client conversations about the logo design process, and I'd just about given up the will to live.
This poster gave me an outlet to purge my frustrations.
I have filled out the design with larger text with emphasis on ass. I think the reference to ass was lost on some; it's a nod to some peoples perception of what competent logo design involves as well as reaffirming that the buttocks are indeed a source for all your logo designs.
Added a mono version as well for all you purists.
Download Vector file of all 3 Ass Posters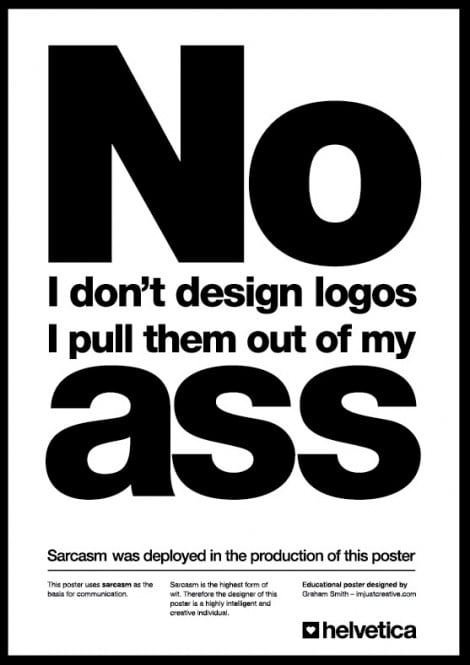 ---
PREVIOUS & NEXT POSTS
"Simple Logos are the Best" – Logo Design Lessons from Siegel+Gale
My New Dribbble Playing Card Created from Logo Portfolio
MORE POSTS BY CATEGORY
---
POSTED BY:

The Logo Smith Design Studio:

Freelance Logo & Brand Identity Design.
POST LAST UPDATED :

September 14, 2016
POST FIRST PUBLISHED:

CATEGORIES:

Downloads
,
helvetica
,
Posters
TAGS:

Logo
,
logo design
,
logos
,
poster
---
---
WHERE CAN I HIRE A LOGO DESIGNER?
If you're looking to hire a Freelance Logo Designer, or want to work with a multi-disciplinary Graphic Design Studio, then look no further than
The Logo Smith
.
With over 25 years experience,
The Logo Smith
offers the following Creative and Tech Services:
Custom Logo Design; Graphic Design; Tag Lines, Brand Identity Design & Redesigns; Brand & Graphic Standards Manuals & Style Guides; Business Stationery; App Icons; Brand Consultation; Typography; Secure Wordpress Installs, Theme Customisation & Web Site Hosting; SEO & Social Media Consultation; PR Services provided by The PR Room, in: Technology PR, Internet of Things PR, Smart Home PR, and Social Media PR.
I'd be thrilled to hear from you, and find out how I can help you with your logo and brand identity design requirements. Please visit my
Hire Me
page, email me at:
[email protected]
.
Follow @thelogosmith
---
Home » Logo Design Blog | The Logo Smith: Freelance Logo Designer » Posters » "No. I don't design logos, I pull them out of my ass." Design Logos Poster