---
In Progress: Custom Lettering-Preliminary Design Sketches
Nothing like a blank-slate when tasked with designing some custom lettering for a new logotype. Far from what will be the final design, but I just wanted to sneak out a few preliminary sketches that I have been working on.
This version here must be sheet 20, or something close, but none of the earlier iterations were 'a waste of time', as each new blank sheet of paper allows you to really explore a wide gamut of ideas, some promising some purposely crazy.
Sometimes where the promising and crazy collide, that Eureka moment could slowly manifest itself as you once again put lead-to-paper.
I'm actually liking how this custom lettering is going, but with a few days since doodling this example, I can now see that the S is somewhat too bulbous on the top left, but now I can see that flaw, I can once again whip out another sheet of paper and hopefully address that issue. For sure, only to find something else that doesn't quite fit with my vision.
The sketching process can be fun, challenging, frustrating, even damn right arduous, but it's rare to come out at the end without something solid to work on for that final logo iteration.
For shits-&-giggles, I just quickly placed some pretty coloured circles to show the sort of the flow that I'm bringing into the custom lettering and overall structure of the logotype. I like things to converge, to line-up, to intersect, where it's naturally appropriate to do so. In this case it's actually the green area that I have started each sketching session with, as this is the base platform from which the S & B rise from. Lots of sweeping curves, behind-the-scenes, that share the same overall circumference, and that all work together in one way or another.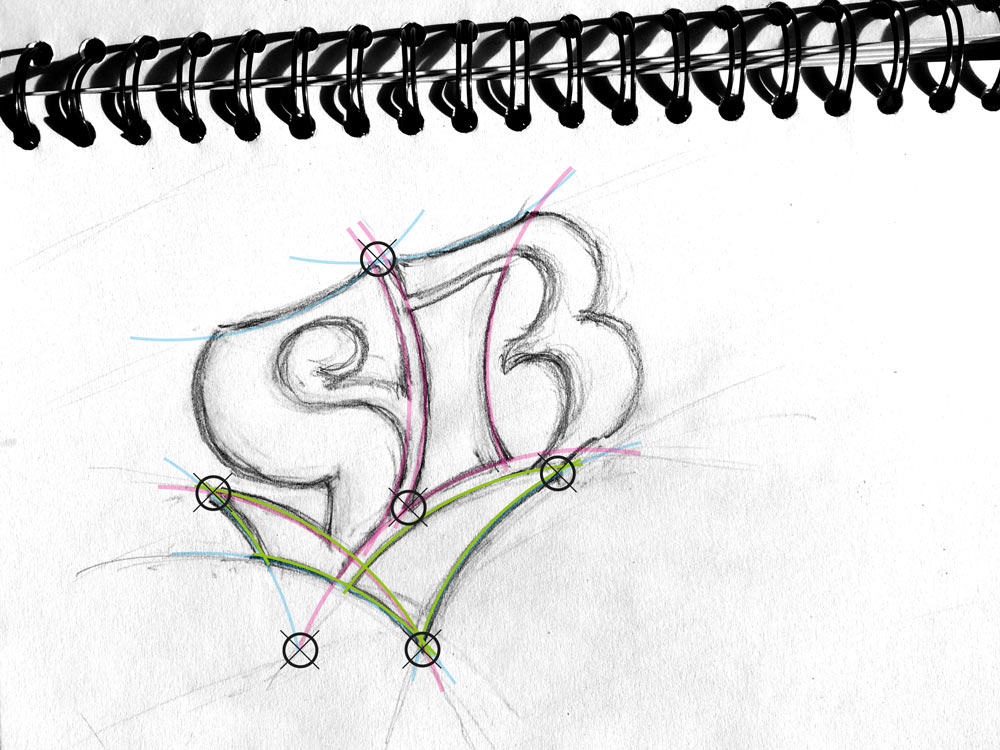 ---
Previous Post:
Star Wars Icon Set-Free Download by Jory Raphael
Next Post:
If you need a logo designed, if no one else can help…
---
Posted By:
The Logo Smith:
Freelance Logo & Brand Identity Designer.
Follow @thelogosmith
Categories:
Logo & Brand Identity
,
Logo Process
,
Portfolio
Tags:
custom lettering
,
Design
,
lettering
,
Logo
,
sketching
,
type
More Posts by Category
---
---
Where Can I Hire a Logo Designer?
If you're looking to hire a Freelance Logo Designer, or want to work with a multi-disciplinary Graphic Design Studio, then look no further than The Logo Smith.
With over 25 years experience,
The Logo Smith
offers the following Creative and Tech Services:
Custom Logo Design; Graphic Design; Tag Lines, Brand Identity Design & Redesigns; Brand & Graphic Standards Manuals & Style Guides; Business Stationery; App Icons; Brand Consultation; Typography; Secure Wordpress Installs, Theme Customisation & Web Site Hosting; SEO & Social Media Consultation; PR Services provided by The PR Room, in: Technology PR, Internet of Things PR, Smart Home PR, and Social Media PR.
I'd be thrilled to hear from you, and find out how I can help you with your logo and brand identity design requirements. Please visit my
Hire Me
page, email me at:
[email protected]
.
---
Home » Blog | The Logo Smith | Logo Designer & Brand ID Studio » Logo & Brand Identity » In Progress: Custom Lettering-Preliminary Design Sketches