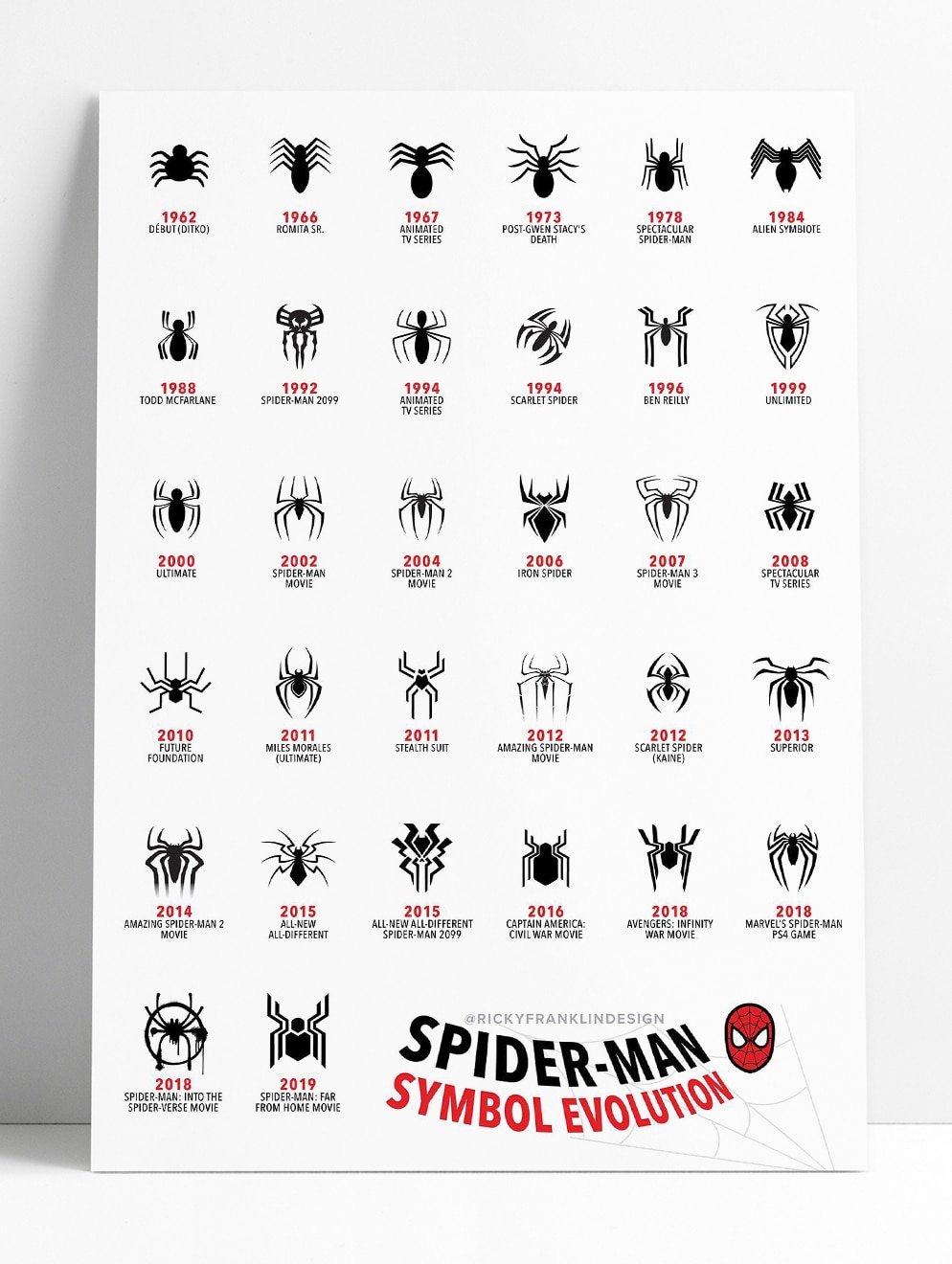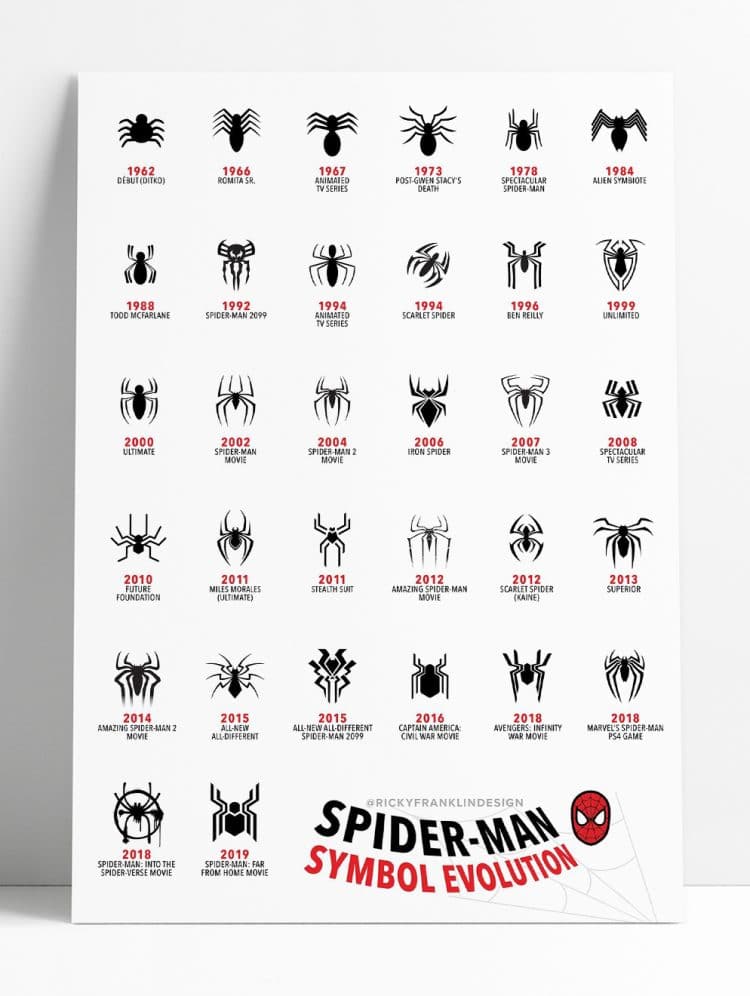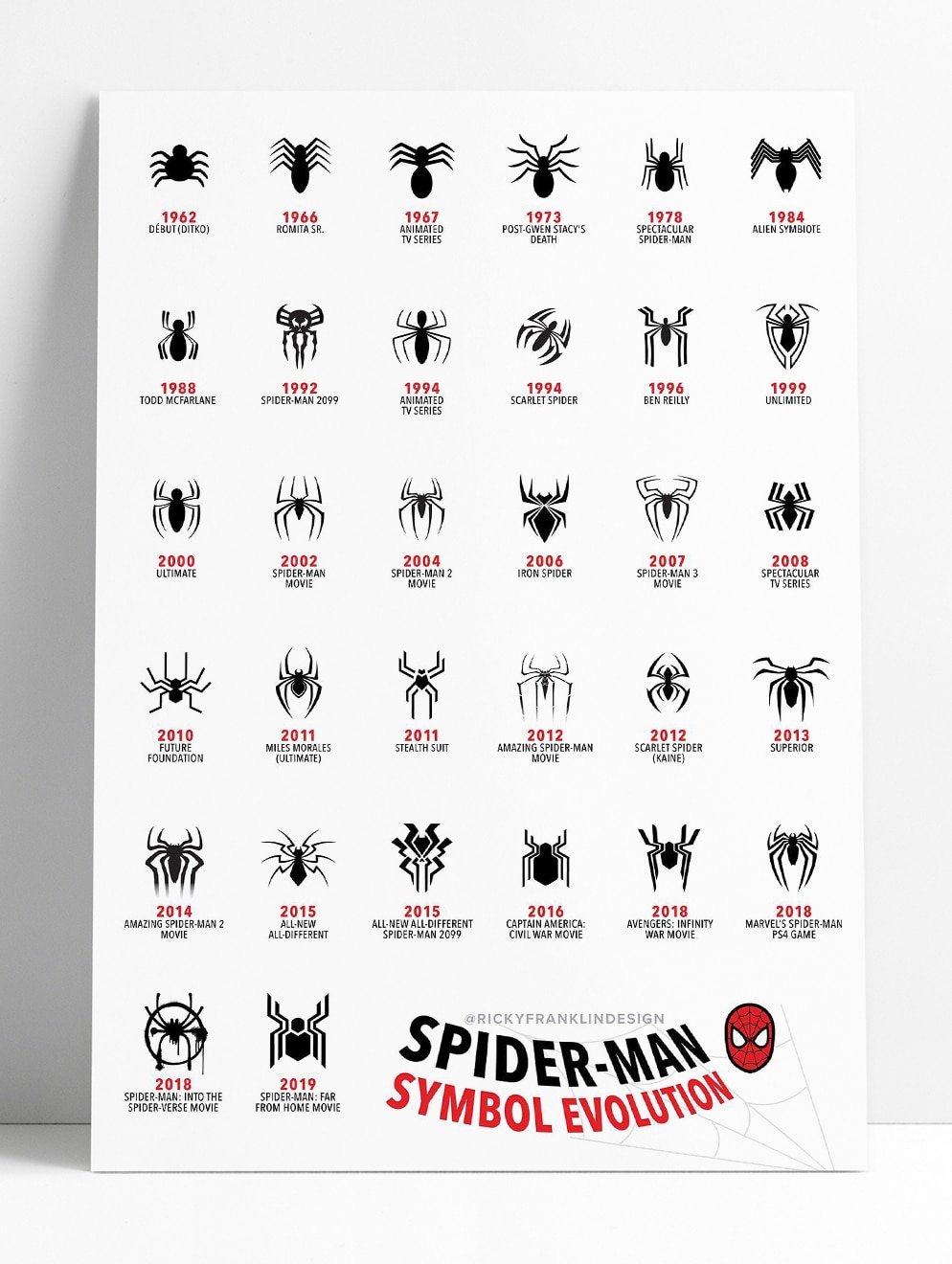 Spider-Man Symbol Evolution 1962 – 2019 Designed by Ricky Franklin Design
Much like the Mark of Batman: The Evolution of the Batman Logo & Icon 1941-2007 this poster designed by @RickyFranklinDesign on Instagram, charts the visual evolution of our 'friendly neighbourhood spider-man' distinct spider symbol.
Mary Jane Watson: Who are you?
Peter Parker/Spider-Man: You know who I am.
Mary Jane Watson: I do?
Peter Parker/Spider-Man: Your friendly neighbourhood Spiderman! *Swings off*
About Ricky Franklin
My name is Ricky Franklin. I'm a freelance graphic designer in San Diego, California. My branding work is globally-minded, intentional, and idealistic. I love telling stories that push the limits of what's possible and in so doing, discovering new beauty. The core of my approach to design is strong concept development, yielding strong typographic and illustrative results in digital and print media.
Although this went super viral, I've only just recently stumbled across it, so still wanted to post and share it, even though it sounds like I'm the last designer on earth to have seen it.
Ricky talks about the his work in his Spider-Man Symbol Evolution Case Study:
The Challenge: Being a lifetime fan of Marvel's Spider-Man character, I have read hundreds of comic books—from the early 1960s to present day—and experienced adaptations of the super-hero in a variety of media. I've always been fascinated with the evolution of Spider-Man's chest insignia through over 55 years of content.
Unable to find an accurate and aesthetically pleasing graphic displaying this dynamic change, I endeavored to create an infographic compiling big trends and milestones for Spider-Man's symbol in comic books, TV shows, movies, and video games.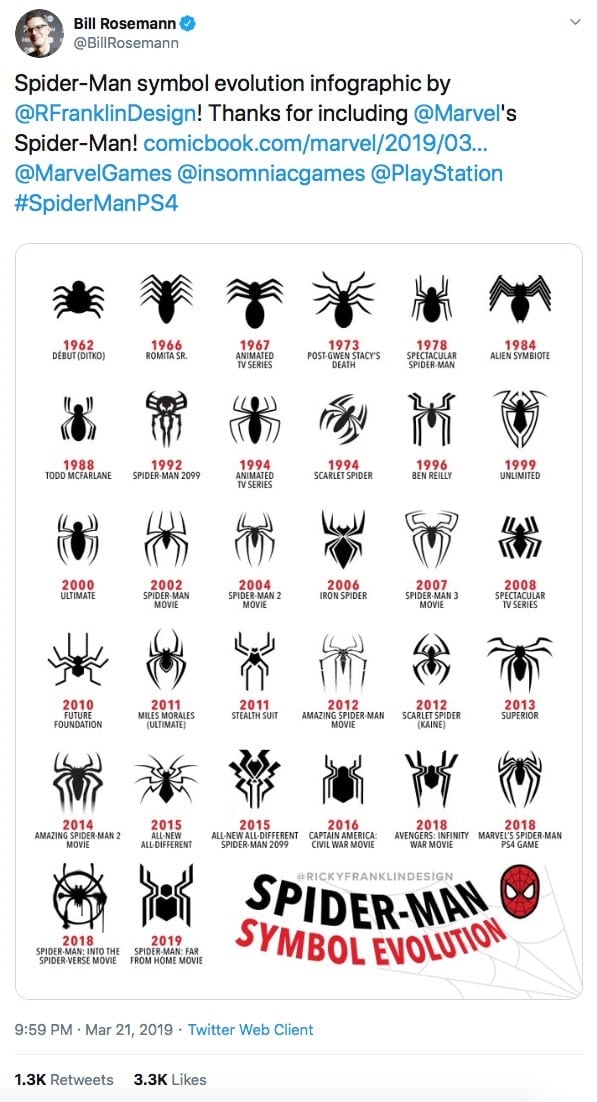 Going Viral: This infographic has become a widely shared image with millions of impressions across a variety of sharing and social media sites including Twitter, Instagram, Reddit, and Pinterest.
It has been shared on Twitter by Bill Rosemann, the creative director of Marvel Entertainment, Insomniac Games, the developers of the 2018 smash-hit Playstation 4 Spider-Man game, and Dan Slott, the writer of the Spider-Man comics for over a decade.
Spider-Man Symbol Evolution 1962 – 2019

About Spider-Man
Wikipedia: Spider-Man is a fictional superhero created by writer-editor Stan Lee and writer-artist Steve Ditko. He first appeared in the anthology comic book Amazing Fantasy #15 (August 1962) in the Silver Age of Comic Books.
He appears in American comic books published by Marvel Comics, as well as in a number of movies, television shows, and video game adaptations set in the Marvel Universe. In the stories, Spider-Man is the alias of Peter Parker, an orphan raised by his Aunt May and Uncle Ben in New York City after his parents Richard and Mary Parker were killed in a plane crash.
Lee and Ditko had the character deal with the struggles of adolescence and financial issues, and accompanied him with many supporting characters, such as J. Jonah Jameson, Harry Osborn, Max Modell, romantic interests Gwen Stacy and Mary Jane Watson, and foes such as Doctor Octopus, Green Goblin and Venom.
His origin story has him acquiring spider-related abilities after a bite from a radioactive spider; these include clinging to surfaces, shooting spider-webs from wrist-mounted devices, and detecting danger with his "spider-sense".
See also: The Mark of Batman – The Evolution of an Icon