SOFFA SANS Font by Ikea – The World's Comfiest Isometric Font – Free Download
SOFFA SANS Font, according to Ikea, is the world's comfiest font which was inspired by Idea's customers' use of the VALLENTUNA planner.
Its modular form and relaxed letter-spacing make it one of the most versatile isometric fonts in the world.
There are two versions of SOFFA SANS available as a Free Font Download: Isometric (pixel based) and Birds Eye View (vector based)
A London based Digital Agency, Proximity, worked with Ikea to design the font in a range of colours to suit your neutral mood: VALLENTUNA Murum White, VALLENTUNA Hillared Light Blue and Vallentuna Hillared Dark Grey.
Safe to say a lot of work has gone into SOFFA SANS, and it certainly does look rather plush. If the font was created in real life, then it would cost about £105,320.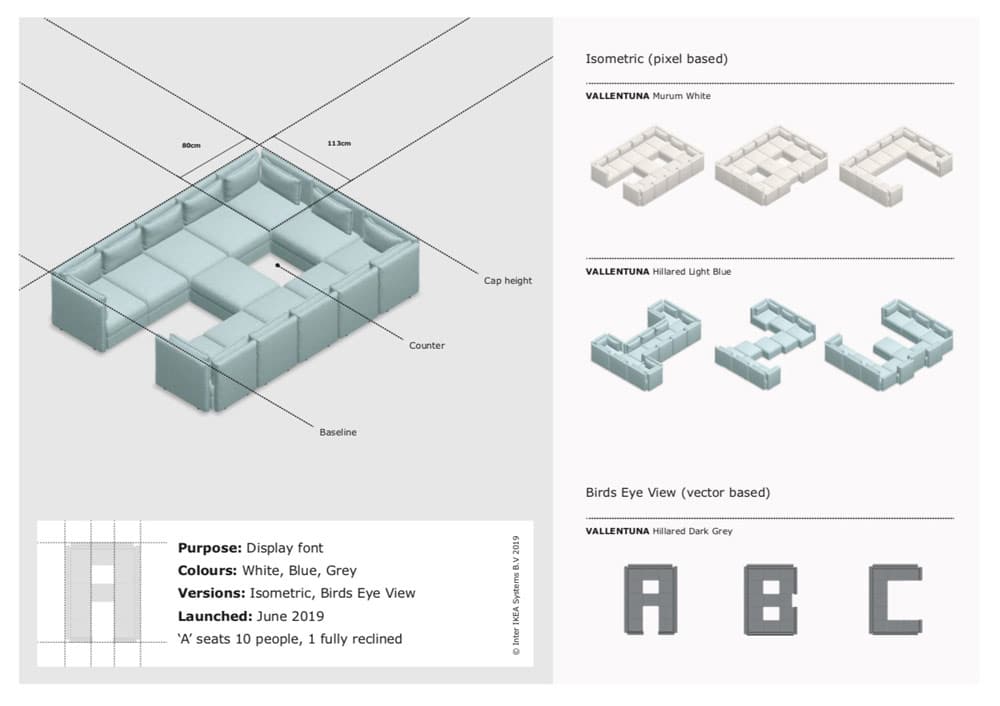 ---
About this Post
Written by:
Graham Smith
:
Date of Publication
First Published on:
2019/07/12
and Updated on:
2019/07/12
Post Categories
Filed In Categories:
Free Font, Resources, Typography
Post Tagged by
View More Posts by Category
---
---
If you like the Logo & Brand Identity Design work I have done in my Portfolio, and Case Studies and Monomarks, and are looking to hire yourself a Highly Talented, and Super Experienced (28 Years), Freelance Logo & Brand Identity Designer, then look no further. Visit Hire Me, and fill in the Design Brief, or just Contact me.
The Logo Smith has Full Business Idemnity Insurance (FCA Regulated).