All Archived Posts in Dogs
This is a brief 'before & after' of a brand logo redesign (featured image above) that I completed for Homes Alive Pets, a Canadian pet store chain.
I'll be updating this post with further information relating to this projects development. 
We didn't actually start the project intending to update their existing logo, instead the brief was to design a totally new logo design, and accompanying brand identity.
During the process of exploring logo ideas and concepts, it became apparent to the client that it was actually far better to keep with the existing logo, but to update/refresh it.
This made perfect sense given the accumulated amount of: brand equity, customer and client awareness, that Homes Alive Pets had successfully established in previous years of trading.
The challenge then was to craft a new pet dog, and a new pet cat, that would create a more comforting and characterful duo.
There were quite a few revisions and styles of the dog and cat, but both the client and I fell in love with the final design.
Logo Case Study - Logo Redesign for Homes Alive Pets
What I liked most of all with the new design, is how I wrapped both tails of the cat and dog, so as to make them look like they are almost cuddling and protecting each other.
I am actually really fond of this dog & cat duo.
It's certainly not a new or unique logo idea, to have a cat and dog represent a pet company, but as it was already part of their brand, I did what I could to make it as 'uniquely theirs' as possible.
Adding some floppy ears to the dog, and generally making both of them look a little more realistic, really seemed to make the whole logo far more welcoming, and friendly, as well a tad more cute. :)
Brand Name & Tag Line Creation
There was also a slight change in the brand name, so from: Homes Alive - Pet Centre, it became: Homes Alive Pets - simply wholesome, and naturally healthy.
I was able to help the client craft their new tag-line, which meant I also was then able to ensure it slotted nicely into the the space to the right of 'Pets', and took up two lines. Little details like that that might be overlooked, but the bigger picture is always so important.
As a little 'nod' to their Canadian heritage, the client asked that I popped a maple leaf on the letter 'i', it's subtle enough,
The new logo proudly displayed high above the store (apologies for the poor picture quality).
I love how the actual logo has quite a lot of depth. Looking at the dogs head, and ears from the right hand side, looks really good.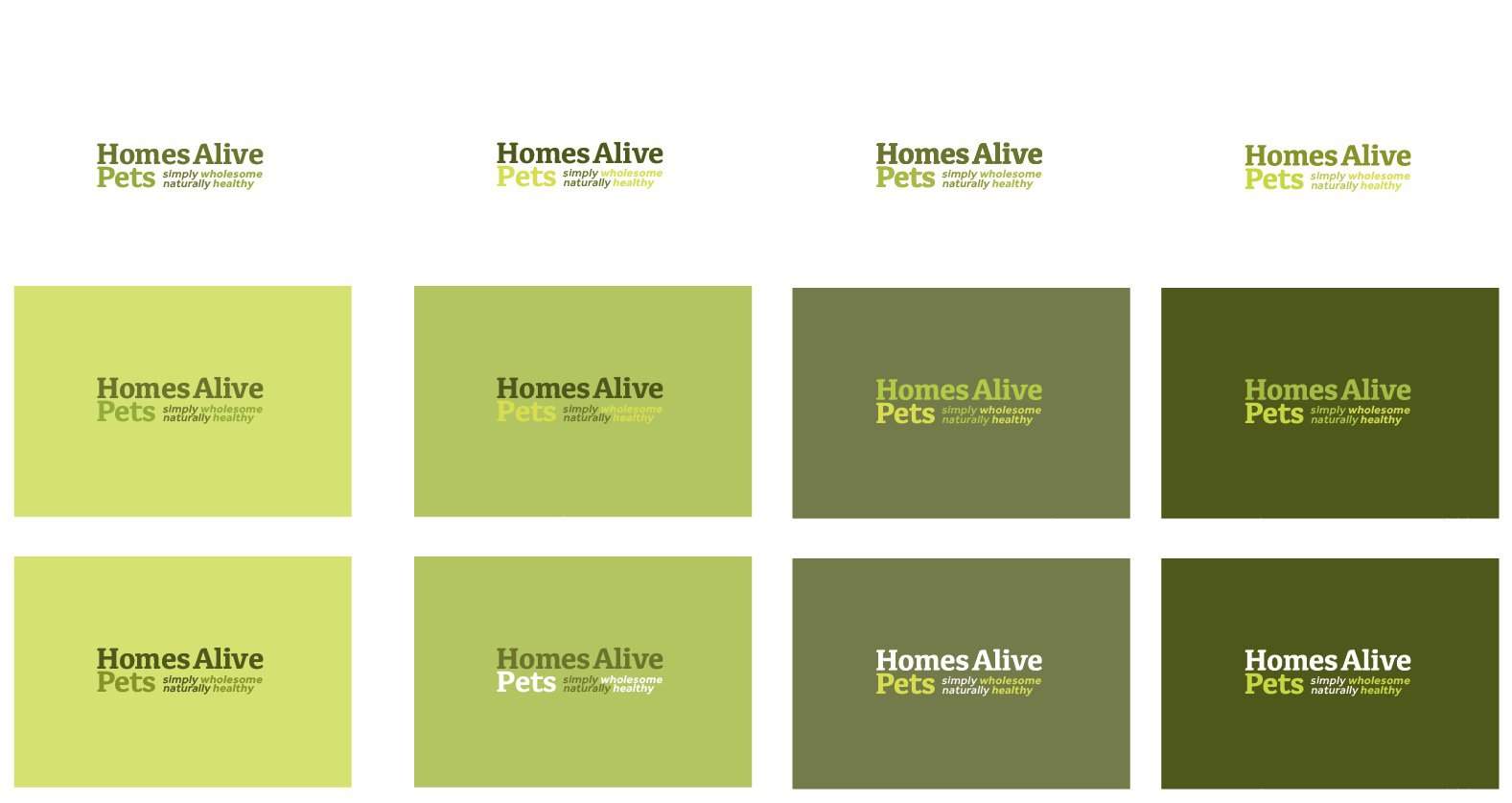 Just a few of the colour options we look at for Homes Alive Pets.
Very early drafts of cat and dog style, even including a photo of me and my German Shepherd, Miss Charley.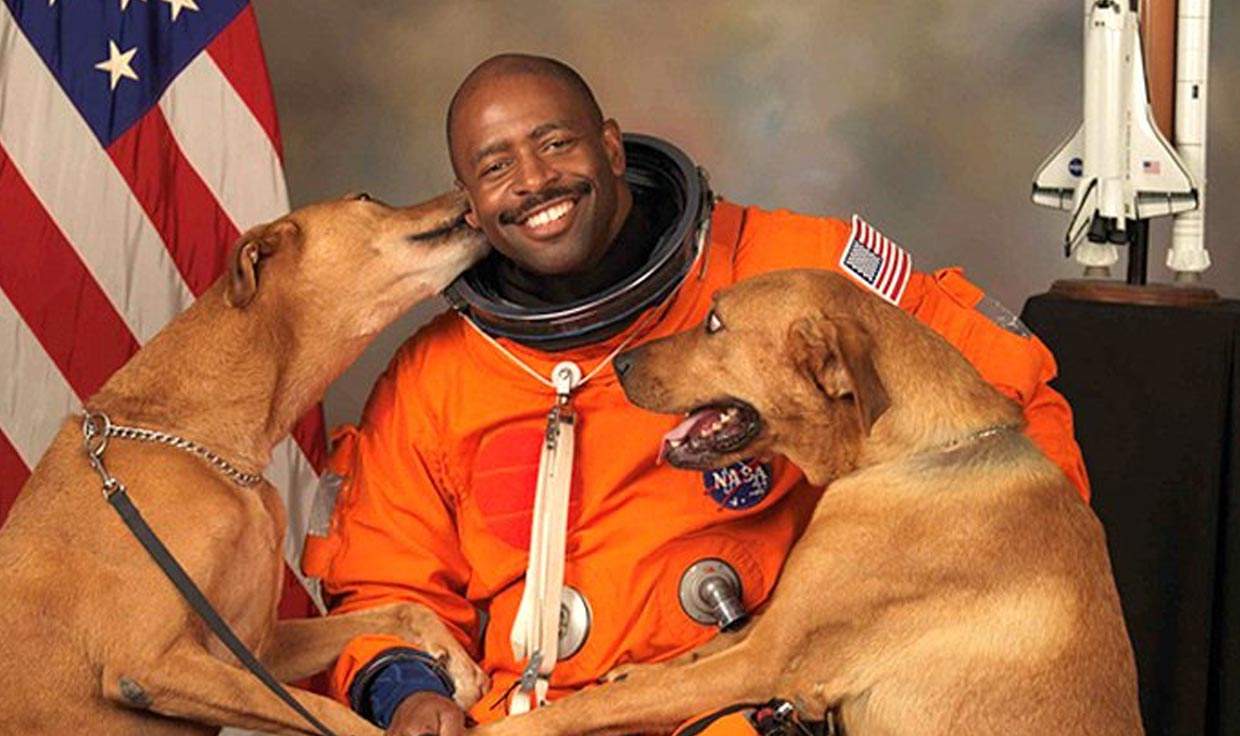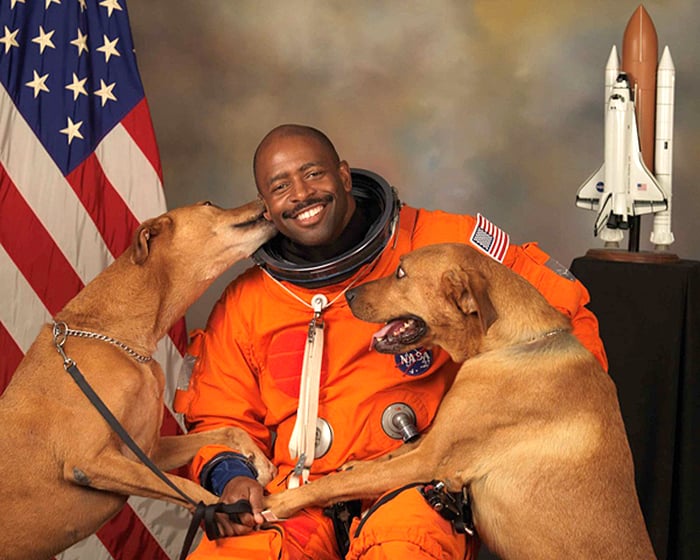 This photograph of NASA astronaut, Leland D Melvin with his dogs Jake and Scout, just brings so much joy to my heart!
Being a dog lover, I can just feel the excitement, the love and the happiness both Leland, Jake and Scout are all feeling.
Just look at Leland's smile, then Scout's eyes nearly popping out of his sockets.
Just beautiful.
» Found via: d
Found it. Best astronaut photo of ALL TIME. @NASA's @Astro_Flow with his dogs Jake and Scout. pic.twitter.com/QrYZacCy0p

— Courtney O'Connor (@CourtOConnor) November 11, 2013
Wiki: Melvin began working in Nondestructive Evaluation Sciences Branch at NASA Langley Research Center in 1989. His responsibilities included using optical fiber sensors to measure strain, temperature, and chemical damage in both composite and metallic structures. In 1994, he was selected to lead the Vehicle Health Monitoring team for the cooperative NASA/ Lockheed Martin X-33 Reusable Launch Vehicle program. In 1996, he co-designed and monitored construction of an optical nondestructive evaluation facility capable of producing in-line fiber optic sensors.[8]

Selected as an astronaut in June 1998, Melvin reported for training in August 1998. He has since been assigned to the Astronaut Office Space Station Operations Branch, and the Education Department at NASA Headquarters, Washington, D.C. As co-manager of NASA's Educator Astronaut Program, Leland Melvin has traveled across the country, discussing space exploration with teachers and students, and promoting science, technology, engineering and mathematics. He next served in the Robotics Branch of the Astronaut Office. In October 2010, Melvin was named as associate administrator for the Office of Education. As associate administrator, Melvin was responsible for the development and implementation of NASA's education programs that inspire interest in science and technology and raise public awareness about NASA goals and missions. He retired from NASA in February 2014.[8]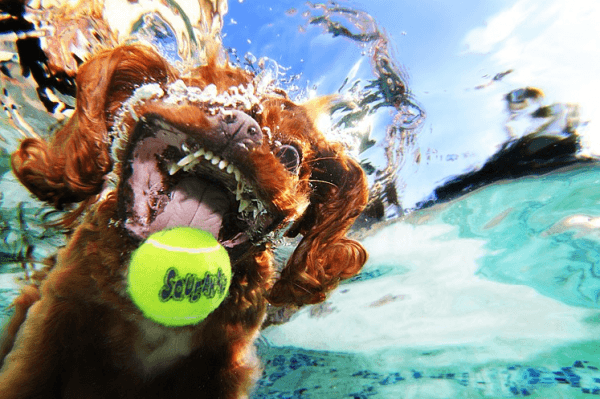 Hilariously Ferocious Underwater Dog Photography by Seth Casteel
Hilariously Ferocious Underwater Dogs Photography by photographer, Seth Casteel (Facebook) who has captured these very cool canine expressions.
I would love to have some of these done for my own canine companions, Mr Dylan and Miss Charley. Charley being water loving dog who frequently dives under the water to grab stones, or anything else that takes her fancy.
It would also be cool to get one of her with a dark background to highlight her startlingly large white teeth against her jet black coat.
K Found on Colossal