All Archived Posts in Design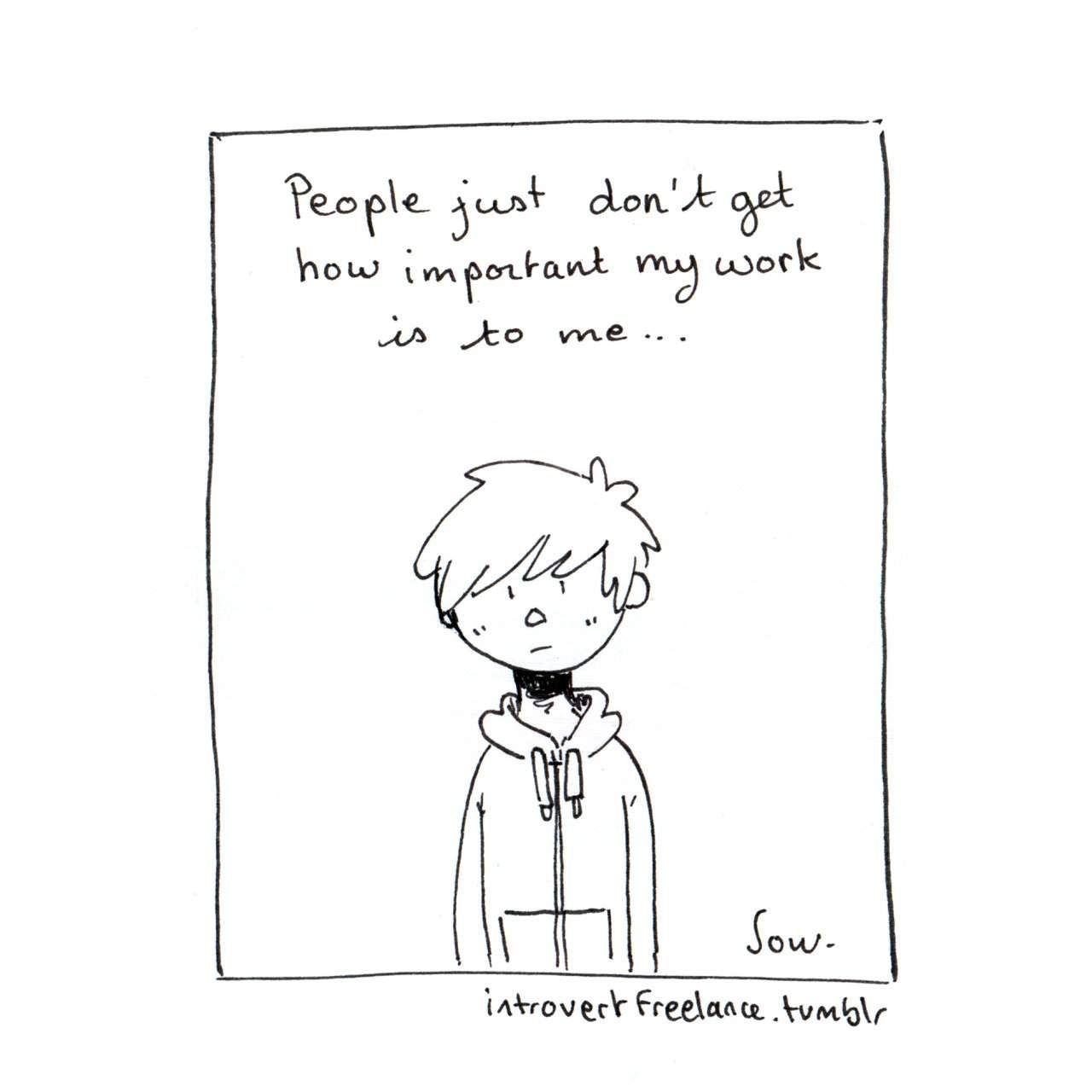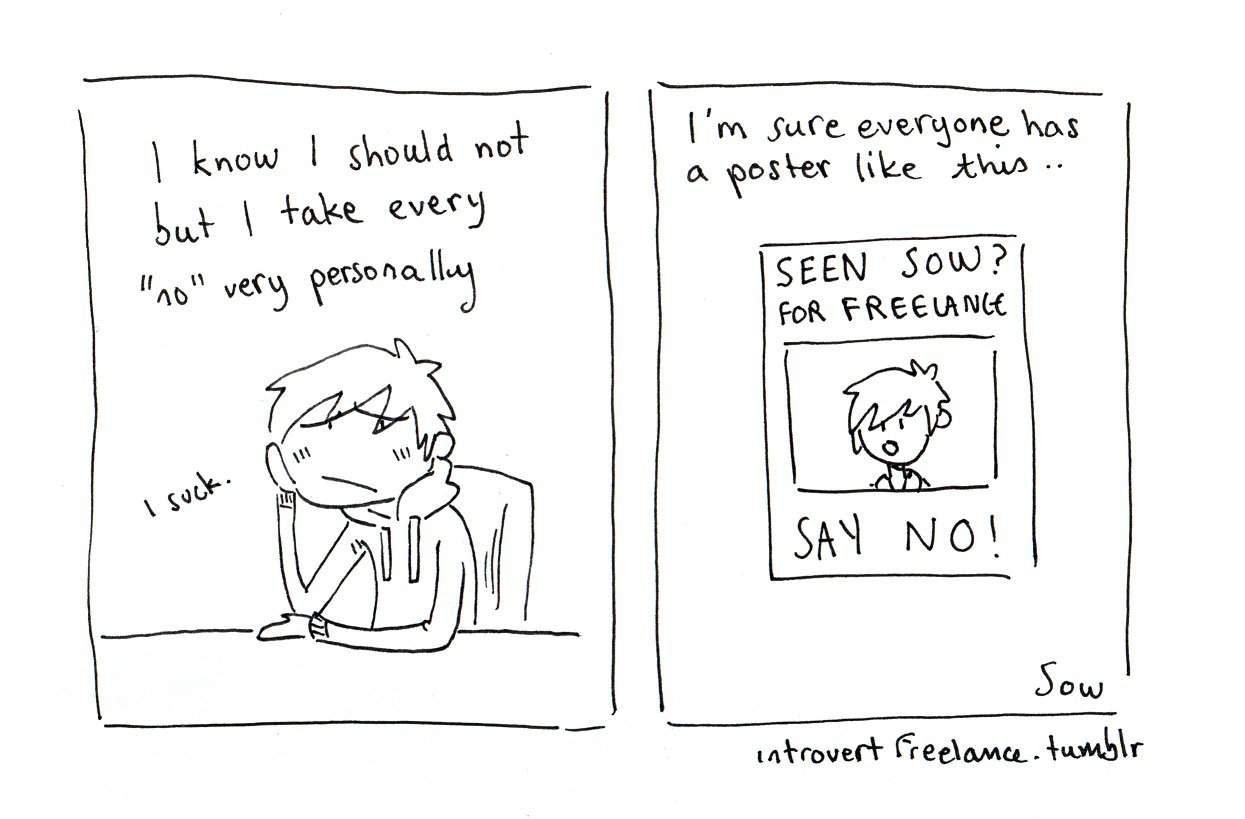 Struggles Of An Anxious and Introverted Freelancer
When I first saw one of these cartoons from: The Daily Struggles Of An Anxious and Introverted Freelancer, on Design Taxi, I immediately felt that 'this person' knew exactly how I can feel at the best of times!
I actually felt a sense of relief when I started scanning all Sow's cartoons, as one-by-one I realise I surely wasn't the only freelance graphic designer to feel these things.
Being an introvert I can totally relate to pretty much ALL of the cartoons that Sow has so brilliantly drawn for his Tumblr: Struggles Of An Anxious and Introverted.
Some of the ones I REALLY relate to: "The hardest is not the 10 hours you spent on a difficult design. It's the taking the phone to call the client.", "People just don't get how important work is to me…", "I know I should not, but I take every "no" very personally. I suck.", "Sometimes you lose all your ability to speak when you have to answer a very important email…"
Introverted designers' problems http://t.co/zWEIJcpRU2 pic.twitter.com/eRu35WkWBB

— TAXI (@designtaxi) October 7, 2015
I'm sure there are people out there who think this line of thinking is just pathetic, and bordering on the 'really feeling sorry for yourself', but the reality is far more complex that that, and I'd flip it back to say that these people are simply 'trivialising things/emotions they can't, or don't want to understand.'
This is how Sow explains his cartoons:

"Hello, I'm Sow, a freelance designer and illustrator. And a huge anxious and introvert person.

As it is really not easy and I don't know who to share this with, I thought I could share it with you on the internet.

I think many of the comics can be applied to many other situations, even for non introverts or non anxious people.


So, thanks for enjoying those."

Find Sow Elsewhere
You can find Sow's work on these other social media platforms. Here are some links :
website - art tumblr - twitter - instagram - patreon
Sow's project: "Struggles Of An Anxious and Introverted Freelance Designer", has also been featured on many websites, which must be a massive boon: Bored Panda / DesignTaxi / Metro UK / Demilked / Next Shark / Blazepress / Nomades Digitais (Br) / DailyBest (It) / In Pixel I Trust (Fr)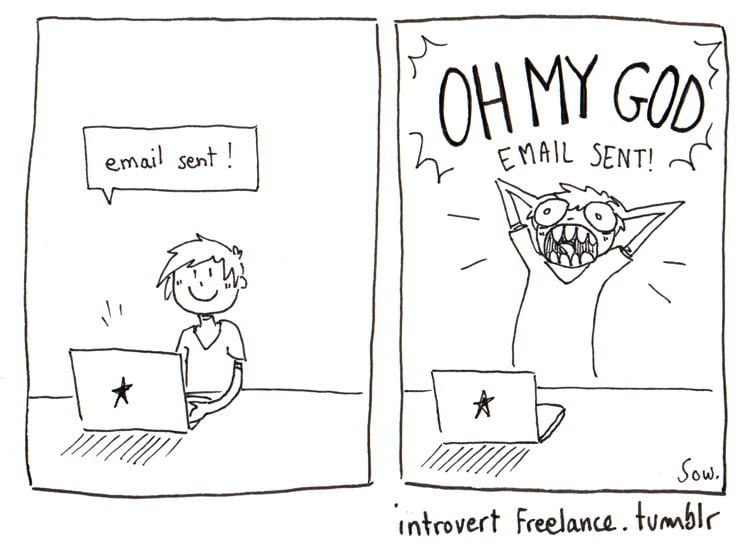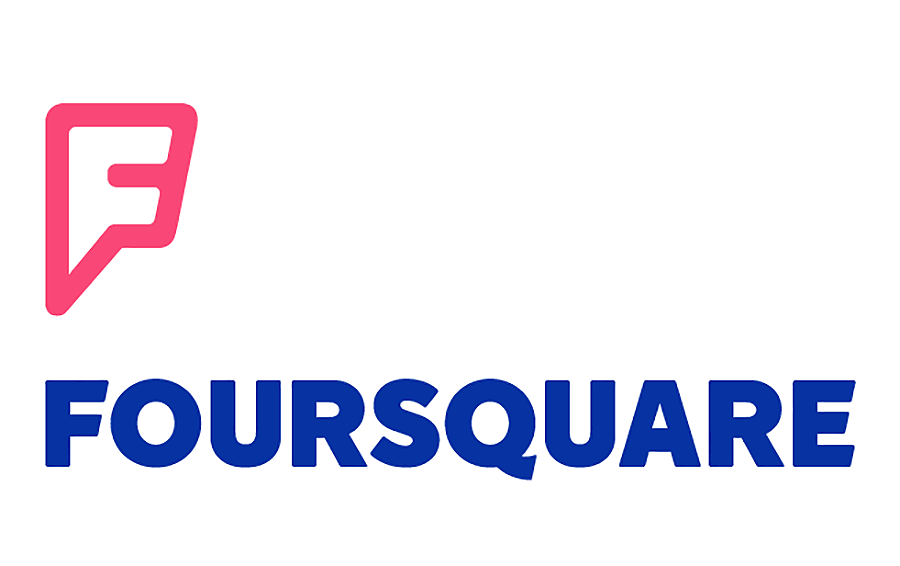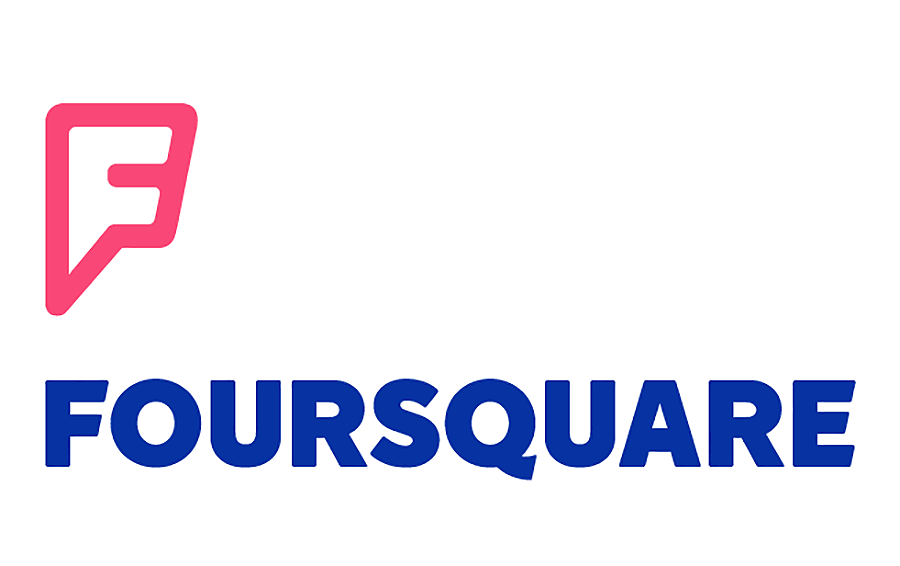 Foursquare's New Logo Redesign Goes Superhero
Just to clarify: the Superhero wording wasn't my idea, this comes direct from the folks at Foursquare, and I quote:
Foursquare
: "…if you build a totally new app, you need a totally new logo. Our logo is changing from the check-in checkmark to something representing the new Foursquare.
We designed it to be a mix of map pin and superhero emblem.
We've always thought of Foursquare as giving you superpowers to explore your city, and our new logo reflects that vision. It's coming soon to a homescreen near you."
Thought I'd open with that quote because I'm just not sure if they are being serious or not. Superpowers? Vision? Homescreen? Superhero?
Let me be blunt: the new Foursquare logo is anything BUT super anything.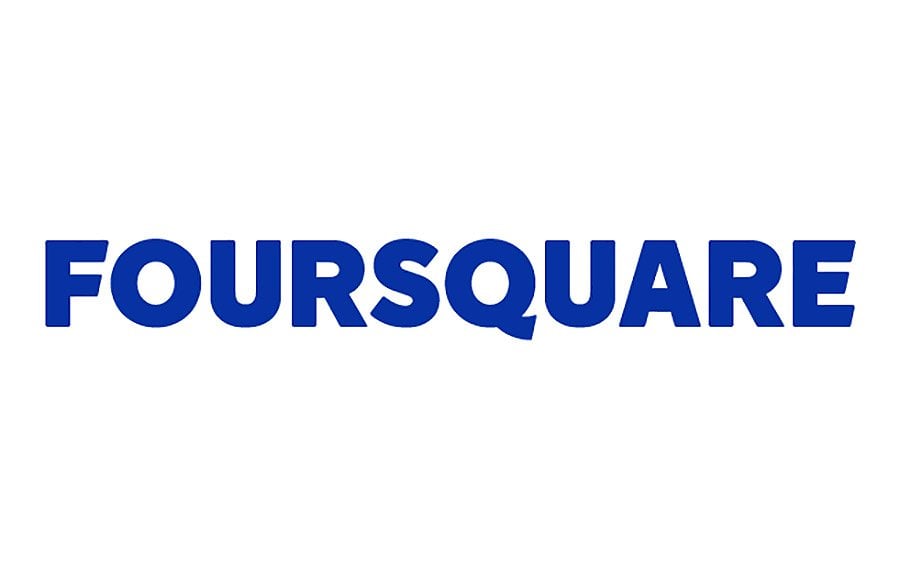 The Good
Let me get the positive out the way, just to show you I can see good when I see it, and can appreciate good when I see it, and am willing to extend that goodness to a few positive words in my blog.
The logotype/wordmark/brand name yada yada, is pretty nice: it has presence, it's pretty damn solid, has a nice rich almost Ultra Violet style to the colouring.
I also like the two colours, but they also remind me a little too much of the Flickr colour palette.
That concludes the good.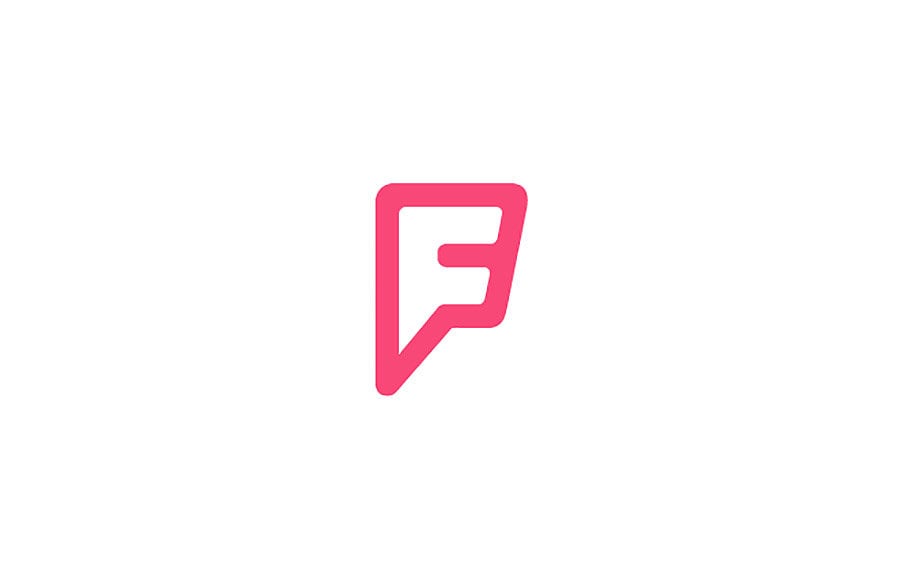 The Bad
What is meant to to super is really really bad.
I first saw the new Foursquare logo last night, and had a few back and forth tweets about it.
. @thelogosmith @MarkPoppen @TheLogoFactory @divinefusion I agree with Graham - definitely 'Disjointed' (& not particularly friendly either)

— Daryl Walker-Smith (@darylws) July 24, 2014
I totally didn't, see or get, that it was meant to be a vision of superheroness emboldened in a classy new super emblem: that's also a pin; which I did get by the way, albeit a rather odd map-pin.
That 'F', that is a map-pin, and a superhero emblem just looks awful. The pinky outer keyline is far too kludgy, the outer corner radius look far too large compared to the inner radius. Which then leads to the corner radius of the 'F' which looks like an afterthought, BUT don't come close to matching the far softer corner radius on the Foursquare wording.
Why oh why could they not have at least kept some consistency with the corner radius from the superhero 'F' emblem to that in the main wording? That would have at least made up for one of the most awkward looking logomark and logotype miss-matches I have seen in a long time.
There is nothing in this combination logo that looks like it should be one of a nice and cohesive whole. It's super disjointed at best.
The white-out half-cut 'F' looks really ill, and then we have that razor sharp point that certainly add's a stark and rude contrast to everything else in this logo. I get that a map-pin should be sharp, when the outer pink pin is 'super' soft, the inner white 'F' is just brutally sharp.
The logomark superhero emblem doesn't really look any better in the app either: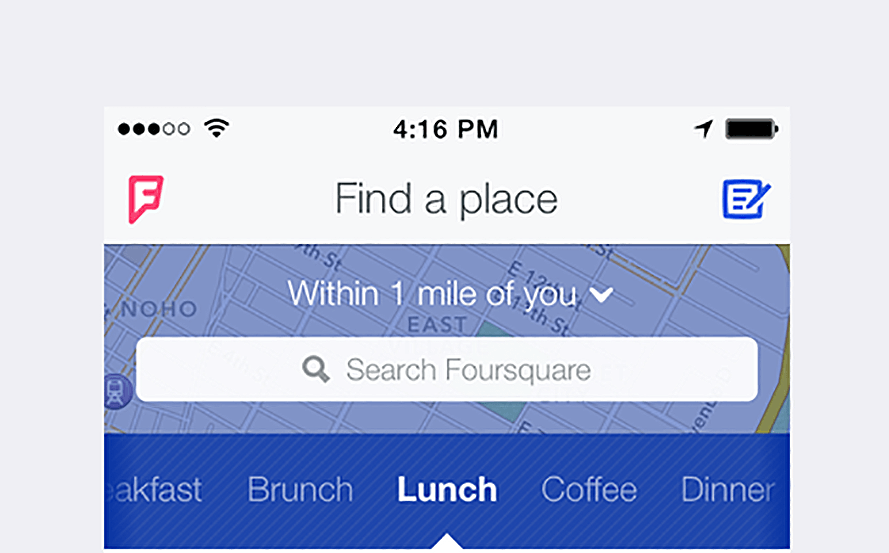 Conclusion
The typography for the main Foursquare brand name is really good, has a strong presence to it, and has style. What I simply cannot get my head around is how completely unsymbiotic the relationship between this and that God awful superhero 'F' emblem really is.
The only way I could realistically see such a lack of consistency between logomark and logotype occurring, is if: both parts were designed by completely different people, with completely different interpretations of the brief, and were not privy to what the other piece looked like. Then they took both pieces and stuck them together as best they could.
I'm not even sure a map-pin, as a visual reference, was ever needed, especially how long Foursquare has been around. It's not like Foursquare is a new brand having something to prove about it's mission and purpose, and almost feels ever so slightly patronising.
The map-pin reference is way too over dramatic, and unnecessary. Almost sure a classy icon could have been crafted from that really strong logotype without force serving up well used, and tired visual cliches.
Eh Voila.
It's actually really disappointing that with such a strong wordmark, such a flop was made of the icon. More so given it's this emblem/icon that looks like it will be the most seen, and implemented part of the logo.
The new Foursquare logotype is all grown-up, yet the icon feels it's taken a huge backwards step in this established brand's maturity.
Curious to know if this was an in-house, or out-house, logo redesign job?
This has to be one of the coolest things I've ever seen one of my logo designs being used/manipulated and/or recreated! A whole bloody PureStorage Flash Array made completely out of Lego.
Seriously, what the hell.
There is a back-story to this Lego version of the logo, it wasn't like just done for kicks, although nothing wrong in that either. Back in 2012 PureStorage were exhibiting the Pure Storage flash arrays over at VMWorld. Part of the fun was running this live contest in which this Lego version was featured, and people had to guess how many Lego bricks were used.
Turns out someone 'calculated' the exact number of Lego bricks used: 6,128 bricks to be exact.
I've only just posted the funny PureStorage video which was over on Vimeo, but this completely takes things to a whole new level. So very exciting to see ones logo design being used in such exciting ways, and I'm just super proud that PureStorage are so behind the logo I designed for them.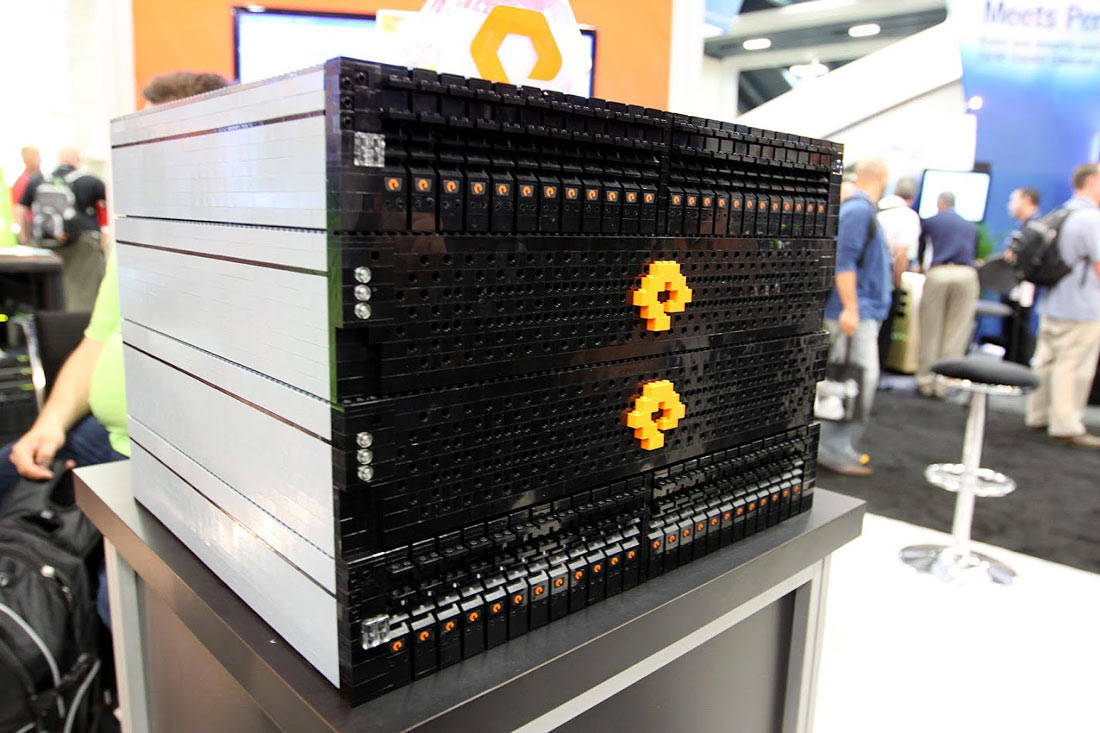 Pure Storage Flash Array
And to finish-up with, a proud looking Pure Storage Flash Array in all it's glory. Notice that all the little air-vents are shaped from the Pure Storage logo.
In Progress: Custom Lettering-Preliminary Design Sketches
Nothing like a blank-slate when tasked with designing some custom lettering for a new logotype. Far from what will be the final design, but I just wanted to sneak out a few preliminary sketches that I have been working on.
This version here must be sheet 20, or something close, but none of the earlier iterations were 'a waste of time', as each new blank sheet of paper allows you to really explore a wide gamut of ideas, some promising some purposely crazy.
Sometimes where the promising and crazy collide, that Eureka moment could slowly manifest itself as you once again put lead-to-paper.
I'm actually liking how this custom lettering is going, but with a few days since doodling this example, I can now see that the S is somewhat too bulbous on the top left, but now I can see that flaw, I can once again whip out another sheet of paper and hopefully address that issue. For sure, only to find something else that doesn't quite fit with my vision.
The sketching process can be fun, challenging, frustrating, even damn right arduous, but it's rare to come out at the end without something solid to work on for that final logo iteration.
For shits-&-giggles, I just quickly placed some pretty coloured circles to show the sort of the flow that I'm bringing into the custom lettering and overall structure of the logotype. I like things to converge, to line-up, to intersect, where it's naturally appropriate to do so. In this case it's actually the green area that I have started each sketching session with, as this is the base platform from which the S & B rise from. Lots of sweeping curves, behind-the-scenes, that share the same overall circumference, and that all work together in one way or another.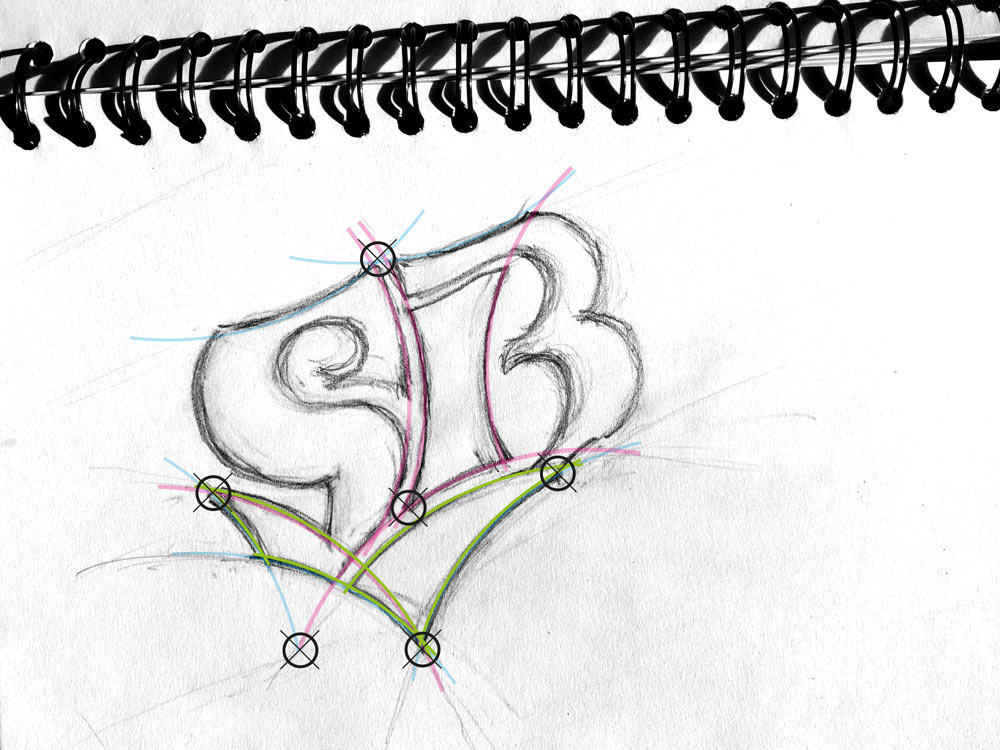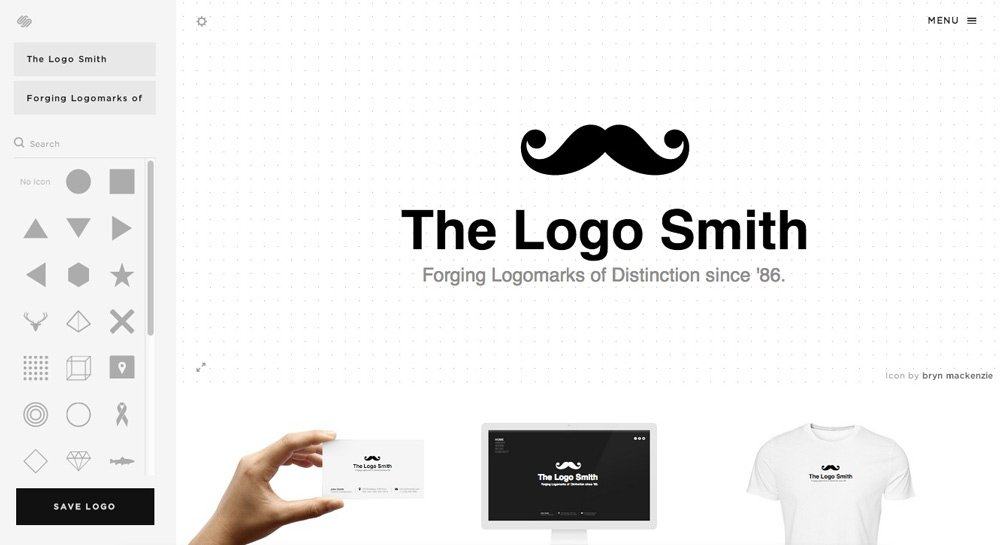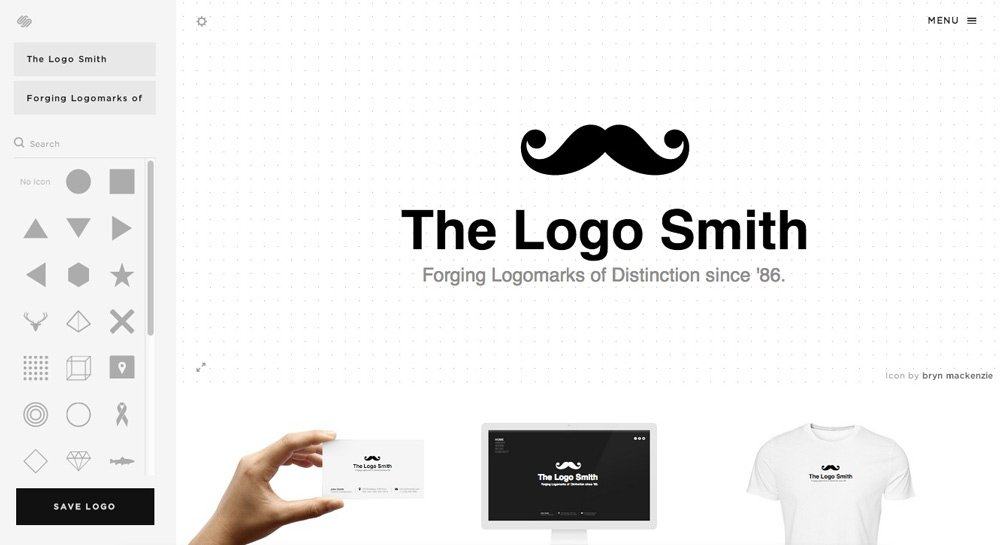 I really have been a little taken aback (in a good way) by the number of people asking me for my opinion on: The Squarespace Logo Design Machine, so here's my tepid reply.
As you can see, my The Logo Smith logo came out really well when having tasked The Squarespace Logo Design Machine to assist me with this little experiment: to update my own logo and identity.
The 'moustache' icon, designed by Bryn Mackenzie, is such a perfect fit for the 'distinction' part of my tag-line, and it goes without saying I used Helvetica—shame only Bold or Regular, as I used Helvetica Black, but no biggy—so for me, I'm completely thrilled to bits with the result: Squarespace Logo has transformed my logo.
I didn't even have to pay the $10 as I simply downloaded the watermarked version (I'll donate $10 to a dog shelter), and screen-grabbed the images you see here. Not sure that's entirely ethical, but hey.
I've had so much fun with this…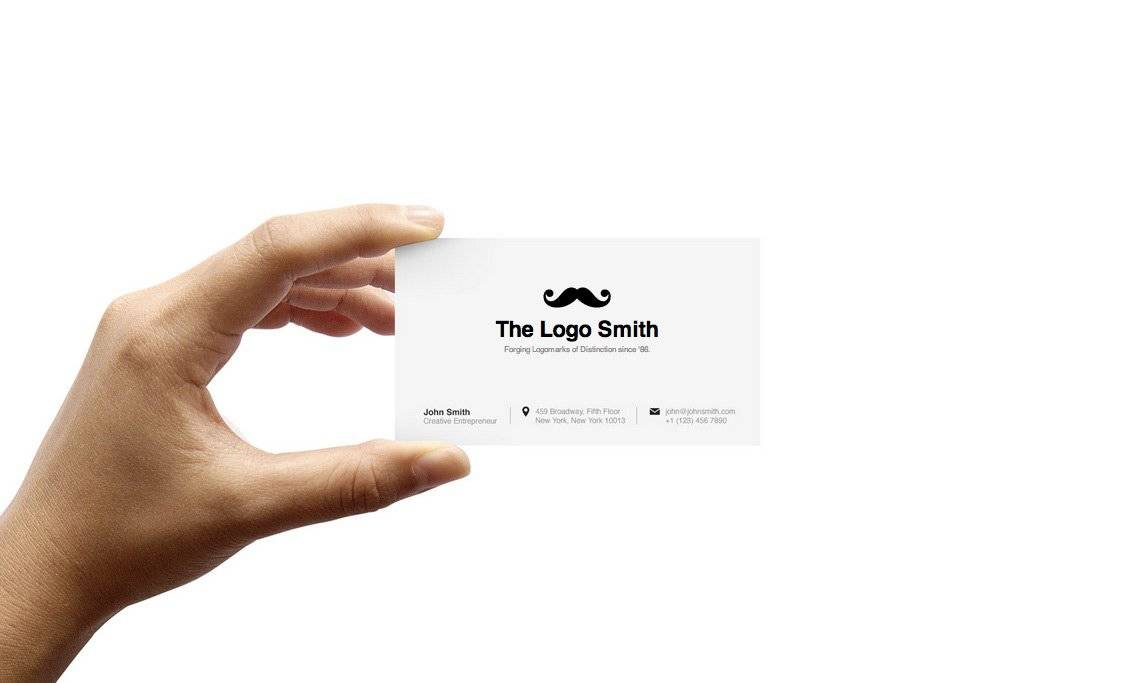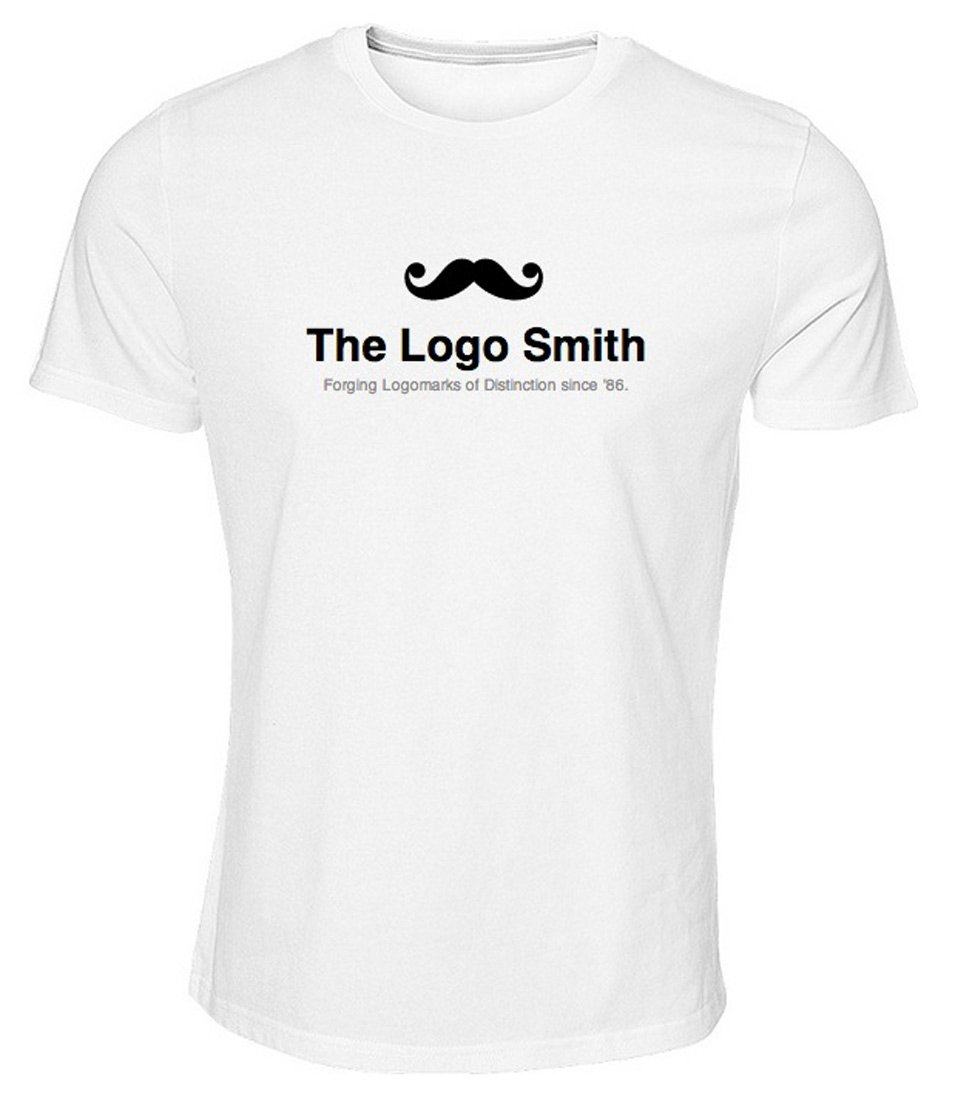 I'll come right out and say: I have already recommended The Squarespace Logo Machine service to some non-potential clients, as they didn't want to spend the £1000's I usually charge.
This is a far better solution for cash-strapped clients than using 99Designs, or hell, Fiverr. Anyone, and I mean anyone, now has the ability to create a logo design that will always far exceed anything you'll get off Fiverr, and for only double the cost!
They may be a little limited in font choices, and Noun Project icons, but that there is the reason Squarespace logo will be popular. By providing some basic constraints, a non designery client would have to be a complete nonce to mess this up.
The general aesthetic that spews out of The Squarespace Logo Design Machine is of the 'minimally flat' variety, and given we are already here with flat design, then Squarespace is saving us from the grim world of Fiverr and Microsoft Publisher gradient filled lumps of smelly poo.
Each design will be clean, presentable, and will instantly create a more beautiful world for us all.
For those designers who feel petrified that Squarespace Logo is a viable threat to their own supply of clients, then you simply need to look at another career choice. For those that have ethical quibbles, then you should really just be thankful that Squarespace Logo is making it possible for cash-strapped/stingy clients to at least have access to aesthetically flat, and clean, designs. Also, don't be such a selfish, head-up-your-own-crystal-ass, narrow-minded jack-ass.
However, not sure where we'll end up when there are a gazzilion companies using my 'moustache' to represent their brand… then I might have to get a little protective of my intellectual property.
I had an interesting experience a while back that really has caused me to reflect on certain priorities I place regarding my logo design business, specifically in the area of logo designing budgets and quotes.
I have been there, and done that. I started out as a freelancer logo designer charging around £250 for logos thinking that was the dogs bollox, then realising I would need to do at least six of these a month just to pay the bills, mortgage, keep my dogs etc. Completely unsustainable, unless of course you are not sharing your earnings with the Inland Revenue: in which case you can charge less than someone who is a registered tax payer, or you're churning out soulless logo after soulless logo, (both examples are another story for another day).
Over time I realised I could justifiably raise my prices as my own profile and quality of logo designs, in my portfolio, grew and grew.
Epic Pricing
There are plenty of examples where one company or another have supposedly been charged gazillions of £££'s for a logo leaving the whole socialmediasphere agog. We all know, and like to think, that we could have done a better job, or an equally crap job, for whatever is substantially less than gazillions of £££'s.
In my own little world I just sit and ponder these moments, and like to pretend I'm that agency boss who's scored a crazy ass amount of money for a few months work. I like to wonder about how I was able to justify such a huge mount of money as well as wondering how on earth the client saw past such greed and treachery.
It's actually pretty easy to find a way to supposedly 'justify' any amount of money when it comes to something as important and as unquantifiable as the value of a logo and brand identity design.
It's pretty shocking how much logo design pricing can vary from one designer/agency to another, but this is mostly to do with each project being unique in so many ways, not to mention so many ways to achieve an end result. Sometimes it feels to me these 'others' base their astronomical fees on nothing other than how much coffee will be consumed in the anticipated process, and execution, of the latest client windfall (especially at Starbucks prices).
The Point
One day, out of the blue, I was approached by a national airline to redesign their existing brand logo.
Like really, what the fuckety fuck? This never happens to me. How on earth has a national airline considered my modest portfolio worthy of a hire?
During the discussions I was told that money was not an object, hardly surprising really, or so you might think. They desperately needed to redesign the existing airline logo due to various mergers and fleet acquisitions. The existing logo was 'meh', and the new logo needed to be 'ohhhh la la'.
Goes without saying I was still shocked and awed at the possibility of creating an airline logo. I mean man, you realise how many places the logo will be used, seen and flown to around the world? Not to mention the dazzling update to my portfolio, and the heaps of praise and adulation I would surely receive.
The initial brief didn't cover the whole brand identity: the immediate task was to redesign the airline logo, then the rest of the company's identity would be updated in accordance with the logo's style and aesthetics. Not the best way to roll out a new brand logo, but they were insistent that this was the way it would happen.
The Proposal
I came up with a proposal, that as best as I could, explained and meticulously detailed the work needed to research and develop this national airline's new logo design, which covered (not a full list): studying competing and non-competing airlines; researching the country's culture; familiarising myself with the airport layout, the terminals, trucks, uniforms, check-in desks, signage; studying all the blueprints for all the different models of plane (different sizes and proportion of tails and fuselage, meaning that the placement of the logo needs to work as consistently as possible across all the fleet, regardless of how small or big the plane, and ensuring the logo looks epic up close and from 100's of feet away), as well as studying the rising trend in other airline logo and brand identity redesigns, of which there are many.
I tried to work out how much time this would all take, and came up with what I knew to be a stupidly low quote, but it would also be the biggest quote I would have ever presented. Kinda weird really.
I didn't want to be greedy, neither did I want to undersell my experience, skill and general professionalism.
I battled with myself over the budget, it was the hardest thing to come up with and send over. I was confident that I had, in super detail, explained and justified the cost, but I was ultimately in unknown territory.
The Quote
I quoted £25k which I knew was chicken feed for an airline, and I was convinced they, upon seeing the quote, would be rolling about on the floor, laughing at their good fortune. I was OK with that, but I did wonder if I should have quoted at least double that, because even £50k seemed a steal given the scope and general prestigiousness of the job.
Regardless, this would be a lottery win. Massive job, challenging in every way, and let us not forget the exposure this would bring a humble self-employed logo designer working from his spare bedroom in a sleepy seaside town.
I mean my God, an airline logo in your portfolio!
I sent the proposal and patiently waited for a response. One day, two days, three days and nothing. After a week of no response, and a unmistakable feeling in my gut, I flicked over a quick email.
Crash and Burn
My gut typically gets it right: apparently my quote was far too high for them.
Queue the despair and confusion. What did I do wrong? Had I been too greedy? Should I have just gone for a £5k quote to score one of the biggest jobs in my career, and reap the rewards from the exposure?
The reality is, even with all this self doubt, constant evaluating of the what if's, who really knows if the result been any different if I had quoted less, or even more.
I did find it slightly strange a national airline would go with a self-employed logo designer, rather than a multi disciplinary agency given the sheer scope of the project. The thing is: I wouldn't have taken it on if I didn't honestly feel I could deliver, so I did have complete faith that I could, and would have, delivered a winning new logo for this airline.
As well as my quote being too pricey, they said they had indeed gone with a 'branding' agency for the complete package. So they had been busy in the week I was waiting for just a simple acknowledgment to my proposal.
Too many unknowns
I don't have all the details, who really knows what went on behind the scenes once they got my proposal. Maybe they came to a realisation they ought not to trust this to a guy from a sleepy seaside town, who knows if this design agency actually exists, and if they quoted less or more than my humble £25k.
One positive from all this was feeling greatly humbled to have been even considered in the first place, even if it did get my hopes up to an unmeasurably high level only to be deftly massacred shortly thereafter.
I still wonder if had I quoted less would I have got the gig? If so, would they have been pain-in-the-ass clients? Maybe.
Principles Can Suck
The one unmistakable fact, practically impossible to to argue against, is that sometimes, sticking to your principles can be a tough old decision. I wanted to do my little bit for the logo design community by not selling my soul to the lowest bidder. I wanted to set a reasonable price, but whoever you ask they'll probably say I quoted not nearly enough, and others will say I was just crazy ass stupid to let this one get away…
Sometimes you need to swallow a cheap pill for your own greater good, and not the greater good of an industry that really couldn't give a crap about your own attempts to be a principled hero to a community that is as competitive as they come.
I still don't know if I did the right thing, or not. I certainly do feel somewhat proud that I priced it at a very reasonable price, but I also quite foolish and stupid for failing to read between the lines, and not secure what would have been the largest job in my career. But hey, I do live to quote for another day.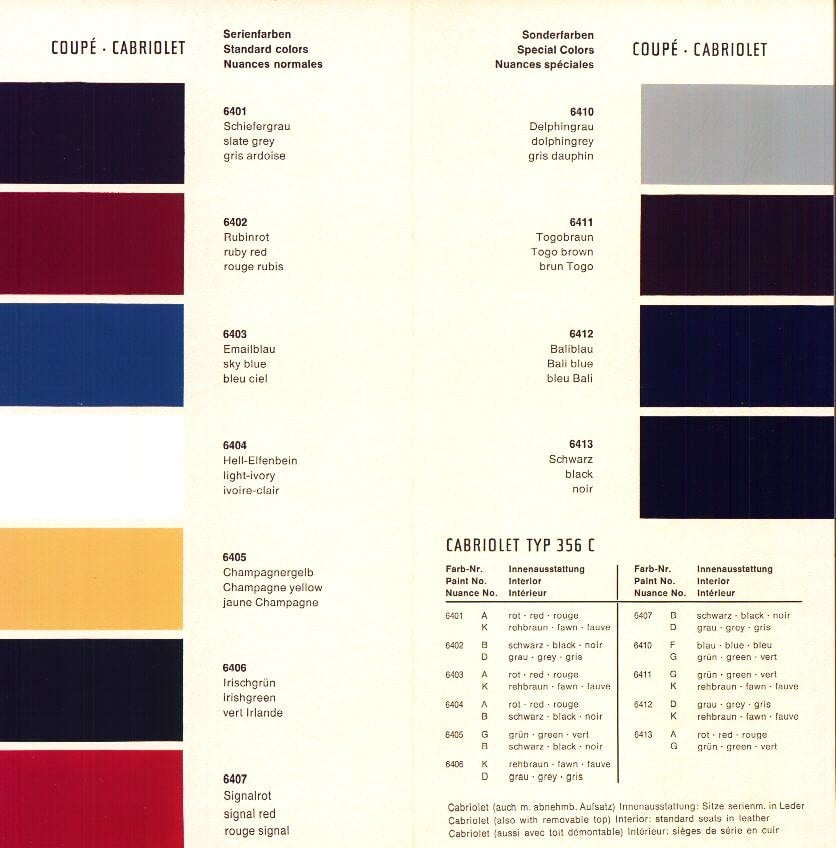 This Porsche 356 Color Chart is rather seductive. Little bit of auto creative inspiration for this New Years Day. Really liking the circular 'infographic' style graphic on the front page, quite rad.
Found via http://design-is-fine.org
I'm seeing, and hearing about, cases where some logo designers are not making the practicalities of logo design ownership straightforward for their clients. I have also heard of some designers refusing to actually grant, or transfer, copyright/ownership, over to the client at the conclusion of the project. I have even heard of one or two unscrupulous logo designers holding clients to ransom over the subject of how owns what and when!
A few people who have been looking around for logo designers have come back to me asking for advice on this very subject. I'm quite surprised that some logo designers are not behaving themselves in this regard! An important topic to address in another A Question for Graham post.
Both of these situations are not at all desirable, and if you are one of these designers who is not upfront about who will own sole ownership of the design you create for a client, then shame on you. Also shame on you if you are a logo designer who flatly refuses to grant their client sole ownership and provide transfer of copyright to a client who has paid up.
If a client pays you the money for the work you have done in creating them a unique and professional logo, then there is no reason at all why the client then should be wondering if this design will be used by another client later down the line, or simply if they will be granted ownership of the design. The clients needs and deserves to know that the logo design they are paying you to create for them, is theirs and theirs alone.
Logo Design Ownership
Make the subject of logo design ownership, and transfer of copyright, one of the more obvious topics in your proposal.
Provide a Transfer of Copyright/Ownership form so your clients, and prospective clients, can rest easy knowing that they will own the work they have contracted you to do for them.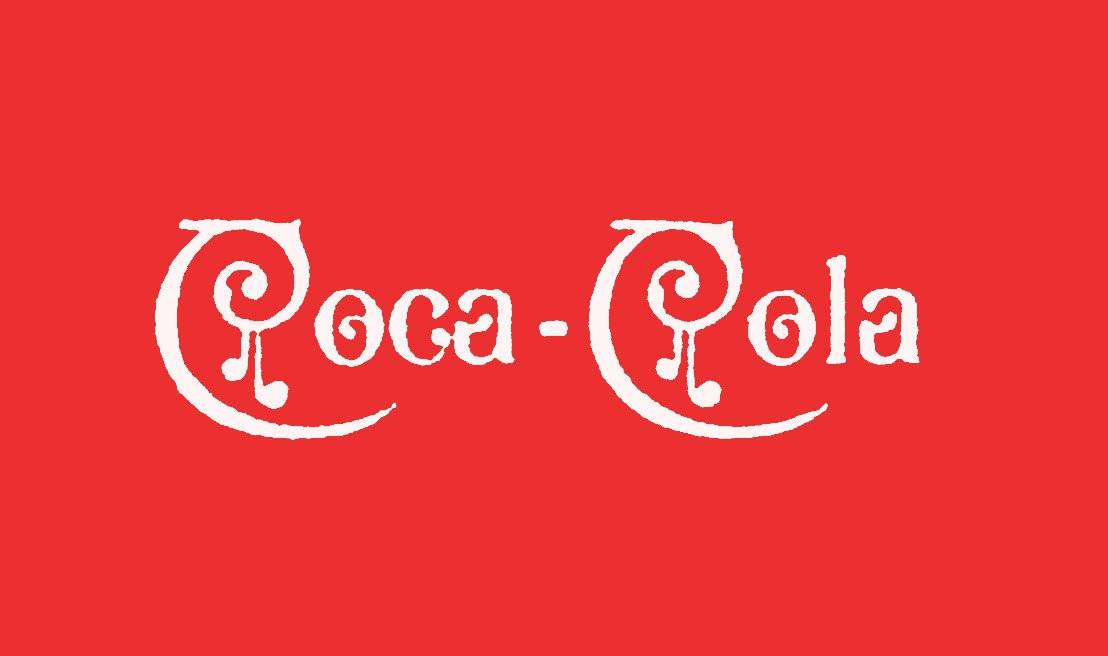 Totally love little logo trivia bits like this. Not sure I've actually seen, and took notice, of this particular design before, yet this version of the Coca-Cola logo was only designed, and used, for one whole year: 1890-1890.
Notice the adorable extra swirls and other fancy adornments. Awwww just so cute.
The previous Coca-Cola logo designed before it, even way back then, was more like the logo in we know and 'love' now. Interesting, that for just this one year, the logo would changed so significantly before quickly reverting back to the familiar script used now. What was the reason? Who was responsible? Was it a planned and temporary novelty-style logo where they always planned to revert back to the first style? So many questions.
With today's mentality (talking here about the importance of keeping ones brand image consistent, and not throwing it down the drain with hastily and ill considered changes), it might be too easy to look upon such radical, and short-lived, logo redesigns with shock and horror: how dare such a big company play so fast and loose with their company logo? I'm only 41 so it's a little hard for me to imagine how people back then viewed such changes—possibly made with such reckless abandonment—and might be fair to assume they simply didn't have the benefit of experience that we have now some 2000 million years later.
CreativeBloq: In 1890, a version of the logo was created and used only once, on the first calendar ever printed by the company. It features a style heavily reminiscent of musical notation and wholly out-of-kilter with the logo we know today. The creator of this design is unknown, but they certainly brought an unusual feel to the lettering.

It wasn't until 1893 that the first iteration of the logo we recognise today was unveiled. A slightly thinner rendering of the words Coca-Cola coincided with the company's early growth. Asa Candler had acquired the brand from Pemberton and the strategy was to outfit chemist shops with soda fountains. At this time syrup plants were built in Chicago, Dallas and Los Angeles.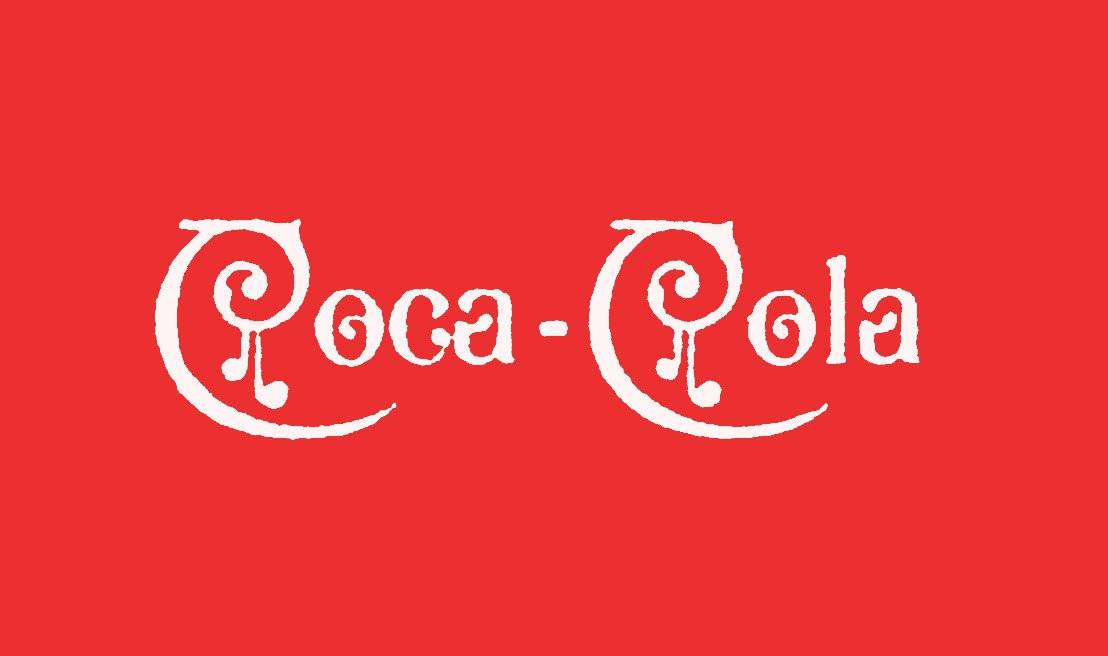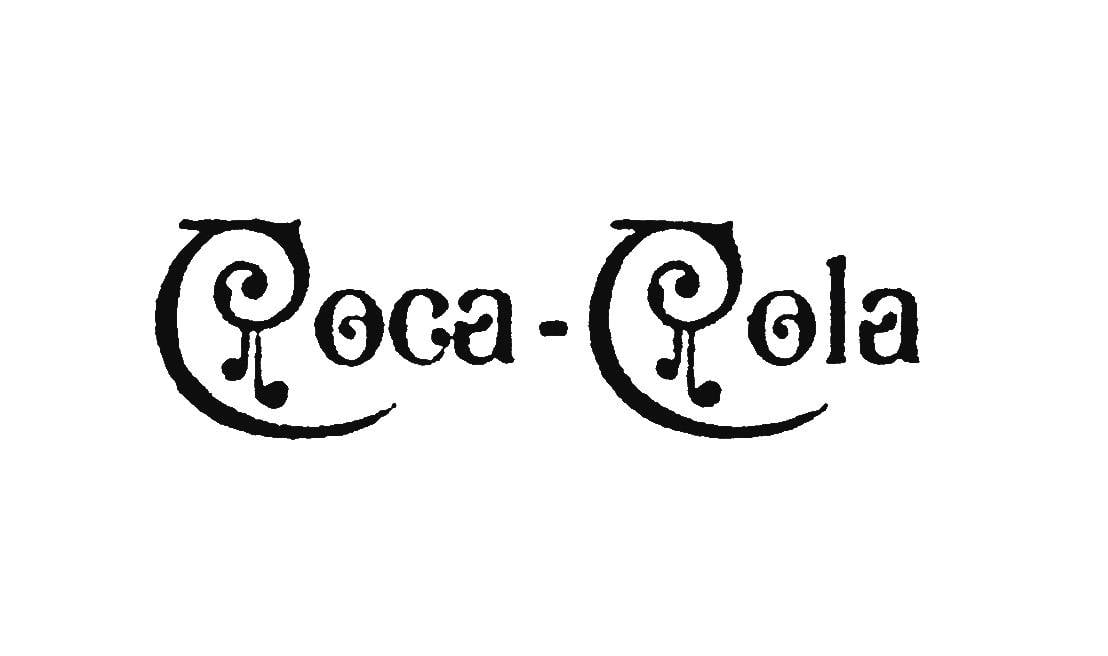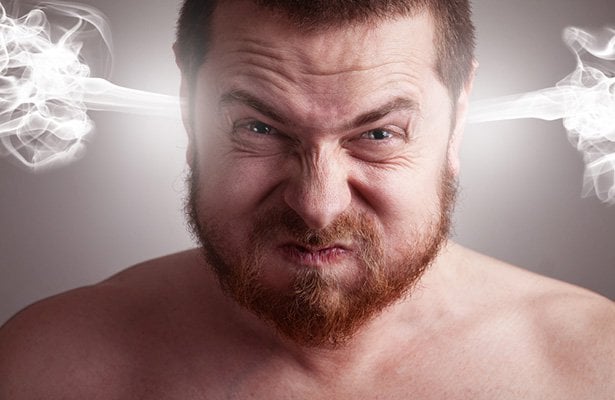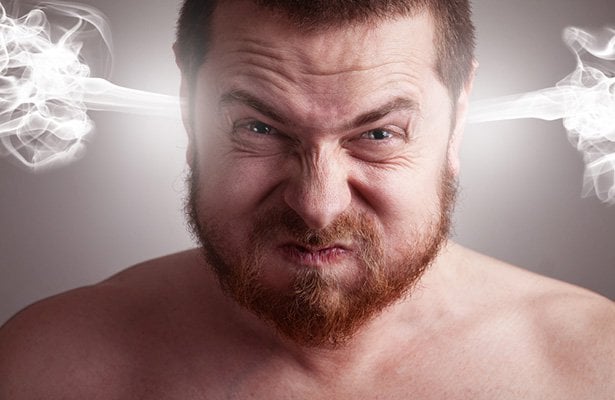 I get a lot of people filling in my logo design brief with junk copy just so they can get a sense of what questions are spread out over the five pages.
This actually bothers me for a few reasons, but the main one is the sense of disappointment I feel immediately after being excited at thinking another job has come through.
I see the email; I think I have a new job; the excitement hits me; I read the email and discover it's just been filled in with gibberish which ultimately leaves me with a huge sense of disappointment.
For example: job enquiries have been very quiet the last month, then last night three submissions came in! I was so excited. Turns out all three were from the same person, and all filled in with complete gibberish. But before realising it was gibberish, I thought I had three new jobs come in. That really does piss me off.
One-page logo design brief dummy
So to try and reduce this frustration, I have created a one-page dummy of the logo design brief which is downloadable as a PDF for you.
The thing is, one only need ask me for copy of the form rather than wasting your own time filling in 5 pages of complete twaddle. Just saying…
Now one doesn't need to fill in my form with junk just to get an idea of what questions I ask, and you'll save me the bitter disappointment in the process.
© 2005-2018 All Rights Reserved The Logo Smith
Logo Designer & Brand Identity Design Studio, with 25 Years Experience.
Graham Smith: 10 Badgers Copse, Seaford, East Sussex, England.
 Tel: +44 (0) 7816 527 462  Email: glogosmith@gmail.com