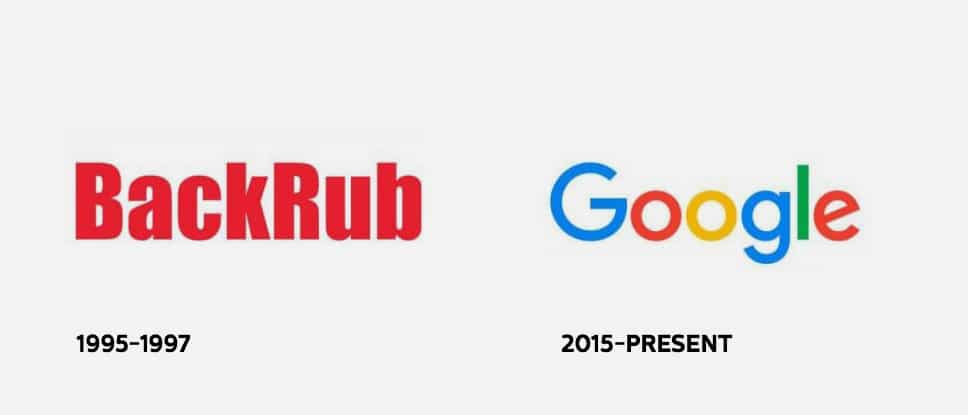 Found this great blog post over on Matt Turck's website, that started off with a Tweet of some of the better startup brand name changes in recent history.
As that Tweet gained traction, and other brand name changes, Matt compiled a super interesting list/table of all these name changes, which you can see at the end of this post.
The reason why this all caught my eye?
I really had no idea that Google was first called BackRub!
As Matt explains in his post:
This post is mostly frivolity, and *not scientific research*. In particular, there are nuances to a lot of those stories (e.g., Backrub was the name of the original Google algorithm, as opposed to the actual company name – still one of my favorite examples!).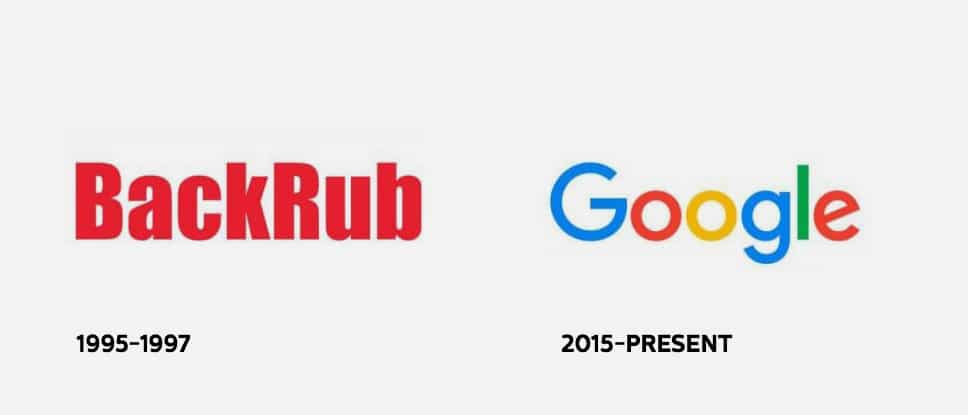 And here's a bit more information, from a super insightful post on BusinessInsider, on how Google's name actually came about:
The name "Google" actually came from a graduate student at Stanford named Sean Anderson, Koller writes. Anderson suggested the word "googolplex" during a brainstorming session, and Page countered with the shorter "googol." Googol is the digit 1 followed by 100 zeroes, while googolplex is 1 followed by a googol zeros.

Anderson checked to see if that domain name was taken, but accidentally searched for "google.com" instead of "googol.com." Page liked that name even better, and registered the domain name for Brin and himself on September 15, 1997.

The true story behind Google's hilarious first name: BackRub
---
Startup Brand Name Changes
| | | |
| --- | --- | --- |
| Original Name | New Name | Category |
| BackRub | Google | Consumer/B2C |
| The Facebook | Facebook | Consumer/B2C |
| twttr | Twitter | Consumer/B2C |
| Jerry and David's Guide to the World Wide Web | Yahoo! | Consumer/B2C |
| Cadabra / Relentless.com | Amazon | Consumer/B2C |
| Quantum Computer Services | AOL | Consumer/B2C |
| Confinity | PayPal | Consumer/B2C |
| Palo Alto Delivery | DoorDash | Consumer/B2C |
| 'snew | Reddit | Consumer/B2C |
| AirBed & Breakfast | Airbnb | Consumer/B2C |
| Tote | Pinterest | Consumer/B2C |
| justin.tv | Twitch | Consumer/B2C |
| Classtivity | ClassPass | Consumer/B2C |
| Picaboo | Snap | Consumer/B2C |
| Maplebear | Instacart | Consumer/B2C |
| ThinkStache | Degreed | Consumer/B2C |
| Yocal | Yelp | Consumer/B2C |
| Kibble | Netflix | Consumer/B2C |
| zimrides | Lyft | Consumer/B2C |
| Ubercab | Uber | Consumer/B2C |
| Shoesite | Zappos | Consumer/B2C |
| NewTV | Quibi | Consumer/B2C |
| Doorbot | Ring | Consumer/B2C |
| Moxie | Bumble | Consumer/B2C |
| kaChing | Wealthfront | Consumer/B2C |
| Bodega | Stockwell | Consumer/B2C |
| Auction Web | Ebay | Consumer/B2C |
| Burbn | Instagram | Consumer/B2C |
| Savage Beast Technologies | Pandora | Consumer/B2C |
| Stickybits | TurntableFM | Consumer/B2C |
| Mrchewy | Chewy | Consumer/B2C |
| Blue Ribbon Sports | Nike | Consumer/B2C |
| Dimension Six | Nike | Consumer/B2C |
| United Fruit | Chiquita | Consumer/B2C |
| PC's Limited | Dell | Consumer/B2C |
| Minnesota Mining and Manufacturing | 3M | Consumer/B2C |
| Research In Motion | Blackberry | Consumer/B2C |
| DrivUrSelf | Hertz | Consumer/B2C |
| Goodfellow's Dry Goods Company | Target | Consumer/B2C |
| Amazin' Software | EA Sports | Consumer/B2C |
| BankAmericard | Visa | Consumer/B2C |
| Master Charge: The Interbank Card | Mastercard | Enterprise/B2B |
| National Biscuit Company | Nabisco | Consumer/B2C |
| Software Development Laboratories | Oracle | Enterprise/B2B |
| SaasBee | Zoom | Enterprise/B2B |
| /dev/payments | Stripe | Enterprise/B2B |
| SaaSure | Okta | Enterprise/B2B |
| Squirrel | Square | Enterprise/B2B |
| 10Gen | MongoDB | Enterprise/B2B |
| North Tahoe Power Tools | Workday | Enterprise/B2B |
| eShares | Carta | Enterprise/B2B |
| Plankton | Firebase | Enterprise/B2B |
| DaPulse | Monday | Enterprise/B2B |
| ZenPayroll | Gusto | Enterprise/B2B |
| SWsoft | Parallels | Enterprise/B2B |
| SMTP API | Sendgrid | Enterprise/B2B |
| Elance+odesk | Upwork | Enterprise/B2B |
| Jomax Technologies | GoDaddy | Enterprise/B2B |
| Tiny Speck | Slack | Enterprise/B2B |
| DistroBot | Kiva Systems | Enterprise/B2B |
| Jbara Software | GainsightHQ | Enterprise/B2B |
| dotCloud | Docker | Enterprise/B2B |
| 37signals | Basecamp | Enterprise/B2B |
| Computing Tabulating Recording Company | IBM | Enterprise/B2B |
| zStack | Parse | Enterprise/B2B |
| Cymitar Technology Group | Rackspace | Enterprise/B2B |
| ShowWebGL | Sketchfab | Enterprise/B2B |
| TriggerMail | Bluecore | Enterprise/B2B |
| Developer Auction | Hired | Enterprise/B2B |
| ChubbyBrain | CB Insights | Enterprise/B2B |
| CarbonAI | Kedro | Enterprise/B2B |
| ZenProspect | Apollo | Enterprise/B2B |