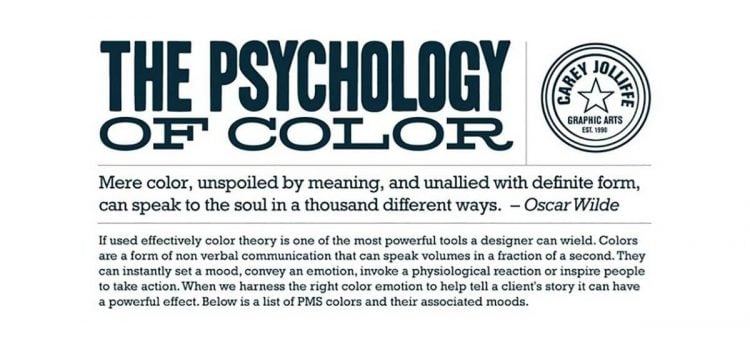 The Psychology of Color Chart and Their associated Moods in PMS Colours Designed by Carey Jolliffe
"Mere color unspoiled by meaning, and unallied with definite form, can speak to the soul in a thousand different ways." — Oscar Wilde
There is no doubt that the application of colour for logo design, and any other type of graphic design, is hugely important. The wrong choice can completely ruin an otherwise great logo, and in some cases, a good colour palette can lift an otherwise 'ok' logo design.
Colour theory isn't always easy to apply, and it does involve getting deep into human emotions, if you want to be able to deliver the right message in your designs.
The following text is taken from the The Psychology of Color Chart, featured above. This color chart was designed by, Carey Jolliffe.
If used effectively, colour theory is one of the most powerful tools a graphic and logo design can wield. Colours are a form of non-verbal communication that can speak volumes in a fraction of a second.
Colours can instantly set a mood, convey an emotion, invoked a physiological reaction, or inspire people to take action. When we harness the colour emotion to help tell a client's story, it can have a powerful effect. Below is a list of PMS Colours, and their associated moods.