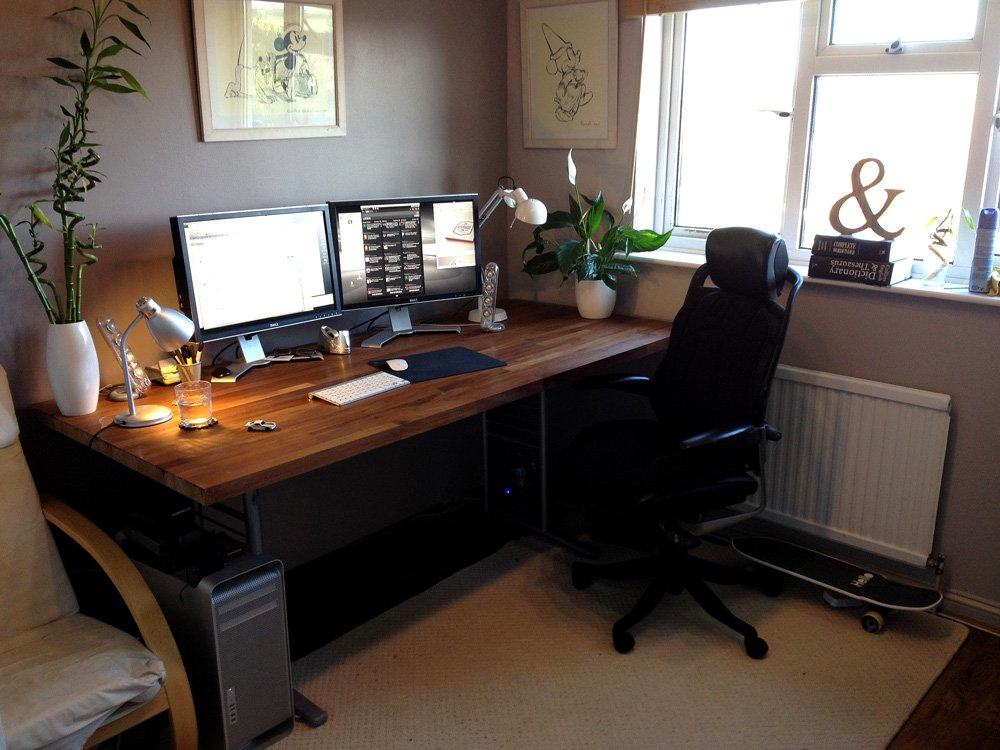 For a while now I have been debating the notion of going from a two Apple Macintosh set-up to just the one. Let me explain this notion and provide some context.
Studio
I work from home with a studio upstairs that has a MacPro running two 24″ Dells. This is my work space and where most of my tinkering is done.
Mobile
I also have a oldish 17″ MacBook Pro that I used to use more than I do now for working on bits and things else where in the house.
Sometimes I would just like to sit in a comfy sofa and doodle crap in Illustrator: this can make a big difference if you are putting in a long day.
Switching out of studio mode to living room mode, yet still working, can break up the day quite nicely.
The Issue
The one frustration I have is the syncing of the two Macintosh's with my work, files and what not. With the advent of DropBox things are so much easier as I have all my work files on DropBox, but the problems come with keeping applications, my font collection/sets the same and other fiddly things.
It's now got to the point where I am reluctant to sit down on comfy sofa as my laptop just doesn't have the stuff on it I need to be productive. Sure I could do another major sync, but the problem will no doubt creep up on me again.
But it's not just the managing of two different Macintosh's as my 17″ is pretty long in the tooth now: the fan is on it's way out, the keyboard has had a number of accidents and replaced key and other ailments that make using it not so productive or fun to use in any way.
What to do
For about a year have thought long and hard about how to simplify my set-up whilst still retaining productivity, flexibility and ease of use.
One of the thoughts has been to get a new MacBook Pro as a direct replacement for both my laptop and desktop. This means I can plug-in in my studio then plug-out when I want to take work in a different room with the knowledge I have everything I need at hand, and no worries about file/app syncing etc.
If I have to meet a client I can take the laptop and know this still has everything I need whilst giving me ultimate flexibility to be super productive.
Some Requirements
I am used to working on two 24″ Dell monitors: one is my work screen whilst the other one has email, Skype, Twitter and other time sucking crap. I even turn off this second display if I need to really focus on work and not get distracted.
I like this way of working and gives me two distinct compartments, so the new simplified set-up would ideally need to work with a two monitor set-up.
I love the MacBook Air, but as it doesn't work with two monitors so this could be a problem, but the new MacBook Pro's do worth with two external monitors which is great. I also like that it has HDMI for when I want to do some lazy browsing on my big screen TV whilst sinking into my sofa
Another option on the table: if I want the extreme portability of a MacBook Air one could look at the 27″ Cinema display. My concern with this: I have been used to two monitors for such a long time that I wonder if one 27″ would do the job of two 24″ monitors?
Then there is this: using MacBook Pro as the secondary screen alongside either the 24″ Dell, or 27″ Cinema as and when I win the lottery. Assuming the Pro's screen will share the same desktop with the other external? Could be that the 15″ screen will work for email, Skype, Twitter and crap?
Leaning Towards
Right now I am leaning towards a 15″ MacBook Pro (non Retina) with Thunderbolt adapter to hook up my two Dell monitors—assuming this can be done with the adapters—then when finances allow possibly look to get one 27″ display.
My permanent set-up in my studio would be: two monitors, wireless keyboard and mouse, and my various external hard drives for my back-ups and file archives, laptop power lead and speakers.
When I come to work in the studio the MacBook Pro will either be there from night before, or it will be in my hands ready to plug-in and place on my desk.
This will give me one great computer for work wherever I happen to be without having to juggle two different computers. I love the idea of this simplicity as it also improves efficiency, productivity as well as allowing me freedom to work where ever. Longer term it sounds like a more cost effective solution as well.
If you have any ideas or have a set-up that you feel I might benefit from then please do leave a few words below via comments. Especially interested to see if I have missed out on any possible combinations.
My Wooden Desk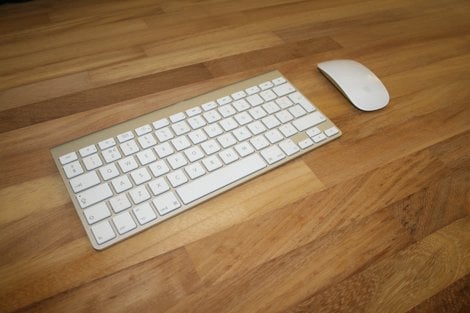 Since this post I have had a number of people ask me about my wooden desk. You can find out all about it right here: My Gorgeous New Wooden Studio Desk Top