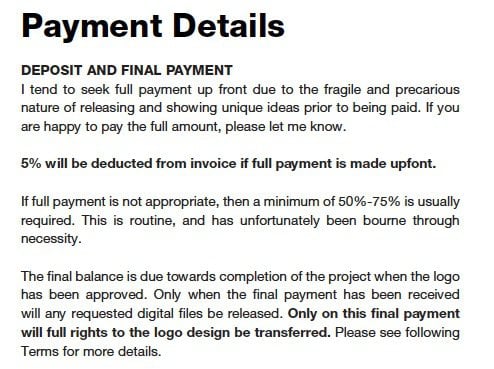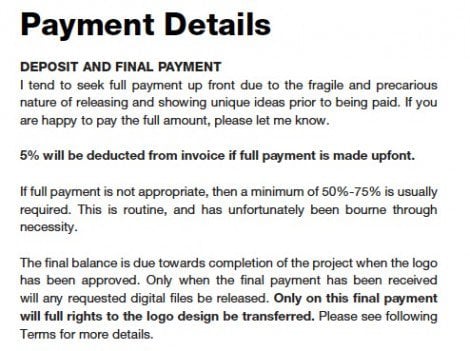 The subject of logo design pricing and deposits seems to be lingering and changing/evolving the more I get into being a self-employed logo and identity designer. I have written about this a few times before over the last few years mostly as a result of some steep learning curve and bad experiences.
The last time I wrote about this was Payment structure advice for larger logo design budget where I laid out how one could offer a few payment/deposit plans depending on higher project budgets, and any perceived risk of non-payment that could/has come about for one reason or another.
It's simple not always possible, or even fair to the client, to ask for full payment up front. I think I started out determined that every client should pay the full amount up front after I got burned a few times in the early days of being self-employed. My feelings changed end of 2010 to early 2011 which is where I started to try to be a little more flexible with payment as well as covering my own back.
We all have our different methods for logo design pricing, and I now feel that there isn't always a one-size-fits-all. Some clients you just know are good for it so you want to be more reasonable and flexible especially if it's a large value project where asking full payment or even a 75% deposit just sounds damn unreasonable.
So here we have more on client logo design pricing and deposits; an update from me to you.
For the most part I have simplified the process, but still cover most of the usual fears and concerns, but without appearing too unfriendly, unreasonable or stubborn.
Full Payment Incentive
First of all I have a section on my proposal that clearly states that if a client wishes to pay the full amount upfront then this of course would be most welcome, and that this generate them a 3-5% discount off the total proposed price.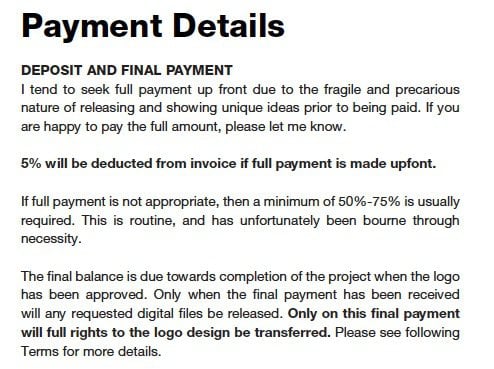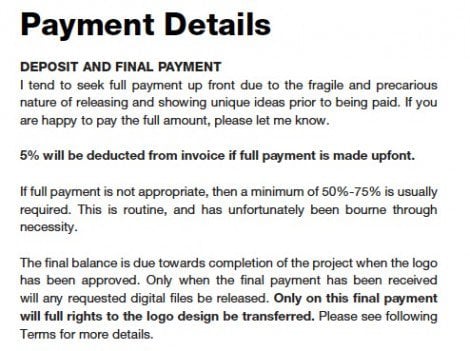 The wording appears harsher than it usually ends up being as I feel it sets the upper tone of my expectations. If the client wishes to proceed then we can usually find a happy medium for the deposit and final payment which I will now describe.
You can download my proposal template as basis for you to create your own one from: Logo Design Proposal Template for Download
3-Part Payment
I have touched on the 3-part payment before but this is a slight variation which has worked really well over the last 6 months. This is not the only method I use as I do like to retain flexibility as well as calling situations as they occur, but for the most part I employ this method.
Let us say we have a logo design project for about £1000, and we are now wondering how to approach the issue of how much deposit seems fair and reasonable for this particular client. Let us also assume we have spoken to the client, and we get a good overall sense of trust from them as well as a sense they will be fun to work with.
Based on this we do not really want to force on them full payment up front; unless of course they like the idea of the 5% discount. We do still want to protect ourselves from the worse case as we don't always know how a project will pan out, and there are often times when external influences, not at first envisaged, can cause considerable problems for both parties.
The most common of which is when a new start-up approaches you for a cool new project with a nice budget for which you start work in earnest whilst committing every fibre of your soul to doing an outstanding job.
Although you have secured a nice deposit you have still invested a lot of time which now exceeds the deposit payment, but the bad news is that the start-up will now not be starting-up as it was a bad idea, or the investors have run away which leaves your client considering the options. My experience is that they just disappear and ignore all forms of communications. That is another story.
Back to topic.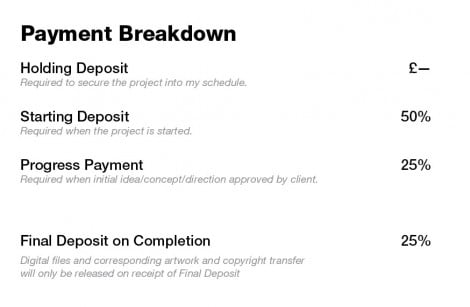 The 3-part solution covers some of the bases as well as covering a few trust issues that the client themselves are likely feeling, but is just a nice average and fair solution.
It is not just the designer who deals with untrustworthy clients; it is also clients dealing with untrustworthy designers.
1st Payment – I typically roll with the following suggestion which is to to ask for an deposit between 40-60%. This allows us to start the project with some cash and a little bit of security.
2nd Payment – half of the outstanding balance, and is made when we have an actual logo concept that is ready to rock. By this I mean an actual idea that the client has approved as the basis for the design but is still needing the polish, refinements, details and flaws to iron out. It's not really enough for some dastardly scoundrel to run off with and get artworked somewhere else. This secondary payment ensures that the client is still on board, has acknowledged their happiness at how the project is proceeding, and gives you the designer, with another cash boost.
3rd Payment – and final payment is the incentive for both designer and client to meet their, supposed, contractual obligations—if you have read my older posts you know how I feel about the utter unusefullness of contracts in general. You now have the clients agreement that the project is on the final stretch. This should give you that final incentive to finish up good and proper to earn that last payment, but also ensures the client remains on board as they have yet to see the totally finished, and polished, idea brought to life as well as being the pass to getting all the vector files.
This method is not fool-proof, and I don't really think there is a totally fool-proof method, as even full payment up front has it's own set of complications and expectations.
As usual I am not saying this is the best way, but I am saying this way works for me and the majority of clients. It certainly feels, to me, a fair and reasonable solution.
Curious to know if you have any other methods you swear by that work well for both designer and client?