How I Create A Logo Design Brief Using Gravity Forms & Template
A Logo Design Brief Form Using Gravity Forms
This is quick summary of Gravity Forms which I use to create my Logo Design Brief Form as well as providing you with a PDF template of it for you to download.
I have previously posted a few articles detailing how I go about collecting information for the logo design brief. In these earlier dark dark days I relied extensively on Google Doc's to provide the means to display and collect this crucial information, and then send it back to me. So very dark.
There are a number of issues that bothered me using Google Doc's. The main one was that it meant the client having to leave my website in order to visit the link to the external Google document which was bad. So very bad.
There was also the fact that it was hard to really make it look half decent as well as the collected information being a real pig to read, view, collect in a readable manort. If you then received confirmation on your particular mobile device—something that frequently happened—that a client had filled in the form, then I think it's fair to say you would be a little stuck in trying to view said form on your mobile device.
In general Google Doc's was not best suited for performing the mission of displaying, collecting and viewing this client brief.
Introducing Gravity Forms
My search to find an internal solution lead me to Gravity Forms which can also work alongside WordPress as a plug-in.
I enlisted the technical help of my elf developer, who can be summoned by calling Mr Shane—every designer needs their own Elf Developer, to move the data from Google Doc's to Gravity Forms. In hindsight it was something that I could have done, but I did get overwhelmed with the choices of CSS styling, and my brain blew up. Mr Shane 'Elf' Hudson was their to wipe the sticky pieces of brain slop.
If you are looking for a method to collect this vital client information, and have tried other external options, then I might suggest you give Gravity Forms a try. It certainly can be a beast of a software application, and is certainly has potential to be a very detailed and powerful data collection system, but in the end it proved simple to create my own internal Logo Design Brief Form.
I also use Gravity Forms to create a simple Contact form on my Contact page.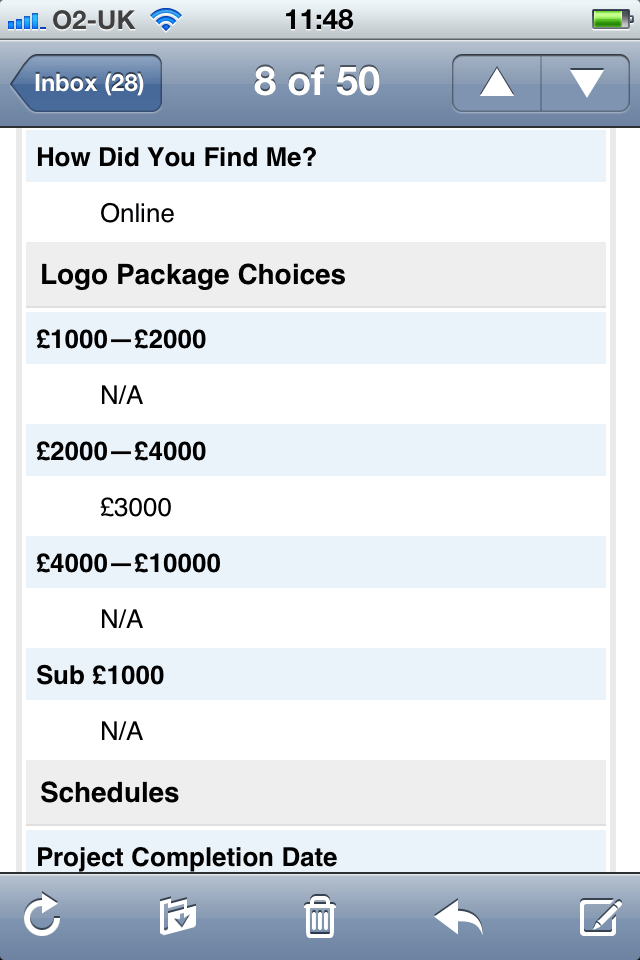 One of the best aspects of Gravity Forms is that when a client now fills in the form a full copy is emailed to me in a easy-to-view format (below). This email is well presented and comes with all the relevant section titles, whereas Google Doc's just sent the actual filled in information without the headers.
I have divided my own Logo Design Brief Form into 5 separate pages to make the form more manageable as to have it all on one page is a little daunting; another area that Google Doc's fails at.
When you have created your form you can then easily insert into your WordPress page/post by means new icon that appears in your post edit box which drops in a single short-code. It's just so flipping useful.
Visual confirmation is also another area that Gravity Forms kicks ass. You have full control over who and how someone is notified that they have filled in a form. Simple and obvious things, but it's all here.
There are far too many aspects of Gravity Forms for me to go in into detail, but rest assured I am incredibly chuffed with the power, flexibility and ease that Gravity Forms now provides.
There are a few licensing options: I opted for the Personal Licence which costs around $39.00, and you can see a full list of Full Features if you are interested. There is also a Gravity Forms Demo for those curious types who don't like commitment.
Introducing My Logo Design Form Template
I am still in the process of tweaking the logo design form in terms of wording and design, but you can see the working form over on the Hire Me page.
In order to see all the pages you would ordinarily have to fill in the form as many fields are 'required', but I have especially created, just for you, a PDF of each page with 5 in total.
Now you can see quickly how I have set-up this logo design form as well as the various drop-down menu's, fields and questions in case you are looking for some help creating your own logo design brief form.
Please feel free to download these PDF's and use them as a template as you see fit. What's mine, is yours. :)
Download my Logo Design Brief Form in PDF
---
---