UPRAW Negative Space Logo Design Process
Here's the very first attempts at vectorising the UR negative space logo sketch (below), that I have been working on over the last few weeks, for UPRAW.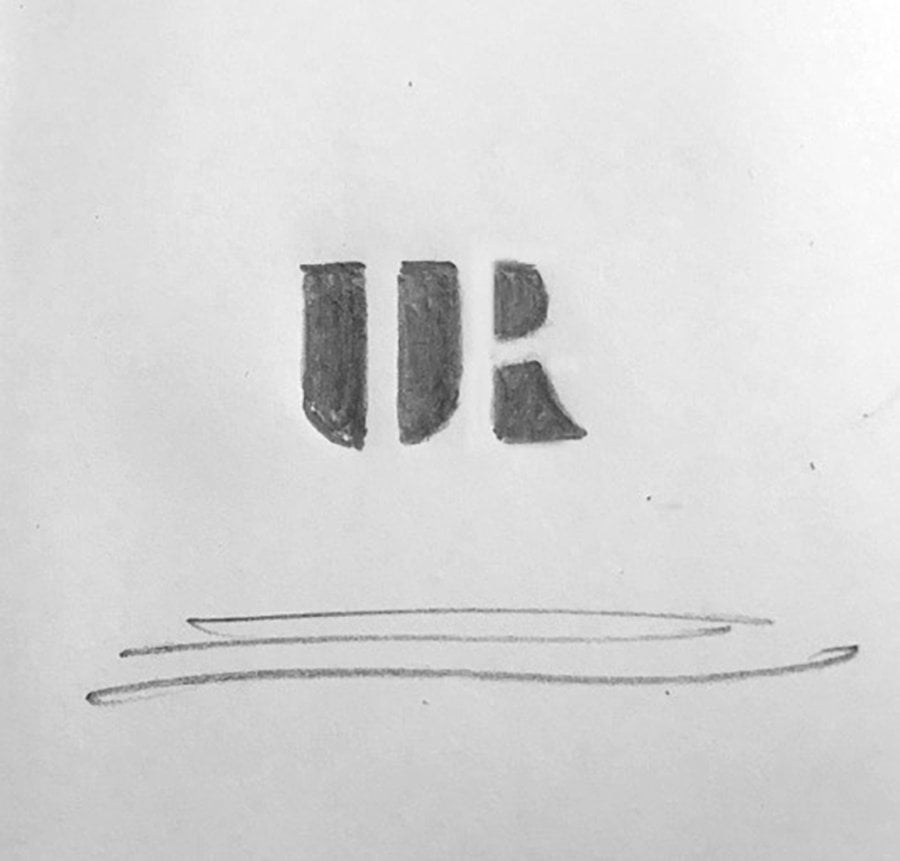 The sketch shows how I'm trying to create a balanced set of initials, formed from the 'U' and 'R', but creating the 'R' from it's own negative space.
Notice how i need to keep an eye on the proportions of the negative space, compared to the proportions of the 'U'.
The proportions, mostly the overall width, of the 'R' need to look cohesive next to the 'U', which is relatively wide. You can see that the regular capital 'R' has very narrow negative space elements; shown in orange below.
Used two font styles (below), to get an idea of how the uppercase 'R' is styled in various fonts, and how the negative space elements (in orange) can vary from font to font.
The proportions of the 'R' need to be carefully created, so that it doesn't look out of place.
It's super important that when making this letter 'R' from such narrow elements, that it still needs to look like it could be a regular 'R', especially when viewed after the 'U', which is pretty much a regular shape 'U', but just cut into two, so more like a stencil.
The image (above) shows my progress in recreating the UR in Illustrator as a vector.
I have created four slightly differing versions so far, to just get a feel for what form of 'R' will look the most cohesive, and natural looking, when viewed next to the 'U'.
As I'm using the right hand side of the 'U' for form the R's vertical left side, creating the right side of the R out of it's own negative space, is actually pretty tricky, at least in a way that looks as normal as possible.
Further Updates
I'll be updating this Case Study page, with additional images and text, during the life span of this logo design project.
Update: 7th January 2017
Taken a decision to move away from the 'negative space' style of logo design, and instead we're now going with this stronger, bolder, cleaner and more impactful design.
Still based on the 'ur' initials, but in far more robust and angular way, which is far more in keeping with the UPRAW brand name.
Business Card and Letterhead Mock-up's
Couple of letterhead and business card mock-up's, to help present the logo design in a more aesthetically pleasing, and realistic format, for the client.
Really pleased with this new logo design direction; that new logomark looks really striking on both the letterhead, and business card, in both black on white and white on black.
Logo Design Font Pairings
Image below shows some initial exploratory font pairings for the UPRAW logo.
Basically trying to find the right proportioned font that looks like the right fit up against the logomark.
When looking to pair a font with a newly design logomark, I take into accounts aspects such as: font weight, font width and height, overall proportions, any specific font styling and kerning styles.
We settled on the top-right version, which is actually Eurostyle Bold.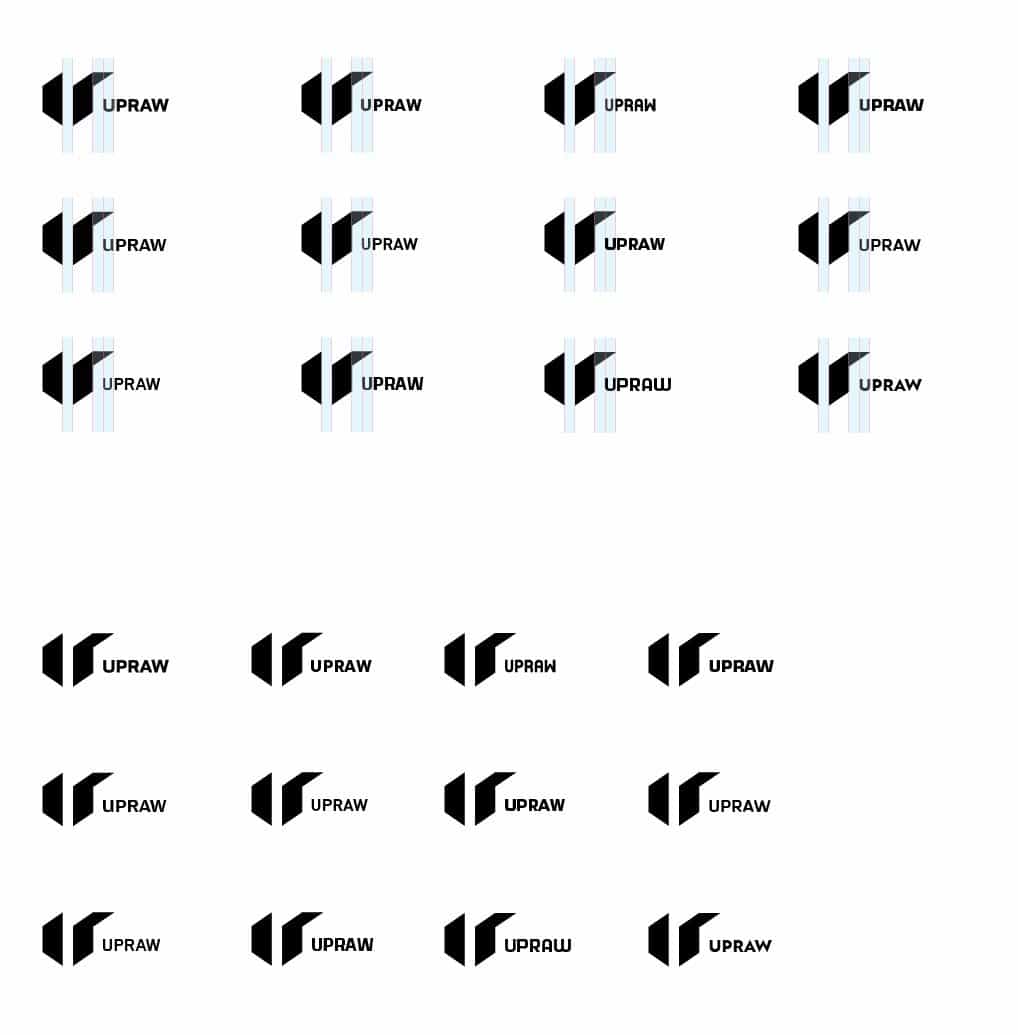 ---
Previous Post:
Brand Logo Mix Designed by Mike Stefanini from Atomike Studios
Next Post:
Color Blindness Demonstration Using Coloured Pencils
---
Posts of Similar Content:

Looking to Hire a Freelance Logo Designer?
If you like the design work I've done in my Portfolio (some examples above), and Monomarks, and are looking to hire yourself a highly talented, and very experienced (25 Years), Logo and Brand Identity Designer, then look no further.
Just visit my Hire Me page, and fill in the short Design Brief. Or, just reach out to me via my even shorter Contact Form.
About | Hire The Logo Smith | FAQ's | Case Studies | Portfolio | Monomarks | Logos for Sale | Contact
Follow @thelogosmith
---
Home » Design Blog | The Logo Smith | Freelance Logo & Brand Identity Designer » Case Study
© 2005-2018 All Rights Reserved The Logo Smith
Logo Designer & Brand Identity Design Studio, with 25 Years Experience.
Graham Smith: 10 Badgers Copse, Seaford, East Sussex, England.
 Tel: +44 (0) 7816 527 462  Email: glogosmith@gmail.com