The Nike Swoosh Logo Hits 40 Years
The Nike Swoosh logo is the stuff legends are created from; how something so uninspiring—at the time—would become one of the world's most well-known and successful brand logos.
Read more on the Nike 40 Year Anniversary by Steven Heller for Imprint.
I love seeing these early sketches as well as seeing some of the other ideas put out on the table for consideration. The quote by Katy Tisch is right on the ball, "I wish I could say it was the design of the Swoosh but I don't think design is necessarily the winner as much as correct usage."
I believe the early Nike story goes to show that brands are not, and cannot be, designed with success guaranteed; the success of a brand and/or brandmark is dependant on so many factors out of the hands of us mere creative and agency types.
You don't knowingly create a brand; you do however give a name, or product, or service a chance at life. The success of a brand is never guaranteed, but hiring the right people to help steer it is part of how one can help increase the odds. Ultimately though it is down to the consumer to decide if said name, product or service deserves success.
Those are my thoughts and beliefs.
Link credits: LogoDesignLove, Kottke and Steven Heller for Imprint.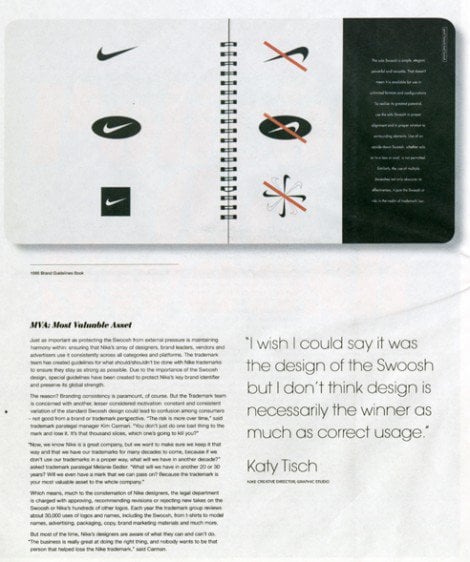 ---
---