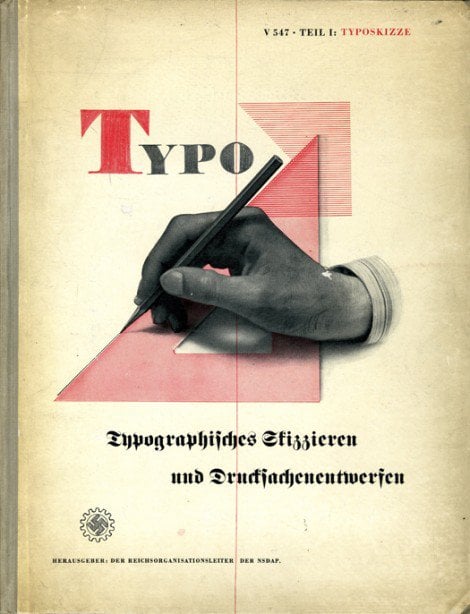 The Nazi Identity Graphics Standards Manual
On first pass it [The Nazi Identity Graphics Standards Manual] seems quite remarkable, but then after a few moments thought it makes perfect sense. No point having a 'master race' if you can't even keep tabs on continuity of appearance.
Steven Heller is the chap responsible for tracking down a few remaining copies of the The Nazi Graphics Standards Manual and has written a thoroughly interesting article on Design Observer.
Design Observer: Designers and design historians told me over the years that they had heard about the existence of a Nazi graphics standards manual. No one could say they actually saw it, but they knew of someone who had. So it grew into something of a Big Foot or Loch Ness Monster tale, until one day I actually saw it too – and it had been right under my nose the whole time.

The Nazis brand may indeed be uniformly distinctive, but for all the significance they placed on graphic design, there was more variety and greater leeway than one might think. Nonetheless, once I determined who was responsible for maintaining the NSDAP brand, it was a bit easier to identify the identity manual.
Download a PDF of The Nazi Identity Graphics Standards Manual
Thanks to a tip from Michal Zadkowski, you can : Download the complete Nazi Graphics Manual as PDF.
For Sale
If you are interested, Steven Heller has two copies for sale, priced at $695.00. This seems a little inexpensive given the sheer magnitude of the find and it's potential value to the world. I even find myself pondering over a purchase…
Enquiries should be directed to : USM Books.
---
Previous Post:
Tom & Teddy Logo & Identity Update
Next Post:
Lost Type Co-op Presents Muncie – Free Condensed Font
---
Posts of Similar Content:

Looking to Hire a Freelance Logo Designer?
If you like the design work I've done in my Portfolio (some examples above), and Monomarks, and are looking to hire yourself a highly talented, and very experienced (25 Years), Logo and Brand Identity Designer, then look no further.
Just visit my Hire Me page, and fill in the short Design Brief. Or, just reach out to me via my even shorter Contact Form.
About | Hire The Logo Smith | FAQ's | Case Studies | Portfolio | Monomarks | Logos for Sale | Contact
Follow @thelogosmith
---
Home » Design Blog | The Logo Smith | Freelance Logo & Brand Identity Designer » Books
© 2005-2018 All Rights Reserved The Logo Smith
Logo Designer & Brand Identity Design Studio, with 25 Years Experience.
Graham Smith: 10 Badgers Copse, Seaford, East Sussex, England.
 Tel: +44 (0) 7816 527 462  Email: glogosmith@gmail.com