Meaning of Sony Vaio Logo Design
The meaning behind the Sony Vaio logo. I always find things like this super interesting. Came across this example on a Tumblr, but have re created the artwork.
Update thanks to M Haidar for his comment reply. So if I had used my brain as M Haidar had, and took a quick journey to Wikipedia I would have found out the following:
VAIO (/ˈvaɪ.oʊ/) is a sub-brand used for many of Sony's computer products.… 

The branding was created by Timothy Hanley to distinguish items that integrate consumer audio and video with conventional computing products… 

The VAIO logo also represents the integration of analog and digital technology with the 'VA' representing an analogwave and the 'IO' representing a digital binary code.
It's all to easy to let things like this slip under the radar; the FedEx logo is one of the most well-known secret meaning logo "aha" moments.
How many other well known brand logos have meanings like this that we are not aware of? This is why I find me job of logo designer so fascinating, and often quite unpredictably rewarding.
Originally found Science Behind Sony Vaio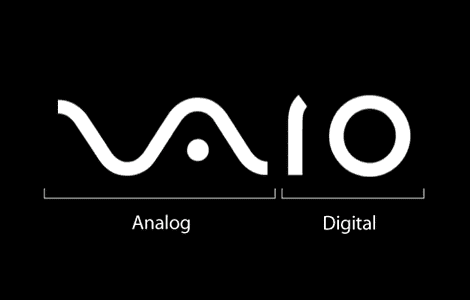 ---
---