All Archived Posts in livery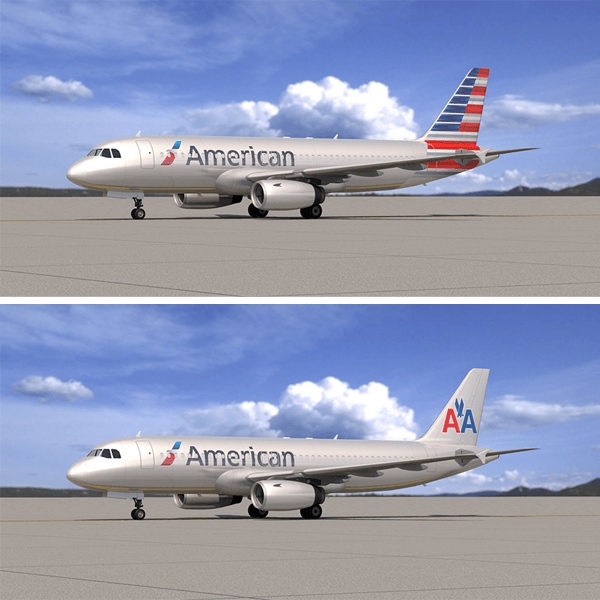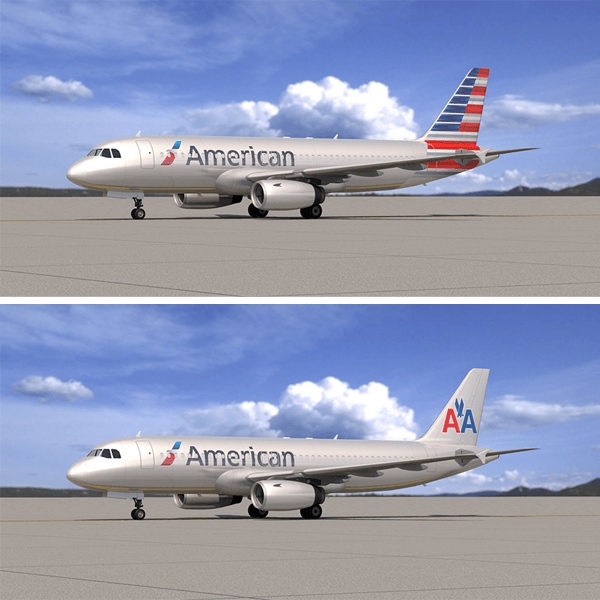 Apparently, according to the Aviation Blog division of the DallasNew.com:
"Doug Parker, the new chief executive officer of American Airlines Group, told employees Monday that he'll let them decide what the tail on AA jets should look like.

There will be two choices:

A. The new tail adopted last January by the old AA regime, or

B. The old tail that had been in use basically since 1968.

"As we build our new company, we want all of our employees to have a voice in who we are as an airline, and that starts  with what we look like," Parker wrote in the internal "Arrivals" newsletter. "As such, today we launched a survey for all employees of the combined company to vote on what we should do with our new look for the tail – keep the work that was done, or go back to the previous American."
For me I just love the fact that he is even considering using the old American Airlines logo on the tails of his fine fleet. Something about a new CEO referencing a brand from the past, I think, is quite cute.
Also love that he simply doesn't care which design gets the vote:
"People have already begun to ask me, "Which livery do you hope wins?" The answer is I honestly do not care."
I mean, that is just awesomely casual of him. Obviously rebranding with the old AA logo/tail livery wouldn't be without some issues, complications and confusion, but other than that, I think it's a brill idea.
Moving upward to a more practical choice: looking at the recently introduced flag design (the 2nd option from Doug), and then some photos of how the planes look like in the air with this design (above, and provided by a commentator on Brand New), I can quite confidently say that if they are looking for a tail design that looks so distinctive from 100's of feet away, then this is the way to go.
I would air on the side of practicality and visual robustness, at least in this example, over a possible emotional attachment to the past. However, as a person with no ties to American Airlines, and indifferent to it's future success, I would die to see them use the old logo, from 1968, for the tail design.
Both of the above photographs are from BrandNew's post: American Airlines Tail Future
Logo's eh? What would we do without them. Life would be pretty bland I would imagine. With the advent of the web, Logo wars are common place. Everyone trying to out do the next person's logo creation. More spunky, more yummy, more colourful, more daring. Logo's are here to stay and logo creators are digging in for the long haul.
Starting a new 'thread' on this site, I will be posting about the humble logo. I love Logo's, personal and intimate. And if you are charged with the creation of a new logo then you take on a major responsibility. To yourself, to your client and to the people en mass that will be seeing this 'creation' on a daily basis.
This is not a complete post about the theories, the reasons, the what's the why's and the how to's. That's for another time, basically when I have more time. It's a huge topic, one that cannot be taken lightly or speedily. Actually I lie, it's not a complete post on what I would like to talk about, rather it's a serious of articles on various issues of the humble logo. Within it I will try to incorporate real life logo designs that I have, erm, designed.
Including my very own ImJustCreative.com logo.
So in keeping with my series on Desktop Pictures (which you must check out if you have not already), and for milking it as far as it will go, Logo War will be a series of posts on new designs, the reasons and some philosophy.
There are very real tangible benefit of doing work for free or at least for favours in return. Especially if you have something to prove, a portfolio to build or just because you are a darn decent type.
As with favours, or I scratch your back you scratch my back scenarios, actual time spent fiddling, designing and creating is based on 'returns' other than immediate financial gain. Fortunately, I don't always see 'immediate cash in hand' as the true return value on design. Designs live and continue to work for you way past the 'client approval' and the settling of a invoice.
Just because you are doing something for 'free' or as a 'exchange of services', doesn't mean you should take any less pride in what you design.
Far from it. Every job, be it paid or not has your name on it. You will be associated with that design forever and ever. Risk doing a shoddy job and you will reap the consequences. This is why I could never understand the 'you get what you pay for' philosophy in some industries. You may want to do a 'cheap quick design' because the client will not pay, but be careful. Two options here: refuse the job or accept that you will have to spend some of your 'own' time making up for the short fall.
But never be tempted to do anything less than your best. It does no good for your ego, pride or sense of self worth. You are cheapening yourself if you take this road.
I frequently take on jobs that are either poorly paid or not paid at all, for me the real 'payment' comes in exposure and experience and yeah, OK, feel good thoughts. Be it now or months or years down the line. I will assess the potential in long term gains rather than short term money in the bank. This is publicity for you and doing your 'best' each and every time will eventually provide you with real tangible benefits further down the road.
© 2005-2018 All Rights Reserved The Logo Smith
Logo Designer & Brand Identity Design Studio, with 25 Years Experience.
Graham Smith: 10 Badgers Copse, Seaford, East Sussex, England.
Tel: +44 (0) 7816 527 462 Email: [email protected]